Topic Summary
Posted by kerouac2 on Sept 12, 2010, 5:11pm
I have no idea if I would have ever gone on a photo safari in Kenya if it were not for my adoptive father. I had been with the airline for several years already and had done my best to take my parents around on certain trips – usually they would just fly to France to visit me and other family members, and once we made a superb trip to Bangkok and Phuket (before Phuket became overdeveloped), but I had a problem with my father anyway. He had joined the Navy at age 17 and had really seen the world. Besides such adventures as being at Pearl Harbor on the day of the Japanese attack, he had been in Shanghai as the Chinese revolution started and hundreds of bodies floated down the river, he had also been in the Korean war, had eaten dog in the Philippines, he had cruised the Mediterranean and docked at Gibraltar, Cannes, Naples, Tunis, etc. He had been to Morocco and Brazil and Panama and Chile and South Africa and Tahiti and Australia and Samoa. It was hard to mention a country where he had not been, even if he had only seen the sailor bars and the whorehouses.

During one of my visits to my parents, after a long evening of conversation and beverages, I asked my father, "what have you never seen in the world that you would still like to see some day?" He paused to think about this, which was very uncharacteristic, because he was a man of snap automatic replies (one of his infuriating traits), and he said, "I've always wanted to see the animals in Africa."

I don't think it took me even one second to make my decision: I would take my parents on an African safari.

I started researching the project as soon as I got home (no internet yet!) and determined that Kenya would be the place to do. It had the best tourist infrastructure and was easier to reach than Tanzania, the other candidate. South Africa was out of the question at that time because it still had "that government."

Safaris are not for the poor, and I was not rich, but I was motivated. I found a small but apparently reliable agency and decided that I could afford their rates. I arranged things with my parents for when they could come, how to get visas for Kenya for them once they arrived in Paris, etc. And then I booked the trip and made a bank transfer to Kenya for the cost of the safari.

My parents arrived, we got the visas, and we were all set to go. For technical reasons, we were going to transit through Jeddah, Saudi Arabia, and then get a flight on Alitalia to our destination. More visas (Saudi Arabia), but I had some good contacts there, so we scheduled a day there so I could show them around. And off we went.

Jeddah was as weird and fascinating as ever, but we had the excellent refuge of the 5-star Red Sea Palace Hotel on the Corniche. We went to the souk and had an excellent couscous at a Moroccan restaurant, where we ate while reclining on mattresses. It was washed down with the famous local beverage "Saudi Champagne" (Perrier mixed with apple juice, garnished with mint leaves).

And things went terribly wrong that night. Alitalia went on strike – all flights cancelled. I tried to work out an alternate route on Sudan Airways, through Khartoum and Juba (WTF? – what was I thinking?), but it was clear that this was not going to work.

There was no way to make our safari deadline, so I sent a fax to the agency in Nairobi saying that we would have to postpone to another date that would be decided later. I received confirmation, as well as a 25% cancellation fee.

And the next day we flew back to Paris. My parents stayed with me for a few days, but the charm of the trip had been destroyed, so they were in a hurry to return home, which they did.

I was furious with myself, even if it wasn't my fault.

Would this safari ever take place?

Posted by kerouac2 on Sept 12, 2010, 6:54pm
It took me about 5 months to reschedule with confidence. I repaid my lost 25%, got new tickets to Nairobi, and we quickly arrived there. Well, maybe not that quickly, but we got there. God, I despise flights that arrive at 2 a.m. in totally unknown countries, but the locals are used to it, so taxis were waiting. We reached the hotel around 4 a.m. and slept deeply until probably around 8 a.m. Not a moment to waste.

We went to the agency, which I clearly remember was called Ivory Tours and Safaris, and it was based in a big old Victorian house. The manager received us gracefully and looked very much like she could have been running a Ladies Detective Agency on the side. She called our guide and he came running within a few minutes (he may have been waiting 5 months for this gig). He was a personable young man, and he said that he would pick us up at our hotel the next morning. Even though we had booked a "group" tour (much cheaper than a "private" tour), we were the only members of our "group" so it was in fact a private tour.

We spent the rest of day looking around Nairobi a bit. There was a market in a sort of decrepit small mall next to the hotel.




We also visited the proverbial Thorn Tree, which gave its name to another travel forum. It was still covered by notes and messages, but it seemed to be mostly for show, because most of the messages were extremely outdated.

Otherwise, the city was not unpleasant at all although it was not of great interest. It seemed to have benefited from a certain amount of urban planning, because there was a large central lake and park that definitely gave the city more breathing room.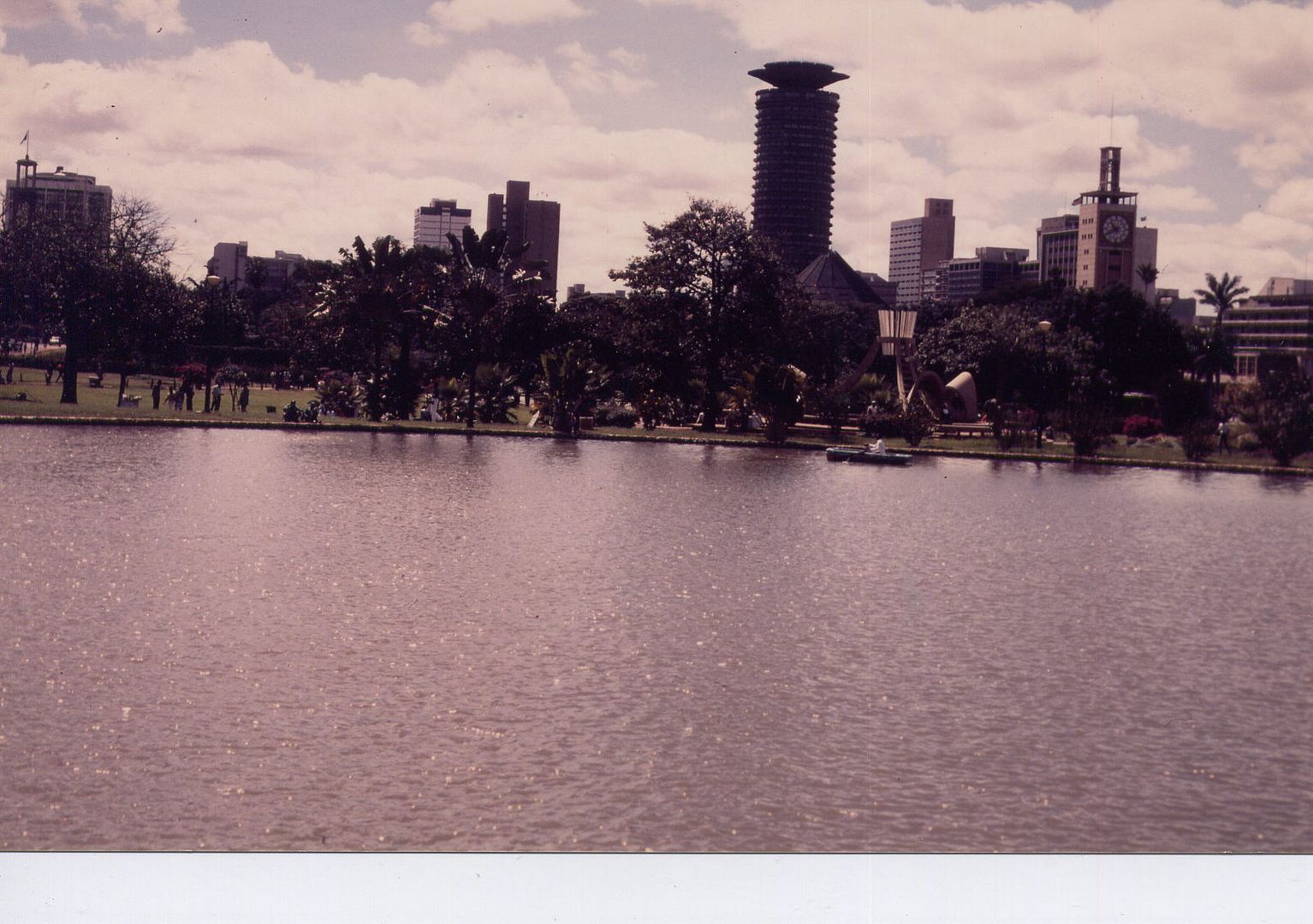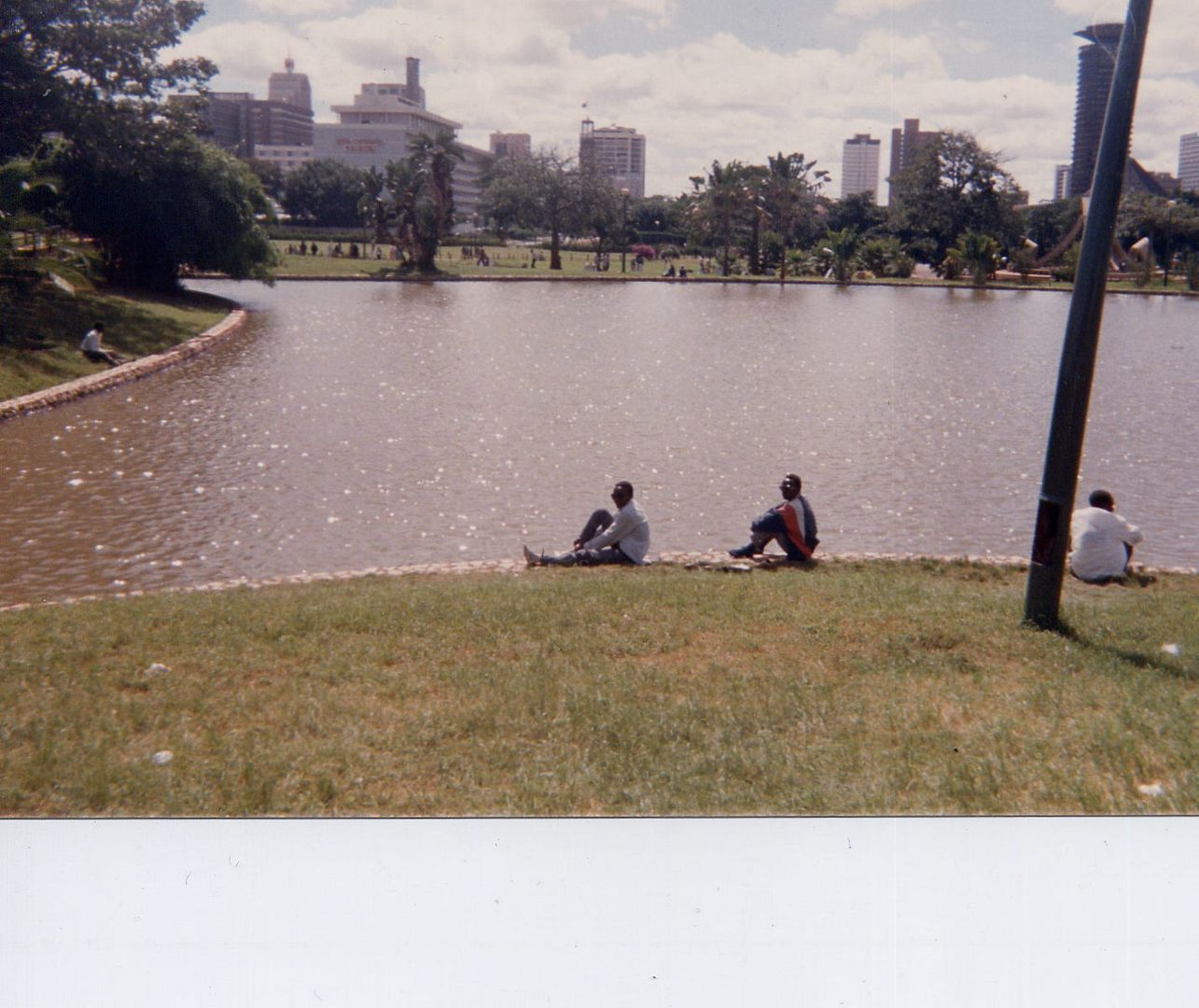 Posted by kerouac2 on Sept 12, 2010, 6:58pm
Our safari called for some nights in Tsavo National Park and other in the Masai Mara National Park. Kenya has a pretty good road system outside of the parks. Once you are in the parks, it is mostly dirt roads, which is how it should be if the animals are considered to be more important than the human visitors.

In any case, you eat a lot of dirt during the safari, because the windows and the roof were open almost all the time.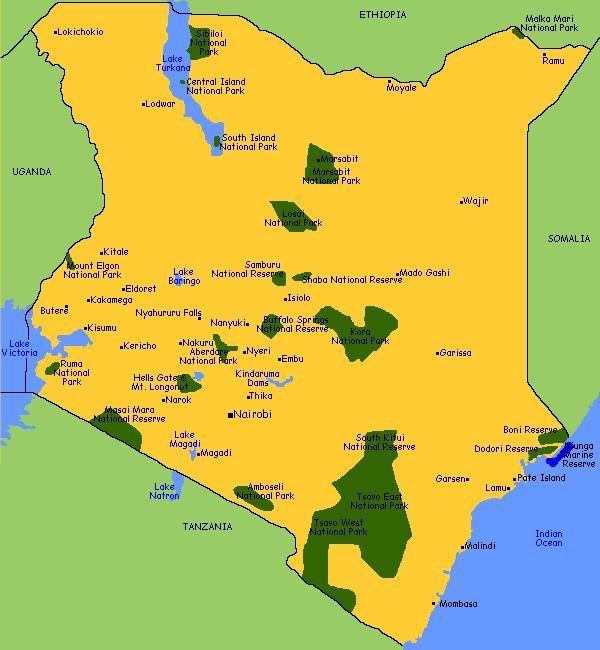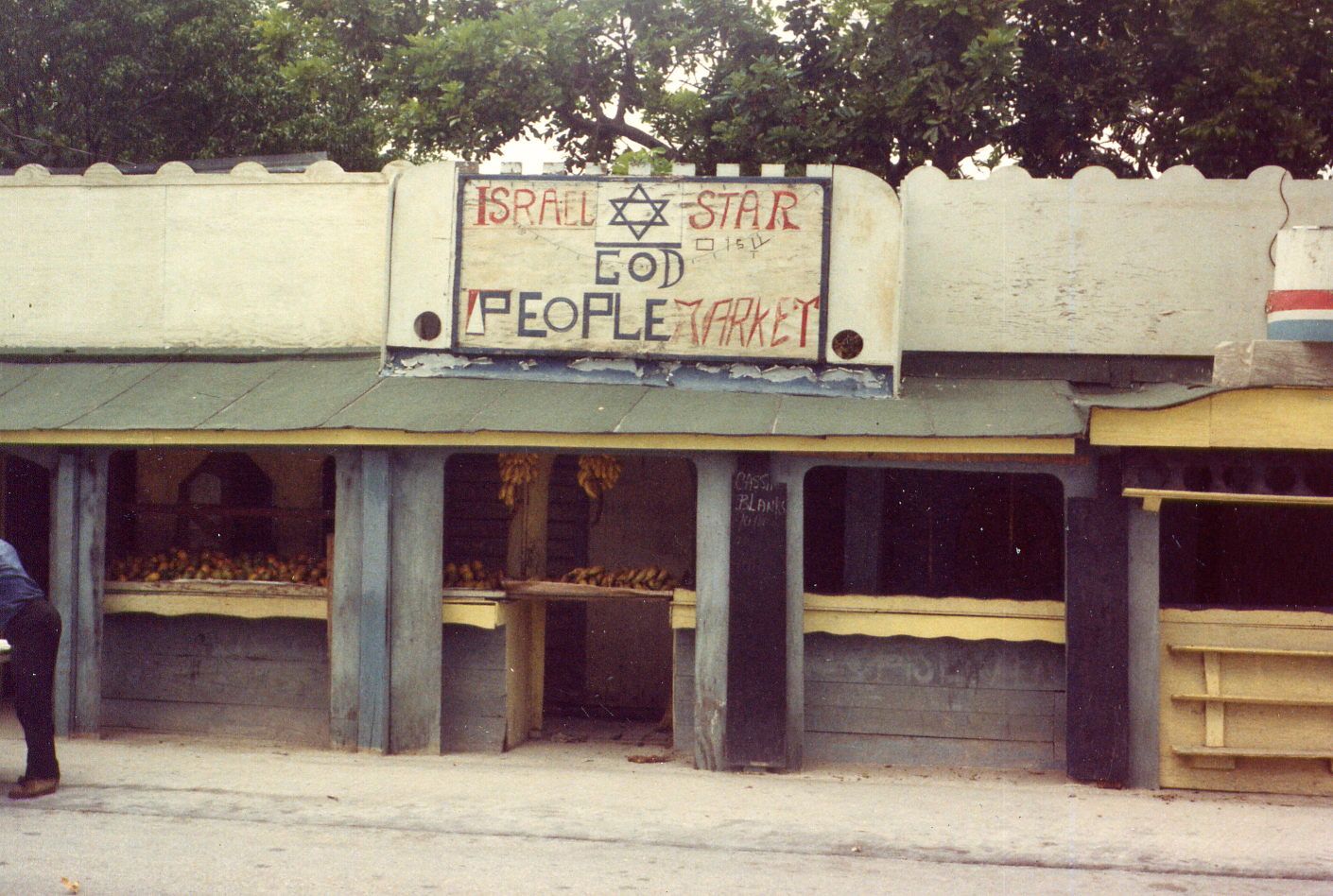 African skies are perhaps the most spectacular in the world.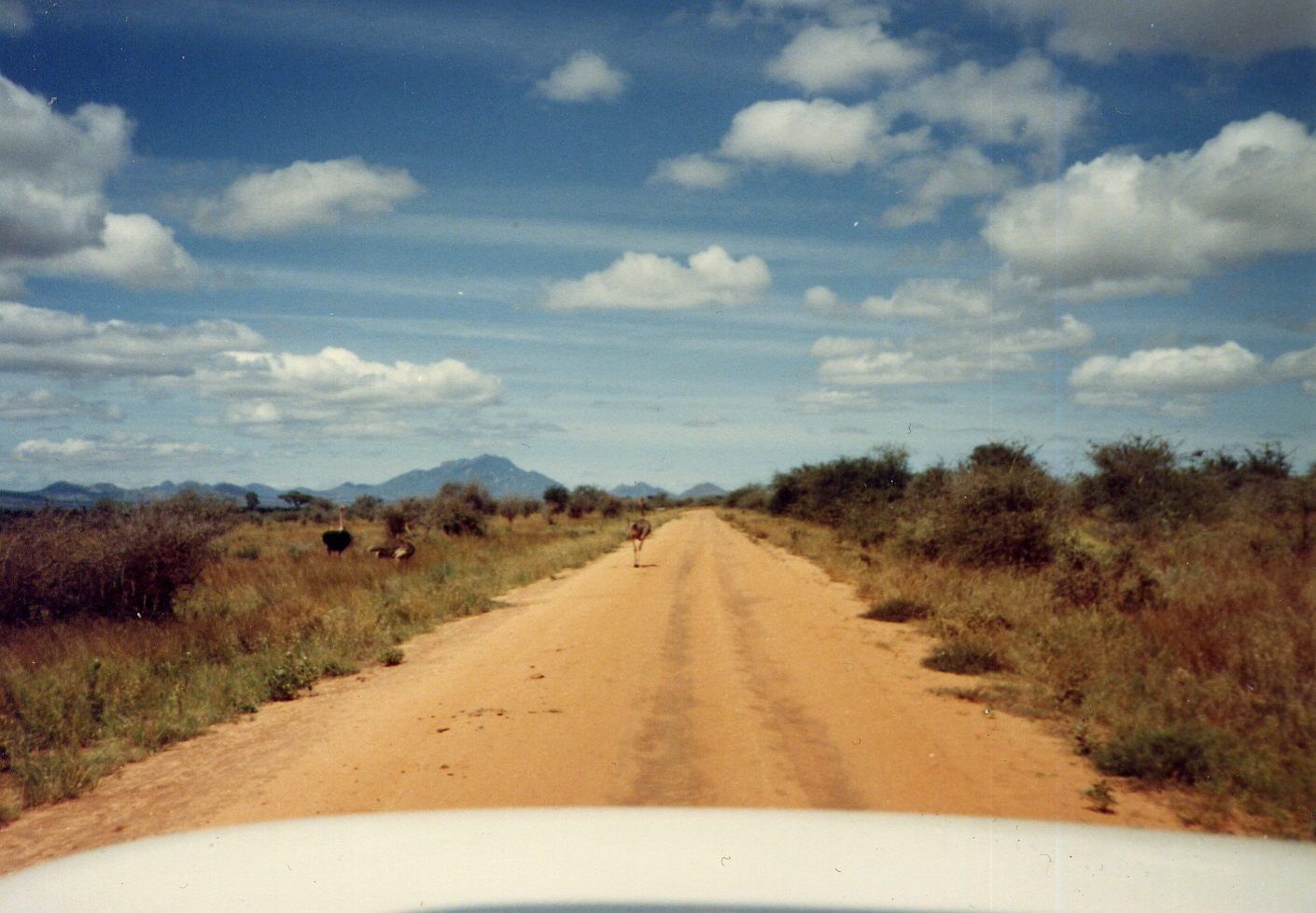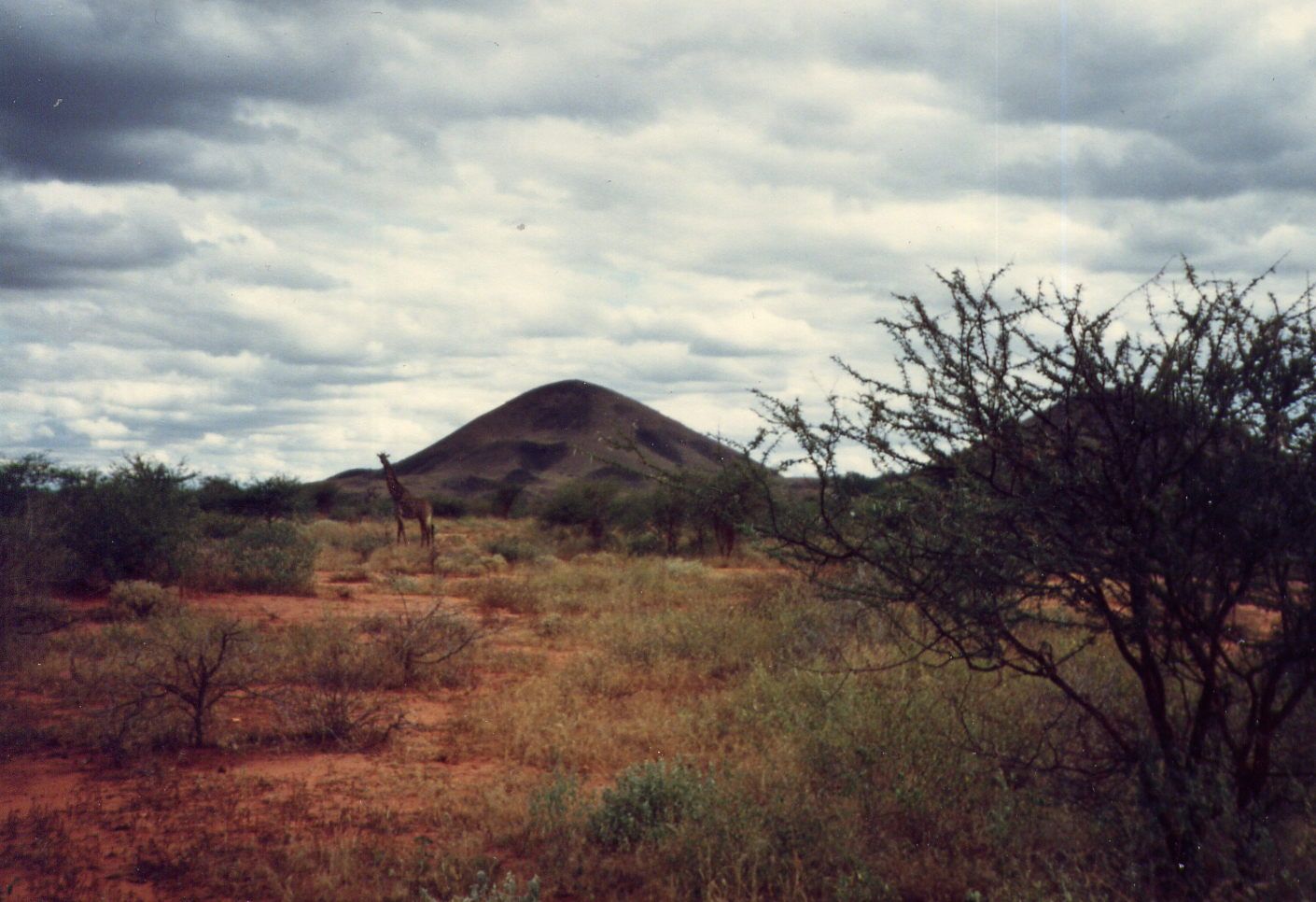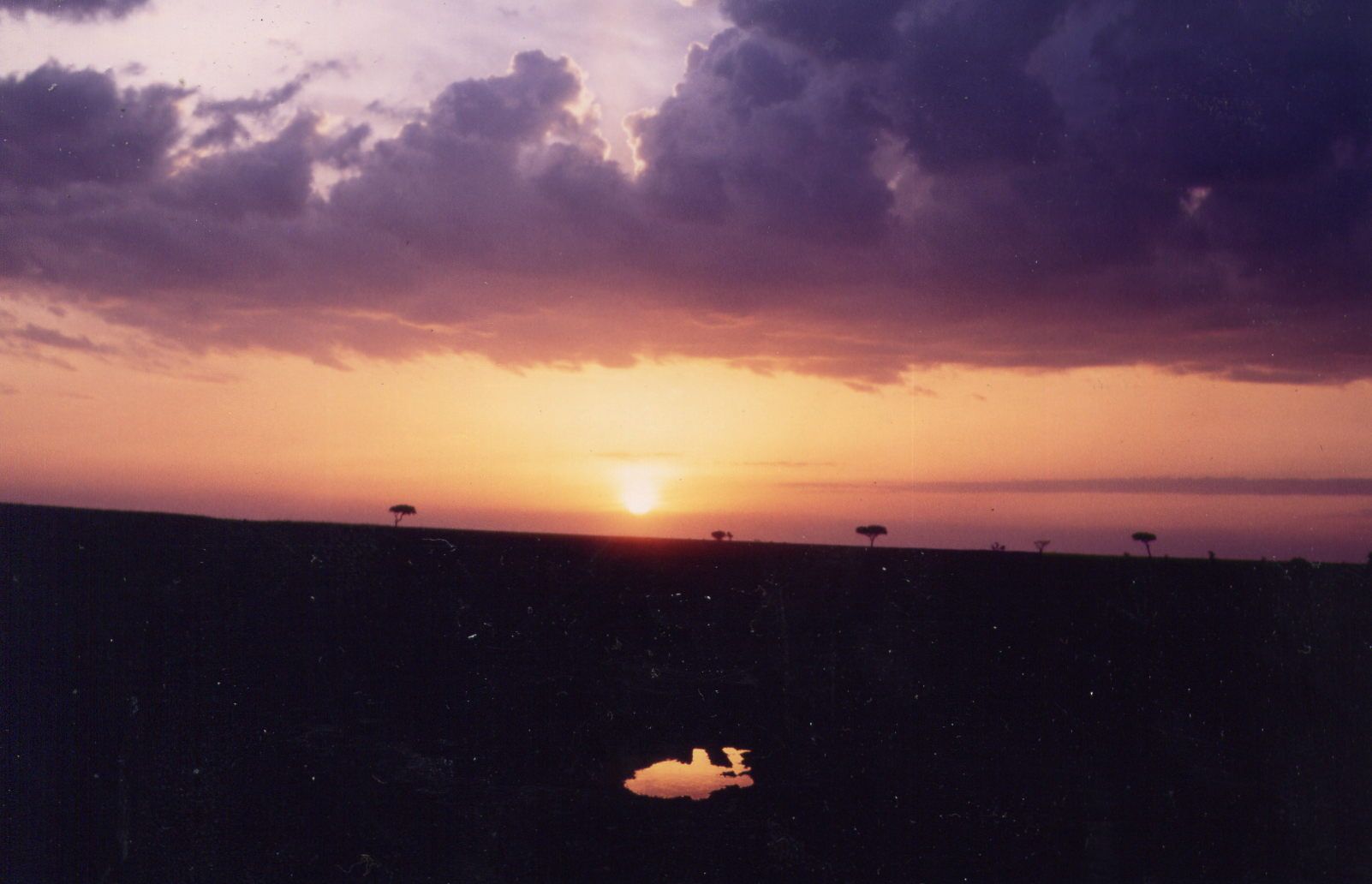 Posted by bjd on Sept 12, 2010, 7:14pm
What year was this, Kerouac? I went to Masai Mara and Nakuru parks in 2003. No digital camera yet either.
Posted by bixaorellana on Sept 12, 2010, 10:37pm
Oh, I love this, story & all. I won't ask any questions yet, as I sense (hope!) there's more to come. Can't wait to hear about the reactions of you three.
Posted by kerouac2 on Sept 13, 2010, 5:09am
One of the lodges at Tsavo, the Kilaguni, had a marvelous set up for animal viewing at mealtime -- both their mealtime and your mealtime.

The restaurant faced a major watering hole, where all of the animals come to drink peacefully, even if they are trying to eat each other during the day.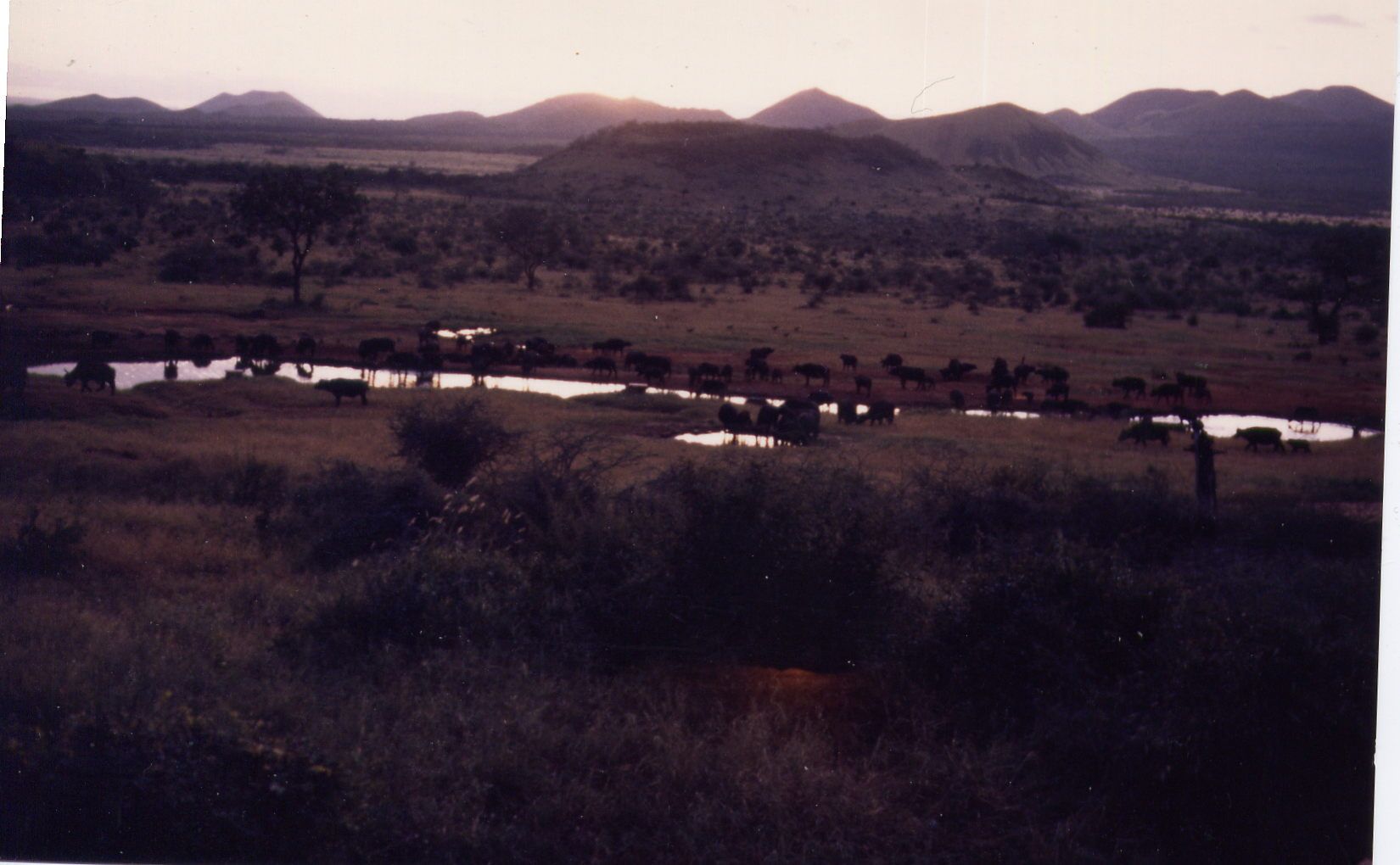 Just below the retaining wall of the restaurants, the marabout storks waited for handouts. There was absolutely nothing that they could not catch on the fly.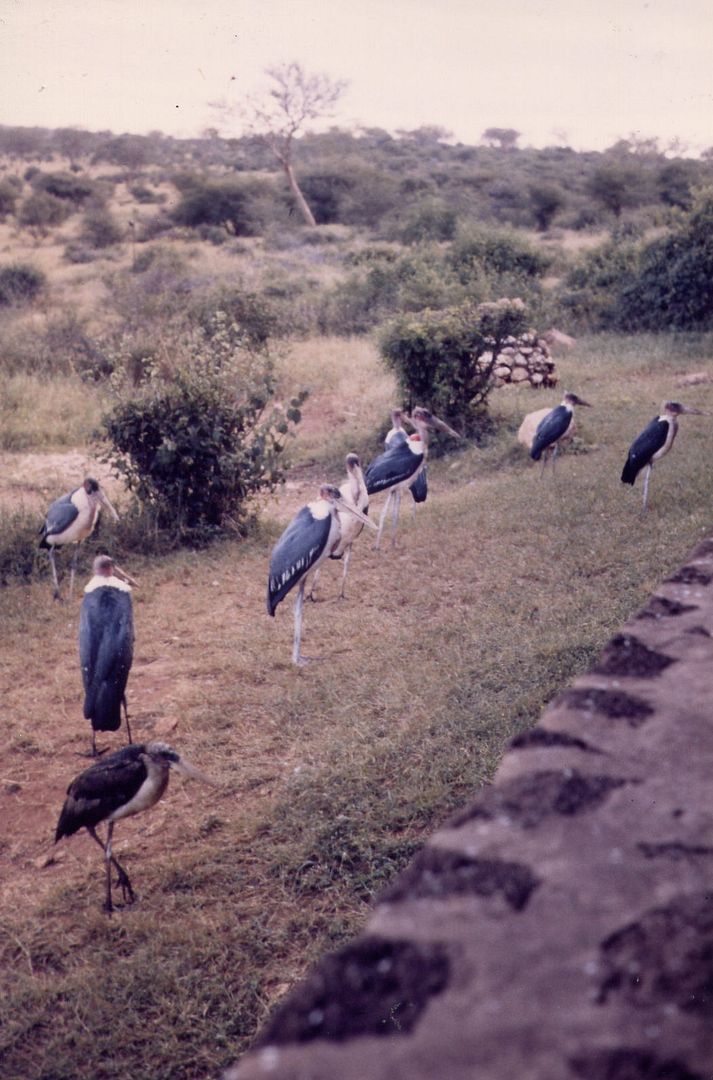 The morning rendezvous everyday was before dawn. You could have a cup of coffee if you needed it, but breakfast wouldn't be until about 3 hours later. The animals can mostly be seen at dawn and at the end of the day, rarely in the middle of the day.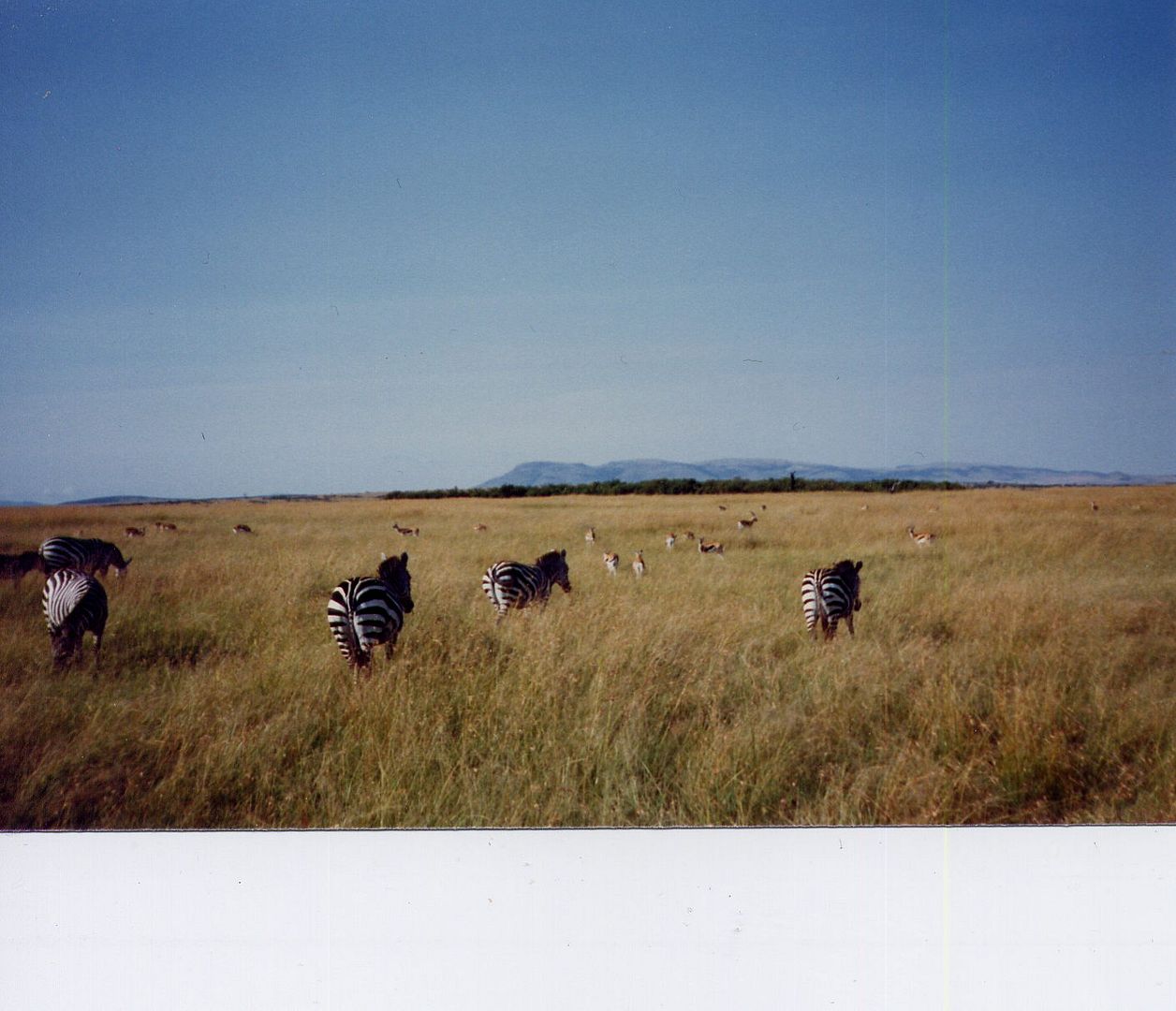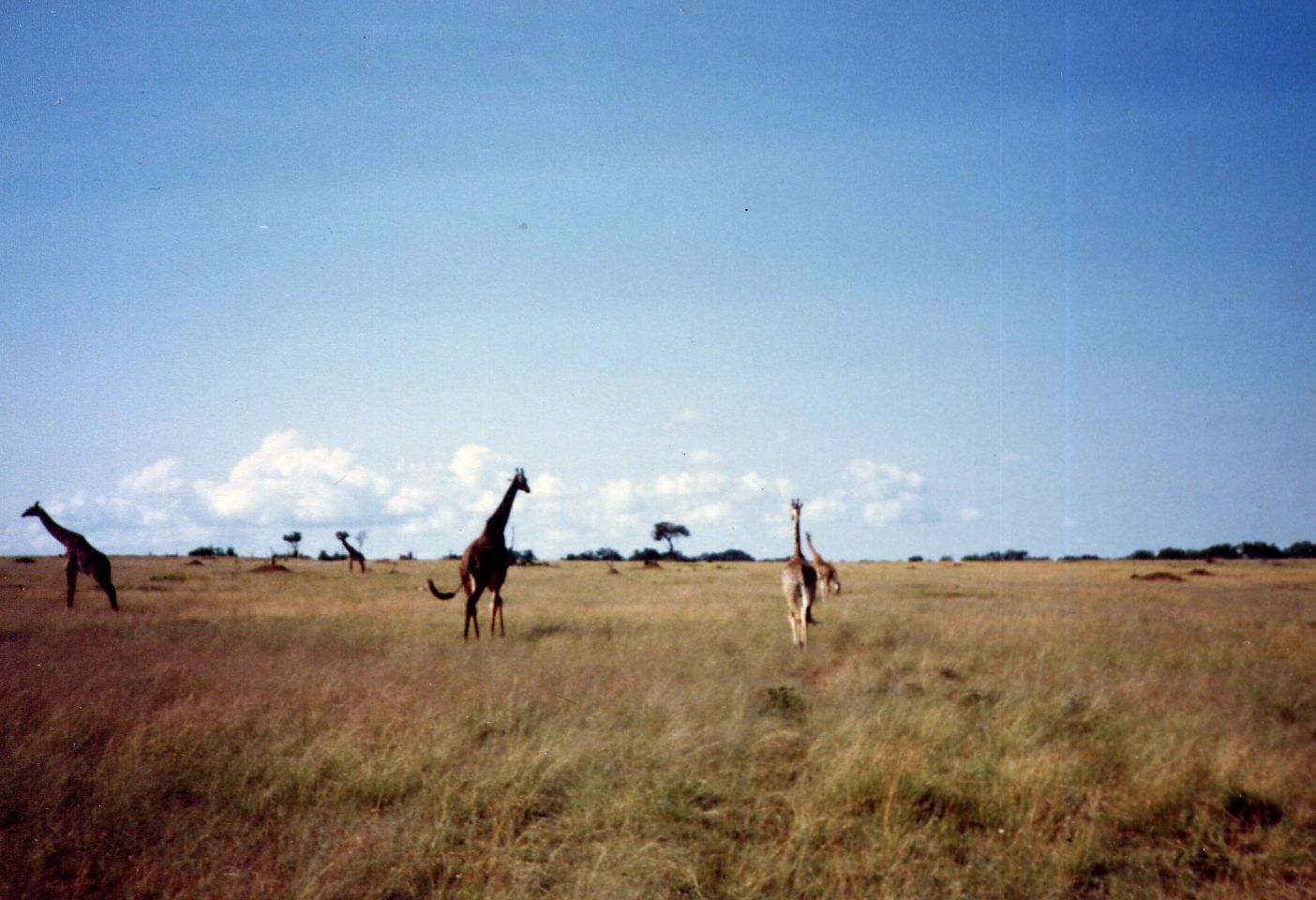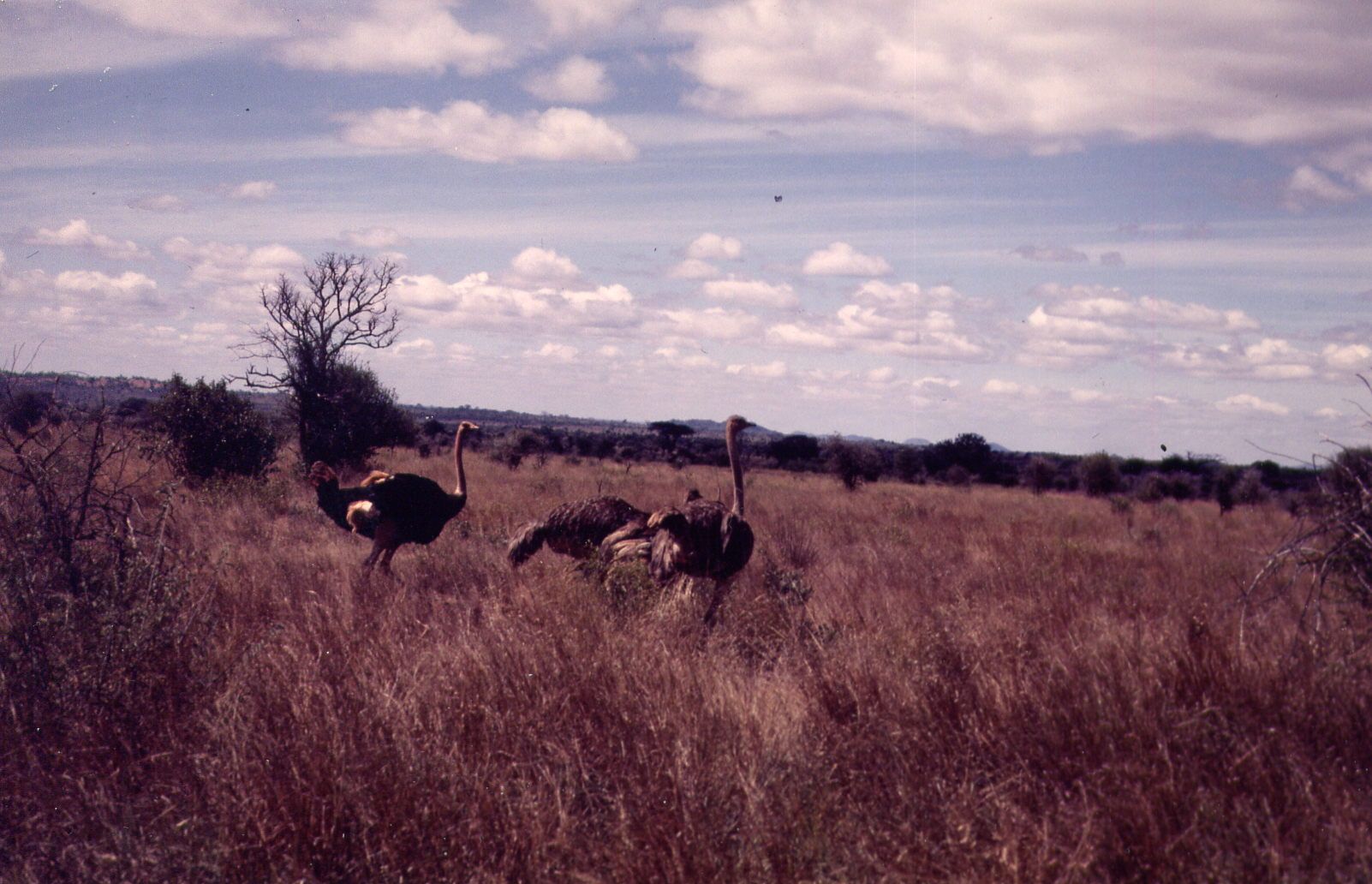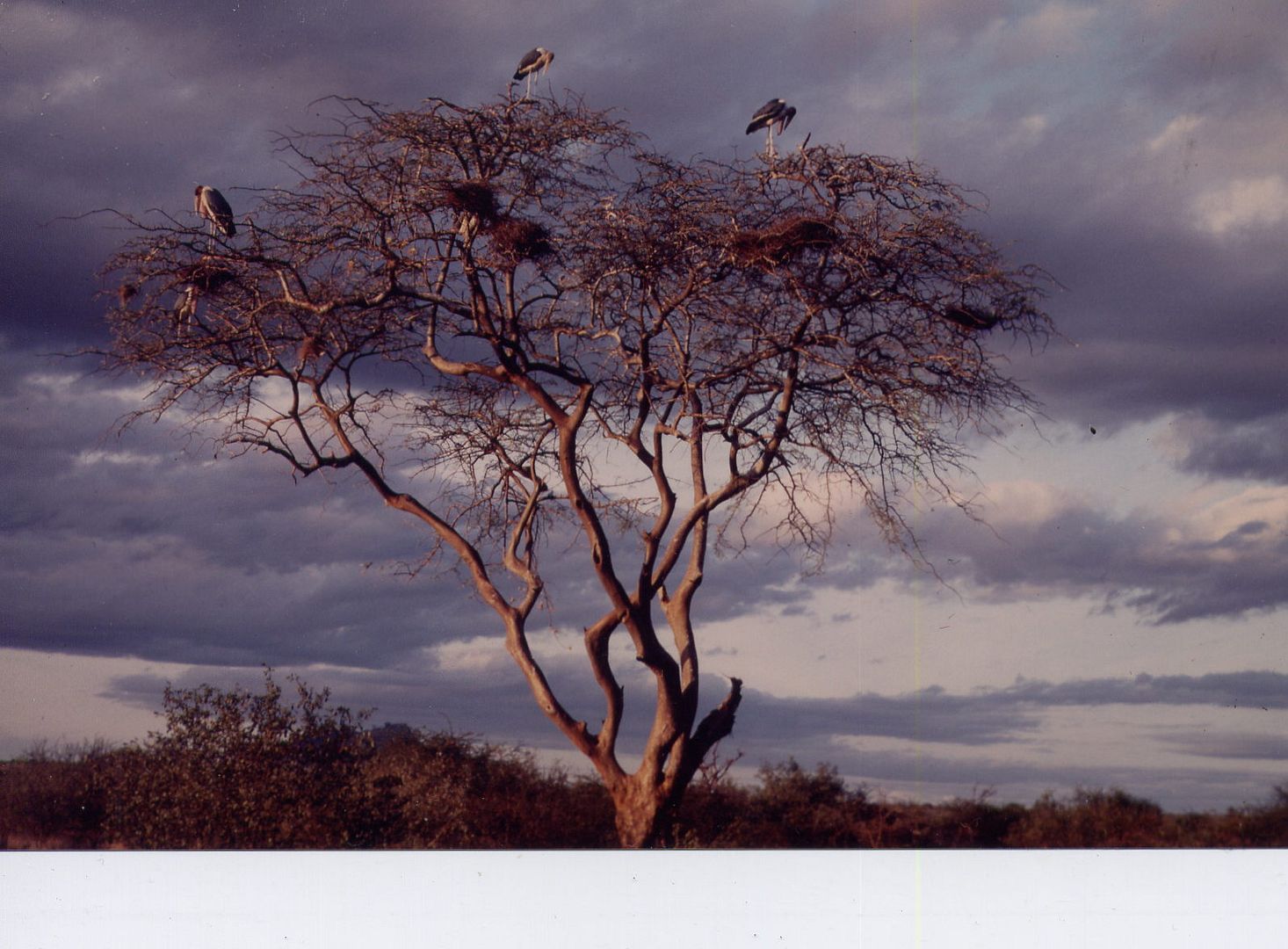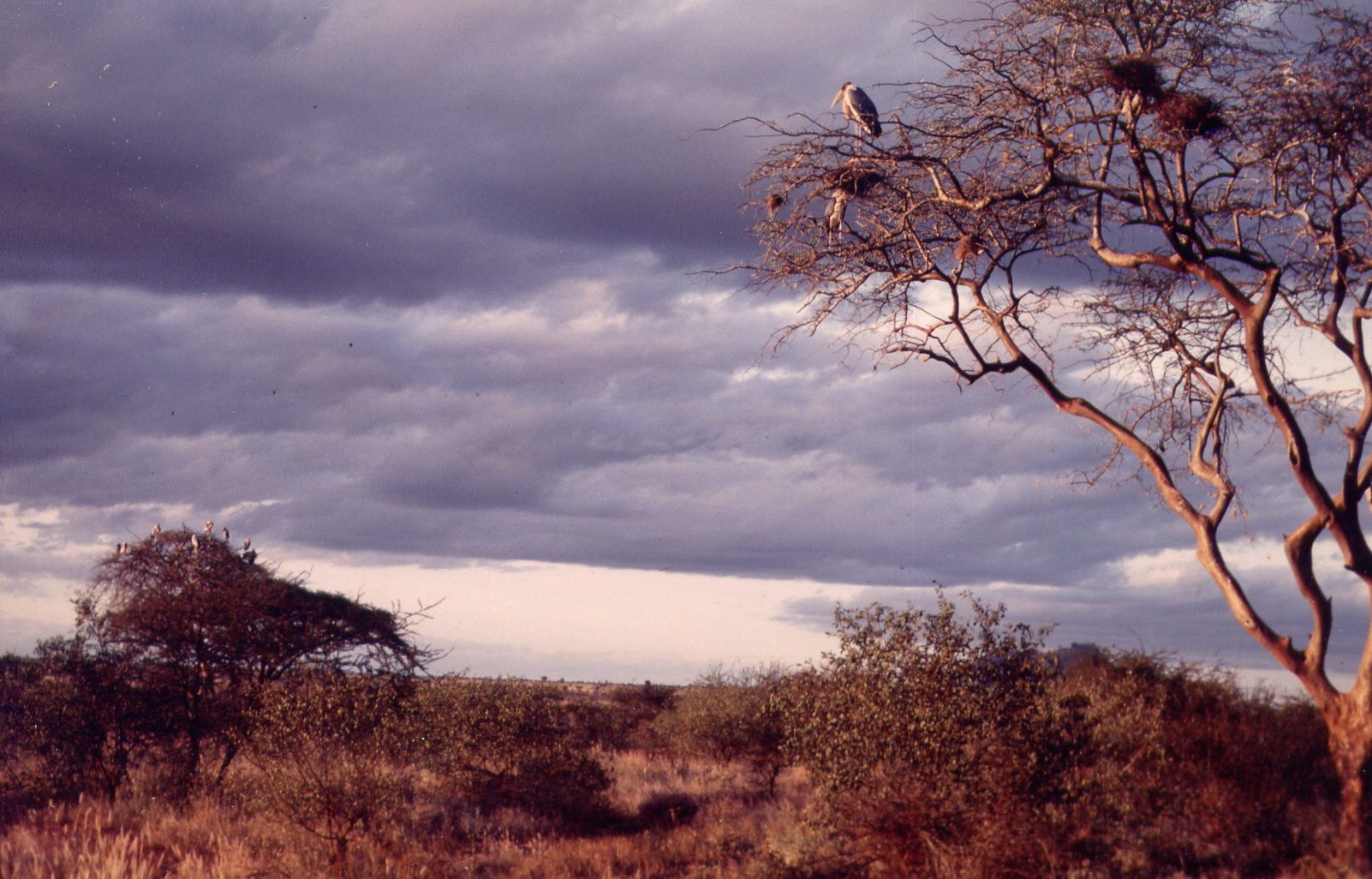 The guide was amazing, but I heard this about all of the guides. You'd be looking everywhere with your binoculars, hoping to be the first person to see something amazing first, and you would see nothing but grass and bushes. The guide would be driving along the track, without binoculars of course and just say, "There. Next to the tree. Cheetah." And finally you would see it.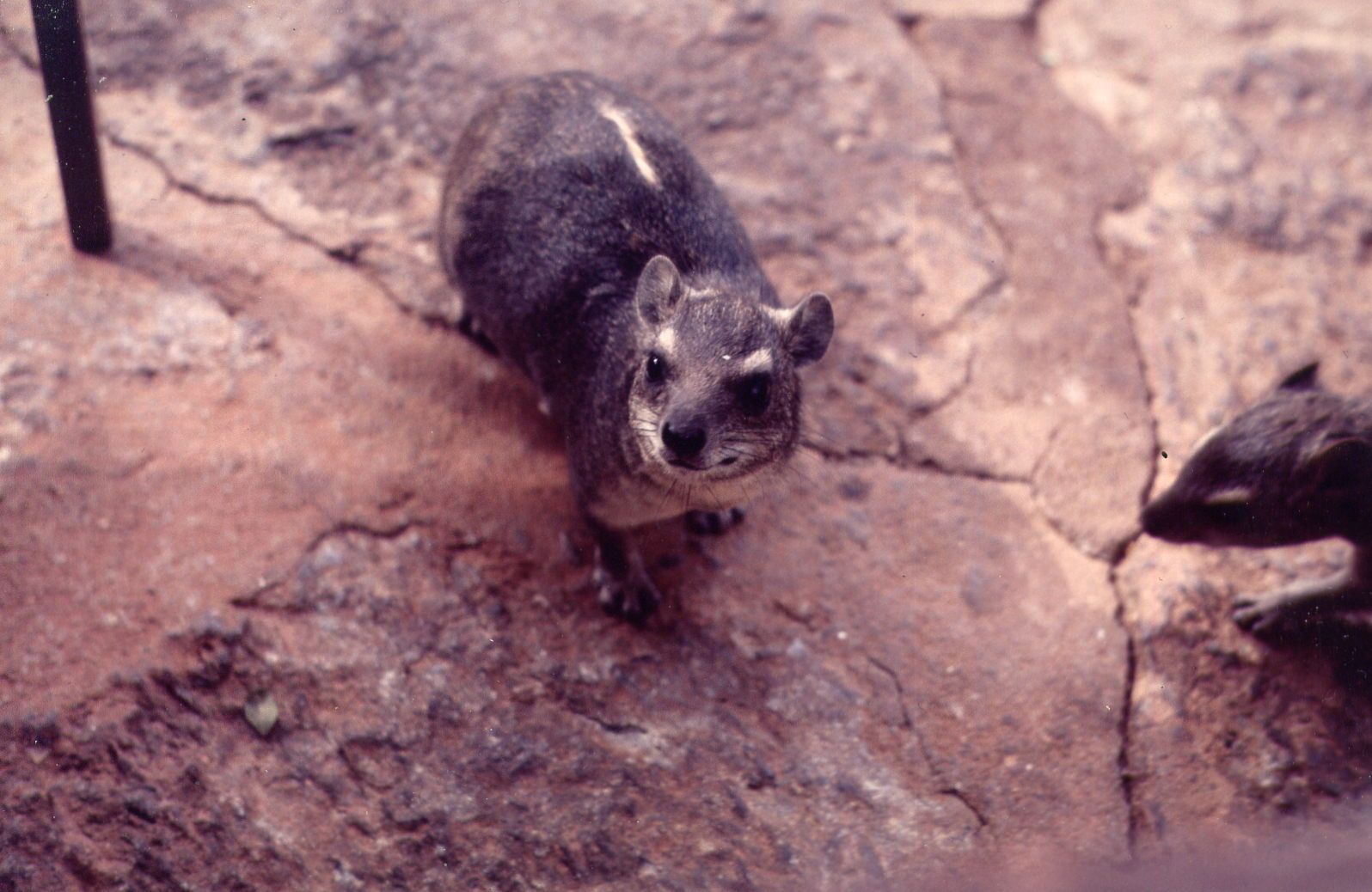 I confess that in a minibus with an ordinary camera, you will just never get great pictures of wildlife. You pretty much have to stick to the herds, and even so the vehicle cannot get too close to them except for some of the typically indifferent bovine types. (What is wrong with those animals? Don't they know that Africa is dangerous?)

At the lodge, there was a little no-so-wildlife, like the pesky hyrax. They are ugly, and they make ugly noises, but they have no compunction about begging. They are not at all skittish like squirrels, since they will lean their front paws on your legs and threaten to climb you to get something.

The personnel considered them dangerous -- sharp claws and sharp teeth -- and cautioned everybody to avoid them completely. Unfortunately, the hyraxes do not avoid the people and would even enter the room when you opened the door if you were not careful.
Posted by bjd on Sept 13, 2010, 6:47am
Did you know that hyraxes are related to elephants? I didn't see any, and the only "tame" beast we saw was a warthog which let itself be petted. Now, that is an ugly animal.
Posted by bixaorellana on Sept 13, 2010, 3:28pm
Elephants? -- really??!!! I don't think they're ugly, although the behavior as described is similar to what makes me hate pigeons. How big is a hyrax?

Are those marabou storks in the trees, Kerouac? Those are wonderful, moody pictures. Are (were) marabou the source for feather boas?

All of the pictures are really great, as well as exciting, but I totally love the one of the zebras.
Posted by kerouac2 on Sept 13, 2010, 4:50pm
Bjd - I think this trip took place in 1988. I remember missing the legislative elections in France, so it was the month of June. (The aborted trip was the previous November.)

I vaguely remember having read that hyraxes are related to elephants (because I had looked up what-the-hell-is-a-hyrax?), but it had sunk from consciousness until you brought it up again.

Bixa- these hyraxes were about the size of a small rabbit -- all the more reason to be wary of the teeth and claws.

I'm pretty sure they are marabout storks in the trees, but I didn't ask them to prove it. I doubt that they contribute to feather boas.
Posted by kerouac2 on Sept 13, 2010, 6:10pm
Lions are the biggest disappointment of a safari. What a bunch of lazy felines, all of the ones we saw! And we saw plenty. They just lie around sleeping and don't care one bit if a whole bunch of minibuses drive right up next to them with their loads of tourists.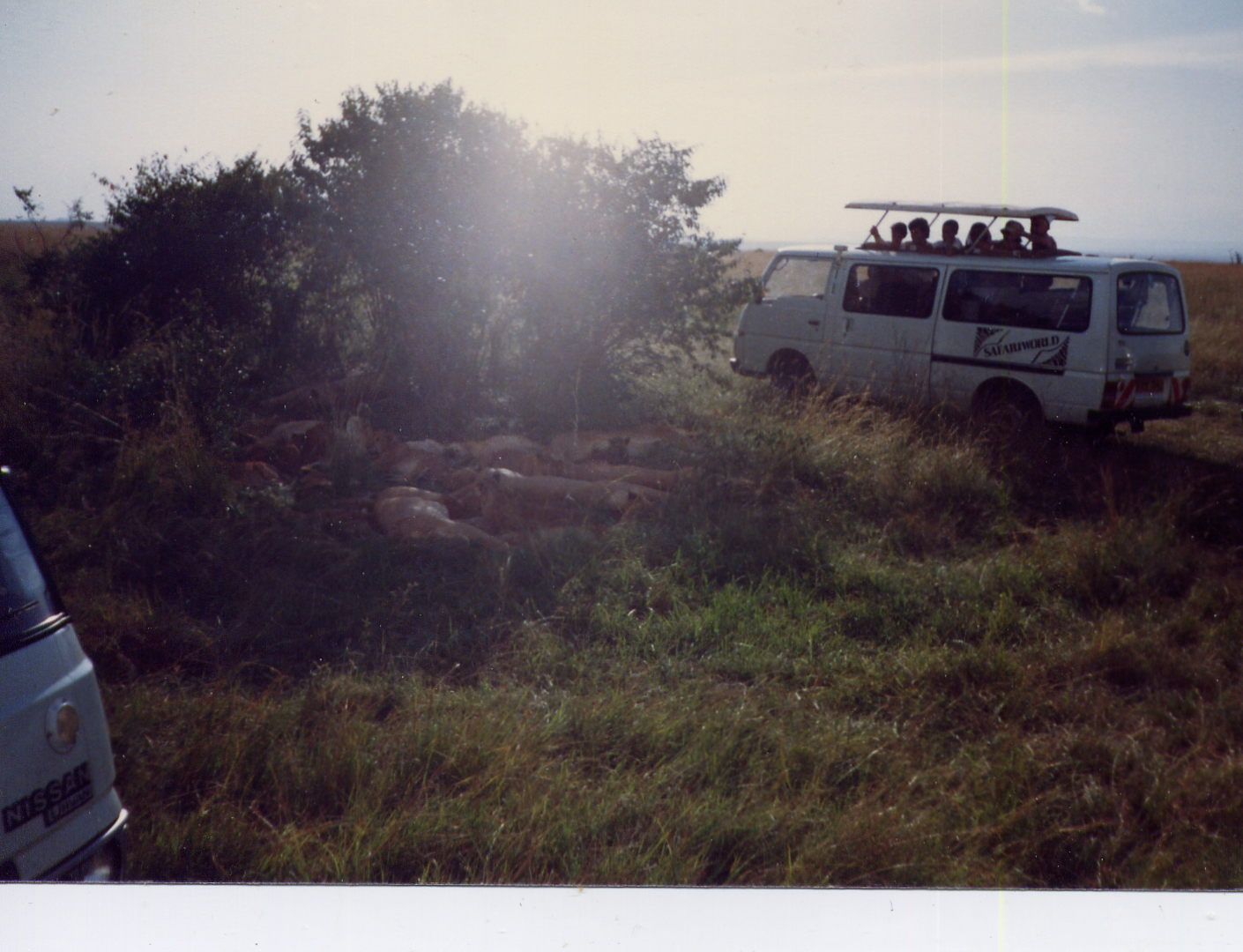 About the only movement provided were these cubs playing in the mud.




Meanwhile, on the edge of the Tsavo park, you could see Kilimanjaro at the very beginning of the morning, a long way off in Tanzania. After about 30 minutes, it would completely disappear in the haze.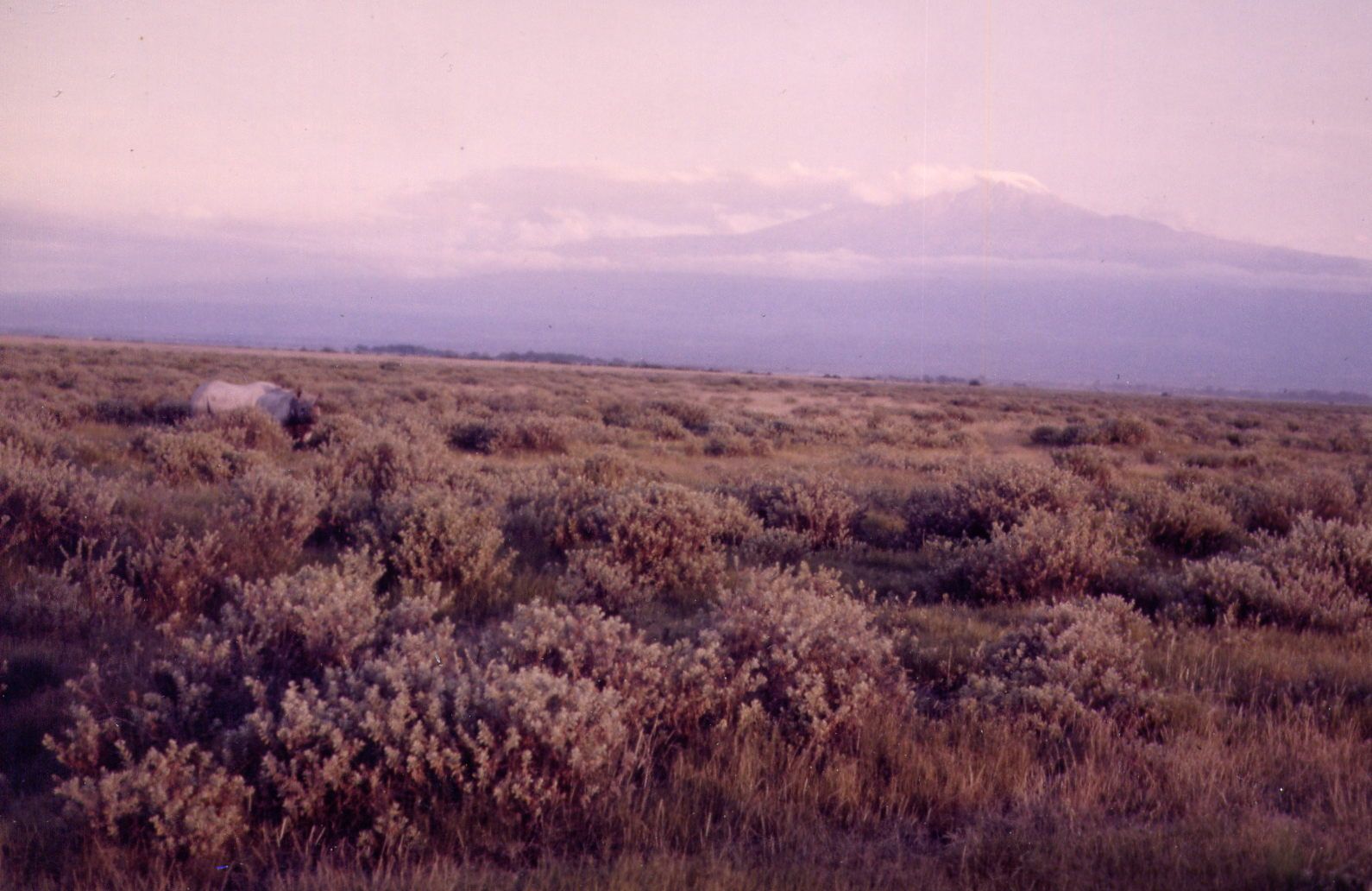 Posted by gertie on Sept 14, 2010, 12:37am
That is so amazing! What wonderful photographs.
Posted by bixaorellana on Sept 14, 2010, 3:28am
My god, those cats are sacked out. They don't even raise their heads at the vehicles right next to them. The cubs are kind of scrawny, aren't they?

But still ~~ lion cubs in the wild, not to mention their big, potentially dangerous parents.

That's a beautiful, dreamlike picture of Kilimanjaro, something I have always wanted to see. Is that a rhino in the photo?

slight digression: http://www.lab.fws.gov/idnotes/MarabouIDGuide.pdf
Posted by kerouac2 on Sept 14, 2010, 4:51am
Yes, it's a rhino. It was one of the most difficult animals for our guide to find. He had a checklist in his head of the list of animals that needed to be seen.
Posted by kerouac2 on Sept 14, 2010, 5:27am
One of the musts was to find hippos and crocodiles.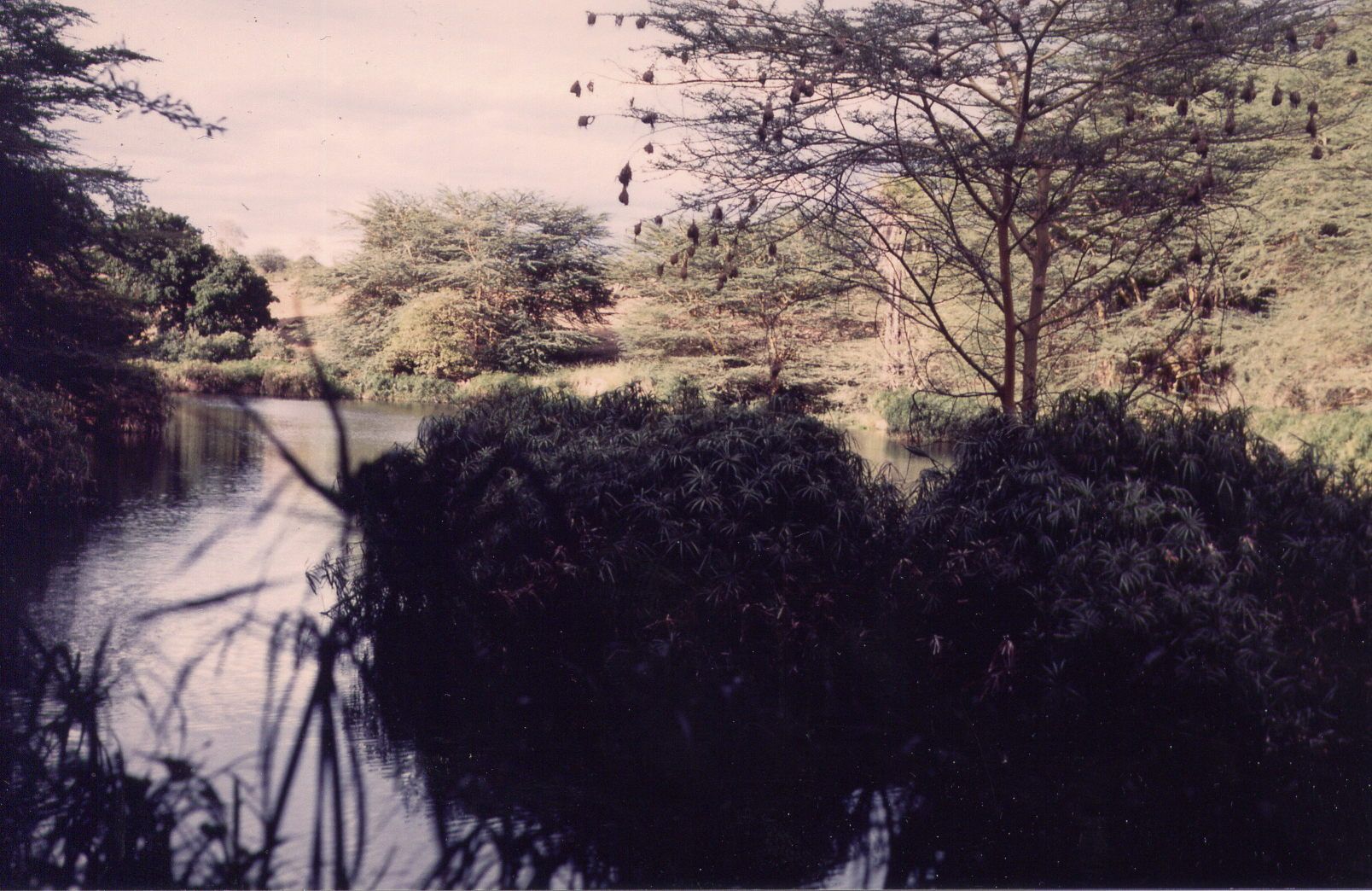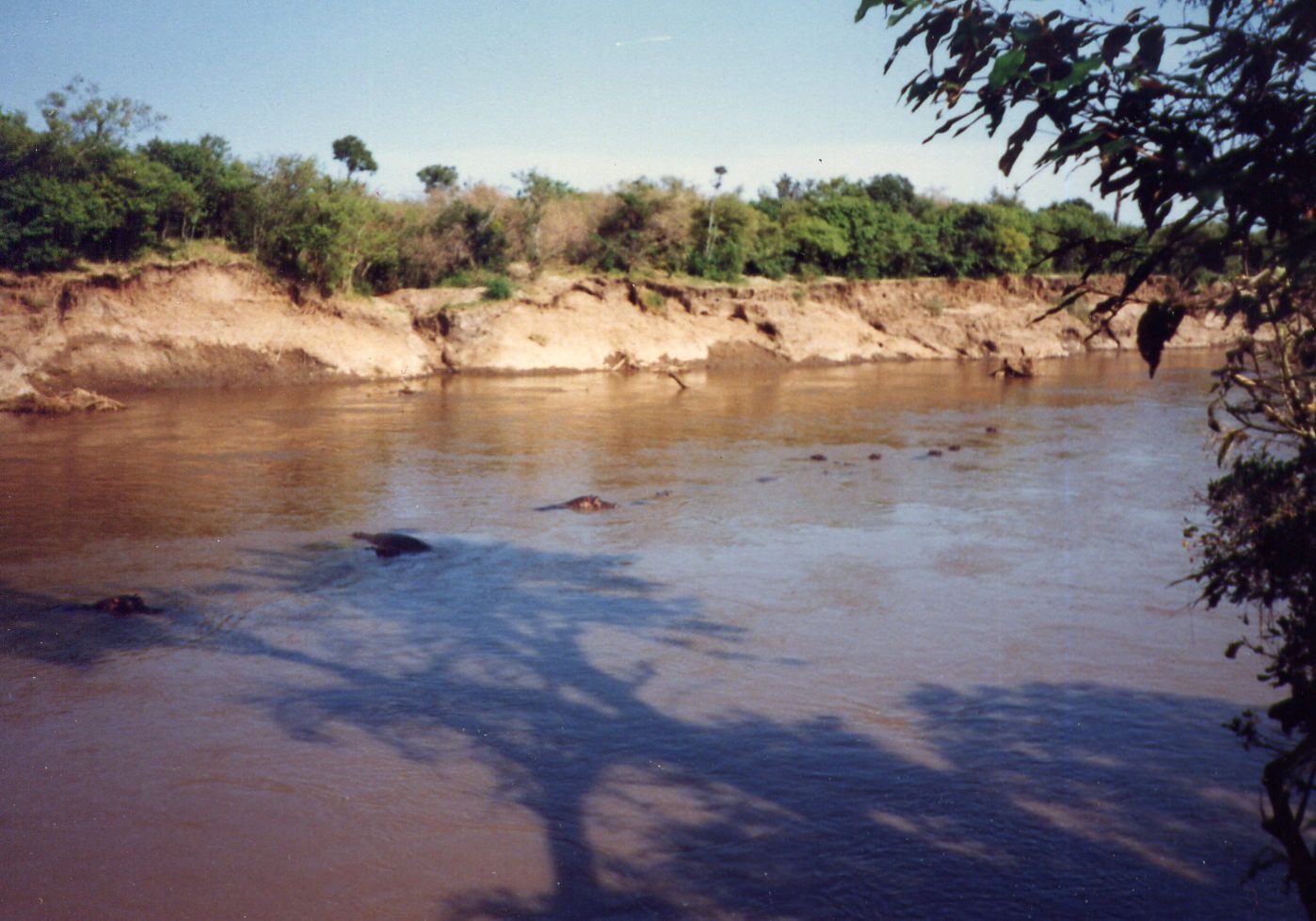 This is one of the only places where we actually got out of the vehicle during our safari rides. Believe me, we looked very suspiciously in all directions, especially when there was a lot of undergrowth.

When you stop, there is sometimes another problem. The monkeys will come and take anything that isn't bolted down. In this century, I would suspect that they have really impressive collection of mobile phones and iPods!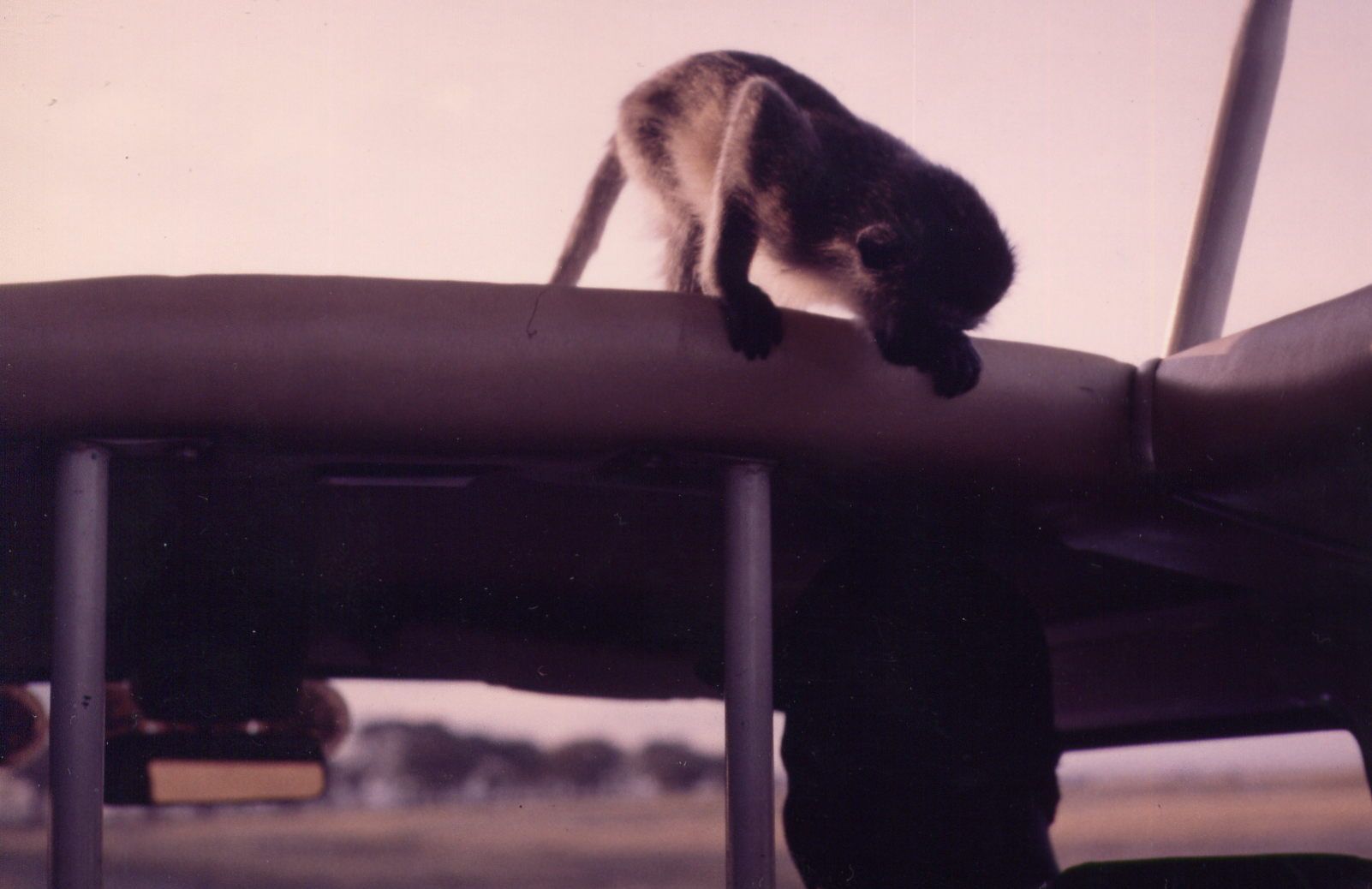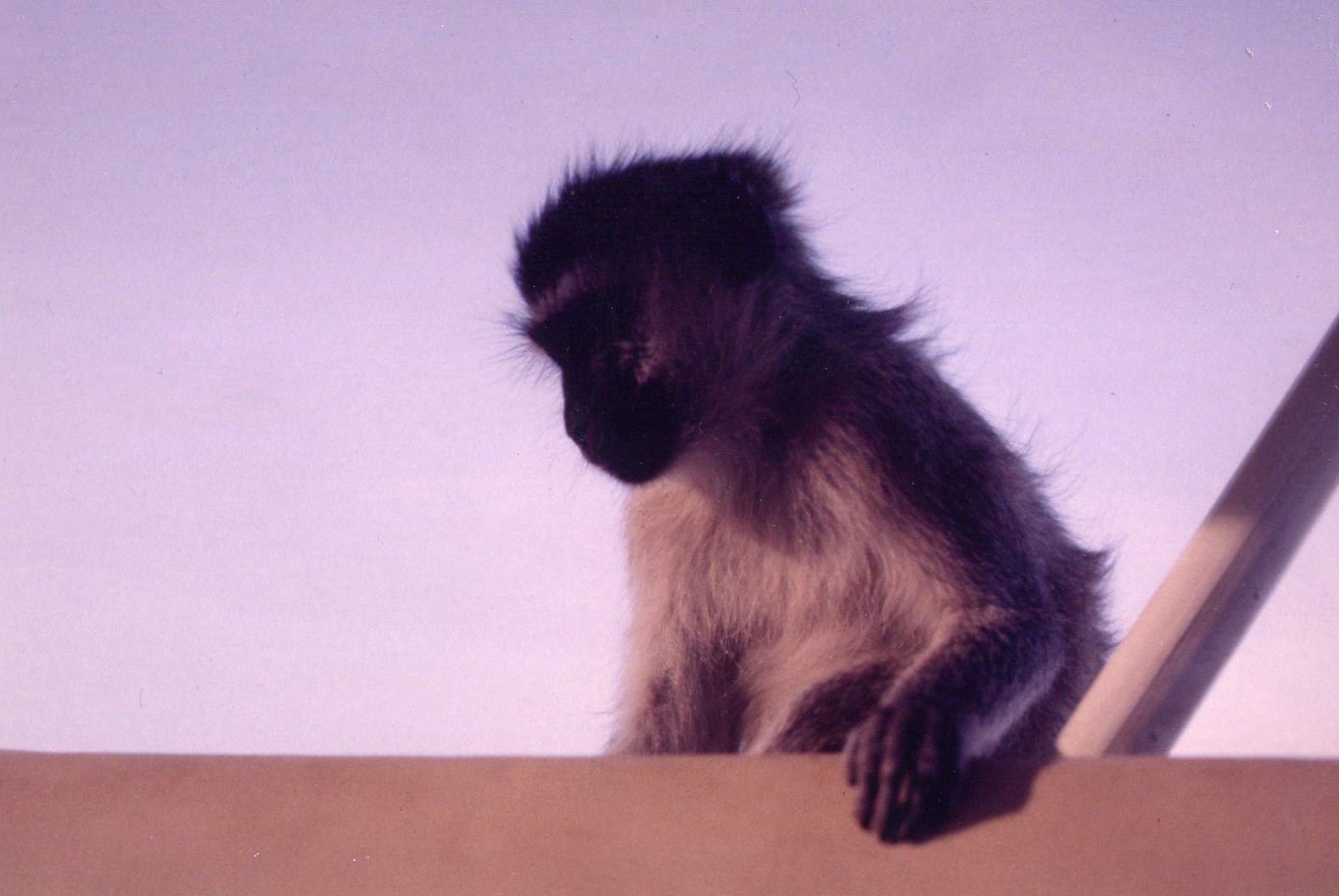 Posted by bjd on Sept 14, 2010, 6:46am
When we went to the Mara River to see hippos and crocodiles, we were accompanied by a park ranger with a gun.

I too was impressed by the guide's ability to spot animals. I was in fact extremely lucky to be there in 2003. There were few tourists because it was still the aftershock of Sept 11, 2001, and Americans were not travelling much to "dangerous" countries. So there were practically no other vans in the parks. Nothing like your pic of vans surrounding the lions -- just 2 and then 4 of us in one minibus.

Of course, it was a problem for the tourist industry, but good for us.

I will try to upload some pics when I get back from Canada.
Posted by jazz on Sept 14, 2010, 8:38am
Love this! Like your father, I have always wanted to see the animals in Africa.
….' The restaurant faced a major watering hole, where all of the animal come to drink peacefully, even if they are trying to eat each other during the day.'…



I have a book, The White Bone, by Barbara Gowdy. It is written from the point of view of Mud, a young elephant, and as you read it, you begin to feel like an elephant. An exceptional read.
http://www.amazon.ca/White-Bone-Barbara-....84453113&sr=8-3

Posted by kerouac2 on Sept 15, 2010, 5:35am
We didn't always eat dust. Sometimes we ate mud.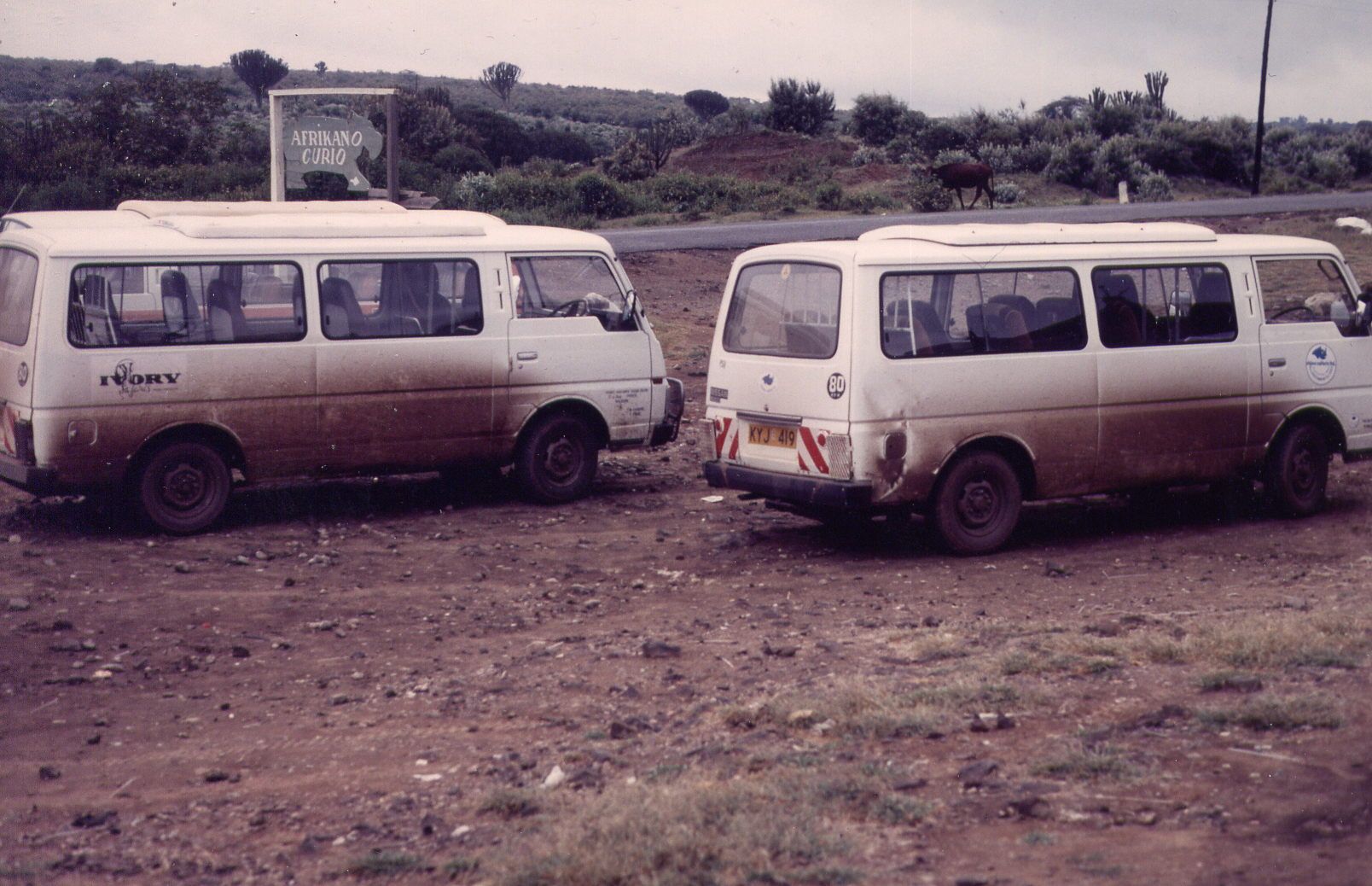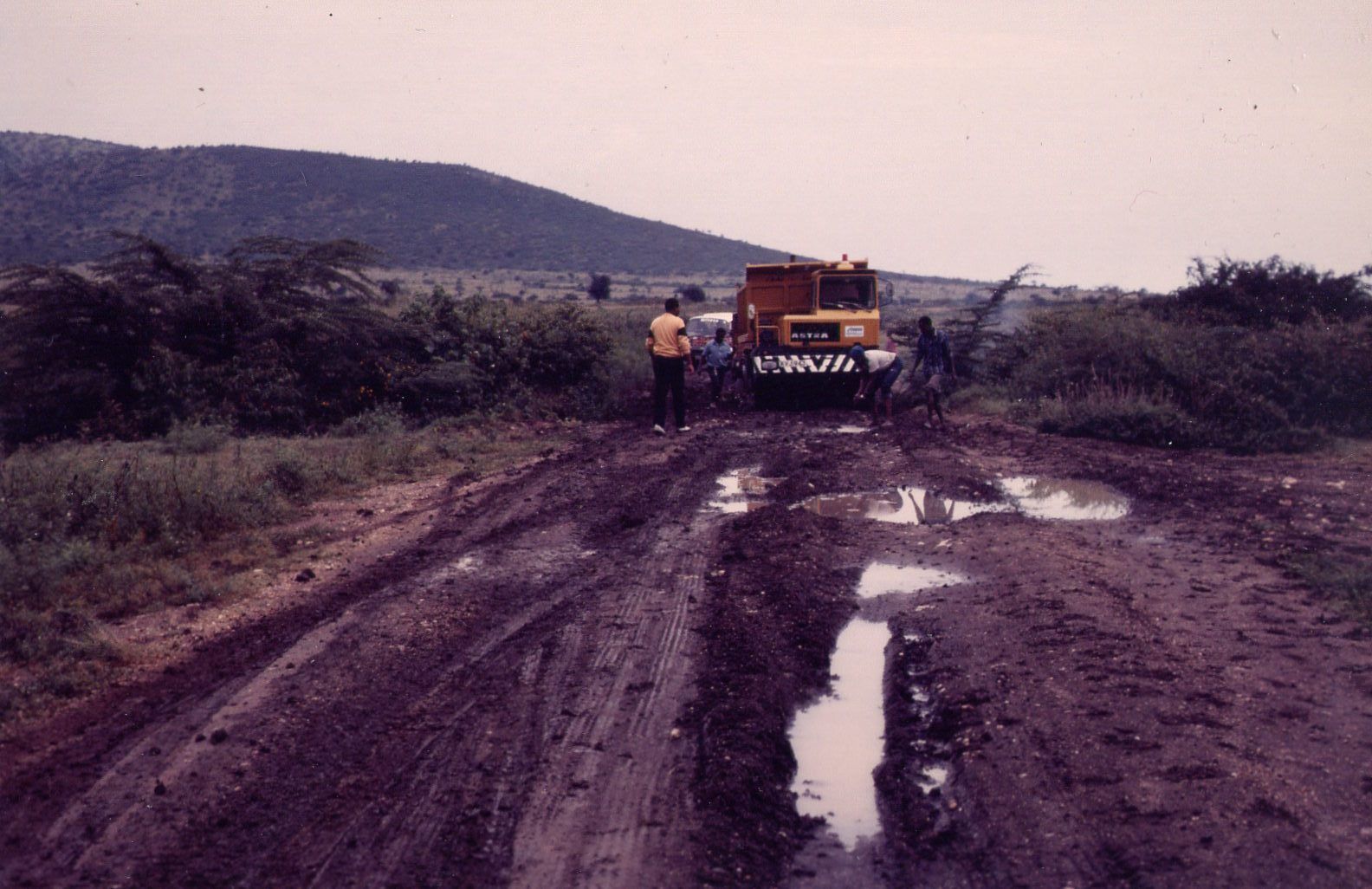 Kenya isn't all flat, far from it. Since the Great Rift Valley goes through it, we had to cross a rift.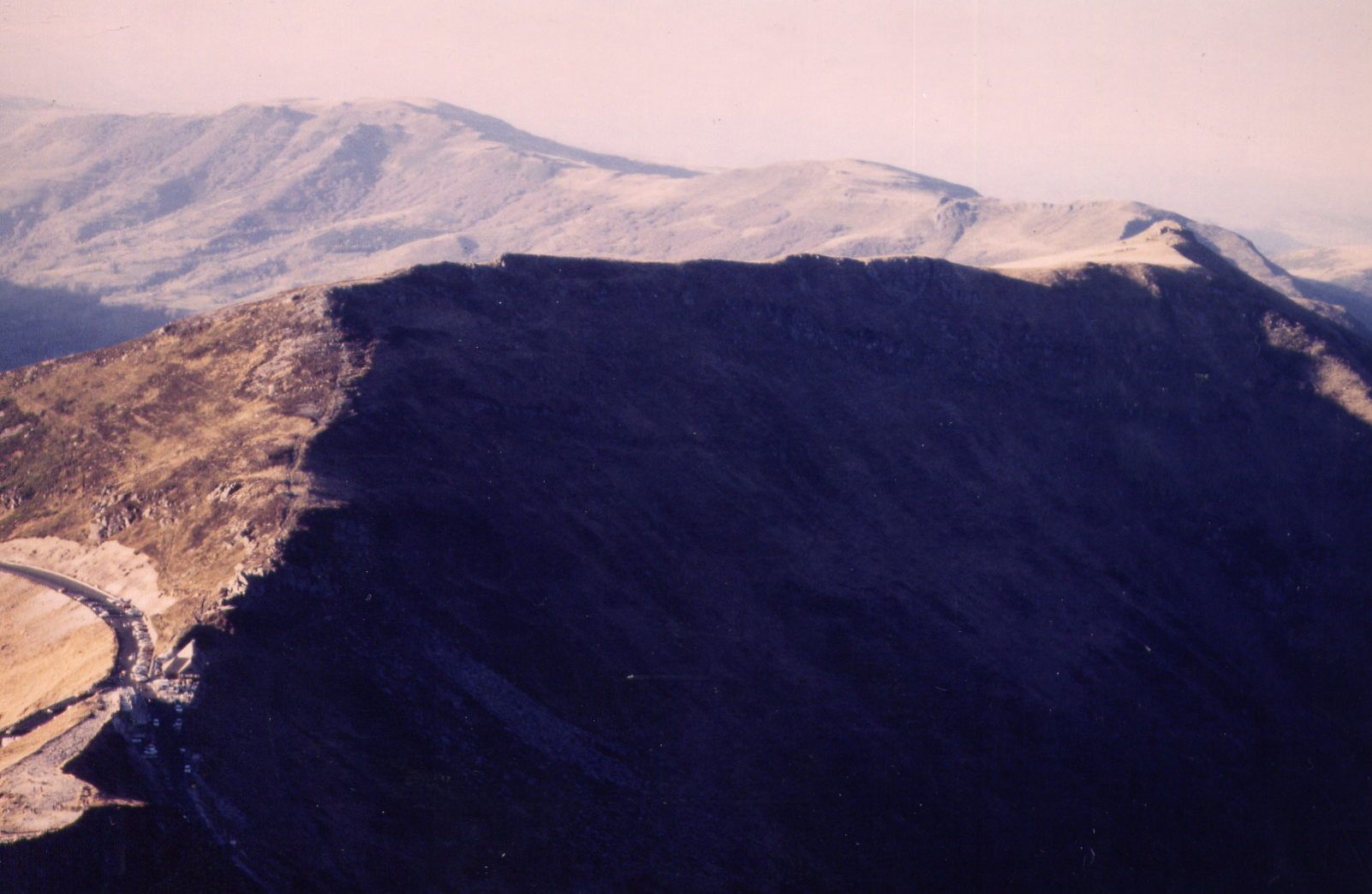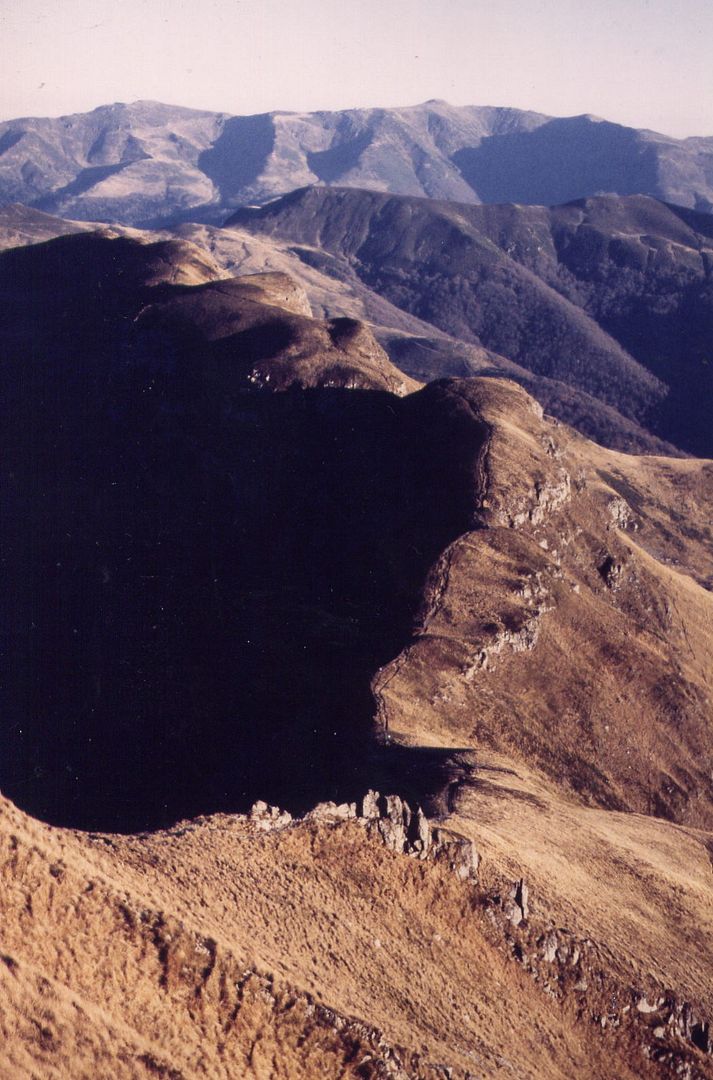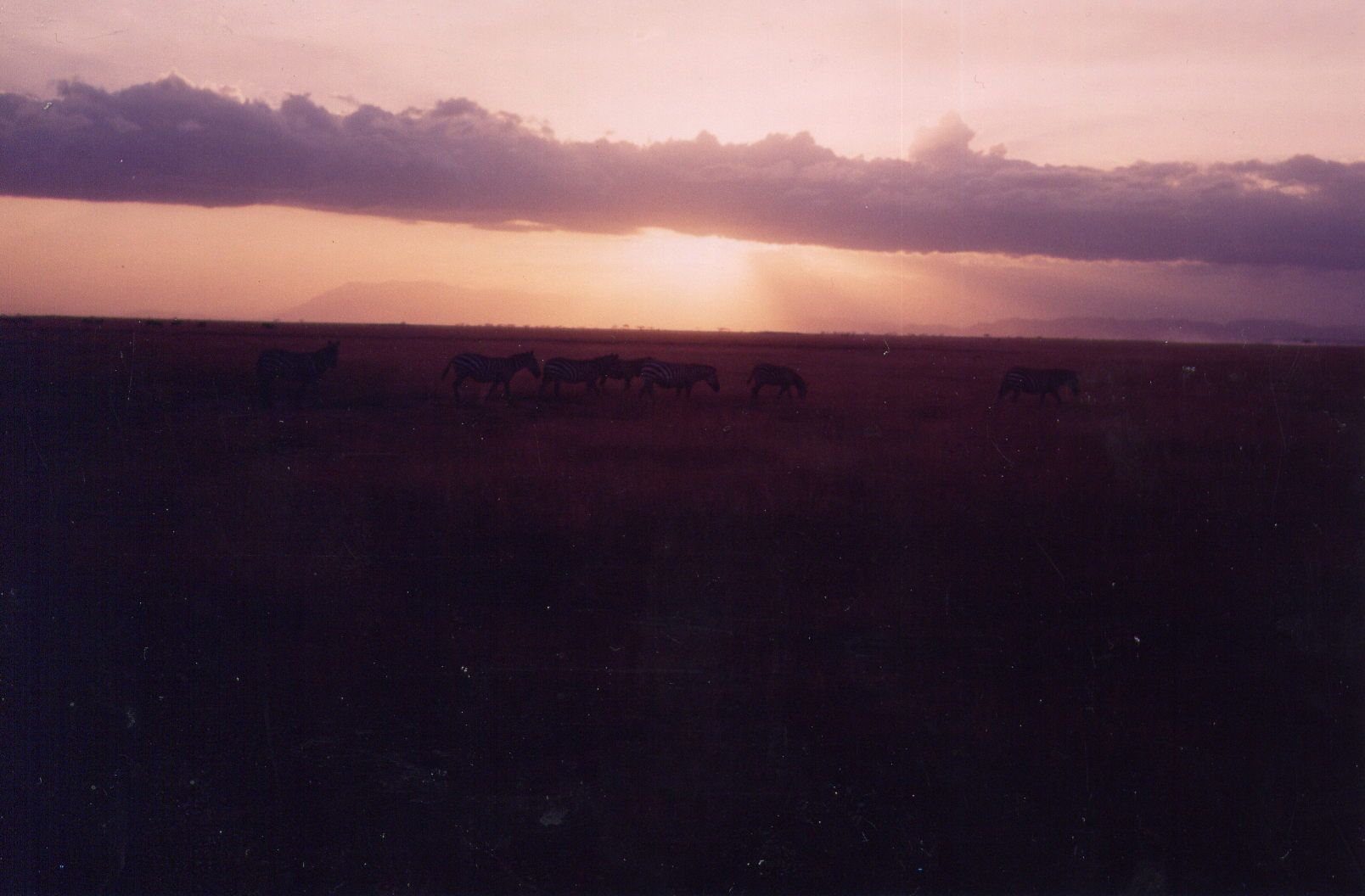 Posted by onlymark on Sept 15, 2010, 6:34pm
Re: Reply number 5, 3rd picture of the zebras - difficult to tell but there are 3 females and two males in the picture.

The way to tell is by looking at the stripes.
If they start with a white one they are female, if with a black one then they are male.
Posted by kerouac2 on Sept 16, 2010, 5:15pm
Mark is losing his touch, because he did not notice that one of the zebras is actually a hermaphrodite.

One of the most repulsive animals in the wild is the hyena. They are ugly, they are mean, they are dangerous and they are terrible housekeepers.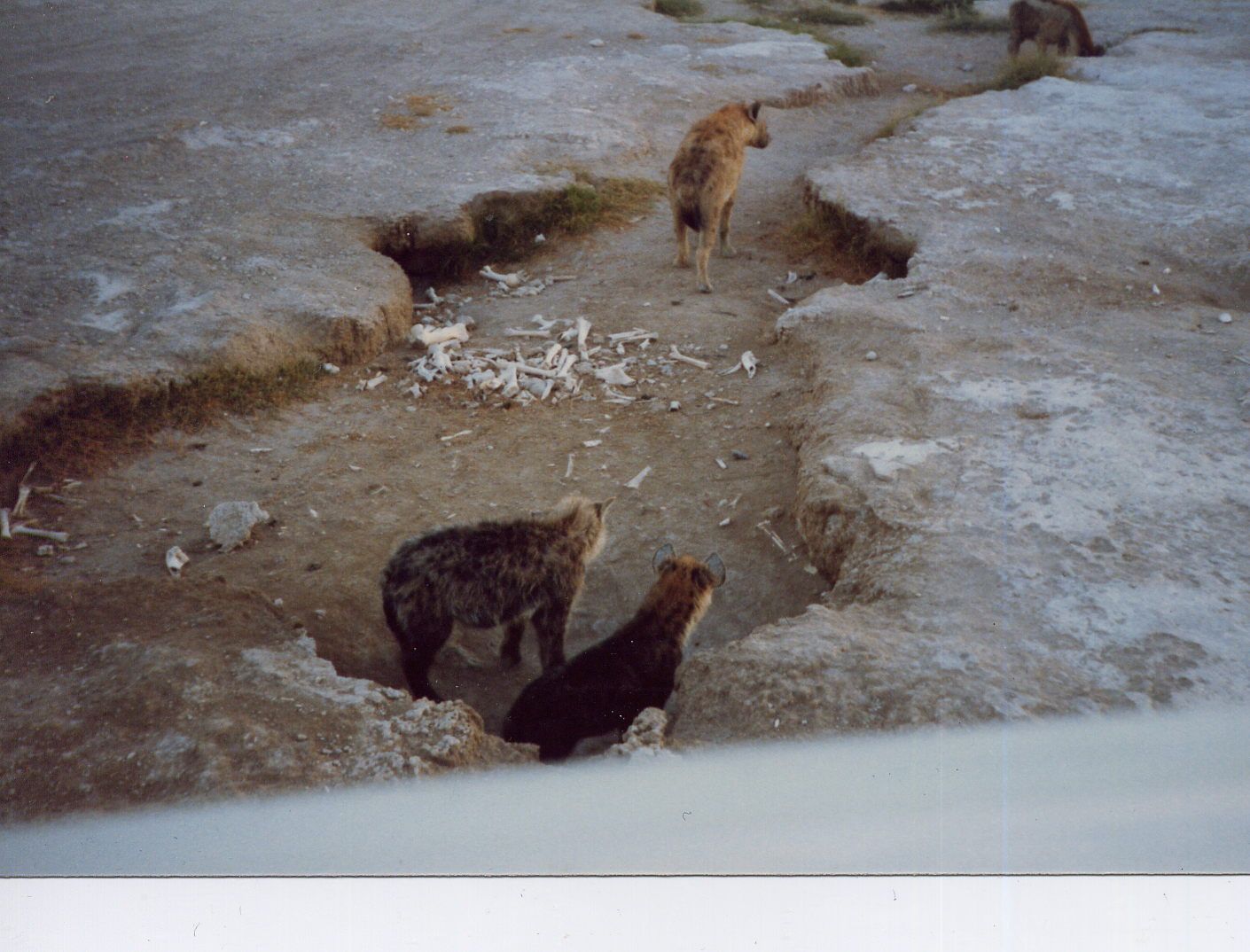 And baboons are sneaky. You have watch out for them, too. At one of the lodges, where we were in semi-tents (but with a real bathroom at the rear), they said that they sometimes had to shoot the baboons because a lot of them learned how to use zippers, and the tents were only closed with a big zipper in front.


Posted by bixaorellana on Sept 17, 2010, 6:17am
Such good pictures. That first hyena one looks like it's from the dawn of time.
Posted by kerouac2 on Sept 18, 2010, 5:06am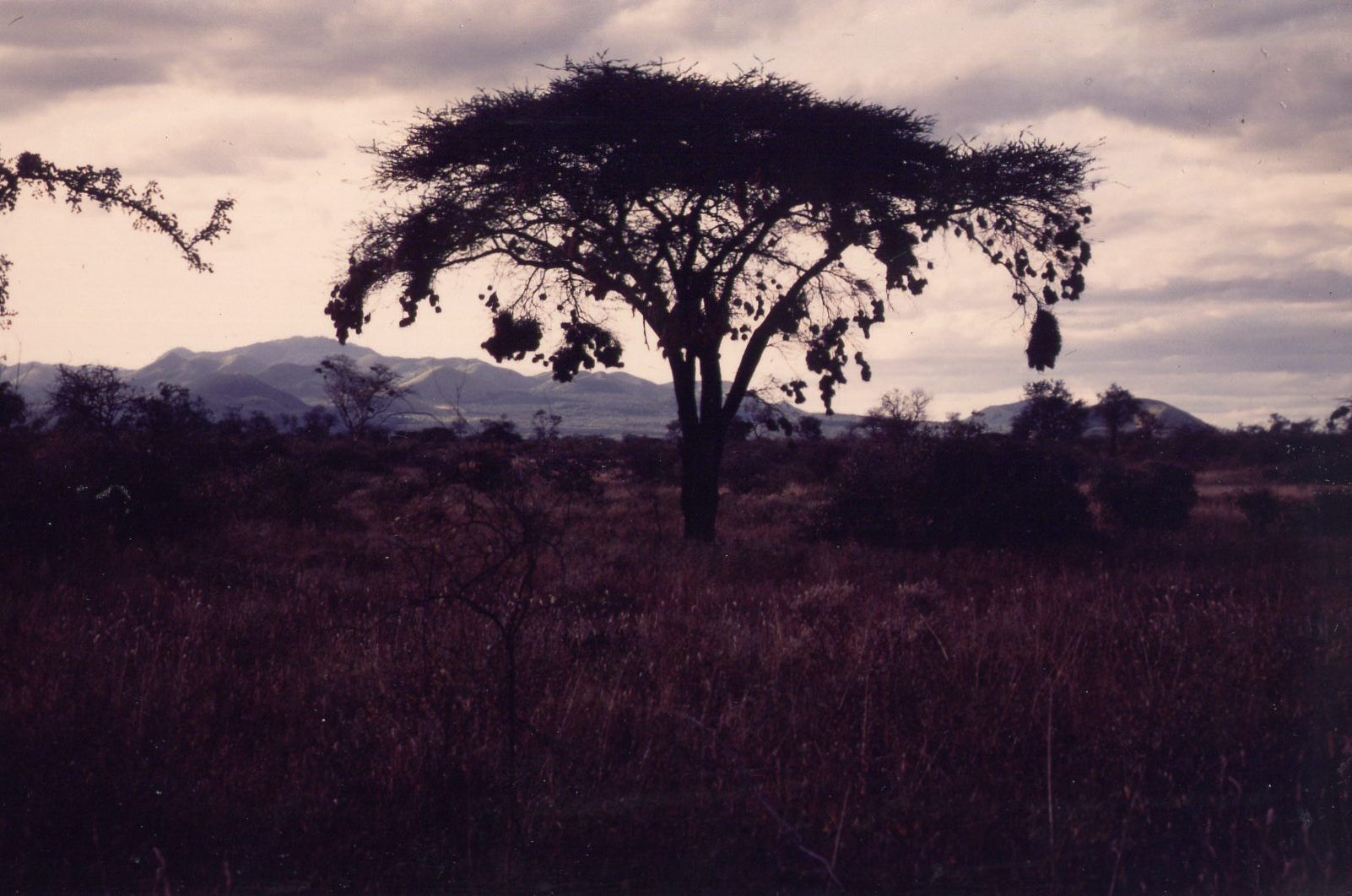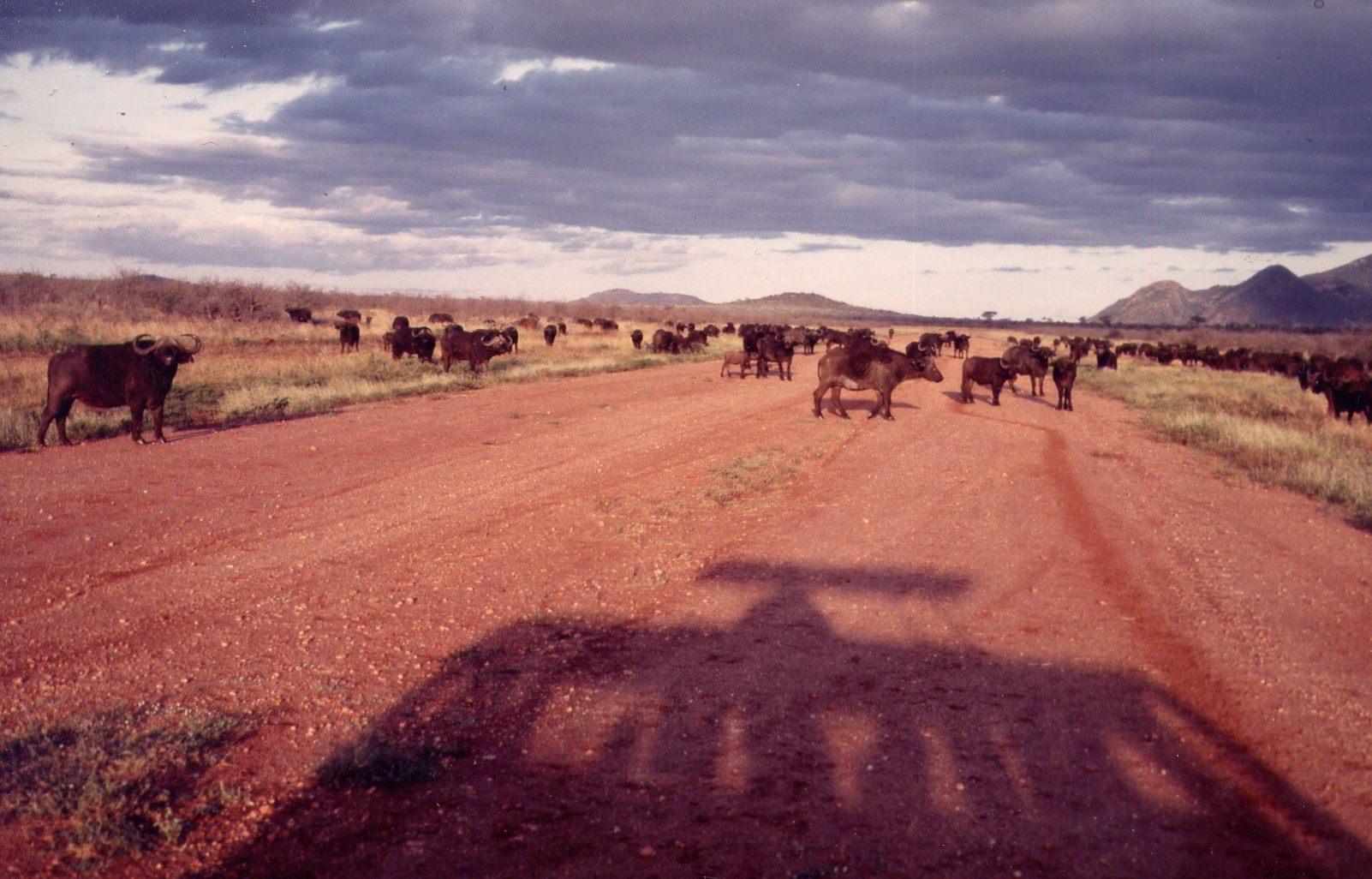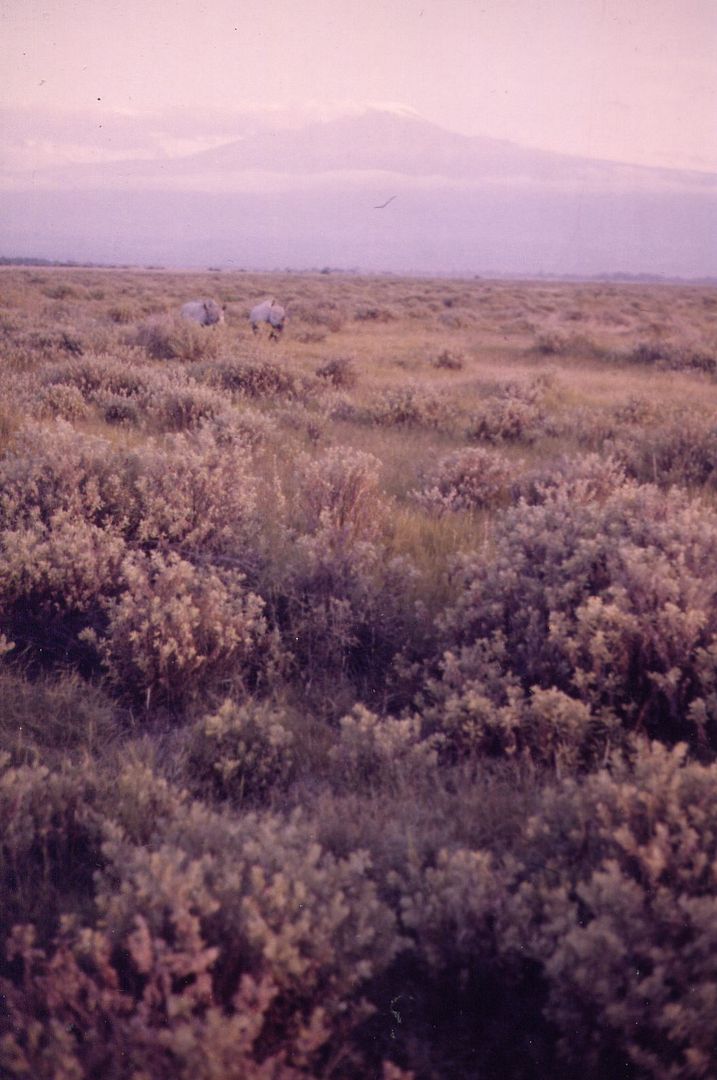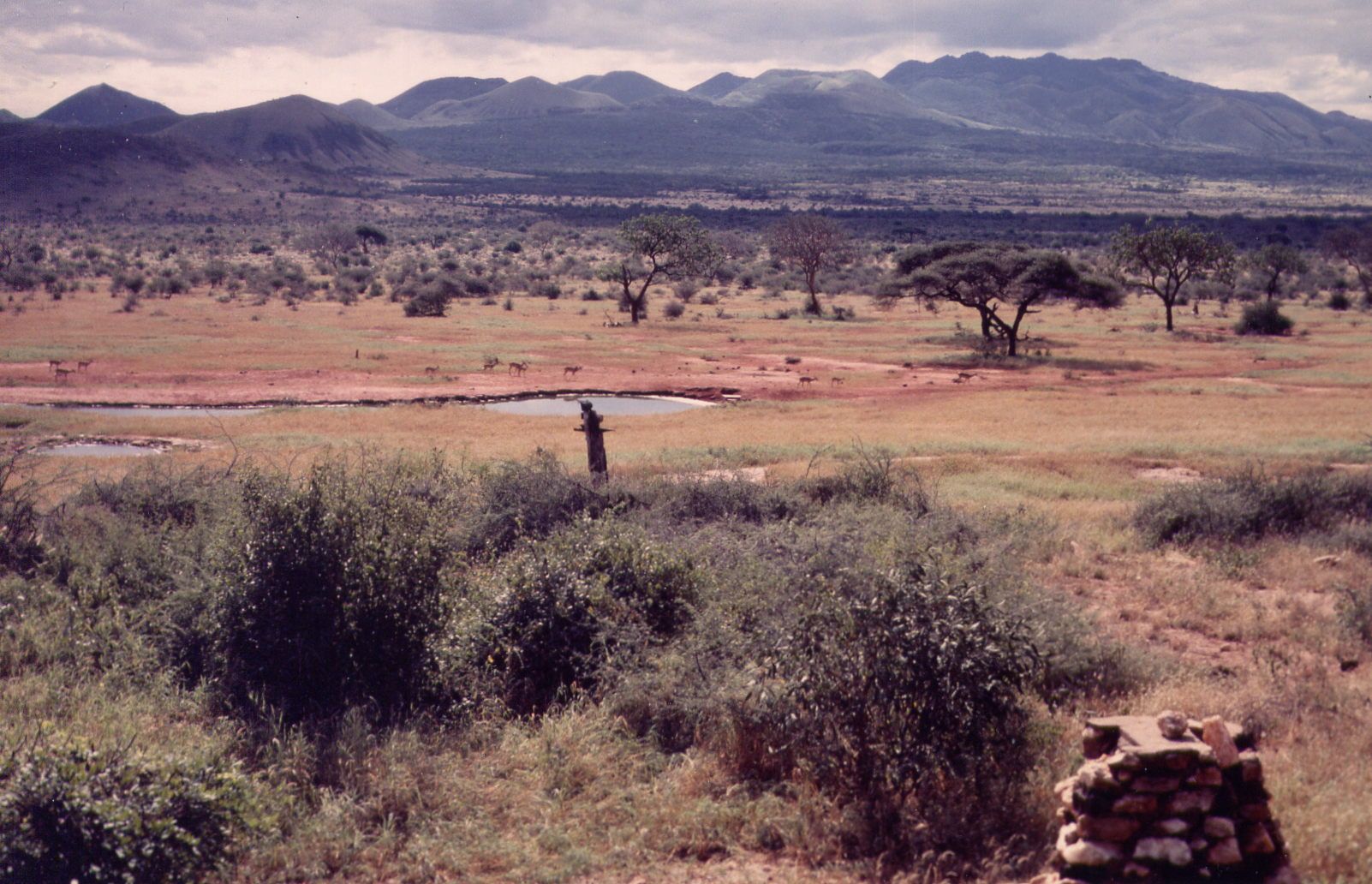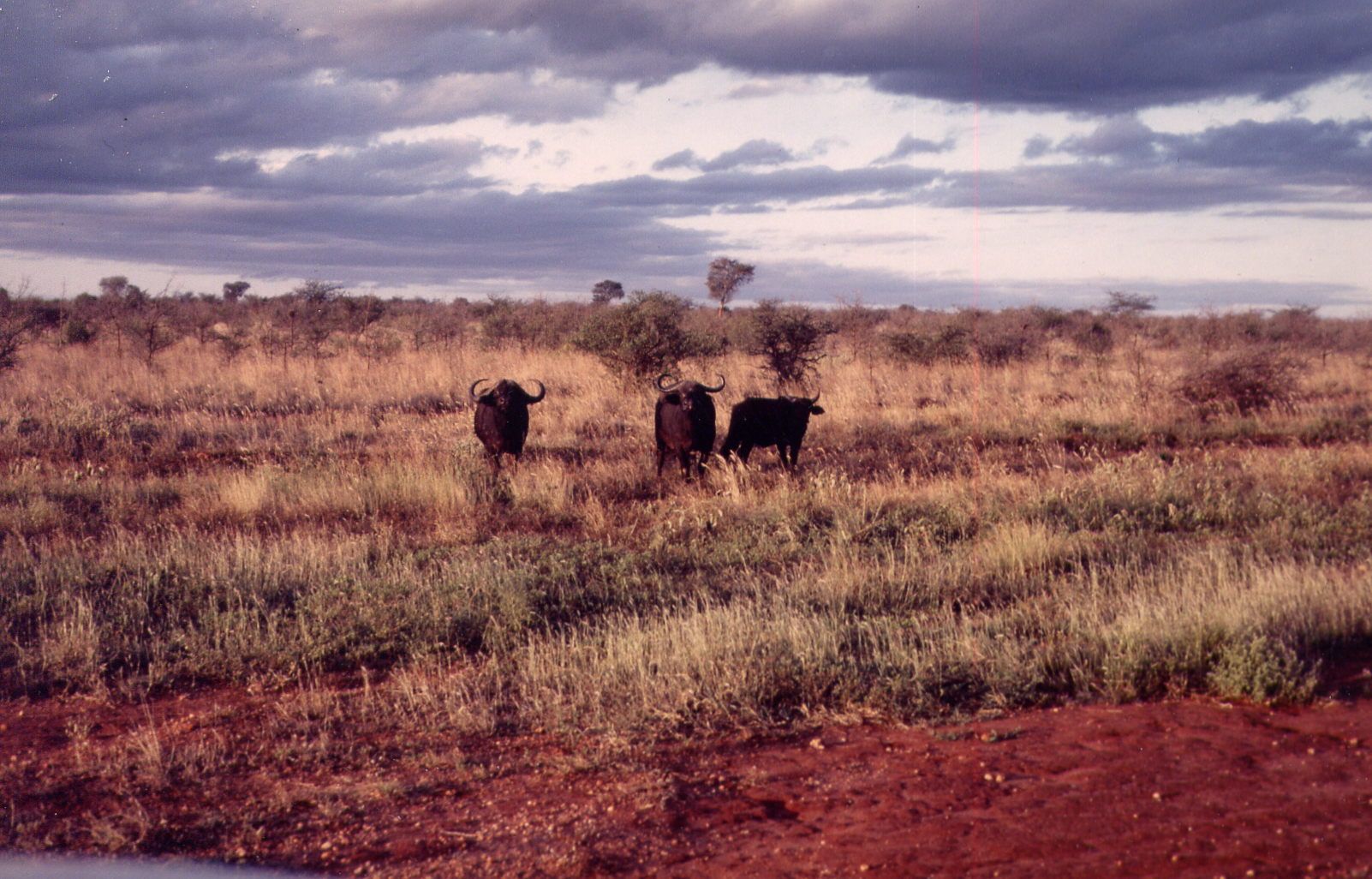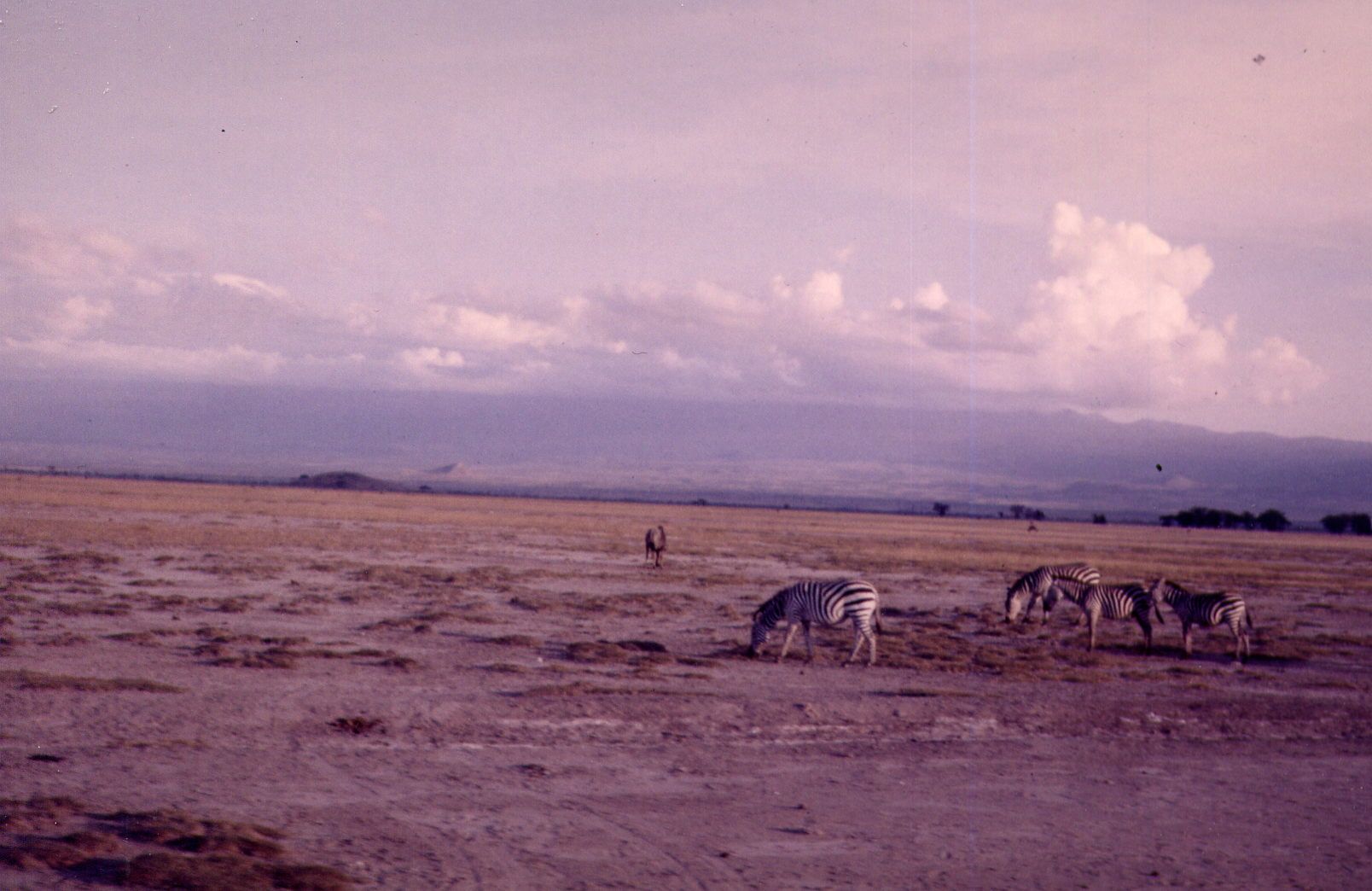 I can hear you muttering "where are the damned elephants?" Okay, I'll admit it: I haven't located the photos of the elephants yet, or the ones of the Masai. So I will have to come back to this report at some time in the future to complete the missing pieces.

We finally went back to Nairobi to spend a night before taking the train to Mombasa.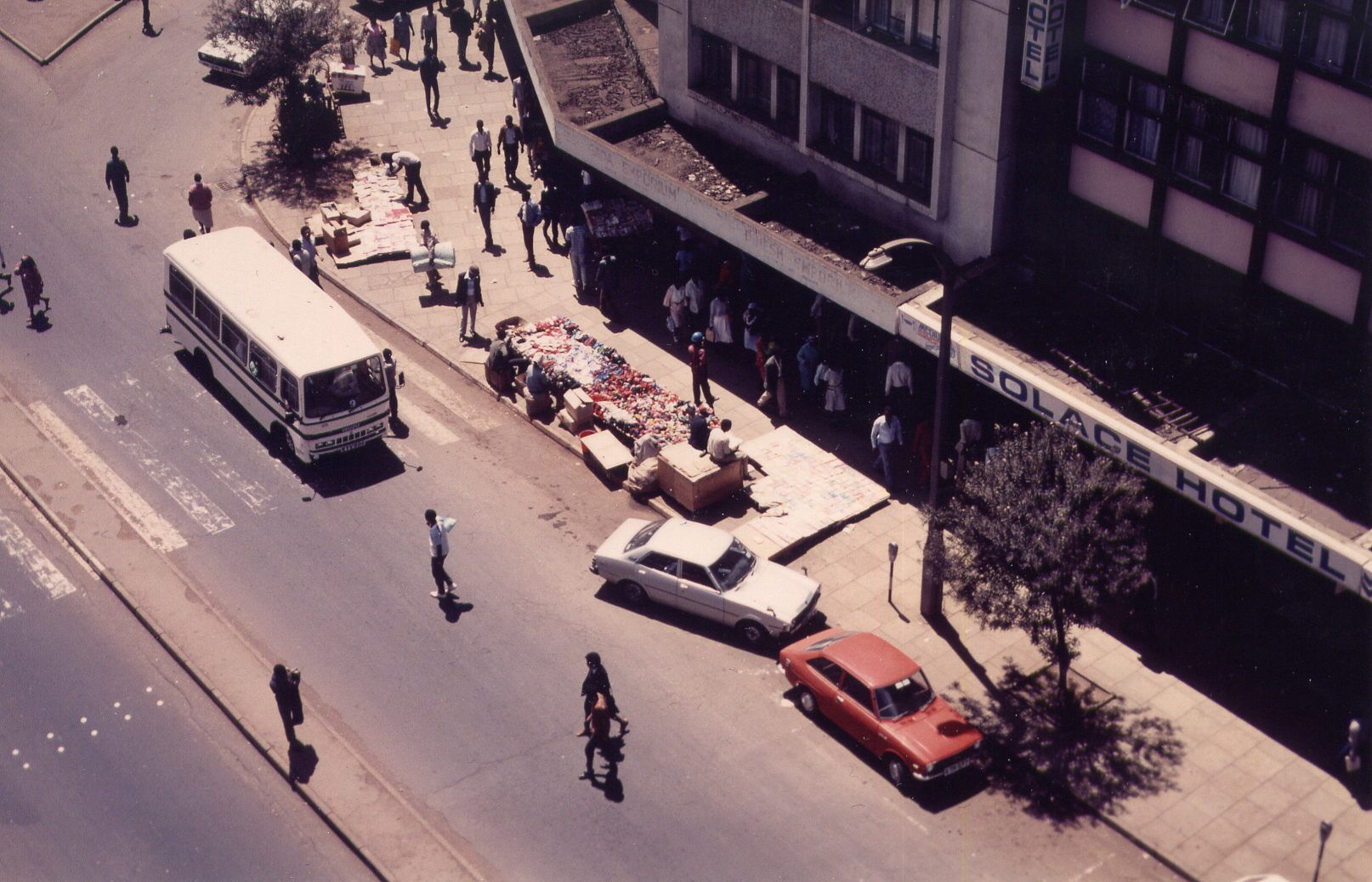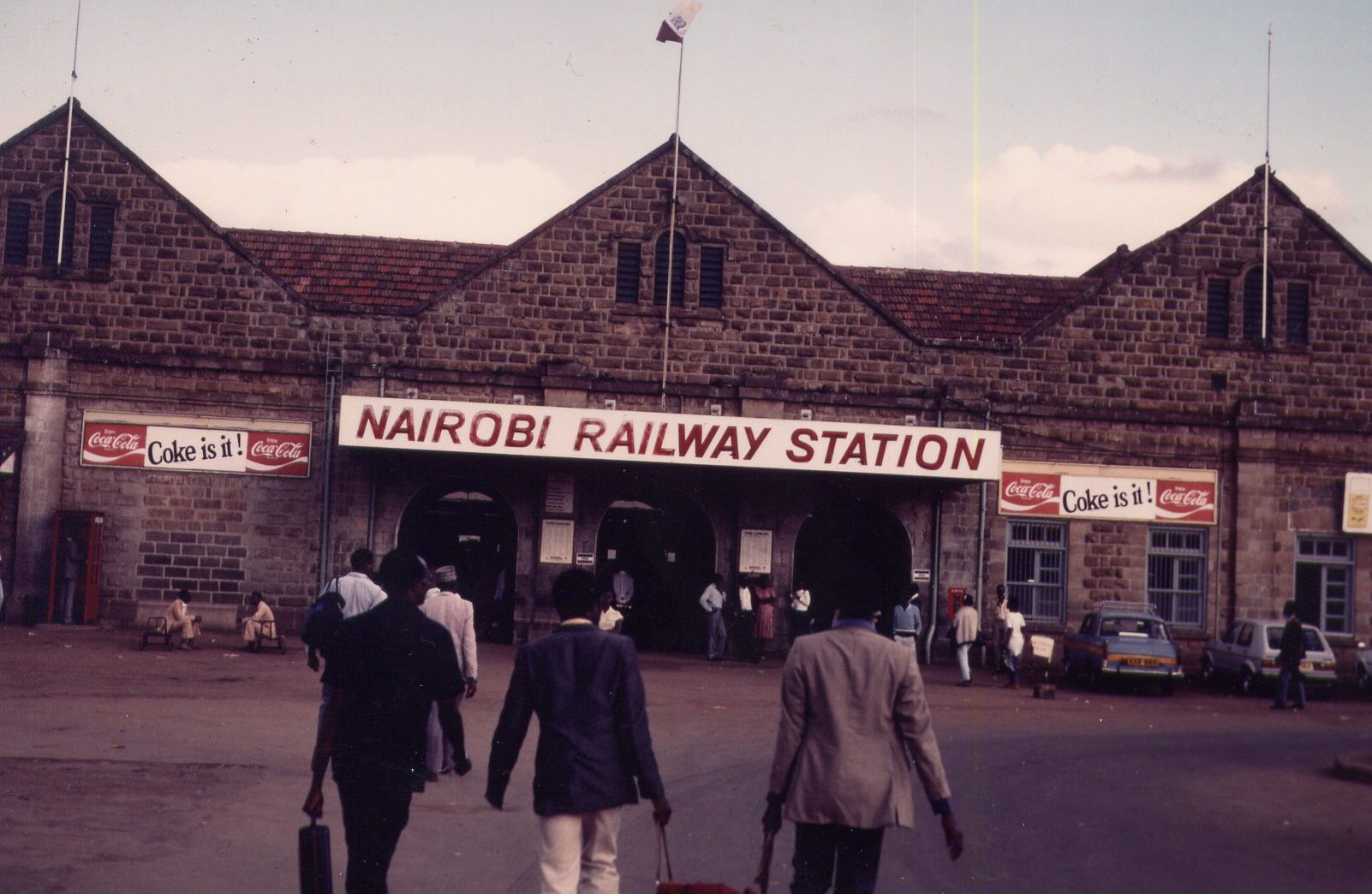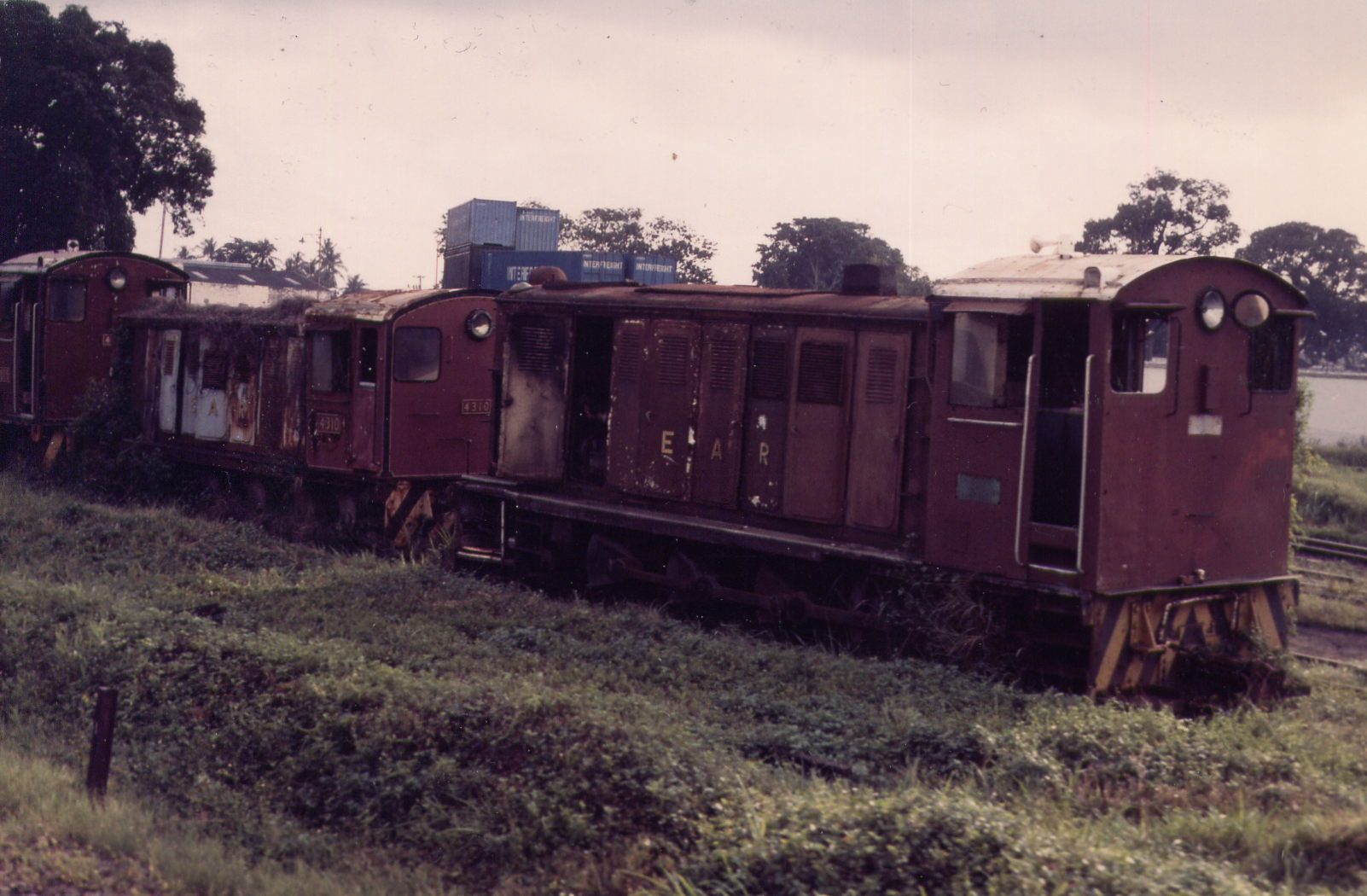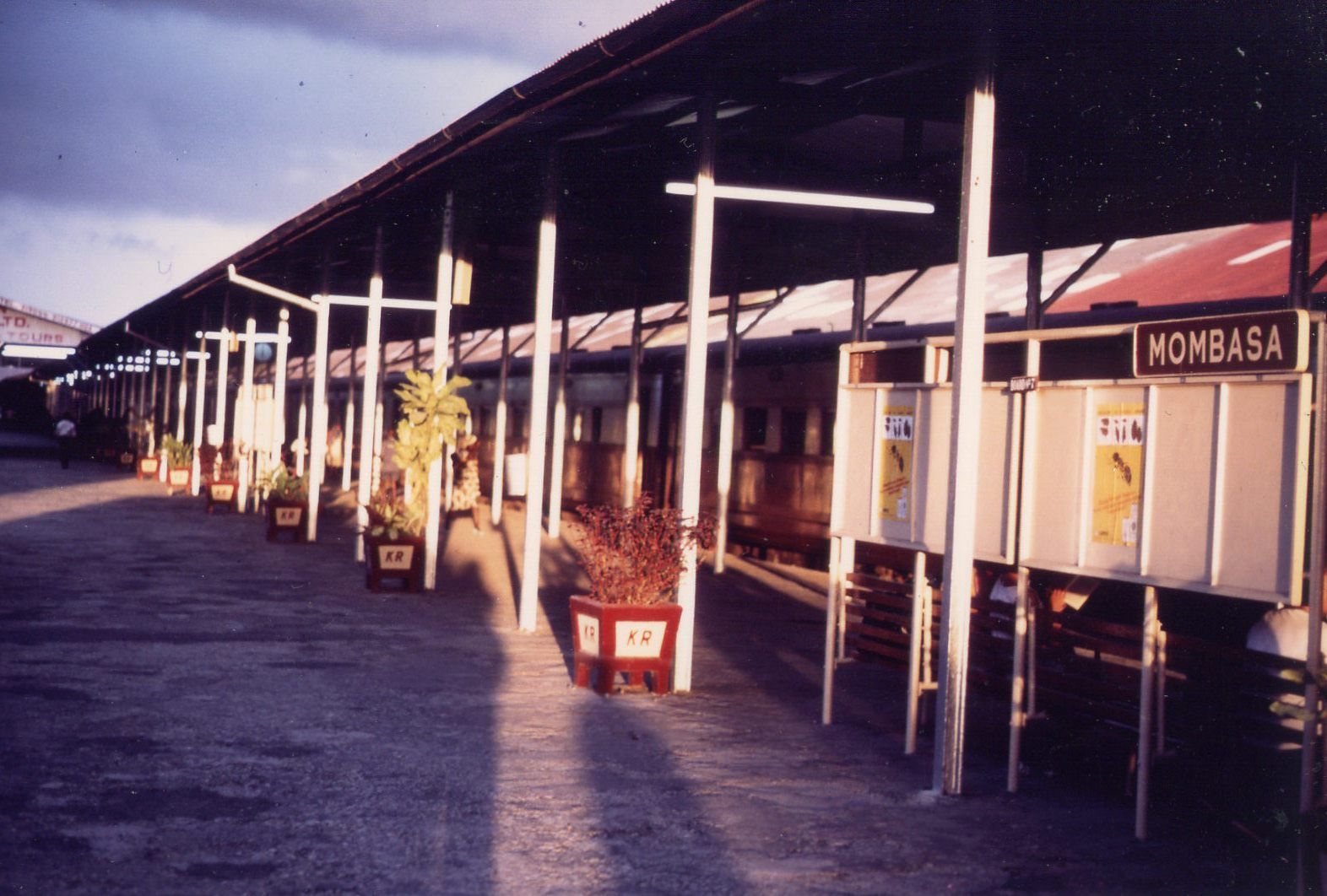 The train lived up to our expectations -- relatively dilapidated but utterly charming. We had a greasy curry in the dining car while watching giraffes and ostriches out the windows. Then the jolting on the old tracks rocked us to sleep in our sleeping compartment.

In any case, we had earned a few days on the coast of the Indian Oceans to wash off all of the safari dust.


Posted by bixaorellana on Sept 18, 2010, 5:39am
Wow ~~ talk about your thundering hordes, your wide open spaces!

I imagine parts of this trip were pretty uncomfortable, but it had to have been the experience of a lifetime.

Actually, I wasn't muttering about elephants. I was gibbering to myself trying to remember the name of a movie which I saw when it first came out. It was the classic several-men-one-woman survival theme. Baboons figure prominently: http://en.wikipedia.org/wiki/Sands_of_the_Kalahari
Posted by tod2 on Sept 23, 2010, 2:54pm
I loved reading about your African Safari Kerouac - Maybe I should arrange an organised tour to the Masai Mara for my husband. He loves photographing wildlife and we spend two safari's a year in Kruger National Park.
I would love to visit the place of my birth - Kisumu. Just a little apprehensive and nervous.......

Thanks for the photos and story.
Posted by kerouac2 on Sept 29, 2010, 8:28pm
Okay, I finally dug up some elephants and a few other critters.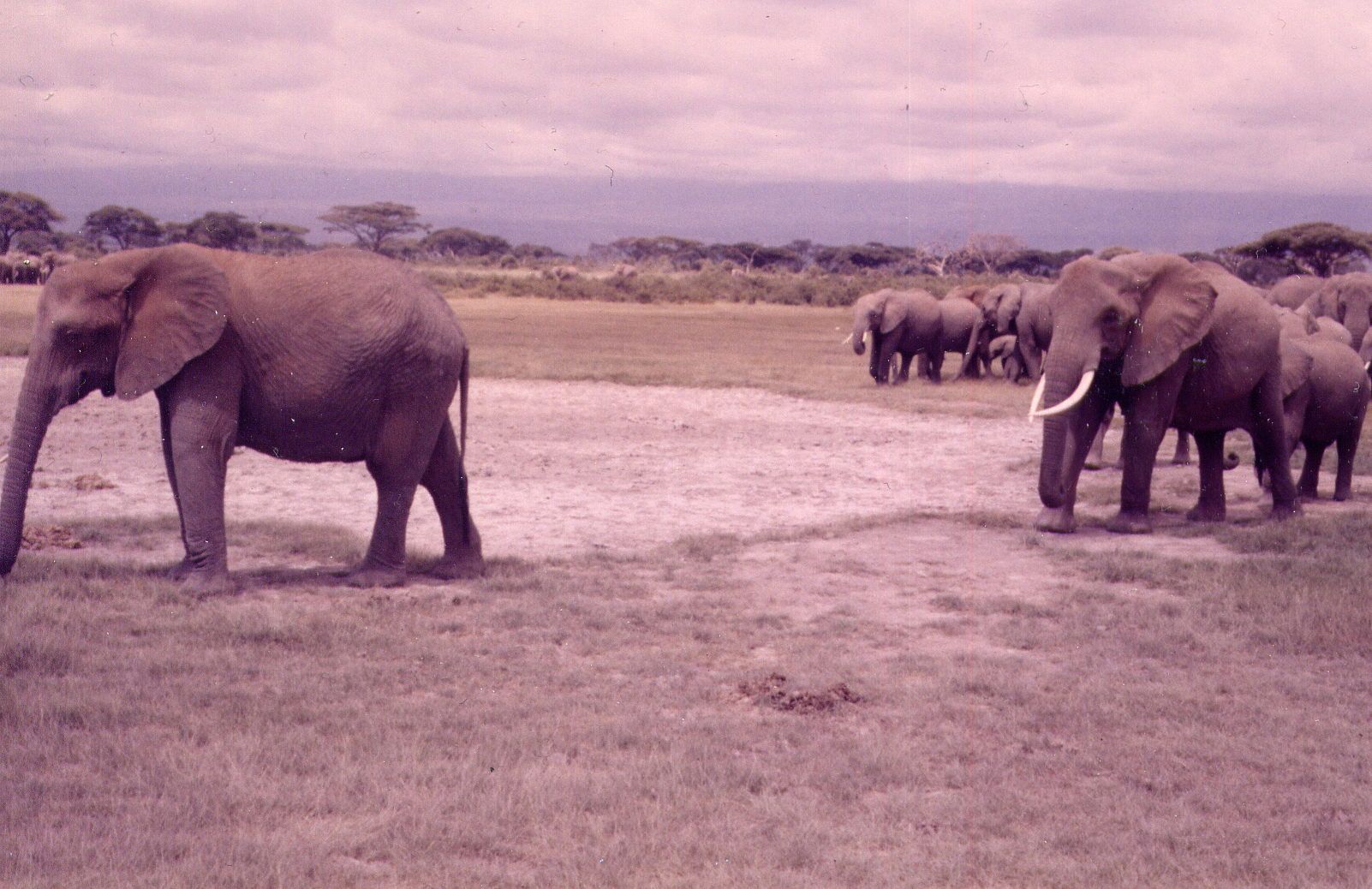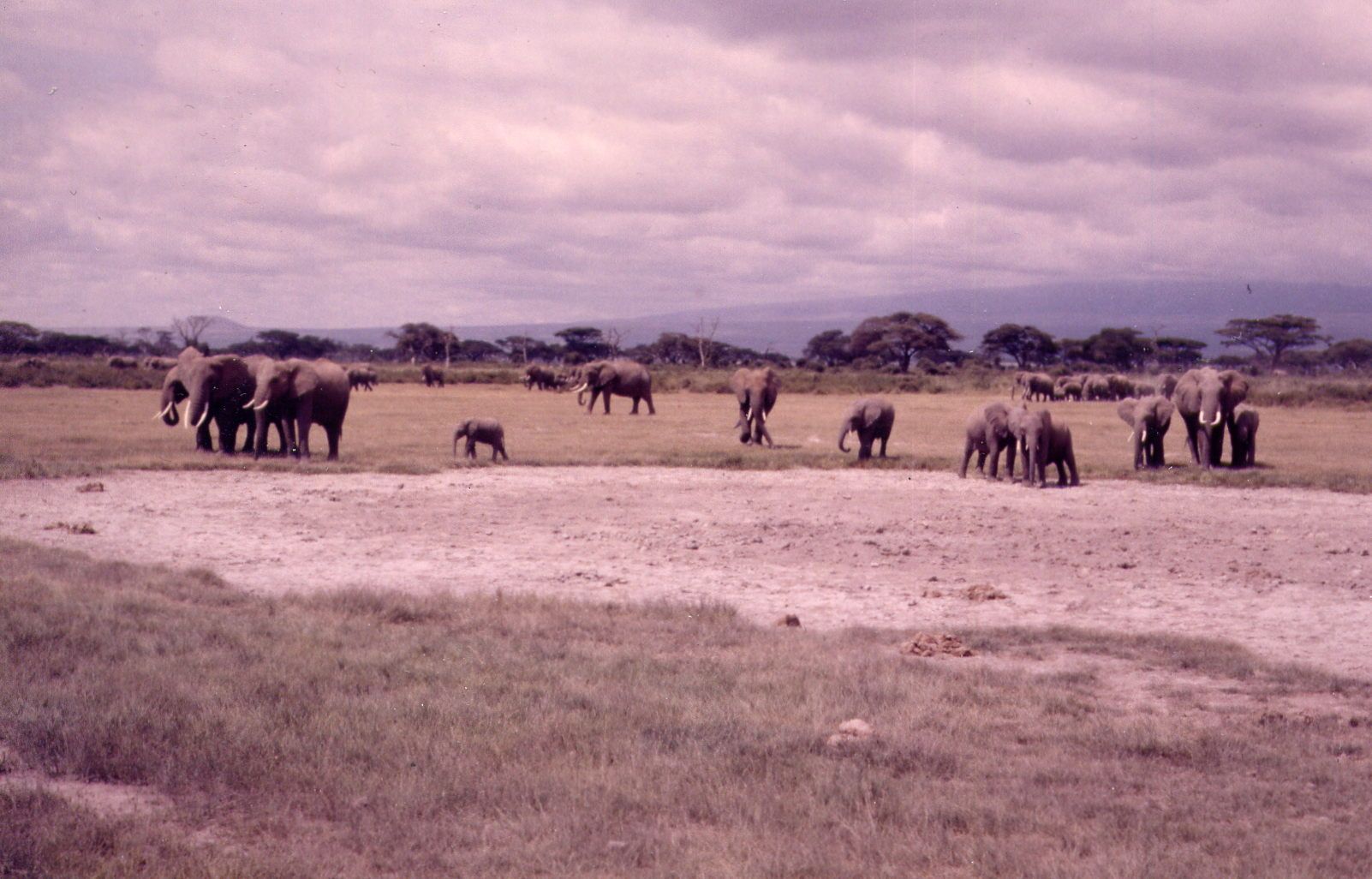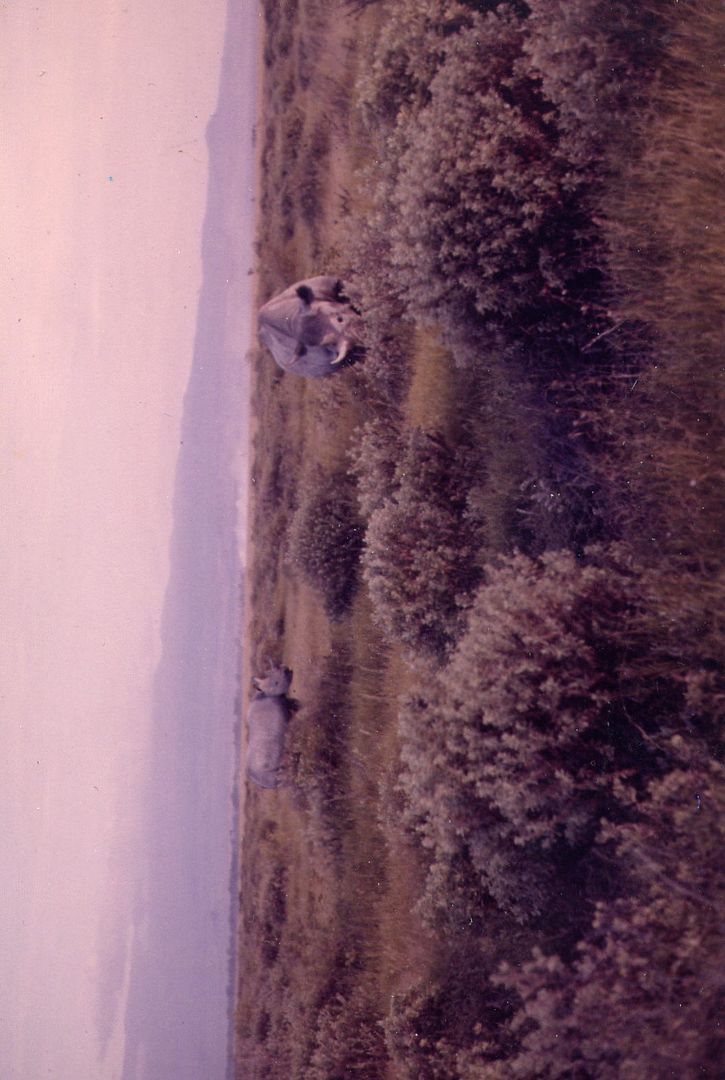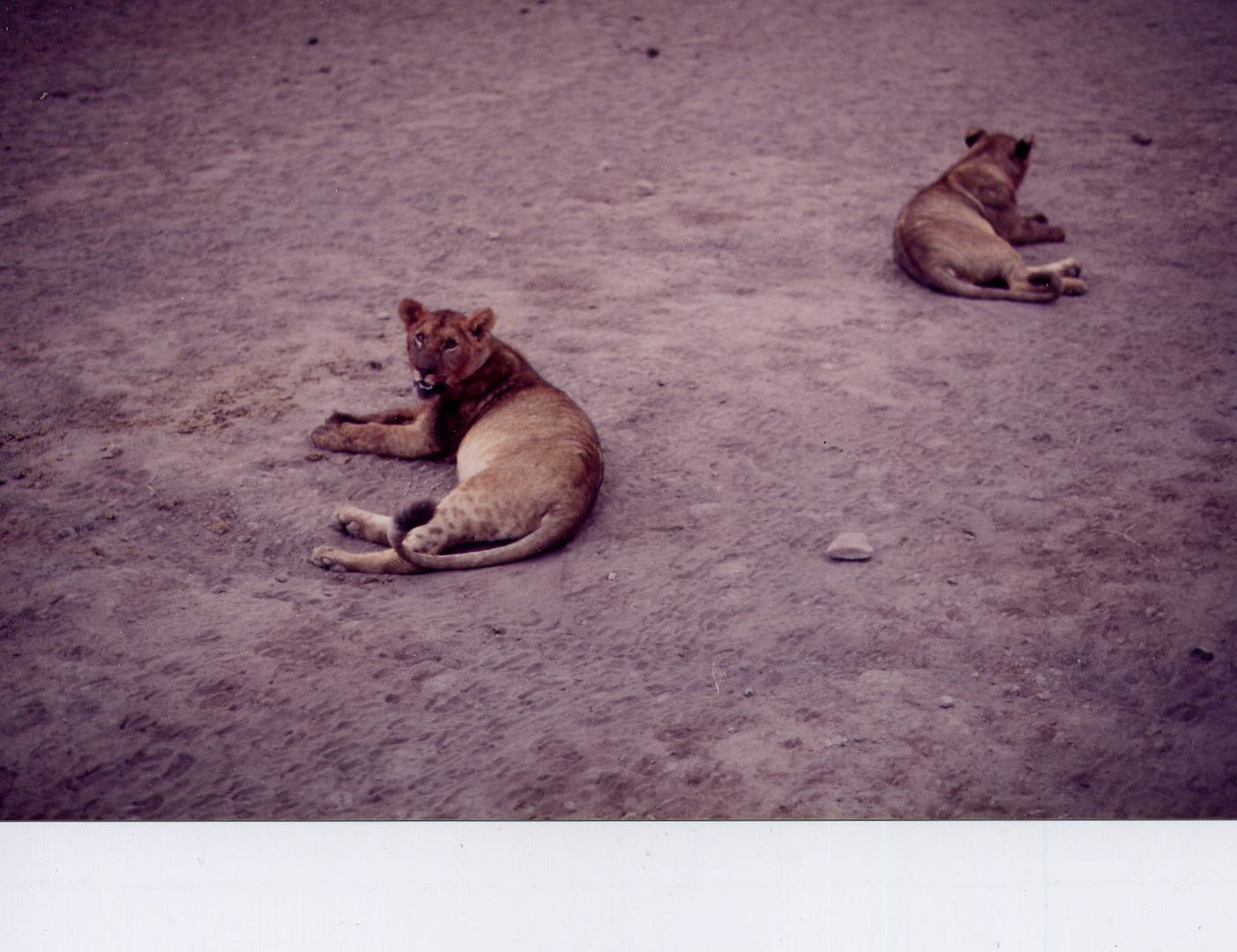 Posted by hwinpp on Sept 30, 2010, 4:07am
When I first saw a wild lion it was in the Kalahari Gemsbock NP. The size of the head really impressed me, it was huge.
Posted by kerouac2 on Sept 30, 2010, 4:38am
My own thought was for the elephants. The idea of a minibus just driving into a herd of elephants had me thinking "if they get mad at us for any reason, there's not much we can do if we're surrounded."
Posted by jazz on Sept 30, 2010, 5:27am
So good to see the elephants. They fascinate me. Given that your thread is about animals in Africa, can I add this story about Christian the lion? (I've followed this for a couple of years) Christian was born in a zoo in England, lived there for a few weeks, then was sold to Harrod's (the high-end department store) in London. A gay couple saw him in his cramped and lonely cage, bought him and took him home to the English countryside. Their neighbor, the vicar, allowed Christian to romp on his property, but it all became too much and they decided that the decent course of action was to release Christian to the wilds in Africa. A year passed and the couple decided to travel to Africa to find Christian and have a visit. All the experts discouraged them and said it was ridiculous…you'll never find him and if you do…for god's sake's, be careful! They found Christian (now the king of his pride!) and he introduced them to his wife and children.

A wonderful video of 'The Reunion'…..pure love,

http://www.youtube.com/watch?v=cvCjyWp3rEk




Posted by hwinpp on Sept 30, 2010, 8:29am
Incredible video, Jazz! Hadn't heard of this story but that old bloke, Adams, I know of.
Posted by onlymark on Sept 30, 2010, 12:39pm
Kerouac, did you get to Elsamere?
Elsamere is the bungalow on the shores of Lake Naivasha where Joy Adamson lived with her husband who is in Jazz's film.
I've been there several times to partake of the lovely English tea they have every day.
http://www.elsatrust.org/pages/Elsa_Conservation_Centre.vrt
Posted by kerouac2 on Oct 1, 2010, 5:37am
Good video, Jazz. I've seen a couple other such videos in the past of reunions with lions that were released -- there is always a lot of affection.

Didn't get to Elsamere, Mark, but we did spend a night in a lodge next to Lake Naivasha. It was just a stopover on the way to Masai Mara, though, because it wasn't even a period when the flamingos were present.