Topic Summary
Posted by kerouac2 on Mar 16, 2009, 6:51pm
That was horrible, Bixa. Food should be eaten rather than worn.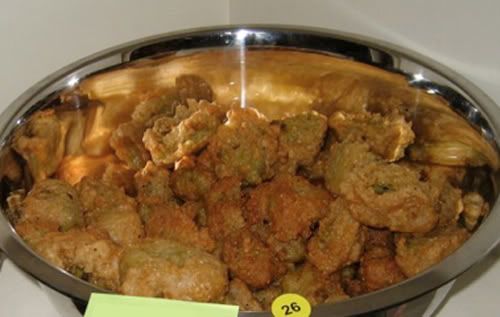 Deep Fried Guacamole
Posted by bixaorellana on Mar 16, 2009, 9:26pm
Uh-huh.

*orders flowers to go visit Kerouac in the clogged artery ward*

The beauty of a meat hat is that it can be both apparel and supper. It also makes a fine insult:
You, you, you meat hat, you!"
Posted by hwinpp on Mar 17, 2009, 11:30am
I would try some of those things... the porkgasm looks ok...
Posted by kerouac2 on Mar 17, 2009, 9:07pm

The Slinger



Hash browns covered with grilled onions with two side-by-side cheeseburgers, topped with a couple of fried eggs, sunny-side up and then covered with chili and garnished with two pieces of toast come on the side.

Frankly, I think that this concoction deserves another name.


Posted by bixaorellana on Mar 18, 2009, 2:33am
Sling. Hurl. What's the difference.

You know, I think I would eat that, even though I think the cheeseburger part is kind of overkill.
Posted by kerouac2 on Mar 21, 2009, 5:54am

McSurf n' Turf



A McDonald's Fish-O-Filet inside a Quarter Pounder with cheese.

(This one isn't even repulsive, just sad when you think that this is as close as some recessionistas will ever get to surf n' turf.)

Posted by bixaorellana on Mar 21, 2009, 7:07am
That makes everything you posted before it make a lot more sense, eating-wise!
Posted by kerouac2 on Mar 25, 2009, 6:22am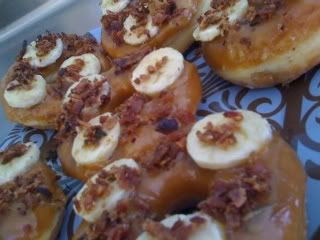 The Elvis Donut



Peanut butter glazed donut topped with bananas and bacon.
Posted by Don Cuevas on Mar 25, 2009, 6:17pm
Five Vintage Hot Dog Horrors
http://www.aldenteblog.com/2009/03/five-vintage-hot-dog-horrors.html

Sample:


Bacon-Wrapped Hot Dog Sandwich

(This took some mojo to get it to display, as Flickr has coded the photos so they are not linkable. But, I trimmed the file name back to the ".jpg", and it displays.)
Posted by bixaorellana on Mar 25, 2009, 10:02pm
For the record, directions on posting pictures are in Port Authority, the thread entitled "How to Post Pictures". For pictures from Flickr, etc., look under Part Two: Hosted Images.
Posted by bixaorellana on Mar 26, 2009, 5:49am
What I wouldn't give for a photo of this delectable dessert! It has one of the all-time great titles. Guess we'll just have to make it for full enjoyment.

Title: Undescended Twinkies
Categories: Desserts Soda pop
Servings: 4

6 oz Orange Jell-O; (2 pkgs)
1 c ;Boiling Water
1/2 c Pineapple Juice
1 qt Vanilla Ice Cream; Softened
7 oz 7-Up
8 ea Twinkies

Dissolve Jell-O in boiling water. Add pineapple juice, ice cream and
7-Up. Mix thoroughly (In a blender if necessary to dissolve ice cream),
and pour into a deep pan, approximately 9-inches square. Chill until
mixture begins to set. Lay Twinkies, flat side down, in two rows of four
across the top of the chilled gelatin. If the gelatin is properly
chilled, it will resist the Twinkies. You will push them in and they will
slowly rise. Remember you don't want them buried. Just semi-decended in
the ooze. Chill until fully set and serve.

Posted by kerouac2 on Mar 26, 2009, 6:24pm


Clever people who enjoy something different–devilishly different and delicious–will welcome this exciting Winter Warmer . . . Hot Dr Pepper! Easy to prepare–simply heat Dr Pepper in a saucepan until it steams and pour into a glass or cup over a slice of lemon. Perfect for the family or when friends drop in–and take along a thermos of Hot Dr Pepper when enjoying outdoor activities. Hot Dr Pepper–the distinctive Winter Warmer!

(This should help to wash down the emerged Twinkies.)
Posted by lagatta on Mar 26, 2009, 11:19pm
I actually found the copulating animals - are they pigs, or some kind of canine? - rather refreshing.

Scotch eggs are of course fairly small - if you just eat one, it isn't any more disgusting than another rich titbit.

Do people actually eat this stuff? Or does the food go to waste?
Posted by kerouac2 on Mar 27, 2009, 6:26am
I fear that most of the dishes were really meant to be eaten. However, I did choose not to post of photo of a McNugget Martini, which just seemed too extreme to be real.
Posted by bixaorellana on Mar 27, 2009, 6:36am
Cottage cheese and kidney beans. It's even hard to say together. What would possess someone to team those two items?


Posted by kerouac2 on Mar 28, 2009, 6:23am

The Thunderdome



Three stacks of bacon, sausage, elk meat, onions and cheese between tortillas all topped with sour cream, two fried eggs and scallions.




Posted by bixaorellana on Mar 28, 2009, 7:04am
Hmmmmm.

Needs a bigger plate.
Posted by mockchoc on Mar 28, 2009, 3:49pm
I'm starving, I think I could eat a little of some of those.

No Twinkie thingies, Dr Pepper drinks or Elvis stuff though.

Posted by BigIain on Mar 30, 2009, 8:43pm
I would take a Thunderdome, but hold the Elk meat.
Posted by kerouac2 on Mar 31, 2009, 5:33am

Bacon-wrapped twinkie Stonehenge



Don't ask me what is in the saucepan.
Posted by bixaorellana on Mar 31, 2009, 5:36am
Okay, that is very, very wrong -- downright disturbed!

I'm guessing the pot contains some kind of apple/dough melange.

All I can think of is how much trouble the chewy bacon must be to the sort of toothless wonders who undoubtedly love this fare.
Posted by kerouac2 on Mar 31, 2009, 12:55pm
Here is another site inspired by Regrettable Foods.
Posted by bixaorellana on Apr 2, 2009, 5:25am


No, this is not a photo from a medical journal. It's actually from a rather la-di-da food blog.

Whatever. Parmesan Stuffed Dates Wrapped in Bacon? I don't think so. The comment below the photo: They might look ugly, but these appetizers are amazingly tasty. Sweet, salty, smoky, and cheesy. Yum!

Excuse me. I have to go get a big glass of water.

Posted by kerouac2 on Apr 2, 2009, 8:21pm

Corn Dog Casserole



Layers composed of hash brown patties, crumbled bacon, baked beans, corn, french fries topped by corn dog slices with mustard icing.

(Hey, I can only see the corn dog sections and the mustard!)
Posted by kerouac2 on Apr 4, 2009, 11:22pm

Sausage Fatty



A giant Jimmy Dean Maple Sausage filled with bacon, cream cheese, mushrooms, jalapeños and Colby cheese
Posted by bixaorellana on Apr 5, 2009, 4:17pm
That one cracked me up! Is that its real name? Perfect. I like the way they used mushrooms to lighten the load dish.
Posted by kerouac2 on Apr 5, 2009, 4:31pm
Yes, that is the real name that was listed.

I see the recurring theme of bacon in just about all of these items.
Posted by bixaorellana on Apr 5, 2009, 4:53pm
I think I really need to get you The Sweet Potato Queens' Big Ass Cookbook (and Financial Planner)

Suffice to say that the four major food groups, according to that book, are: "sweet, salty, fried, and au gratin". One of the signature recipes in it is "Pig Candy" Here is a discussion of said "candy", along with the original recipe and variations. (yes, this does involve bacon)
Posted by hwinpp on Apr 6, 2009, 4:55am
I just can't eat sweet potatoes.
They've got it here akll over the place as a snack. Grilled or boiled, with or without coconut milk sauce.
What I do like is stir fried sweet potatoe leaves.
Posted by bixaorellana on Apr 6, 2009, 5:49am

You reject the food of my people!

I love sweet potatoes. My favorite way to eat them is baked, then allowed to cool completely. After that, you just pull the peel off and eat 'em like bananas.

A strange phenomenon here is that it's hard to buy uncooked sweet potatoes. One grocery chain (from the north) sometimes carries them. You can buy cooked ones swimming in syrup at the market. They come in white, purple, and orange. But where did they get the raw ones to cook?

I never knew you could eat sweet potato leaves, and feel awful thinking of all that go to waste!