Topic Summary
Posted by kerouac2 on Feb 21, 2009, 8:08am
Marie Morel is not one of the grand masters. She is a fascinating woman who lives in a small village with her children. Yet her works are regularly exposed in galeries and museums, normally not big places because her works are intimate and you need to be able to lean close to them to see all of the details.

I have corresponded with her for more than 20 years and met her once, in her village. Champagne was brought out and I was shown her workshop, and she gave me one of her paintings, which had recently been exposed in a museum in Reims. It was quite surprising, because the subject of the painting was me.

Marie Morel first became famous with the French postal system. She started with mail art - decorated envelopes which break all postal rules but which most postal systems have learned to tolerate. I got this example off the internet: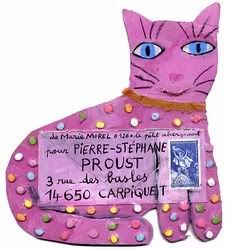 I myself have received about 30 envelopes like this, sometimes made out of wood, sometimes with a big hole through the middle, with metal keys glued on or moss or glitter or doll eyes... and decorated in infinite detail, front and back. The post office treated all of these treasures with inhabitual tenderness.

I will try to scan some of my own and post them here.

She also does paintings of all sizes, on all sorts of subjects with no taboos.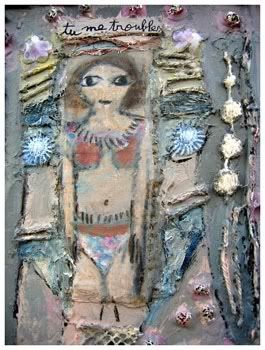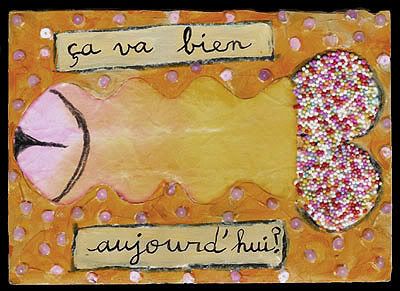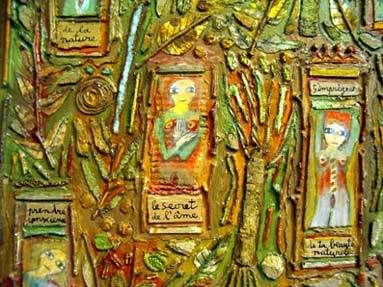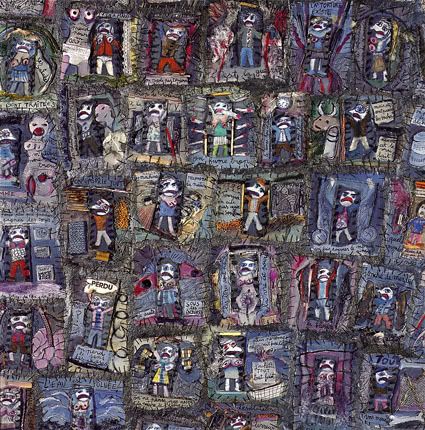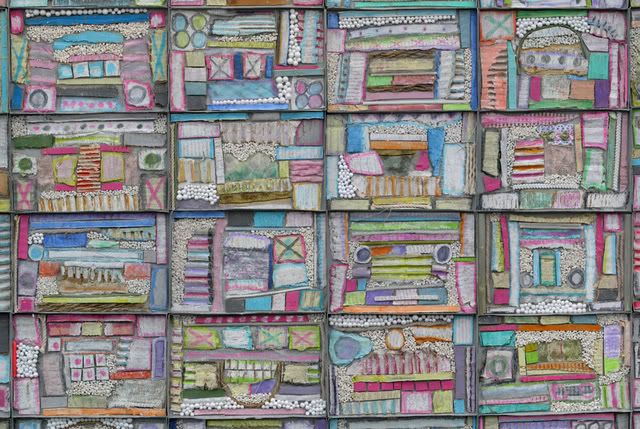 Some of her works are hilarious and others very sad. Her mood of the moment is very clearly reflected in all of her work, and there was much new joy after the birth of her children.

This is her workshop.




And this is Marie Morel, my secret unusual friend.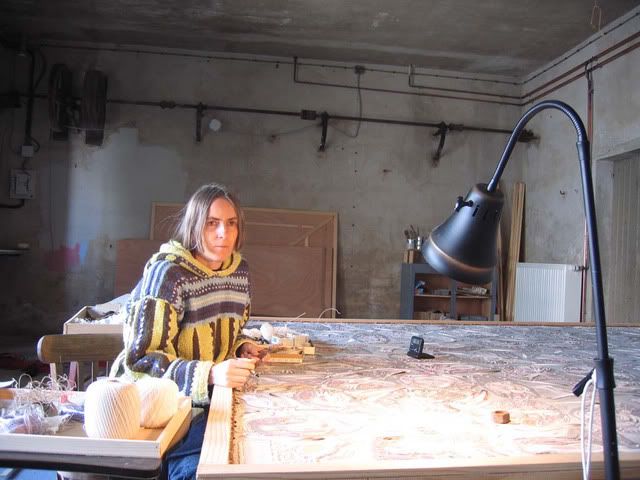 Posted by bixaorellana on Feb 21, 2009, 8:51am
My god -- she is brilliant! I love naive art, but hers really goes beyond that. There is a definite informed sensibility at work there. What a great, intense eagle-like stare she has.

What is she like and how did you all start corresponding? Thank you so much for showing us this.
Posted by kerouac2 on Feb 22, 2009, 7:39am
Here are a couple of envelopes that I received. (Not my current address!)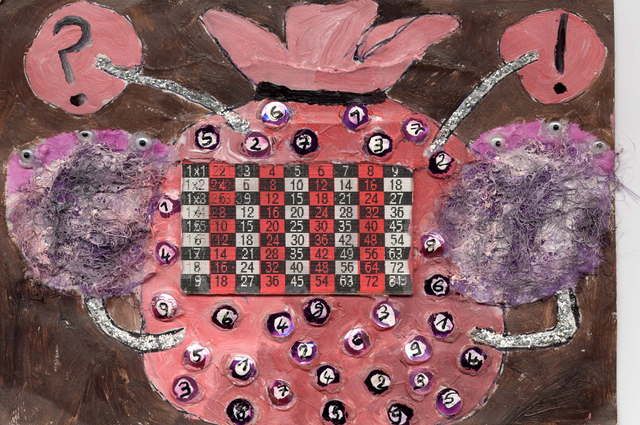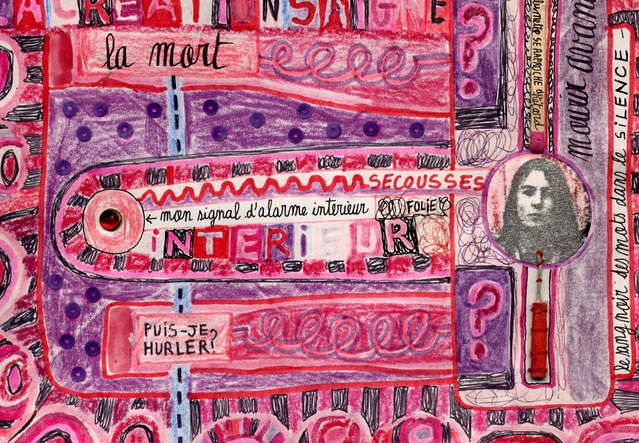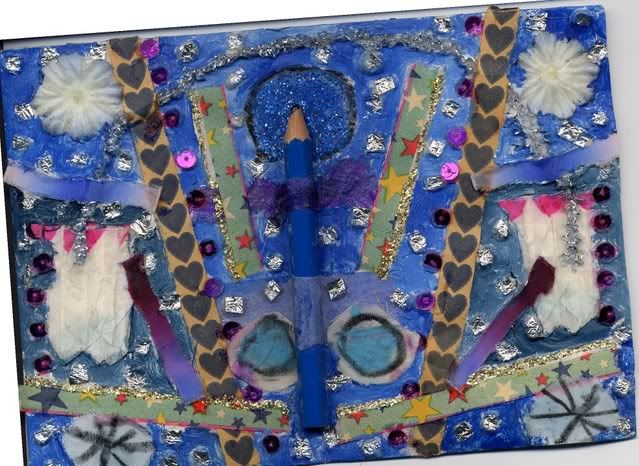 Posted by casimira on Feb 22, 2009, 12:28pm
These are wonderful K.,thank you. I am fascinated by her workroom, a piece of art in it's own right. A kind of ordered chaos.
Yet,I'm sure she knows where everything is in that room. Her work reminds me a bit of Joseph Cornell and his boxes (without the color) pieced from found objects in NYC.
Posted by bixaorellana on Feb 22, 2009, 6:17pm
I can't stop looking at these pictures!

Kerouac, I imagine you have more than one of her paintings, but do you display the envelopes on your walls as well? Is that even possible, what with the wealth of detail on both sides?
Posted by kerouac2 on Feb 24, 2009, 5:54pm
A few more envelopes from my personal collection.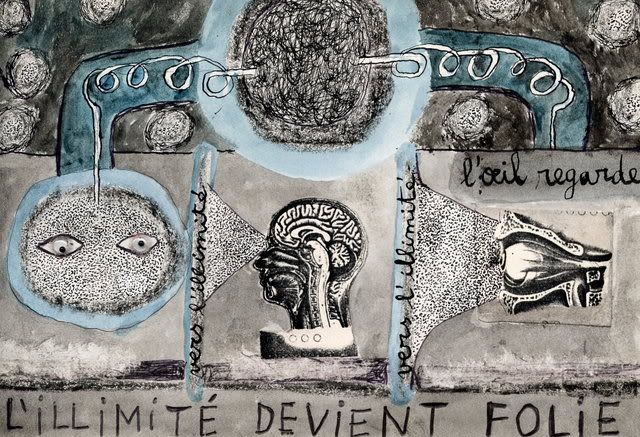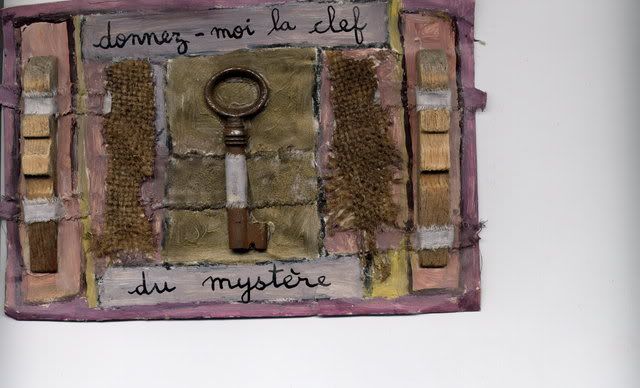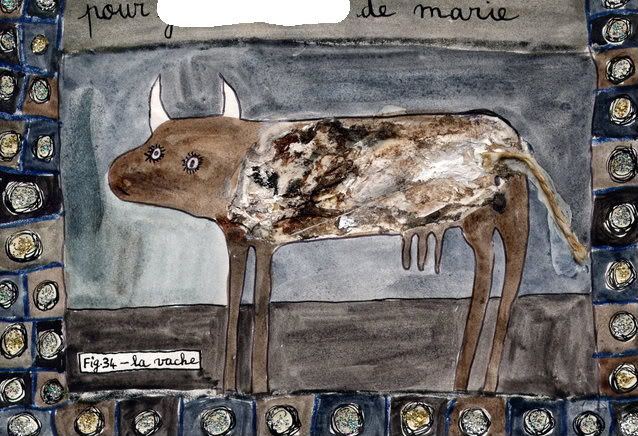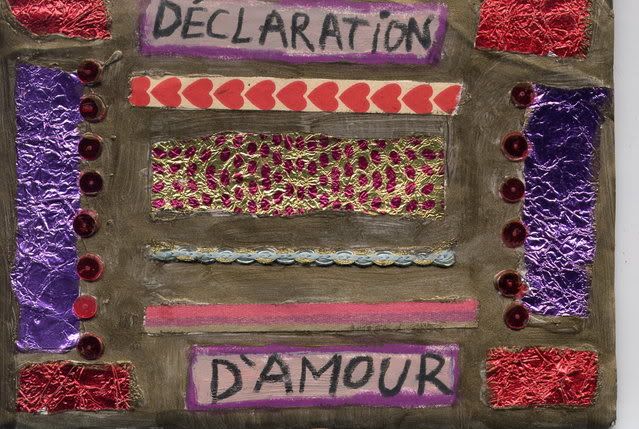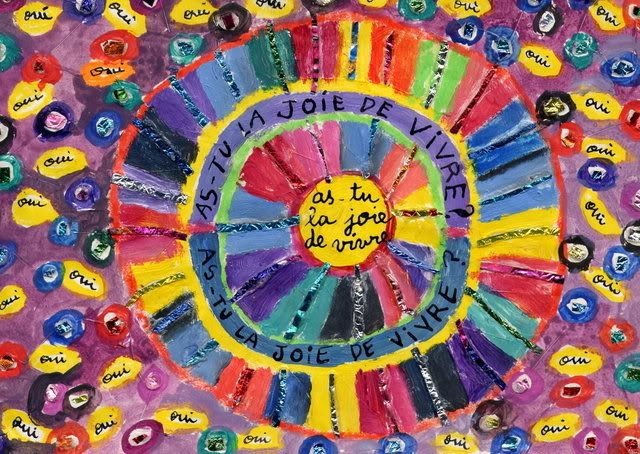 Posted by bixaorellana on Feb 24, 2009, 7:11pm
I love these so much! Joie de vivre surrounded by the word oui is beyond wonderful.
Posted by jazz on Feb 25, 2009, 10:04am
Beautiful use of colour and texture and her studio is a work of art. It fascinates me how we create in such totally different spaces. You're lucky I'm not your postman, Kerouac...I'd whip out your letters (unread, of course), stuff them into plain envelopes and stealthily build up my private stash of these miniature art pieces.
Posted by kerouac2 on Feb 25, 2009, 10:25am
I always tried to imagine how many times the envelopes were passed around for general admiration before finally being deposited in my mailbox.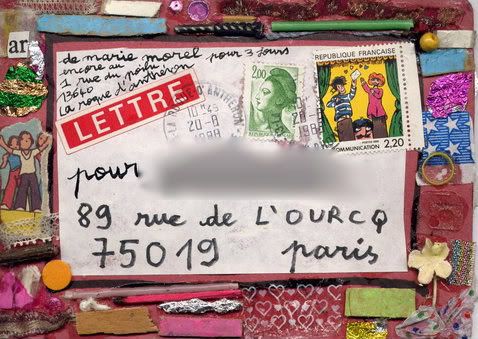 Posted by kerouac2 on Aug 10, 2010, 5:41pm
The performance that I saw concerning Marie Morel last month in Avignon naturally brought her to the forefront of my mind again. And so I have resurrected a few more of her envelopes.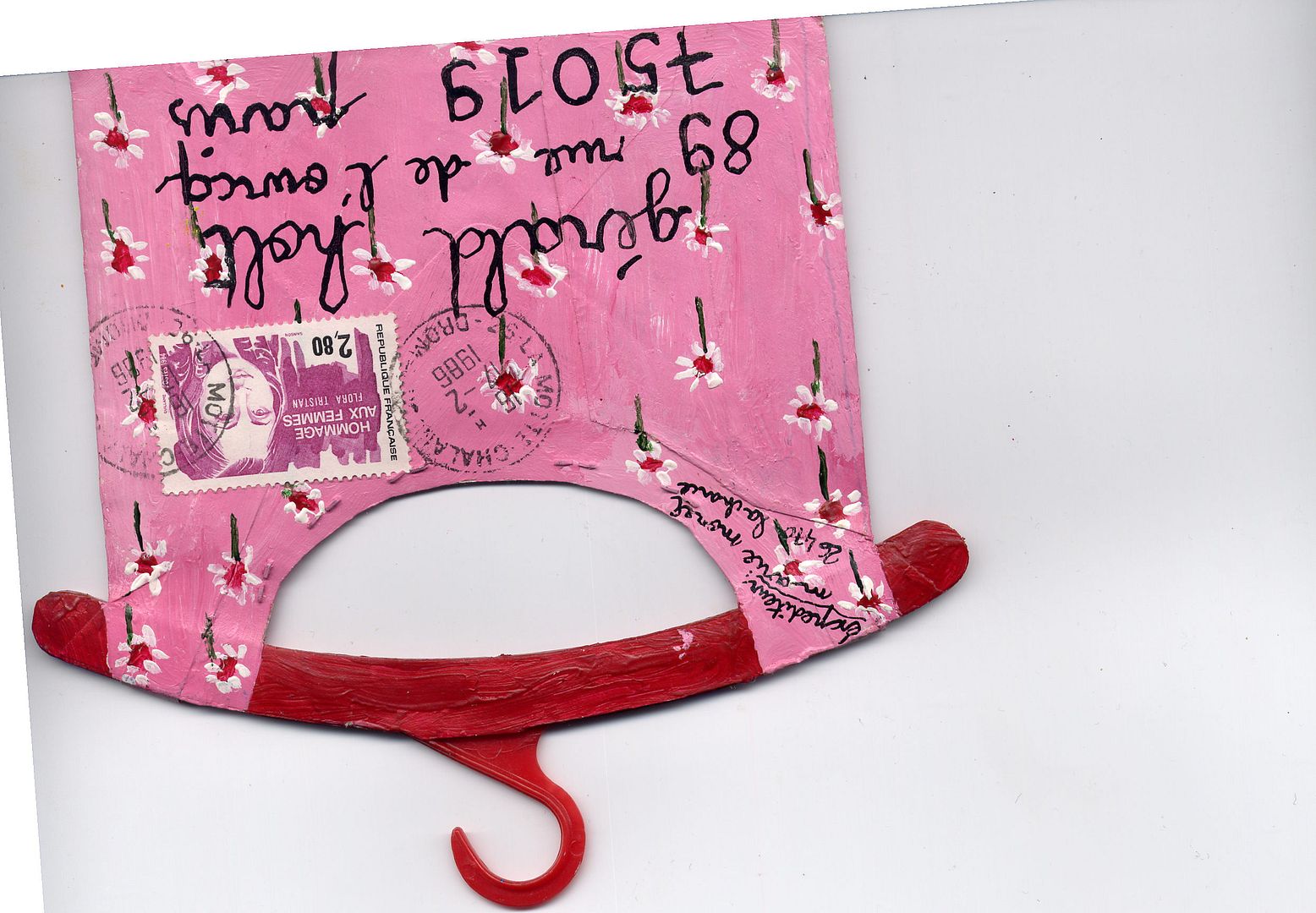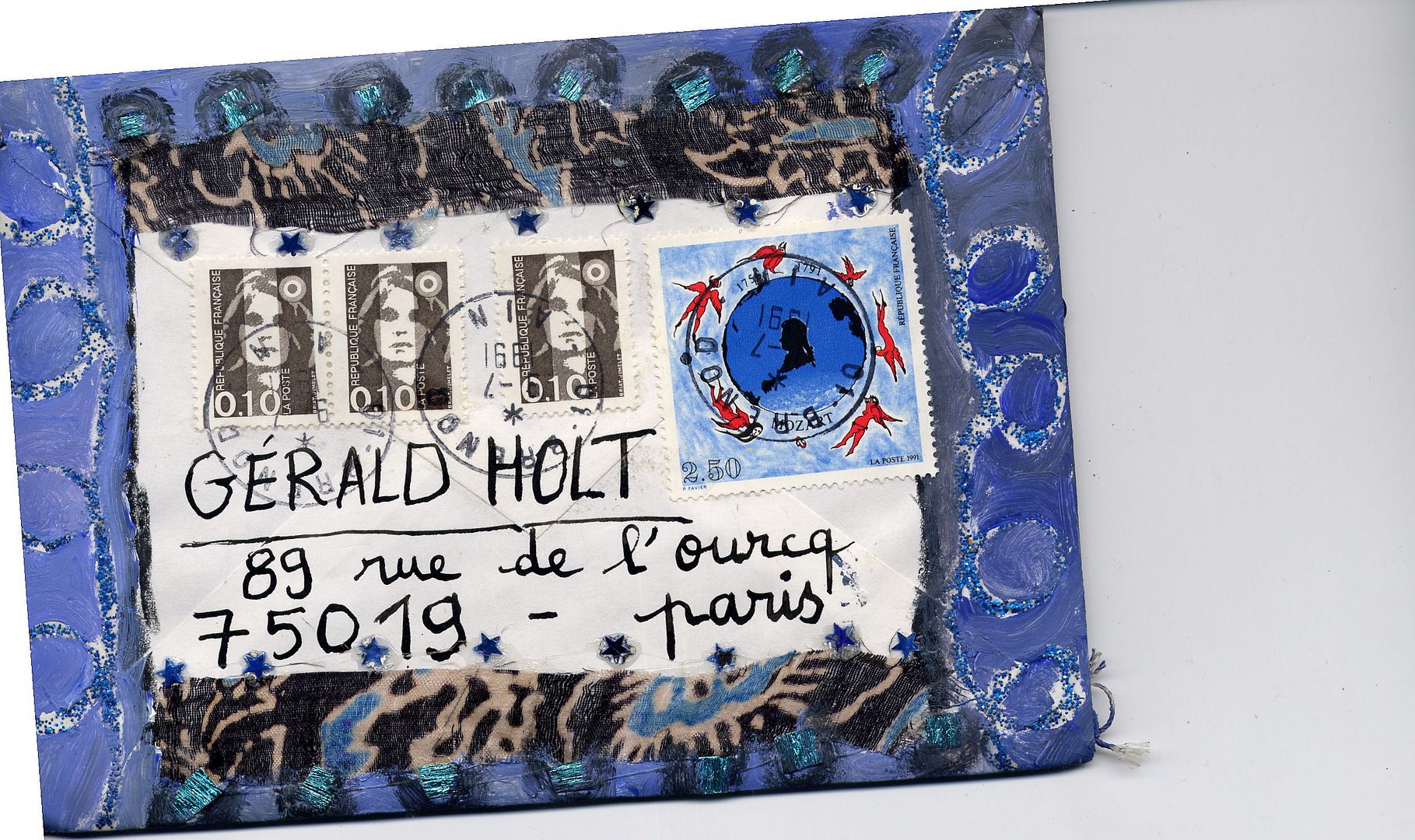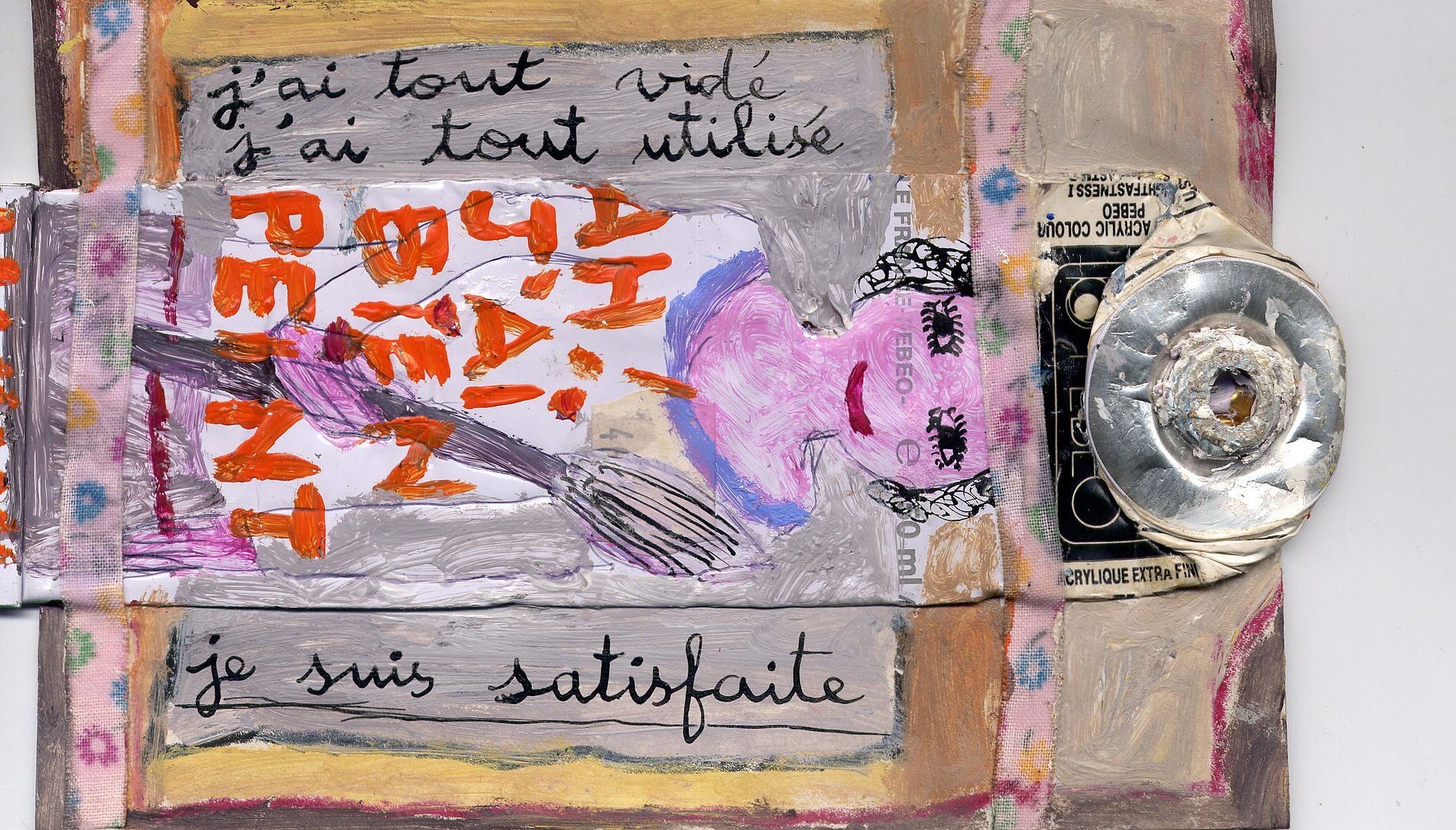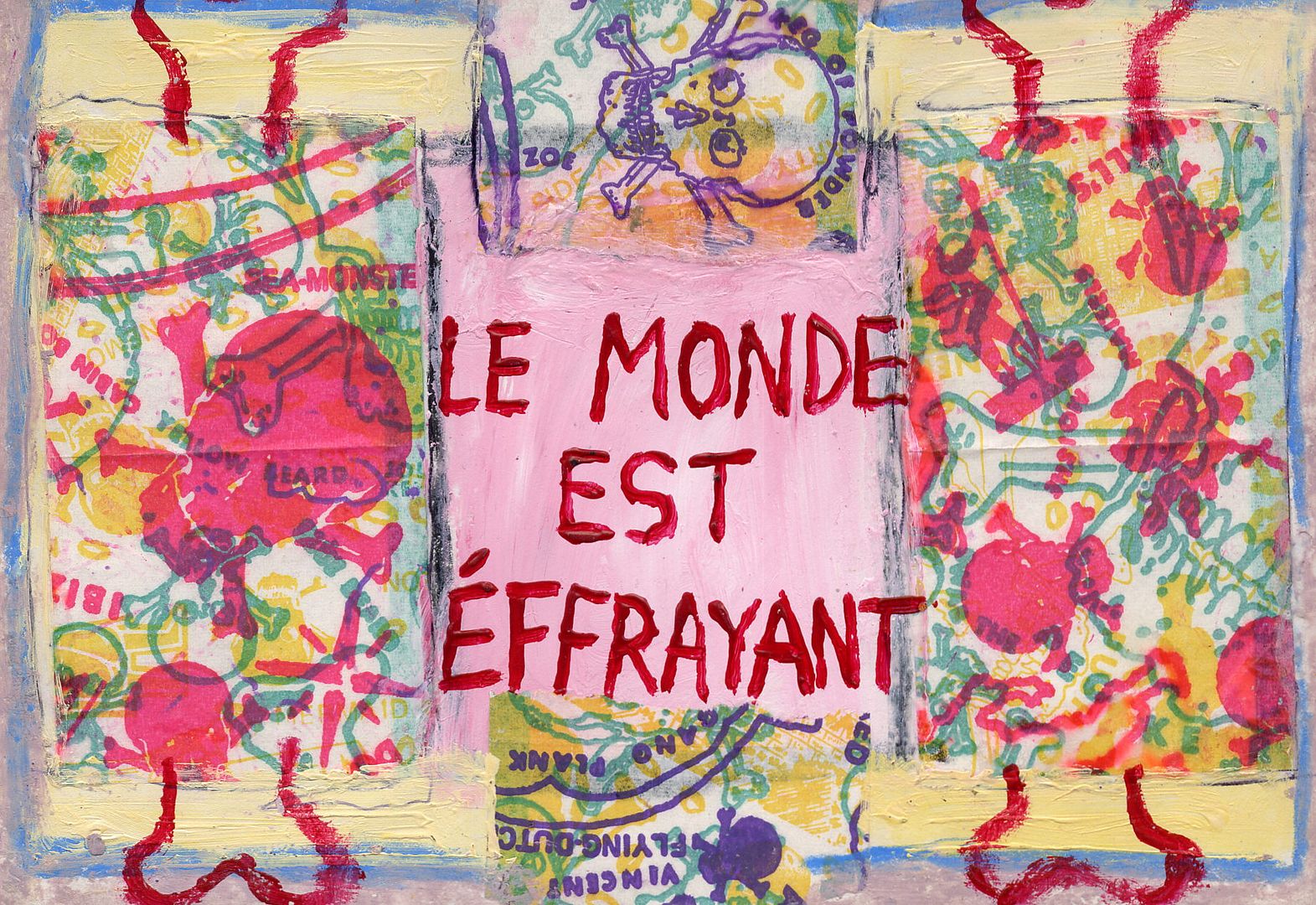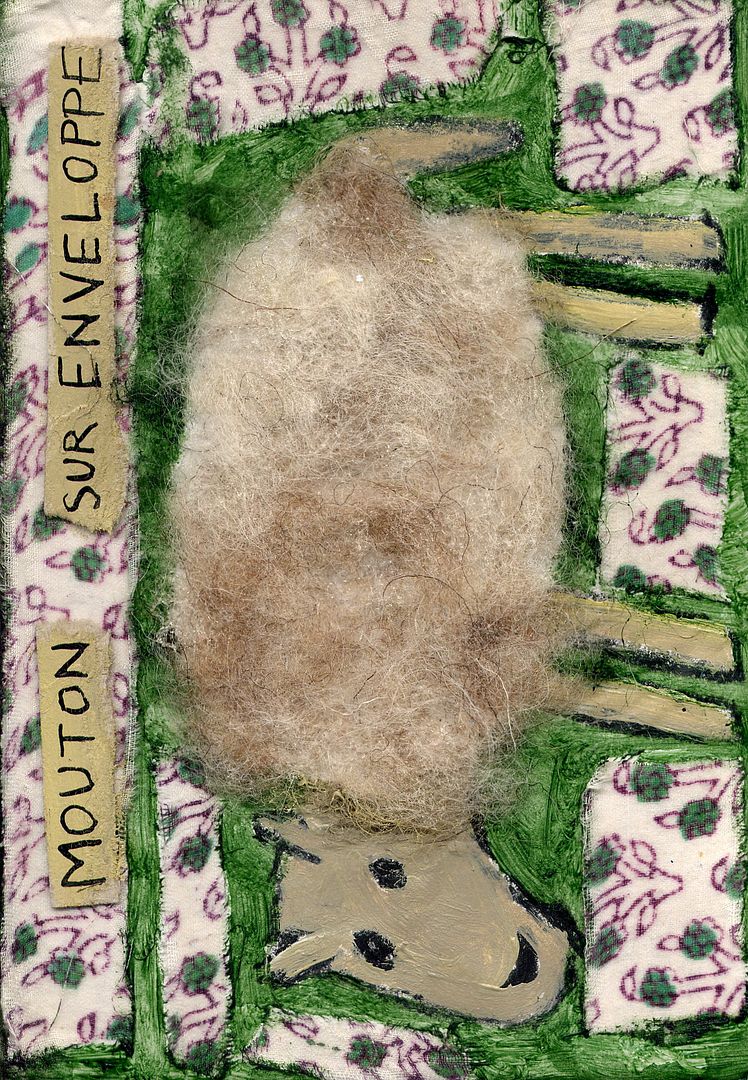 Posted by bixaorellana on Aug 10, 2010, 5:55pm
Oh, what a treat to see more of these!

Look how gently the third one down was canceled. The postal worker must have spent time finding a good spot for the cancellation stamp.

France must not be as paranoid as the US, where the "scary world" envelope might have been subjected to the bomb squad.

Are those little squares of pasted fabric around the sheep? Love it!
Posted by casimira on Aug 10, 2010, 8:02pm
I recently thought of this woman and her fantastic work,was going to come in here and dredge her up and voila!
Even her choice of postage stamp (which I am picky about as well if I can be...),is artistic and lends to her craft.
Thanks for the update.
Her workroom is still a marvel to these eyes.
Posted by fumobici on Aug 10, 2010, 9:39pm
Hadn't seen this, thanks for the bump. These pieces are priceless. Art is all that matters.
Posted by jazz on Aug 17, 2010, 10:45pm
Beautiful to see yet more of Marie's art. I have often looked at this thread. How special to be her friend and receive these. (I wish I was her friend).
Posted by kerouac2 on Dec 26, 2011, 6:05am
One of my resolutions for 2012 is to write to Marie Morel using an envelope of my own making that I hope will be worthy of her.
Posted by bixaorellana on Dec 26, 2011, 6:55am
What a lovely way to honor her friendship & her art!

It was sort of funny for me to see this subject heading on the main page tonight. That's because of a minor coincidence. This afternoon, one of the guests at the Christmas party used the phrase "naive art". Another guest, who's quite well-educated, said that she'd never heard the term, commenting that she was surprised at herself for not knowing it.

It is odd how things get past us sometimes.
Posted by casimira on Dec 26, 2011, 11:38am
Oh!! I thought there was going to be some recent "installment" of Ms. Morels work in here.
'Tis ok though,it was well worth revisiting one of my favorite threads on this forum.
My, she does inspire me!!

Have you heard from her at all K2? I do hope she is doing well.
Somehow I think she is just fine.
Posted by kerouac2 on Dec 26, 2011, 11:55am
I still receive something from her about once a month, but unfortunately the days of the beautiful envelopes are finished. But I think I might look to see how to expand on her work a bit more here.

Since her name and address are public (I'll post her current address soon), perhaps those who are interested could all design their own envelopes and send her messages from around the world as a nice way to start the new year. However, I do have my doubts about the tolerance of international postal services, so it might be necessary to put a personalized envelope inside a more mundane one for it to reach her.
Posted by casimira on Dec 26, 2011, 12:14pm
I would so love doing that!!! In a heartbeat!!!