Topic Summary
Posted by bixaorellana on Nov 29, 2010, 3:42am
This is really too big a subject for one thread. However, since AnyPorters live all over the world, we need a place where we can show things from our regions, even if we don't have enough for a whole thread.

So, please show us what's made in your area, or what you've picked up in your travels.



~~~~~~~~~~~~~~~



Bjd admired a piece of green pottery I showed on Image Bank. I acquired it from someone else, and unfortunately only know that it's from Mexico, but not what part.





I had the pleasure of visiting the workshop of Neftalí Ayungua Suárez in Patamban, Michoacán, where I got two pieces.

The green one is by the father, and I think the punch bowl shown below is by the young man in the video.




The town of Atzompa, Oaxaca, near where I live, is known for the scads of green pottery it produces.
I've shown some of it before: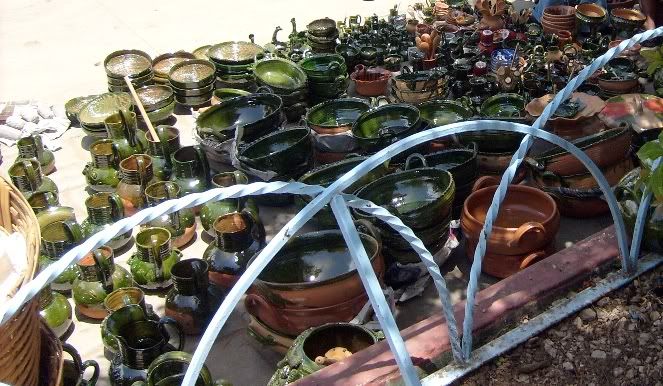 The town of San Bartolo Coyotepec is known for its burnished black pottery.

It produces worlds of stuff of greatly varying quality, although much of it can be quite charming. This is a cheap piece I have of the Virgin of Solitude, the patroness of Oaxaca.

Go to this thread to see how it's made, plus all kinds of examples, including museum-quality stuff.
Posted by bixaorellana on Nov 30, 2010, 2:34am
folk art
n
(Literary & Literary Critical Movements) (Fine Arts & Visual Arts / Art Movements) (Music, other) (Performing Arts / Dancing) the visual arts, music, drama, dance, or literature originating from, or traditional to, the common people of a country

Collins English Dictionary – Complete and Unabridged © HarperCollins Publishers 1991, 1994, 1998, 2000, 2003

Noun 1. folk art - genre of art of unknown origin that reflects traditional values of a society
genre - a class of art (or artistic endeavor) having a characteristic form or technique

So ............................ whatcha got?
Posted by myrt on Nov 30, 2010, 8:09am
They are lovely examples, Bixa. I particularly admire the green glass - gorgeous..

Well, about the only examples of folk art that I have are three handpainted flowerpots done in the tradition of canal art - a whole genre of painted wares with a very long tradition. Sorry, they are filled with all the children's trinket and tatty bits!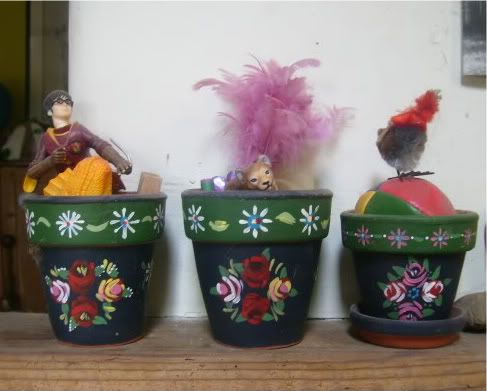 The objects painted are usually functional pots and containers but they are always done using the same techniques. And the narrow boats themselves are covered in decorative panels - very very attractive:
http://www.mydepictions.co.uk/folk.html
Posted by bixaorellana on Nov 30, 2010, 5:35pm
Those are totally charming, Myrt! It's not a style I would immediately associated with England, which is dumb on my part, since it rather resembles tole painting, but much livelier. I wish I had the talent to reproduce some of that around my house -- it is beautiful and imaginative.

Seeing pics of fantasy animals in the Everyday Life thread in Image Bank reminded me that I reported on the ones produced here.
Posted by tod2 on Dec 6, 2010, 2:54pm
During our travels around South Africa and beyond we have usually brought home a souvenir of sorts in the form of pottery, carvings, metalwork or more than likely some rocks! Here are a few of the items still hanging about after all these years.

Pottery collected around the areas of the Drakensberg (Dragons back) Mountains. Now scattered among my succulents on my front porch entrance:


Posted by bixaorellana on Dec 6, 2010, 3:46pm
Oh, I love those pieces, Tod! And I really like the cheerful entry you've created with your travel memories.
Posted by tod2 on Dec 8, 2010, 5:00am
These native heads are carved in Soapstone - very soft. You will notice a few chips and rough edges from handling through the years. Our main finds have been at an intersection on two roads where there is a quarry nearby called Badplaas. ("Bathing Place" - renowned for it's hot springs).




This troop of elephants were carved in Zimbabwe and brought to South Africa to sell. They live on the steps to my wine cellar.
I am not sure of the wood.



Staying with the elephants theme which seems to be in almost all carvings, this round object contains little 'coaster' discs to put under your drinks glass.

Posted by bixaorellana on Dec 8, 2010, 6:03am
Oh, I like all of the pieces so much, but adore the troop of elephants. Are any of them attached to each other, or are they all separate?
Posted by tod2 on Dec 8, 2010, 6:16am
Thanks Bix - All seperate, just organised in a line the way elephants walk to a river or through the grassland.
Posted by tod2 on Dec 20, 2010, 12:25pm
On a visit to the Kruger National park many years ago we stopped off in a little town just outside the park called Graskop ( Grasshead or top). In one of the craft shops we found this mirror and keyholder.
The mirror and keyholder's surround is a kind of sheet metal with designs and objects cut out of copper, brass, and other metals. The designs have been hammered into the frame with nails.
I never grow tired of looking at the workmanship -
We were told it has been crafted in Zimbabwe and it hangs in our hallway.
The mirror



The keyholder

Posted by bixaorellana on Dec 20, 2010, 6:39pm
Wow ~~ that piece really puts the 'art' into folk art! I absolutely adore it.

(I knew that was going to be a problem with this thread ~~ an upsurge of coveting.

)
Posted by kerouac2 on Dec 21, 2010, 6:01am
Excellent items. In my mother's room, there are some nice African wood carvings that she bought in Kenya. This was exceptional in itself, because she wasn't the type of person to buy souvenirs on a trip, but these really appealed to her.

Of course, she doesn't even remember ever having been to Kenya now, but I have displayed them anyway, mostly for my own enjoyment, I guess.
Posted by tod2 on Dec 21, 2010, 7:24am
I would LOVE to see them if you can find a moment to take a pic. I have a few more special pieces that I am going to add here, but in reality have far too many and they are banished to the storeroom - there are only so many elephants, lions and leopard carvings one can accommodate!
When the wood carvers came flooding over the border into S.A. to sell these items we felt so sorry for them and bought dozens.
Posted by myrt on Dec 21, 2010, 8:46am
Lovely things, Tod2! I really love the mirror and keyholder in particular. These sort of images of animals and people have an instinctive sincerity and honesty about them which is always appealing - so much more truthful than more sophisticated forms. I much prefer them. And animal carvings which really portray the movement and reality of their subjects are just beautiful - I love your elephants!

Posted by kerouac2 on Dec 21, 2010, 7:40pm
Here are my mother's items, except for a little elephant which is in a drawer right now to leave room for the Christmas tree.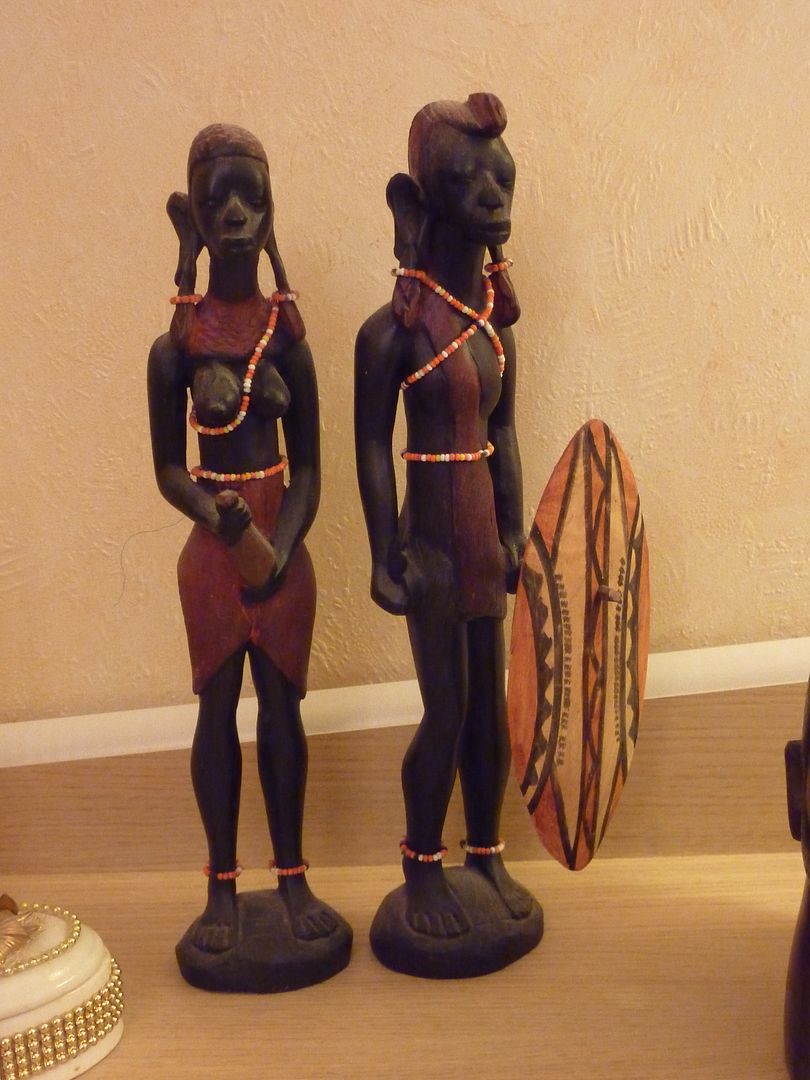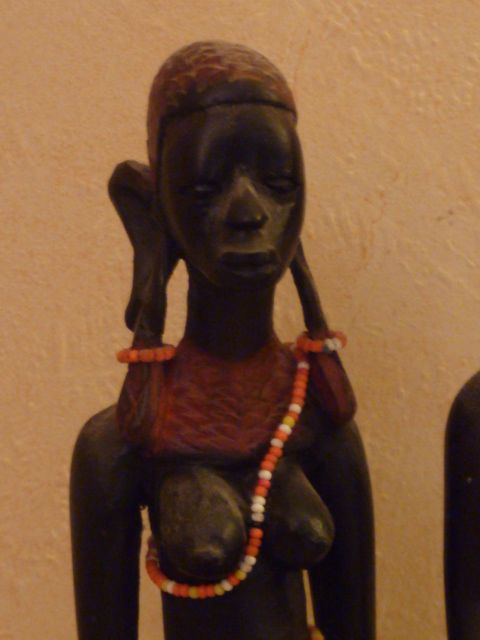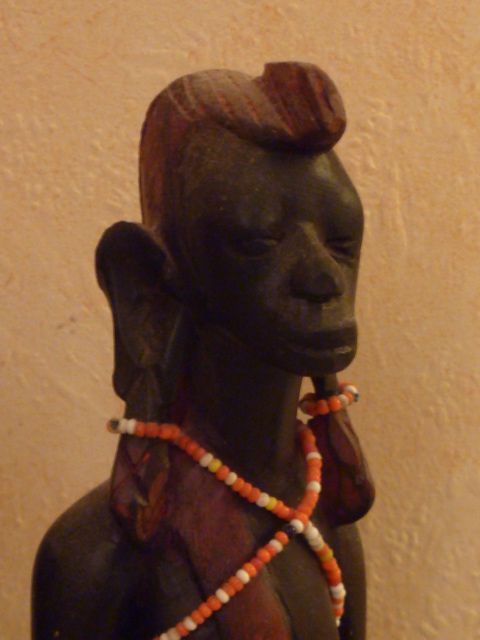 Posted by bixaorellana on Dec 22, 2010, 12:36am
Ohhhh ~~ I can see why she was drawn to them.

The two sets are quite different from each other. Do they come from different areas, or simply from different artists? The heads are absolutely beautiful, with such personality and almost breathing plasticity. The standing figures are at first sight whimsical and endearing, but a second looks shows real dignity and purpose.

(can anyone tell that I really love African art?)
Posted by tod2 on Dec 22, 2010, 5:51am
I may be quite wrong but I immediately thought the carvings were of two Masai people - male & female. The ears seem out of proportion but that IS how their earlobes are intentionally stretched to accommodate the large ornamental earrings.
Masai men spend hours on their hairstyle which seems to be incorporated in the carving which sports an 'Elvis' quiff.
Thanks Kerouac - you came through without delay!

Posted by onlymark on Dec 22, 2010, 6:14am
I've always struggled to tell the difference between the Masai and the Samburu. It just seems the latter have more ornamentation.
But young Masai can't be mistaken -
http://www.georgefisher.com/images/Masai/MasaiKids.jpg
http://www.calstatela.edu/dept/geology/GEOL351Images/MasaiBoys.jpg
Posted by onlymark on Dec 22, 2010, 6:20am
I've always had a weakness for Malawian chairs,
http://www.jonhyatt.com/malawi/mal60037.jpg
Posted by tod2 on Dec 22, 2010, 6:30am
I very rarely see them being hawked around town by someone trying to sell one. Those two examples are really wonderful. The backrest seems to tell some kind of story!
I think the wood would be Stinkwood or Imbuia (sp?), or even Mahogany.
Posted by kerouac2 on Dec 22, 2010, 6:37am
Yes, my mother's statues are Masai, wearing their favourite colour.
Posted by bixaorellana on Mar 20, 2011, 3:04pm


I posted this picture & three of the same subject here, at #150.

Kerouac's response made me think that these objects are indeed a form of folk art.

Mar 20, 2011, 12:14pm, kerouac2 wrote:

Bixa, is that an artisan who makes "decorative" clay pots? I ask this because, as ugly as the objects may be, the entire world has adopted plastic basins for ordinary use. I'd be quite surprised if that were not true in Mexico as well.


Kerouac, the pots he is carrying are for everyday use, and I think they're from another state -- probably Puebla. I've never seen an itinerant pot vendor with wares from here.

The shallower ones are cazuelas -- casseroles -- and used all over the country every day. The round ones are ollas -- pots -- equally ubiquitous.

There is a photo further up this thread of a small group of pots from Oaxaca at a market. If you go through this thread, or any one of my threads about Mexico, you'll notice them everywhere, either for sale or in use.

Here is some decorative stuff from the Sierra de Juárez, Oaxaca: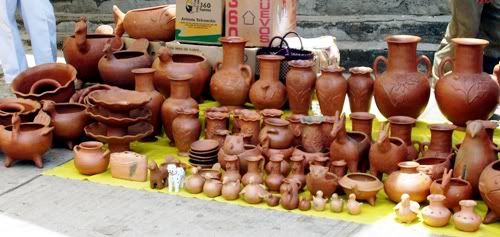 The clay comals (round griddles) made in that region are to be found everywhere. Even the little general store in my neighborhood sells them. They come in every size from dinner plate up to wagon wheel.

At :27 in the video you get a quick shot of more of the decorative red clay ware, quickly followed by scenes of the comals in use. The white stuff is cal -- lime -- smeared on the comal to keep the tortilla dough from sticking.


Whoops -- forgot to include this informative link: http://www.oaxacaoaxaca.com/pottery.htm
Posted by bixaorellana on Apr 28, 2011, 7:49am
Have been meaning to post this lovely object that I got a couple of weeks ago.
It's a plain, utilitarian bowl from the same region as the ornamental objects in #21. It was 40 pesos, or under $3.50 usd. It's just over a foot across.
I wanted it for a fruit bowl, although its real use is as a cooking pot.

Posted by bixaorellana on May 5, 2011, 10:25pm
Acquiring these dolls was a somewhat shocking & educational experience.

I don't collect dolls, although I admire them sometimes. I was going through the produce market, which was crowded and I was laden with purchases. An older man passed me, carrying a bag and a crocheted blouse on a hanger in one hand, and dangling something from the other.

He passed, calling out his wares, & I thought "Eh?". I paused, and sure enough, he'd said "Two dolls -- 5 pesos". Five pesos is less than 43 cents. I stopped him and he showed me that all the dolls were attached by strings on their heads. I selected two and he handed them to me. I told him they were worth more than he was charging. He just shrugged. Then he pointed at my dress & said it was nice work. He said, "I have those dresses, they're 25 pesos." !!!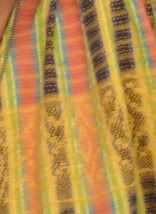 Now, these dresses are essentially shifts, but they're handloomed. They're sold from anywhere from under 8 dollars to around 11 dollars, and cheap at that.

Sorry about the blurry picture, but it shows the fabric & the detailing on the bodice. That detailing is duplicated near the bottom of the skirt area. The hem is finished off with a plain knotted fringe, since these are essentially rebozos folded in half, seamed up the sides, & with a neck hole added.

I said that 25 pesos seemed like too little to charge. He asked me how much I paid, so I told him where I got them & how much people were paying, which would be easily four or five times what he was charging.

He said, "Well, it's my work -- i.e., he weaves the dresses -- so it doesn't matter."

This is not a cultural chasm between two nations, but really of two ways of life. When I related the whole thing to my landlady, she was as amazed as I.

Anyway, here are the little dolls. They are extremely "rustic", but when I got them home I was amazed to see that the bodies were made to have "underpants" and that they're wearing little slips. Modest dollies.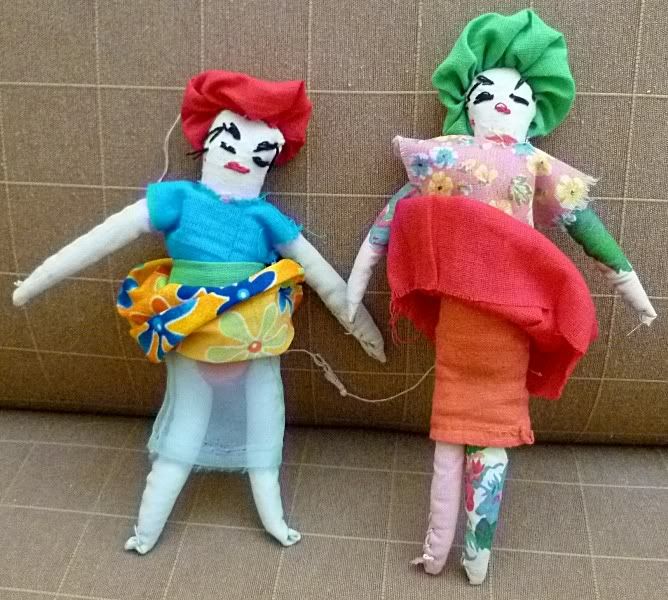 Posted by bixaorellana on Jun 1, 2011, 6:10am
Woven palm baskets, entrance to Benito Juarez Market, Oaxaca. The ladies who make these sit there all day turning out these items.


Posted by kerouac2 on Jun 13, 2011, 5:27pm
I have seen identical weaves in a very small version as Chinese tea containers. I wonder if each part of the world found out the same methods of weaving reeds and other vegetal items all by themselves, of if the information has been passed around the world by other travellers.
Posted by kimby on Jun 13, 2011, 6:37pm
How many different variations are there on over-under-over, I wonder? In time, a culture would have to discover most of them. Dye colors might be a main difference, but in the age of chemical dyes, even that individuality may be lost.
Posted by bixaorellana on Jun 13, 2011, 7:45pm
Good point, Kimby, but I don't know that access to chemical dyes would wipe out individuality in basket making. Speaking of which, there are so many forms of folk craft where probably uniformity is valued over individual expression. The undyed carry basket in the foreground is beautifully made and there is subtle but satisfying difference in texture due to changes in the weave. But is that done for beauty, or to add strength? And wouldn't the strength & durability be what the user would prize? I'd love to know how the basketweavers themselves view their work.

What strikes me is that it would be hard to tell what country the designs are from without visual cues from the rest of the picture.

Jun 13, 2011, 5:27pm, kerouac2 wrote:

I have seen identical weaves in a very small version as Chinese tea containers. I wonder if each part of the world found out the same methods of weaving reeds and other vegetal items all by themselves, of if the information has been passed around the world by other travellers.


Intriguing question. In the Americas, the method could have been brought directly from China.

From Wikipedia:
While basket weaving is one of the widest spread crafts in the history of any human civilization, it is hard to say just how old the craft is because natural materials like wood, grass, and animal remains decay naturally and constantly. So without proper preservation (which was not available two hundred years ago, much less two thousand years ago) much of the history of basket making has been lost and is simply speculated upon.
The oldest known baskets have been carbon dated to between 10,000 and 12,000 years old, earlier than any established dates for archeological finds of pottery, and were discovered in Faiyum in upper Egypt. Other baskets have been discovered in the Middle East that are up to 7,000 years old. However, baskets seldom survive, as they are made from perishable materials. The most common evidence of a knowledge of basketry is an imprint of the weave on fragments of clay pots, formed by packing clay on the walls of the basket and firing.

If we accept as a given that the Americas were settled by people coming over the Bering land bridge from Asia, it's entirely possible that they brought basket weaving techniques that still exist in parts of China. http://en.wikipedia.org/wiki/Settlement_of_the_Americas
Posted by bixaorellana on Jul 11, 2011, 6:47am
Posted by kimby on Jul 11, 2011, 6:55pm
Are we already stocking up for Day of the Dead?
In the first photo, before I could see their bones, these guys reminded me of Don Quixote.