Topic Summary
Posted by bixaorellana on Jan 8, 2012, 3:02am
A friend insisted there was something I needed to see yesterday, so around 4:30 pm, we headed over to Sto. Domingo church.

You all may recognize this side street as that used by the dancing bridal couple in another thread. But what's going on there now? There seems to be a big clump of people at the end of the street ~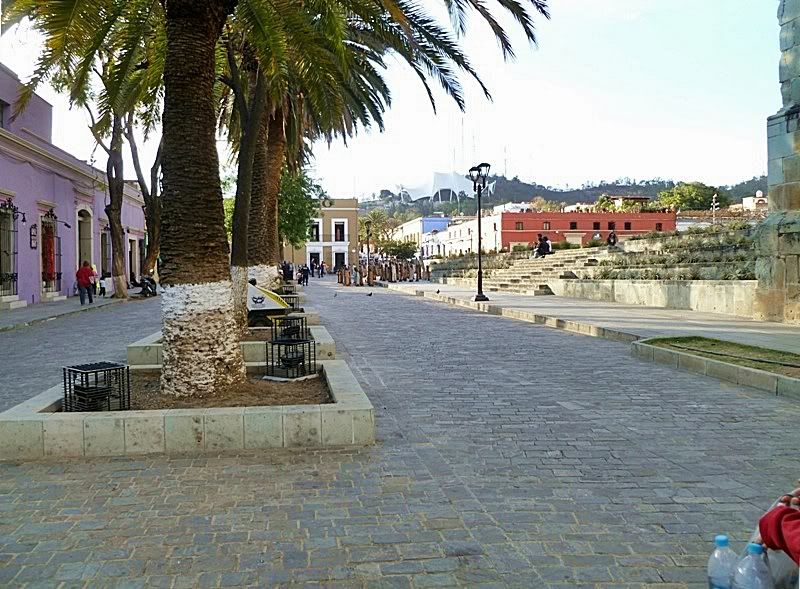 We're upon them, and can see even more of their ilk in the plazuela on the other side of the street.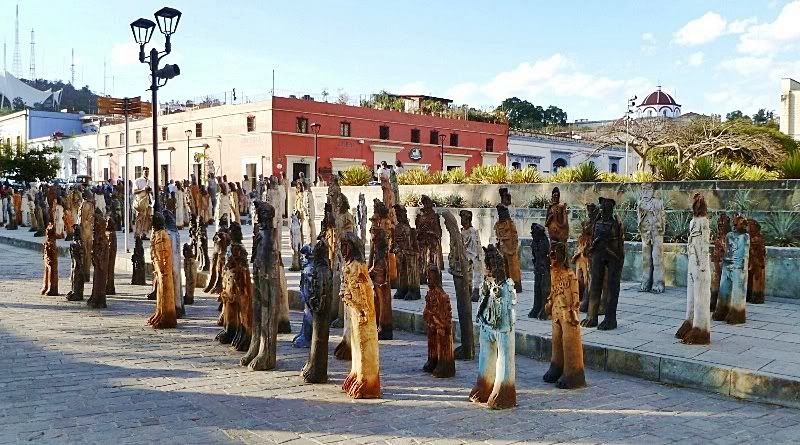 But they're different from you and me, aren't they?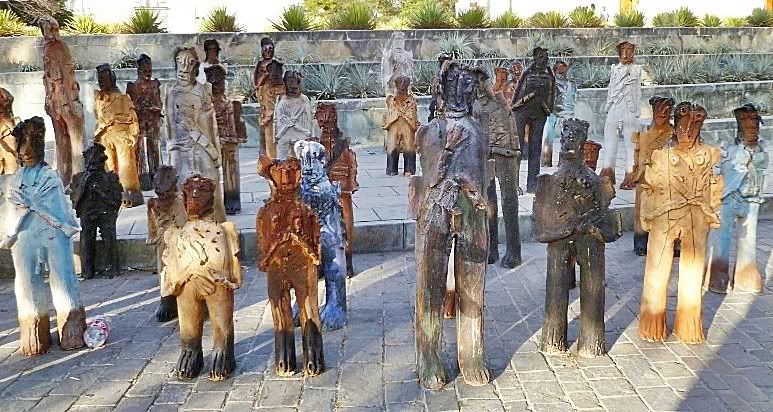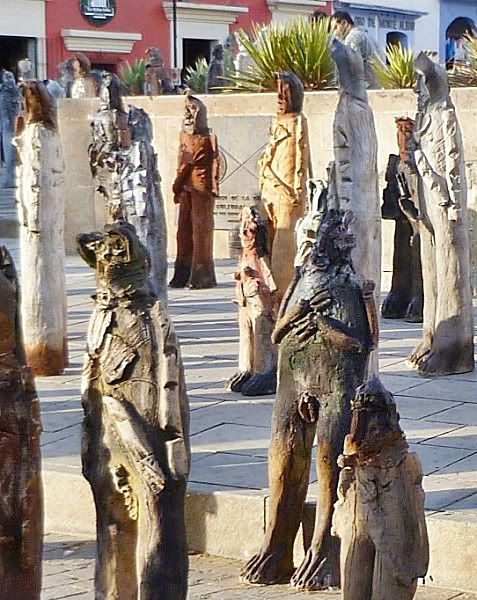 These remarkable figures are the work of Alejandro Santiago, an artist originally from Teococuilco, Oaxaca. His family moved to the city of Oaxaca when Santiago was a child. In pursuit of his artistic career, he has also lived in the US and in Europe. But over the years he has returned to his home town for holidays or festive occasions.

On one such visit to Teococuilco, after three years in Paris, he was shocked to find that more than half the population had gone to other parts of Mexico or to the United States in order to find work.

One night he had a dream, and when he awoke, he had a plan. Thus was first set in motion the project of inhabiting Teococuilco with ceramic figures representing 2,500 of the absent villagers. One additional sculpture would be of Santiago, himself, as a testament to his return. The project would be called "2,501 Migrants."




My short précis and the youtube video above cover the basics about this amazing feat of art. But I urge to please look at the links below, particularly the first one, which has a good-quality and very moving trailer for the documentary film by Yolanda Cruz.

http://2501migrants-themovie.com/trailer.html

http://www.2501migrants.com/home.html (comment on the project)

http://trustmovies.blogspot.com/2010/09/2501-migrants-journey-different.html (review of the documentary)
Posted by bixaorellana on Jan 8, 2012, 3:23am
Some non-clay humans for scale ~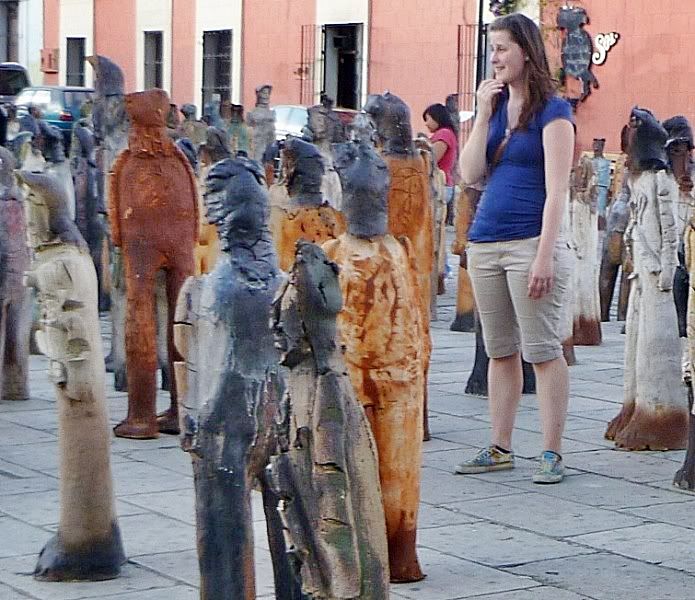 Looking at and being among these figures is an odd experience. It moves from the reaction of what odd but striking pieces they are, to being somewhat disconcerted by their prominent genitalia, to the sinking in that these all represent real people -- people who felt forced to throw themselves into the unknown.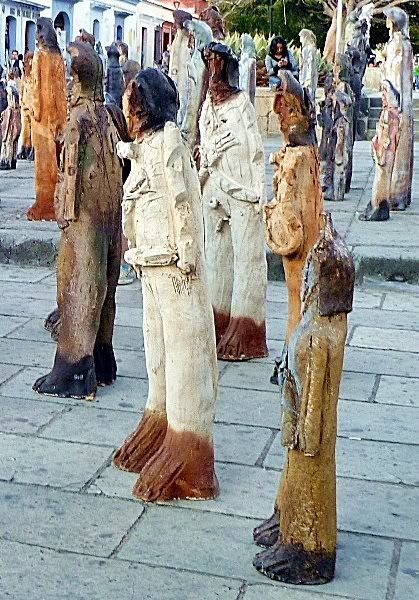 At some point, you really start seeing the figures as individuals --feeling their isolation even when they clump together and sensing their trepidation as they peer out at regular citizens going about their lives.

Posted by bixaorellana on Jan 8, 2012, 3:32am
We move south on Álcala, wanting to see how far down the street the figures go. So far, they're only on the street just below Sto. Domingo. The policeman tells me that there are 530 of them, and that they'll be here until the end of February. The ones lying down are awaiting placement. Their feet will be siliconed to the pavement. Still, knowing the fate of many migrants, seeing them lying there is chastening.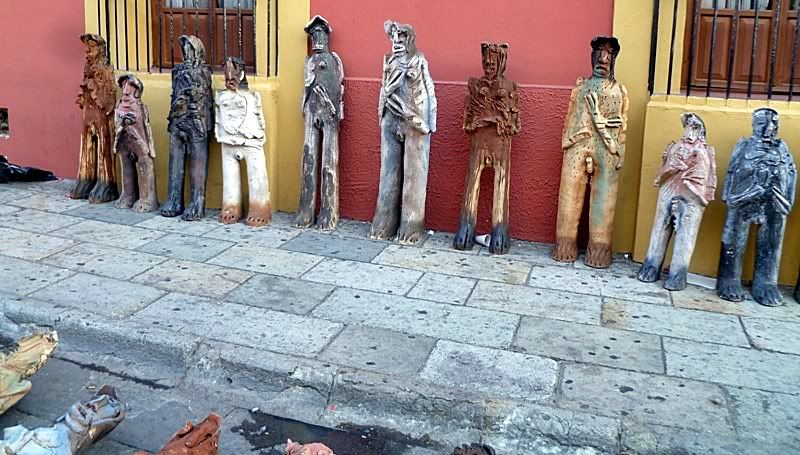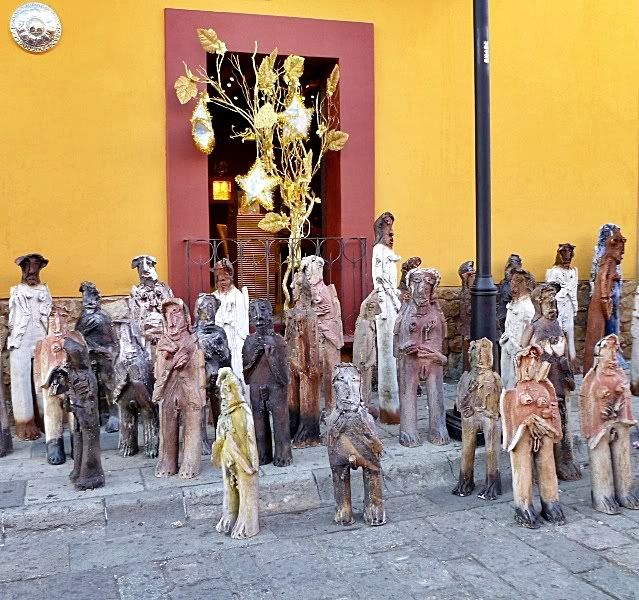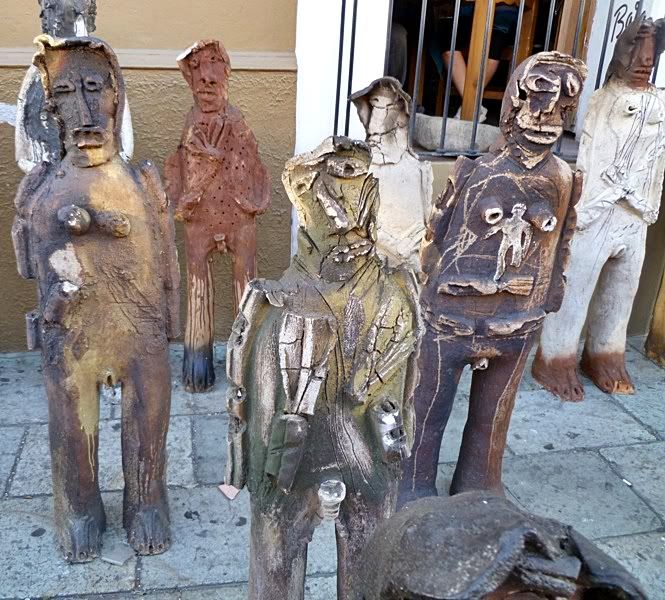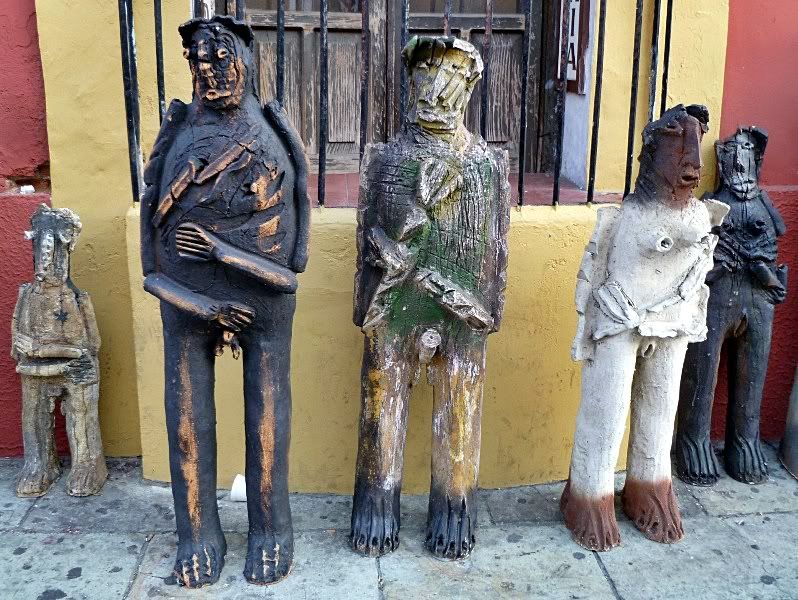 Posted by bixaorellana on Jan 8, 2012, 3:45am
Back up the street again ~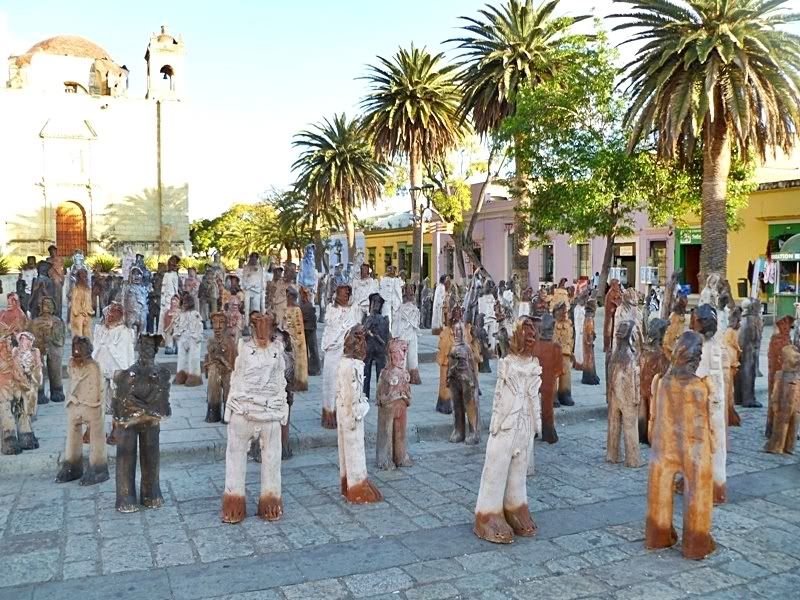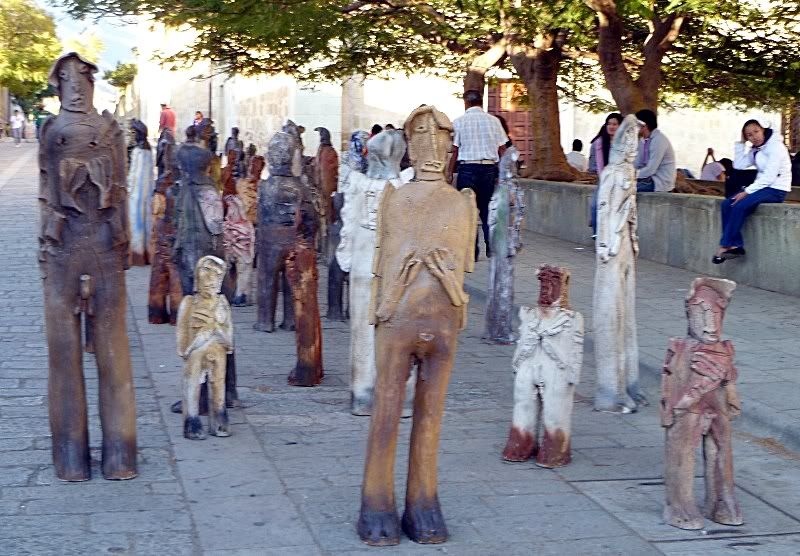 Posted by bixaorellana on Jan 8, 2012, 3:55am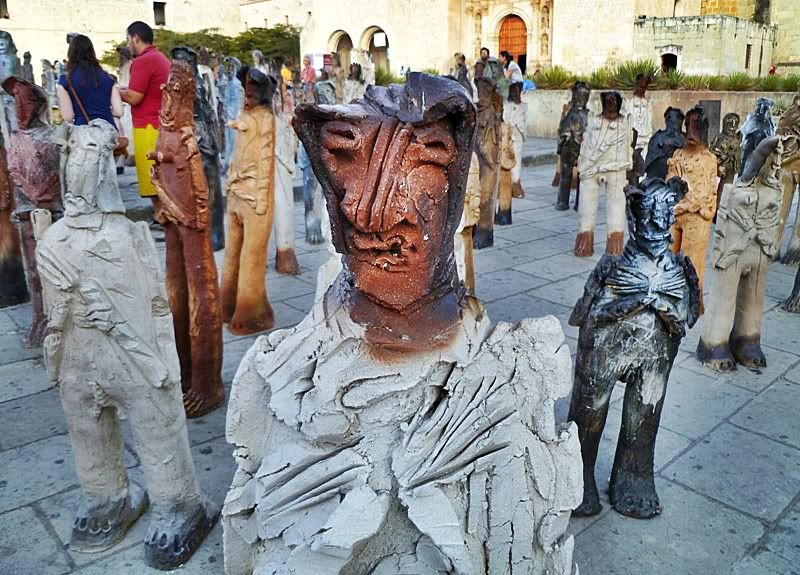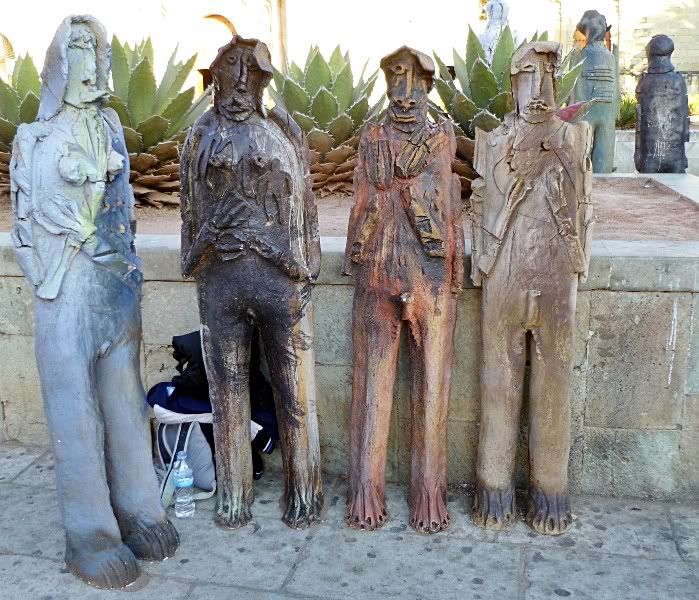 Posted by kerouac2 on Jan 8, 2012, 6:17am
That's amazing. They do seem to have a life of their own standing in a group, waiting for a signal, such as "one step forward" or "attack!"

Primitive art around the world always seems to find genitalia of major importance, and the features are generally "enhanced." There is probably something significant in the fact that modern civilization has transferred the exaggeration to the upper parts of the body -- breast implants, six packs or inflated lips. However, I am not sure what it means.
Posted by tod2 on Jan 8, 2012, 8:22am
What an almost indescribable group of figures - First off I thought ugh! aren't they ugly?! Why has he made them look so horrific? Why for goodness sake are some showing a female fanny and others who are I guess supposed to be male, are showing off an erect penis?! There's got to be more to this than meets the eye..... So I viewed the links you sent and can understand the whole thing a bit more.
I cannot say I am an admirer of primitive art but when it's on this scale it has more of an impact on me that if I were to see a single figure made like this.
Posted by kerouac2 on Jan 8, 2012, 10:52am
I was relieved when you mentioned how they were fixed to the ground, because one of my first thoughts was -- even without vandalism -- how quickly an accident could happen.
Posted by bjd on Jan 8, 2012, 1:37pm
Interesting that it's being done in Oaxaca. Just in yesterday's IHT (so the NY Times) there was an article about how fewer Mexican migrants are leaving for the States, but are instead moving within Mexico looking for economic opportunities. The article specifically talked about Santa Maria Atzompa, outside Oaxaca.

Here is the article:
http://www.nytimes.com/2012/01/06/world/....c=me&ref=wor ld
Posted by bixaorellana on Jan 8, 2012, 4:59pm
As a firm adherent (ahem) of silicone, all I could think when I was told the sculptures were siliconed down was what a laugh a minute it's going to be to unstick them.

Well, just to nitpick a bit -- this is not primitive art, since it was made by a trained artist with an established career in art. Rather, it's primitivism, an entirely more sophisticated thing.

Tod, you make such an important point about the sheer number of the pieces being an essential part of the effect this installation has on the viewer.

I used a lot of pictures in this thread because I was trying to show the cumulative impact of being among the figures. My take on it was that the initially perceived ugliness, especially en masse, makes us want to look away, rendering the group featureless. This would mirror the effect that migrant workers might have on a settled population, i.e, they're too different from us, but they're all alike, just a featureless mass come to do our menial jobs. Then, the slight horror of seeing such assertive genitalia makes us guiltily look again and begin to see the figures more as people -- men and women just like us. Finally, wandering among the groups, feeling big and healthy and rich by comparison to the scared little outsiders, we inevitably began looking into the faces of individual figures and seeing our shared spark of humanity shining out of their clay eyes.

However, this is from my point of view as a citizen of the world to which the migrants went. There's that whole other dimension of what it means to the artist who comes from the same town as the migrants represented.

Bjd, thanks so much for linking that article here. I saw it a couple of days ago & will address it in a bit, when I have more time. Although lengthy, it glosses over or leaves out some essential facts.
Posted by kerouac2 on Jan 8, 2012, 5:20pm
Thanks for clarifying my rather sloppy statement about primitivism as opposed to primitive art.

I should have known better after presenting my Saatchi gallery thread, regarding which a number of the figures and other exhibits have burned a permanent place in my mind. If they are ever presented again, I will return in a heartbeat.
Posted by mich64 on Jan 8, 2012, 5:56pm
The artists stance on the migration of the citizens of his home town provides a bold visual statement that equates to many communities around the world including my own.

Being that his artistic style is abstract, I found it necessary to show genitalia to define them as humans, not just statues.

Very interesting Bixa.

Mich


Posted by nycgirl7664 on Jan 10, 2012, 1:53pm
These are incredible. I really enjoyed the video, too. This is such a monumental art project. I'm glad Santiago was determined to finish it despite his setbacks.
Posted by bixaorellana on Jan 11, 2012, 6:58am
Bjd, thanks again for that article. It's okay as far as it goes, but it skirts the point about why people might go to Atzompa. The town was a small, dusty place for years, however it produces vast quantities of utilitarian clay items, along with a significant amount of folk art. It's safe to say that you could not go into any home anywhere in Oaxaca without finding several objects from Atzompa -- bowls, cups, cooking pots, etc.

In the past few years, there's been a great deal of building out that way. Since it's fairly close to the major highway coming in from Mexico City, that's not surprising. With all the housing developments going up, of course there would be construction workers coming in. Also, since Oaxaca is the state capital, it's a magnet for people looking for opportunity, not to mention those studying at the universities or working for the state government. Housing in the city of Oaxaca is expensive, so the towns around it are the suburbs. Also, there's a fair amount of squatting -- one study from 1995 reported that squatter settlements are representative of up to 40% of the total population of the city. The same report describes Oaxaca as "a middle-size city that lacks an important industrial base", quite an accurate summation. Recently I've run into quite a few men who've moved back here from the US, plus a family who came to Oaxaca from Mexico City because life is quieter here. Those returning from the US almost always come back here because they have family & frequently property here. However, I would suspect there's more than a little speculation going on in Atzompa right now -- they even have a shopping mall!

The writer selectively quoted a couple of people to make it sound as though a valued way of life was suddenly overturned, but Atzompa's been changing for quite a while now. The changes may provide some jobs for young people coming of age there, although this area in general is hugely lacking in career opportunities.

I cannot say this for sure, but often the squabbles over usos y costumbres have corruption & abuse of power by local officials at the source, meaning the problems could have come from within, not without.

Much of what the author says on page 2 is valid. But although factual, I don't think it gets at the root of the matter, which is simply that rural people are coming to the city as they've done throughout history, just in greater numbers because it's now easier. We also have quite a few beggars -- often indigenous & non-Spanish speaking, including whole families, who are simply lost in the city.

A small point, but the author uses "bodega" the way that I think it's used in New York, in the sense of a small store. Here, a bodega is a warehouse or storeroom.

Over all, the description of the growth of Atzompa describes what goes on to a greater or lesser degree all around the city of Oaxaca.
Posted by patricklondon on Jan 11, 2012, 8:39am
Strange and moving - reminiscent of Antony Gormley's human figures:
http://www.visitliverpool.com/explore/se....gormley-p160981
http://www.antonygormley.com/sculpture/item-view/id/256#p0
Posted by lola on Jan 12, 2012, 10:49pm
Truly dreamlike.

These might be vandalism magnets, triggering spray paint self expression.
Posted by cheerypeabrain on Jan 14, 2012, 10:14am
I found them very moving, especially when you read what they collectively represent. It must have been a masive undertaking. They are initially grotesque aren't they? but as you spend a bit more time looking at them they do have a haunting quality about them. Excellent report Bixa.



Posted by casimira on Jan 21, 2012, 11:31am
Seeing this completely blew me away!! I've looked at the thread so,so many times. What an amazing vision beautifully executed!!

I can only imagine just happing upon this with no prior knowledge of its existence and how I would have reacted. I know my jaw would have dropped at the very least.

Simply beautiful and very very powerful.

Great report Bixa.
Thank you.

( you mention the pottery of the area,which particular one is it? The black,the green? Or something totally different?)
Posted by bixaorellana on Jan 22, 2012, 5:32pm
Thanks, Casimira.

The utilitarian Atzompa pottery is ubiquitous around here. You can see examples in the 3rd pic of this OP, plus in #5 & #7 of that thread -- probably more if looking closely.
Posted by bixaorellana on Jan 23, 2012, 1:43am

Jan 14, 2012, 10:14am, cheerypeabrain wrote:

I found them very moving, especially when you read what they collectively represent. It must have been a masive undertaking. They are initially grotesque aren't they? but as you spend a bit more time looking at them they do have a haunting quality about them. Excellent report Bixa.

Just came back to the thread to add something, & scanned through it. Cheery's comment seems to sum up everyones reaction -- none of us rejected this work of art, and all of us were moved by it. (& thanks for the lovely compliment, Cheery!)

At any rate, here's a little background on migrants from this area, those that went before, & the grim facts:
http://laprensa-sandiego.org/stories/oax....migrant-rights/ Source
Posted by mickthecactus on Jan 24, 2012, 5:24pm
How remarkable.

And I like them far more than I thought I would initially.
Posted by kerouac2 on Jan 24, 2012, 6:28pm
I think that the more of them you see, the more you identify with them.
Posted by bixaorellana on Feb 5, 2012, 7:59am
Mick & Kerouac, you both perfectly identified my feelings about the statues.

I was in town the other day & when I turned on to Álcala, I was surprised all over again to see the migrantes. As the policeman had promised earlier, there were now many more of them. He'd said there were to be 519, but it seems like more. A tourist couple with whom I talked said the same thing.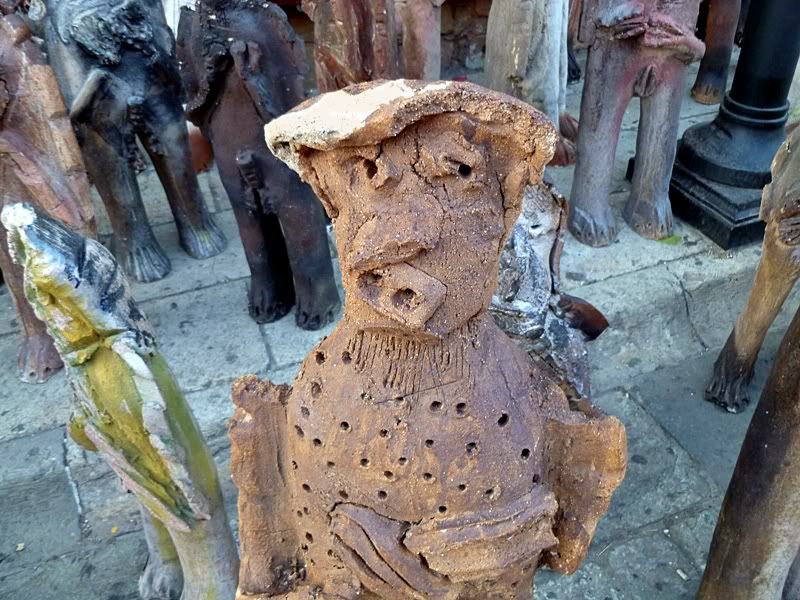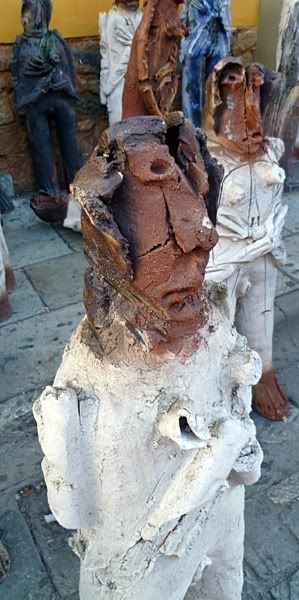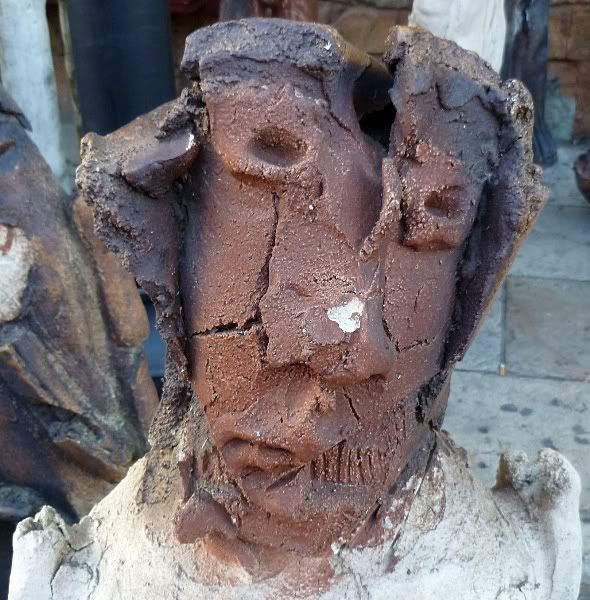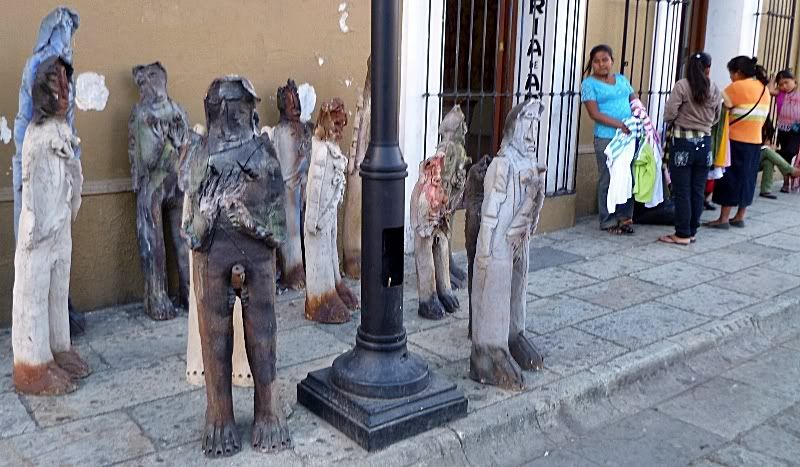 Posted by bixaorellana on Feb 5, 2012, 8:03am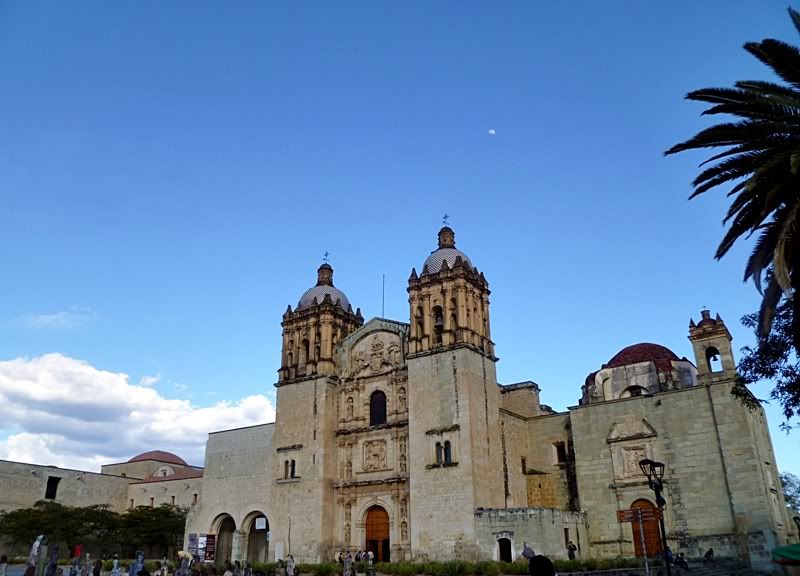 Oh dear -- a silicone fail!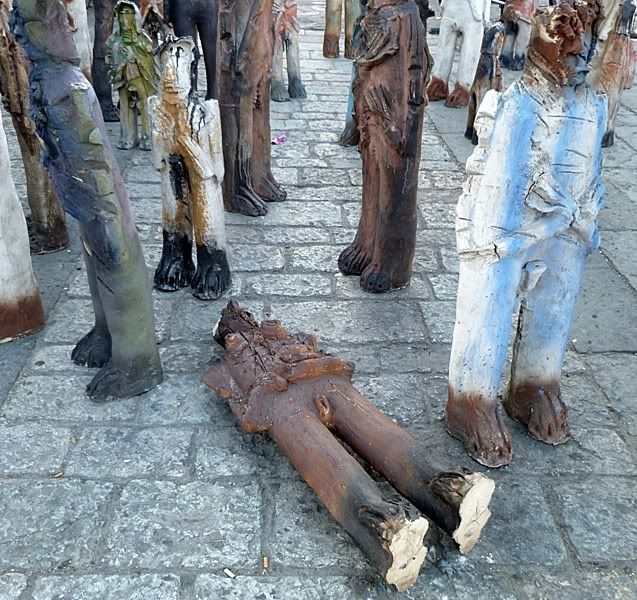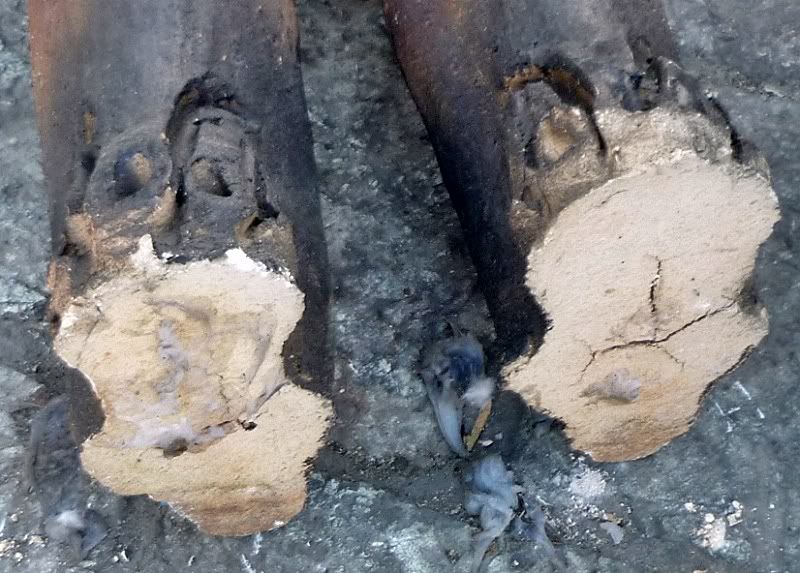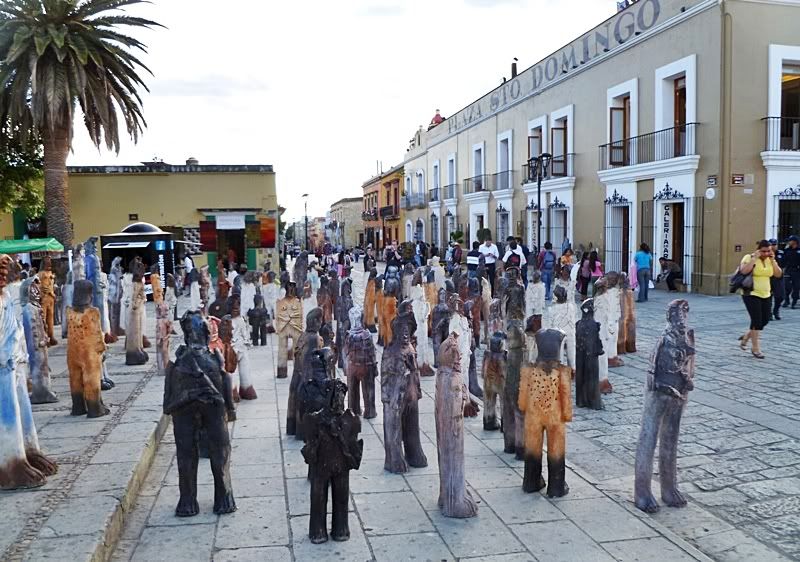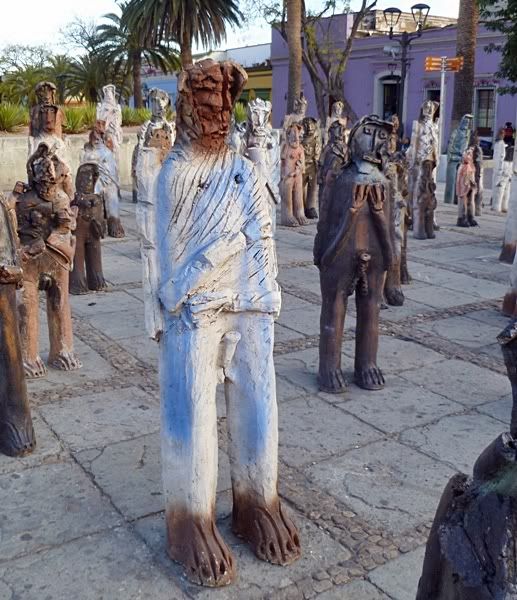 Posted by nycgirl7664 on Feb 15, 2012, 5:37pm
This plaza looks like the perfect place for the statues because there's so much wide, open space. Still, the statues look like they're taking over, don't they?

Wonderful photos, Bixa.
Posted by kerouac2 on Feb 15, 2012, 10:34pm
I think they are taking over the city! They must be destroyed before it is too late!
Posted by kimby on Feb 20, 2012, 6:31pm
What is to become of them when this installation is over?
(Presuming it is not a permanent piece of public art!)
Are they for sale? As individuals or in groups?
Or will the whole lot of them travel to a new location to take over for a while?
Posted by bixaorellana on Feb 22, 2012, 3:03pm
Thanks so much for all the comments. Yes, it does look like more creep in during the night! I went through that area on Sunday & could have sworn it felt almost crowded with the migrantes. It may be just a logistical thing with the way the statues were installed, but maybe a way to provoke a tinge of xenophobia -- "they" are taking over!

Kimby, the only information I can find on the installation is that in the middle link at the bottom of the OP:
After the first exhibition in Santiago's home village, all 2501 ceramic figures will be moved to a location in the desert between Mexico and the USA. Here they will be lined up representing the path of the Oaxacan migrant. Finally they will go back to Oaxaca to a permanent outdoor museum.

Does the "location in the desert" refer to their time in Monterrey? Is the "permanent outdoor museum" what is shown in this thread? I'll continue to try to find out.

In the meantime, I just found this site, which says:
This film is available to watch instantly
$2.99 Rental – 48Hrs
Watch as often as you like for 48 hours Video On Demand.
Just select the icon for full screen High quality viewing.
Posted by kimby on Feb 22, 2012, 3:44pm
Thanks for that link, bixa. I won't be renting the film (I'm not even sure I LIKE this art installation) but it's good to see photos of the creators and get some background bio on them.
Posted by bixaorellana on Mar 25, 2012, 3:52am
I went downtown yesterday and saw that the Migrantes are being uninstalled.

http://oaxaca-digital.info/concluye-la-exposicion-2501-migrantes/