Topic Summary
Posted by kerouac2 on Feb 20, 2011, 6:59pm
Time to start taking bets on the next country? Libya, Yemen, Bahrain.....
Posted by bixaorellana on Feb 20, 2011, 7:40pm
Well, the question mark in the OP title could certainly be removed! There is definitely a gale force blowing through those long-repressed countries.

This is breaking news on VOA, from 10 minutes ago. Click on text for full story.

Libyan security forces have opened fire again on anti-government protesters ...

... the government has barred local and foreign journalists from covering the unrest. ...

Libyan authorities also cut off Internet services in the country Saturday, denying cyber activists a key tool to mobilize demonstrators.

Mr. Gadhafi has tried to defuse the protests by doubling the salaries of state employees and releasing 110 suspected Islamic militants ...
Posted by kerouac2 on Feb 21, 2011, 6:00am
From the Seattle Times (excerpt):

Gadhafi's 42-year reign faces crisis
By Jonathan S. Landay, Miret Al-Naggar and Hannah Allam
McClatchy Newspapers

CAIRO, Egypt — Libya's second-largest city, Benghazi, fell Sunday after a crack army unit defected to the opposition. Clashes also spread to the capital, Tripoli, as an uprising against Moammar Gadhafi appeared to threaten the Middle East's longest-ruling dictator's 42-year grip on power, residents and news reports said.

Gadhafi's youngest son, Saif Gadhafi, seemed to acknowledge in a rambling speech on state-run television that Benghazi and the nearby eastern city of Baida no longer were under government control.
Posted by bixaorellana on Feb 21, 2011, 7:22am
Amazing! It seemed nothing would ever break that "grip on power">
Posted by bjd on Feb 21, 2011, 8:24am
When you see how many people have been killed and wounded in Libya, it's not sure that the grip is broken yet. I would imagine that as some countries collapse, the dictators in the others are determined not to let go even more.
Posted by kerouac2 on Feb 21, 2011, 10:48am
Saturday night I was at a dinner where there was somebody from Air Malta, and he said they were gearing up for mass movements. Malta is the link point between Europe and Libya, and during all of the years when there was an aviation embargo, all of the Libyans flew in and out of Malta to connect to a ferry service to Libya.

A lot of them still prefer the ferry, because Malta has better connections with the rest of the world than Tripoli does. If the big crunch comes, Malta is going to absolutely fill up.
Posted by bixaorellana on Feb 21, 2011, 3:11pm
I'll bet if there were a way to chart those leaving a troubled a country, using wealth, family name, political connections, etc. as an index, it would be a pretty accurate way of knowing how close a regime was to toppling.

You are certainly correct that the grip is not yet broken, Bjd. Still, it seems that so many of these oppressed populations have decided that daring to go on the attack is better than accepting the continual attrition under which they've lived. With the examples of Tunisia and Egypt so fresh, that spirit is not likely to flicker out easily.
Posted by bjd on Feb 21, 2011, 3:23pm
Oh, I certainly hope that the spirit continues to flicker, and even burst into flame. It's just that many of these guys who have managed to stay in power so long have been able to do so because they have managed to crush any opposition. As long as they have the guns on their side, the opposition needs so much courage.


Posted by mich64 on Feb 21, 2011, 5:15pm
This morning I heard that Air Egypt was offering anyone 125 of their planes along with their crew...??
Mich
Posted by kerouac2 on Feb 21, 2011, 5:54pm
It looks like Libya is already pretty much a done deal. Qadhafi may have already left the country.

Who is next on our list?
Posted by kerouac2 on Feb 21, 2011, 6:24pm
Is Qadhafi really on his way to Venezuela?
Posted by onlymark on Feb 21, 2011, 6:35pm
Speaking on Libyan TV, Libyan Deputy Foreign Minister Khalid Kayem has denied reports Col Gadaffi has fled to Venezuela, Reuters reports.
Posted by kerouac2 on Feb 21, 2011, 7:06pm
While we're still waiting for the good news, here is a little interlude of light news, although it is not to the glory of Corsica.

Did you know you're in Gaddafi's father's hometown ?" The rare mainlanders stopping off in Vezzani, a charming little village on a mountainside in Upper Corsica, are informed right away. Quite proudly, the townspeople offer up the information unprompted : if village lore is to be believed, Colonel Muammar Gaddafi, the Libyan head of state, is the son of a Corsican air force pilot by the name of Albert Preziosi.

Ah, Albert ! His shadow still falls over Vezzani. As soon as you enter the village, a marble plaque on the Post Office building honors the memory of the Captain, who was born in 1915 and died in 1943, in the sky over Russia, in the cockpit of a fighter plane in the Normandy-Niemen squadron. A few turns in the road later, and you come across the village monument to its war dead, which commemorates this officer, "who died a hero's death during an airborne battle North-East of Karachev," and whose body was never found. Even in Town Hall, a framed photo of young Albert in uniform takes up more room on the wall than the official portrait of omni-president Sarkozy…

Like the citizens of his town, Jean-Pierre Pagni, the Mayor of Vezzani, isn't the least bit surprised when you ask him about the "legend" of Gaddafi's Corsican ancestry. Au contraire. He's "always heard tell of it". But, like the rest of them, he has never had in his possession any "documents that would prove it… or disprove it either." Gesturing towards the airman's portrait, he can't help pointing out that, "The resemblance between Albert Preziosi and the young Muammar Gaddafi is uncanny though, don't you think ? That doesn't prove anything, of course, but it's a nice story." If the "legend" were ever proven, it would be fine with him, "The town is prepared to provide Mr. Gaddafi with land where he could install a tent, or build a house !"




Like the locals in Vezzani, influential islanders are fascinated with the "legend" too. And they all want a piece of the action. In the opinion of Alexandre Alessandrini, Member of the General Council for the Canton of Vezzani and of the Corsican Assembly, certain political events could confirm good old Gaddafi's Corsican ancestry : specifically Libyan support for Corsican nationalists, at the start of their violent period in the 70s. Looking you right in the eye, he states that, "Some nationalists were invited to Libyan weapons and explosives training camp." Proof positive, as far as the Council member is concerned, that the Colonel had a soft spot for his revolutionary cousins.

But times have changed. Gaddafi is now persona non grata on the Continent. Which makes it all the more a shame that the "local boy" didn't "take advantage of his official visit to France to spend some time in Corsica : he would have received a warm welcome." Warmer than on the mainland in any case… The same sentiment is expressed by François Quilichini, a dashing retiree from the Security Branch of the French Police Force in Ajaccio (the capital of Corsica) and one-time "colonial officer," from 1967 to 1977. At the time he was the security-intelligence bureau chief for the president of Niger.

He remembers in great detail the young Libyan head of state's first official visit to his Nigerian counterpart, Hamani Diori. "In January 1974, President Diori met with Colonel Gaddafi in Zinder (a Saharan city in Niger that is close to the Libyan border). I attended the meeting. In the evening, President Diori informed me that I had shaken a compatriot's hand ! That's how I learned that Gaddafi's father was Corsican." At the time, "I didn't look into it, and now I regret it. But you have to admit that the hypothesis makes sense, considering Albert Preziosi's presence in Libya in the 40s. And in the colonial army, Corsicans were the ones who got involved with the natives the most…"

Complete article here.




Posted by bixaorellana on Feb 21, 2011, 7:14pm
This is horrible!

Libya warplanes bombing Tripoli: resident
Reuters

– 44 mins ago

LONDON (Reuters) – Libyan warplanes were bombing indiscriminately across Tripoli on Monday, a resident of the Libyan capital told al Jazeera television in a live broadcast.

"What we are witnessing today is unimaginable. Warplanes and helicopters are indiscriminately bombing one area after another. There are many, many dead," Adel Mohamed Saleh said.

Saleh, who called himself a political activist, said the bombings had initially targeted a funeral procession.

"Our people are dying. It is the policy of scorched earth." he said. "Every 20 minutes they are bombing."

Asked if the attacks were still happening he said: "It is continuing, it is continuing. Anyone who moves, even if they are in their car they will hit you."

There was no independent verification of the report but Fathi al-Warfali, the Libyan activist who heads the Swiss-based Libyan Committee for Truth and Justice, who was taking part in a protest outside U.N. European headquarters in Geneva said he had heard the same reports.

"Military planes are attacking civilians, protesters in Tripoli now. The civilians are frightened. Where is the United Nations, where is Amnesty International?" al-Warfali told Reuters.
Posted by onlymark on Feb 21, 2011, 7:24pm
Two Libyan pilots defect to Malta, say they had been ordered to bomb protesters - Maltese government sources
Posted by onlymark on Feb 21, 2011, 7:26pm
Al-Jazeera English just reported that all land lines in Libya have been cut.
Posted by kerouac2 on Feb 21, 2011, 7:46pm
But satellite phones are still working -- there's nothing they can do about those.
Posted by bixaorellana on Feb 21, 2011, 7:55pm

Feb 21, 2011, 7:24pm, onlymark wrote:

Two Libyan pilots defect to Malta, say they had been ordered to bomb protesters - Maltese government sources

The reaction of the military may well be crucial. Surely the military personnel who laid aside their insignia to join the Egyptian protesters were a great boost to morale.

Qaddafi's willingness to mow down his own people could turn the military against him. We can only hope.

Re: communication -- any reports of radio or tv stations being commandeered?
Posted by onlymark on Feb 21, 2011, 8:08pm

Feb 21, 2011, 7:46pm, kerouac2 wrote:

But satellite phones are still working -- there's nothing they can do about those.



Fat lot of good that is to the common working man/protester. I bet, apart from journalists, there are only a handful in private hands.
Posted by onlymark on Feb 21, 2011, 8:09pm
As regards your question bixa, not that I've seen or heard.
Posted by kerouac2 on Feb 21, 2011, 8:21pm
What good would a satellite phone do in private hands? Call Mom?



I am reminded of a certain event in 1937.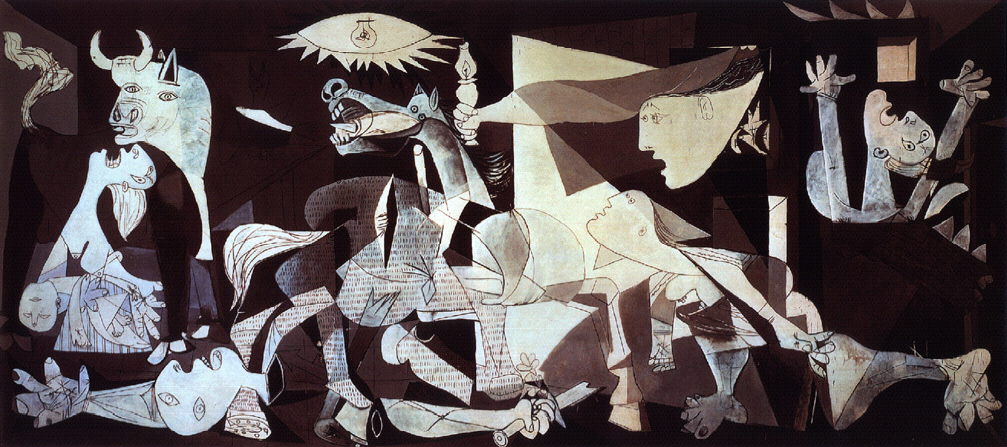 Posted by bixaorellana on Feb 21, 2011, 8:23pm
Terrifying, tragic, and apt.
Posted by onlymark on Feb 21, 2011, 10:03pm
Apparently Gaddafi is going to give a speech soon.
I have contacted him on my satellite phone (I do actually have one) and asked him to postpone it to the morning as I'm off to bed.
No doubt he'll just do as he wants anyway.
Posted by kerouac2 on Feb 21, 2011, 10:05pm
I just hope that it is staged in a tent.
Posted by hwinpp on Feb 22, 2011, 6:58am
Witnesses say African mercenaries have been captured in Libya

Many of our Observers in Libya reported to FRANCE24 that mercenaries from sub-Saharan African countries have been tapped by Muammar Gaddafi's government to crack down on protesters. Videos currently circulating on the Web show that in some cases these alleged mercenaries have been captured and lynched by Libyan demonstrators.

...

http://observers.france24.com/content/20....-youth-movement

He must be getting desperate!
Posted by kerouac2 on Feb 22, 2011, 7:39am
No joke! He won't be able to count on the army much longer. I wonder what his personal stable of 'Amazons' is doing to protect him.


Posted by bjd on Feb 22, 2011, 8:31am
Last night on Al Jazeera I saw an interview with the Libyan deputy envoy to the UN. He had quit and claimed he had never worked for the regime but for the Libyan people! All covering their rear ends!
Posted by onlymark on Feb 22, 2011, 11:12am
They know which way the wind is blowing.
Posted by kerouac2 on Feb 22, 2011, 11:52am
It's a shame there has to be so much blood, but revolutions often require it, sometimes in large quantities. La Marseillaise (which I abhor) glorifies it.
Posted by kerouac2 on Feb 22, 2011, 3:26pm
The man with the frizzy hair and that weird growth on his chin is supposed to make a speech in a few minutes.