Topic Summary
Posted by bixaorellana on Apr 16, 2012, 1:04am
Classic meal, DonC!

I have a method of making meatloaf that might interest some of you.

Use a metal vegetable steamer: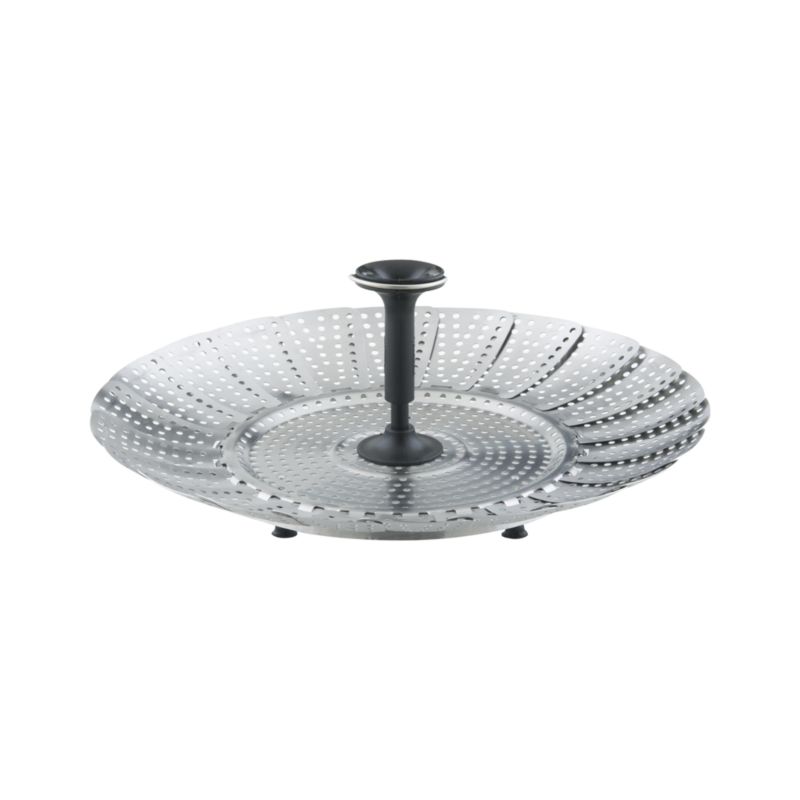 And form the meat mixture on it in a ring -- in the general shape of a bundt cake. Set the steamer in something wide enough to catch any drippings & bake as usual. It will cook much faster and evenly & there will be more crisp parts, if that's your pleasure, or more available area on which to drape bacon, if that's the way you swing.

Oh yeah ~~ re: what's for dinner tonight ...... I munched my way through the church fair offerings in the playing field in front of my house. Had a nice pozole for breakfast, and later some rather fabulous estofado de pollo. It came with a side serving of rice which was way to big to finish. Later I had a snack of two small but stodgy pastries and oddly, don't feel hungry now.
Posted by lagatta on Apr 16, 2012, 2:04am
How interesting, bixa. A friend here claims to not like Moles because she has only had a sweetened version of mole poblano (unsweetened chocolate is very bitter indeed) and didn't even want me to make her a pipian, though pumpkin seeds were also a major part of Indigenous cuisine way up here.

Is Oaxacan oregano very different from other varieties? I prefer using locally-grown - it would spring up every year as a perennial where I lived before and had a tiny huerto (orto in Italian) but that was Italian and Greek oregano. I can easily buy things like Mexican cinnamon, at the market, and cinnamon would be imported here in any event.

There was always a bit of lard or other porky bits in Spanish cuisine, just to show that you weren't a hidden Muslim or Jew, in Inquisition times... Sorry, I'm using oil ... or duck fat.

We get locally-grown tomatillos, but only in the summer and autumn. This sounds great!
Posted by mich64 on Apr 16, 2012, 12:26pm
My sister-in-laws birthday. She was asked what kind of cake she would like, she selected peach schnapps mandarin cheesecake! Our other sister-in-law made it for her. It was one of the finest desserts I have ever eaten! I am sorry I did not have my camera.

Cheers!
Posted by bixaorellana on Apr 18, 2012, 1:01am
LaGatta, I think many palates aren't ready for mole, which isn't like anything any of us, from whatever culture, are used to eating. I hope she gets over her initial shock & gives it another chance. I guess all of the dark-paste moles could be called sweet, but only if one didn't get the relationship of the sweetness to the overall complexity of the dish. Of course, she could have just had a not very nice example.

What a good friend, to offer to make pipian! Do you know much about pre euro invasion native American foods? I've looked at cookbooks supposedly on the subject before, but they all seem to be heavy on the fry bread & southwestern/Mexican style stews?

As far as I can tell, the main difference in Oaxacan oregano is that it seems milder. You could use any oregano you have, just use a little less. I'd offer to send you some of the local stuff, but do you really want to receive a package of small dried green leaves & stems from Mexico?



Sort of off the subject, but .......... do you happen to remember, I think it was back in the 70s, after Franco died, that an entire village of "Marranos" were found living in a mountainous area of Spain? They all had ham ostentatiously hanging from their rafters & even baptized their children. But they were Jews who'd been living a cover story since the 1400s!

I really want to get the recipe from the lady whose estofado I enjoyed the other day. If I succeed, I'll pass it on.

Mich, I never even heard of that kind of cheesecake before, & now I'm eaten up alive with desire for it!
Posted by Don Cuevas on Apr 18, 2012, 7:31pm
Wednesday: Clean Out The Fridge Day. I pulled a container of minestrone out of the freezer, added to it a zucchini-tomato-nopalitos-chile Poblano medley, and that, with some pesto and some crusty rolls, is dinner.
Posted by lugg on Apr 18, 2012, 8:21pm
Picadillo ...and it was not great because I overcooked it whilst reading Any Port
- tomorrow ( Thurs ) is our clean out the fridge / eat up night although I know it will sound /taste as exotic as Don Cuevas
Posted by kerouac2 on Apr 18, 2012, 8:37pm
My dinner was 100% meat, which is extremely rare for me since I crave vegetables.
Posted by mich64 on Apr 18, 2012, 8:48pm
This morning I defrosted some pickerel that my sister-in-law caught while ice fishing a couple of months ago and I will make some coleslaw to go along with it.

Cheers
Posted by lagatta on Apr 19, 2012, 12:05am
Here, pickerel is doré, and I caught one in a river north of Lac St-Jean as an utter rube on my 30th birthday. We had a lovely supper back then.

I have an Indigenous friend (Innu/Montagnais people, from the North Shore of the St. Lawrence) who has been studying Indigenous foods and cuisines of the Americas. My knowlege is spotty.

Yes, of course I've heard about that case of Marranos, and other Marranos and Moriscos (hidden Muslims) whose ancestors survived the Inquisition. You do know about the idea of "Purity of blood", a forerunner to later "scientific racism" theories? http://es.wikipedia.org/wiki/Estatutos_de_limpieza_de_sangre

And in English: http://en.wikipedia.org/wiki/Limpieza_de_sangre
Posted by mich64 on Apr 19, 2012, 12:45am
Lagatta, I am happy that my dinner choice evoked a happy memory for you...

Cheers
Posted by bixaorellana on Apr 19, 2012, 1:20am
& I'm happy you didn't have to hang over a hole in the ice to get your nice fishy, Mich!

Fascinating subject, that of indigenous foods of the Americas. Almost anything I've ever read about it has been so anthropological that I have no mental image of what the food must have been like.

Yes, I know about the limpieza de sangre. At the moment I'm reading an excellent history book -- Brutal Journey, by Paul Schneider, which also alludes to that policy. The subtitle is "The Epic Story of the First Crossing of North America", a reference to the Narváez expedition. The Spaniards behaved very poorly indeed. (but I highly recommend the book)

Just had my supper: 2 fried eggs, a small grilled tomato topped with spring onion & chepiche, a spicy coarse hummus, & a piece of bread. Good!
Posted by auntieannie on Apr 19, 2012, 11:37am
lunch: boiled potatoes, leeks pan-fried with turmeric and black pepper, and smoked salmon trimmings (the sides of the nice slices that cost triple the price) with some honey & mustard dill sauce.
Posted by kerouac2 on Apr 19, 2012, 12:55pm
I think I'll be having tagliatelli with smoked salmon, cherry tomatoes, basil and crème fraîche.
Posted by mickthecactus on Apr 19, 2012, 2:36pm
Slow cooked lamb shank.
Posted by tod2 on Apr 19, 2012, 3:20pm
I bet that shank is going to be incredible Mick! One of my best choices of lamb as I like my meat on the bone.
Feel sorry for the two old codgers down south - we're finishing off the vegetables and to go with them a once in a blue moon order of Kentucky! I really like it once I've peeled off all the coating and skin.

Posted by auntieannie on Apr 19, 2012, 5:06pm
commiserations, Tod!
Posted by kerouac2 on Apr 19, 2012, 5:25pm
My salmon pasta is going to have to wait, because I found 3 small leftovers languishing in the refrigerator.
Posted by Don Cuevas on Apr 20, 2012, 7:40pm
Comida a las 4:00. Paella Catábrica and maybe some cabrito asado at "El Cabrito Astur" in Mexico City.

Report to follow.
Posted by bixaorellana on Apr 20, 2012, 8:13pm
I assume you won't be eating this while toasting your tootsies in hot lava, right?

Buen provecho.
Posted by lugg on Apr 21, 2012, 6:33pm
A curry made with pork tenderloin served with dhal and homemade chapatis
Posted by kerouac2 on Apr 21, 2012, 6:45pm
So, last night I had my long awaited tagliatelli with smoked salmon, etc. I was not able to find fresh basil, so I said the hell with it and mixed it all with mâche (watercress, more or less), because I needed some greenery in the meal.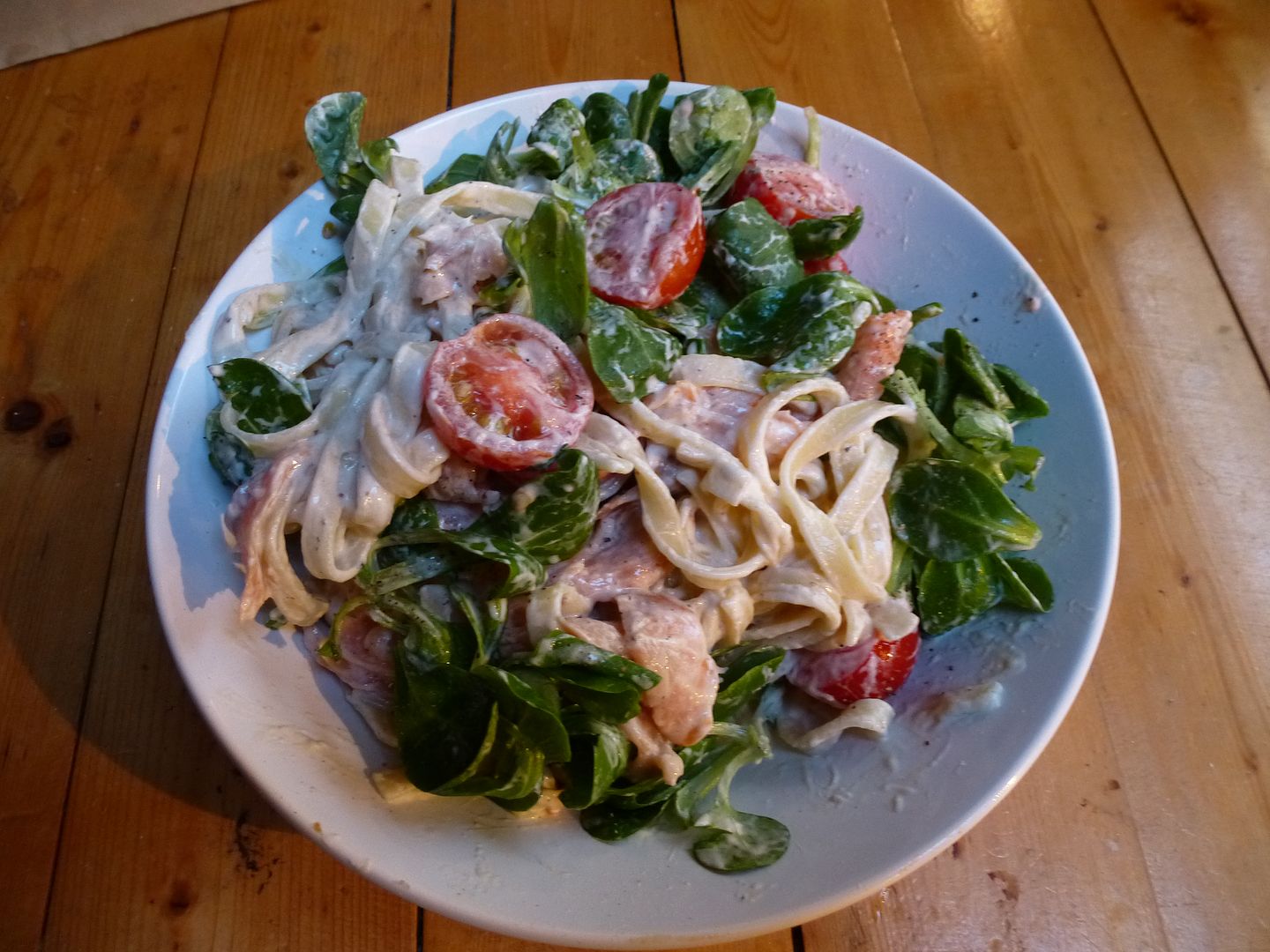 Posted by Don Cuevas on Apr 21, 2012, 7:12pm
No hot rocks here; weather clear & beautiful.

Yesterday's cabrito pretty good, but paella not stellar. Great ambience, in a Euro style cellar.
Excellent service, too.

Today we are going to El Bajío, perhaps Mexico City's best for comida tradicional y regional.
Posted by imec on Apr 22, 2012, 6:33pm
Fried Shanghai Noodles, Beef with Fish Flavor and Char Siu Pork with Snap Peas...


Posted by tod2 on Apr 25, 2012, 7:13am
Great looking dishes Imec! I love Pork Char Siu - maybe I'll get to try it next week in Paris



This greated me on my desktop this morning! http://tinyurl.com/bqow7ac
Posted by Don Cuevas on Apr 25, 2012, 9:32pm
Fusilli pasta with meatballs in homemade tomato sauce. Broccoli florets with sauteed garlic, red pepper flakes in olive oil, then cured black olives.
Cerveza Victoria.
Posted by Don Cuevas on Apr 27, 2012, 9:24pm
Thick cut smoked pork chops, mashed potatoes, onion gravy, lean cabbage slaw, fresh pineapple slices.
Posted by kerouac2 on Apr 29, 2012, 6:34pm
I have chicken pieces in the oven with all manner of spices and sauces slathered on them -- either a random stroke of genius or a horrible waste, which I will discover in about an hour.
Posted by cristina on Apr 30, 2012, 1:56am
Tonight was a small ribeye steak grilled and dressed in a bourgonion inspired sauce (in which I forgot to add the carrots, despite being on the counter

). Served with a faux Caesar salad.

Tonight was all about fakery but it all tasted pretty good!




I need to reacquaint myself with resizing pictures. I sincerely hope you aren't looking at this while having breakfast.

Posted by auntieannie on Apr 30, 2012, 10:28am
I like your idea of fake, Christina!
Posted by lagatta on Apr 30, 2012, 11:57pm
All those things look delicious! A very simple supper for me - I bought some fresh Nordic shrimp http://en.wikipedia.org/wiki/Pandalus_borealis - these tiny shrimp are also called "crevettes de Matane" because a lot of the processing was in that Gaspé town. (Matane is most probably a Micmac name as misheard in French). Tossed them with a Spanish aioli sauce (prepared, and on sale - lighter than a mayonnaise and nice and garlicky yum) - a finely chopped tomato, a couple of shallots (true échalottes, not green onions) and a couple of tinned artichokes, also finely chopped. Added in a bit of leftover basmati rice as I found my salad a bit too rich. I'm just having some of that in a tapas dish; while there is more if I want it later I'm not very hungry right now. Stress from tax time, accountant just finished and filed everything. A few of us were left in the lurch by our usual accountant who decided not to do accountancy any more and just concentrate on "body work" - stuff like Reiki, though also disciplines I was utterly unfamiliar with. But told us this just as we were getting our tax slips from clients and employers. Oh well, it is done. These tiny wild-caught shrimp are delicious.

You can also make one of those Scandinavian open-faced sandwiches with them, and some good rye bread.

Yes, of course I'm sipping a bit of wine with them - rather indifferent dry Spanish rosé, but it'll do the job.

I am looking forward to cooking a somewhat more elaborate meal for some friends and opening a better wine, but no point tonight. I'm dazed.