Topic Summary
Posted by kerouac2 on Aug 8, 2010, 10:27am
I almost got ticketed this morning around 7:30. I confess that I take great pleasure in having the streets all to myself on a Sunday morning -- practically no cars at all. And of course this leads to bending the rules sometimes.

To cut directly to the action, I ran a red light along the canal (no cars anywhere in any direction), but I glanced over to the other side of the canal where there was a police car stopped at the light, and they were looking straight at me. I hustled down the canal while they were still stopped (all downhill, thank god), and then turned right into a small one way street going the opposite direction -- I knew they couldn't see me anymore from where they were, and I figured if I just disappeared before they got any ideas, it was the best thing for all of us. Going the wrong way on a one way street is authorized on a lot of such streets now, but not on this one. Anyway, there were no cars and therefore no problem.

But when I popped out on the main street at the other end, the police car was just coming out of the parallel street one block away. Not only had they seen me run the red light, but they also saw me coming the wrong way out of the street. I just pedaled along like Mr. Innocent, but I could hear the police car coming up behind me and slowing down as it pulled even with me. Jeez, I thought, the blue lights are going on in one second, and I'm done for! But instead, the car finally pulled ahead and went on other business.

I suppose I can consider that to be a friendly warning.
Posted by lagatta on Aug 8, 2010, 3:02pm
As for the Toulouse mix-up, isn't bureaucracy wonderful? Yes, logically the police would have returned stolen city cycles to the city, but...

k2, I also narrowly missed getting ticketed for cycling on the pavement/sidewalk of a viaduc ... there were no pedestrians, of course. Flics were setting up a revenue trap. Much easier than ticketing the lycra louts who actually do weave between pedestrians...

There is no other safe way to cross in that railway viaduc.
Posted by casimira on Aug 8, 2010, 4:05pm
Funny story K2,that would never happen here unless the NOPD just happened to be bored. But,as Lagatta says,it would be too easy for them to not go after one of the lycra louts.


I have had to change my early morning bike route,at least temporarily, because there are bands,or packs of the bastards training for some race or whatever,at my usual time. Any later and it's too hot.
Posted by kerouac2 on Aug 8, 2010, 4:25pm
I saw at least half a dozen police cars driving around while I was on this morning's ride, probably really bored not to find rowdy drunks from the night before, which is why I felt very vulnerable.
Posted by bixaorellana on Aug 11, 2010, 4:41pm
Go to Shipping Out for a new thread on bicycle route resources ~~
Bicycle routes and maps:
http://anyportinastorm.proboards.com/ind....ead=4363&page=1
Posted by kerouac2 on Oct 30, 2010, 6:37pm
Here's a picture I took today of the excellent bicycle lane along Boulevard des Batignolles in Paris. This follows metro line 2 in Paris, and I have cycled most of it. Even though there are areas not completely separated from traffic everywhere (that is impossible in a city anyway), they have done quite a good job for most of the route.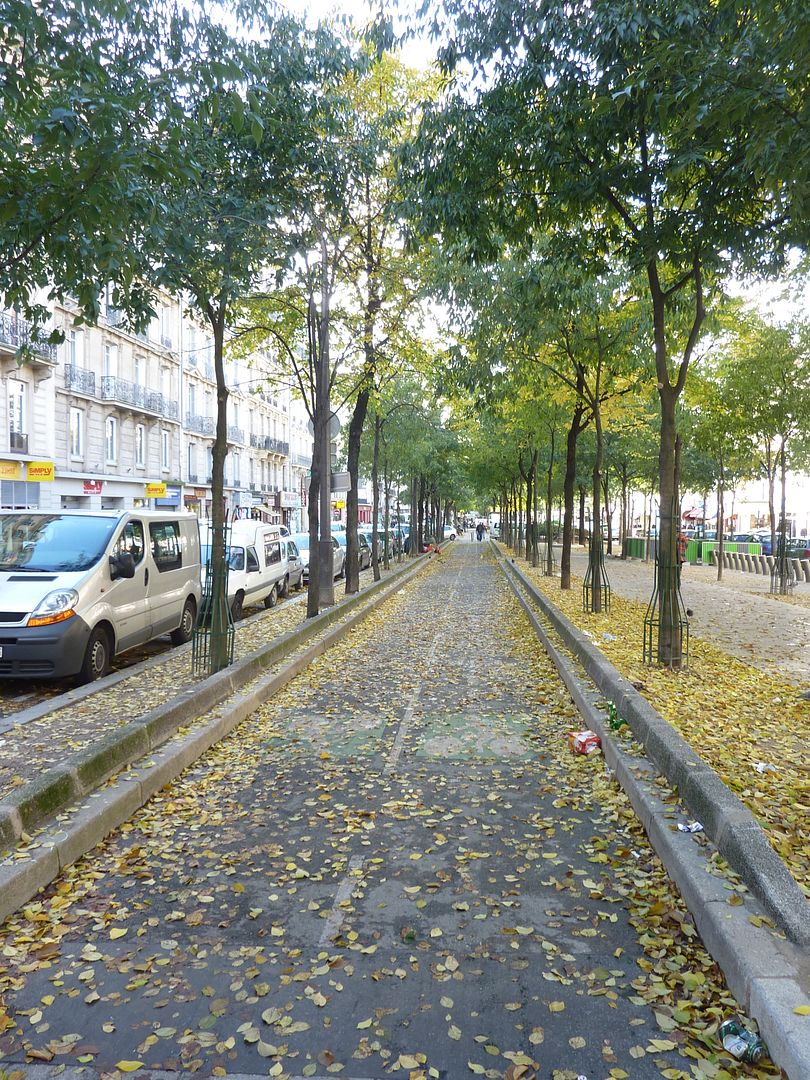 Posted by tod2 on Nov 3, 2010, 1:32pm
This is a lovely photo with all the golden leaves at the base of the trees - just like the Jacaranda petals at the moment !
I have never even had the meerest thought of riding a Velib until now - I really want to give it a try in a safe bike lane.
I watched the Velib movie introduction but am not clear on some points. I hope I can ask you the following Kerouac:
When I get the Velib ticket and disengage the bike by passing it over the monitor, do I have to get a new ticket if I decide to take another bike, say later in the day? The guy in the movie said something about having half hour rides all day long? Did I hear right? When I put the bike back do I have to pass the ticket over the monitor again to stop the time or is this automatic?
Thanks.
Posted by kerouac2 on Nov 3, 2010, 6:10pm
The ticket you get is valid for 24 hours. If you get a ticket (1€) at 13:17, it will work until 13:16 the next day. As long as you never keep a bike longer than 30 minutes, you can take 50 bikes during the day if you want. A lot of my rides are less than 5 minutes, just to get me to a more convenient metro station, for example.

When you put a bike back at its hitching post, the light will go from green to amber, and then it will beep and go back to green in about 5 seconds. That means you are all clear. If it doesn't happen or if the light turns red (horrors!), there is a contact button to push on the rental post (or you can phone them if you have a cell phone). If the incident is "after hours" make sure you note the number of the station (on the rental post), the number of the hitching post and the number of the bicycle, and then call them when they are open. In the early days, there were times when the station told me that I owed them 350€ and that the bike from 2 or 3 days ago had never been returned. With the precise information, the problem was always cancelled within 3 minutes. I don't think that I have had such a glitch in at least 2 years, though.

Note: when you return a bike and want another one (or the same one) right away (because maybe you have been riding for 28 minutes), the system will make you wait for 4 or 5 minutes. You will get an angry red light if you try to take a bike too early. Exception: if you return a bike in less than one minute (like because for some reason you forgot to check if the tires were flat or not), you can take another bike immediately.


Posted by kerouac2 on Jan 22, 2011, 11:01am
Criminal mischief in Missoula, Montana?
Posted by kerouac2 on Jan 22, 2011, 11:04am
www.carfree.mx
Posted by bixaorellana on Mar 14, 2011, 8:21pm
Tokyo: Bicycles Sell Out as Stranded Commuters Turn to Pedal Power
click headline for full story
Posted by casimira on May 25, 2011, 12:12am
Miami Beach, FLA,which has always been a very bike friendly city,in the last six months or so,converted to a bike rental system. I didn't use it because I had access to a bike that I borrow from my friend but,I was very impressed by the numbers of persons I saw utilizing it. I spoke with some residents there and many of them do take advantage of it. Residents there can pay a very reasonable flat rate monthly membership fee.
Here are some pics of the set up at one of the main stations on Ocean Drive, in South Beach, the main drag.


Posted by lola on May 25, 2011, 3:08pm
That's good to know about Miami, Casimira.

Some friends here in St. Louis are starting a branch of nonprofit Cycling Savvy courses, based in FL.
http://cyclingsavvy.com/.
The basic idea is that "bicycle drivers are equal road users, with the right and ability to control their space." They offer classroom and parking lot sessions, and then a 3 hr group tour of the city for real life application.

My youngest has been more nervous about city riding since she got "doored" a couple of years ago, knocked off her bike and severely scolded by the police officer and by the guy who opened his car door in her path without checking behind. We'll both be taking the class, which teaches alternatives to hugging the side of the road and riding in the door zone, and discourages erratic riding in general.

I see more and more people on bicycles these days, both bike-shorted 2% body fat types and those who want to ride on the sidewalks and on the wrong side of the road.

Posted by kimby on May 26, 2011, 10:29pm
We aren't technically in the city, but the residents of my valley outside Missoula, Montana, are in the process of getting a 3.3 mile long paved bike-pedestrian trail. (There aren't even sidewalks now, so it's really needed, for safety and health reasons, and as a non-motorized commuter route.)

We have a Facebook page - Grant Creek Trail Project, and from there you can link to the City of Missoula website, which has maps of the trail route, among other things. Engineering this summer and construction next summer on the first 2 miles of trail (which serves about 3/4 of the homes in the valley). The next stretch will not be able to be finished until 2016, because of the expense.
Posted by kerouac2 on May 30, 2011, 12:48pm

May 25, 2011, 12:12am, casimira wrote:

Miami Beach, FLA,which has always been a very bike friendly city,in the last six months or so,converted to a bike rental system. I didn't use it because I had access to a bike that I borrow from my friend but,I was very impressed by the numbers of persons I saw utilizing it. I spoke with some residents there and many of them do take advantage of it. Residents there can pay a very reasonable flat rate monthly membership fee.




The best publicity that any of the bike schemes have is their visibility -- the more stations and the more bikes that you see, the more reassuring it is. I know that I was pretty terrified on my first bike ride in Paris, but I got over it pretty fast, even though I did have two minor collisions with pedestrians before realizing how unpredictable they are and how they don't pay attention to anything. But even the pedestrians have become better, since they now know that Paris is crawling with bikes.

I would tend to say that it takes about a year for the residents and users to adapt to the system.
Posted by rikita on May 30, 2011, 8:59pm
have i posted in this thread yet?

berlin is nice for cycling in some parts, but somehow there are always tourists walking on the cycling paths or cars parking on them...
Posted by lagatta on May 31, 2011, 1:45am
I really like the baskets on the Miami Beach bikes. They look like they could actually carry some groceries or whatever. There is just an ill-designed metal basket frame on the front of the Montréal Bixis - I know they don't want anything another person could ride on, but those baskets don't look like they could hold a human of any size.

Lola, cycling courses for people of all ages are great, but shame on that police officer. The doorer should have been sanctioned. If doorer were in Netherlands or Denmark, he or she would be facing a very hefty fine.

I suppose that police officer also scolds rape victims who wear short skirts.

People who haven't really learnt how to ride as children or teenagers could well use cycling lessons though. There are some here; there should be more.

Pity about the Berlin paths - I'd heard good about them. Amsterdamers yell at any clueless tourist who walks in the paths, and would no doubt complain to the police about parked cars.

The more cyclists there are, the easier it is not to hug the side of the road.
Posted by bjd on May 31, 2011, 7:36am
I was very impressed by how well things work for cyclists in Berlin. It's true that the first day we were there, we walked on the part of the sidewalk reserved for bikes because we didn't think about it (and being from France!), but we were scolded by a guy on a bike and then paid attention. We also saw a group of schoolchildren on a bike circuit in a park in Kreuzberg, learning the rules. Great initiative.

I would definitely cycle in Berlin -- here in Toulouse I'm afraid to. Even the bike path along the Canal du Midi usually has joggers, people with dogs, kids on roller skates, so there are times when it's not very good for cycling.
Posted by kerouac2 on May 31, 2011, 8:08am
I went to the Miami bicycle site, and those things are really expensive! $14 for one day and $30 for 3 days, then $4 for every 30 minutes after the first 30 minutes.

One day in Paris is now 1.80€ for 24 hours and 7€ for 3 days. (Rates went up from 1€ and 5€ on May 1st.)
Posted by rikita on May 31, 2011, 7:52pm
yeah it usually works okay despite the problems... with people walking on the cycling lanes, my reaction depends a bit. if it is tourists i might ring my bell or say something - if it is in the area where i live it is usually teenage boys or young men, and there it's no use anyway, they know exactly that it is a cycling lane but don't care...

the parking cars are usually people who "just want to quickly" do something or other, but it is annoying...

must admit it is other cyclists who are most annoying lately though - since the weather is good you have loads of people who never ride bikes other than in summer, and thus go slow and slalom (or write text messages while cycling).

but despite all this i definitely recommend cycling in berlin. it's the best way to get around, see a lot of the city, and it is in general pretty safe...
Posted by rikita on May 31, 2011, 7:55pm
ah, cycled with my little brother today. with him, i go on the pedestrian lane, unless there is a cycling lane that is well separated from the street. but he is a true menace on his bike, if i tell him to look where he is going, he does so for about half a minute, else he just assumes people will jump out of his way. and sometimes he suddenly swerves without warning because he sees a puddle and wants to ride through it. i almost collided with him today. but he also fell when he took a corner too fast. was crying - but five minutes later he was going as crazy as before... oh well... good thing teaching him to cycle well is not my responsibility, hehe...
Posted by casimira on Jun 10, 2011, 11:22am
I thought that the Miami rental rates were a bit expensive too Kerouac. I think the best deal is for residents who live there,they have a much cheaper monthly membership rate.
I suppose, the 'powers that be' ,decided that most of the tourists visiting South Beach were "well heeled",and therefore,could afford these exorbitant rates.

Our new bike lanes here in NOLA have become park and idle lanes for UPS,FedEx and the like, delivery trucks.
No one polices the bike lanes. This is after all New Orleans. What a joke. It's even more dangerous riding a bike here in these lanes than it was before the bike lanes were put in.
Posted by onlymark on Jun 10, 2011, 3:55pm
A short video from a guy in New York who was given a ticket for not riding in a bike lane. I would have though you don't have to, but the ticket was still issued.
He then made a clip of the obstructions found in the bike lanes -



http://www.bbc.co.uk/news/world-us-canada-13730774
Posted by tod2 on Jun 10, 2011, 4:48pm
I enjoyed that Mark! It got me wondering why nobody rides a bike in my city even though it is as flat as a pancake...... Oh, I remember why - it would be stolen in minutes even if you chained it to a police car.
Posted by komsomol on Jun 10, 2011, 5:39pm
There must be special effects because his knees are not bloody.
Posted by onlymark on Jun 10, 2011, 5:59pm
Maybe he doesn't land on his knees?
Posted by kerouac2 on Jun 10, 2011, 7:55pm
Posted by rikita on Jun 11, 2011, 6:56am
really cool video mark! i sometimes wish i dared to run right into the cars or people on the cycling lane, but of course i am too nice for that...

as for him having no bloody knees - i suppose if you practice and you run into something on purpose, you are prepared and know how to land?
Posted by kimby on Jun 11, 2011, 3:57pm
When we rented bicycles in Asia, we were amazed at how the apparently unorganized swarms of people on bikes seemed to move mostly without conflict or collision, while we had several near-collisions in our first 10 minutes of riding.

We quickly figured out that you don't look at the other rider trying to figure out which way he will go, you look directly where YOU intend to go. That way everyone can instantly see your plans and revise theirs accordingly.

This technique is also helpful when walking on crowded sidewalks or in busy airport terminals.
Posted by kerouac2 on Jul 3, 2011, 10:17am
Bad news for the municipal bike schemes: Aix-en-Provence threw in the towel in May, and the final stations are being dismantled this month.

There were a number of reasons for the failure: the city had to contribute too much money because it was unable to give the operator JC Décaux enough advertising space, it wasn't possible to put bike stations in the historic center, and outside of the historic center, the city is pretty hilly and unsuited for the heavy bikes used in such system.

Aix says it will spend the money saved on creating new bike lanes.

Here is an article in French.