Topic Summary
Posted by casimira on May 10, 2009, 1:03pm
A place to post what's in bloom where you live.






Out walking the dog this a.m.,in bloom all over,the lovely GARDENIA,neighbors allow me to snitch a few as I don't have. No need to really, with the profusion of on every block.
Posted by bjd on May 10, 2009, 3:39pm
We have had some warm weather in the past few days and my roses are starting. The first ones of the year are always the most spectacular. I bought 2 new clematises this year too and they are both blooming. As are the rhododendrons.
Posted by kerouac2 on May 10, 2009, 4:16pm
I noticed that the rhododendrons were in full bloom in Paris now, and the roses are getting ready.
Posted by bixaorellana on May 10, 2009, 5:20pm
The crinums are putting on a nice show.
The amaryllis are still producing. This is the kind I have:

The jacaranda
are almost finished,
but the frangipani are still glorious:
I got that picture from the internet, but here they're mostly seen in full bloom before the leaves emerge -- so dramatic against the deep blue sky.
My adenium obesum surpassed itself this year
, and this little darling is blooming & budding:
,
as is the huge pachypodium:
Posted by casimira on May 10, 2009, 5:51pm
Wow,didn't realize the frangipani were that early.mine's just putting leaves out.
Posted by spindrift on May 11, 2009, 10:20pm
The tulips are now over and the rose buds are plumping up getting ready to burst open. Pyracantha blossom is on the way and Iris are up and waving in the strong wind we have today. The peonies look a little behind, same with the white hydraenga. Lavender is getting ready, the alchemillia mollis is as relaible as ever and the hosta Sieboldiana is shooting up. I have much pleasure looking at its cannot-be-defined-green leaves.

Tomorrow afternoon I'm going on my annual sortie to a specialst garden centre that mainly sells hundreds of types of geraniums and pelargoniums. These loves will fill my tubs alongside white tumbling lobelia and the odd heliachrysum here and there. I've decided against an all-white show and must therefore choose between the best of pink, red, scarlet (no), maroon and white of course. Perhaps a tinge of light blue lobelia will be allowed in.
Posted by casimira on May 11, 2009, 10:44pm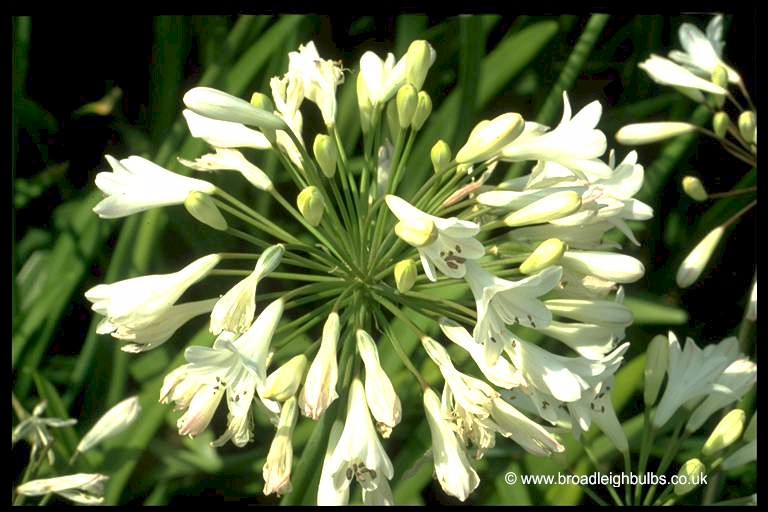 A mass display of these white agapanthus are showing off right now
Posted by jazz on May 12, 2009, 1:34am
tulips,






lilies of the valley,





wild violets,





We are on the verge!



please check SIZE of pictures before posting - Wizard



Posted by bixaorellana on May 12, 2009, 2:24am
Agapanthus are prolific here, but they've never lost their glamor for me. They're beautiful in the garden, and so erectly elegant in vases.

Oh, I miss pyracantha! And lady's mantle -- few common names are so charmingly fitting. Spindrift, that is going to be so beautiful. When you are at the geranium nursery, look for the pelargoniums with white variegation in their leaves -- they add a nice note even when not in bloom.

I miss the nodding heads of tulips, too -- no frost quotient for the here. And the two others you show, Jazz -- they always make me want to get right down on the ground with them, the little dears.
Posted by spindrift on May 12, 2009, 7:18am
Baz had a huge pyracantha in his garden in France and he loathed it. I try to keep mine well pruned and under control. I have chosen a variety with bright scarlet berries (I don't like orange berries) and I like the flowers that come before. My garden birds also love eating the berries through the winter months.
Posted by bjd on May 12, 2009, 10:07am
I'm another pyracantha hater. The stuff grows like a weed, I dislike the smell of the flowers, and the branches are full of thorns. There were 2 between my neighbour's garden and mine that had grown all by themselves. Fortunately, one eventually got smothered by honeysuckle and she had the other one removed.

I tried growing blue agapanthus but it didn't do well. The same year we went to Portugal and they were growing in ditches along the roads! And last month in Ecuador too I saw them everywhere.
Posted by casimira on May 12, 2009, 11:53am
Not a fan of the pyracantha either.


I am lusting for Lily of the Valley after seeing Jazz's pic.
Posted by kerouac2 on May 15, 2009, 1:27pm
Actually, the lilac and this other stuff already bloomed three weeks ago in Paris, but it's always a nice moment of the year when it appears.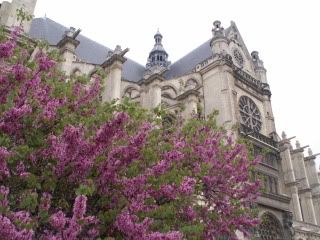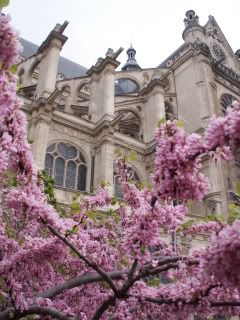 Posted by casimira on May 15, 2009, 3:03pm
the other stuff some type of cherry or almond blossoms perhaps?
Posted by bjd on May 15, 2009, 5:12pm
They are flowering cherry trees -- no fruit.
Posted by kerouac2 on May 15, 2009, 5:31pm
I was about confirm that whatever they were, they have no fruit... Thanks, bjd. You know more than I do.
Posted by kerouac2 on May 19, 2009, 10:37am
The poppies are in bloom.


Posted by spindrift on May 19, 2009, 10:51am
Thre is nothing in bloom in my garden due to the cold weather and accompanying high winds.

Rose buds, hydrageas, cotoneaster and the dreaded pyracatha look promising and are waiting for some sun.
Posted by bixaorellana on May 19, 2009, 3:50pm
Ooooo ~~ poppies! I must try growing them again. I had gorgeous poppies when I lived quite high up north of the city years ago. Then, when I tried growing them on the valley floor, they simply stunted and did nothing. I love everything about them, even the foliage & their faint scent.

June will soon be upon us, Spindrift. I predict an explosion of photos from your garden celebrating the glorious English summer display.
Posted by deyana on Jun 19, 2009, 11:15pm
From my garden, taken a couple of days ago:

Rose about to bloom:





Not sure the name of this pretty plant: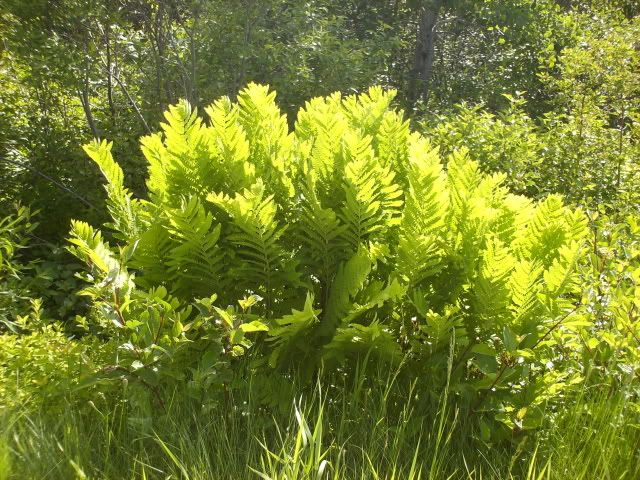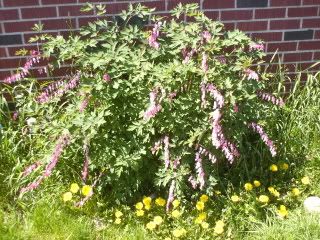 Rose: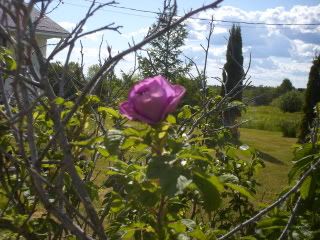 Posted by bixaorellana on Jun 20, 2009, 12:22am
It's so beautiful where you live, Deyana. If I'm not mistaken, the 2nd picture is some kind of woodland fern. The one below it is the dainty but dramatic bleeding heart -- Dicentra spectabilis. Lucky you! I used to grow that, but have never seen it around here at all.
Posted by casimira on Jun 20, 2009, 2:39am
The fern is similar if not the same as the one Jazz posted in Fern Foray but it's out in the open it seems and not in a shaded wood,hmmm.There are so many ferns,I'l never learn them all.
Posted by welle on Jun 20, 2009, 6:27am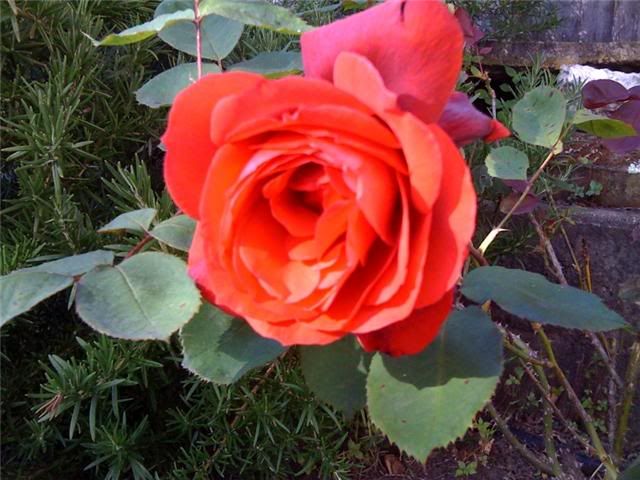 Posted by deyana on Jun 20, 2009, 9:08am
Thanks Bixa, it is nice around here, I'm lucky.

The fern is hard to define, there are so many different kinds around. Bleeding heart, that's the name I was looking for. Yes, that's what it is, it grows wild around here, unless it was planted by the previous owner, I'm not sure.

Posted by spindrift on Jun 20, 2009, 2:34pm
Bixa - my roses are nearly 'over'... perhaps everything will look better when the sun shines. I must say that the golden hop is growing at top speed.
Posted by traveler63 on Jun 26, 2009, 1:28am
Just heard on the news, we have a night blooming Cerus at one of the public gardens here in Tucson. It bloomed about two weeks ago, only once a year in early June. Well, it's going to bloom again either Saturday or Sunday. I have lived here in Tucson 22 years and this is the first year for two blooms. There will probably be a picture in the paper, so if I can get it on line I will post it.
Posted by bixaorellana on Jul 29, 2009, 4:07am
There are two guava trees right by my house. I have to check the one on the side, which doesn't have such a nice life (although maybe trees like being right next to the septic tank). It's useful, as it screens the window there from the street. The other is right off the porch, in a straight line of sight from the front door, & is quite pretty, and is in bloom. The flowers are small, not even an inch in diameter, and have a very faint lemony odor.

Posted by casimira on Jul 29, 2009, 11:12am


Hedychium Flavescens (Yellow flowering Ginger),smells like honeysuckle
Posted by casimira on Jul 29, 2009, 11:17am


Tabernamontana (Cape Jasmine),tall woody shrub,evening fragrance




please check SIZE of pictures before posting - Wizard
Posted by spindrift on Jul 29, 2009, 11:17am
That's such a pretty flower, Bixa...I've never seen a guava blossom before.

There has been a lot of heavy rain in the UK which as decimated the geraniums, lobelia, verbena and petunias....also the roses in their second flush, the clematis is almost over and sweet peas are giving up the battle. I am, however, being overtaken by the neighbours' wisteria, ivy and the jasmine that doesn't flower.

We have had a disappointing, wet summer.