Topic Summary
Posted by kerouac2 on Apr 8, 2012, 8:09pm
It is nice that someone who only sees his customers once a year pays attention to this.

In terms of cruel abbreviations, there used to be a French expression that was "PPH" (passera pas l'hiver = won't make it through the winter). I suppose that it is the medical progress of modern times that has made this expression disappear for younger generations.
Posted by LouisXIV on Apr 9, 2012, 11:12am
Yesterday was Easter and I currently have a Belgium college exchange student for a few weeks. I told him I would make the traditional Thanksgivng dinner (Turkey with all the fix'ems) and take it over to my mothers house and have a nice dinner. It was a nice dinner and my mother really appreciated it. During the course of dinner she mentioned that my sister had taken her to visit another assisted care retirement home last week. At least she is starting to think a little in that direction.



Posted by auntieannie on Apr 9, 2012, 11:41am
That's a nice tax accountant, Kimby!
Posted by tod2 on Apr 9, 2012, 12:31pm
Looks like you and I are on the same page LouisX1V.
This Sunday I gave my mom the brochure from the Care Home (err...Hotel) so she could see what it would cost and what her side of the finance would be.
Sometimes it takes several attempts at getting the idea across in a gentle manner. I can see why they resist - Fear, nothing but pure fear of the unknown, pure fear of moving into a strange environment, and pure fear of dying in unfamiliar surroundings without your family.

My mother is extremely sentimental. Looking out for members of the immediate family counts for everything. She nursed her own mother at home until she died at 94, but previous to that she took care of her for 10years.
Same with my father - he died of cancer at home and she nursed him the entire time.

She told us many years ago that she did not want to stay with my sister or myself as the burden of nursing nearly killed her - she doesn't want us to go through all that.
If she did not have that outlook I wouldn't be able to even suggest she goes into care.

Posted by kimby on Apr 10, 2012, 12:13am
What a selfless person she is, to have given of herself so much, yet not expect anyone to bend over backward on her behalf.
Posted by LouisXIV on Apr 10, 2012, 7:37pm
tod2, yes it is a difficult time. She has a huge home and all to herself. It is so much more than she can handle. My sister and I really feel for her safey. A couple months ago we got her one of those life aleart things where she can push a button incase of an emergency. She has macular degeneration and her sight is starting to go. She has a difficult time reading. Her mind is also deteriorating. The place she looked at the other day is probally half the cost of her present home. But at least she is looking at the options.
Posted by kerouac2 on Apr 10, 2012, 7:42pm
I just received my monthly bill today. Another 2100€ and some to pay... The sale of my parents' house is still covering this, of course, but I do know people who have used up all of that money and are in dire straits.
Posted by mich64 on Apr 11, 2012, 12:13am
My father-in-law goes to his doctor tomorrow to find out how they are going to remove his bladder, whether they will put a bag inside or out. We are relieved that the cancer has not spread and they told him if he has the surgery he could live another 15 years, considering he is 82, he was quite impressed.
Posted by tod2 on Apr 11, 2012, 4:48am
There's nothing like positive vibes and encouragement when a person is going through an incredibly rough patch. I'm sure this good news ( even if it is not 100% true) will help with the recovery and healing process after the op.

Kerouac, may I ask if these funds are from interest earned or the capital of the investment? Reason I am curious is because when my mother has to sell her house she cannot sell below a certain figure if she has to rely purely on living off the interest. The problem is her house will not fetch the sum she needs, which means my sister and I will have to make up the shortfall - which will probably be far more than we are contributing now.

Posted by kerouac2 on Apr 11, 2012, 4:56am
Oh, it is the capital that is being drained away...
Posted by tod2 on Apr 11, 2012, 5:59am
I think that's what will happen eventually to my mother's money. I would like that very much and am not in favour of the money being split up between my sister & I, with a codicil to her Will that I am to give every grandchild and great grandchild a certain sum each. A nice thought but I feel she must use it up.
Posted by mich64 on May 1, 2012, 4:51pm
Finally, my father-in-law has an appointment in Toronto with a surgeon to remove his bladder. May 28th. His doctor here advises that he has the surgery done in Toronto where they can put a bag inside of him instead of the surgery here where the bag would be exterior and strapped to his leg.

The CT scan showed the cancer is contained in the bladder. Because his doctor says he is more like a 65 year man that an 82 year old, he should talk to this surgeon and consider this type of surgery.


Posted by kerouac2 on May 1, 2012, 4:57pm
Sounds like the right thing to do. I didn't even know that they could put the bags inside now -- that is certainly a great improvement. In my father's final months, I was in charge of emptying the bag from his catheter every morning (when I was able to be there), and just looking at it was pretty disgusting. However, when duty calls, you find yourself capable of doing things that you never imagined.
Posted by mich64 on May 1, 2012, 5:05pm
We had no idea that this was an option either but hope it is a solution for him. Apparently you just push on your abdomen for it to release in the normal pathway. We will learn more on the 28th.

He is such an active senior that we hope the doctor will allow this to be an option. Considering he is 82 and the surgery can last up to 10 hours, the doctor may decide he is not a candidate. Otherwise he is in excellent health so I hope they do choose this way. He still dives off the dock and swims all summer long and would not be able to do this the other way.
Posted by kimby on May 10, 2012, 1:07pm
We are now in Florida, visiting Mr. Kimby's folks and helping them get along. They have recently hit the wall, so to speak, and are floundering in their independent living situation. We are trying to get them to accept help to stay in their apartment overlooking the marina. But they are resisting most efforts so far. If they follow the pattern my folks did, after several rebuffs they will suddenly start welcoming help. But so far it's maddening. And saddening.
Posted by kerouac2 on May 10, 2012, 1:49pm
Good luck. My parents went down fighting and then I had to pick up the pieces.
Posted by kimby on May 16, 2012, 6:49pm
And now we find that they have lost their ability to manage their financial affairs, there seem to be irregularities involving large checks that could be fraud. But Mr. Kimby is not permitted to discuss it with the financial institutions who manage their accounts, even to put a fraud alert on the account, because he isn't listed as a co-owner on those accounts. AND to top it off, Mr. Kimby's dad had to be admitted to the hospital with pneumonia last night at age 92.

Tomorrow is fly-home day, but Mr. Kimby may have to stay till his dad is out of the hospital. And pay $1000 to get reticketed at a later date.

Makes my parents' situation look great!

Posted by kerouac2 on May 16, 2012, 7:22pm
Oh that's awful.

When I made my emergency flight to Florida to help my parents in 2005 (father dying in hospital and mother totally out of it already), naturally I had to start looking over everything that was going on. I saw that they had more than $6000 on their checking account according to the figures written in the back of the checkbook, which was far too much when most of it should have been in a savings account. But when I examined the bank statements, I discovered that it was not $6000 but $60,000.

I took my mother to the bank the next day. Luckily, she was willing to sign whatever I thought she should sign to get the money where it should be, but I know that this is not always the case.

So I was super lucky, but one of my colleagues experienced massive fraud on her father-in-law's accounts. Various merchants discovered that he would buy whatever they told him to buy -- cases of expensive wine, and on top of that a religious sect had glommed on to him. He husband was able to get a lot of the checks blocked, but it was a very close call.
Posted by kerouac2 on May 19, 2012, 7:04pm
My mother is getting more and more unpredictable, which is predictable in itself. Basically, it means that there is no logic attached to anything she does.

Today was a visit to the hairdresser. During the good season, I don't even have to rent a car for this because it is a relatively easy walk pushing the wheelchair. Today was a total horror due to the fact that the street is being redone, so I had to make a huge detour in very difficult conditions.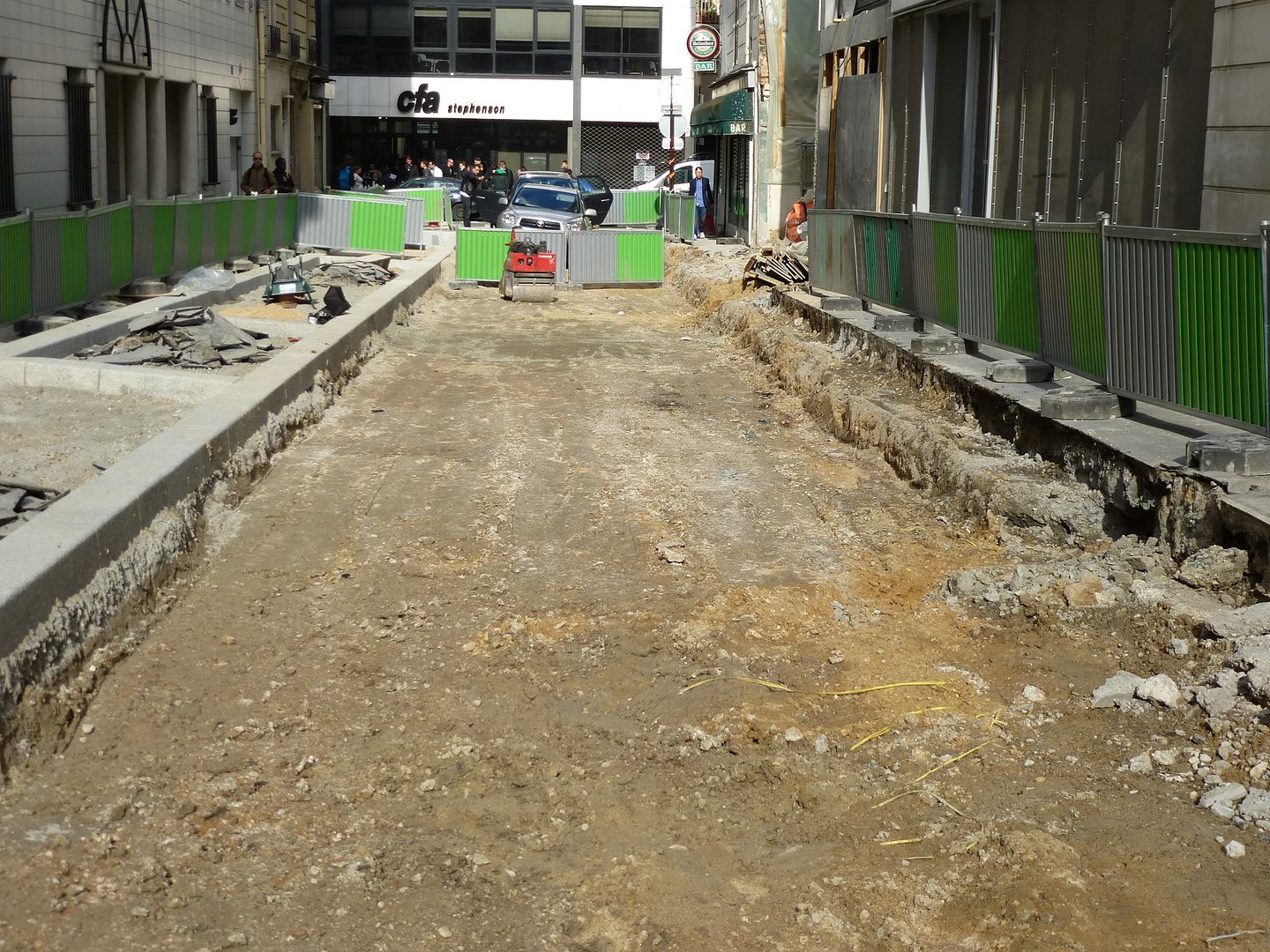 Anyway, first of all my mother didn't want me to put on her 'outdoor' shoes (Reeboks!) and then she didn't want me to get her up to take off the safety belt that she wears inside due to regulations. But I managed to do that stuff and got her to where we were going. I brought cleaning supplies with me, because no matter how hard I try to get her to hold her right hand on the armrest, she likes to feel the tyre and her hand becomes repulsive with dirt, dog shit and god knows what on the way -- so I stop along the way and scold her and wipe her hand. By showing her hand to her, I can usually get her to hold the armrest for the rest of the way, because she does understand that a black disgusting hand is not nice. (Strangely enough, she acts as though her left hand is paralysed so that is never a problem.)

The hairdresser is a wonderful person and has 6 years of experience with my mother. She has seen the gradual decline and witnessed (and suffered) the abusive phases of Alzheimer's before reaching the passive phase. I have to hold my mother's head in place during the shampoo, because otherwise all of the water will run down her back, because she wants to keep moving. For the actual hairdressing phase, it usually goes all right since she can watch herself in the mirror and she still understands what is being done.

If I say to her when it is finished, "That looks really good, don't you think?" she usually says "I don't know."



But of course once I take her back, everybody makes a point of saying how wonderful she looks, and she usually still likes that. Generally, every trace that anything was done to her hair disappears in about 48 hours.


Posted by kimby on May 20, 2012, 3:34pm
It is wonderful that you endure this weekly ordeal so your Mom can maintain some semblance of dignity, if only for a few days.
Posted by kerouac2 on May 20, 2012, 4:31pm
Well, it used to be every week, then it was every two weeks (her decision at the time), and now it is variable depending on conditions. I may try to return in two weeks because it will be the day of the Mother's Day event at the nursing home, so if I take her in the morning, she will still be presentable in the afternoon.
Posted by bjd on May 20, 2012, 5:56pm
Well, I think you are extremely commendable, Kerouac.
Posted by mich64 on May 20, 2012, 9:29pm
I agree with Rikita Kerouac.

My husband is taking his father to Toronto, about 3 1/2 hours drive from here, to see the surgeon in a couple of weeks. His doctor here believes he is strong enough to endure the operation to remove his bladder and have the bag put inside so he has to have this done there. I have am feeling his father is going to decline the surgery...

He is going to be 82 the day after the appointment and I think he is feeling that he does not want them to extend his life another 15 years (that is what his doctor tells him to expect from this surgery) that maybe now is his natural time. I do not know how to argue with that...


The other day he tried to sign his boat over to my husband...
Posted by kerouac2 on Jun 2, 2012, 9:27pm
So, today was the Mother's Day event at the nursing home. As I have come to expect, it takes "entertainment for the elderly" a few steps farther than one often imagines.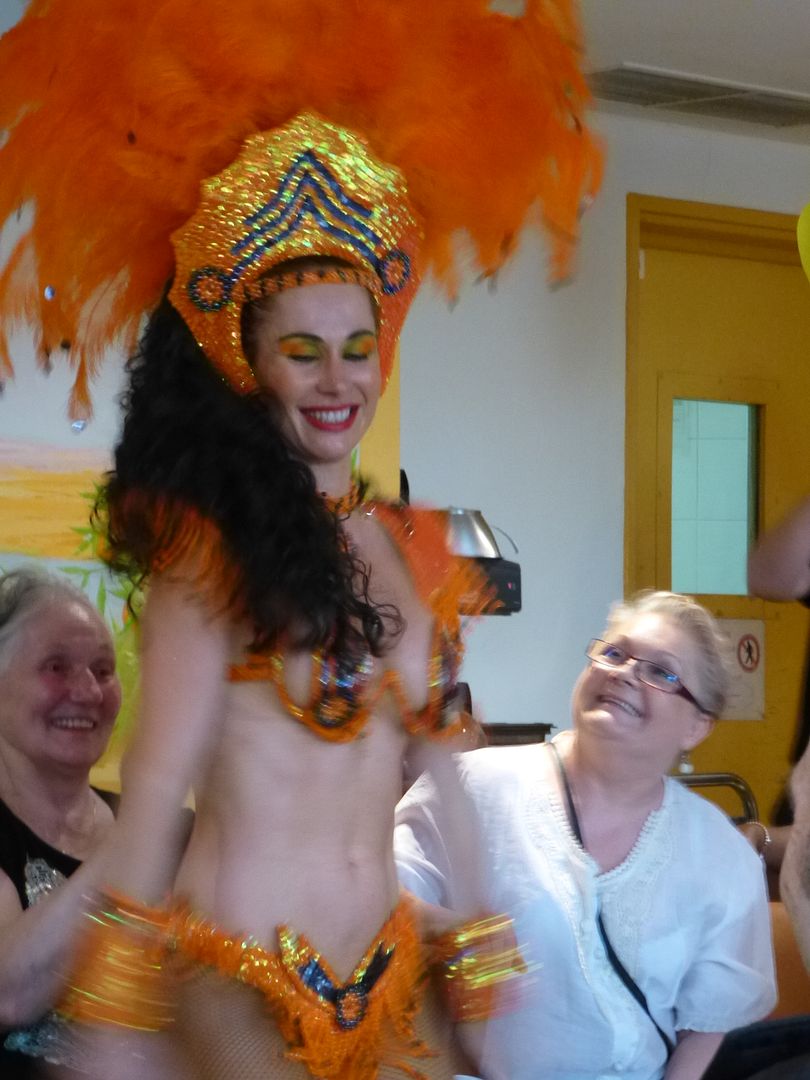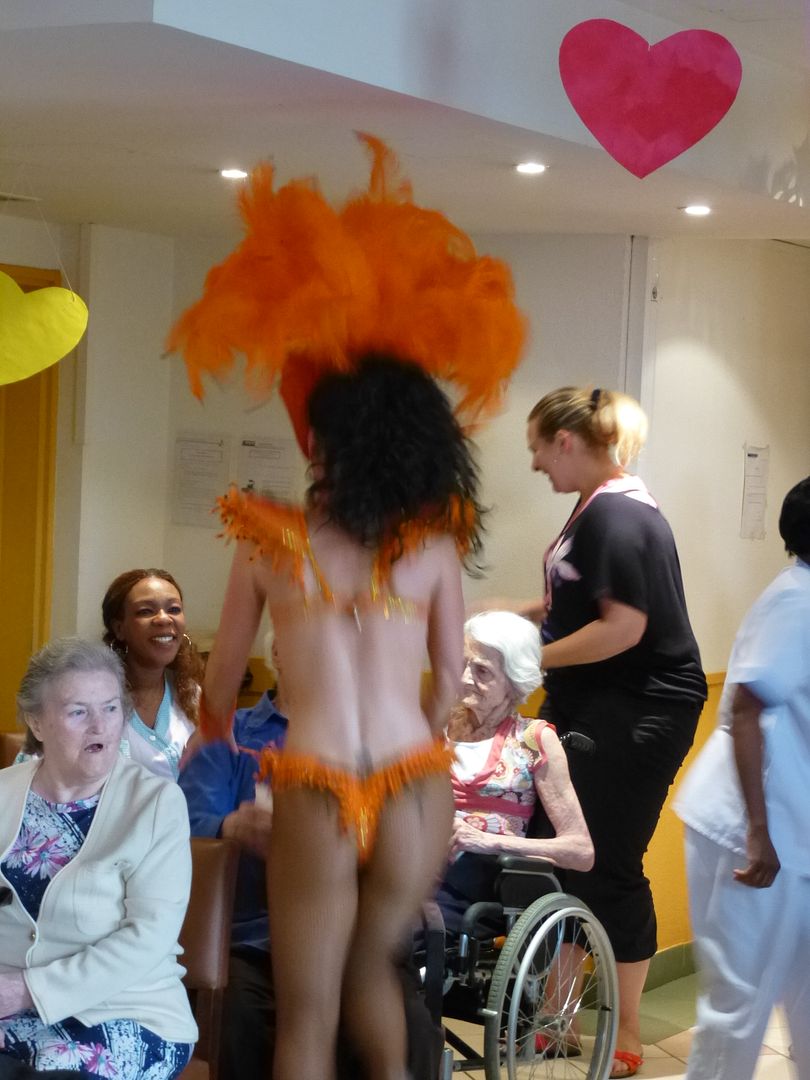 Posted by mich64 on Jun 2, 2012, 9:56pm
My my, very colorful! Very unique entertainment for a Mother's Day celebration. I hope all the residents enjoyed the festivities!

Posted by mich64 on Jun 2, 2012, 10:01pm
My husband drove his father to Toronto this week for his appointment with the surgeon. After a 8 hour return trip, it was decided that he has to return in 2 weeks to go through all the tests he had done here. The doctor hopes that there is not much damage from the radiation treatment he had 8 years ago to treat his prostrate cancer. From that point he will decide whether he can do the surgery placing the new bladder bag inside or if it will have to go outside.
Posted by kimby on Jun 9, 2012, 2:34pm

Jun 2, 2012, 9:27pm, kerouac2 wrote:

So, today was the Mother's Day event at the nursing home. As I have come to expect, it takes "entertainment for the elderly" a few steps farther than one often imagines.



Amazing choice, considering a large majority of the residents of a nursing home are women! Why, instead of pole-dancers look-alikes, wouldn't they get Chippendale look-alikes for the ladies?

Mich, hope your husband's father's decision goes well. It's a tough call when people get old, how much money and effort and discomfort to put into fixing them. My Dad was treated for prostate cancer when he was 79, an age where this condition often would not be treated. The doctors said that since my Dad expected to live another 10 years, they would do it. And now he's about to turn 90, so it was worth it.
Posted by kimby on Jun 9, 2012, 3:01pm
This is a very long but comprehensive accounting of how things are with my parents, put together by my sister who has done a wonderful job of making it possible for them to stay in their home.

I've made it a spoiler so it doesn't take up so much space. Reading it makes me both happy and sad.

[spoiler=Care and Feeding of our Parents]Subject: "Care and Feeding" of our Parents

A couple of notes:
On the days that Meals on Wheels are scheduled to come, if you decide to take Mom and Dad out and will not be at the house between the hours of 11:00 am and 1:00 pm (they deliver at different times each day), you MUST call the Senior Center and either cancel the meal or arrange to pick up the meal. They get very concerned if they try to deliver a scheduled meal and no one is home!

Mom and Dad love to go out to eat. In (home village), their favorite is DeBroux's on the corner of Jefferson and Main. Dad loves their 15-bean soup. Usually they have a bartender, so they like to have an Old Fashioned with dinner (but they will suck it down before their meal arrives, so order a diet coke or sprite for them to have with their meal!). They also like the Firefly for lunch -- it's a really nice coffee shop on Main Street. They only serve lunch, though, and have a limited menu. It's also a nice place for you to go for lunch if you want a break while they are eating their Meals on Wheels! I'm taking them to Maria's Pizza tonight. They also like the Chinese Buffet on the North side of town (between the Walgreen's and the Burger King) -- I left a coupon on the counter for this. And, they like Subtown Deli on the South Side of town. I have found that you need to coach them through what they want (make sure you confirm what sides, etc., that they want) and then that you place the order for them. Dad is very soft-spoken and can't get out his order easily, making it frustrating for all involved, so it's just easier if you make sure what he wants (I usually give him a few suggestions that I know he'll like) and then place his order for him. If you are in (nearby big city), they love the Outback Steakhouse (address & directions provided). If you plan to go there, it would be really nice to call (their old friend) S****K******, who lives a few blocks away from there, and see if he can join you.

Dad has a hard time getting seat belts on, so it's easier to just help him into the car, fasten his seat belt and close the door. Mom can do her own usually as long as the end is easily found on the seat (and as long as Nellie isn't sitting on it!)

MAKE SURE IF YOU TAKE NELLIE ANYWHERE IN THE CAR THAT THERE IS A HEDGEHOG TOY IN THE CAR!!!!! I'LL LEAVE ONE IN THE SUBARU. THIS IS VERY VERY VERY VERY IMPORTANT. IF NO HEDGEHOG, SHE WILL CHEW UP ANYTHING IN SITE -- INCLUDING THE BRAND NEW TWICE-REPLACED SEAT BELT!!!! SHE WILL ALSO BE VERY UPSET FOR THE WHOLE TIME SHE IS IN THE CAR. Nellie needs help getting in and out of the car. She can get her front paws up and in, but needs a little butt-nudge. It's good to help her out, otherwise she may jump from the seat to the ground, hitting it pretty hard and sometimes falling. We do not need any broken bones on her! I'm convinced that Nellie is 100% deaf, so don't even try calling her, etc. There are leashes on the kitchen counter. Be sure to bring one with you to the cabin.

As far as RX, D*** will have the pill trays ready for us to take to the cabin. They are in the cabinet above where Mom keeps her purse. Be sure to bring them and the eyedrop bottles, plus Nellie's pills (aspirin and Glucosamine) and Pill Pockets, to the cabin. They get their morning pills with breakfast and their evening pills with supper. Nellie gets 1/2 aspirin and a Glucosamine (each in a Pill Pocket molded around the pill) in the morning. We can stop the eye salve next Monday, so you won't need to worry about that. At nighttime, either give them each their eyedrops, or put the bottles on their pillows so they remember to do it.

I ordered Tangee lipstick for Mom from the Vermont Country Store (she only has 1 tube left -- it was in her purse, I moved it to her drawer in the bathroom). It should come about the time Kimby is there. Her hair curler at the cabin is broken (I think I threw it away, but not sure). The one at home works. She looks so much nicer when she has her hair curled (but she doesn't do it) and she loves having her hair played with, so curl away!

There is clean cabin laundry in R***'s room at home that Kimby and Mr. Kimby should take to the cabin (towels, etc.) C**** is also doing some cabin laundry which may or may not be ready before then.

Things Dad obsesses about:
Electric Razors and Chargers. He has many. There are 2 razors that seem to work - the cords/chargers are in the drawer in the bathroom below where he puts his razors. He doesn't seem to be getting a good shave, though. Maybe Mr. Kimby can suggest a better razor or see if his need sharpening or replacing.
Glasses. They really frustrate him - it seems like they never are "aimed" right for either close or long distance, even though I have had them adjusted at the clinic several times. They do get bent when he falls (I just had them adjusted yesterday at the Optometrist's office). He also loses them a lot. Usually they can be found on his headboard (either at home or cabin), on the kitchen table, in a pocket of what he recently wore, or in one of the plastic bins next to the couch. Whenever you find something for Dad you get big "hero points" and he thinks you are wonderful and have excellent "finder" skills.
Hearing Aid. Look in the same places. Sometimes he needs help putting it in. There are batteries on the kitchen table at home and in a paper bag on Mom's chair in a little blue case at the cabin in their bedroom.
"When is everyone coming?" No matter which daughter is there, he'll be wondering when the other one/ones are coming and will assume that they are coming today unless you remind him otherwise.
"When are we going to Otis Farm?" Remind him that I'm taking them there in July. Haven't heard anything about a reunion this year, but if there is one, maybe Kimby can come in for it and take them there (it is usually the weekend before Labor Day). He didn't mention the Rube-Goldberg elevator on this visit (yeah!), so don't bring it up. If he brings it up, remind him that it's probably not feasible because of building codes, etc.
"Where is the dipstick that I special-ordered for the Skid Loader?" It is in the right place on the Skid Loader, I put it there when it came.
"There are big bills that need to be paid in the mail." No there aren't. I pay their bills every month and everything is fine with their finances. If you want to go through the mail, fine, but don't worry about anything in it or feel the need to pay anything -- it will only mess me up. Their taxes, business taxes, bills, etc. are all in order. I'll be back on July 9th and will pay everything then.
"No one ever told me I couldn't drive." That's right, but he shouldn't drive and he knows it. And I really don't think he wants to.

Things Mom obsesses about:
"What day of the week is it?" I (and their helpers) always cross out the past days on both their calendar and the Senior Center Meals on Wheels calendar so they know what day it is, plus the day-of-the-week clock is above the couch and does work, if they think to look at it
"What is Dad saying?" He is hard to understand and does ramble, and it takes a bit of thinking to figure out what he is talking about. Mom has no patience with this and will interupt mid-sentence, causing Dad to completely lose his train of thought. We're not going to change this behavior, though.
"Where's Nellie?" She doesn't go far and is usually in one of three places -- the chair in the corner of the living room, the bedroom next to Mom's side, or at the side of the couch.
Nellie Barking. Nellie barks whenever there is food being eaten. The citronella collar kind of works for her. Maybe R***and T** can get her better trained with it. KIMBY - BE SURE to bring the collar and some citronella and the extra battery to the cabin so R*** can try to train Nellie with it. All are in a plastic bin on the table at home.

Things Nellie obsesses about:
Food
Food
More Food
Being outside when she is inside
Being inside when she is outside
Having a hedgehog to chew on in the car
Making sure car windows are thoroughly licked
Oh, and food!


Hope this helps!
[/spoiler]

Am I not fortunate to have such a wonderful sister keeping a handle on things?
Posted by kerouac2 on Jun 9, 2012, 4:55pm

Jun 9, 2012, 2:34pm, kimby wrote:


Amazing choice, considering a large majority of the residents of a nursing home are women! Why, instead of pole-dancers look-alikes, wouldn't they get Chippendale look-alikes for the ladies?



They did Chippendales two years ago but it looked to me as though only the staff really appreciated it. These tropical carnival outfits work because they are colourful and big -- and I'm sure that a lot of the residents with declining vision see them better.
Posted by kerouac2 on Jun 9, 2012, 5:01pm
Your sister is great, Kimby. If my brother had seen fit to come to Florida more often, I'm sure I would have written something like this for him.