Topic Summary
Posted by kerouac2 on Feb 12, 2009, 9:19pm
Have any of the rest of you ever been there?

In a way, I could say that it is sort of boring, because it is just beach and water, no historical sites, little contact with the local residents (because they live -- on purpose -- on different atolls from the ones where the tourist hotels are). My atoll was Bandos, which was about one square kilometer, and I would walk around it maybe 3 times, just before breakfast, because there was nothing else to do.

But it is the first place that I went snorkeling, and it was the most amazing experience in the world, because the Maldives have the clearest water in the world, and maybe the water is even more clear than the water when you fill your kitchen sink. And fish are in the water that seem to float in total nothingness.

I need to find my photos of the Maldives wherever they are hidden, but in the meantime, here is just a photo of a boat there, on water so clear that you can't even see the water.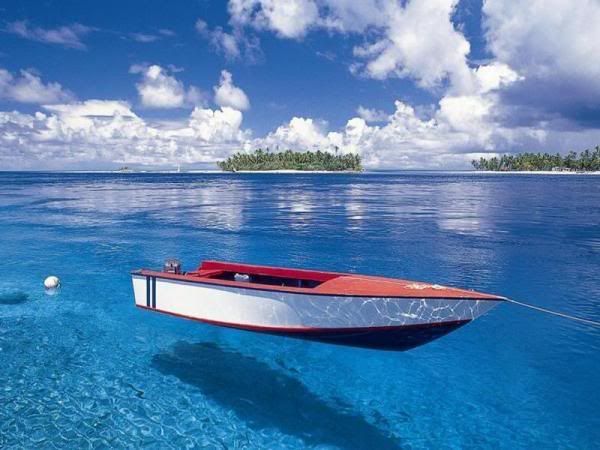 If I find my other photos, I will post some of them here.
Posted by palesa on Feb 13, 2009, 4:49am
Wow, that boat looks like it is suspended in space. Amazing.
Posted by kerouac2 on Feb 13, 2009, 6:31am
Just stepping into the water in the Maldives was always an odd sensation because it was invisible and it would be a surprise to suddenly touch it.
Posted by bixaorellana on Feb 13, 2009, 7:13am
I've only seen water that invisibly clear once in my life before -- in a very small tidal pool in a boulder on Oaxaca's coast. But to see an expanse of such water like that in your picture boggles the mind & eye! I can see why people would go there for sheer beauty, and you have to hope it remains with 'nothing to do' there in order to preserve it in such a pristine state.
Posted by spindrift on Feb 13, 2009, 6:51pm
The Seychelles has water like that. It's just wonderful and it's warm as well. The Mombasa coast has warm water and loads of fish and coral but it's not as clear as that.
I haven't been to the Maldives (other than touching down on the way to Sri Lanka) and I'd only go there with a compatible lover...as you say, there's nothing to do. Of course I'd enjoy diving and snorkelling. I doubt I'd have much in common with fellow guests.
Posted by hwinpp on Feb 19, 2009, 8:43am
I think if I went to the Maldives I'd have to go all- inclusive.
Posted by kerouac2 on Feb 19, 2009, 9:58am
There is basically no choice but to go all-inclusive. Each hotel is on its own isolated island.
Posted by hwinpp on Feb 19, 2009, 10:31am
I've never done itand have been very curious about it. How about island hopping, is that possible or do you need to fly?
I have a bit of a problem with islands. I get so bored so quickly I regret booking. I once paid for a 5 day stay on an island just off Malaysia's east coast, Pulau Kapas, and left after 2 days. I just couldn't take it any more and I hadn't even finished all my reading material.
I wonder if relative luxury would prevent me from getting bored too quickly.
How long did you stay, Jack?
Posted by kerouac2 on Feb 19, 2009, 11:41pm
I was there for only a week (which amazed everybody, because it was so difficult to get there back then -- more than 20 years ago -- and they absolutely could not imagine anybody staying less than 2 weeks) on Bandos, which was still rustic (but I'm sure it isn't now). The advantage of Bandos was that it was only about 40 minutes by boat from the airport. A lot of the famous places require at least 2 hours to get there. Also Bandos was only about 30 minutes from Male, the capital, and there was a daily shuttle boat going there (not free). I would imagine that it is too much of a bother to go to Male from some of the outlying atolls, particularly since there is absolutely nothing to see there -- the only excitement is seeing something other than your own island.

Nugget of trivia: atoll is the only word that the Maldivian language has given the world.
Posted by lugg on Jun 2, 2012, 5:17pm
Way back in 2009 Kerouac asked



Quote:

Have any of the rest of you ever been there?



I went to the Maldives last year. It was a place that I had always longed to go to, because they are so unique and also because I am an avid snorkeler and Mr Lugg is a keen diver. Marine life does not get much better than on and around some of the reefs in the Maldives. To my mind unless you are a keen snorkeller or diver there is little to do and I could not imagine going to the Maldives for any other reason . However other options such as visiting a spa , sun bathing ,catching up on reading etc. seems to appeal to plenty who do not go to enjoy the marine life. There are, of course, a few have other activities such as gyms and water sports. Some islands offer day trips to Male or an inhabited island. Some would say it is an ideal honeymoon place.

Low middle range hotels are often all inclusive but the higher end are most definitely not AI. In the last year or so a few native inhabited islands had opened up to tourism in B&Bs and small guest houses, previously never having been allowed by the government. This allowed the traveller ( who did not mind not being able to have an alcoholic drink on holiday ) to have a more authentic, cultural experience . Now that there has been another military coup and democracy is on hold again in the Maldives it is hard to say whether these B&Bs will be allowed to continue.

http://www.guardian.co.uk/world/2012/apr/01/dictatorship-maldives-democracy


Anyway here are a few photos of this very beautiful place

Firstly ...Above the sea


Transport from the international airport to our island in the South Ari atoll was by seaplane; the large island on the right is the nation's capital, Male




Fortunately I was not worried about any encounters with ice




The Island from the air- look how close the reef is to the shore , this was one of the reasons we chose this island




The plane lands at a pontoon off shore and the final journey is by dhoni




We saw many beautiful sunrises



Our room, came complete with open air bathroom,




A few from around the island




Most animal life is below the sea but there were a few different birds and some " kevins "





Underwater photos to follow tomorrow.




Posted by deyana on Jun 2, 2012, 5:58pm
Wow, amazing photos, Lugg. And Kerouac too.

Looks like just the kind of place to go for a holiday of complete relaxation. Just beautiful.

Lugg, how far is it from India? Would it be just a plane ride away?
Posted by kerouac2 on Jun 2, 2012, 5:59pm
Great start. Those look quite similar to what I saw on "my" island, Bandos. I will still get down to sorting and scanning my slides some day!
Posted by nycgirl7664 on Jun 2, 2012, 8:19pm
Gorgeous! Looks like paradise.
Posted by casimira on Jun 2, 2012, 10:19pm
I remember clearly when Kerouac first posted his pics of this paradise and have wanted to go ever since.
And now these gorgeous pics from you Lugg.
Ah................someday.
The clarity of the water is what is most alluring to me. (I have a phobia of dark murky water which makes it difficult for me to swim in alot of bodies of water where I can't see the bottom).

Thanks for these Lugg, I look forward to seeing more.
Posted by lugg on Jun 3, 2012, 6:01am
Thanks guys
Kerouac , I would love to see your photos if you do find them. The one you have posted is beautiful.
Deyana – the islands are close to India , particularly the south and there are direct flights from several Indian cities. I guess that the journey time would be quite short depending on where you are travelling from. I know that it is an hour to Colombo so I guess similar to Kerala/ southern India for example.


Now for some underwater photo's. Casimira , hopefully these will give you an idea of how wonderfully clear the water is.


Firstly some photos of the life on and around Vila's house reef …


Posted by lugg on Jun 3, 2012, 6:04am
Posted by lugg on Jun 3, 2012, 6:45am
We knew that this trip was probably going to be the best opportunity we have ever had to see Manta rays and Whale sharks and we were very lucky to see both, on various boat trips from the island.

You will see that the water is not so clear in these pics. This is not just because of the water depth because of the large amount of zooplankton which attracts both species to feed in these waters.
(Also The quality of the photos is not great .)





We also were fortunate enough to see a green turtle as well.



This whale shark was pretty deep, also the currents were strong and the whale shark was swimming against them to force the zooplankton through its mouth making it difficult to swim along with it, consequently, the photos are not great




On the way back to the island we also came across a school of dolphins




A few more from taken on Vila
Black tipped reef sharks



This banded sea eel gave us both a fright when we first saw it as it is very similar to an extremely venomous sea snake ( no sea snakes in the Maldives )




Huge ray

Posted by lugg on Jun 3, 2012, 2:20pm
To the Maldivian purist the island we stayed on (Vilamendhoo) is , post its recent refurbishment , now a no-no.
Purists prefer what are known as " no news, no shoes " islands. That had been the case on Vila but the new owners had recently put in TVs and other forms of facilities , and also built on some water villas. Water villas are common extensions to many islands as there is such little space on the islands but they can create huge damage to reefs as they affect currents and waterflow, let alone the building rubble which can get dropped into the ocean. Many islands are also battling against erosion of the beaches and water villas can lead to this becoming more problematic


At the base of the trees on the left you can see some concrete blocks which are put in to try to combat beach erosion, also there were areas with sandbags


(Very) mini golf



An astro turf football pitch – mostly used by the staff but once a week there is a staff vs guests match. Maldivians are huge football supporters ( or at least the males are no Maldivian women worked on the island) The Maldivians had the better paid jobs eg waiters , room boys etc . Other service staff ( again all male) mostly came from Sri Lanka and Bangladesh. The only females working on the island were western reception staff and Thai spa staff.
Swimming pools ( Why ?)


tennis court



Volley ball



and it did have a well-equipped gym. No photos of that ! However the management had refrained from allowing motorised water sports thankfully.

The island like many was totally dependent on food being brought in and waste taken off by boat. Soils are very infertile and little in the way of food can be grown. Fish , as you would expect is plentiful. Rubbish disposal is a huge problem in the Maldives. ( Simon Reeve visited the rubbish island , which was truly awful in one of the episodes of " Indian ocean" . Sadly we saw some evidence of trash just being tossed into the sea on some of the boat trips. We took everything home for disposal to salve our conscience slightly.



The visit to the rubbish island is approx. 50 mins in .


We were very lucky to get the chance to go, especially as they may not be here in the future in sea levels rise as some predict. The former president was starting to make contingency plans

http://www.visabureau.com/australia/news....sea-levels.aspx


Thats it folks

Posted by kerouac2 on Jun 3, 2012, 3:31pm
That is a truly magnificent report, lugg. Whenever I dig up my photos, there is no way that I can match it because I did not have an underwater camera, although I saw the same stunning fish.

And one time while snorkeling, I found myself facing a (small) shark. We looked at each other and immediately changed direction.

I forgot where I met them, but I encountered an American-New Zealand couple on one of my trips, and they came through Paris after visiting the Maldives. They dropped off some stuff at my place to pick up a few weeks later after going around the continent, but they told me that I could look at their pictures. They were scuba divers and had absolutely breathtaking photos of the reef drop-off zone. You go from this really shallow water and all of a sudden, you fall off an underwater cliff. Since I am afraid of deep water, this sort of photo gives me palpitations.

Unfortunately, it was before the computer age, or I would have absolutely copied some of their photos since they were so stunning.
Posted by lugg on Jun 3, 2012, 4:11pm
Thanks kerouac


Quote:

And one time while snorkeling, I found myself facing a (small) shark. We looked at each other and immediately changed direction.

I have never got confortable when i meet a shark no matter how often I am told they are harmless in most cases.


This may give an idea of what you are describing - on Vila the reef drop off is extremely close to shore , which you can see on the ariel photo . Athough there are some rocky outcrops , most of the snorkelling is done where the reef edge drops away. Swimming out over the drop off still takes my breath away but I love it , seeing everything falling away


Posted by deyana on Jun 3, 2012, 6:02pm
Just breathtaking, Lugg. Thanks for the underwater photos, you must be a quite a diver. Only around one flight from Southern India? That is very near. What kind of camera were you using? The colors are so vibrant.
Posted by lugg on Jun 4, 2012, 7:09am
Thank you Deyana
No - I cannot dive, never got the urge to, even though daughter and Mr are keen divers, I am extremely happy snorkelling on the surface or just a shallow free dive but there is something that just does not appeal to me about being 20/30 meteres down below and how quickly thing can go wrong.

The camera for all these photos was a Panasonic FT2 which is a great little hardy camera - waterproof to 10 metres, survives being dropped from 3 metres to ground. Downfall -It is absolutely no good at night time shots, at least not in my hands
Posted by nycgirl7664 on Jun 4, 2012, 8:32pm
These underwater shots are magical, Lugg. So cool you got to see whale sharks and manta rays. Although I know they're harmless, they must look fearsome in person!

That reef drop-off looks spectacular but terrifying! I love snorkelling but I'm not a strong swimmer. I think I would have a panic attack on the spot.

Posted by lugg on Jun 16, 2012, 7:31am
Thanks NYCgirl. No the mantas / whale shark did not scare me and they look gentle and move very gracefully.

However I was extremely apprehensive snorkelling with nurse sharks and large reef sharks in Belize even though I knew they were harmless , it took me several minutes to jump off the boat,I was last in and in a really cowardly way let my hub and children go in before me (to test the waters so to speak)