Topic Summary
Posted by onlymark on May 13, 2012, 11:56am
I had a run out today to a place that in religious terms is very important. But it turned out to be a bit of a disappointment. The reason being that over the years those pesky tourists and the weather have deteriorated the place enough for the Jordanian government to step in and try and do something. This resulted in only a small part of the site being open.
So – this is a bit heavy on the text and not so heavy in comparison on the photos.

Let's talk about Moses for a minute.
You remember him and have heard stories about him whether you are Jewish, Christian or Muslim as he is mentioned in each quite a lot.
He was the guy that lived in Egypt at the time when a rather nasty and worried Pharaoh issued a decree that all male Hebrew children born be killed by drowning in the river Nile. His mother slipped him into a reed basket and tried to hide him in the river. However, he was found by none other than the daughter of said Pharaoh.
Lucky that.

He was raised in the family but when he reached adulthood he witnessed and Egyptian beating a Hebrew. Moses killed the Egyptian and fled across the Sinai Peninsula.
He lived as a shepherd for forty years, marrying and having children. One day leading his flock to the slopes of what is believed to be Mount Sinai where God spoke to him through the medium of the burning bush.
Moses was to return to Egypt to free the Israelites who were now no more than slaves.
The Egyptian Pharaoh refused, God brought down the ten plagues, that seemed to change his mind and they left. But the nasty Paroah decided to send an army after them to slaughter them. This is where God parted the Red Sea for them to escape.
Moses then slipped back to Mount Sinai where he received the Ten Commandments.

The exodus continued until there was a shortage of food and water. Moses struck a rock with his staff and water poured forth. God provided manna from the sky for sustenance (manna from heaven ring a bell?).
The full story gets even longer, though interesting, including a part about Moses instructing the Israelite soldiers to kill every Midianite woman, boy, and non-virgin girl (although virgin girls were shared amongst the soldiers).

Not far from the promised land Moses was warned that due to an offence of trespass he committed at a place called Meribah he was not allowed to cross the Jordan river. He addressed his people and said goodbye to them then went up a nearby mountain to view the land – and promptly died aged exactly one hundred and twenty. God took the body and buried him in an unknown location on the eastern side of the Dead Sea (then called the land of Moab).

The mountain he died on is Mount Nebo.
This is known today and is but a short ride from Amman.
After a breakfast of yet again, two falafel wraps I arrived after about 45 minutes.

I told you this was heavy on the text.
Anyway, this is the entrance to the site on the mount –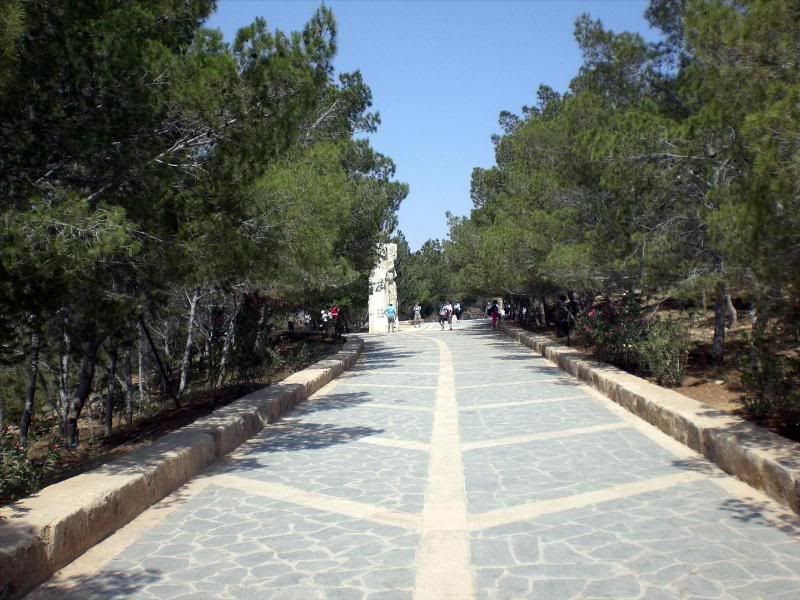 After a payment of 1 Dinar (a bit more than 1 Euro) I had a walk in.
The first thing I came to was this. Erected in 2000 and I'm unsure what the purpose exactly of it is. But it seems to be something of a memorial as well as recording some recently deceased people –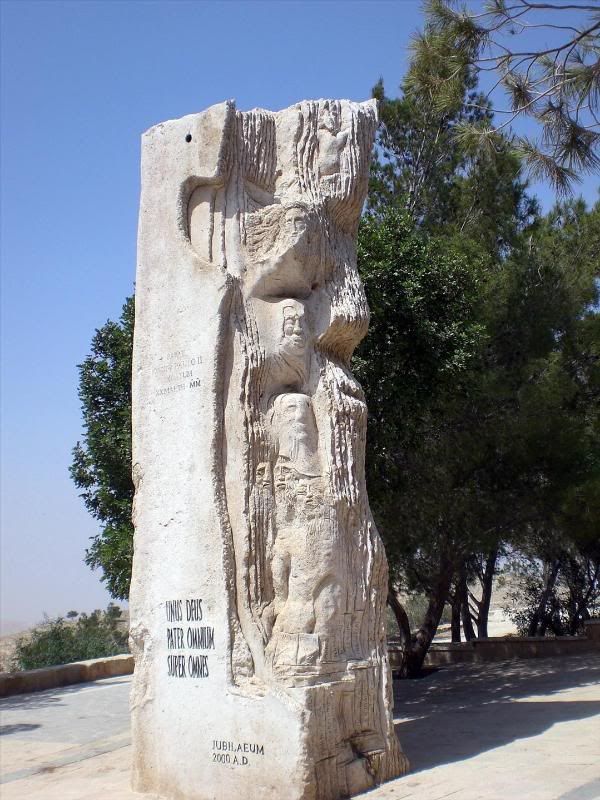 A big bit of rock told me I was in the right place –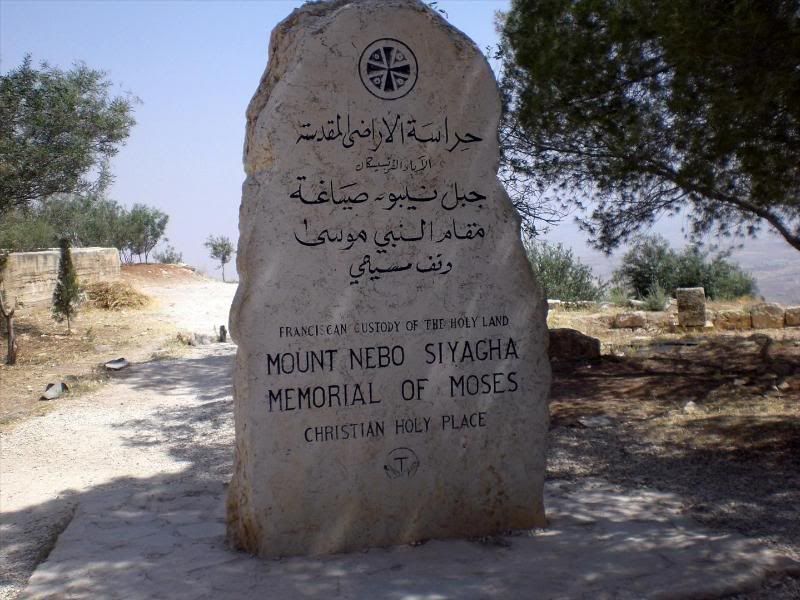 But then came the disappointment. At the top is a church, or at least the remnants of it dedicated to Moses and has a number of fine mosaics within, plus a few tombs and assorted interesting bits.
But it was covered and closed. Covered by a building, not yet finished, for further protection and signs everywhere stating no access. Quite when it will be finished is anyone's guess –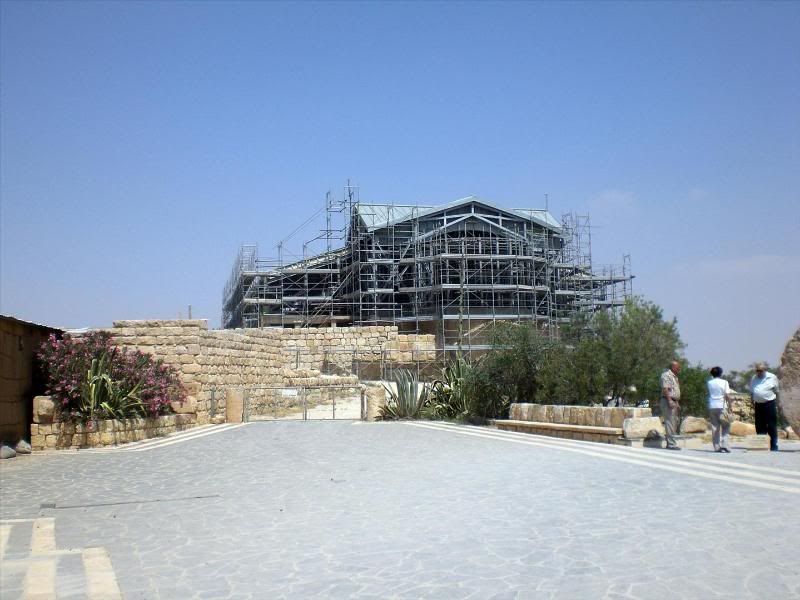 Posted by onlymark on May 13, 2012, 11:58am
I then decided to have a mooch round what was still available to see.
Question – what is this?
A grinding wheel?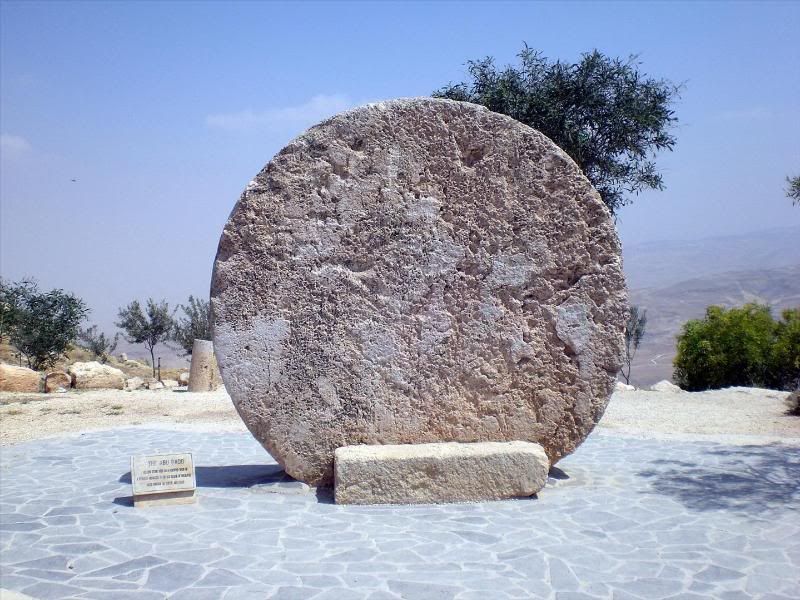 Nope.
A door –





There was a nearby Bedouin style tent that covered a couple of the obviously lesser known mosaics –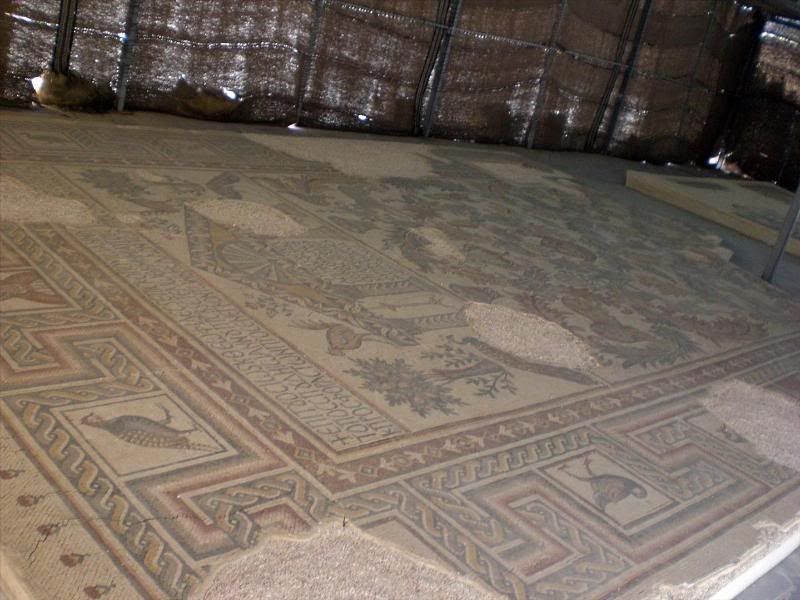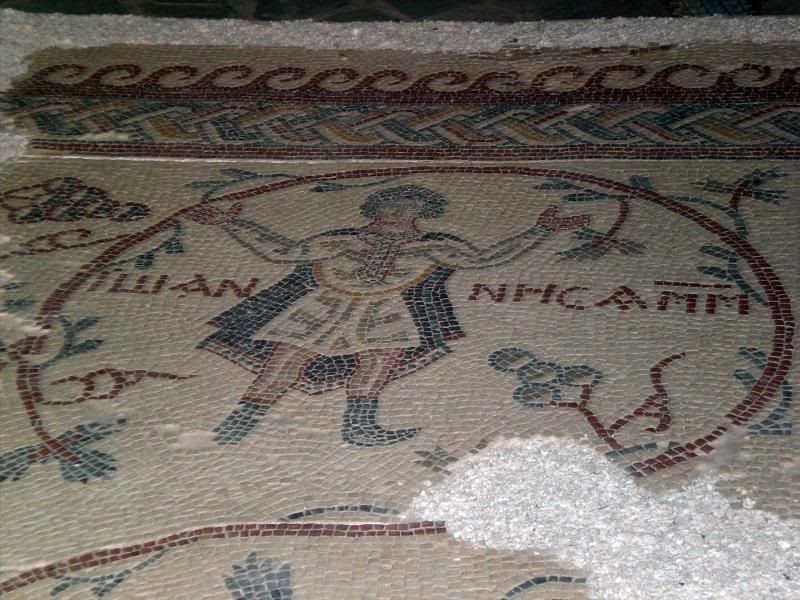 And then there was a very small museum with a few artefacts –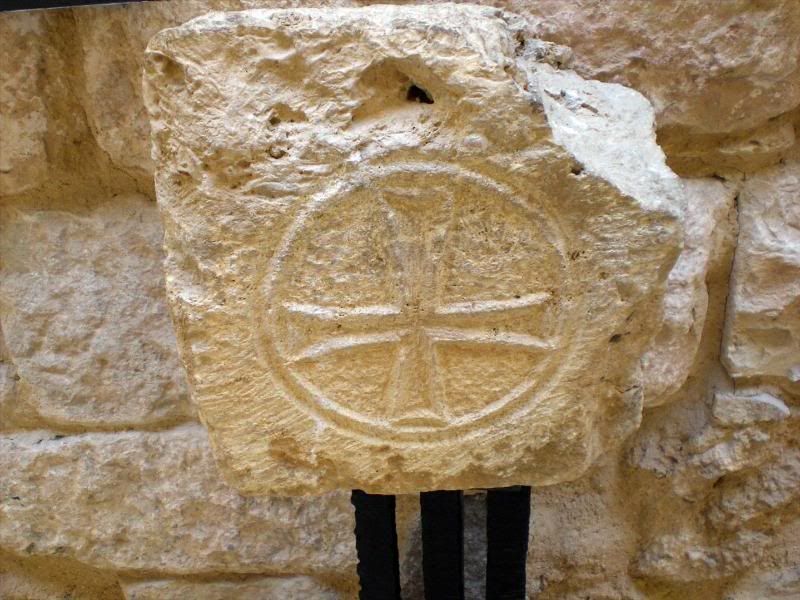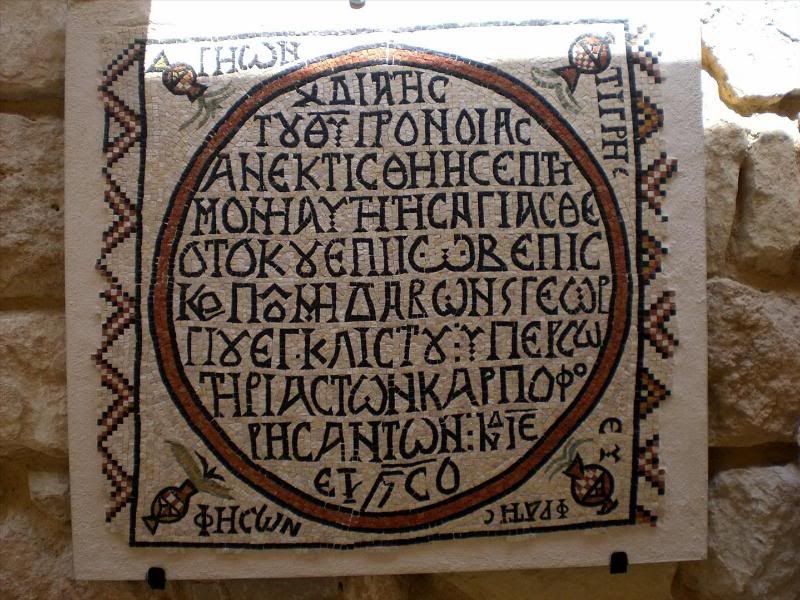 In Roman times there was a road which came from Jerusalem via Jericho (shut those bloody horns up will ya! I can't sleep!) and the Jordan river to Mount Nebo. At one point, there was a junction (at the sixth mile) where a road led off to the Spring of Moses (where he struck a rock with his staff, remember? Known as Ain Musa/Wadi Musa just close to the famous Petra). At that point was a Roman milestone.
In fact it was this one –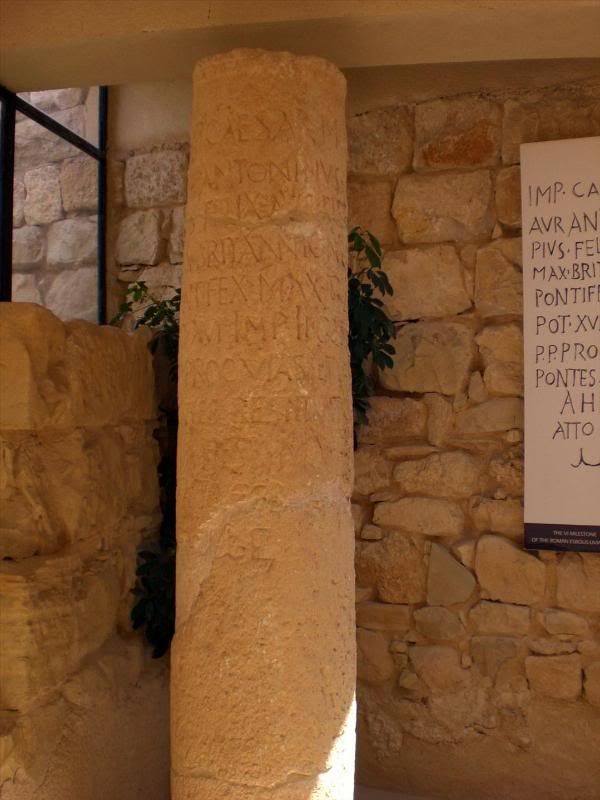 That was about all there was to see so I wandered around the back to where a gaggle of American tourist were being rather loud (they were, honest) –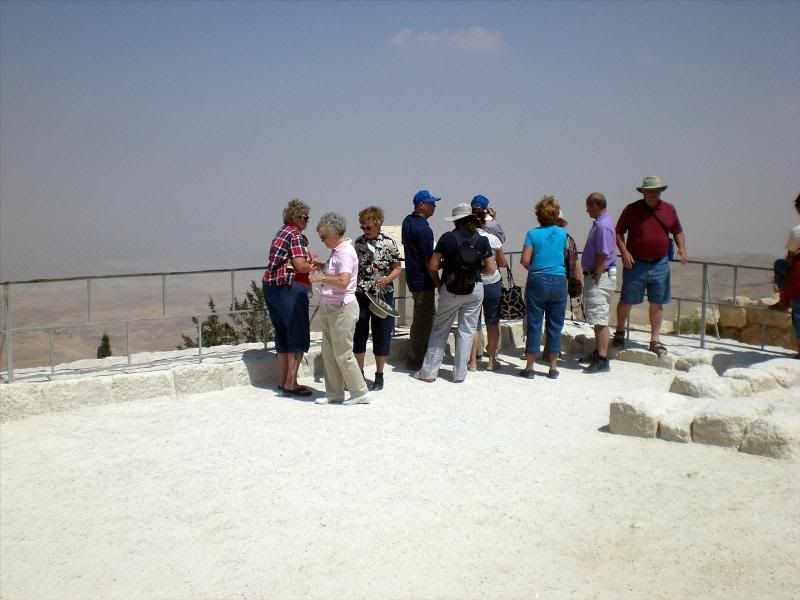 Then I had a look to see what Moses might have seen.
I hope though that it was a less windy day when he was there and the view was without the sand and dust in the air –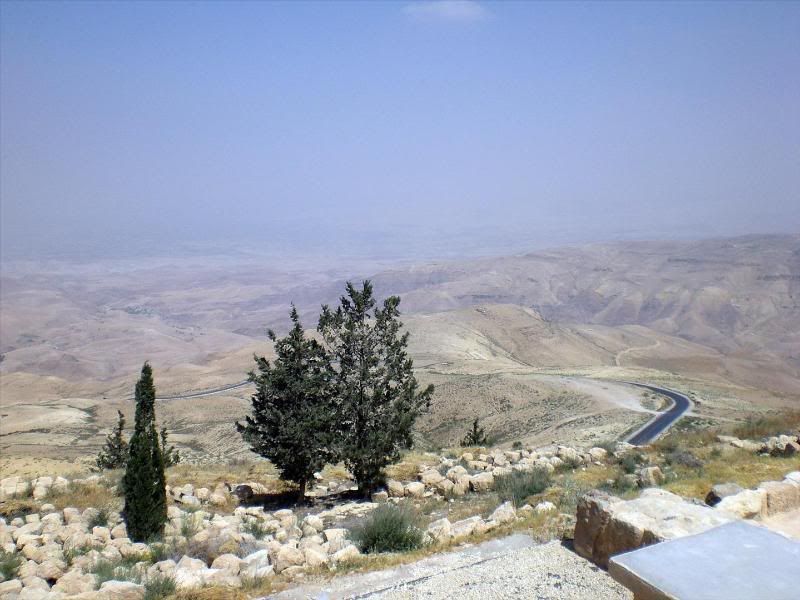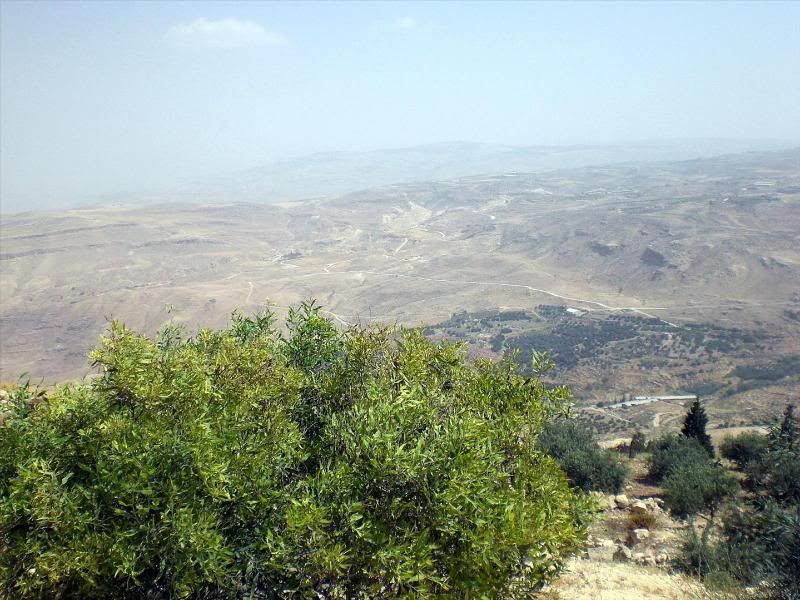 I spotted a sign which helped with the direction of things, studied it to make sure I was pointing the right way – and then went home via the Dead Sea.
Just a note, temperature at the time in Amman/Mt Nebo was 22 degrees. At the Dead Sea, 32 degrees. I put the aircon on in the car when I was down there.


Posted by kerouac2 on May 13, 2012, 3:37pm
The mosaics are quite nice. Those Aladdin style oil lamps look so useless -- I can't imagine them giving off any useful light. Has anyone actually ever seen one of these things in use? If Moses had a bunch of kids, maybe some of us are his descendents. And if he was a shepherd, maybe we have at least eaten some of the offspring of his original flocks/herds.
Posted by onlymark on May 13, 2012, 6:35pm
The oil lamps of that size give off about the same light as a candle or two I should think.

Moses had two sons and by all accounts they never amounted to much. Their descendants probably ended up running a cafe in Eilat.
Posted by lola on May 16, 2012, 1:20am
The mosaics are beautiful. Do they lie on the ground where they were made?

Some kind of wick in the forward hole for those oil lamps, I guess. Any idea what kind of trees those are in the foreground, photo above the sign with directions?

I never knew about the Midianites or that Moses showed up in Muslim writings. So, I like text.

I apologize for the loudness of the Americans, and also for the beer bellies some of them have.
Posted by onlymark on May 16, 2012, 4:29am
The two mosaics in the photos have been preserved and moved, lola. I think they are there just as an apology in a way that the church has been closed whilst building work is going on.

Yep, a wick would normally go in the front hole judging by pictures I've seen.
The trees are olive trees, no? Jordan has quite an olive industry.

With the USAnians, to be honest, if they'd not been talking I'd never realised what nationality they were. The bellies aren't unique to the USA and could well be German or from the UK especially as their dress is not Hawaiian shirts etc. I think they were a church group judging by the questions they were asking a guide but also by a leader who was also explaining religious things.

Thanks.
Posted by frenchmystiquetour on May 16, 2012, 6:42pm
Thanks again Mark.
Posted by nycgirl7664 on May 17, 2012, 6:03pm
Those mosaics are remarkable, and so are your sweeping landscape views. You have so many interesting places in your neighborhood. Thanks for sharing.
Posted by onlymark on May 17, 2012, 6:28pm
FMT/NYCG - you're welcome.
Posted by lugg on May 17, 2012, 7:06pm
Great report

What a door ! - the monastery must have been an amazing sight