Topic Summary
Posted by repertoire on Feb 13, 2009, 8:52am
I have DVD of NCFOM at home staying for 2-3 weeks, couldnt find time to see it yet.
Posted by tillystar on Feb 13, 2009, 10:01am
I watched Slumdog the other night. I really enjoyed it. I had read the book a couple of years ago and said at the time it would make a great film. The images are slightly darker than than the tone of the book, which covers the same incidents (slightly amended for impact but nothing to complain about) but narrated from the boys point of view things are not as dark as they seem to us seen in a movie. Its something that I think would have gone horribly wrong if they had lightened the the imagery though.

Someone mentioned on another thread that City of God does this so much better - but I don't think it was trying to acheive the same as City of God at all. Its a completely different film. City of God was far more of a punch to the gut than this was ever intended to be.

I loved what they did with a book I loved and the child actors were fantastic.
Posted by kerouac2 on Feb 13, 2009, 10:12am
The other day I went to see a Belgian movie called "Elève Libre." It's about a teenager who would like to become a tennis pro, but his terrible scholastic results are preventing him from being accepted in the necessary programs. A family friend starts tutoring him. Sex is much discussed at mealtime, because he has a girlfriend that he feels he is not satisfying due to premature ejaculation. So the tutor, along with other family friends (the mother is off galavanting...), starts demonstrating sex techniques to him. Let's just say that things quickly get out of hand, but he certainly gets an education.


Posted by starfire on Feb 15, 2009, 12:25am
Just finished watching 'Changeling', which came to my attention during last week's BAFTA's. Now, I thought it was just a story about a woman who's child goes missing, and she insists that the child returned to her is not her son.
....Well, it is but there's a whole lot more to this story than just a missing kid and a hysterical mother. It is a totally brilliant and wonderful film; ultimately rather sad, but fascinating and compelling too.
Especially so, when you realise that it is a true story..... go to wikipedia and look up 'Christine Collins'.
Posted by bixaorellana on Feb 15, 2009, 12:30am
Thanks for that review. It's another movie about which I've been curious, but the subject of missing children is so awful, it's hard to think of it in the context of entertainment. Now I really want to see it.
Posted by kerouac2 on Feb 15, 2009, 5:54am
I held back on seeing it for a long time, too, mostly because I have a problem with Angelina Jolie, but I was really glad to have seen it once I went.
Posted by auntieannie on Feb 15, 2009, 12:58pm
I haven't heard of many men who have "a problem" with Angelina Jolie, K!

Posted by kerouac2 on Feb 15, 2009, 3:42pm
I am not interested in freaks of nature, whether nature made them that way or whether they actually paid to have medical malpractice done to them.

Anyway, I went to see the Swedish movie LAT DEN RATTE KOMMA IN (Let the Right One In), more simply titled "Morse" in France. It's about a 12 year old boy who makes friends with his next door neighbor, a girl of his age. Unfortunately, she and her father are vampires. Since they are Swedish vampires, they lead a very uninteresting life. While the movie is quite well done, I sometimes think that all Swedish movies are sponsored by the Swedish anti-tourist board because they always make Sweden look like about the last place anybody would ever want to go.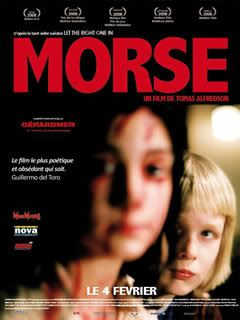 Posted by bixaorellana on Feb 15, 2009, 4:04pm
Quote:
Since they are Swedish vampires, they lead a very uninteresting life.



Interesting to read a male view of Ms. Jolie that is identical to mine. Women generally can't comment disparagingly on the looks of female celebrities unless they want to face charges of envy. I find her skin tone and those Halloween wax lips creepy.
Posted by tillystar on Feb 15, 2009, 8:56pm
I am with ya on Ms Jolie Bix and K. She gives me the creeps, last night she was on TV as the No.1 all time sex symbol, me and Mr Star were outraged!

I have to admit she was quite good in A Mighty Heart.

Today I watched "He is just not that into you" as my friend had seen everything else on so it was that or the Pink Panther 2. I wasn't keen but I really enjoyed it, it was good fun but and not as sicky as I had imagined.
Posted by kerouac2 on Feb 15, 2009, 9:07pm
That's what I almost went to see instead of 'Morse.' But I figured an obscure Swedish film was more urgent since that the other stuff would be hanging around indefinitely.
Posted by gyro on Feb 16, 2009, 6:45am
Are Jolie's lips enhanced or fake at all ? I was always under the impression that, whilst they look cologened to fuck, they're actually real and untouched. So to speak.
Posted by bixaorellana on Feb 16, 2009, 6:59am
Supposedly they're natural.

It's something about the expression on her face that's irritating.
Posted by gyro on Feb 16, 2009, 9:56am
I'd rather look at her than Julia Roberts, Catherine Zeta Jones, that horse face from Sex In The City, Meryl Streep, Anne Robinson, and many many others.
Posted by starfire on Feb 16, 2009, 12:58pm
I finally got round to watching 'How to lose friends and alienate people' yesterday. Nothing special, but I love Simon Pegg and enjoy anything that he is in. Its the 'Englishman in New York' story, the sort of thing that Hugh Grant usually does - worth a watch if you fancy being entertained for an hour and a half, though.
Posted by casimira on Feb 16, 2009, 1:00pm
My friend and I saw Mrs Pitt with Mr. Pitt casually strolling with two children in tow, (no nanny or paparazzi) on an obscure street in the French Quarter. They were both rather pretty in a very natural way. I was in the previous camp up until then.
Posted by kerouac2 on Feb 16, 2009, 1:04pm
They also have a good reputation at their home in the south of France and appear to be serious about learning French and making sure that their children can speak it.
Posted by tigronette on Feb 19, 2009, 7:01pm
Well the last movie I've seen is now La mujer son cabeza by Lucrecia Martel

It's very good
Posted by casimira on Mar 3, 2009, 12:29pm
I saw a film last evening called ALONE IN FOUR WALLS, an indie by Alexandra Westmeier. It's about inmates in a Russian prison displaying their tattoos. "This tattoo means 'alone among friends",this one is 'alone in four walls' this star is "I'll never fall on my knees in front of a cop', another "lover of money'. Their pride in these permanent reminders of their crimes becomes even more chilling when the audience realizes these are mere boys, between 11 and 14 years old.
The movie is not about just their tattoos but a social statement about juvenile criminals.
Posted by kerouac2 on Mar 7, 2009, 4:42pm
Okay, I finally saw Milk today (on French screens since Wednesday). I was quite impressed by Sean Penn's performance (and also Josh Brolin), but I wasn't overwhelmed by the film.

At the same time, in terms of history, I fully realize that the fact that Paris has had a gay mayor for the last 8 years (re-elected even more triumphantly in 2008 than the first time in 2001) and also that he is the most popular political figure in the country would never have been possible without people like Harvey Milk.
Posted by bixaorellana on Mar 7, 2009, 5:08pm
One of the things that really "sent" me about the film was the look of it -- the way it seems like something really made in the 70s. I have to wonder if that makes any impact on people who don't remember the 70s. Still, like other touches in art, it's important that it be there, whether noticed or not.

Overall, I think there are three really important things about the movie. One, that it shows that regular citizens can create important change. This dovetails with a second message of how corrupting and consciousness-lowering is any codified prejudice against any group. And the third thing is that is has documentary significance about a particular period of history.
Posted by kerouac2 on Mar 7, 2009, 9:33pm
Tonight I went to see Boy A, which is just now coming out in continental Europe, although it first played in the US a year and a half ago. I did notice on the box office site that it played on a grand total of 10 screens in the US and its entire career lasted one month.

I found it totally gripping. It is a British movie (not released in the UK, however) about a boy entering normal life after having spent the last several years locked up as a juvenile for having participated in killing a little girl.

He is given a job and a new identity, gets a girlfriend and all is going well. Unfortunately, the trashy British press ends up uncovering the Evil Killer Boy who has been set loose and destroys his life.

Quite depressing. I was glad to see it at the end of the day rather than in the morning when I usually go to the cinema, because it would have ruined my day.
Posted by kerouac2 on Mar 18, 2009, 3:52pm
Yesterday I saw Pranzo di ferragosto (English title = Mid-August Lunch), a brief Italian movie (1h15) about a man living with his weird aged mother in Rome. As it is the August 15th holiday, both the apartment manager and his doctor come and strong-arm him into taking in their mothers, too, plus an aunt so that they can abandon the city and not feel guilty.

So this guy has to look after 4 eccentric old women who don't know or like each other. This is Italy, however, so food brings them all together in the end. It was a quite charming movie about making the best of a bad situation.
Posted by tillystar on Mar 19, 2009, 9:33am
Kerouac, Boy A was made for TV in the UK and so was not released as such but was shown here on TV before it went on screen in other countries. It is loosely based on a case here, the real life killers were being released at the same time it was shown and the press were trying to uncover them. Horrible. I found it depressing too, I also thought the boy who plays Boy A was absolutely brilliant.

I am glad you found it gripping as you say as the girl who plays the girl friend is a good friend of mine and I am always really pleased for her when people like things she has done. It was her first serious role; she is a comedian and usually plays comedy roles and writes comedy scripts, so she definately went for some contrast there!

The fact she gets half naked in the bath scene is not however in contrast, she usually manages to get her top of any way she can and will write her top off if she possibly can. She says she was born with "comedy boobs".
Posted by tillystar on Mar 19, 2009, 9:35am
Last film I watched was Hitchhikers Guide to the Galaxy. It was OK but I could have lived without watching it and not been any worse off.
Posted by gyro on Mar 19, 2009, 10:23am
I thought it was a good enough effort, seeing as how they had to condense so much stuff into a film under 2 hours. And all the 'differences' from the books, plot-wise, were predominately written by Douglas Adams, especially all the John Malkovich stuff, as Adams wrote it specifically for him. I think it captured the essence and humour of the books/series as well as it possibly could, and Stepehn Fry was perfectly cast as The Book.
Posted by tillystar on Mar 19, 2009, 10:35am
See thats the problem, I wasn't a fan of the book either. I was just suffering for having forced his lordship to sit through The Pavilion of Women the night before.
Posted by gyro on Mar 19, 2009, 10:54am
Ah, well. I'm amazed you said it was okay if you're not a fan of the books ...
Posted by kerouac2 on Mar 22, 2009, 5:28pm
I highly recommend the Brazilian film Linha de Passe, which I saw today. It is by Walter Salles and Daniela Thomas. Walter Salles is best known as the director of The Motorcycle Diaries and Central do Brasil. This year he will be making On the Road and daring to do it in black and white.

Anyway, Linha de Passe is about a single mother in Sao Paolo and her 4 sons. 3 of them are going to hell, and the other one has found Jesus. Well, he'll probably be going to hell, too. Fantastic performances by all, who were mostly non professionals who improvised about half of the scenes. As for the actress who played the courageous mother, she won the Best Actress award at both the Cannes and Havana film festivals.


Posted by tillystar on Mar 23, 2009, 9:20am
I watched Burn After Reading over the weekend - it was brilliant! I thought it was absolutely hysterically funny, a nice surprise after my colleagues had seen it and not liked it. I loved Brad Pitt's character, genius.