Topic Summary
Posted by spindrift on Nov 18, 2011, 8:47pm
I know that Kerouac wrote about this film but I cannot find his post. I would be most interested to read his opinion of this movie.

I saw MELANCHOLIA a couple of weeks ago but it's still very much on my mind. Lars von Trier was the Danish director. When I saw pictures of the beautiful Kirsten Dunst I was captivated.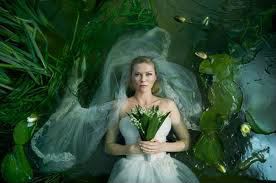 There she is, the perfect Ophelia, but she hasn't drowned, she is awake and aware, she isn't sinking into the morass of water weeds - she is borne up by them, and look! her wedding veil is nicely arranged, she is looking up at the blue planet that is about to engulf her/our earth. She is not afraid...

I knew that this film was not meant for the masses since it was being screened only once per day at 3pm. Then I found an evening when it would be shown very late so I went along.

The first five minutes were riveting with a finale of the earth being engulfed by a huge planet with no possibility of escape. This, therefore, set the scene of there being no hope of a rescue. Our planet was doomed.

We started viewing the film from this vantage point which made it all so much more poignant. Lars von Trien is, himself, a depressive and Justine (Kirsten Dunst) played the role of a seriously afflicted depressive with, it seemed, a death wish.
The first half of the movie dwelt on beautifully staged scenes of her wedding to a suitably compliant man who was also the son of her employer. Maybe he was hoping that he could redeem her?
During the wedding festivities our attention was brought to a rogue planet that had been 'hiding behind the sun'...and slowly it dawns on the assembled company that this planet is moving towards the earth. No one panics because all assume that it will be a near-miss situation. We see the best and worst of the main characters laid bare.
Part 2 focuses initially on Justine's sister, Charlotte Gainsburg, and then, inevitably, on the malevolent planet drawing ever closer until its huge mass dominates the entire sky.
The last few minutes are spellbinding. At the end it is Justine who takes control and gives comfort and even hope to her sister and her young nephew.

My only grouse against the film was that it was filmed with a hand-held camera causing me to feel very nauseous. I am sorry to say that I had to look away from the screen most of the time and I could hear, from others yawning around me non-stop, that they were feeling nauseous as well! Yet I stayed in the cinema for the last scenes.

Well, see it for yourselves and tell me your reactions.



Posted by kerouac2 on Nov 18, 2011, 8:58pm
Thanks for posting your review here, spindrift. You said much more about the film than I ever did. It is so unusual and spellbinding that it left me without words.
Posted by kerouac2 on Nov 18, 2011, 9:04pm
Here is the trailer again for people who know nothing about the film.



I have a vivid memory on another forum where I once said that Kirsten Dunst was a remarkable actress, and I was instantly flamed for liking the Spiderman girl.
Posted by casimira on Nov 19, 2011, 11:58am
I'm dying to see this movie.
Spindrift,the hand held camera is one of his trademarks,actually,from what I gather,is always used in his films.
The rest of the movie he departs quite a bit away from his other trademarks most especially the use of special effects,something he has always eschewed.
Thanks for this.
Posted by spindrift on Nov 19, 2011, 5:36pm
You will vastly enjoy it, Casimira. I have not seen any other films that von Trien has made.
When will it be shown in your town? Don't see it by video, wait for the big screen

Posted by casimira on Nov 20, 2011, 11:03am
No signs of it yet Spindrift.... I checked last week and again this week.
It would not be unheard of for a movie like this to have come here and gone though. Many a movie I've anticipated has made a brief showing. (I somehow doubt that is the case here. Wishful thinking perhaps).
Marketing strategies probably indicate that for the amount of money it costs to feature a film of this caliber they are not going to make a whole lot of money on it in returns,sadly.
I'm keeping my eyes peeled though.
Posted by kerouac2 on Nov 20, 2011, 11:42am
Well, it is playing on 19 screens somewhere in the United States....
Posted by bixaorellana on Nov 20, 2011, 3:55pm
Oh, Spindrift -- that is a real review! I've never seen a von Trier movie nor had I, from the brief mentions of Melancholia in this thread, any desire to see it. However, after reading your careful analysis, I'm very curious about it. Thank you.

Nov 18, 2011, 9:04pm, kerouac2 wrote:

I once said that Kirsten Dunst was a remarkable actress, and I was instantly flamed for liking the Spiderman girl.

Did those same people mention Dunst's excellent turn in Eternal Sunshine?
You probably remember that Jessica Lange was stigmatized for the first few years of her film career because she was the King Kong girl.
Posted by casimira on Nov 20, 2011, 4:07pm
Here's a link to a really cool very recent interview with Kirsten Dunst aired on NPR.
(I don't think there are any spoilers in it,if there were,I certainly didn't pick up on them and Terri Gros,the interviewer is really good about not using spoilers.)

http://www.npr.org/2011/11/10/142174134/....-in-melancholia
Posted by kerouac2 on Nov 20, 2011, 4:24pm
One of the problems of using stars that appeal to the general public (Kirsten Dunst, Kiefer Sutherland...) in an art movie is that it will always draw in some spectators who only think of movies as "entertainment." Melancholia is a lot of things, none of which I would classify as entertainment -- that's the principal attraction of such films to me, because they turn your brain on rather than off, even when you don't like them.

I was amusing myself looking at the comments on one of the generalist film forums, where most people were hoping for entertainment.

I can simplify this 2 hour artsy "look how cool I am, I get it" film for you: Pretentious crap with a budget.

This film is a big yawn.

I just couldn't connect with the movie at all. Needless to say I stopped watching it about 40 minutes into it. Don't feel bad or beat yourself up about not liking or comprehending it. Also, ignore all the people that seem to have "gotten" it. These pretentious, pseudo intellectual pricks need to get off their high horse. Not everyone gives a *beep* about symbolism and all that jazz. And no, you're not special for "getting it" folks.

once again a really gloomy/negative outlook on reality.. that's like saying.. "were pumping all these CO2 chloroform's into the atmosphere and were gonna die, tomorrow"

usually when i watch a film like this i come here and find some answers but all the people who "get it" are saying different things. noone really has any idea! you can all go round in circles while i just say its not a very good film



Actually, though, if they are annoyed enough to voice an opinion at all, it means that Lars von Trier has at least succeeded partially.
Posted by spindrift on Nov 21, 2011, 9:39pm
Thanks Bixa. I find it amazing that even now, a couple of weeks after the movie, I still think of it occasionally..

However, to be fair, the guy who saw it with me did not care for it at all. He thought it was a complete waste of time and utter nonsense. The hand-held swaying did not worry him so he saw the film from start to finish. There is no accounting for taste!
Posted by casimira on Dec 7, 2011, 1:37pm
I got an update last evening from a friend who tells me that the film is due to arrive in NOLA "soon".

Posted by spindrift on Dec 7, 2011, 8:29pm
Oh wonderful! Do tell me what you think of it. Be sure to view it on a big cinema screen

Posted by casimira on Jun 2, 2012, 2:32pm
Dec 7, 2011, 8:29pm, spindrift wrote:
Oh wonderful! Do tell me what you think of it. Be sure to view it on a big cinema screen



Unfortunately,this never happened as the movie came and went so quickly from here.
I just got a DVD of it today to watch this weekend sometime if I'm in the mood. If it's that sad, I may wait,I just watched Katyn and that was grim enough, to say the least.