Topic Summary
Posted by bixaorellana on Apr 28, 2009, 2:38am
Thank you for that info, Jazz! I've never heard of the film, but have a major thing for anything about pre-war Shanghai.
Posted by kerouac2 on Apr 28, 2009, 4:59am
San Mao Little Vagabond is a Chinese movie set in Shanghai from 1949 about a little beggar boy who is adopted by a rich family. It is so strange to see the Chinese bourgeoisie from back then dressed exactly like people from the Hollywood movies, and pushing the mimetism so far as to speak English to each other, just like the Russian aristocracy spoke French at home. I remember one scene where they decided to keep him, and the elegant woman asks, "what is your name?" The little boy tells her and she just smirks and says "We'll call you Bobby" just like she were renaming a dog.

Filming was interrupted by the revolution, so a short revolutionary ending was tacked on, but the film is great.
Posted by kerouac2 on Apr 28, 2009, 5:11am
I should mention that Sanmao was originally a comic strip character from the Shanghai newspaper in the 1940's. His name means "Three Hairs".

San Mao Arrives in Shanghai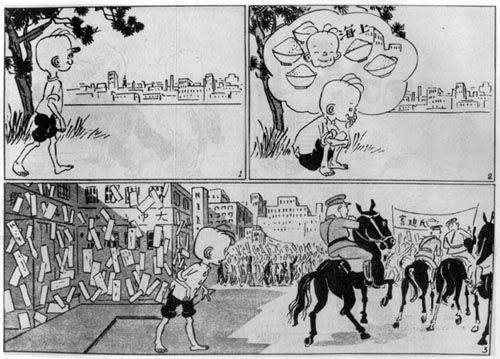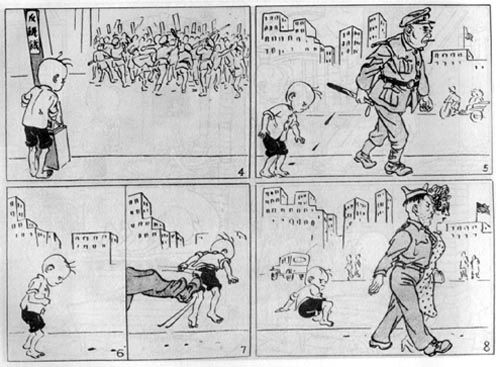 Posted by bixaorellana on Apr 28, 2009, 2:16pm
Octuple wow!!!

What an amazing strip! Do you have any more examples of this? (um, obviously I need to go look for myself). In your thread about comic book art I mentioned the best intro I know of to the newspaper strip genre. However, this is a major thrill, as it's the first time I've seen a vintage strip from a non English speaking country.

Sorry! I realize this is the screening board & not the Museum, but I am bowled over by these drawings. And I will be on the hunt for the movie. Thanks!
Posted by kerouac2 on Apr 28, 2009, 2:34pm
Sanmao and the Match



This disconcertingly echos HW's tale of the slum burning in Phnom Penh.


Posted by jazz on May 1, 2009, 10:09pm
Jasmine Women with Joan Chen. This is the story of three generations of women in Shanghai in the 30's, 50's and 80's. I enjoyed it very much and the scenes in pre WW2 Shanghai are beautifully art directed. Joan Chen ages throughout.

Shanghai Triad. This is directed by Zhang Yimou and stars Gong Li. He has done some sumptuous movies. The one I love the most is Raise the Red Lantern. Shanghai Triad takes place in 7 days in the 1930's. Part 1 is in Shanghai, Part 2 is on an island nearby. 'stylized but gripping portrait of mob power play and lifestlyles in 1930's Shanghai'.
Posted by auntieannie on May 2, 2009, 4:09pm
We saw Female agents / Les femmes de l'ombre. About the women who gave their lives for the "resistance" in WW2.
Posted by casimira on May 2, 2009, 4:20pm
auntie,did you enjoy Female Agents?
Posted by auntieannie on May 2, 2009, 4:28pm
I thought it was a good film. but it made me sad.
Posted by kerouac2 on May 2, 2009, 4:43pm
It got absolutely crappy reviews when it came out in France, but I went to see it anyway and didn't find it all that bad, albeit quite unbelievable.
Posted by auntieannie on May 2, 2009, 4:58pm
unbelieveable in what way, K? It is a romanticized version of Sophie Marceau's character's life. You mean about her being a sniper for the resistance?
Posted by kerouac2 on May 2, 2009, 5:14pm
Well, Sophie Marceau in the Resistance is unbelieveable in itself.

But just the fact that they were all more or less beautiful women without an ordinary looking one in the bunch did not enhance the credibility.

Here is a French review from Ecran Large:

Soyez en sûr "Les Femmes de l'Ombre" est le meilleur film de Jean-Paul Salomé. Mais soyez en certains "Les Femmes de l'Ombre" est un mauvais film. Rendre hommage à des femmes résistantes, quel beau sujet, plein de bons sentiments et qui ne pouvaient que réjouir les historiens et les JT. Car oui "Les Femmes de l'Ombre" n'est ni plus ni moins un ratage qui fera tout de même la fierté de TF1 en deuxième partie de soirée dans leur rubrique "film sérieux".

Précisons d'abord que le film contient tout les tics propres aux films de Jean-Paul Salomé, l'ensemble est haché, certaines scènes n'ont pas de fin d'autres (de nombreuses) sont ridicules et, cerise sur le gâteau, tous les acteurs sont mauvais. En fait "Les Femmes de l'Ombre" est clairement influencé par Melville et son "Armée des Ombres". Salomé voudrait retranscrire une ambiance clinique avec scène de torture à la clé. Sauf que Melville était le roi de l'épure et que (pas de bol) Melville fut résistant. Du coup, du Melville par le réalisateur de "Belphégor" et "Arsène Lupin" (soulignons-le), ça donne un condensé pas très bon de clichés sur la seconde guerre mondiale et une sorte de serial film d'aventure avec lot de rebondissements. Rien à voir donc.

Et les femmes là dedans ? Elles sont à l'image du film : insipides. On a rarement eu aussi peu d'empathie pour des personnages courageux censés être attachants. Même la toujours très juste Julie Depardieu ne tire pas son épingle du jeu tant son personnage frôle le grand n'importe quoi. On reste sur le cul face au premier film soi-disant adulte de Jean-Paul Salomé, décidément l'un des, voire le pire, metteurs en scène français en exercice actuellement. Parce que le véritable problème des "Femmes de l'Ombre" c'est que, contrairement aux deux précédents nanars de JP, c'est même pas drôle !

Mais ne partons pas sans citer ne serait-ce deux petites qualités à ce film, primo la scène du métro, efficace et surprenante, secondo la prestation de Moritz Bleibtreu qui, à l'inverse de Julien Boisselier, a l'étoffe d'un grand.
Posted by auntieannie on May 2, 2009, 6:05pm
ouch! I agree... it wasn't THAT bad! I mean, obviously not the best film I have ever seen... can we have a thread on ordinary looking women in cinema? one name per post, please... should be a verrrry verrrry short thread!
Posted by kerouac2 on May 2, 2009, 6:16pm
You mean you have never seen a film starring Yolande Moreau, who has won a César (French Academy Award) twice for best actress?




She is magnificent. (She played the concierge whose husband ran off in Amélie, in case you saw that.)
Posted by auntieannie on May 2, 2009, 6:24pm
as you say, she is magnificent! look at her eyes!
Posted by jazz on May 4, 2009, 7:50pm
I finally saw Walk the Line. It is one of the great bio films and I have always liked Johnny Cash. Joaquin Phoenix is brilliant and he did an excellent job with his own singing and learning to play the guitar for this.
Posted by bixaorellana on Jun 29, 2009, 3:03am
I saw Walk the Line the other night based on your recommendation. Although I'd heard good things about it, for some reason I thought it wouldn't interest me. Absolutely agree about Joaquin Phoenix -- he really became Johnny Cash. One side note, not really pertinent to the movie itself -- didn't Reese Witherspoon look awfully thin in that movie?
Posted by auntieannie on Jun 30, 2009, 6:15pm
We watched Kung-Fu Panda yesterday. suitably silly. But I didn't find it as good as some of the publicity led me to believe.
Posted by bixaorellana on Jun 30, 2009, 6:21pm
I had the opposite experience, Annie. I hadn't seen any publicity & turned it on for a few minutes thinking I'd not be able to bear (ahem) it. It was thoroughly enjoyable!
Posted by auntieannie on Jun 30, 2009, 6:24pm
oh, yes, bixie... totally enjoyable. I only expected even better... ! (you're definitely not a fan of Mr Black, are you? ;-)
Posted by bixaorellana on Jun 30, 2009, 6:32pm
Yeah -- it was better with no expectations.

You must have been reading further back. No, I really don't care for him. However, I'm going to re-watch one of his movies, Nacho Libre. The first time I viewed a really bad pirated video, but still thought the movie was adorable. Also, I love seeing places I know in movies.
Posted by bixaorellana on Jul 2, 2009, 1:46am
Whew! I am totally knocked out! If you have never seen the movie "The Lives of Others", stop what you are doing right now and watch in. What an incredible piece of movie making, acting, etc.
I watched it here: http://www.watch-movies-links.net/movies/the_lives_of_others/, the first one. If you don't have Veoh, install it -- much better quality than any other online viewer.
Posted by kerouac2 on Jul 2, 2009, 8:37am
Strangely enough, that movie left me cold even though everybody else seems to have loved it. I do agree that the acting was excellent, but I felt absolutely no empathy for any of the characters.
Posted by bixaorellana on Jul 2, 2009, 3:22pm
Sometimes I think I wind up enjoying these movies more once they're old and the original furor has died down. When they first come out they can be so over-sold that one is bound to be disappointed.
However I do understand what you mean about having empathy for the characters. At the same time, my take was that the individual characters were there as representatives of human reactions to given situations. I think that was the purpose of very peripheral figures such as the students in Weisler's classroom or the soldiers in the cafeteria, as much as that of the central figures.
(trying not to put any spoilers here)
Thus, towards the end of the movie I was extremely moved by the unfolding of the plot, even though I was not deeply attached to any one character. Actually, that's not totally true, as I'm convinced there is one character in the movie with whom we're all meant to identify.

Posted by bixaorellana on Jul 5, 2009, 4:24am
Again following a recommendation from The Screening Room, I watched "Goodbye, Lenin" tonight.
Wow ~~ I can certainly see why you all recommended it. If ever a movie could be said to be wistfully funny, it was this one -- a totally charming movie.
Posted by kerouac2 on Jul 5, 2009, 4:36am
Now Goodbye, Lenin is one of my all time favorite movies. It was the biggest German that German cinema had in France after a long dry spell, and Daniel Brühl ended up in a number of French movies like Joyeux Noël and 2 Days in Paris.
Posted by bixaorellana on Jul 5, 2009, 4:46am
*puzzle*
Daniel Brühl is in 2 Days in Paris?

I don't remember him at all in that. I will have to watch 2 Days again. It was a really good movie except I didn't care for the boyfriend, who I believe is her boyfriend in real life.
Posted by kerouac2 on Jul 5, 2009, 5:17am
You can see him at 1:42 on the time meter.


Posted by bixaorellana on Jul 5, 2009, 5:32am
Ah ~~ thanks. That reaffirmed my resolve to see the movie again.
Posted by tillystar on Jul 9, 2009, 2:44pm
Just added "Goodbye, Lenin" to my lovefilm list - thanks!