Topic Summary
Posted by ilbonito on Jun 28, 2010, 12:47pm


In 1835 the Yorta Yorta people watched as a boat sailed slowly up the crystal clear (now chocolate-coloured ) waters of the Yarra river. The people onboard - white people - got off, handed over a few blankets and some scissors to the natives and proclaimed "this is the place for a village!'. They called that village - after their leader John Batman - Batmania.

In 1837 the name was changed, and it has been (regrettably) known as "Melbourne" ever since.

The settlement ticked along quietly until a discovery that would change everything. Gold. The mid-nineteenth century gold rush was one of the biggest economic booms the world had ever seen. Australia's population tripled in ten years. Melbourne's increased five times. The muddy dirt tracks were replaced with a grid of wide streets lined with sturdy, splendid Victorian buildings. Many remain to this day. Immigrants poured in from Britain, America, China. Melbourne shot past Sydney to style itself as the "fourth city of the Empire" after London, Edinburgh and Bombay. When Australia became independent, Melbourne served (briefly) as its first capital.




But then the Twentieth century arrived. The gold was gone. Other states were now growing, and Melbourne was overtaken by Sydney again. It gradually began to settle into its role as a second city. It grabbed the spotlight again once, the unlikely host of the 1956 Olympic Games, but the city was slipping further behind, out of the spotlight. It consoled itself with its supposed cultural superiority, its better food (due to waves of Greek and Italian immigrants) and masked its jealousy of Sydney (weakly) as disdain.

By the time I arrived - growing up in the 1990s - Melbourne seemed a comfortable, bourgeois kind of place, still with its solid Victorian buildings and its rattling wooden trams, leafy streets and little crime. A nice place to live, people said, but why visit? Nothing ever happened. The big money and the bright lights were all North. Melbourne was idling in the slow lane. I sighed, and wished I was in Sydney too.

But by the time I was in university, and had begun to explore the city more widely, I discovered it had another side. Perhaps as a reaction to its sturdy, staid streetscapes, Melbourne has always had a lively, alternative-minded spirit. It is filled with young people dressed nattily in "op shop" (thrift store) finds, pseudo-intellectuals chattering in shabby-chic cafes and community radio stations dedicated to obscure music, run on enthusiasm alone. I began to enjoy the city, tentatively at first. The weather was still unreliable, I grumbled. It was still too slow. But I had started to fall in love with it. And then I went overseas.

When I returned a few years ago, I found a city whose time had come. Hipness and cool design were now hugely marketable, and Melbourne found itself with quirky little bars and cafes and cool stores and grungy clubs, and streetart-splattered laneways that everyone wanted to visit. Australian interstate tourists were flocking to the city, to eat, to shop, for the nightlife. The city had a newfound confidence. It would never be number one, but that was OK, it was cooler than that anyway. The old Victorian buildings were complemented by striking new designs. Billions were being pumped into new developments. Liquor laws were liberalized and nightlife surged. The economy was booming.




Today a thousand people a week are moving into the city, many immigrants from India and China. If current trends continue, the city will overtake Sydney once more by 2030. One estimate has the population at 7 million in forty years.

Today Melbourne is sure of itself, enjoying its new sense of style and fun. One third of its population was born overseas, with thousands more foreign students. Its nightlife, food and shopping are the best in Australia. The city centre is rejuvenated, livelier than I remember from my youth. But at the same time, the trains and trams are overcrowded and house prices are shooting through the roof. There is not enough water, and troubling new crime patterns have emerged.

Or perhaps those things were always there - and I just never noticed them in my sunny, secure, suburban childhood? But the things that I have come to love about the city - deeply and passionately - are more in evidence than ever. Its quirkiness, its artistic temperament, its idiosyncrasy. The fact that it is small enough to get around easily (well, inner city anyway) but big enough to have one of everything: one good latin club, one gay rock bar, one Japanese bathhouse. I have even come to enjoy its famously moody weather. The city has a way of creeping up on you when you are not looking.


Posted by ilbonito on Jun 28, 2010, 12:49pm
Posted by ilbonito on Jun 28, 2010, 12:52pm


I remember in high school we had a policeman visit our class, to tell us that Melbourne was the grafitti capital of the world. The suburban train lines, for kilometres on end, had been tagged and grafittied and we should all be ashamed, he said. How the tables have turned. Now Melbourne brags openly about its "street art". The local council commissions it and puts in tourism TV commercials. People flock to the most colourful city laneways to take their wedding pictures - and "taggers" moan that they've been "sold out".
Posted by ilbonito on Jun 28, 2010, 12:57pm
Posted by ilbonito on Jun 28, 2010, 1:07pm


The city's grandest building is the Royal Exhibition Building built in 1880 for one of the spectacular industrial fairs the Victorians were so fond. It stands in a garden of fountains and elms trees near the city centre. After the fair ended, it housed Australia's first parliament before being used variously as a hospital, aquarium, examination hall and most interestingly I think, the world's largest roller skating rink. That says a lot about Australia, I think. What other country would turn its parliament into a rollerskating rink? The building was recently added to UNESCO World heritage Sites list - a bit ridiculously I feel. Sure, it is important to Australia but its not exactly up there with the Taj Mahal and the Great Wall of China.
Posted by ilbonito on Jun 28, 2010, 1:15pm
Posted by ilbonito on Jun 28, 2010, 1:24pm


The centre of the city is surrounded on three sides by large, and beautiful, parks. Many of them feature avenues of beautiful old elm trees ( the elm beetle never made it to Australia).


Posted by ilbonito on Jun 28, 2010, 2:17pm
I love the irreverent Australian wit:


Posted by bixaorellana on Jun 28, 2010, 5:22pm
Whew ~~ Please consider a wheelbarrow load of superlatives delivered to your door, Ilbonito!

Besides the beauty and the excellent and cleverly juxtaposed photos that we can always count on from you, there is so much that is surprising and interesting here.

It's hard to see how a city could overcome its disappointment in losing the moniker "Batmania", but you all have recovered nicely. One thing that really strikes me is the sense of proportion shown. It's amazing how beautifully the new large construction fits in with the older stuff, melding rather than overwhelming. What is that fabulous Dr. Caligari building on the church square? (last pic, OP) And what about the gloriously soaring golden edifice in #5 -- part of the university?

So much to see and enjoy here. Thanks for this illuminating, gracefully written paean to your home city.
Posted by fumobici on Jun 28, 2010, 5:32pm
Beautiful report. My dog wants that hoverboard too.
Posted by kerouac2 on Jun 28, 2010, 5:47pm
Another excellent report, Ilbonito, and definitely not the boring and staid Melbourne that I visited once. After seeing Melbourne, I even found Adelaide more interesting.

Tell me, though -- are the public toilets still marked in English, Greek and Italian?
Posted by ilbonito on Jun 28, 2010, 11:38pm
Thanks all.


bixa: I'm all for restoring Batmania! The metallic building opposite the church is Federation Square, a complex opened in 2001 for the centenary of federation, containing a modern art museum, a fantastic film centre and a multicultural TV station. There is also a new and highly popular town square. The building in # 5 is an art deco office tower on the city's main street.

k2 : After seeing Melbourne, I even found Adelaide more interesting.

I don't know whether to be embarrassed or offended!!




The Greek immigrant community, though famously huge, is now on to its second generation and is well-integrated into the city. There would be very few Greeks (or Italians) who don't speak English although the odd sign remains. Although the city's "greek quarter" (as it is now promoted) it is infinitely disappointing for such a famously Hellenic city - a couple of cake shops, a restaurant or two and a CD store. There are "Greeker" places in the suburbs though. Signs in Chinese, Korean and now Amharic are much more noticeable though, at least in certain parts.


Posted by ilbonito on Jun 29, 2010, 12:05am
Posted by ilbonito on Jun 29, 2010, 12:09am


The Queen Victoria market is the city's humming produce market, standing on the edge of the city centre (on an old Aboriginal cemetery!)


Posted by ilbonito on Jun 29, 2010, 12:23am


One of Melbourne's biggest successes over the last decade has been rehabilitating the old bluestone alleys that snake through the city centre, originally designed to facilitate the removal of "nightdirt". Now, many of the rather grim looking places have become full of life and color, hope to hip little cafes and hidden purposely-hard-to-find bars, and decorated (of course) with street art. They are many peoples' favourite part of Melbourne,




The city council has followed a highly successful of commissioning its own quirky artworks for the city's lanesways where they often jump out at you, unexpectedly. In one installation, bubbles blew out of a mysterious vent as you passed. Another featured a wall that "breathed" in and out, another had you look up to find a cartoonish-looking safe, suspended from a wire apparently about to fall on your head. This alleyway in Chinatown has had all the usual streetsigns removed and replaced with surrealist poetry:


Posted by ilbonito on Jun 29, 2010, 12:34am


Melbourne's Chinatown is the oldest in the Western world. Established by miners from Guangdong province in the 1870s, it has been Chinese ever since. Today, the area has a cool historic vibe, especially in the bluestone alleyways that snake off it at either side, lined by old Victorian warehouses. The district is now exploding again, bursting out of its boundaries and flowing out of its tacky Chinese-y gates, to swallow up half the city. Its has almost digested the formerly Greek neighborhood on Lonsdale Street and its tentacles spread up Swanston Street (the city's main street) as far as the Melbourne Central Shopping Centre, which these days (in the evenings especially) may as well be in Hong Kong.

Chinatown and its alleyways now boast a full four branches of the porn emporium "Club X" (plus the porno shop above Chinatown Aquarium and Reptile), several excellent places to buy heroin, a cinema that offers the increasingly rare chance to see Asian movies on the big screen, a really dodgy pool-parlor, three arcades of Chinese-y fashion and shops selling Hello Kitties, two Hong Kong-style bakeries, a huge Asian DVD warehouse, a Thai video store, six nightclubs, a restaurant that only serves food Mao Tsetung liked, a restaurant that only serves food Deng Xiapoing liked, karaoke, a lush secretive bar in the headquarters of the Chinese Masonic Society and doubtless more besides I haven't stumbled onto yet.




The Chinese Museum is, again, tucked into a little alleyway. It is a dusty, quiet, little institution, spread over four floors of an atmospheric former warehouse. The exhibits aren't really that great – lots of old photos, and a few Chinese wedding dresses and stuff. In the basement is a charmingly dated "diorama"-style recreation of 19th Century Chinese miners' life . But the highlights are a) the photos of every year's Melbourne Young Chinese Association Gala Dance from the 1930s to now (check out the ballgowns worn in the '80s!)
b) Dai Loong – the world's longest ceremonial dragon, who comes out to dance through the streets every Lunar New year.





There are also a whole bunch of other, newer Asian neighborhoods around town:

1) Victoria Street Richmond.

In the shadow of public housing blocks, this heavily Vietnamese/Chinese strip is still scruffy and unglamorous. There are blocks of same-looking pho places and dingy karaoke bars, shops selling weird vegetables (you can get Okinawan goya here!), styrofoam crates of live crabs on ice, durians, and pirated CDs. Also, one of those trick-vegetarian restaurants where everything looks and tastes exactly like meat, but is made from tofu. The corner nearest the train station is a down-at-heel mini-Thai district with five or six grocery and video shops and Thai restaurants, remarkably dowdy-looking compared to how glamorous Bangkok is these days. But the first signs of gentrification are creeping in – the best-known restaurants Thy Thy and Tho Tho are almost all-Caucasian these days, and a couple of latenight pubs and bars have opened up.

2) Springvale

Outer suburban Springvale is another working class Chinese/Vietnamese neighborhood, and home to the Victorian Cambodian Association's temple, with its pitched roof and sweeping yellow horns ( a relatively rare for Melbourne Theravada-school Buddhist place of worship).

3) Doncaster

Where wealthy, suburban Chinese desperate housewives live. During the SARS crisis shops in Doncaster all sod out of those Asian-style face masks.

4) Box HIll

Once known for its junkies and charmless shopping centre "Whitehorse Plaza", Box Hill is these days totally Chinese. Hong Kong star Cecilia Cheung – wife of Nicholas Tse and high profile victim of the recent Edison Chen sex-photo-scandal – used to work here in a karaoke parlor before she was famous.

5) The West

Footscray.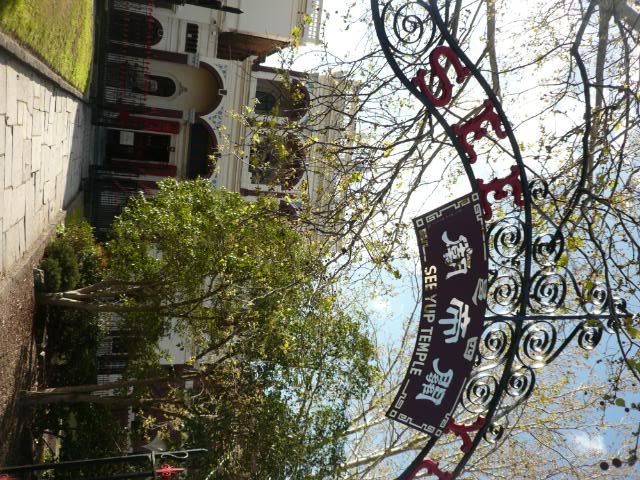 And finally, in seemingly very un-Chinese South Melbourne there is this; the See Yup temple, dating back to 1856 ( just twenty years after the first non-Aboriginal settlers arived in Melbourne!!!) Its quite amazing that Melbourne has such an old Chinese temple. The architecture is kinda interesting too; it looks more like a classic Victorian mansion than a usual temple, but with a few flamboyant pagoda-ish touches. Its still being used as a temple today, but you can go in and take a look if you donate two dollars, don't take photos inside, don't go up the stairs, and ignore the grumpy maintenace staff.



Posted by ilbonito on Jun 29, 2010, 1:02am


Footscray is a new discovery for me. When I was growing up it was always "the bad side of town" and seemed far away, (it isn't) . I can't remember ever going there. So when I finally did I was in for a huge surprise - Footscray is the face of the new Melbourne; a working-class but aspirational, upwardly mobile and heavily Chinese/Vietnamese community with Indian/Filipino/Serbian/Arab touches.




It also has Melbourne's most visible African community. Refugees from Somalia, Ethiopia and Sudan have made part of the suburb their home. There is now a little mall entirely dedicated to African-owned businesses where the only white people you see are dodgy drug addicts (and in amusing case of reverse racism, everyone clutches their purses more tightly when they pass). From here you can walk in a few minutes to another shopping centre called simply "Little Saigon".





Footscray is certainly not pretty; its Victorian buildings seem to have been all but obliterated in the 1960s, replaced with tatty concrete boxes. It has a rough around the edges feel. But its diverse population gives it a unique energy, and colour. And its proximity to the centre of the city – 6 short kilometres as the crow flies – can no longer be ignored. With the train station undergoing a much-overdue upgrade, its impressive Buddhist temple opening later in the year (pics below) and iconic Footscray market next on the agenda for improvement, it will be interesting to see how the suburb changes over the next few years.


Posted by kerouac2 on Jun 29, 2010, 4:47am
Melbourne is clearly a world unto itself now, and I will have to give it another go someday. The variety of images in the report is outstanding and makes a strong case for quickly mutating New World cities compared to some of the petrified areas in Europe.
Posted by bixaorellana on Jun 29, 2010, 5:11am
Whooo ~~ you certainly saved some of the best for last! Can't tell you how much I like that photo taken from the market, facing the tall downtown buildings. Ditto the chandelier in the alley, the ladies shoes image, and the fabulous one of the stacked plastic boxes. But hey -- it's all great!

It's pretty thrilling to see all these waves of new and not-so-new Australians in their varying levels of assimilation.

I could look this up, I guess, but how big is Melbourne? It seems huge from reading your report. You definitely make it clear why you love the place.
Posted by ilbonito on Jun 29, 2010, 6:57am
Melbourne has about four million people (so if the projections are right it could almost double in the next forty years!) But at the moment it actually feels smaller. You would think it has around 2 million. Its hard to find surging crowds anywhere. Its definitely not in the concrete canyon league of Hong Kong or Sydney or Singapore. To a lot of people (including myself sometimes, and many Asian visitors) it can seem boring because of that - too quiet, not enough bright lights and bling. But what I have come to appreciate is that it is not a flashy city, but it does have depth. Its not boring at all, there is always something, but you have to go out and find it - its not gonna jump out at you like, say, the Sydney Opera house. So many of its attractions are hidden down its alleys and in little nooks and crannies.
Posted by bjd on Jun 29, 2010, 7:12am
I like your approach to cities, Ilbonito.

Interestingly, Melbourne reminds me of Toronto. From what I see here, it's a mix of 19th century (rather uninteresting in my view) British-colonial architecture, mixed with modern office buildings and ethnic neighbourhoods. Since I haven't lived in Toronto for years, when I do return and have the time to walk around a bit, it's the tattier, more "urban" areas that attract me. As well as the more modern business centre, since it's so different from where I live now.
Posted by ilbonito on Jun 29, 2010, 10:10am
Posted by deyana on Jun 29, 2010, 12:26pm
The mid-nineteenth century gold rush was one of the biggest economic booms the world had ever seen. Australia's population tripled in ten years.

That's really amazing.

You must have spent many years abroad, Ilbonito? And then to see so much change when you returned.


The building was recently added to UNESCO World heritage Sites list - a bit ridiculously I feel. Sure, it is important to Australia but its not exactly up there with the Taj Mahal and the Great Wall of China.




I can see what you mean, but it's still a nice building.

No truer word is said then on graffiti.
Posted by ilbonito on Jun 29, 2010, 12:56pm
I was away on and off for about seven years - but not when the Gold Rush was happening!! That was 150 years ago! While I was away Australia had another little mini-boom, economically and populationwise, but it can't compare to the earlier one. Still, I was shocked by how expensive things were when I got back. My rent in Tokyo was cheaper than it is in Australia now - and I live in a country town!!

bjd - people always compare Australia and Canada, and say how much they have in common. I've not been to north America, though...
Posted by ilbonito on Jun 29, 2010, 1:02pm
Posted by ilbonito on Jun 29, 2010, 1:04pm
Posted by deyana on Jun 29, 2010, 1:05pm

Quote:

I was away on and off for about seven years - but not when the Gold Rush was happening!!



I knew that!



Just wondering, ilbonito... my mother used to tell me that many years ago, 'undesirables' from India (i.e. criminals ), were shipped off to Australia to work, as they were not wanted in India at the time. Going to Australia back then was a dreaded thing and they called it sailing over the 'black waters'. Would this have been during the Gold Rush time?
Posted by ilbonito on Jun 29, 2010, 1:19pm
I didn't know Indians specifically were sent to Australia as convicts although it wouldn't be surprising. That is after all how the whole nation started. I know Afghan people were imported to work as camel drivers to explore the great Australian deserts. The train that crosses the country is still called "The ghan" in their honor.

Recently Indian immigration has boomed. It has been a hot topic because Indian students have been bashed and robbed in Melbourne, leading to outrage in India over what was perceived as Australian racism. POlice in Melbourne claimed the attacks weren't racist per se, it was just that the Indian students were soft targets because they lived in poorer neighborhoods and used public transport late at night coming home from their part-time jobs, often with computers and iPods. Nebertheless, the issue was a huge shock to many in Australia who were unused to seeing their country in such a negative light.

Then, the man who started the whole thing (claiming to have been set alight by thugs) was revealed to have been a fraud, who injured himself trying to set fire to his own car for the insurance. Other "anti-Indian" crimes turned out to havbe been perpetrated by other Indians. But the fact that a third of all violent crime victims in some areas are Indian can hardly be swept under the carpet. Whether its racially motivated or not isn't really the point, its that they are getting bashed at all.
Posted by ilbonito on Jun 29, 2010, 1:34pm
deyana, found this at the website of the city's immigration museum:

In the early 19th century a small number of Indians arrived in Australia as convicts transported by the British colonial government in India. Others arrived as labourers with British subjects who had been living in India. They included 14 servants brought out to Victoria in 1843 by wealthy landowner Major Alexander Davidson. By 1901 the India-born population of Victoria was almost 1,800.

And from another website, this (which I never knew) :

More Indians came to Australia more than fifty years ago while both Australia and India were British colonies. These enterprising Sikhs came to work on the Banana Planatations in Southern Queensland. Today a large number of them live in the town of Wolgoolga (roughly half way between Sydney and Brisbane on the highway.) These people have their own Banana Farms and are quite rich. Their riches have come by hard work. There are two Sikh temples in Wolgoolga. One of them even has a Museum on Sikhism.

Posted by deyana on Jun 29, 2010, 1:40pm
Indians convicts were definitely sent over to Australia at one time. I'm just not sure in which time frame that was. I'll have to ask my mother about it. It was something that was dreaded as they has no idea where they were going or what to expect.

olbontio, the (what seems like) racially motivated attacks in Melbourne do not surprise me. Similar kind of things have happened in the UK in the past. I remember at one time, there were so many attacks happening on Indians in the UK, an Indian Minister from India came over to the UK to see what it was all about.

Being students and being young, probably makes them more of a target I guess.


Quote:

But the fact that a third of all violent crime victims in some areas are Indian can hardly be swept under the carpet. Whether its racially motivated or not isn't really the point, its that they are getting bashed at all.



I totally agree.