Topic Summary
Posted by mickthecactus on Mar 30, 2012, 12:53pm
Actually Liga I think it does need sun and water...

see this -

http://www.ehow.com/how_6691145_care-ti-plant.html
Posted by koloagirl on Mar 31, 2012, 7:10pm




Aloha from Kaua'i!

I finally found a photo of at least part of the ti-leaf making process - we had our Prince Kuhio day celebrations here last week and this photo was taken there of 2 young ladies who are making one - you can see one girl is doing the "weaving" while the other is holding onto the other end as it is being twisted.

I know this doesn't show much detail, but for the moment it is what I have. I am going to be doing lei making at our Cultural Center here next Thursday, and so I'll be making some ti-leaf lei - I'll be sure to take step by step photos of it as I'm doing it so I can share it here!

Malama Pono (take care)
Janet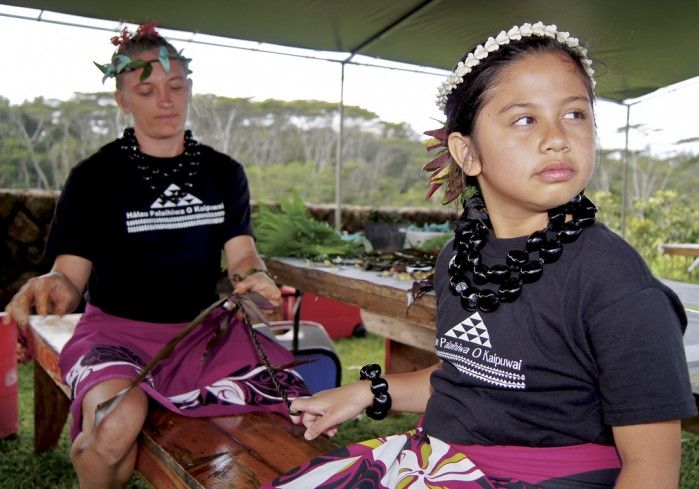 Posted by koloagirl on Mar 31, 2012, 7:32pm



Aloha from Kaua'i!

"Liga" - that is a very healthy looking ti plant! Here in Hawai'i they are planted at almost all homes in the front or sides - it is considered good luck and so you find them in every kind of area - full sun, partial sun - but I think they do best in full sun and a fair amount of water.

Of course you have to bear in mind that it is easy to find full sun here and the rain takes care of the watering the majority of the time - so it would be more of a challenge elsewhere I would think.

If you are growing it indoors or in a climate that isn't particularly humid - I'd use a "spritzer" water spray and mist it a couple times a day - as well as making sure the soil is damp, but not wet.

To get a little off-topic - I'm very excited today because my husband and I have been invited to a "baby lu'au" tonite - now that in and of itself isn't unusual because when a baby here turns one year old, the family usually throws a lu'au to celebrate the event - it came about due to the very high mortality rate among infants in Ancient Hawai'i - and is a fun event these days!

This one is special however. The ohana (family) that is putting it on is the Kanahele ohana from the privately owned island of Ni'ihau. I am fortunate to have a good friend named Ehu Kanahele, who is a very well known lei maker of the famous Lei Pupu 'O Ni'ihau or Ni'ihau shell lei from that island. The people of Ni'ihau speak Hawaiian as their first language and are full Native Hawaiian (which is very rare) as well. Most of the families from Ni'ihau (and there are about 75 residents of the island) have homes on the West Side of Kaua'i as well and "commute" back and forth from Ni'ihau to Kaua'i (about 20 miles by ocean).

The people of Ni'ihau are respected highly for maintaining a more traditional "Hawaiian" lifestyle as well as for perpetuating their craft of lei making.

So.....my friend is celebrating her mo'opuna's (mo'opuna = grandchild) first birthday tonite. She told me there are about 700 people invited and they have a whole beach park here on the West Side of the island that will be the venue. The food has been prepared by many, many people from Ni'ihau as well as their ohana here - it will be everything from kalua pig, opihi, squid lu'au, lomi salmon to jello! I've been fortunate enough to go to one or two of their lu'au before and there is nothing like it!

They are even bringing over "big" talent from O'ahu to perform - and there will be many, many inpromptu hula performances by guests and ohana as well!

Here is a picture of my friend Ehu Kanahele from the last big lu'au I went to -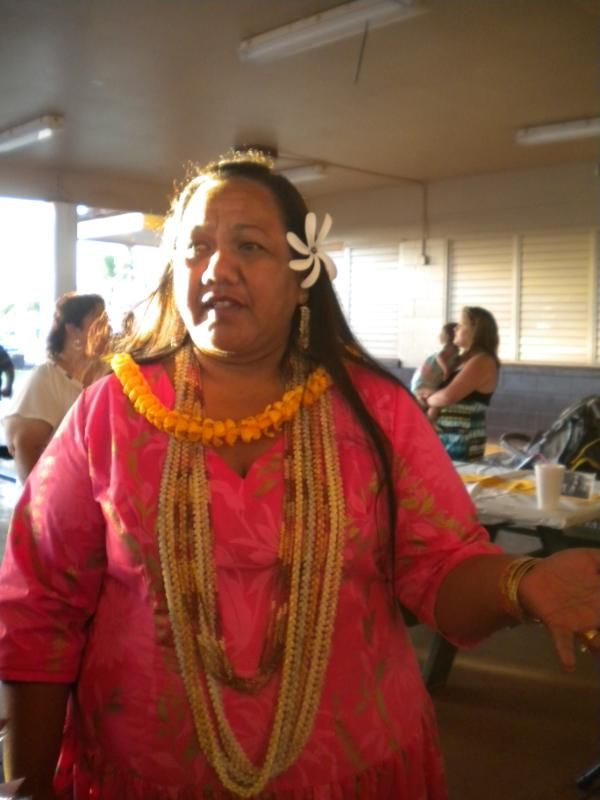 And a picture of her daughter U'i and myself from the same event (it is U'i's son that we are celebrating tonite) - her beautiful lei is Tongan in design.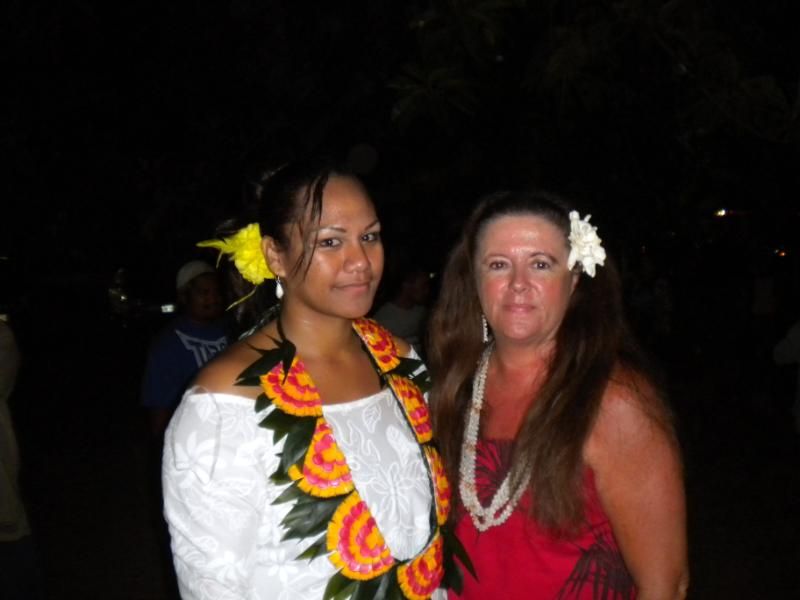 So.....trying to "starve" myself in anticipation for tonite - most people don't often get the opportunity to have as much traditional Hawaiian (as well as other types!) of food all in one huge place - so I'm certainly going to be enjoying myself!


Malama Pono (take care)
Janet


Posted by kerouac2 on Mar 31, 2012, 7:52pm
Wow, this should be a great photo op -- if you are inspired to do such a thing. You can make a whole new thread about this incredible event (I call it "incredible" because I don't think that most of our other cultures have such a thing.).
Posted by koloagirl on Mar 31, 2012, 8:00pm




Aloha from Kaua'i!

Yes indeed "Kerouac2" - when I am not stuffing my face full of ono (good!) Hawaiian food, I'll be sure to take lots of photos and share them here!

They are even getting the Mayor to station 2 police officers there at the venue - because it is a no alcohol event and they want to make sure the kamali'i (children) are safe as well as everyone else!

This is an event that will probably go from about 5pm to 11pm or so - altho' with my husband being an early to bed kind of person - I think we'll probably be on the early side with our "partying"!

Malama Pono,


Janet
Posted by mich64 on Mar 31, 2012, 10:58pm
This is exciting Janet! I am eager to view the photos of this event. We are very fortunate that you share the Hawaiian lifestyle here.
Malamo Pono,


Mich
Posted by koloagirl on Apr 1, 2012, 9:32am




Aloha from Kaua'i!

Well, just back from the big lu'au - fantastic! Such great Hawaiian music, hula and such fabulous real Hawaiian food like poi, lomi salmon, opihi, ika, kalua pig, tako poke, ahi poke, won ton, lumpia, rice and of course potatomac salad! I'm groaning from being so full and I didn't even have room for the mea ono (dessert) that was cake, cake and more cake and other sweet goodies!

So...I haven't downloaded my iPhone pics yet, but here are a few from my regular digital camera - mostly of the halau hula (hula school) that I am with performing at the lu'au - I'll get the others downloaded tomorrow and post them here!

So....enjoy - I sure did!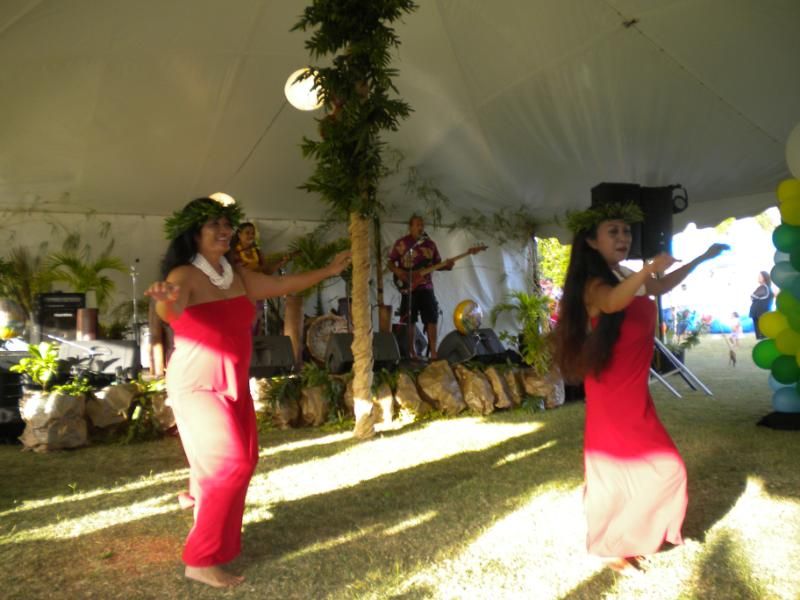 3 of my hula sisters dancing a hula in honor of ancient Kaua'i.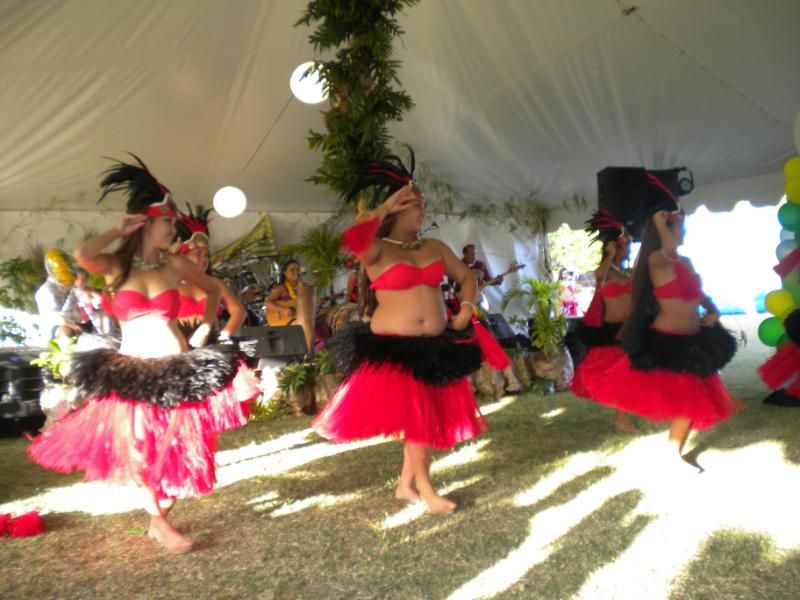 Na Opio (teenagers) dancing Tahitian otea.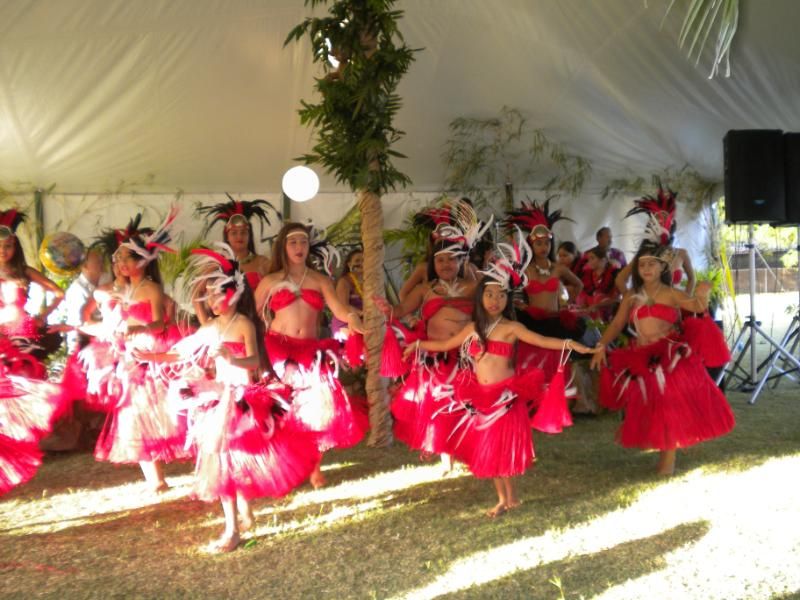 Kaikamahine (young girls) and Na Opio (teens) dancing Tahitian otea together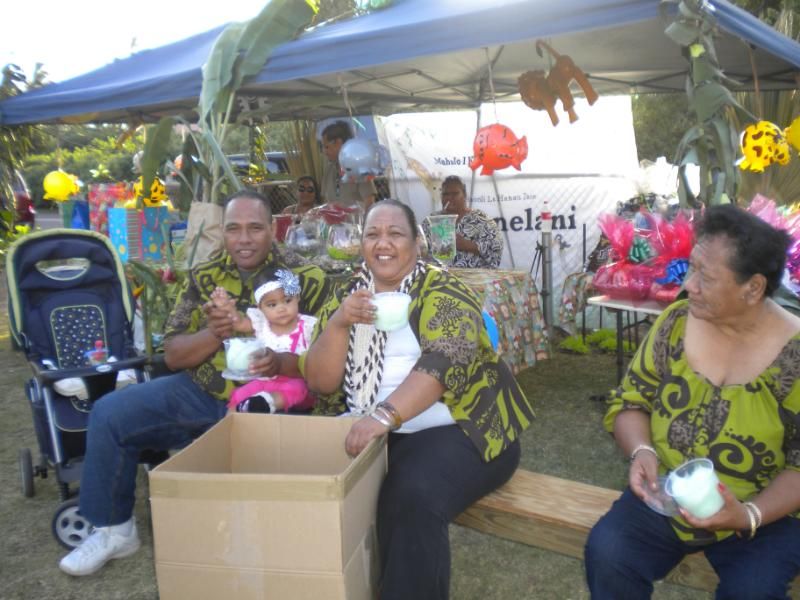 My good friend Ehu (in middle) and her husband and sister - they were giving out cotton candy to the keiki (children) - they also had a huge blow up bouncy castle as well as a carnival ride like the saucer ride that goes round and round really fast? I looked like a carnival - the keiki were having such fun!!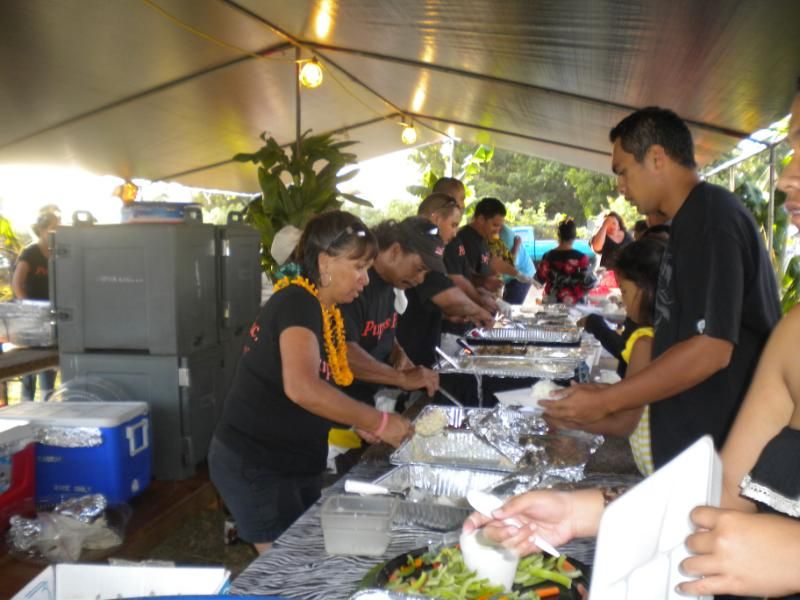 Inside just one of the tents serving up Hawaiian food - there was so much food and so many places to get it that there were no lines - it was great!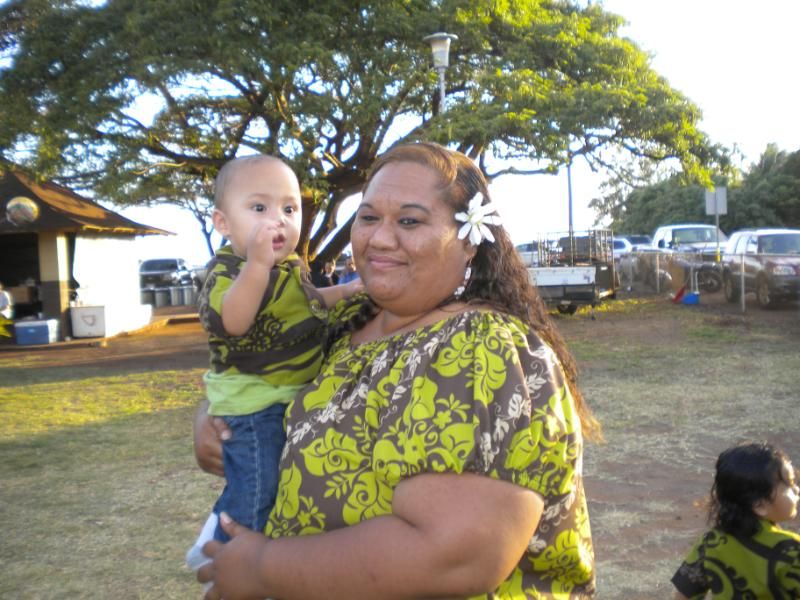 The reason we were there - the birthday boy Izrian Neilsen Kanahele and one of his aunties! A note here: all of the Kanahele ohana (family) wore the green Manuheali'i (a Hawaiian designer) shirts or dresses - it was easy to pick out a family member this way! LOL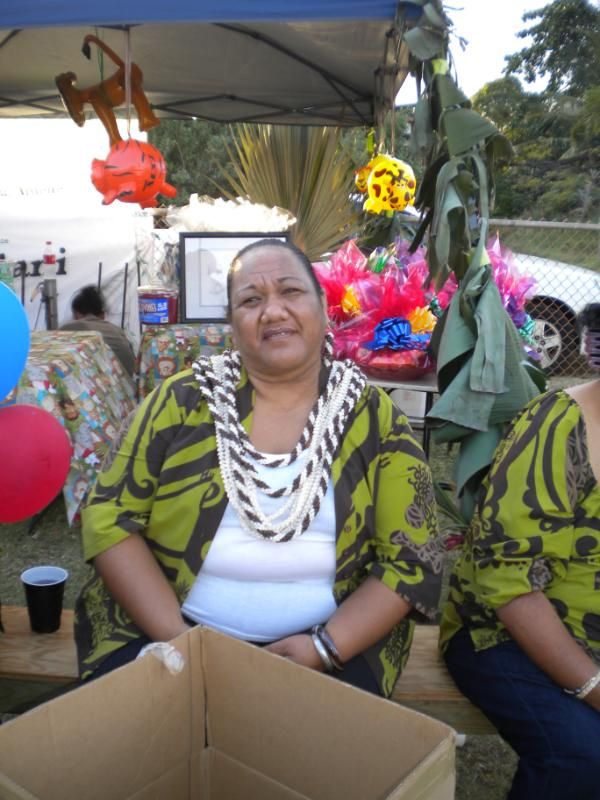 My friend Ehu - the grandma of the birthday boy! Those are all Ni'ihau shell lei around her neck - the brown ones (pulehu) are some of the very rarest around - let's put it this way, those lei would buy a home here!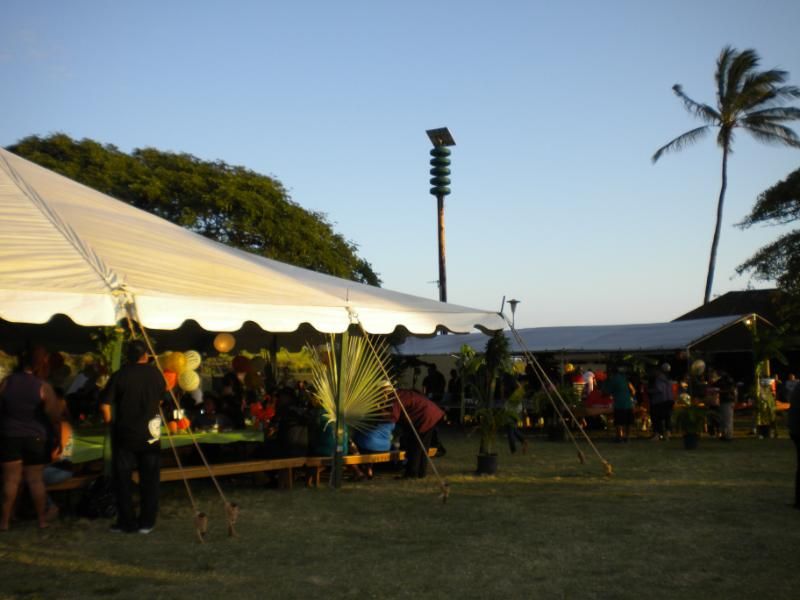 Another view of some of the tents as the sun was going down - you can't see it, but the ocean is just beyond there.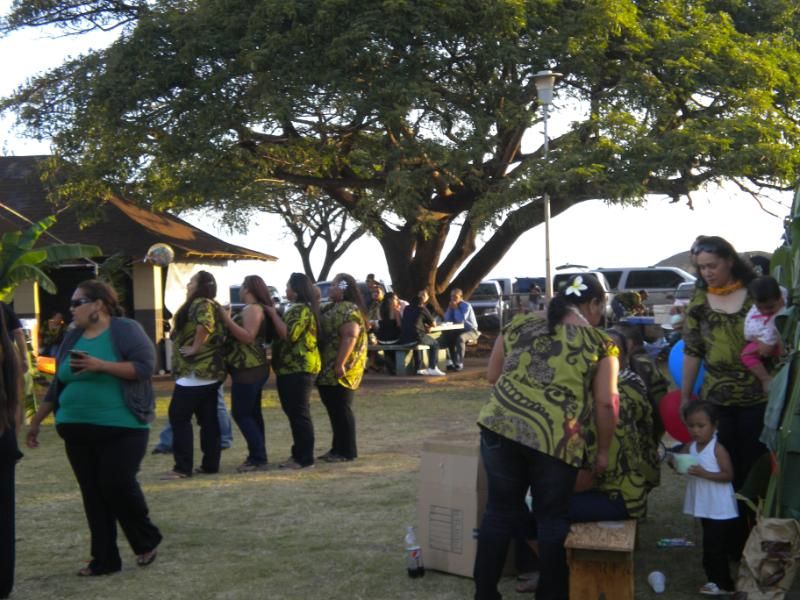 Another photo of the lu'au area - and yes, those green shirts are all Kanahele family members!

So....just a little taste late at night - tomorrow I'll share more from my iPhone!

Malama Pono (take care)
Janet
Posted by mich64 on Apr 1, 2012, 4:12pm
What a lovely party! I think the family wearing the same color shirt was an ideal way for guests to identify the family. It is a beautiful location for a party. I do hope you have some pictures of the food and will identify the kalau pig, lomi salmon, opihi etc.

Malama Pono!
Mich
Posted by liga on Apr 2, 2012, 1:06pm
wow, what an event! And I really appreciated all your remarks on different lei's! Thank you Janet! Oh I would love so much to visit the islands! But right now I have to concentrate and finish my thesis project for july! Later I would like to ask you some more questions about hula, in my free time I try to learn some basic things and understand the storytelling of the mele. Unfortunately here in Italy there is no way to learn it with a kumu hula, so I am doing a lot of self-teching with youtube videos. I love the old kahiko dance, but I could find some instructions only on more modern hula auana, and that's understandable because the circumstances and people involved are so different!

Liga


Posted by koloagirl on Apr 2, 2012, 6:04pm




I'm afraid that I didn't think to take a picture of my food plate at the pa'ina (party) on Saturday, but I've found a few pics that will show you what I was talking about hopefully!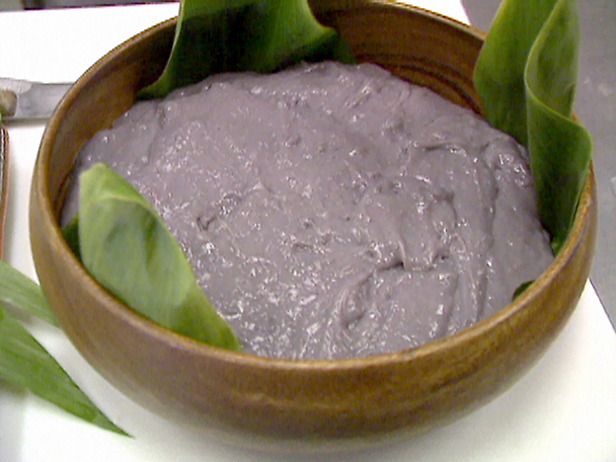 First of all - poi - the foundation of all great Hawaiian lu'au! Simply pounded taro and water and really ono (good) especially with salty foods!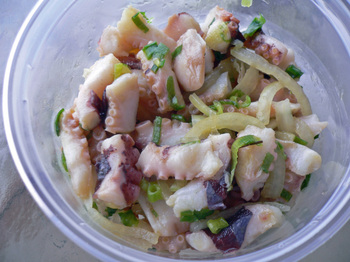 Tako poke - tako means octopus in Japanese and you usually hear it referred to that way here (altho' he'e is the Hawaiian word for octopus) - simply uncooked, diced octopus with onion and other herbs - tasty!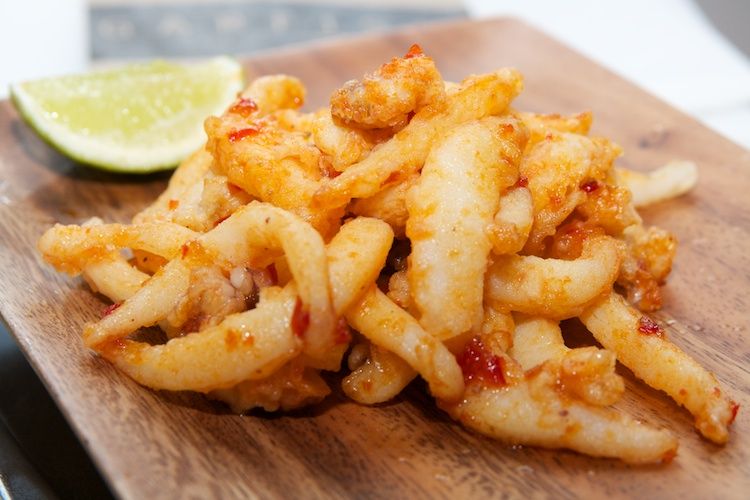 Fried ika - one of my favorites! I ate a lot of it on Saturday! Ika is the Japanese (again!) word for cuttlefish and it is also a favorite here.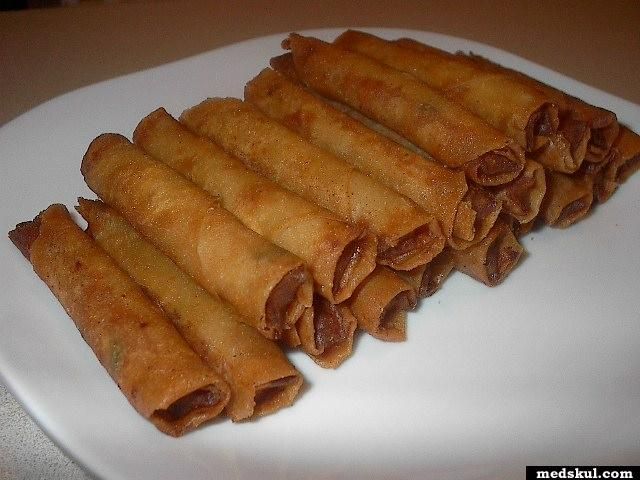 Lumpia - a Filipino spring roll basically. Interesting isn't it how we have so many multi-cultural things here that you see at a very traditional Hawaiian lu'au - all due to the plantation era when many races were brought here to work in the sugar plantations - now our foods reflect all these cultures.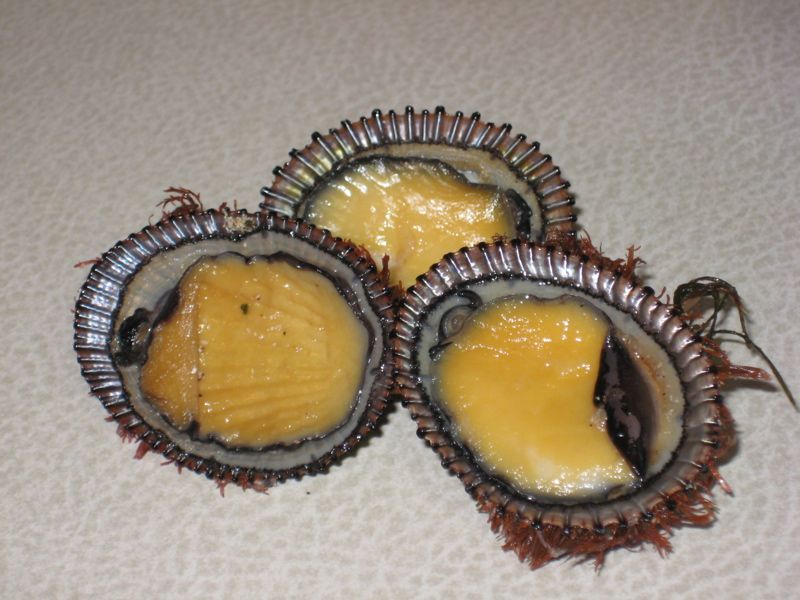 Opihi - a real delicacy here and if you buy it - very expensive! People have to go onto rock ledges along the ocean where these live on the rocks (they are a type of limpet) - many people have been killed harvesting opihi due to waves washing them into the ocean. The opihi we had at the lu'au was raw and uncooked, but you can also put it on a grill with butter and garlic and it is tasty that way too.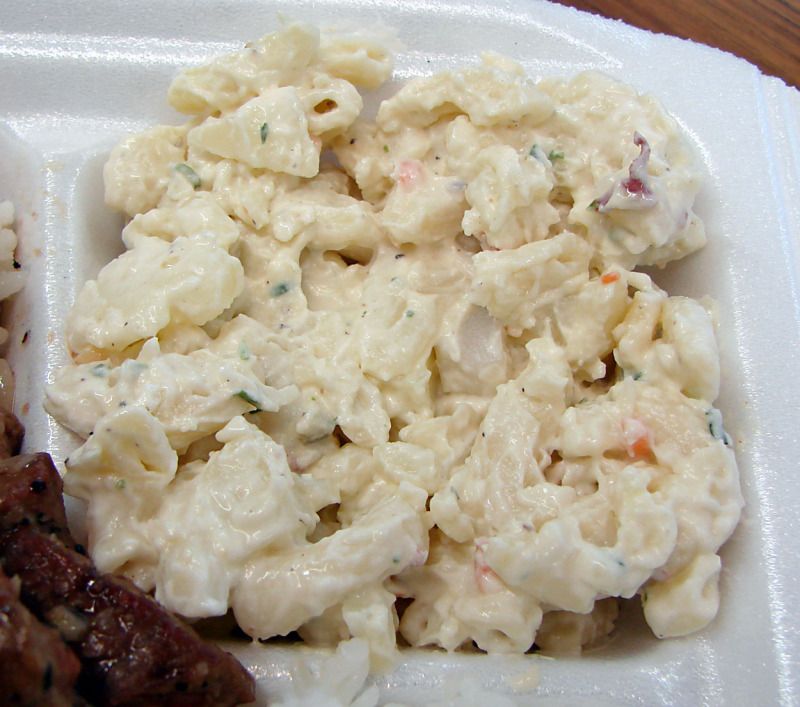 Potatomac salad - this is standard fare at lu'au as well as on plate lunches here (which are a mixture of things, always with rice and potatomac salad though!) - self explanatory - potato salad and macaroni salad mixture.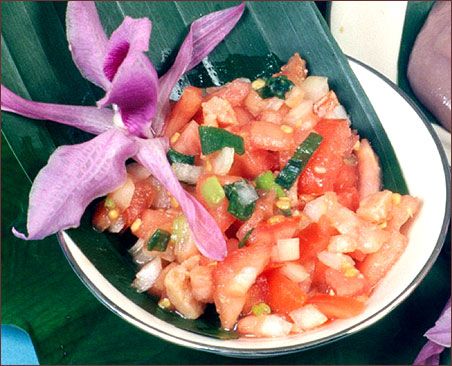 Lomilomi salmon - this is a real traditional Hawaiian dish - raw salmon, diced tomato, onion and spices - really tasty with poi on the side!

I don't eat meat, so the kalua pig (pig which is cooked in an underground oven and then shredded) and chicken wasn't part of my plate, but I'm sure it was ono for those who enjoyed it!

Hope this explains some of the foods that you find at lu'au like the one I went to on Saturday!

"liga" - learning hula in Italy would be very difficult indeed! I know there is a halau hula (hula school) in Paris, taught by a Kumu Hula (hula teacher) that is from O'ahu, but I've never heard of one in Italy I'm afraid. Learning via video is pretty impossible - and especially Hula Kahiko (which is sacred and never taught before one has mastered hula auana aka modern hula) - but in your situation I'd try to find videos that teach basic steps and work on that as your base. I wish I could recommend a video, but Kumu Hula (hula teachers) here generally don't approve of learning hula via video, so I am afraid I can't help you with that!

I've still got to download more photos from the pa'ina from my iPhone - so I'll try to do that in the next couple of days!

Malama Pono,
Janet
Posted by kerouac2 on Apr 2, 2012, 6:24pm
Everything except the poi looks wonderful. I will have to taste poi some day, because there must be some reason that it exists.

Posted by mich64 on Apr 2, 2012, 6:46pm
Thank you Janet for these photos and explanations!

I think I would like the Fried ika very much. Also, I would definitely try the opihi. The lomilomi alone sounds delicious, but I agree with Kerouac, and this would be a good dish to try poi.

Everything looks so good!

Is there a traditional drink at children's party? Or is it sodas, juices, water, etc.?

Cheers
Posted by koloagirl on Apr 2, 2012, 11:29pm
Aloha from Kaua'i!

"Kerouac2" - I'll have to bring a bag of poi with me in September for you! It is an acquired taste I guess - some people like it fresh - some people like sour poi, meaning you wait until mold grows on the inside of the bag of poi before using it! That is a little hard-core for me, but I like mildly sour poi!

As far as a traditional drink at lu'au - (real lu'au, not the commercial kind where they have mai tais!) - there were large cooler type dispensers that had water and "juice" - now juice here means anything that is fruit flavored - not real fruit juice! Fruit punch is super popular here as are other sugary fruit drinks - a popular drink here is "sprunch" - which is fruit punch and Sprite together. You can order it anywhere, even at the movies, or a fast food place, and they know what you are talking about!

The ohana who put on the party Saturday said it was non alcoholic, but let people bring in their own beer if they wanted - but they kept a very sharp eye out for over-indulgence, there were tons of keiki (children) around and it wasn't appropriate for inebriated adults to be there.

Malama Pono,
Janet
Posted by mich64 on Apr 2, 2012, 11:45pm
I agree that when the party if organized for a child and many children are present that alcohol be kept to a minimum.

The sprunch you describe is common here as well, not at the movies or fast food places, but at baby showers, wedding showers or family reunions, etc. Someone in the family usually has a large punch bowl that is up for borrowing and there are many recipes to choose from.

Cheers
Posted by koloagirl on Apr 3, 2012, 2:11am

Aloha from Kaua'i!

Well actually "sprunch" is not usually at the lu'au here - you are more likely to find what we had on Saturday, big cooler type containers with a spigot that are full of water or some type of fruit punch mixture.

But I can't imagine ordering a "sprunch" on the mainland U.S. at a fast food franchise or movie theatre and them knowing what the heck I am talking about let alone giving it to me! lol

Interesting that you have it in Canada!



Malama Pono (take care)
Janet
Posted by liga on Apr 3, 2012, 3:08pm
I will try not to break too many rules! So as far as it is auana I can try! I found on the web also a book "Unwritten literature of Hawaii - The sacred songs of the hula" by N.Emerson and as far as I have already read, it tries to explain the value and spiritual background of the dance.
I know that to learn from the videos is not the appropriate way, but that is the only possibility I have for now! So when I graduate I will definately move to a country where is a hula halau!

I could even try to come to the islands! ahaha, if there are not too many architects already!



This weekend I am going outside the city and I will try to make a lei from local green plants! I hope that I will succeed!
warm greetings!
Liga
Posted by koloagirl on Apr 3, 2012, 5:51pm


Aloha from Kaua'i!

"liga" - the book you speak of is a very good reference for background to hula - everyone here has it in their library if they study or teach hula! So that will be something very valuable for you!

I totally understand that you don't have access to any kind of training where you live, so my recommendation would be to use YouTube and other videos to learn hula basic steps like kaholo, hela, kiholo, etc. - since those are the basis for all hula and what every halau hula starts their classes with - no matter how advanced you are.

I look forward to hearing how your lei making project went - please post pictures for us!

I am going to be working at my Kumu Hula's Cultural Center here while she is on the mainland and then Japan - I'm going to be teaching "basic hula" to visitors and lei making - should be fun!

Malama Pono,
Janet
Posted by nycgirl7664 on Apr 4, 2012, 2:01pm
Wow, the food looks delicious! You made me hungry seeing the photo of the lumpia. I'm half-filipino and that's a dish I grew up with. I have lots of fond memories involving lumpia. I think it's neat that Hawaii has a multi-cultural cuisine.

About The Descendants, I haven't seen it yet but I want to, if only for the beautiful Hawaii scenery. I'll be sure to keep an eye out for your friend.

Posted by liga on Apr 6, 2012, 8:22am
Aloha e Janet!
Hi, I just dropped by to wish you hau'oli Easter,if you do celebrate it on the islands. And I wanted to ask one thing about the hula (of course

). I am doing the basic steps, and I have a small dilemma on the uwehe - I saw it done in two different ways - one just opening the knees, and one lifting them forward. Well, the later is a bit harder if you do it like a minute in a row. Can you explain me the difference?
Mahalo nui loa!
Liga
Posted by tod2 on Apr 6, 2012, 4:34pm
Koloagirl those dishes look simply lovely! I'm not sure if I could eat the raw stuff but the fried cuttlefish looks very similar to our calamari goujons. Spring rolls are always wonderful!
Thanks for showing us what some of the Hawaiian foods look like.
Posted by koloagirl on Apr 7, 2012, 7:22am




Aloha from Kaua'i!

"liga" - the difference between an uwehe and and uweke is that when you open your knees, it is called uwehe and when you just lift them forward without opening them, it is an uweke.

As you probably can tell, opening your knees is interpretive of a number of things - in some dances it isn't appropriate to do the open knees move, and then you do uweke instead. When a Kumu Hula choreographs a dance, these are things they take into consideration.




Cuttlefish is very popular here, we eat it dried (hot and spicy or plain) as well as in a dish called taegu, where it is in hot oil with chilis - and the fried ika that I have the photo of.

It is soo tasty, but it makes your breath hauna (stink!) like a dragon for awhile - Altoids are your friend afterwards!

Malama Pono (take care)
Janet
Posted by liga on Apr 10, 2012, 12:56pm
Hi Janet!
I did my first lei! And it looked quite nice, although I had difficulties to end it, I used wili technique and when I arrived to the end I didn't know what to do how to tie the ends together so that they make an uniform round lei. So I masked the isnides of the lei with a latvian easter adornment - our dyed eggs.
The other thing was that while I gathered the plants and brought them home they were already "gone soft".... I made the lei a day before and stored it in fridge sprinkled with water in a plastic bag.
Today I will try to make a haku lei with a braided base... It is going to be an experiment, cause I have absolutely no idea how to make one....I have two palm tree leaves, I deboned them and made in to strips.

Any practical suggestions are more than welcome!



Liga
Posted by tod2 on Apr 10, 2012, 2:11pm
Before Janet sees this magnificent arrangement , let me congratulate you on a most beautiful table adornment Liga!
Posted by liga on Apr 10, 2012, 4:02pm
thank you!!!

Posted by kerouac2 on Apr 10, 2012, 4:43pm
That is lovely, liga. All of the plants you added are great.
Posted by koloagirl on Apr 11, 2012, 5:39pm




Aloha from Kaua'i!

What a lovely lei - from what I can see, you did a wonderful job and used beautiful items to create it!

It depends on the type of flowers, ferns, etc. of course, but in general, you should store items to make lei in a plastic container in your fridge - place a damp paper towel over the items to keep them fresh (some things last for a bit, some don't, you'll just have to experiment with your local flowers, etc). Make sure they aren't "wet", that is never a good thing for storing lei or flowers.

One of the beauties of a lei is that it is a very temporary thing - they aren't meant to "last" (for the most part) more than a day or two - and the giving of one is the beauty of it. One of the most popular lei here is the plumeria (or frangipani as it is known elsewhere in the world) - which has a glorious scent and make a beautiful lei - but it is a "one day lei" and sometimes you see visitors who received one wearing dead blossoms on a string around their neck - kind of sad!

Great job - I worked at our Cultural Center last week (and tomorrow actually) and made about 4 lei from plumeria, orchid and bouganvillia - I just kept them hanging in the window and "spritzed" them often with water - at the end of the day the ones that hadn't sold, I took home with me, because they would be "pau" (over) by the following one!

Keep us up to date with pictures of your lei - I'll try to remember to take some pics tomorrow at the Cultural Center when I'm making lei there and share them here!

Malama Pono,
Janet
Posted by koloagirl on Apr 15, 2012, 9:40pm

Aloha from Kaua'i!

Last nite was the final nite of our huge hula competition -"Merrie Monarch" from Hilo, Hawai'i. This is the most prestigious hula competition in the world - carried live all 3 nites here in Hawai'i.

This year one of the halau hula (hula schools) did a "Paris" themed hula auana (modern hula) - watch this as it even has a section that they dance to "La Vie En Rose" in Hawaiian language!

http://www.youtube.com/watch?v=5mfSCpy-n6E

Can't stress how big this is here, everyone who loves hula here (and that is a majority of people) watch this all 3 nites - it went very late last nite because they gave out the awards - and a halau hula from Kaua'i came in 4th place - it was their very first time competing at Merrie Monarch, so the cheering from here was HUGE when they announced it!!!

Malama Pono,
Janet
Posted by kerouac2 on Apr 16, 2012, 5:22am
Now that is certainly an unusual theme for a hula, and I love "La Vie en Rose" played on a ukelele! If I had been in charge of costumes, I think I might have put little Eiffel Towers on their dresses, "Hawaiian shirt" style, of course.



Who is the man in the framed black and white photo in the background, wreathed in flowers?
Posted by liga on Apr 16, 2012, 9:43am
yeah! I saw all the competition online! It took me to wake up for 3 mornings at 5 a.m., but thank's to kfve I witnessed this marvelous event at the same time!



p.s. on the first night during miss Aloha Hula kahiko part, there was a mele called Italy!

Posted by koloagirl on Apr 17, 2012, 2:44am

Aloha from Kaua'i!

"Kerouac2" - the photograph bedecked with lei at the competition is of King David Kalakaua - who is known as the "Merrie Monarch" and who was responsible for bringing "back" hula to the public at his coronation in the late 1800's. Prior to that the missionaries (who arrived in 1820) had banned hula as being "obscene" and while it never went away (it was practiced "underground") - King Kalakaua had many halau hula perform at his coronation.

So, he was known as the "Merrie Monarch" (he liked a good party!) and this hula competition is named in honor of him!

Wonderful 3 days of competition - I never got to bed before midnight any of them in order to watch it live on TV!

Malama Pono,
Janet