Topic Summary
Posted by kerouac2 on Apr 22, 2009, 6:14pm
One of the most interesting things about this new century (and the final decades of the last one) is the desire to transform old industrial buildings into new uses, and to finally see the beauty in some of these constructions.

In Paris, there are at least two major industrial zones that have been transformed into noteworthy sites.

One is the on the southern edge of the city in the 13th arrondissement. A whole new university campus was created from the big factories there, and I consider it to be quite spectacular.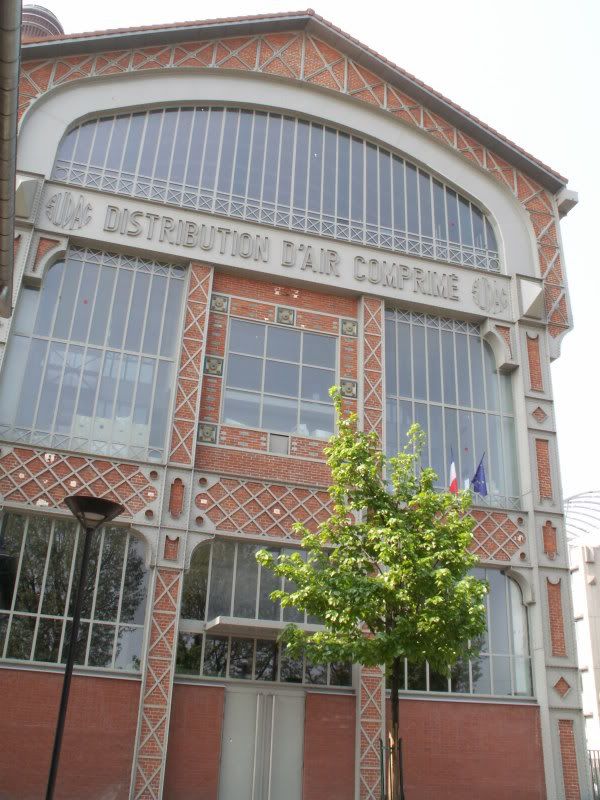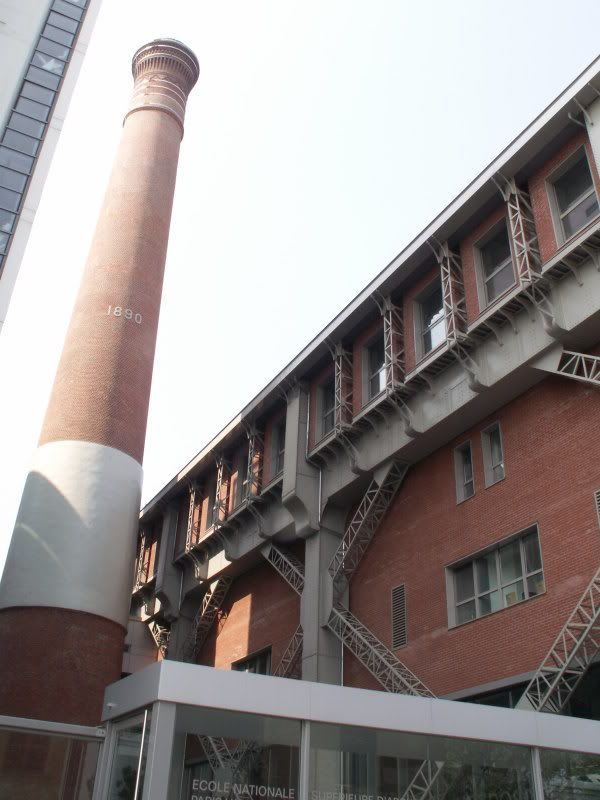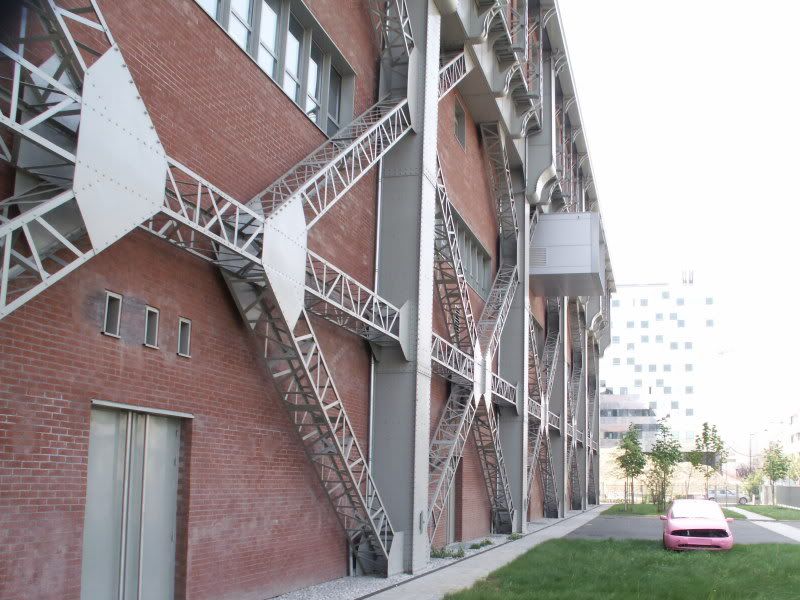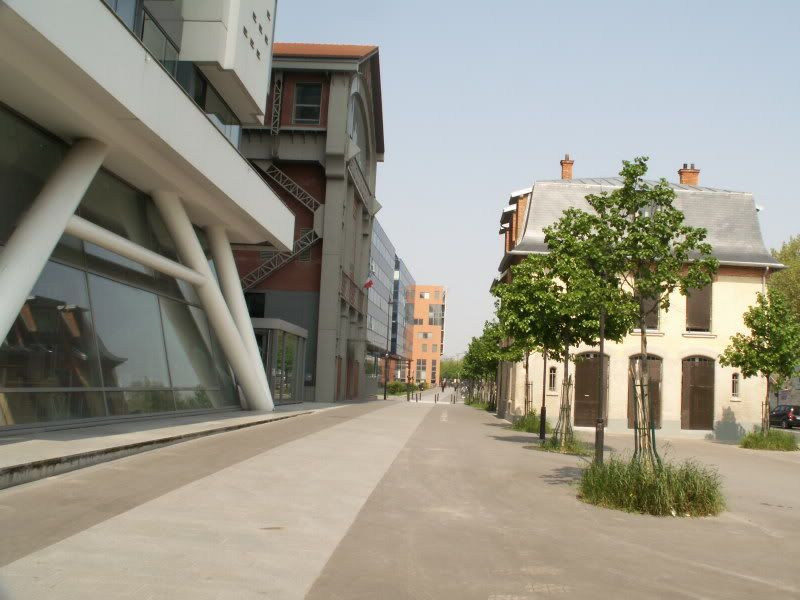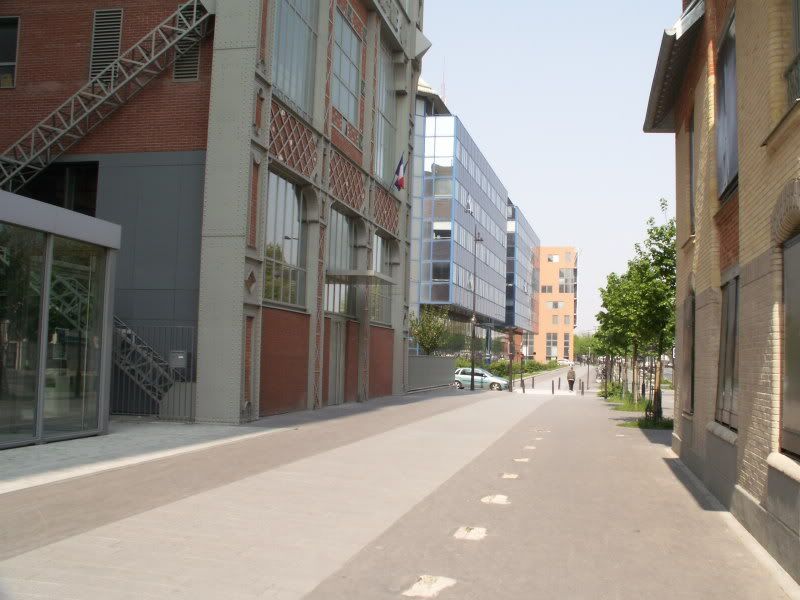 The biggest university building is the Grand Moulins de Paris, a giant flour mill.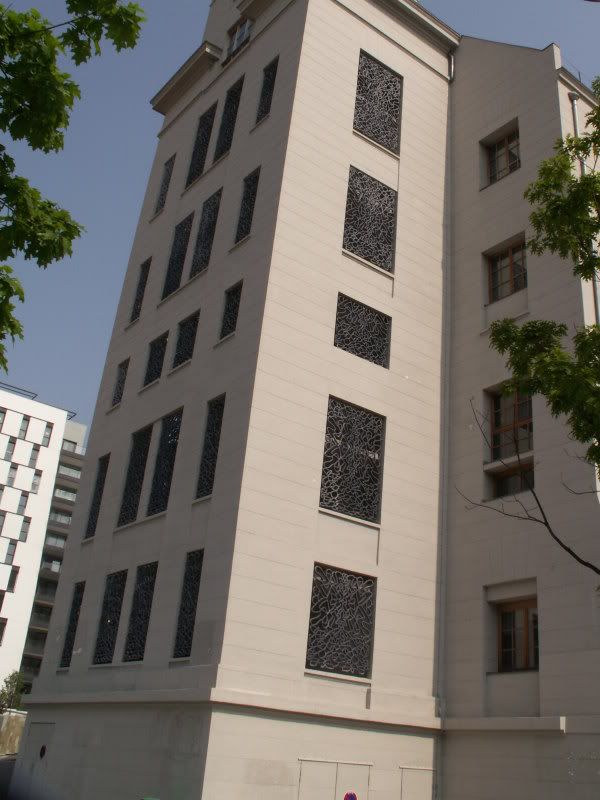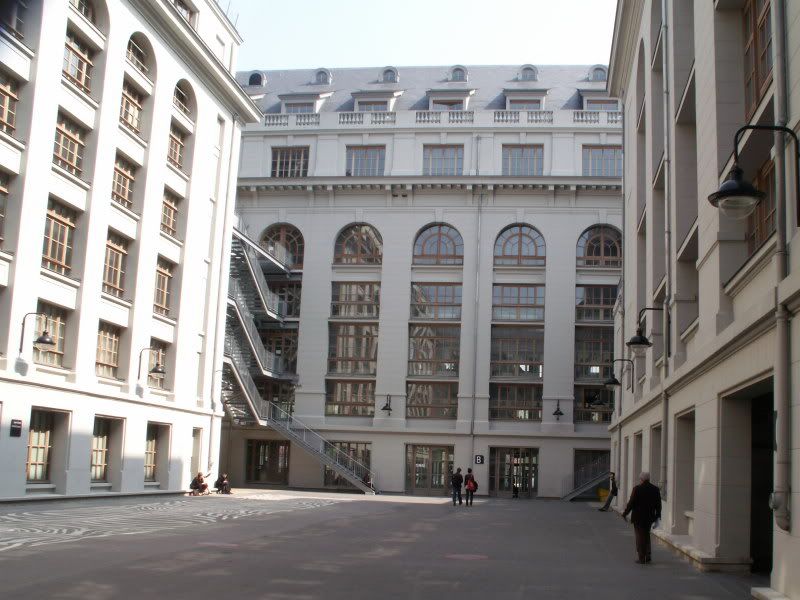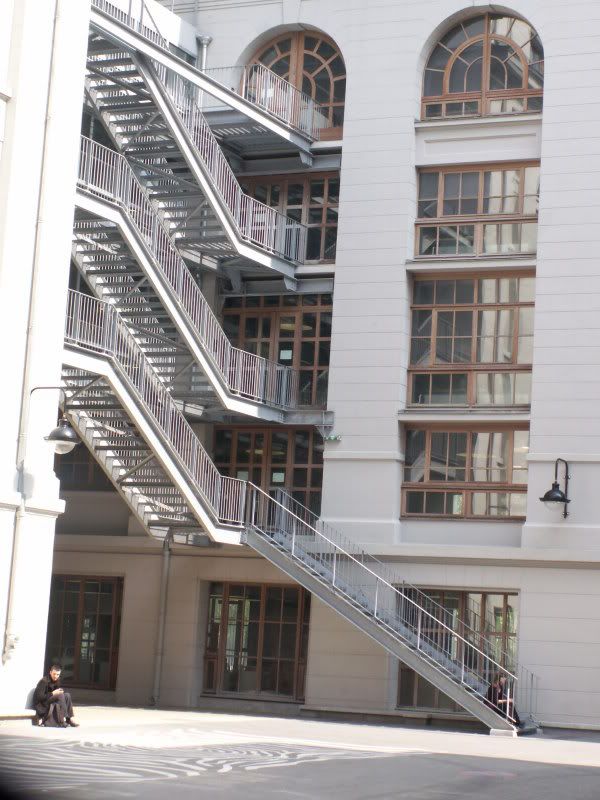 Meanwhile, in the 19th arrondissement at Porte de la Villette, there was a huge abandoned 19th century warehouse zone. It has in recent years become one of the most chic addresses for corporate headquarters, for example Club Med.




There was a major fire about a decade ago that wiped out some of the warehouses (while they were still abandoned). New buildings have been built in the same form.




However, almost all of the zone is old and authentic. I would personally love to work in such a setting. Note the outdoor café n the other side of the bridge.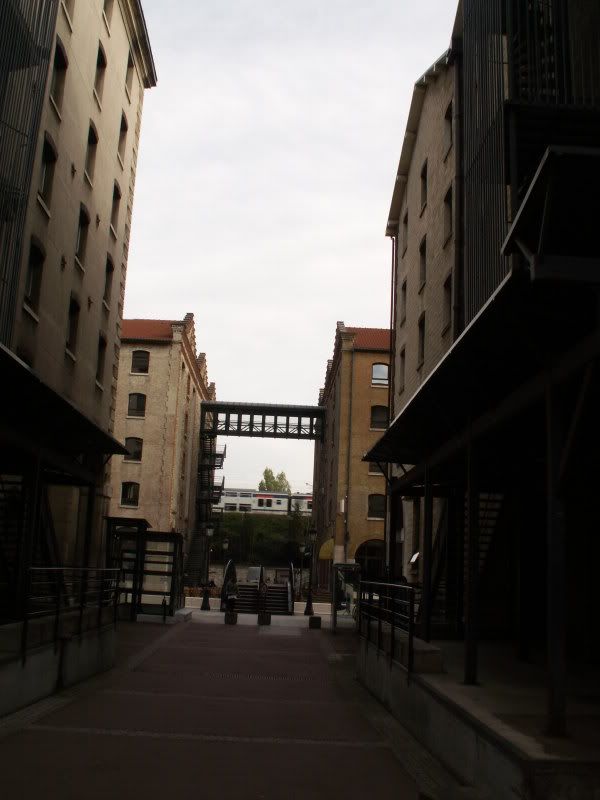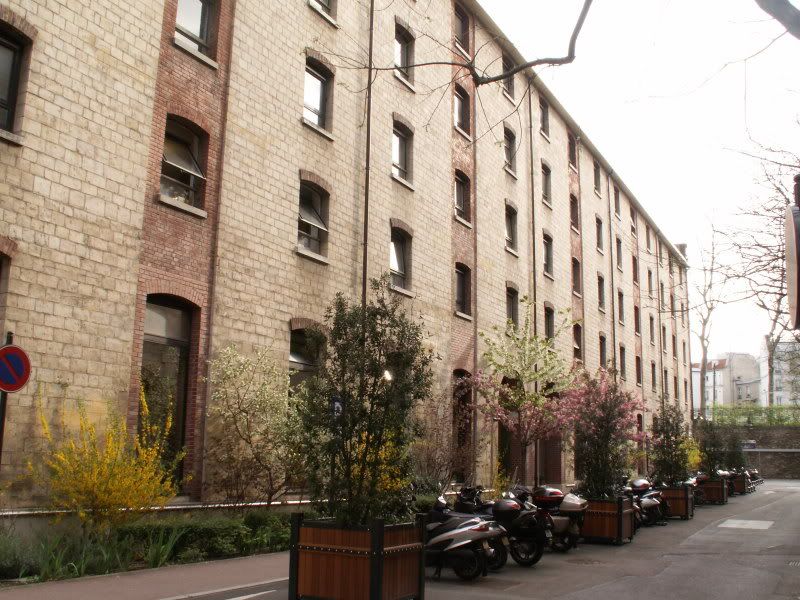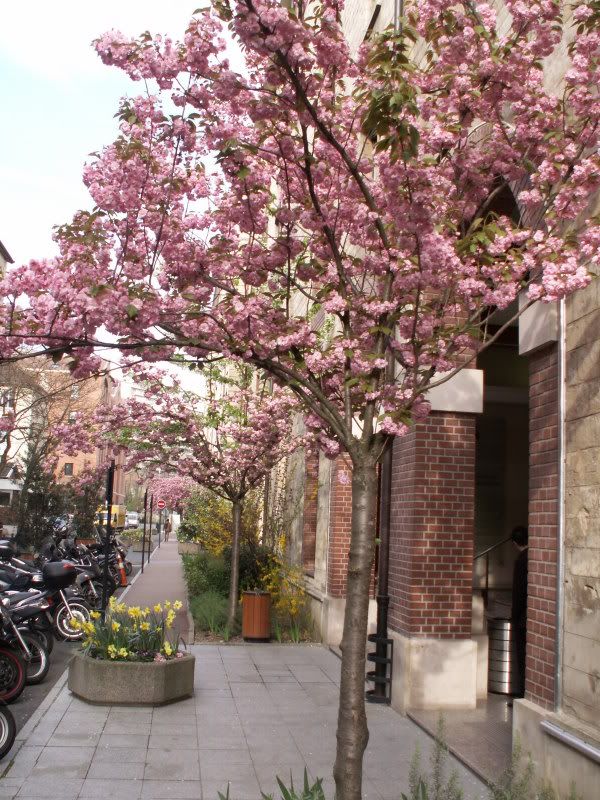 My photo of this tree was not a success, but what was interesting about it is the fact that both types of flowered branches are on the same tree, due to grafting.




Unfortunately, they were doing seasonal repairs on this decorative pond, which was actually a former arm of the Canal Saint Denis, so that goods could be shipped in and out on the canals.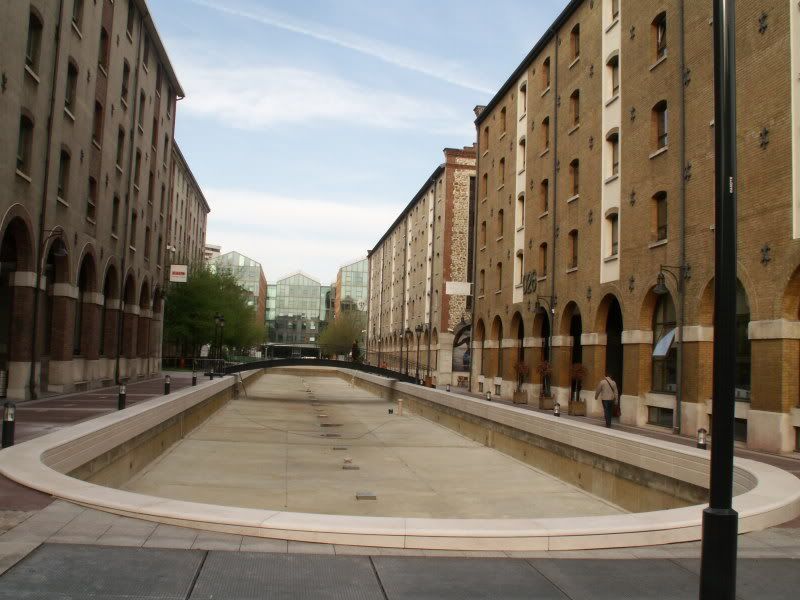 The exit to the canal has been walled up, but some artwork allows people to dream of escaping to a more bucolic world.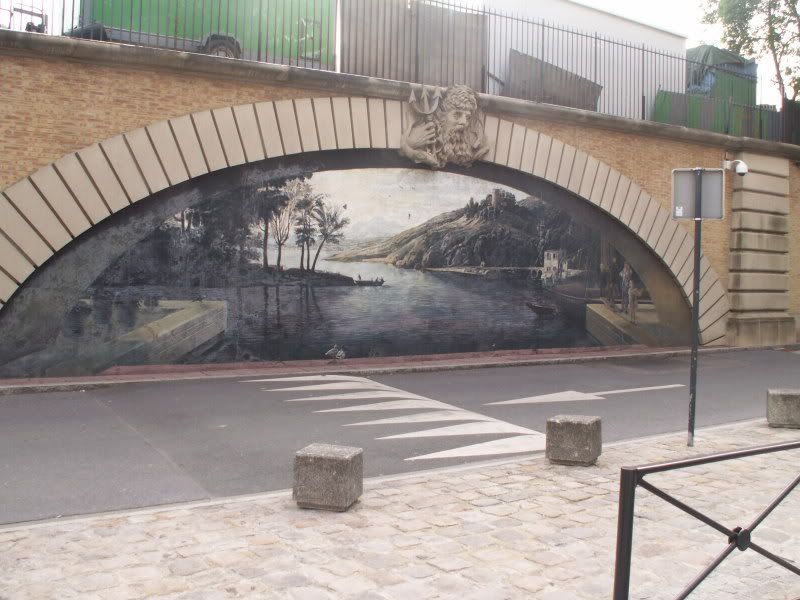 Frankly, I suspect the sculpture of being a recent addition, probably paid for by Club Med, whose corporate symbol is Neptune's trident.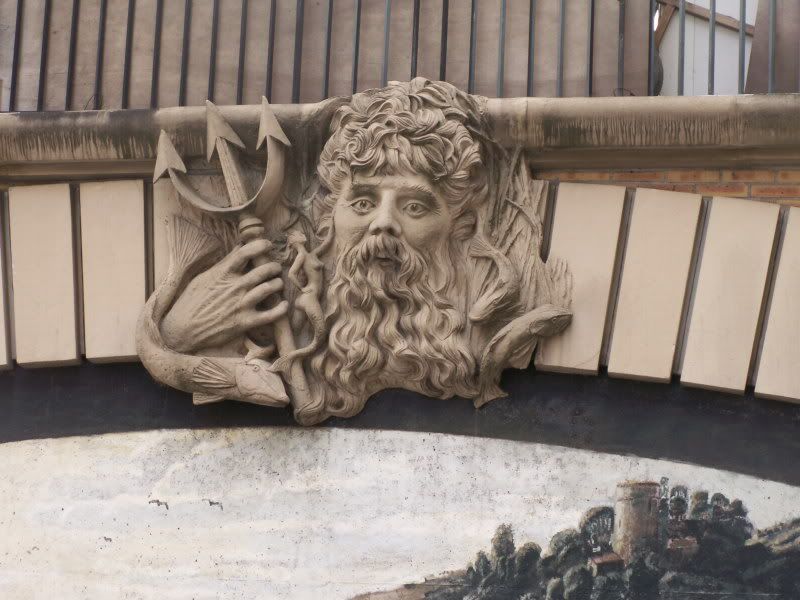 On the Canal Saint Denis side, the former opening is much less poetic.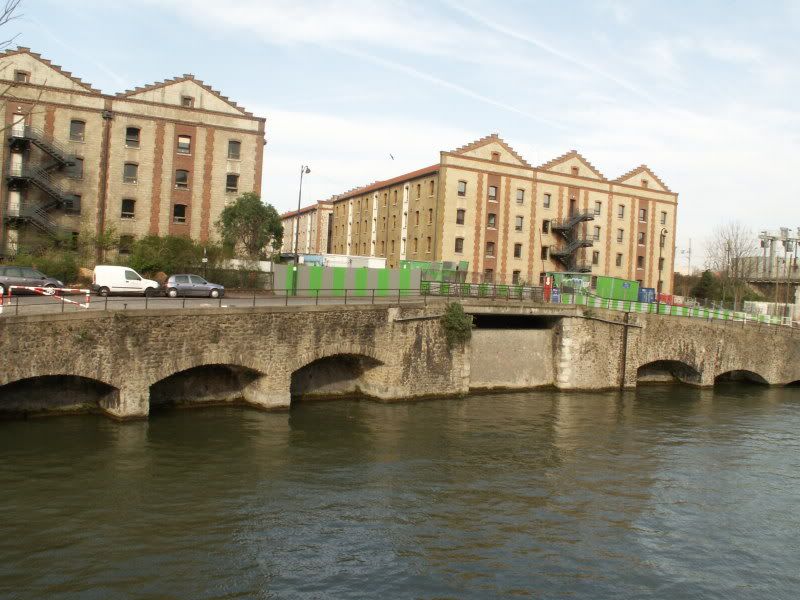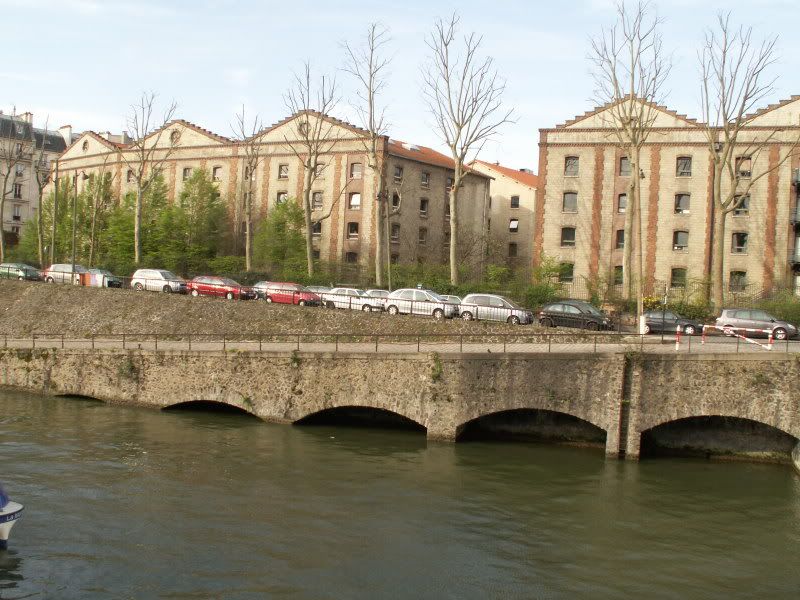 Posted by jazz on Apr 23, 2009, 6:30pm
These are great photos of transformation and the enhancement of what already exists. I was completely unaware of the university and like what they've done. I love the windows in the 7th photo and wish I could see a close up. For some odd reason, they remind me of the windows of the Arab Institute.

Along the Canal Saint Martin is one of my special areas and I would love to work and/or live there. I think I have seen some of these buildings, but they may have been in a state of process? Love the mural, I definitely didn't see that!

One part of Paris that I wish they had left untouched is the complex of beautiful glass buildings of the old market of les Halles. I can understand moving the market itself to the suburbs, but the buildings were exceptional. There are few photos online, but I have seen wonderful shots in books.

Here is one, but it isn't great,


Posted by kerouac2 on Apr 23, 2009, 6:52pm
One of the market pavilions from Les Halles was bought by the city of Nogent-sur-Marne in the suburbs and reassembled there.




It is used as a television studio and its current claim to fame is as the home of the wildly popular program "Nouvelle Star" -- known as "Pop Idol" in the UK and "American Idol" in the United States.

Here is what the inside of the building looks like now:

http://www.youtube.com/watch?v=d7OchtJFhyY
Posted by lagatta on Apr 25, 2009, 1:02pm
I love these; I'd been to La Villette several times for conferences and the European Social Forum, where I was interpreting.

L'air comprimé, was that for that very quick postal delivery service within Paris decades ago?

I was also very sad about the demolition of Les Halles. Yes, I agree that the actual wholesale food distribution for a city/region the size of metropolitan Paris had to go outside the city centre, but they should have kept the buildings and renovated them. Nowadays I think they would. Le Forum des Halles is rather a depressing place. I believe Les Halles de Saint-Denis (the suburban town north of Paris) are currently undergoing renovation?

I'm not as familiar with the southern edge of Paris - will be visiting Denis Diderot. Those complexes are very cinematographic. Does the new tramline within Paris rune near there?

Neptune does look modern, upon close scrutiny of some particulars (especially the body and pose of the little nude siren), but the bas-relief works, as there are many such sea gods and goddesses under bridges along the Seine and other waterways round Paris.
Posted by bixaorellana on Apr 25, 2009, 6:04pm
Hope it's okay to add to this thread with transformations from other places.

This is a former textile factory in a town outside of Oaxaca. It's been made over into an arts center. What doesn't show well in the photo are the areas on either side of the stairs. Those are shallow fountains with red-tinted water.




Those two pictures were stolen from this blog, which also contains photos of the interior & landscaping of the former factory.

The person responsible for the above transformation:

" ... Francisco Toledo, the celebrated Zapotec artist known for his folkloric prints and paintings, ... has made Oaxaca's cultural well-being his top priority for the past two decades. Almost every cultural institution downtown is somehow connected to Toledo; he has an unusual habit of buying and restoring historic buildings, living in them for a while and then donating or lending them to the city for use as cultural centers, as well as providing a monthly endowment and, often, a major chunk of his personal art collection.

Among Toledo's former residences are the Institute of Graphic Arts of Oaxaca, a graphic-arts gallery and workshop (to which he donated his collection of 18,000 graphics and prints, and thousands of art books); and the Manuel álvarez Bravo Center of Photography, a photography museum that also houses a music-listening library. Toledo also helped found the city's Museum of Contemporary Art; the six-acre Ethnobotanical Garden, which spotlights indigenous plants from all over Oaxaca; a papermaking cooperative and art school in a textile factory outside the city; and Pro-Oax, a nongovernmental agency that fights to protect and preserve the city's natural and historic treasures."

Rest of above article can be found here.

Posted by kerouac2 on Apr 25, 2009, 6:13pm
On the contrary, this is the perfect place to add more photos.
Posted by bixaorellana on Apr 25, 2009, 6:41pm
Thanks. Here's the Museum of Contemporary Art in downtown Oaxaca. Very colonial outside, spacious and timeless within. I saw the exhibition in the last photo, and the figures were immense. They worked perfectly in the huge open courtyards.


detail of painting around doorway here
Posted by jazz on Apr 26, 2009, 7:06pm
That is a beautiful museum. Another good example of the transformation of industrial architecture is the creation of the Distillery District in Toronto. The original Gooderham and Worts distillery was founded in 1832 and by the late 1860's it was the largest distillery in the world. This complex covered thirteen acres of land near Lake Ontario. Here is a painting by Arthur Hider, 1910,




The distillery had its own train station and windmill, but these no longer exist.




Then, slow de-industrialization and the winding down of the distillery operation led to the area becoming increasingly derelict. The area had lost its vigour and few people went there except for film companies for whom this was golden...most of the buildings were untouched, in good shape and much of the machinery was still there. I have often worked at Gooderham and Worts.
Posted by jazz on Apr 26, 2009, 7:23pm
Cityscape Holdings bought the entire complex in 2001 and created the Distillery District. It is considered to be the best preserved 19th century factory complex in Canada. Most of the buildings were intact and in very good shape, thus little was changed. The new owners refused to allow chains or franchises to lease. Instead they created a complex of cafes, restaurants, art galleries, artists' studios and a theatre. Here is their website, http://www.thedistillerydistrict.com/index.html




the theatre,

Posted by bixaorellana on Apr 26, 2009, 8:00pm
I think this is one of my favorite photo expositions ever! After viewing the ruins of Detroit, it's encouraging to see all the beautiful buildings her being appreciated and used.

Gorgeous building in that distillery complex, Jazz! I love that chains & franchises were kept out of The Distillery District.

The various transformations of the warehouse buildings in Paris are phenomenal.
Posted by jazz on Apr 26, 2009, 8:03pm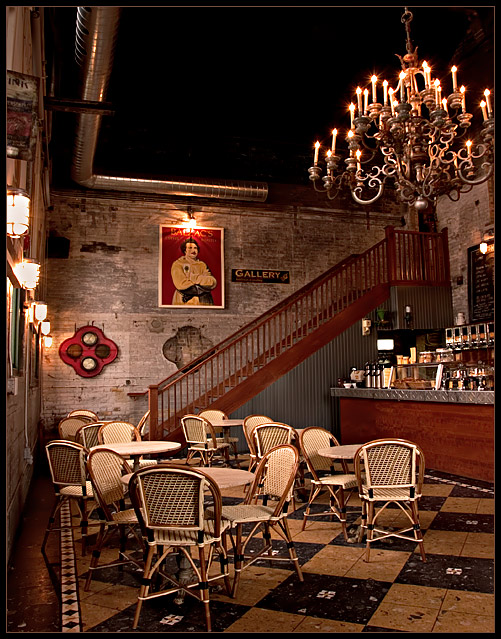 Posted by kerouac2 on Apr 26, 2009, 8:28pm
That last building looks very much like the ones in the warehouse district in Paris.

Do you have a camera, Jazz? I'm sure you could find lots of pertinent things to photograph around town. Maybe not the CN tower.
Posted by jazz on Apr 26, 2009, 9:02pm
Yes, I have a camera. My problem is that I am still avoiding how to learn to use Photobucket. There are some great shots of Toronto that I could take and I currently have good shots of Turkey, Paris, Provence and my garden. I often put off tech learning forever, then am embarrassed at how easy it is.
Posted by kerouac2 on Oct 26, 2011, 7:13pm
I really need to add more stuff to this thread some day, if only to link the Cent Quatre and some other stuff! And I'm sure that other people have some industrial buildings to add.
Posted by cheerypeabrain on Oct 26, 2011, 7:51pm
A lot of factories in the city centre here have been converted into luxury appartments...I must try to get some pics.....

The images on here are very interesting, some of these buildings are really quite beautiful.
Posted by bjd on Oct 27, 2011, 8:34am
I'm glad to see this thread revived. I had forgotten about it. One day I'll go take some photographs but in the meantime, this is the former Manufacture des Tabacs in Toulouse, now part of the University.


Posted by bixaorellana on Nov 15, 2011, 7:00am
This is different!

Enormous Nazi bunker:



is to be transformed into Europe's largest renewable energy power plant.
Details:


here w/pics

and also

here w/video

and

here w/slideshow & diagram
Posted by bjd on Nov 15, 2011, 8:02am
That reminds me of the old anti-aircraft towers in Vienna -- flakturme. They were too big and costly to remove, so the city tried to make some use out of them. One is an aquarium, another is a climbing place. They just stick out in the city -- very strange.

I found a picture of this one

Posted by bixaorellana on Nov 15, 2011, 4:15pm
I had no idea about these things, Bjd. The three links I listed make no mention of the other converted Flaktürme (Flaktürmen?). The aquarium conversion looks pretty good except that you'd think they would have removed or disguised the Mickey Maus ears.
Posted by bjd on Nov 15, 2011, 5:54pm
I hadn't known anything about them either, until we went to Vienna and spotted these massive concrete things in a few places around the city. Obviously the Austrians don't go around talking about them -- that would remind people that Austria was not so clean during the war. And now it's all Mozartkugeln and cafés, waltzes and students dressed in 18th century costumes selling concert tickets to tourists.

I did find this page about flak towers in Vienna and some German cities:
http://www.german-architecture.info/GERMANY/TEN/TEN-NS-13.htm