Topic Summary
Posted by spindrift on May 14, 2009, 8:51pm
Although the best part of a week must be spent in Kathmandu where international flights arrive, then Pokhara - Gateway to the Annapurnas, we finally fly into Jomsom (2800m) to start our long trek into the ancient Kingdom of Lo.

Taking off from Pokhara's tiny airport we fly north towards, and then through, a narrowish gap in the mountains between the giants Annapurna (8000m), on one side and Dhaulagiri on the other. We make the hair-raising landing into Jomsom - the only flat strip in the entire area.
l
We arrive on a Gorkha airline flight. Nilgiri (7061m) looms behind us.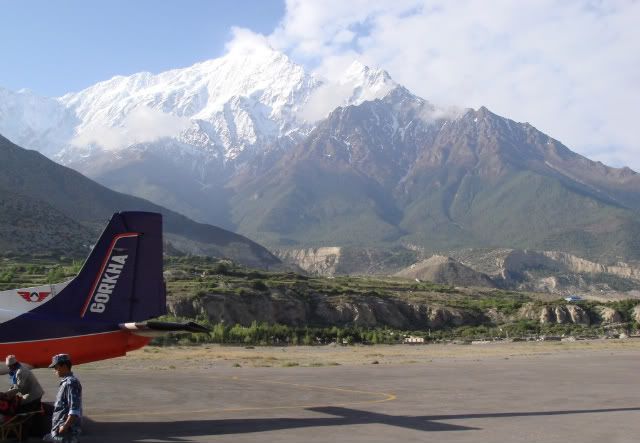 Unaccustomed to the sudden change in altitude we stagger to a nearby inn for a sit-down, coffee and a chance to sort out our baggage for the forthcoming trek. Our guide goes off to fetch our mule train and the horse I have reserved to help me on this most gruelling of treks. One chap in our party becomes disdainful when he sees I'm getting a horse to ride; 'Oh, he says, a trek isn't a real trek unless you walk all the way'....but I know better than he does and within a day he is begging to borrow my horse.

We spend the night at the frontier village of Kagbeni (featured in another thread) then start out bright and early the next morning down the riverbed of the Kali Gandakhi river. You can see there is not much water during the month of April because glacier melt has not yet started; but by the middle of May when we return we find the river has widened to a frightening degree - and there are no bridges.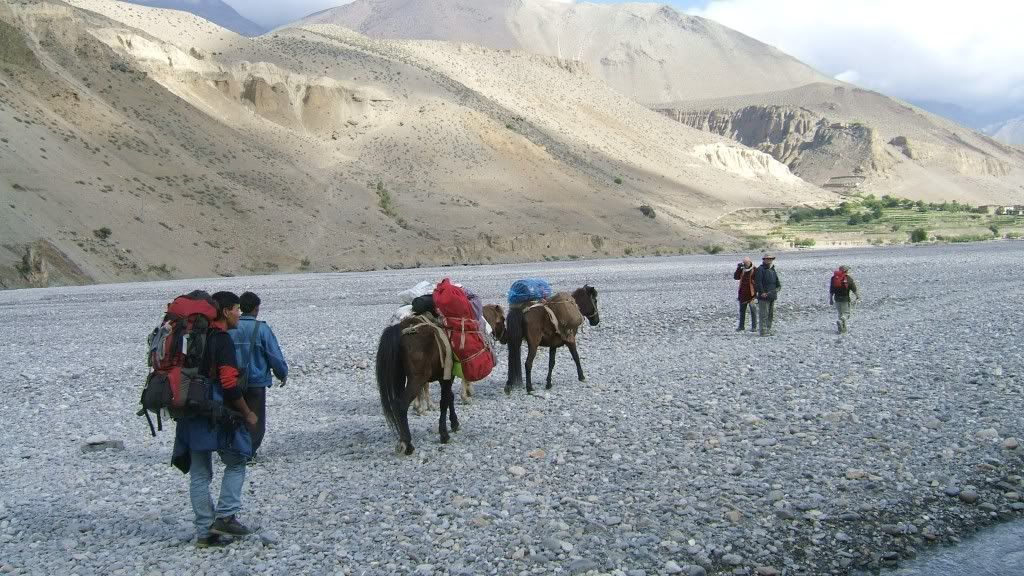 Today we are heading for the village of Tangbe (3060) where we will stop for lunch. When we approach villages we always pass the chortens.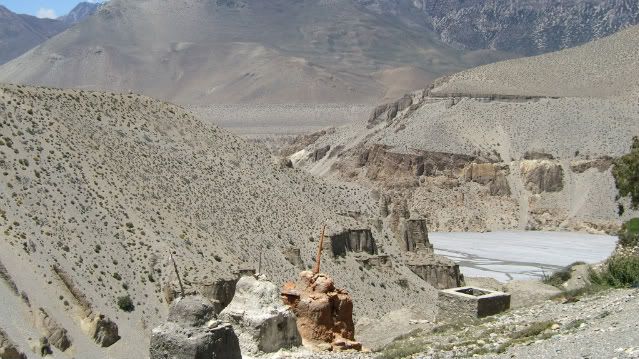 Here is a picture of the main street. Most Tibetan/Nepal village houses are painted in these beautiful natural colours.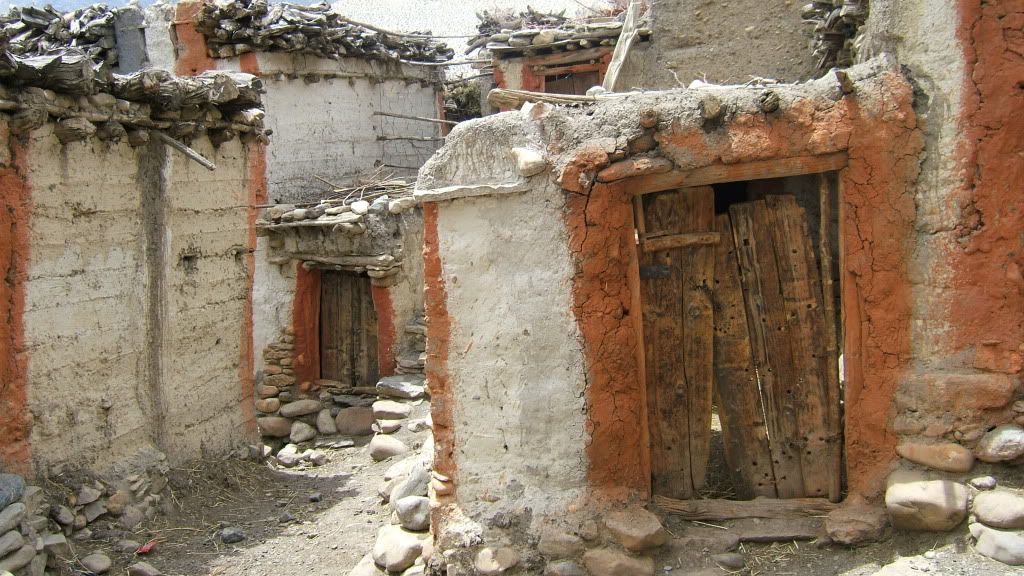 Posted by spindrift on May 14, 2009, 9:04pm
Our guide has arranged to take us to a village house for lunch. This means that our trek cooks will prepare our lunch in the courtyard of the house and serve it to us in a room set aside for our use. It is indeed most interesting to be inside a Tibetan house. All these houses have flat roofs which are put to full use for growing herbs, stacking wood and putting odds and ends. Sometimes there are rooms built on top of the roofs. At the end of the trek I get to stay in one such room. Here is a typical roof.
From it you get to see everyone else's roof.




I find home-spun and dyed balls of wool that the lady of the house has prepared. The yarn would be from yaks or goats.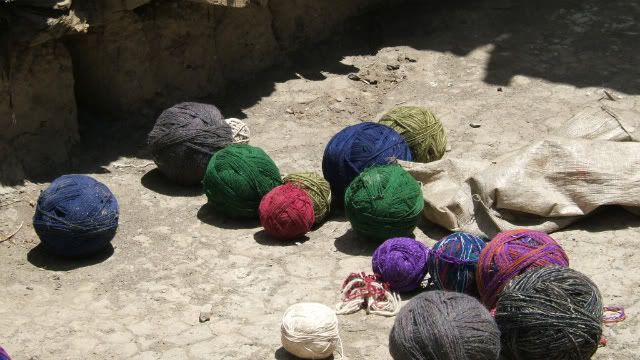 Here is the lady of the house.




Another street. Ahead are our horseman and the young horseboy we will later 'adopt'.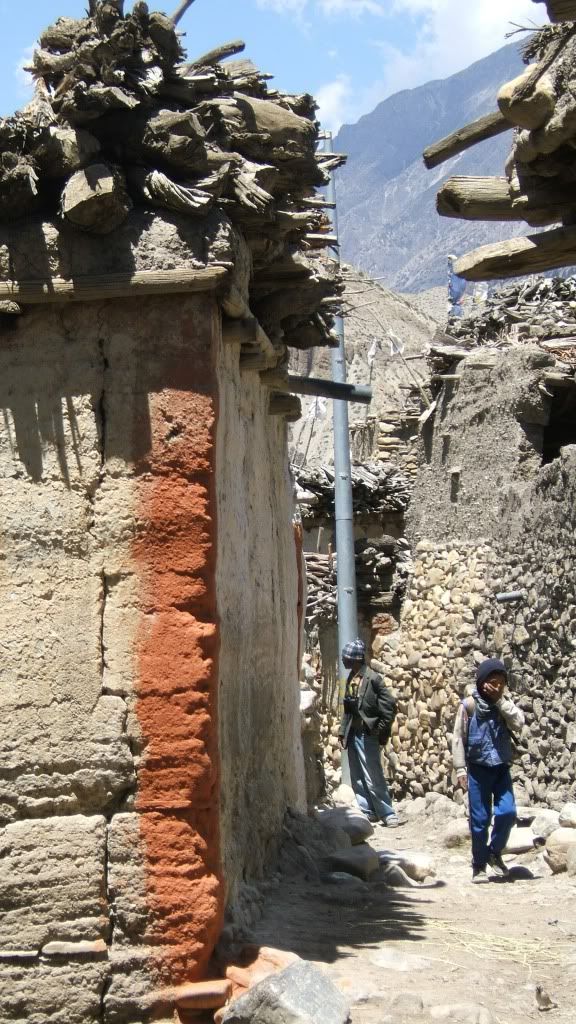 This gives you an idea of how the animals are kept.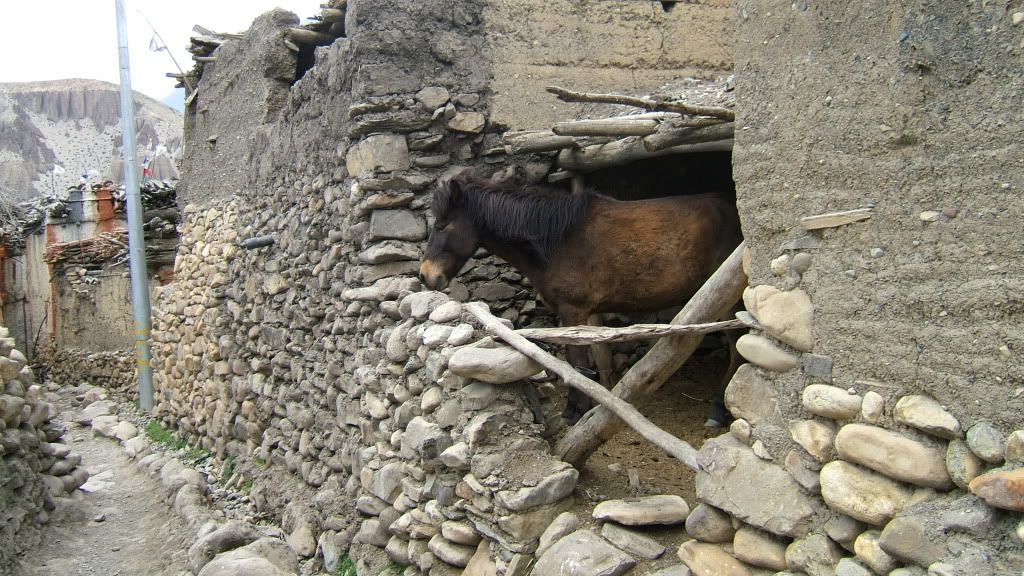 Winter is so cold in this region that all animals must be taken inside. I hear that the young leave their villages and descend to lower altitudes (probably to Pokhara) where they stay until the spring, leaving old people and animals behind to endure the winter as well as they can.

The next stop will be Chele (3100m) where we will stay the night.

(to be continued)
Posted by bixaorellana on May 15, 2009, 12:14am
There are not enough superlatives to do justice to this picture story, Spendrift! I can see how the sight of Nilgiri is worth any amount of money, time, and effort. Is Jomsom the landing strip you told about before -- the one where several planes and people are lost every year?

The next three pictures perfectly illustrate why that area can be called "the roof of the world". It's bleak magnificence is beautiful in its own way.

The houses and rooftops shocked me with their primitivism. I suppose making & preserving clay brick is immensely difficult in that climate. The cheerful balls of yarn make such a wonderful picture. The yarn and the lady's clothes & house show a real desire for color and life. She looks fairly young, but her poor hands tell a different story.

This is a place I will probably never visit in this lifetime, but which I find endlessly attractive. Thank you so much for this view of it. Can't wait for the next installment!



Posted by kerouac2 on May 15, 2009, 4:59am
Magnificent photographs. It would be difficult to find any much more primitive than that. I would imagine that there is very little variety in their diet as the region does not really lend itself to agriculture.
Posted by spindrift on May 15, 2009, 6:52am
Bixa - no - the really dangerous airstrip is in the Everest Khumbu region and it's called Lukla. That's where planes have to land on a strip running into and up the mountain.

The dangers of landing at Jomsom entail flying through the gap between the Annapurnas and Dhaulagiri with the river Kali Ghandaki in a deep gorge far beneath which creates immensely high winds that rage up from the plains of India and funnel into the gorge. Landing at Jomsom can only take place from dawn until 9am.... or until the wind 'gets up' anew each morning. People wait for their flights at Pokhara airport never knowing whether the flight will go out that day. It all depends on the wind. Many come to grief and miss their international flights home simply by getting stuck for days at Jomsom waiting to get out on a flight. I've been stuck there myself for days. The winds blow so hard that it's hard to walk upright in the little main street and there is nowhere to go except Jomsom museum or have the occasional coffee and apple pie.

It's all exciting stuff to me.

Kerouac: yes Upper Mustang could be termed as very primitive. Once the border is crossed from Kagbeni into the Mustang protected area it's as if the clock has been turned back a thousand years. There are only tracks and narrow paths (no roads as yet), no telephones (unless satellite), no shops, no banks, no piped water, no oil, no glass items or items in tin for sale..little perspex (you can buy bottled water)...not much is imported unless it's from neighbouring China. Mustang is surrounded on three sides by Tibet (under Chinese domination). The Tibetan way of life only truly exists, unadulterated, in Mustang...since Tibet has been changed forever by the incursion of the chinese and the imposition of their way of life.

The bricks for house-building are locally made and dried in the sun. I'll post a photo of new bricks. They are enormous. I tried to lift one and could not.

Paint colours are mixed in special large outdoor troughs.

Another point I should mention is that the main village of Lo Manthang is at an altitude of 12,500ft, in fact once in upper Mustang we are on the Tibetan plateau itself and nowhere is lower than 12,000ft...this means that is can be dangerous to fly in (by helicopter) if one isn't acclimatized to the altitude. Many have died of Acute Mountain Sickness by trying to do this. It's all right to fly in and fly out within a couple of hours before AMS gets a grip...but you cannot really fly in and stay put (although I hear that some people get away with it, but not many).


Posted by spindrift on May 15, 2009, 7:01am
Bricks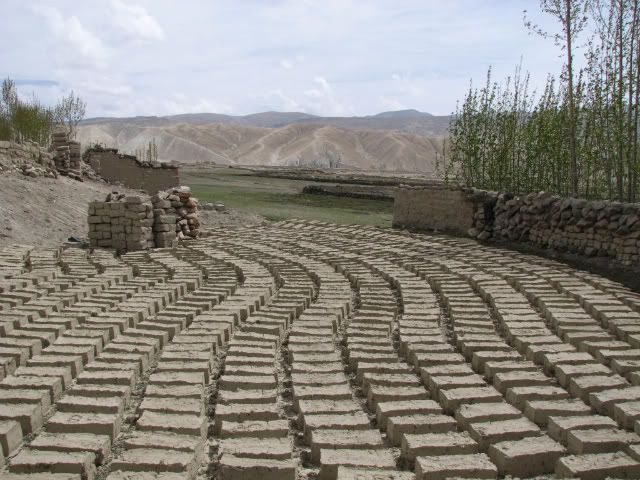 Posted by bixaorellana on May 15, 2009, 2:10pm
This is totally fascinating -- like being given a window into another world and time.

You have a wonderful eye, Spindrift -- I love looking at your photos. The brick one is brilliant!
Posted by spindrift on May 15, 2009, 8:16pm
I received an invitation last week to the Enthronement Ceremony of a new Lama at Namgyal Monastery which is just north of the village of Lo Manthang. Occasionally I send money to help upkeep the monastery and feed and educate the young boys who live and study there.
It will be in July. Perhaps I should go.

Bixa - It is completely another world. There is absolutely nothing of the West there.

Here is the invitation. It's such a lovely colour!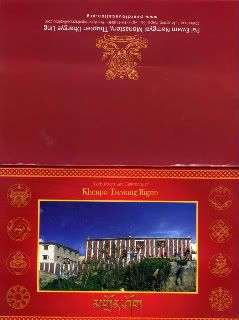 Posted by bixaorellana on May 17, 2009, 4:19pm
Oh, I do hope you're able to go!

I really admire you for being able to put aside your modern, western expectations and truly see and embrace this very alien way of life. I well remember how shocked I was by some of the living conditions in and around Oaxaca when I first moved here, and this is far less strange and isolated than what you're showing.

Your photographs definitely show the grandeur and remoteness of the landscape. The one one of the lady in her home has such a feel to it -- the way the floor is littered with the necessary detritus of western visitors, the way she is willing to take time to graciously pose, the touches of color and adornment ........ it conveys so much. The combination of the gorgeously austere land and the warmth of the inhabitant as you show them give a true taste of visiting there.

I see this thread is titled "part one" -- that means we can dare hope for more, right?
Posted by spindrift on May 20, 2009, 9:53am
I'll continue with "part two"...the trek took 13 days so you might all get bored!

Behind and to the right of the lady you can see a water container with bowl underneath and small towel. This was provided for us to wash our hands before eating. There is no running water.
Posted by Sherri McEwen on Jul 24, 2011, 5:07pm
Hi there,

Thoroughly enjoyed your info on Lo Manthang ... myself and friend are looking at going in October and want to hire horses for the trek.

Can you tell me how you arranged that and the costs?

Regards,

Sherri McEwen
Posted by kerouac2 on Jul 24, 2011, 5:12pm
Oh, I am extremely pleased that a visitor resurrected this wonderful report.
Posted by mich64 on Jul 24, 2011, 6:55pm
Oh yes, what great photos Spin! I will now be searching for Part 2. What an amazing journey this must have been and rewarding to see the region where you help by providing funds. Wonderful, just wonderful!
Cheers,
Mich
Posted by spindrift on Nov 19, 2011, 5:52pm
I am so sorry that I didn't get back in order to tell our 'guest' that horses can be hired at Jomsom. Our horses were hired from a man who supplies mules & some horses. His place is near the end of Jomsom village on the way to Kagbeni. I do think it's better to arrange to hire horses in advance however I do not know whether the horseman has a telephone number. I think he has not.
Even going up to Muktinath it's better to go on a horse. Most people go up there on their first day and when they are not acclimatized. It's a long slog.

I arrange my Upper Mustang trek though a trekking agency in Kathmandu called Karnali Excursions. I use them for all my treks. Please access their website.
Posted by bjd on Nov 19, 2011, 7:34pm
I recently had news and saw photos of someone who went on a trek to Nepal in October. He flew into Lukli. Even the pictures look scary! He said there was a really short window of opportunity to get in or out.
Posted by spindrift on Nov 21, 2011, 9:24pm
Yes, landing and taking off at Lukla is fraught with dangers. It was thanks to Sir Edmund Hillary that an airstrip was built there at all. There is no flat land around this region so a rudimentary airstrip was dug into the mountainside veering slightly upwards. Taking off is equally dangerous since very high mountains face the runway on the other side of the valley. Unfortunately, every so often there is a fatal crash.

I think it's equally exciting to fly into Jomsom!