Topic Summary
Posted by spindrift on Dec 7, 2011, 8:27pm
At last we come to our hero Ishwar...looking really smart and confident - also a far cry from his days of being a horseboy. He suffered from retarded grown when we met him; now, with an improved diet, he seems to have sprung up.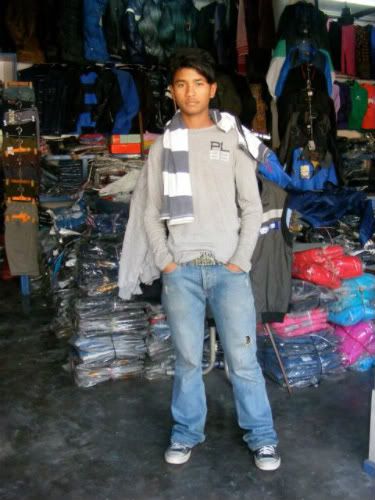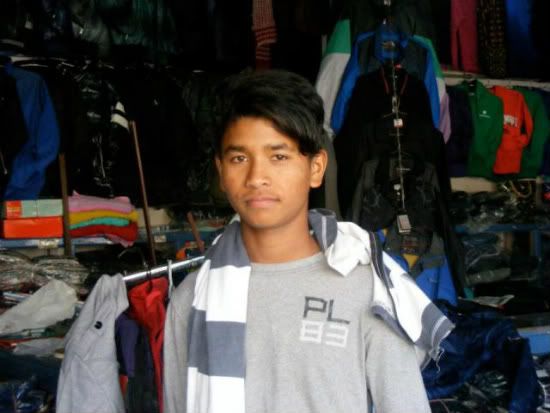 Shree talks to Ishwar outside his home.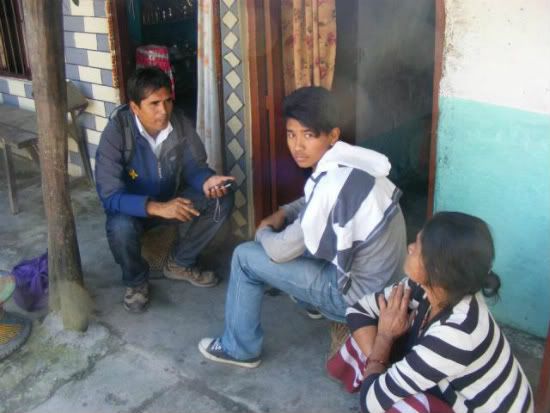 J has paid their rent until the end of December '11 and then they will be expelled by the landlord for bad behaviour. We have no idea where they will land up next.

Now I'll show you pictures taken from a bridge over the river where Ishwar's parents have earned their few rupees for endless years, carrying sand up steep steps to the road above.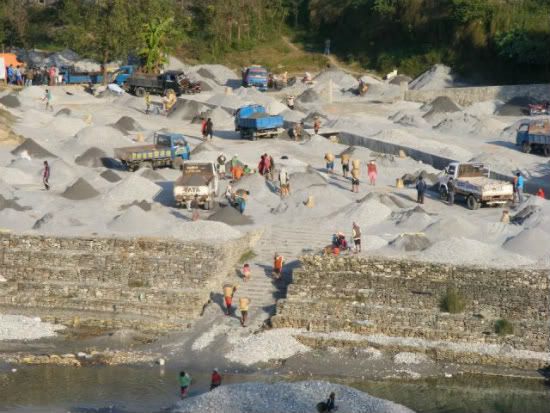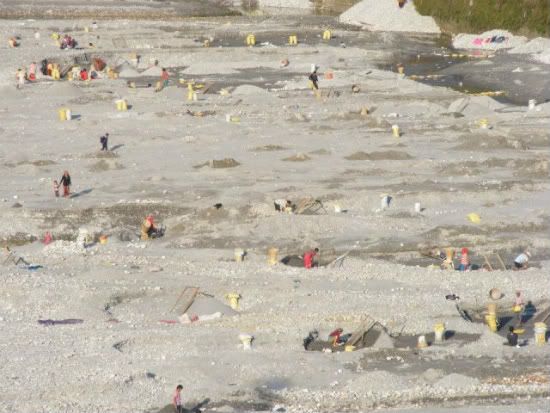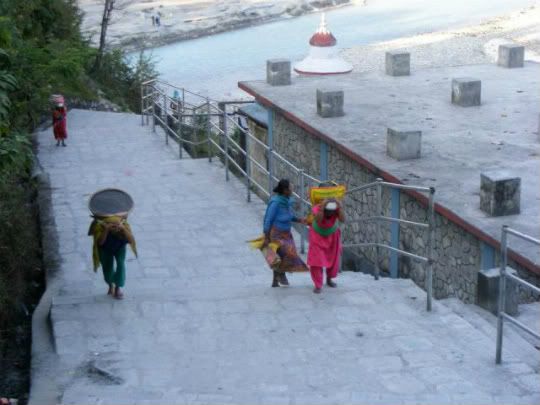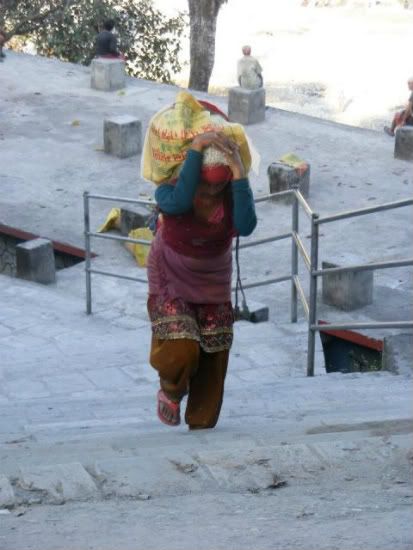 I won't end this report in gloom since I am always hoping that good things will come to Ishwar and his brother. As I said, Ishwar went with Shree to Kathmandu three weeks ago and has entered an establishment to learn a trade...

Does this family not live in one of the most beautiful places on earth?


This is Lake Fewa in Pokhara. The mighty Himalayan ranges of the Annapurnas and Dhaulagiri are facing the lake but are not shown in these pictures.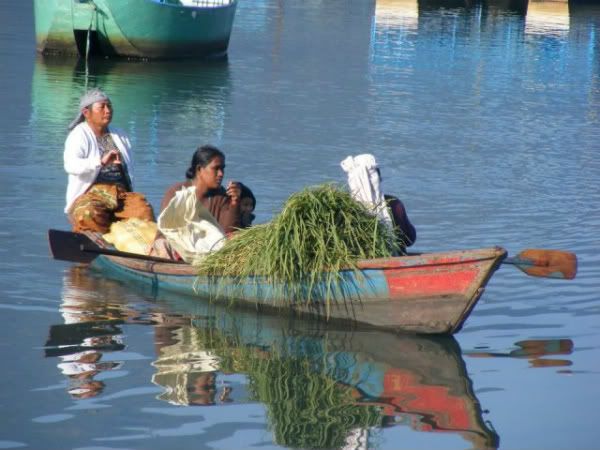 Posted by foreverman on Dec 9, 2011, 2:23am
Wow, I had not seen this thread before and have just taken the time to read it in full.
As has been said before by others we certainly do not realize how the poor live in other parts of the world.
You are indeed a saint, Spindrift for the good work you and your friends are doing.........
Posted by bixaorellana on Dec 9, 2011, 3:27am
What Foreverman said, Spindrift! I'm accustomed (but not calloused) to the poverty & poor living conditions that I see around here and in your excellent pictures. But it's those photos of grinding toil that really bring home the grim, unrelenting reality of a life of poverty and no opportunity.

This is deeply interesting and I thank you so much for updating the story.

You wrote:
It is interesting to learn that Ishwar has never said 'thank you' to J but his father exhibits gratitude which is something. We have been supporting this family since 2007. If you ask me it has been money thrown away and I ceased to pay anything from last year. I would much rather we could help someone else who would study and make the best of what we offered.
and
It is a shame that Ishwar has never taken much trouble to try to better his lot, which, in turn, would have benefited the rest of his family. As it is, we think that his young brother, Bagwan, is the promising one.

I'm not so sure that Ishwar won't eventually better his life, although perhaps not in the way you & J had envisioned for him. It sounds as though he's one of those very bright people who prefer to carve out their own paths and who chafe as the structure and stricture of school, straight jobs, etc. Very often people like that are more adept at landing on their feet and creating opportunity for themselves than conventionally schooled people. That said, the schooling he managed to get under his belt due to your efforts & that of Shree will give him that extra poise, gloss, & savvy to get along in life.

As for saying thank you ....... one difference between the culture I come from & the one here is that people don't always say thank you, or if they do, they only say it once. I.e, if you give up your place in line to someone else, they may only bob their head in acknowledgement. If you give someone a gift, you'll get a thank you at the time, but it will never be mentioned again. It's not rudeness, just different from what we're used to. Perhaps it's the same in that part of Nepal.
Posted by mich64 on Dec 9, 2011, 6:32pm
How wonderful that you actually make a difference in the lives of people you meet through your travels.

I think Ishwar and Bagwan are both going to benefit not only from your generosity of funds but of your continuing visits. They know that people genuinely care about them and knowing that you believe in karma Spin, they will in turn, better the life of someone else.

And Bixa is right, he may not end up in the way you both have seen his path in life, but it will be his path. Before he had a path your assistance has broadened his choices and that in itself is a gift to a person.

You have made a difference in the world Spin, a good difference.

Cheers,
Mich


Posted by spindrift on Dec 9, 2011, 10:13pm
Foreverman/Bixa and Mich...thank you for your comments and observations. I suppose the way I look at it is that although Ishwar did not go the way we envisaged for him the story is not over yet. The entire family was in dire circumstances before we came into their lives. At least, since 2007, they have lived in a house of sorts and eaten better food. We gave Shree money and he distributed it to them at intervals. I am so happy to see that Ishwar has grown much taller and he looks self-assured, as Bixa says, he is talking about getting married and his brother, Bagwan, definitely looks better cared for.
J says she won't return to Nepal next year but will wait until 2013. If I happen to be in that part of the world I will make a trip to Pokhara with Shree who has made contacts in Pokhara where he can trace the family.

At least this family has suffered less (I HOPE) than if they had not met us

Posted by fulgenzio on Dec 13, 2011, 6:28pm
This is a lovely story. Thank you.
Posted by spindrift on Dec 13, 2011, 7:54pm

Posted by foreverman on Dec 15, 2011, 10:34am
I await to hear about how they are getting on after you have been back, Spin, they are indeed so lucky you and your friends took such an interest in them
Posted by mickthecactus on Dec 16, 2011, 4:19pm
Terrific story Spindrift. Quite humbling.
Posted by spindrift on Dec 17, 2011, 8:38pm
Yes, we in the west have little idea how most people live below the poverty line.