Topic Summary
Posted by kerouac2 on Jun 18, 2010, 7:07pm
The village of my grandparents, Batilly, in northeastern France is just one of many identical villages all through the region of Lorraine. The typical architecture is considered to be one of the most uninteresting of the entire country, with none of the charm of the beamed architecture of Alsace or Burgundy, the bricks of Picardy, the lacy wooden balconies of Savoie or the red tiled roofs and warm colors of Provence. The buildings are very functional and mostly greyish beige, to the extent that when people build something out of cement, there is hardly any reason to paint it, if there weren't the French regional "paint police" to make sure that the buildings are all of the authorized boring hues (but oh lordy, if you drive across the nearby border into Luxembourg or Belgium, you learn to appreciate the paint police! What is wrong with those north border foreigners?).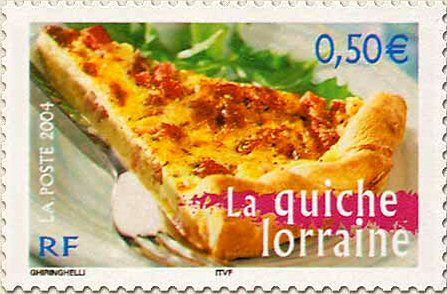 Except for giving the rest of the country the recipe for quiche, cabbage stew (potée lorraine) and mirabelle tart, Lorraine is of absolutely no use to the rest of France. Along with French Flanders (the Nord-Pas de Calais region), Lorraine was the industrial zone of France with mines and mining towns everywhere, steel mills and various other ugly polluting industries. Not only were there huge belching smokestacks everywhere, but there were big pipelines of smelting gasses going over and under the roads, conveyer belts or bucket lines moving ore or rubble along and flaming burn offs coming out of tall thin steel pipes in the air. Nothing unusual for the industrial countries of the world, but not a region to which people are spontaneously attracted. In the United States, I never heard anybody say "I'm taking the family to Pittsburgh on vacation this year" unless they had relatives there.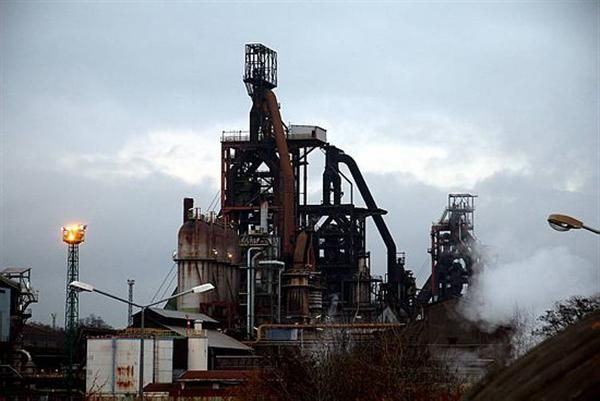 The mines and most of the steel mills closed in the 1970's and 1980's. Hundreds of thousands of Italians, Poles and Algerians had immigrated to the industrial regions over the previous 50 years, married, raised their families and became completely assimilated, so there was no going back. ArcelorMittal still has plenty of steel mills which hire and fire with the ebb and flow of the economy, so people hang on waiting. Some of these towns are extremely grim and rundown, but some of the others have become greener and more appealing as industry retracted its claws.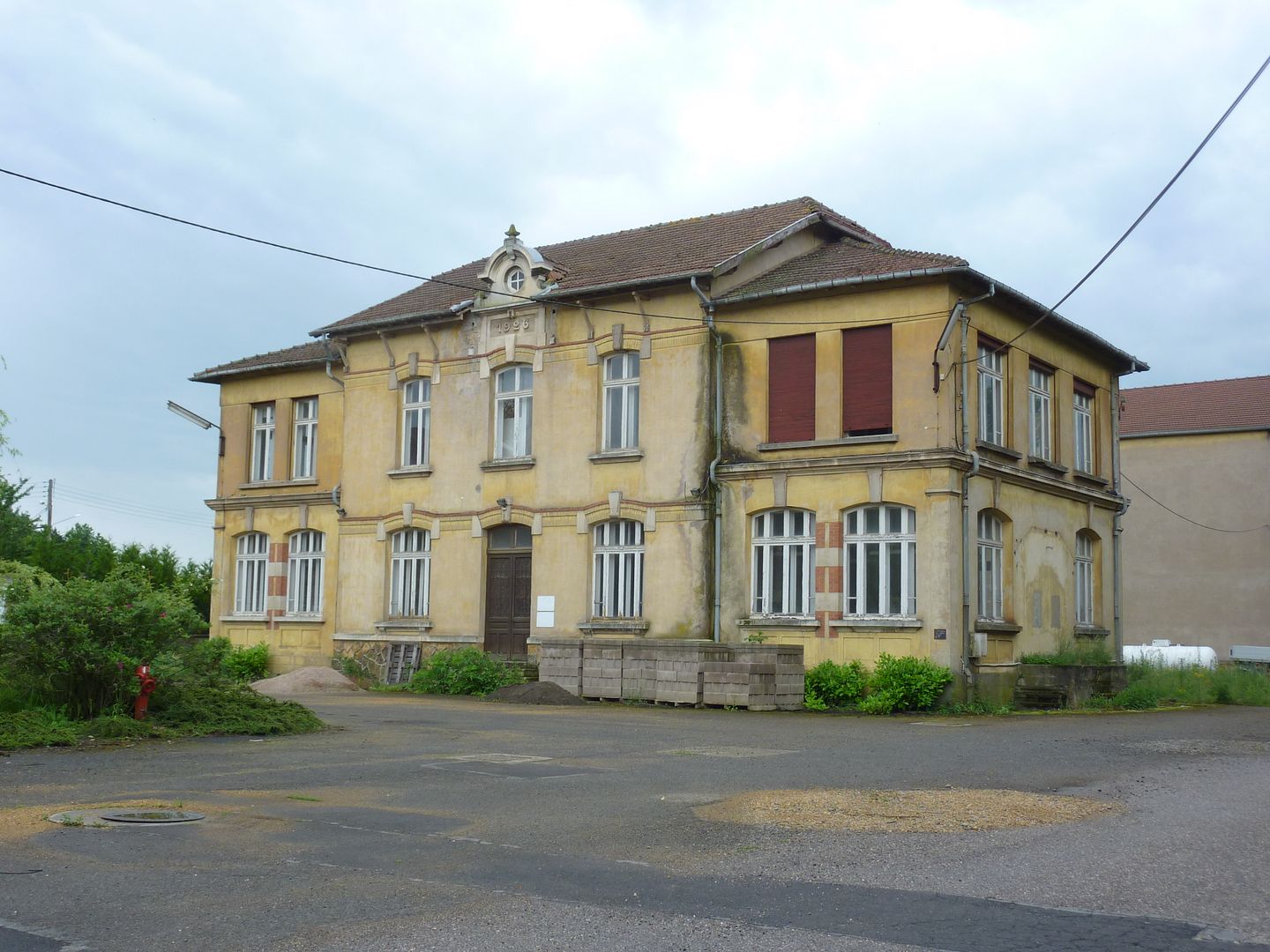 "My" village had an iron mine. I don't know when it opened, but it closed in 1981. There is an entire section of the village built around the mine, mostly in the 1950's which must have been the high point of activity – houses, a school and even a church. The church is abandoned now, and it's hard to tell if anybody is still using the athletic field, which had a claim to glory in bygone days. It has Olympic rings on the gate, because it was the principal training ground of the former track star Michel Jazy (Melbourne 1956, Rome 1960, Tokyo 1964).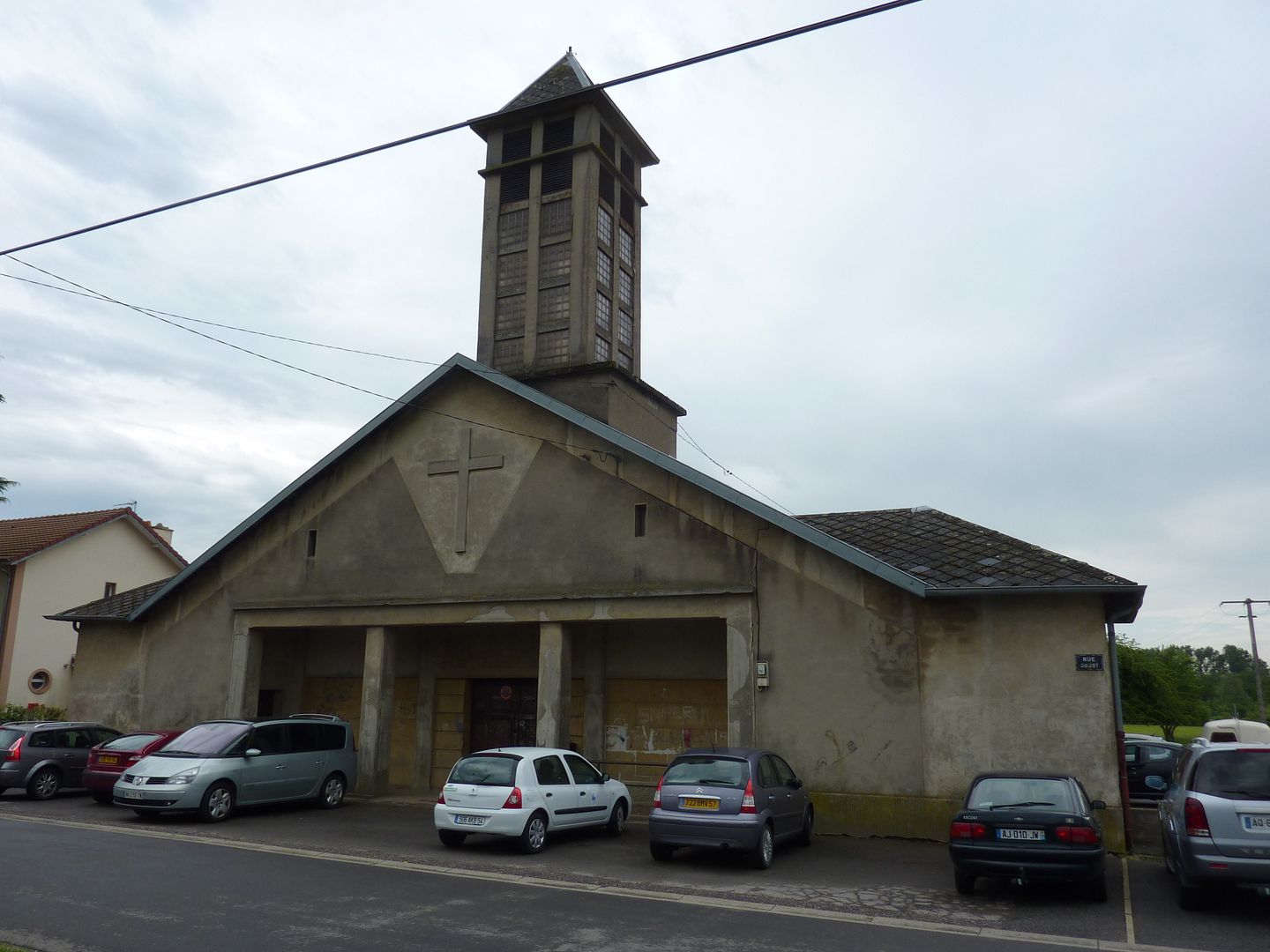 I have no idea what he was doing in the village, because he was from the Pas-de-Calais mining region, and the reason he went into sports was because he refused to become a miner like his father and grandfather, who both died of silicosis. Anyway he won two silver medals in Rome, which was reason enough to put the rings on the gate. I saw that in his entire career, he held 9 world records (including the mile in 1965), 17 European records and 51 French records. I'm sure the old-timers still talk about him.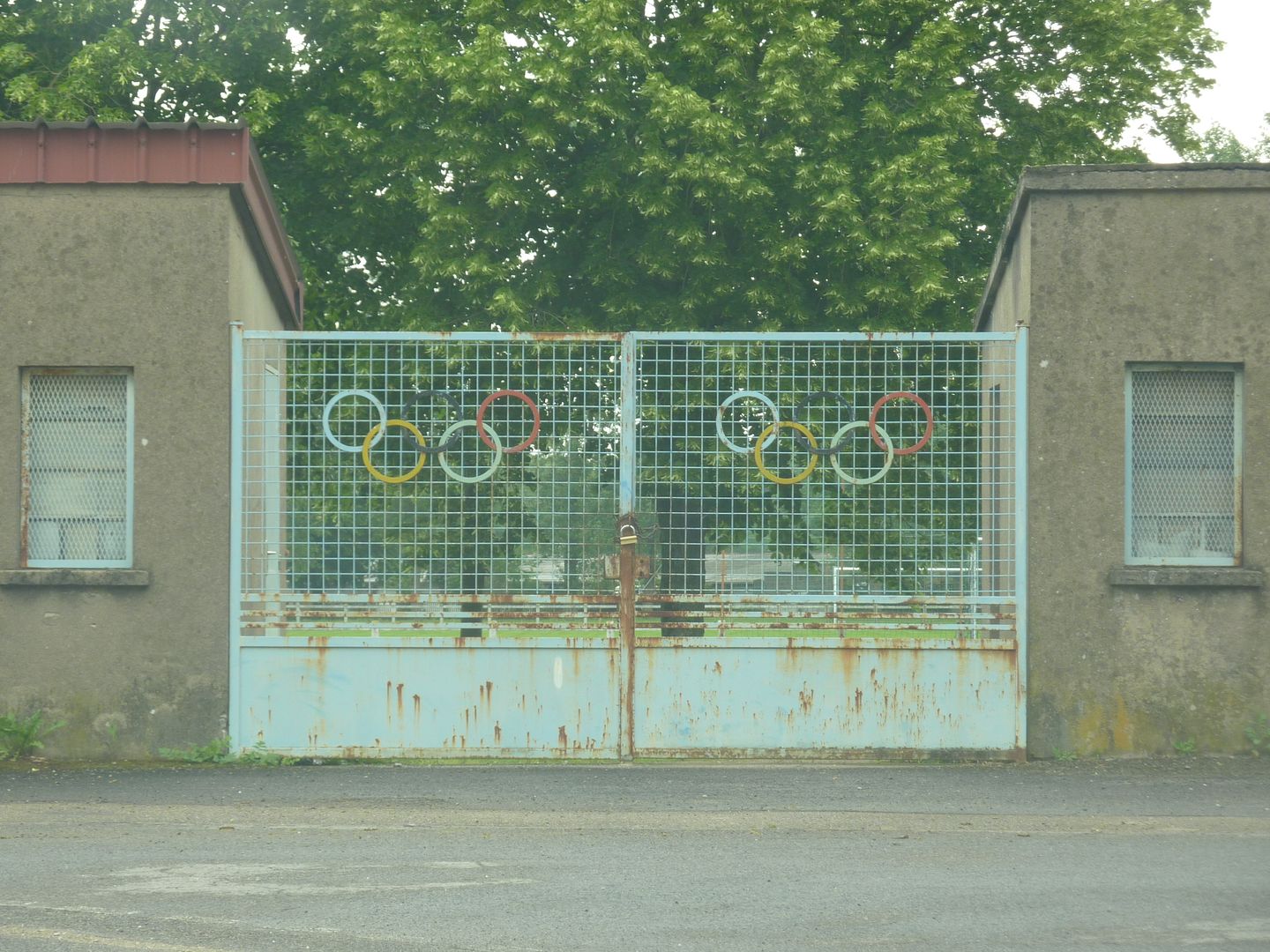 Strangely enough, this part of the village is called "Paradis." That made me snicker even when I was little. Actually, if you take away the buildings, it might almost merit its name if you like green, rolling fields that can be seen in every direction. Out on the main road, it has its own little nightspot, L'Hacienda, which I suppose is better than nothing.


Once the mine closed, that whole sector of the village might have been abandoned, except for a very lucky event that occurred in the 1970's, this being the construction of the A4 autoroute (Paris-Strasbourg) skirting the edge of the village territory (not near any buildings, thank goodness). Normally, this is not considered to be a good thing in rural areas, but it is the reason that Renault decided to build a factory there, so the village even got its own exit, which made all the difference.

Now when I say "village," I really mean village, because the population was about 200 when my grandfather was born there, 337 when my mother was born, 1000 during the year I lived there (1964) and at the last census, the population was 1297 – and this is a village with 3 distinct sections so technically it is 3 villages.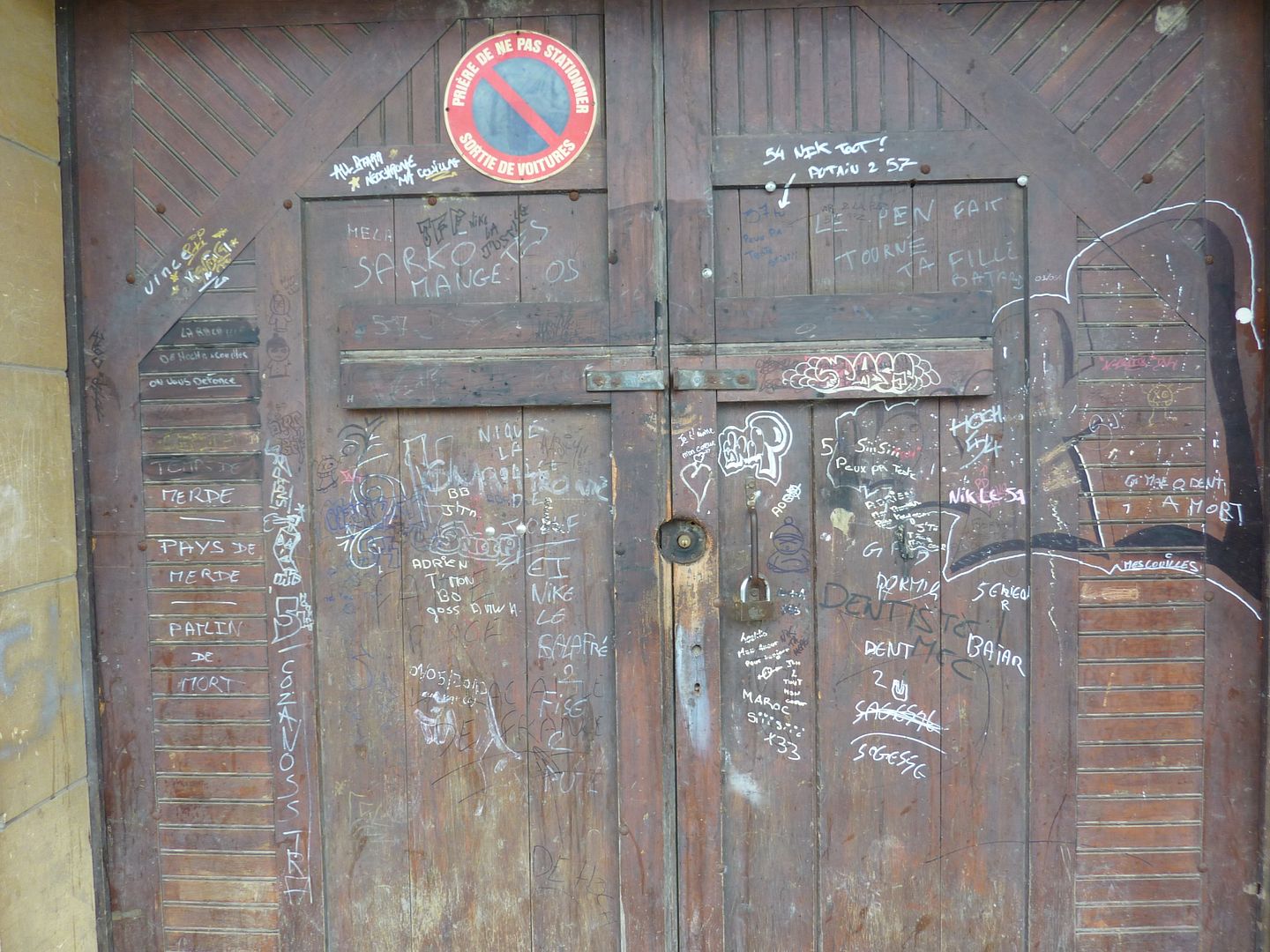 no country for the pious: the door of the Paradis church

coat of arms of Batilly




A brief aside


France has 36,783 independently administrated municipalities and by itself possesses half of the municipalities in the EU. (Germany comes next with 13,000, Spain and Italy have 8,000.) Most countries have fused their villages into larger districts to save money and effort. For example, Belgium only has 589 municipalities.

The median population of a municipality in France is 411, compared to 11,265 for Belgium, 2,343 for Italy or 5,505 for Spain. More than 10,000 villages in France have a population of less than 200. Some of the villages of France have 1, 2 or 3 inhabitants.

Clearly, this is not very efficient, but it might be a factor in keeping part of France's charm intact. There are no anonymous decisions taken far away to change something in a village, rip down old buildings or change the streetlights. Those decisions are made in the villages by people who know every factor of village life.




Did my grandfather save the village? Maybe. He was mayor from 1945 to 1971, and he is the one who proposed the creation of an industrial zone along the old rail line, right next to where the autoroute was going to come through. The municipal council went along with the plan. And yet it was the precise location of his beloved Fond de Champel meadows, where my brother and I accompanied him sometimes when he went hunting. It was a delightful vale with hedgerows and grazing cows and a small brook running through the bottom. Hares would come bolting out of the hedges in front of us. Most of them survived, but some of them ended up on the dinner table, where my brother and I learned to chew the meat carefully as one sometimes encountered buckshot. Sometimes there would be pheasants or partridges, but it was always a lovely day in the fields, listening to my grandfather's wealth of knowledge about the vegetation and fauna, sometimes hushing to hear movement in the bushes, sometimes taking a break to eat some bread and cheese and saucisson.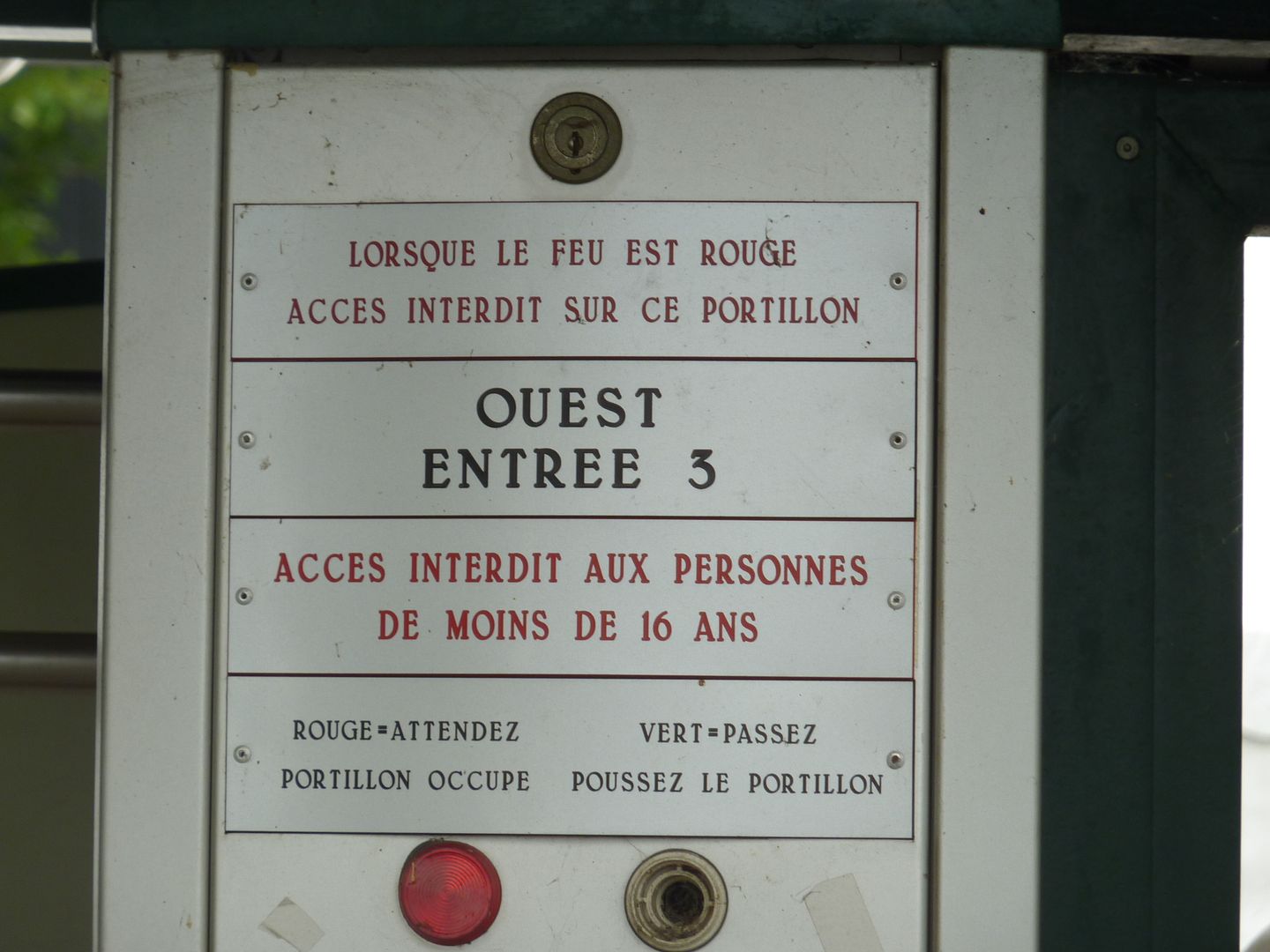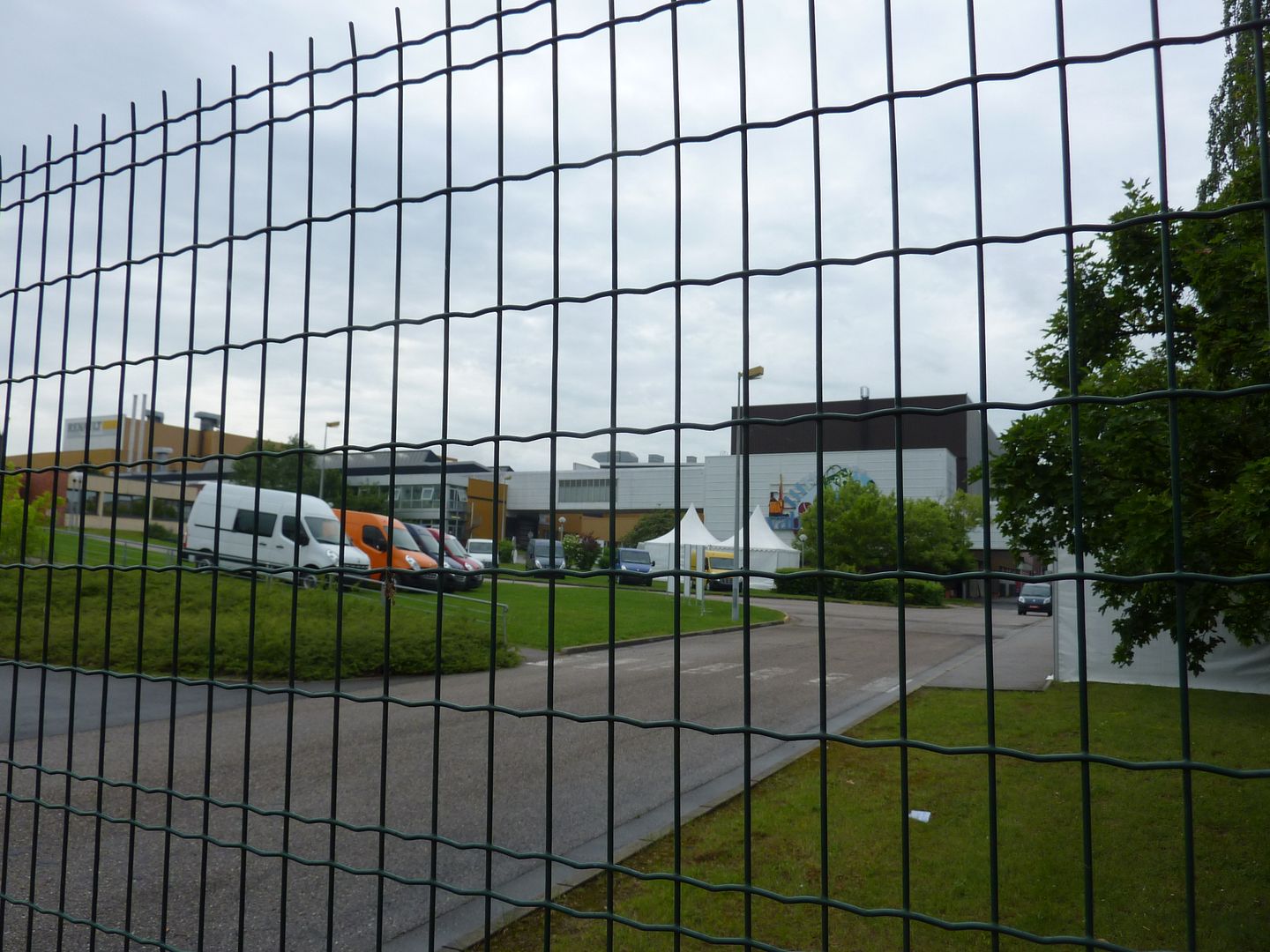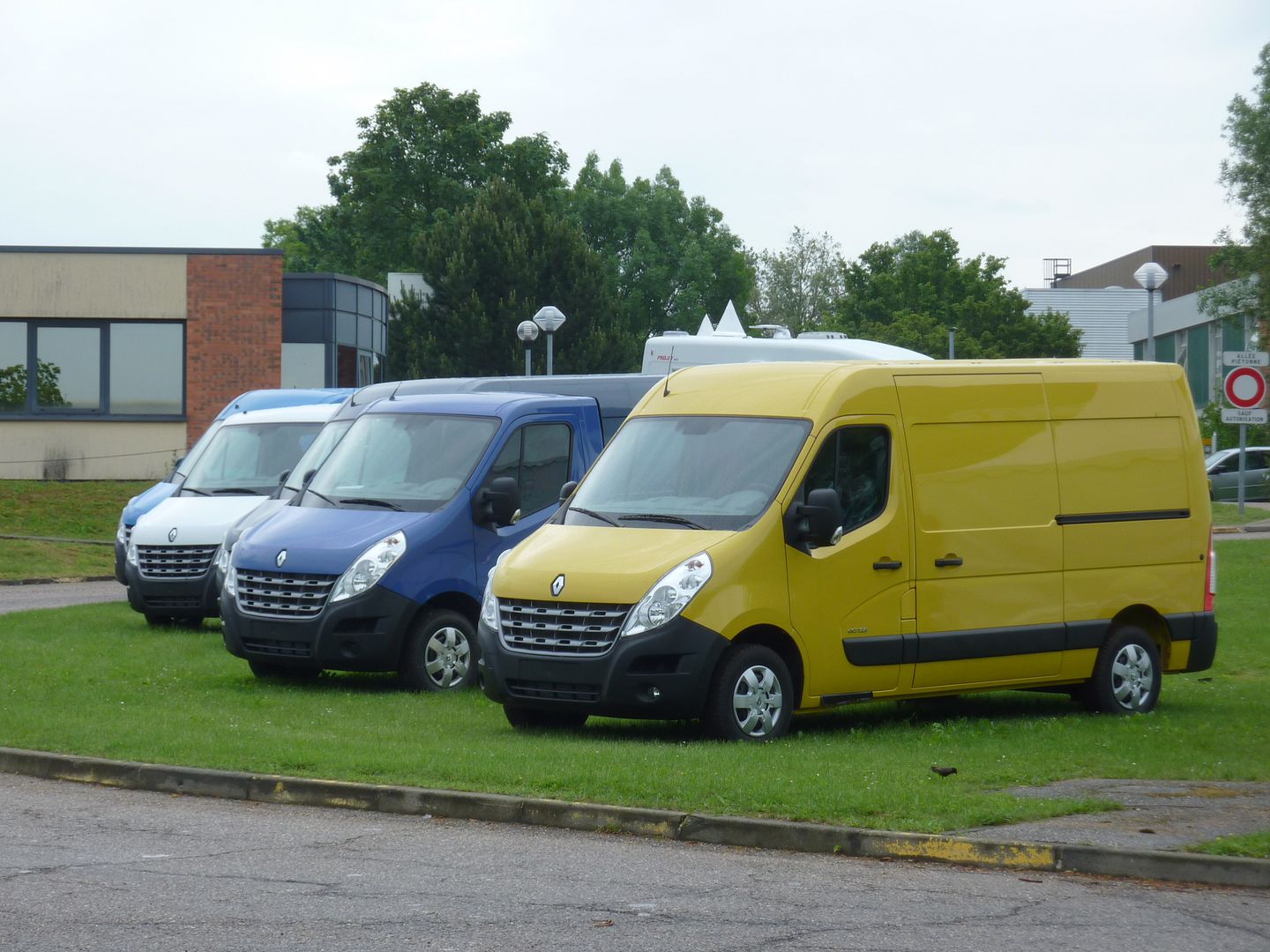 But the Fond de Champel was sacrificed on the altar of industry so that the village could live. My grandfather was lucky not to see what he had done. He died in 1972, and the construction did not start on the factory until 1977, after routing the brook into some concrete pipes and filling the vale with tons of earth to make it all flat. The factory opened in 1979 and currently employs 2,850 people. It is actually the largest private employer in the département of Meurthe-et-Moselle, whose principal city is Nancy. It builds Renault Master commercial vans. The record year of production was 2006 when it built 123,000 of them. In 2010, they are planning on building 90,000.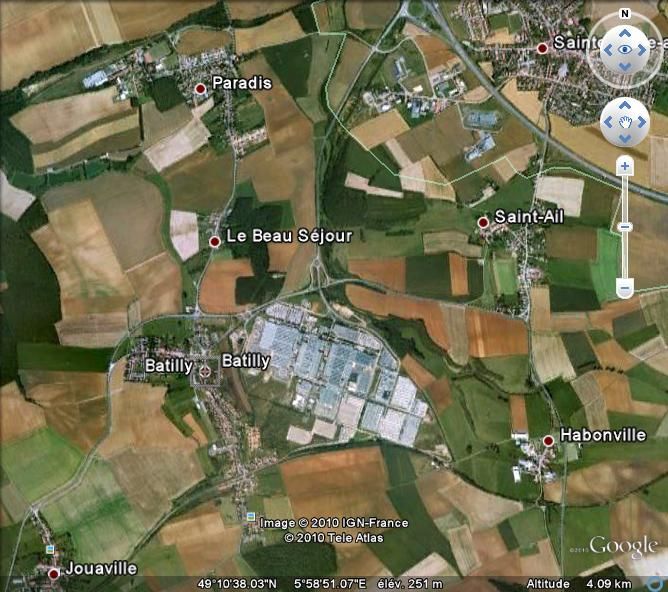 If you look at the Google Earth view of the village, the factory is as big as the entire central village. In 30 years, though, many trees have grown full size and you would never even guess that the factory was there when you are in the village.

Between the factory and the main village, there is first the cemetery where I like to stop. After all, my grandparents are there, as are my great grandparents, great uncles and aunts, family friends and people whom I just knew at the "postlady," the "egg woman," "the mason," etc. Oh yes, and there is my (adoptive) father, which is really weird, because he certainly never expected to be there. His father is buried somewhere in North Carolina and his mother in Texas. He died and was cremated in Florida, and I brought him to France in a cardboard box in a suitcase (which American Airlines temporarily lost) when I repatriated my mother. But he lived in the village with my mother from 1975 until 1981, and I think that he would approve.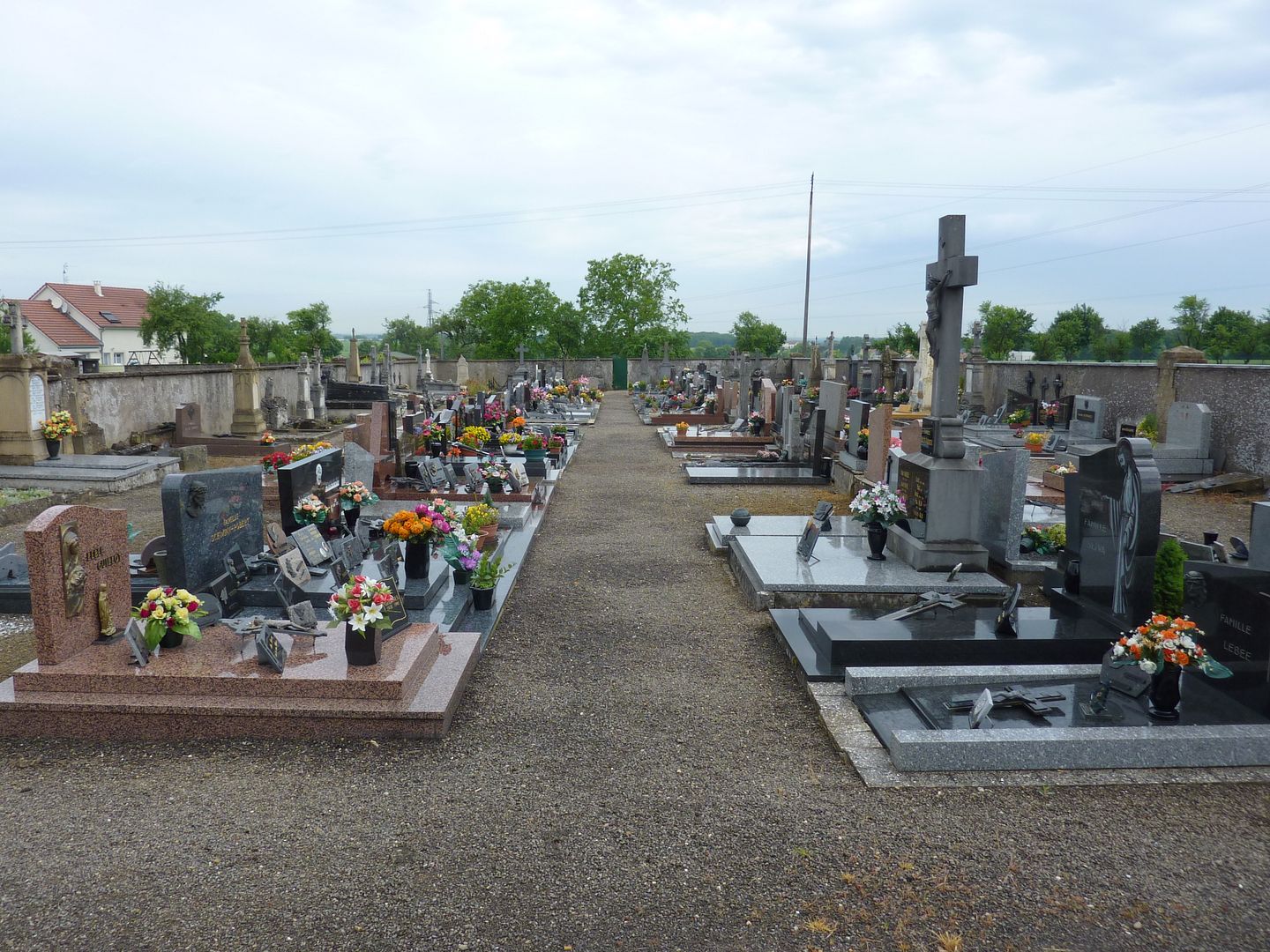 The graves are a total mix of the families who settled in the area.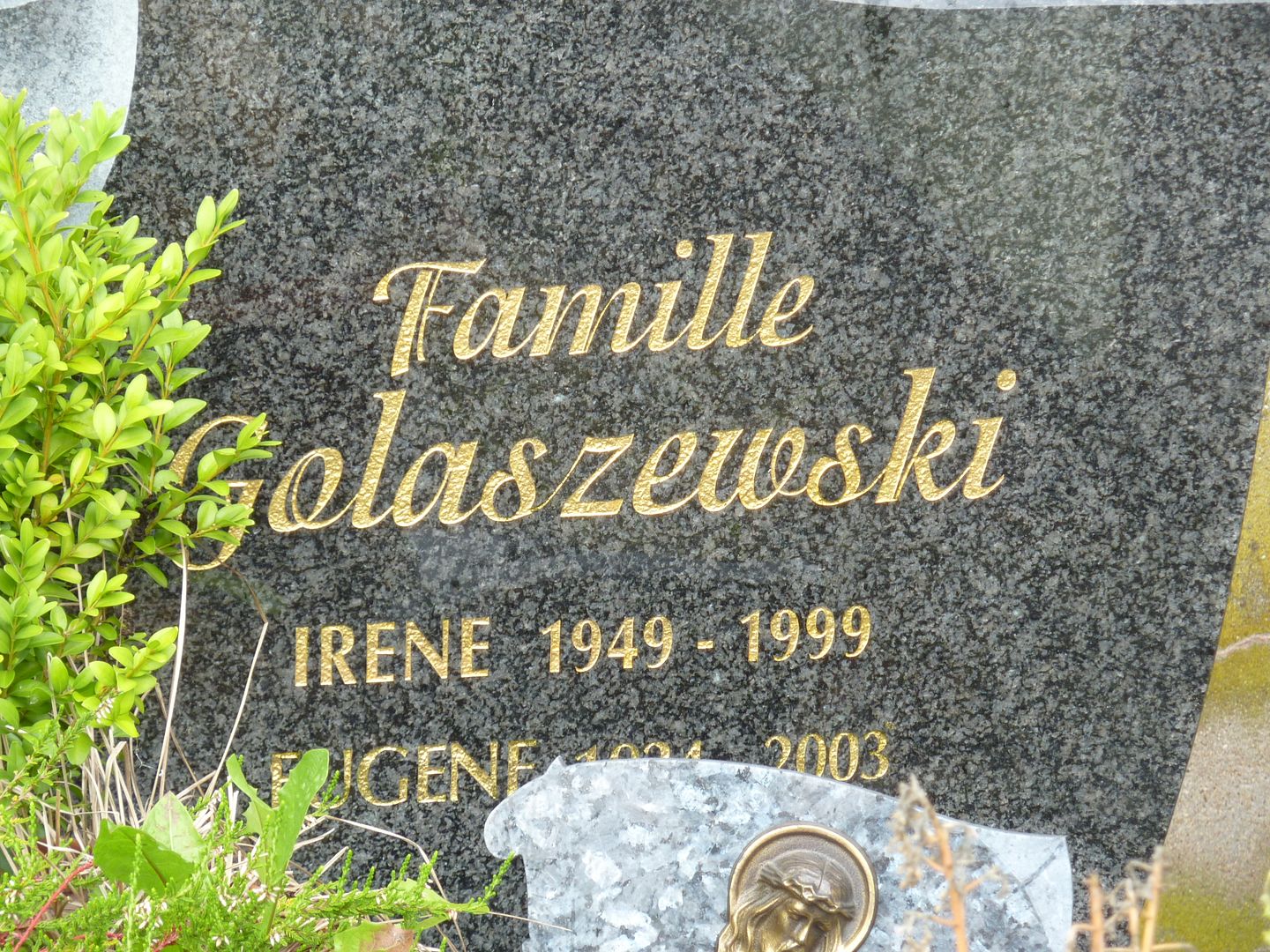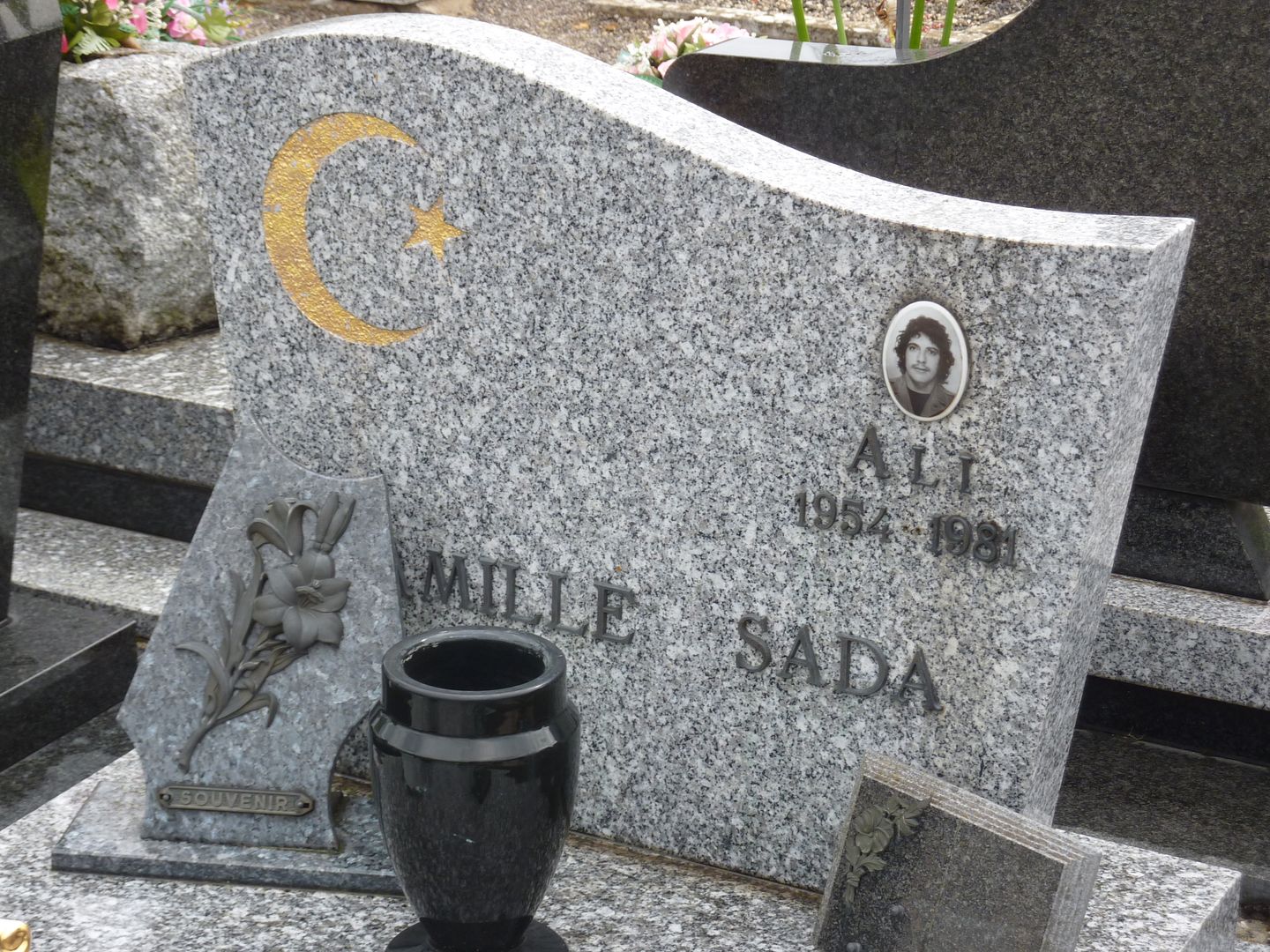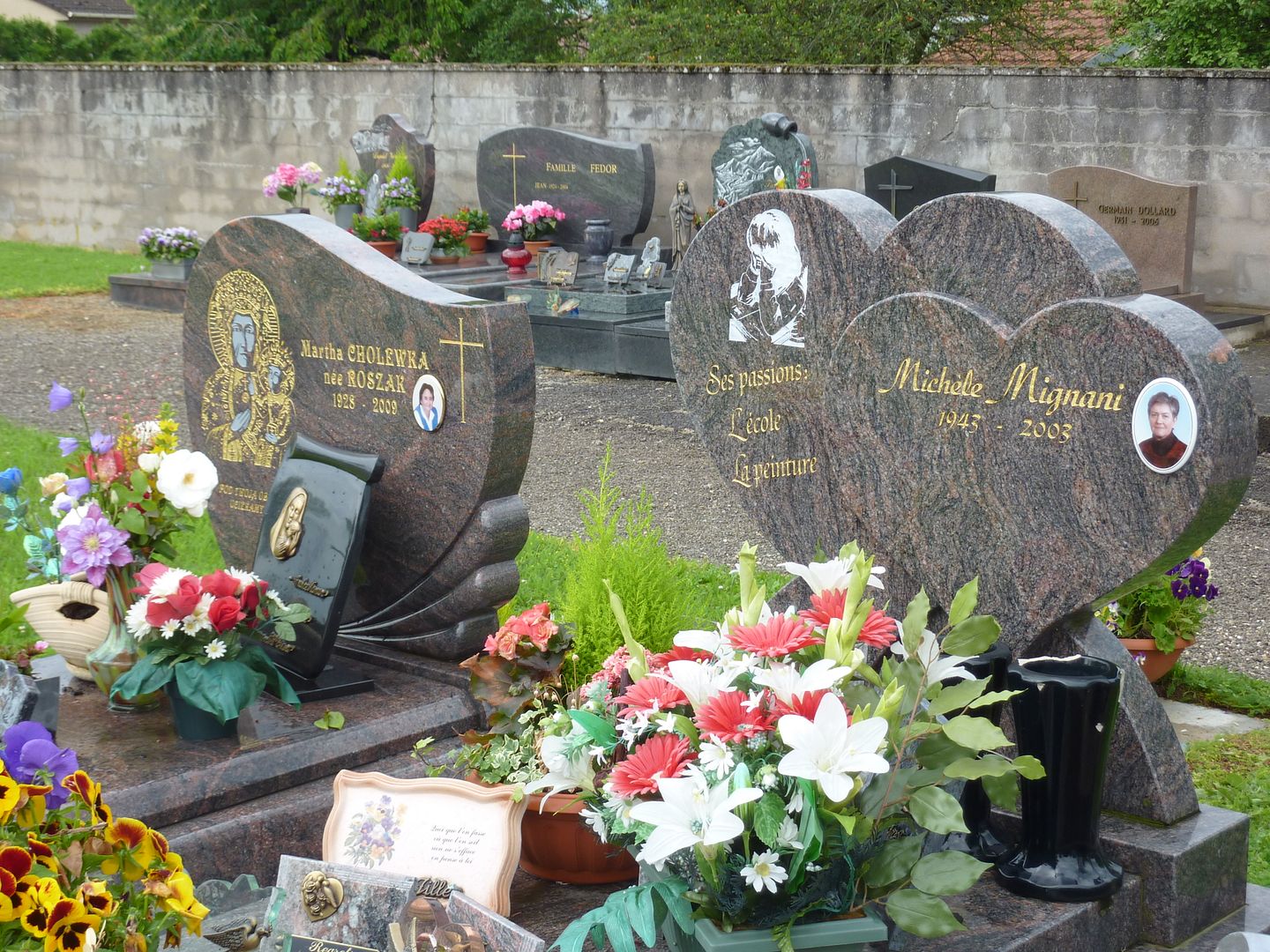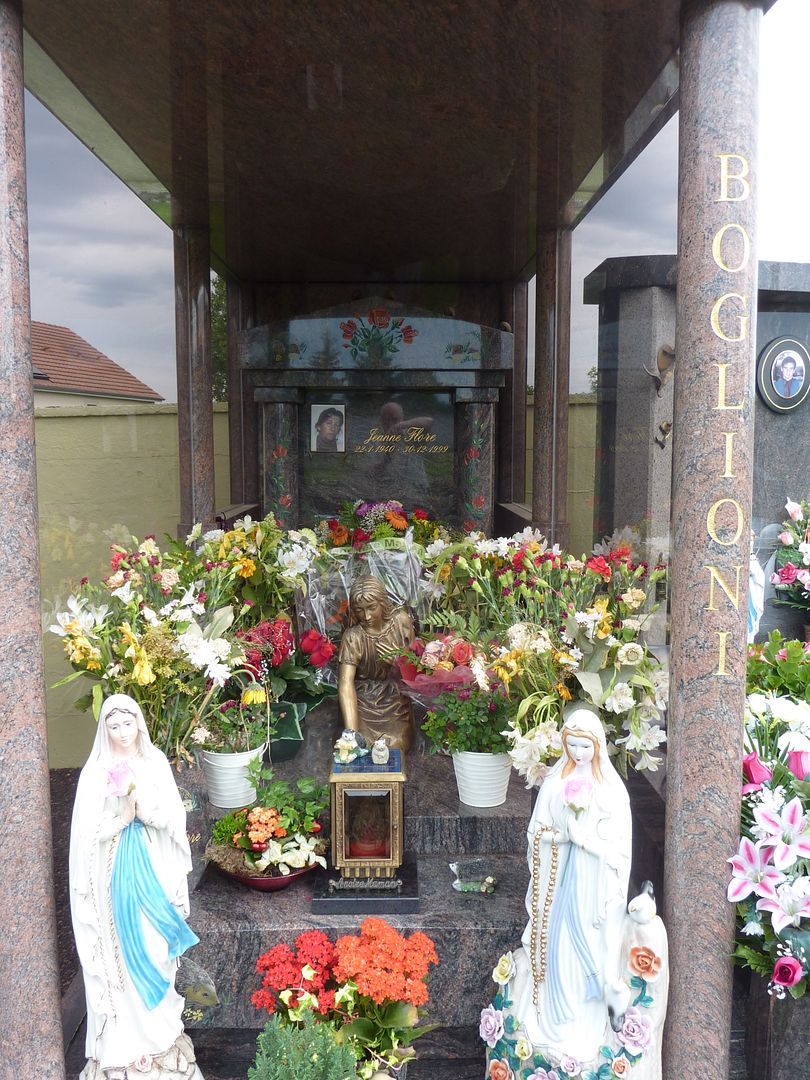 (The last grave is one of the Roma graves. The Roma families all try to outdo each other.)

I was told by my village sources that a television film crew asked a lot of questions about the grave when they saw my father's name on my grandparents' grave. They were making a documentary on the Battle of Metz a few years ago, about when General Patton's division fought their way through the region going east. They thought that maybe he was a soldier who had stayed on. (In fact, my mother met my biological father after the battle when she was serving as railroad interpreter in Thionville on the Luxembourg border.)

The cemetery was doubled in size about the same time the factory opened, and I have watched it slowly fill up over the years. It was probably one of the first ways that the village spent its tax windfall from Renault. They are absolutely rolling in money now and they are constantly figuring out new ways to spend it.

(more on the way)
Posted by bixaorellana on Jun 18, 2010, 10:25pm
Interesting as all get-out, particularly with the puzzle of whether or not the industrial park was a good thing. Perhaps it's coincidence, but on the gravestones I was able to read in the photos, it looks at though many people died young. Any chance that's because of the mining that was there?

If there are only @1300 people living in the village, that must mean that many of the workers commute to the factory, which would also mean that the factory keeps neighboring villages alive, correct?

Based on the couple of traditional buildings you show, I have to disagree with your characterization of the town as "ugly". The buildings at the beginning of this thread have a certain northern sedateness and pleasing symmetry.


Posted by lagatta on Jun 19, 2010, 2:59am
Of course it is tragic that the industrial park was in that lovely little vale, rather than in any of the ugly disused brownfields abounding in such areas, but it certainly saved the village from the fate of onlyMark's town.

bixa, I just think architectural standards are far higher in France than in much of North America. I wouldn't call those buildings ugly either but they are very much generic northern French village, and don't have the charm of towns in neighbouring Alsace - not only haughty Strasbourg and the fairy-tale vineyard villages, but even working towns such as Mulhouse.

The major Lorraine cities of Metz (which you have seen) and Nancy (where I hope K2 will take us virtually have some very beautiful architecture indeed though.

One thing that has always amused me - in North American culture, not French, is the whole "real men don't eat quiche" schtick, when quiche hailed from a land of red-blooded miners and metalworkers. Who ate quiche prior to a hearty meat dish - IF they could afford such food. Not always evident in the not-so-good old days, when working-class families had to struggle to make ends meet.
Posted by kerouac2 on Jun 19, 2010, 11:12am
The church is not always located in the dead center of the village. In the case of Batilly, they appear to have chosen the high point of the village. Not really a big deal, because I would estimate that the core of the village is only about 200 meters away.




When I get my archives organized, I'll post some photos of the inside of the church, which is of course far from spectacular. It was closed on the day I was there, since there is no longer a parish priest. The few remaining priests in France have to cover a lot of territory, so a village like this might have a Sunday service perhaps once a month. A lot of the priests are imported from Poland, Latin America or even Africa.

This church was built in 1898. My mother used to hide rotten prawns inside the organ and apparently the entire church benefited from the aroma. Believe it or not, I "performed" in this church once, at my grandmother's funeral. The priest needed a family member to do a biblical reading from the pulpit, and since my mother refused, that left guess who. Talk about miscasting! The church was absolutely packed, because everybody adored my grandmother, even though she had moved away in 1981 to accompany my parents to the U.S. And when she returned to France in 1983 because she and my parents were driving each other crazy, it was to a retirement home in the Paris suburbs, where I took care of her for 8 years. Oh well, that's beside the point.

I found many of the village houses in quite good shape, many having been renovated and repainted recently.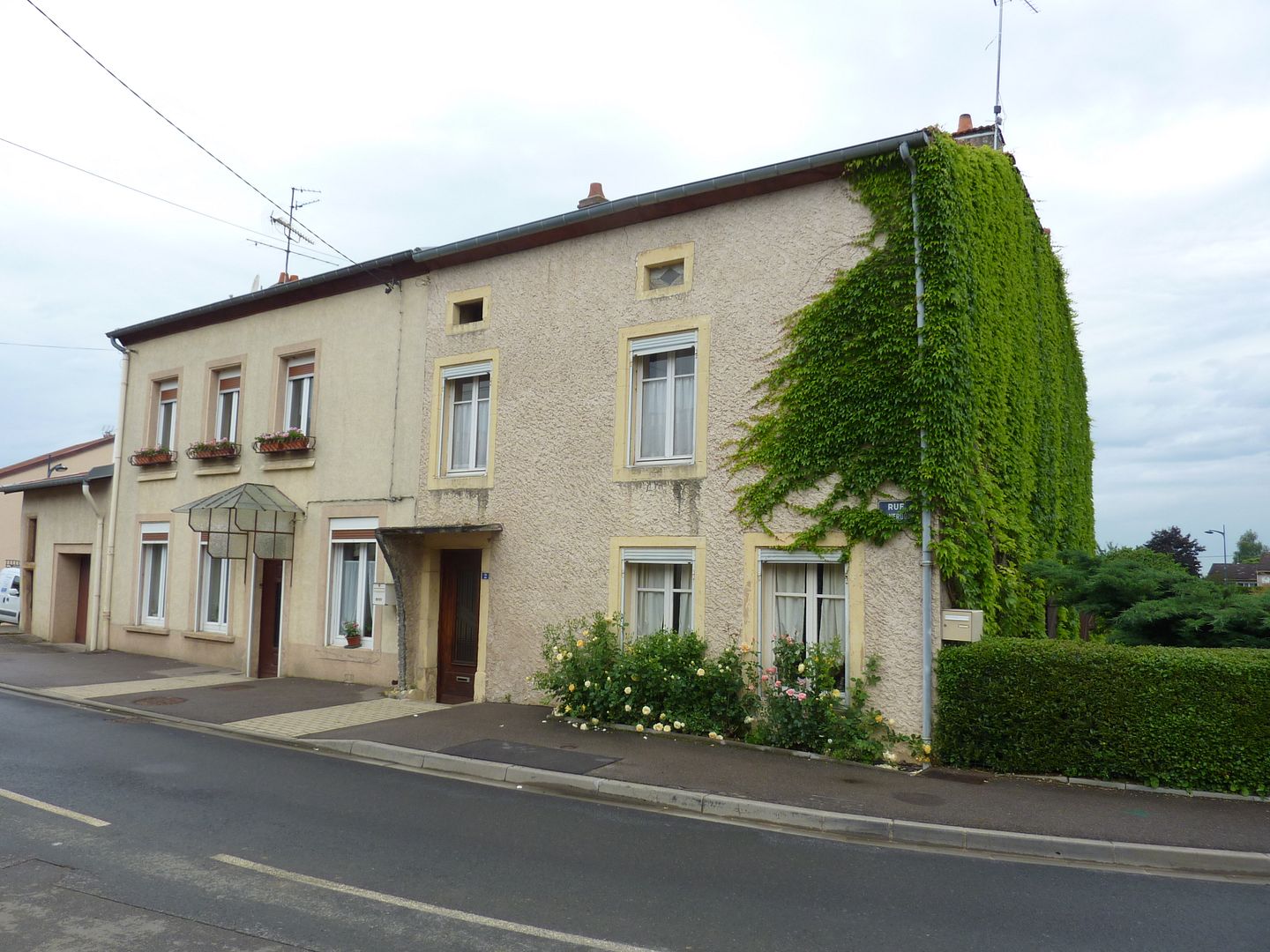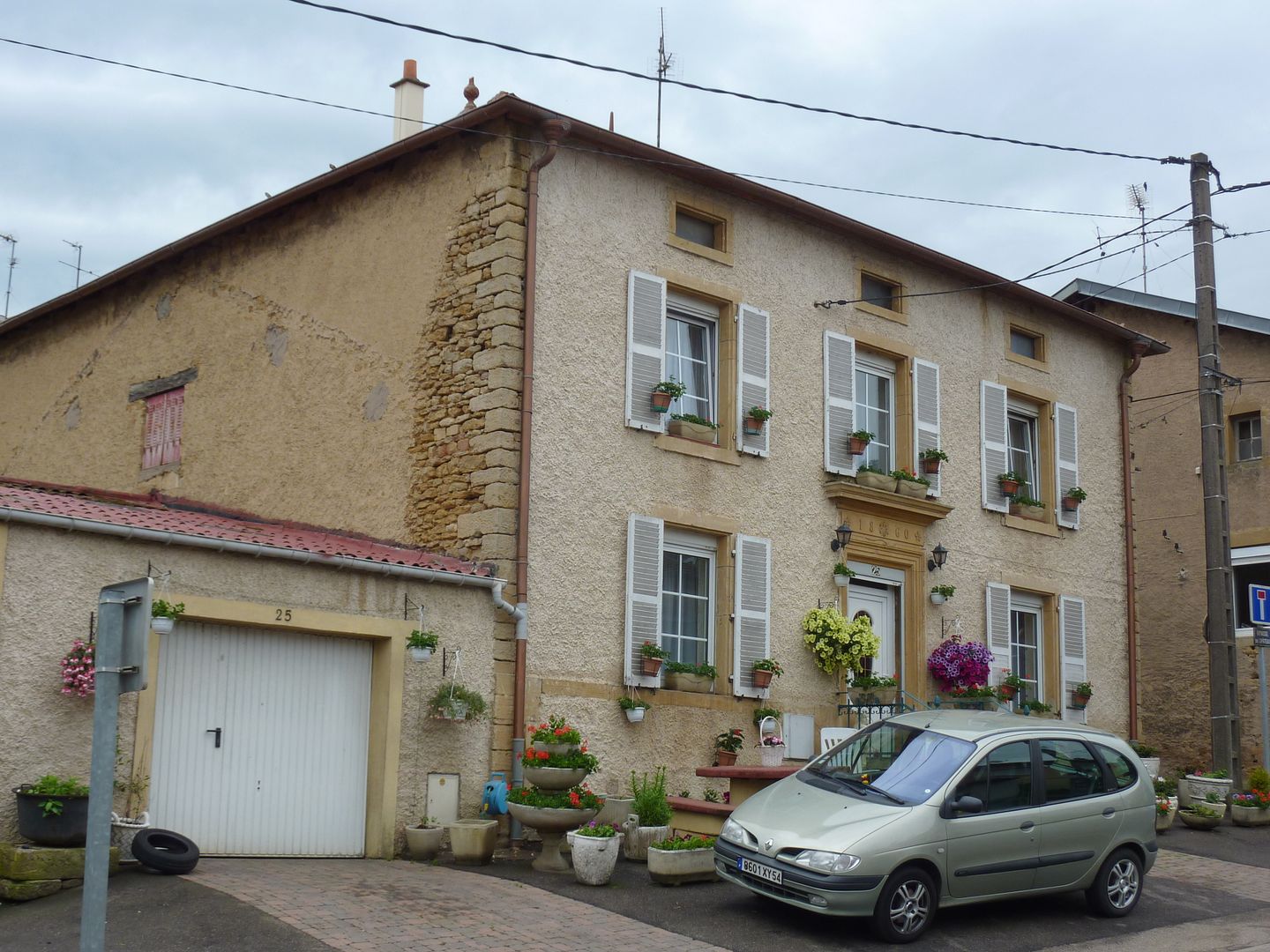 Some renegades decided "I'm tearing down the old crap and even changing the angle the house faces!" I consider this to be heresy, but there is no law against it (yet).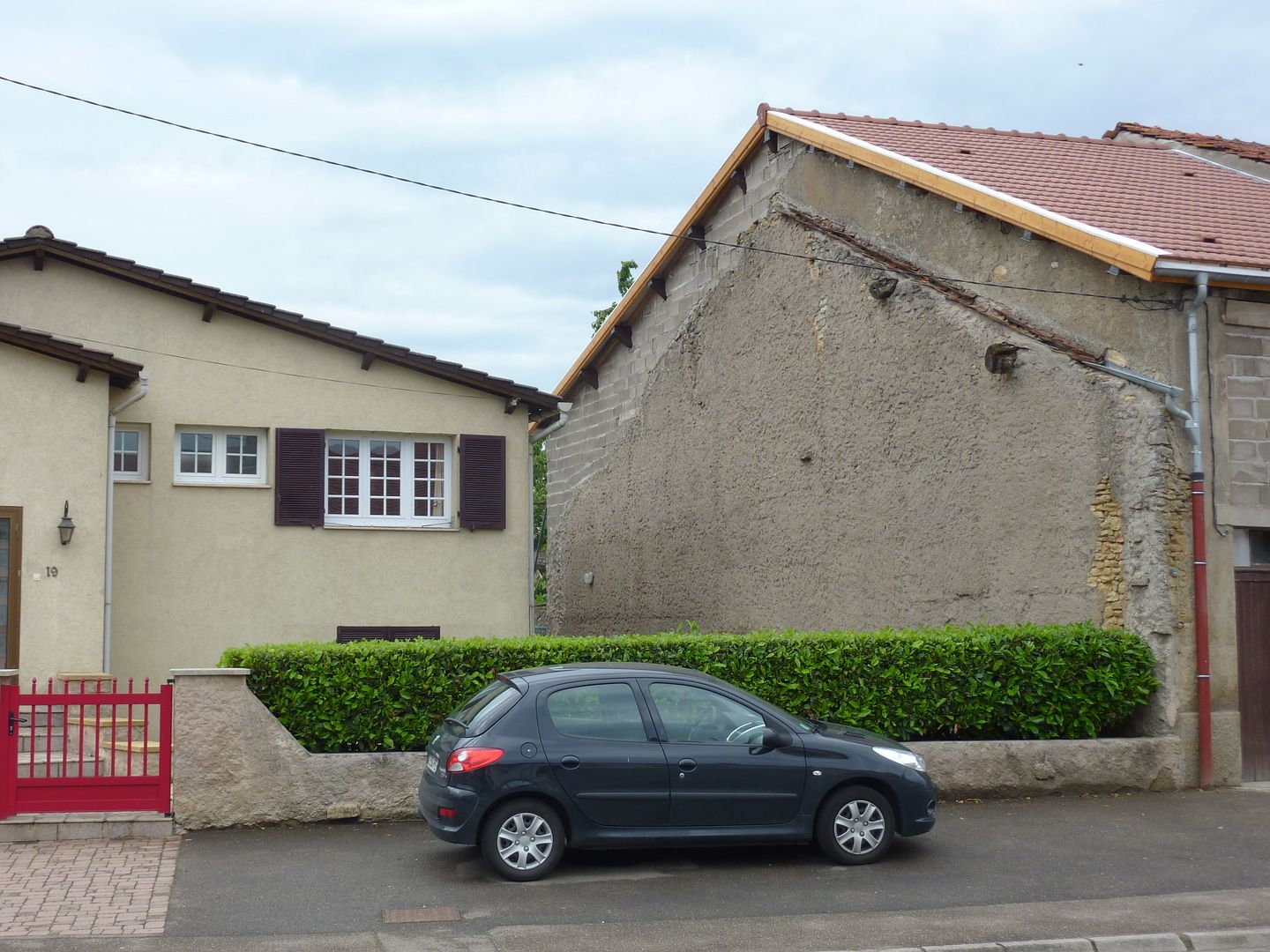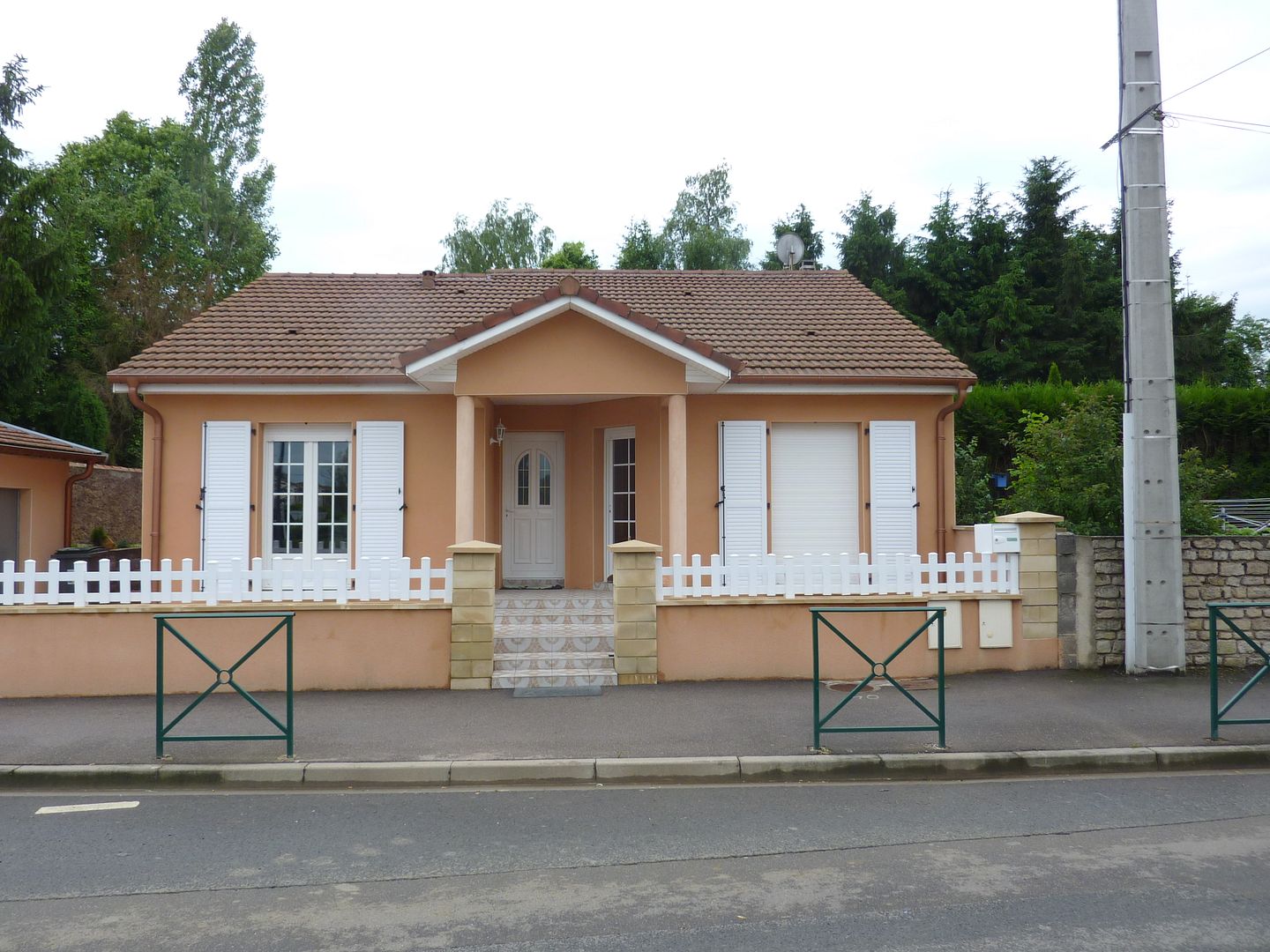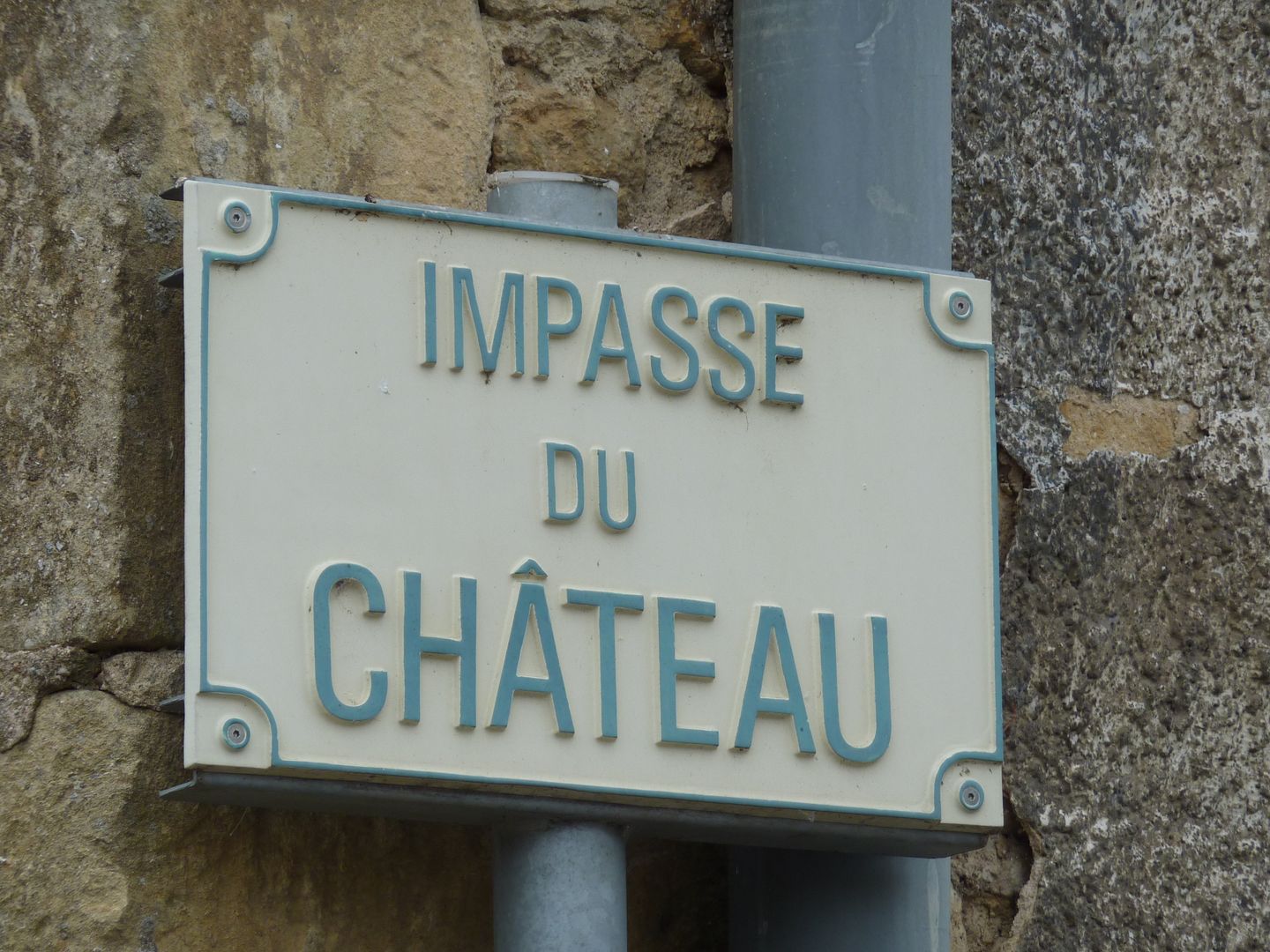 I already knew that there was nothing left of the old 14th century (small) château of Batilly, but I had to go and take a look anyway. When I was little, there was still a big heap of ruins to excite the imagination. And when my mother was little, there were even legends of hidden treasure and underground passages that had the village children risking their lives regularly and then getting the daylights spanked out of them.

Here is the house that was built where the château used to stand. Not quite the same thing. Most of the territory was used just to give them a really big garden and yard.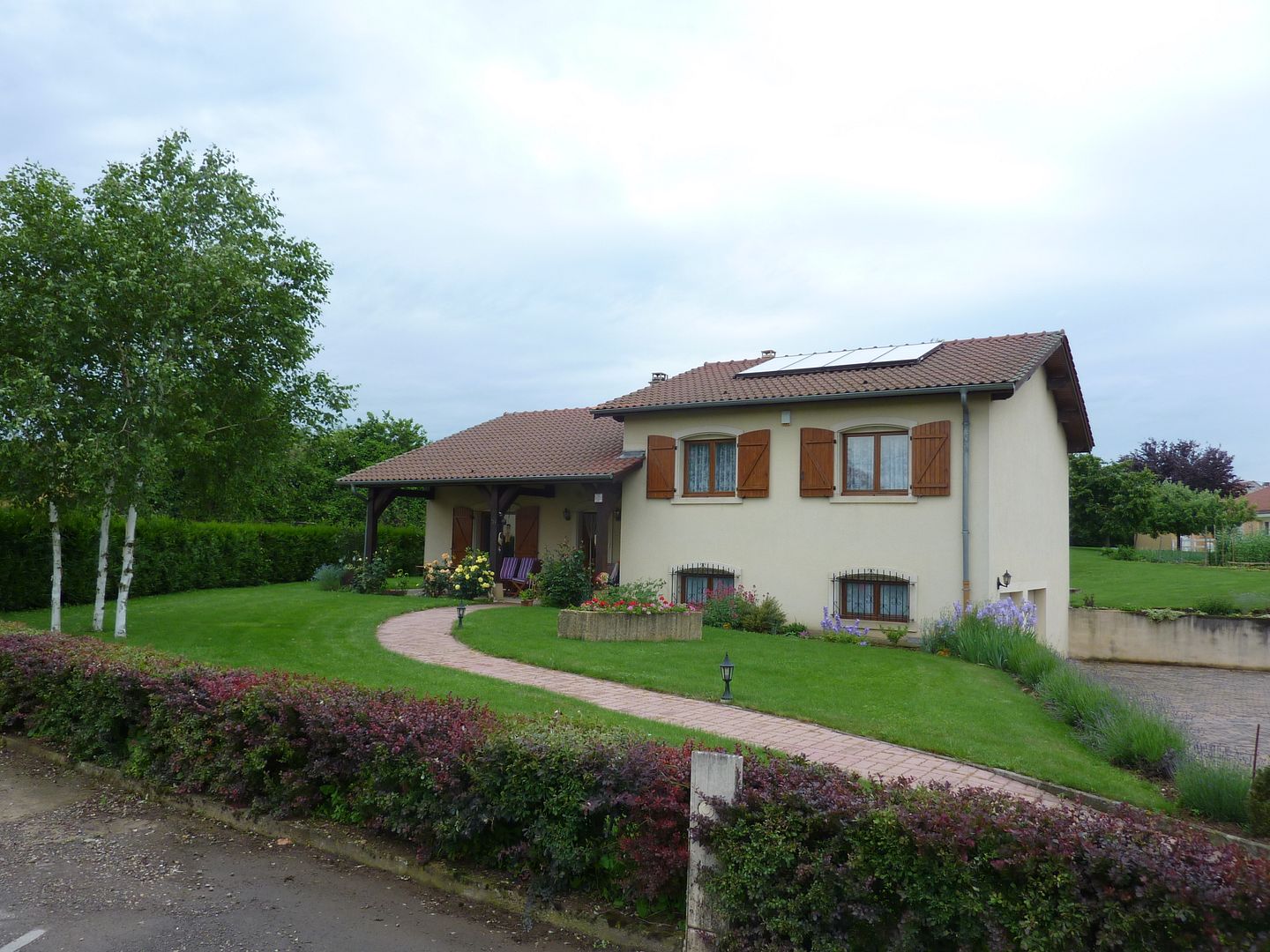 I found a few old vestiges of ramparts nearby anyway.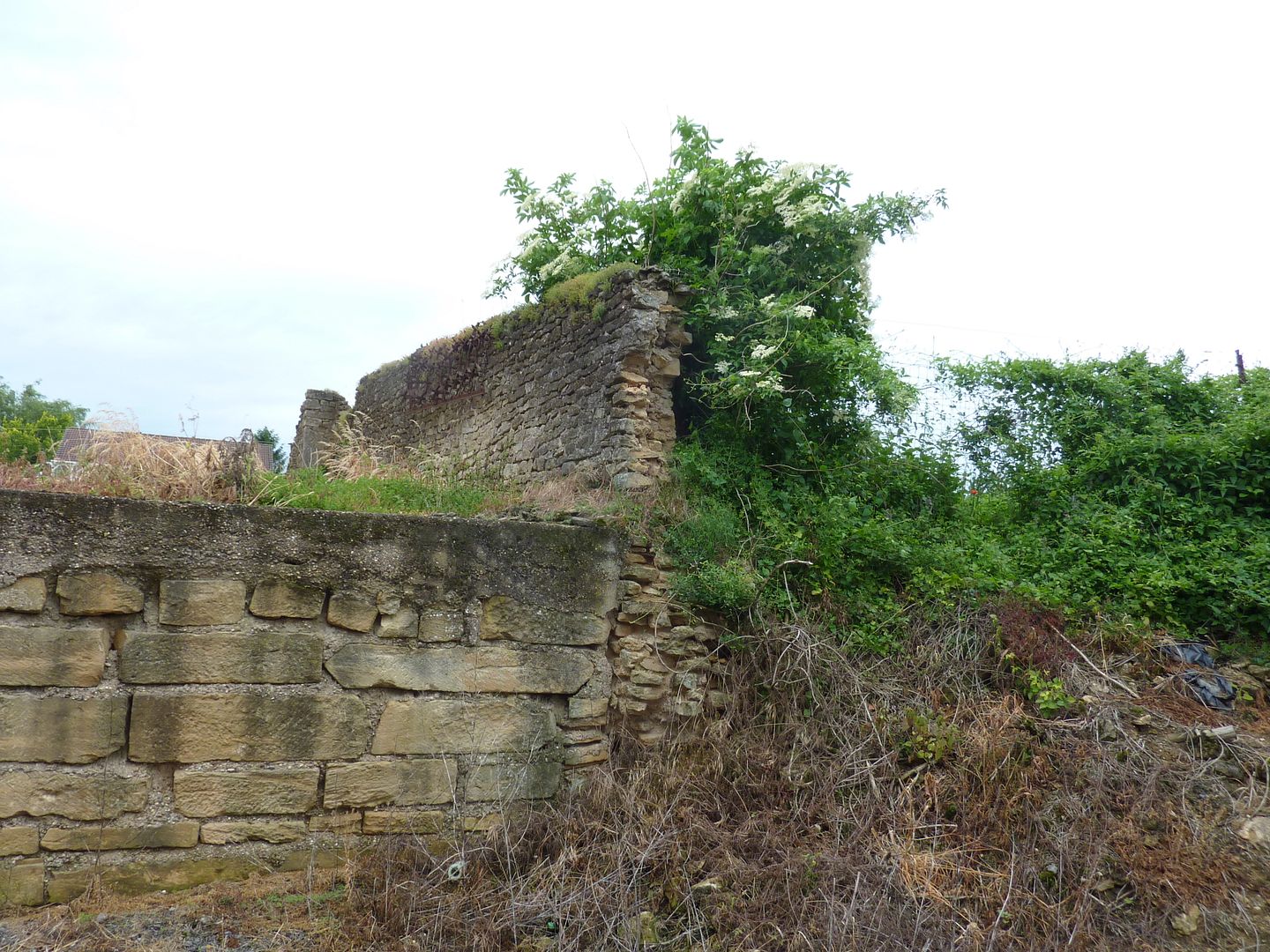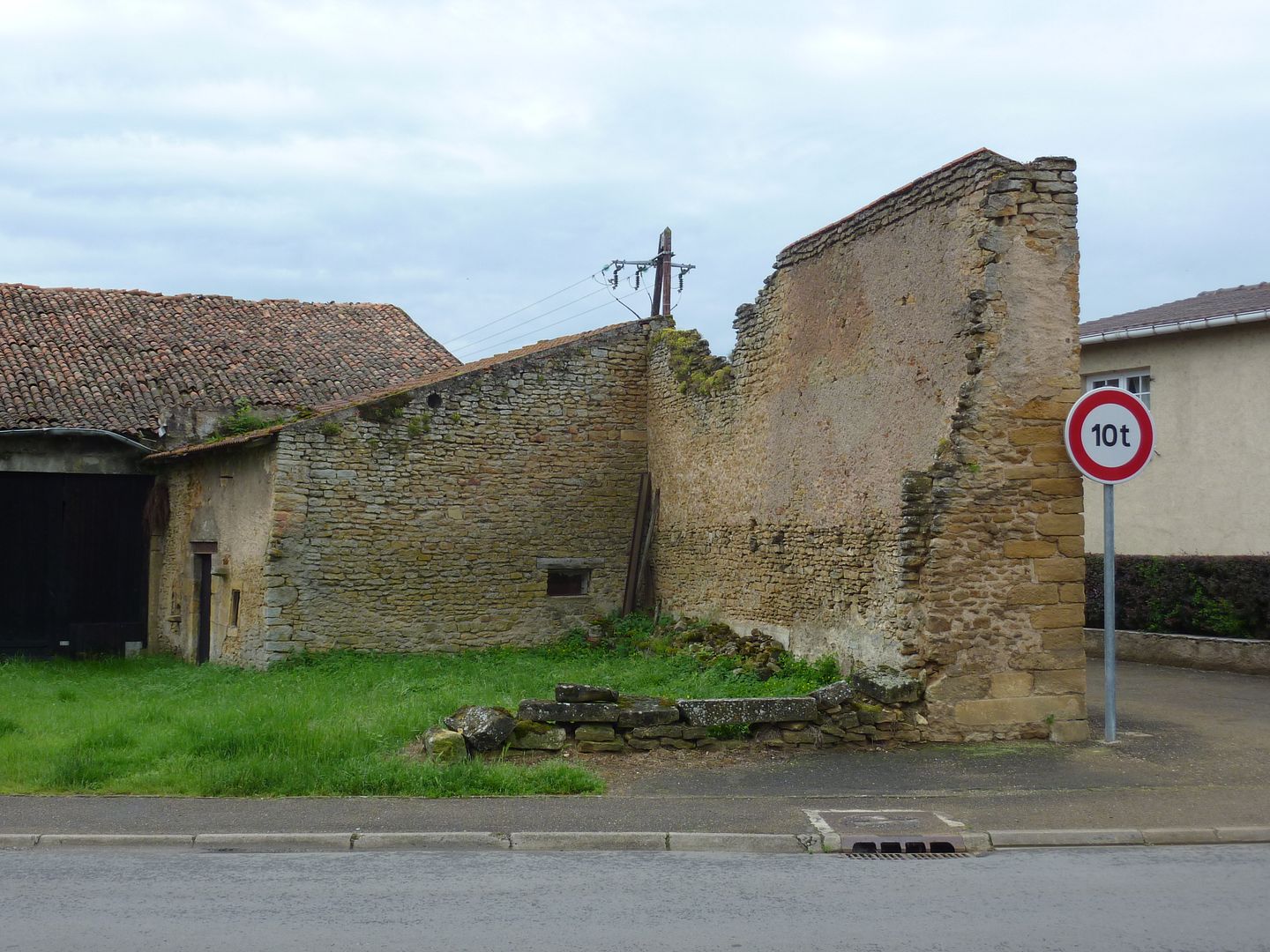 There are some farm buildings sharing the old château courtyard.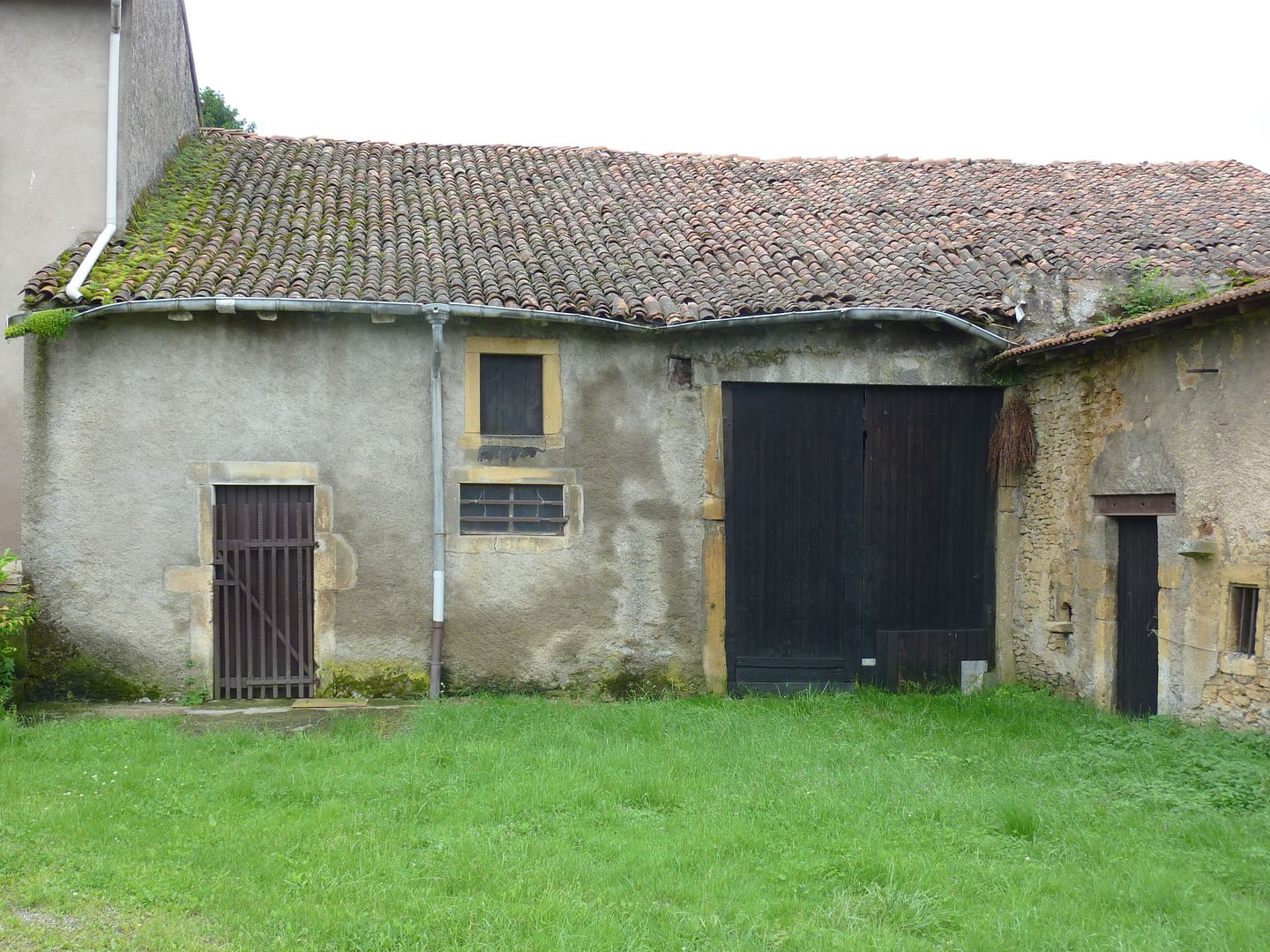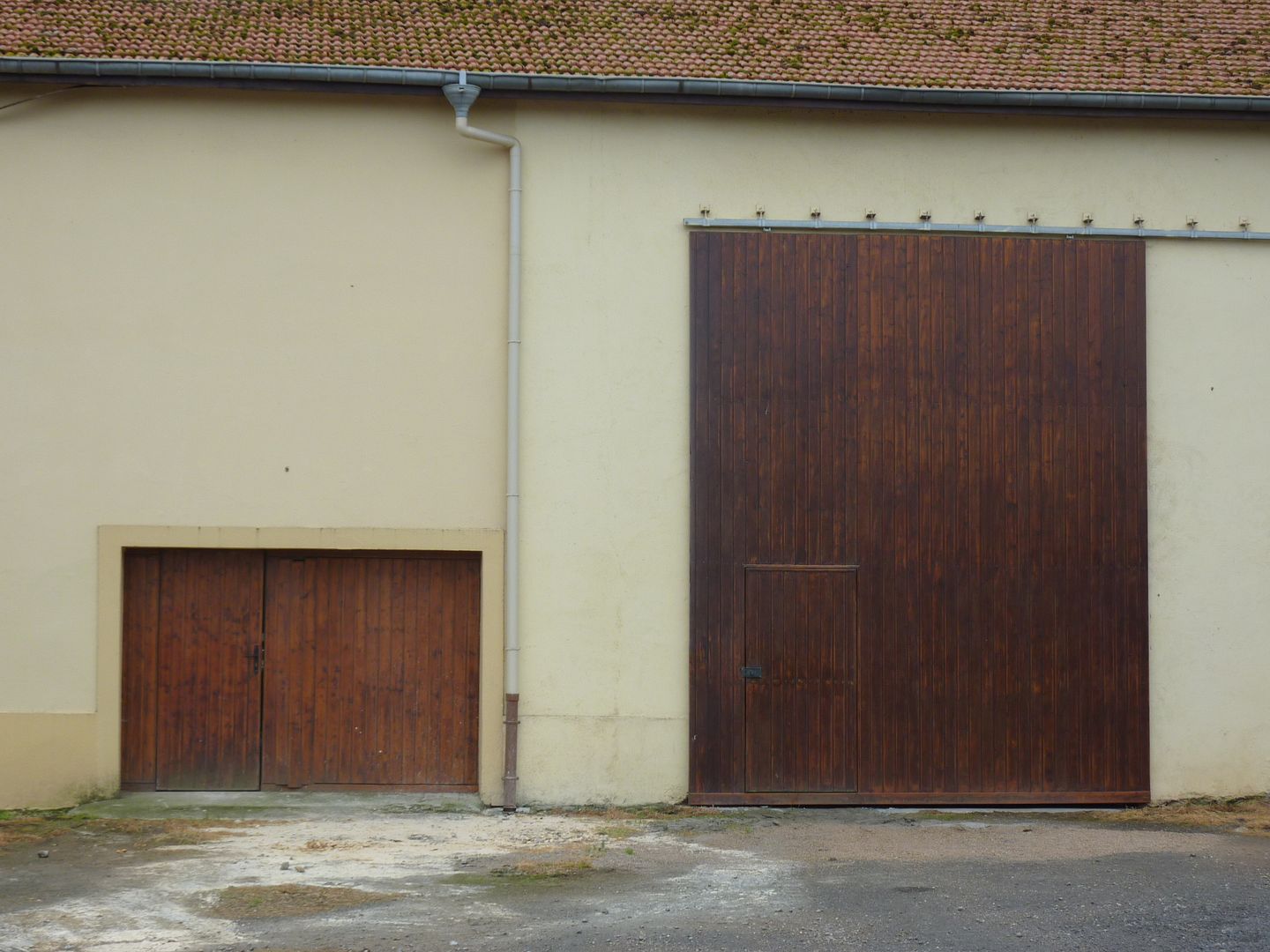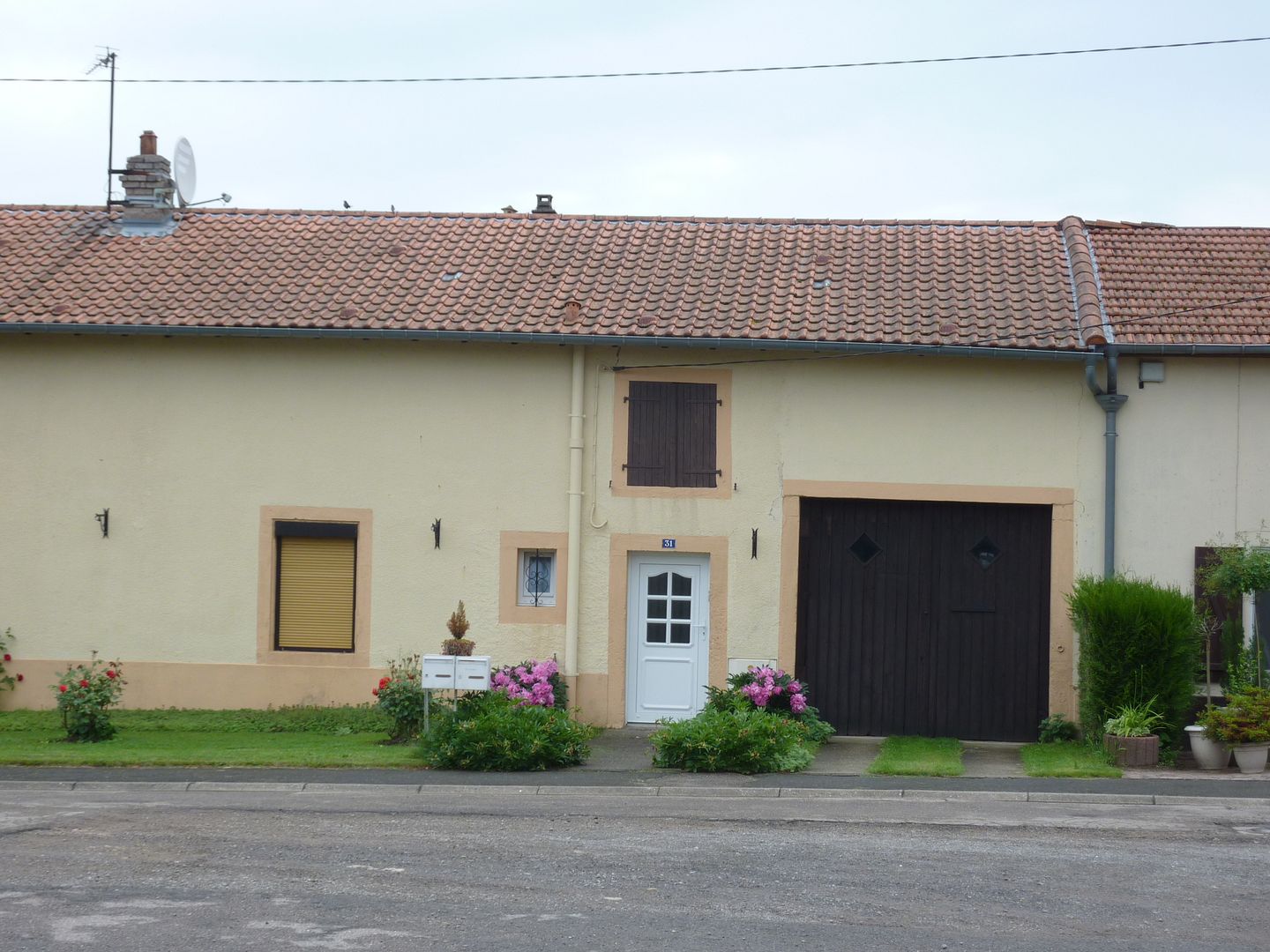 It is all still extremely rural, because here is one of the streets leading off the main street of the village.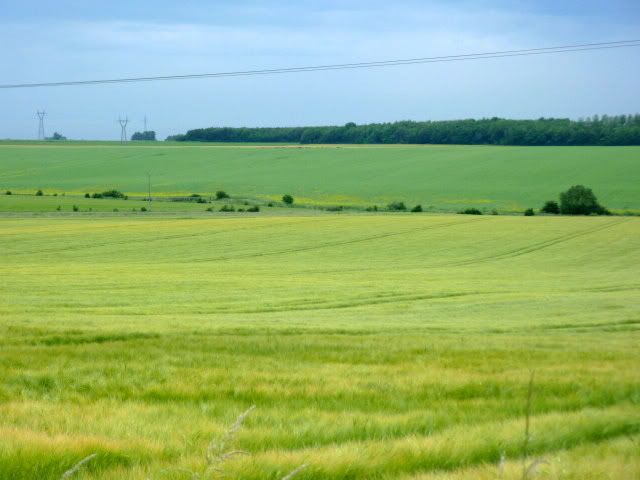 (more to come)



Posted by kerouac2 on Jun 19, 2010, 7:17pm
Here is the town hall, where my grandfather spent a few hours every day from 1945 to 1971. The school attached to it has expanded twice over the years, as you can see from the somewhat regrettable architectural styles.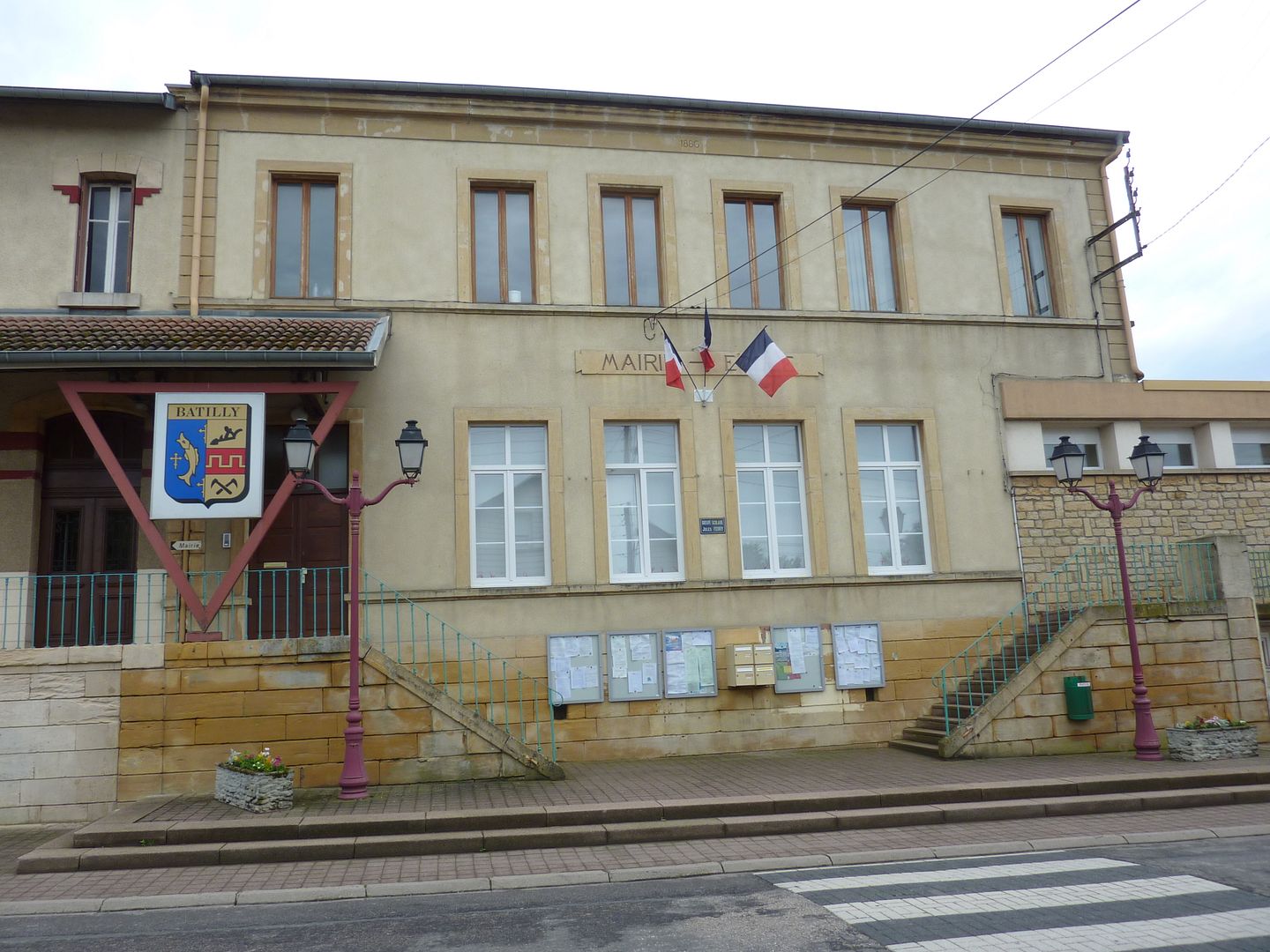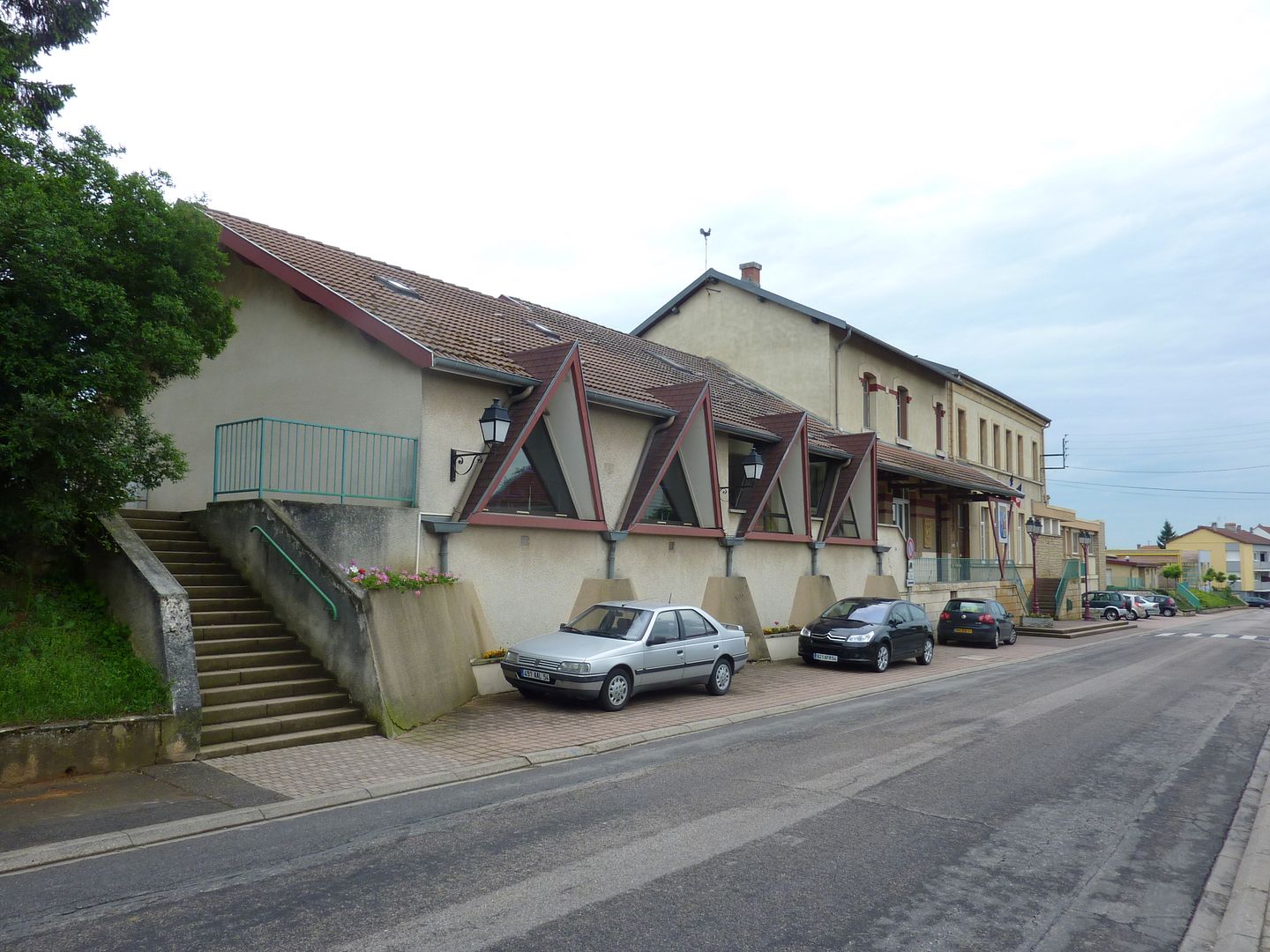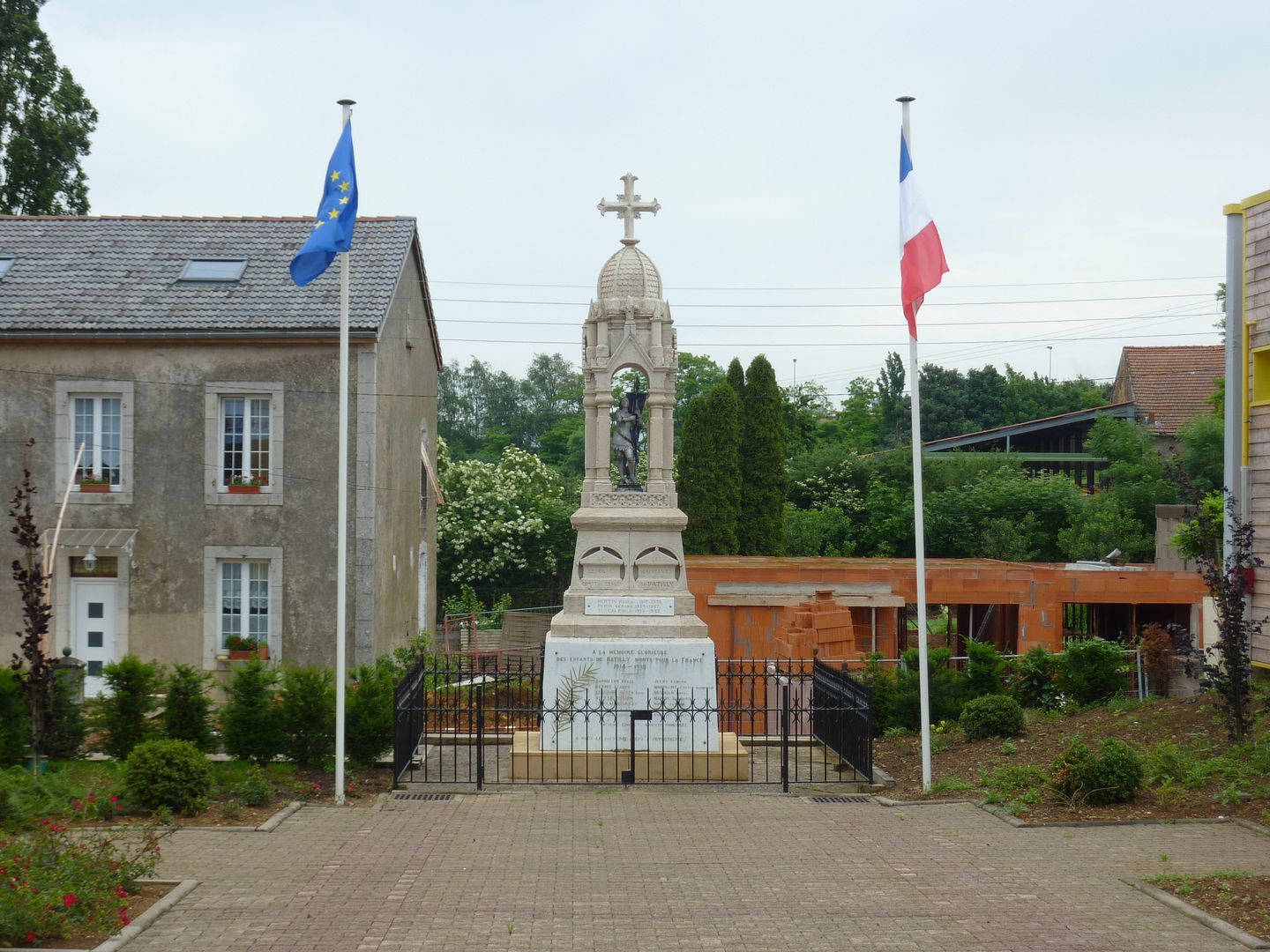 Next to the Mairie was what is the important symbol of any French village – the monument to the war dead. In Batilly, as in many parts of Lorraine, it is a statue of Jeanne d'Arc, the local girl. On July 14th and November 11th, my grandfather would give a speech in front of the monument (probably the same speech year after year), and there was always a surprisingly large group (considering the size of the village) there to listen to him, particularly the absolute caricatures of old village men – beret and a Gauloise hanging from the side of one lip.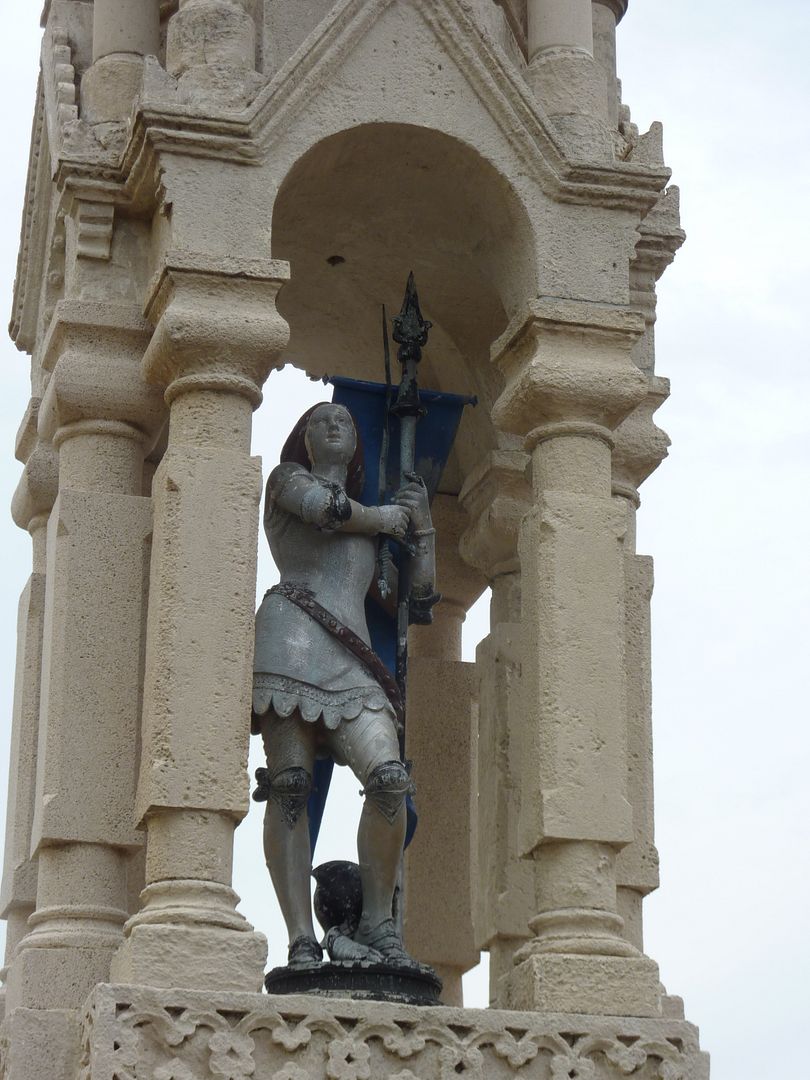 What brought so many people to the speech was that it was always followed by a "vin d'honneur" in the ceremony room of the town hall. This was basically an open bar for about an hour until the attendees staggered off to their holiday lunches. I was there a few times over the years on the appropriate dates (grenadine for me), but one person who was never there was my grandmother, who was furiously cooking at home for all of the family and guests. Luckily the dining room could only seat perhaps 12 people, but her results were always totally outstanding, as I have already written on the "after dinner" section. In any case, there were always very few women at the vin d'honneur, because most of them were in the same situation as my grandmother.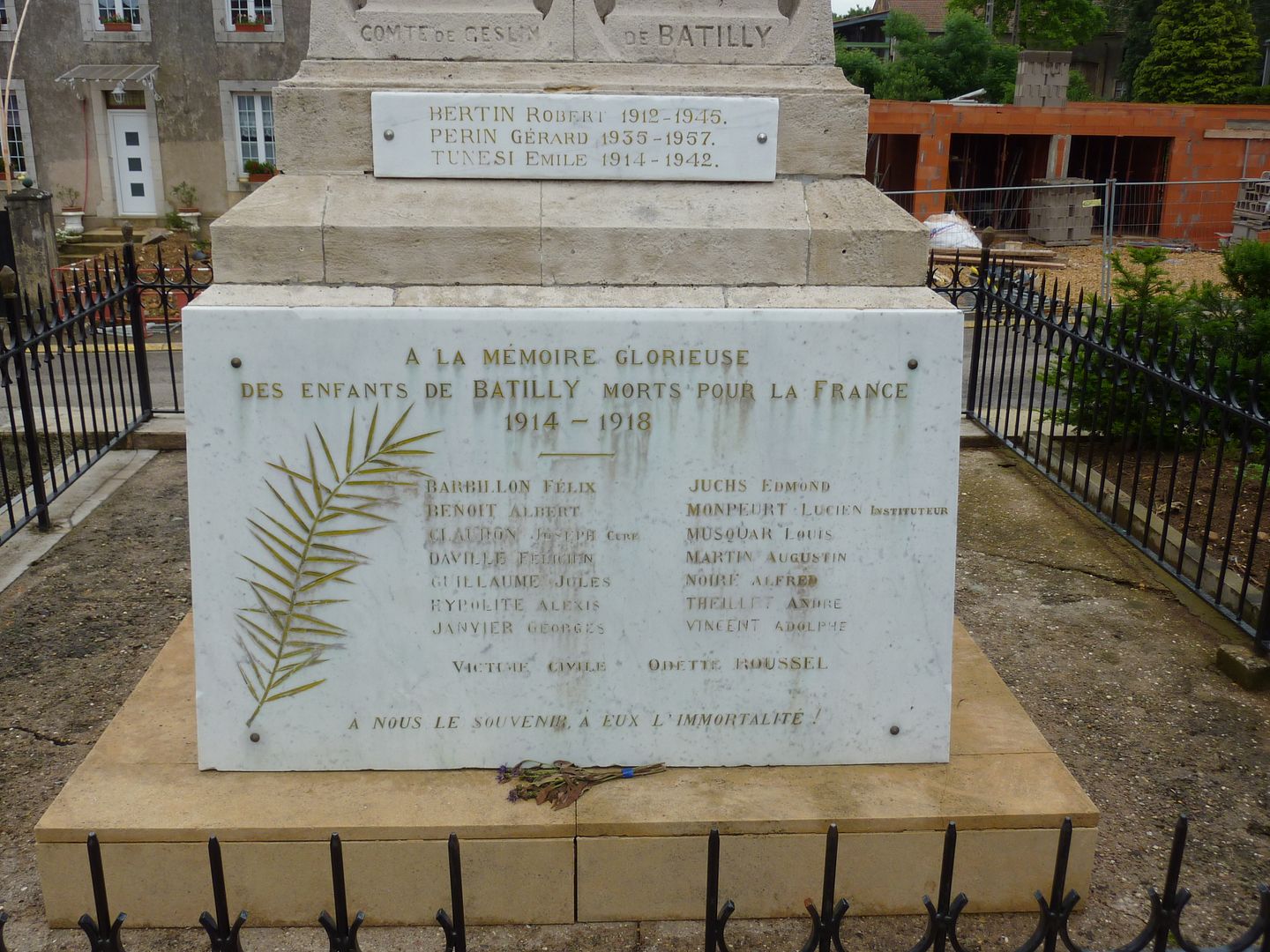 I must mention another monument of the village – at least it is a monument to me. It is this building.




It has totally changed over the years (more photos to find from the archives!). For one thing, the entrance used to be in front, because it was the Café des Sports on the left, and at one time there was even a barber shop on the right. More important, in its earlier incarnation, it was the boarding house run by my great grandparents (who died long before I was born), and my mother was born upstairs. For all I know, my grandfather was perhaps born in the same building.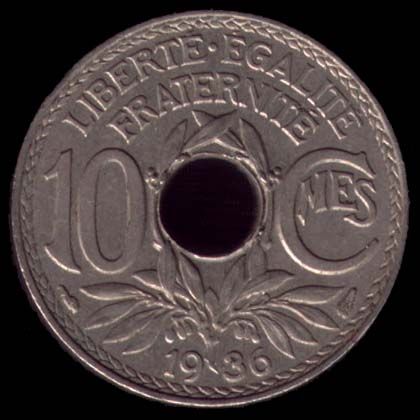 When my mother was just a tot, my grandparents were still living there, much to my grandmother's dismay. Her husband (future mayor) promised her when they married that he would take her to Paris to live. And what happened? She lived in that village for about 65 years. (But I do not feel sorry for my grandmother – how many European village women do you know who made 9 trips to the United States in their lives, accompanied by her husband only twice? She had an amazing life.) Anyway, she waited on tables in the café while waiting to go to Paris. And my mother, at age three, would climb up on the tables and sing the songs from the nickelodeon. The customers and boarders loved it and would give her money. One of her famous things was to reject all coins with a hole in them, because she knew that they had less value than the coins with no holes.

A few other things about the central village (we still have another area to visit) – they have renovated the old lavoir (wash-house), but not for people to actually do their laundry. It is just for show. At least I hope so.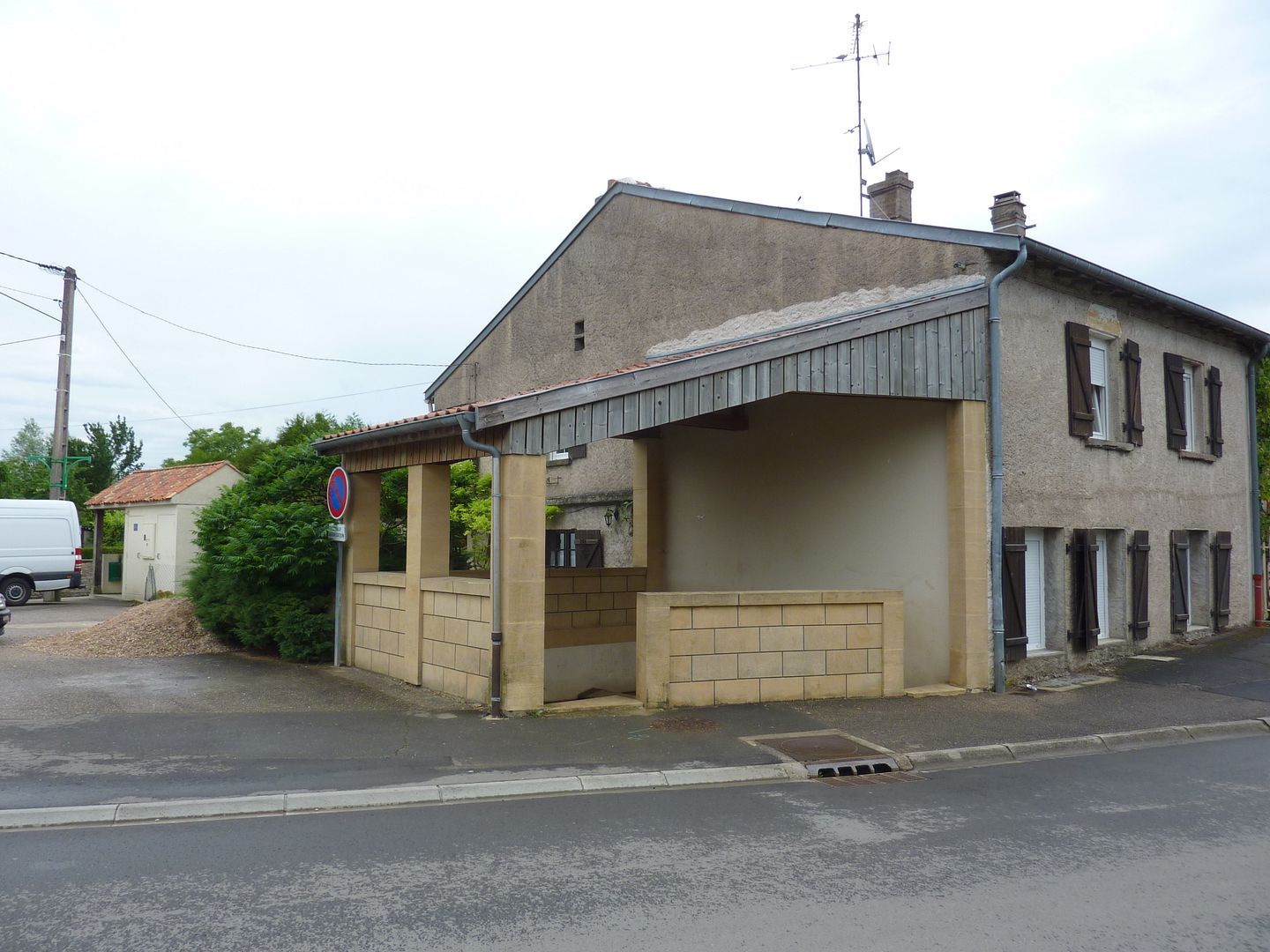 I remember 4 cafés that I used to visit with my grandfather. This was part of his mayoral duties, having drinks all over the place. (Sure it was!) Besides the Café des Sports, there was also the nearby Café du Centre in the center of the village. It closed long ago, but there is still a trace of its existence, if you can squint enough.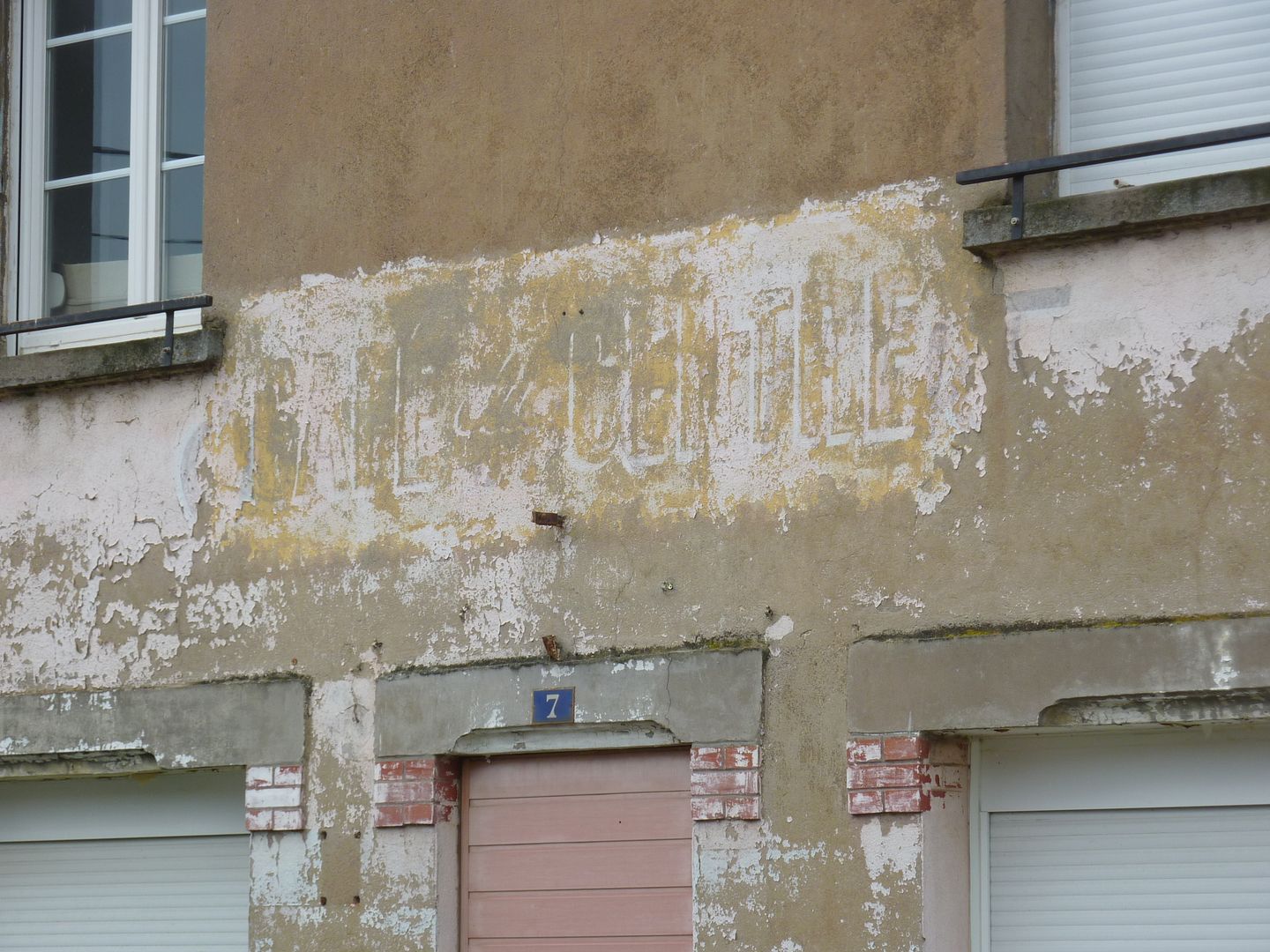 The only old café still open is the place that was called "Chez Gaby" from the mother's name, or "Chez Robert" which was the family name, but the real name was "Café de la Gaîté" – the Robert family also had a bakery next door. I have no idea if they still do.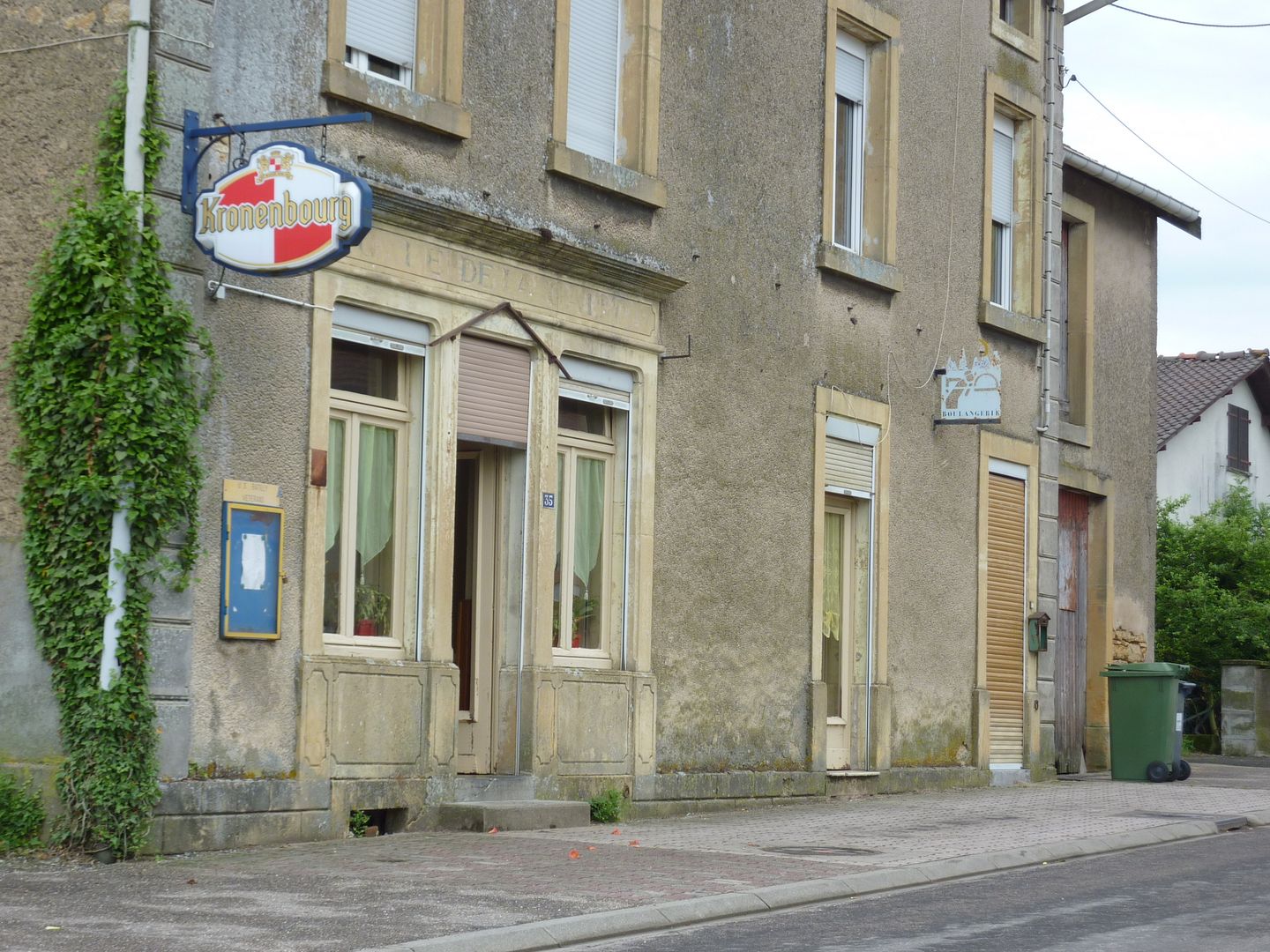 But there is a new establishment "downtown," and I should also tell you that it is the only place that actually serves meals once you rush to this village to see it for yourself. It also has a shop and sells newspapers. On top of that, it is now the official "postal agency" since the village post office has been eliminated. Oh, I used to go there almost every day when I lived in Batilly. My grandparents spent a fortune in postage in my letters to my parents.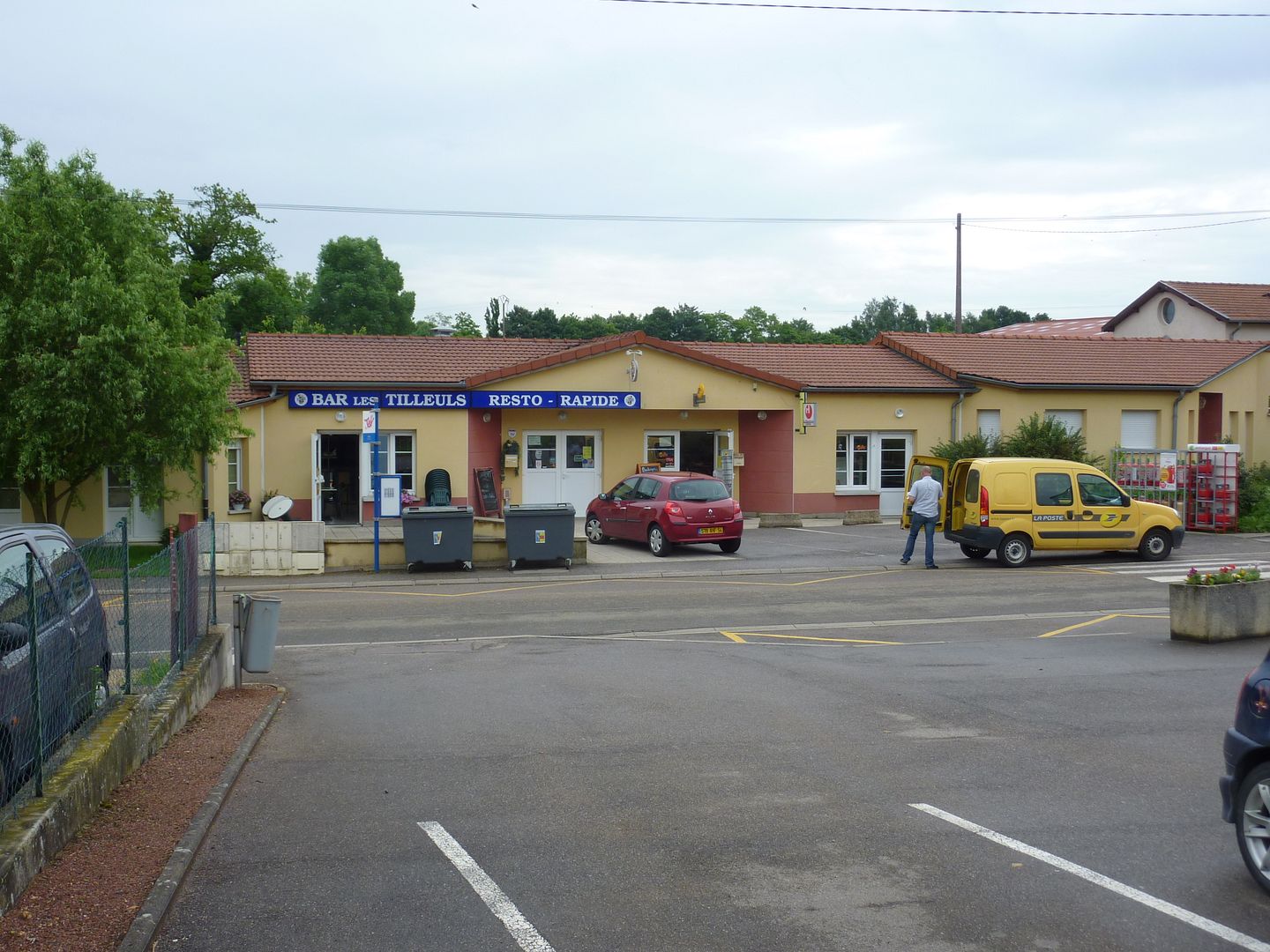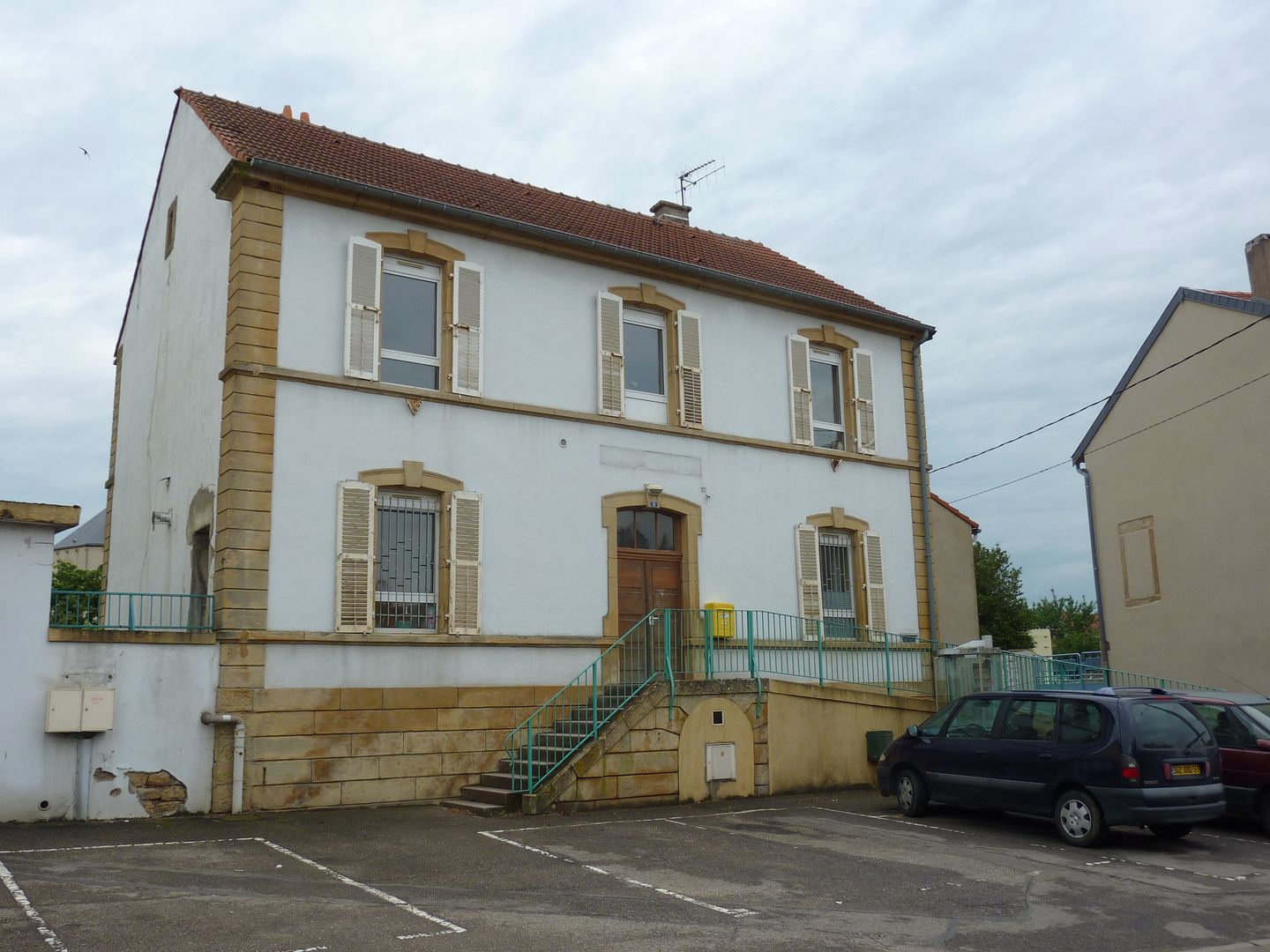 civil servants would be sent here to languish for years, living upstairs



The village decoratively also celebrates its mining history.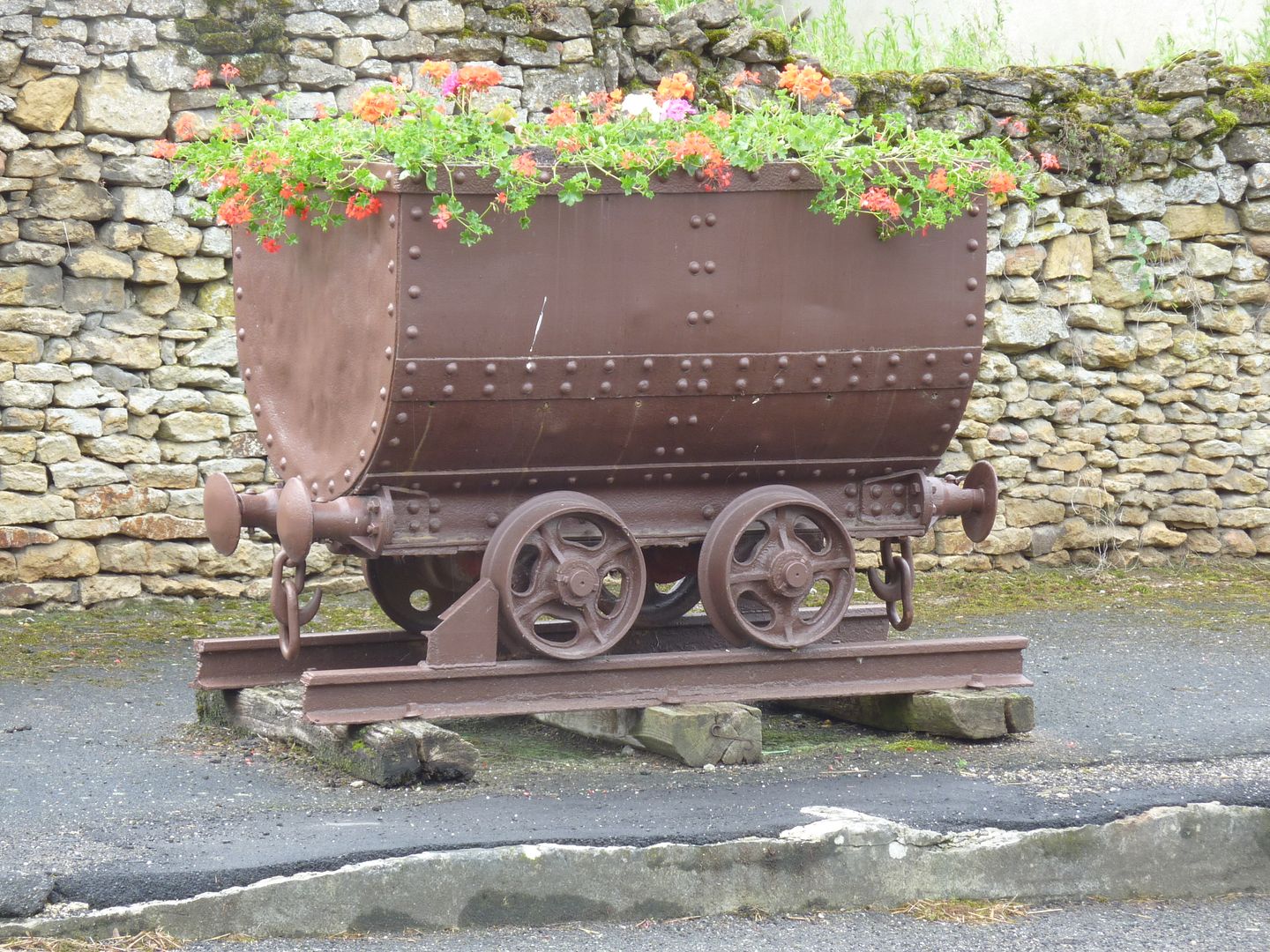 (more to come)



Posted by deyana on Jun 19, 2010, 10:51pm
Very nice, K.
Posted by cigalechanta on Jun 20, 2010, 2:47am
Provence was always grey until one day years ago people bought inrto it and started the colors.
Posted by kerouac2 on Jun 20, 2010, 11:26am
When I was very young, there was even a 4th section of the village, "La Gare," and that's where my grandparents lived. My grandfather was a railroad man and former station master of the nearby town of Conflans. There were open fields between the main village and the station area.

Then, around 1958, the mine was looking for a place to build new houses for its workers. These were extremely prosperous times, and most people had a car, so there was no longer any need for the houses to be right next to the mine. So the empty area along the main road was filled in with mine houses.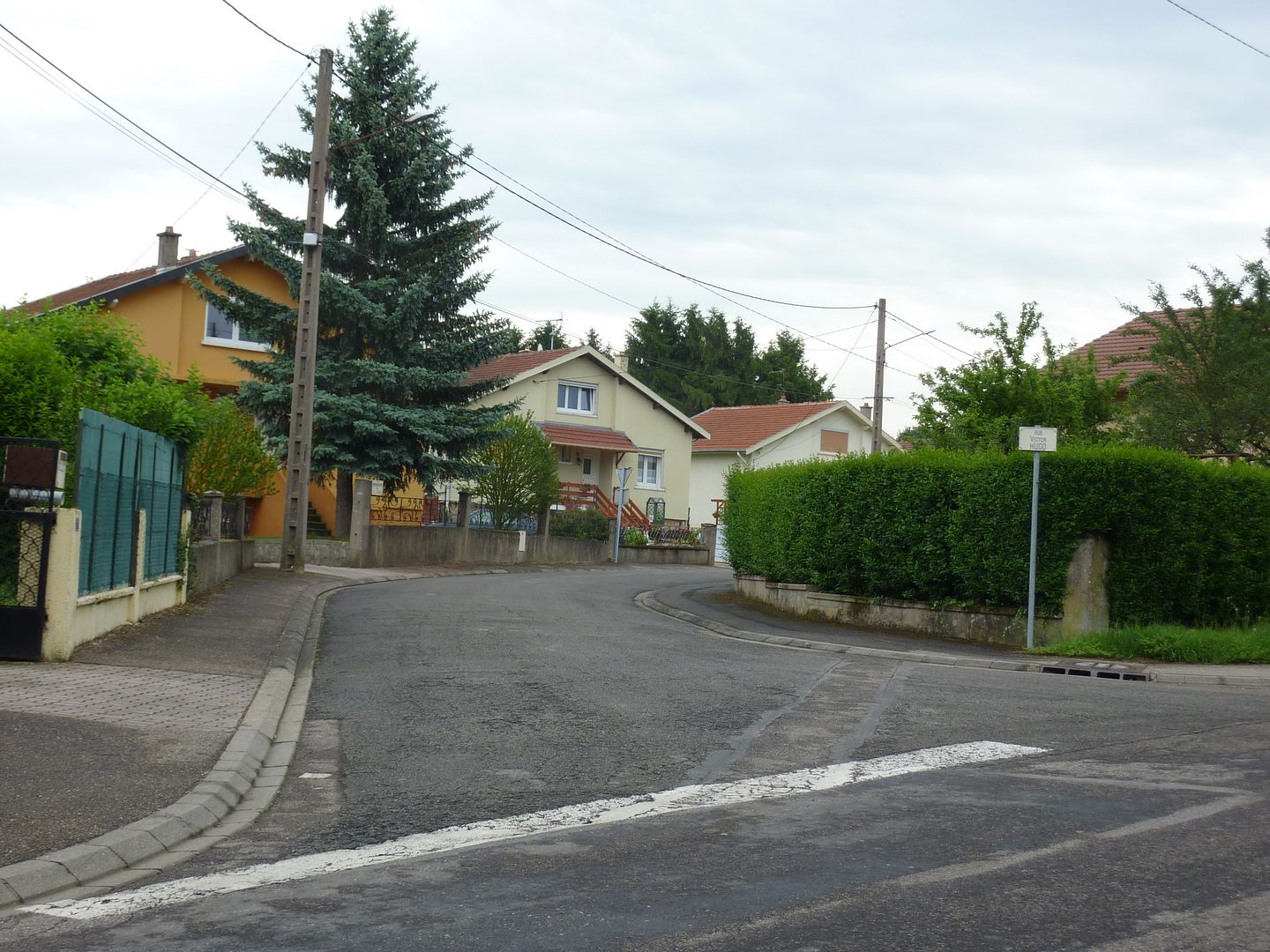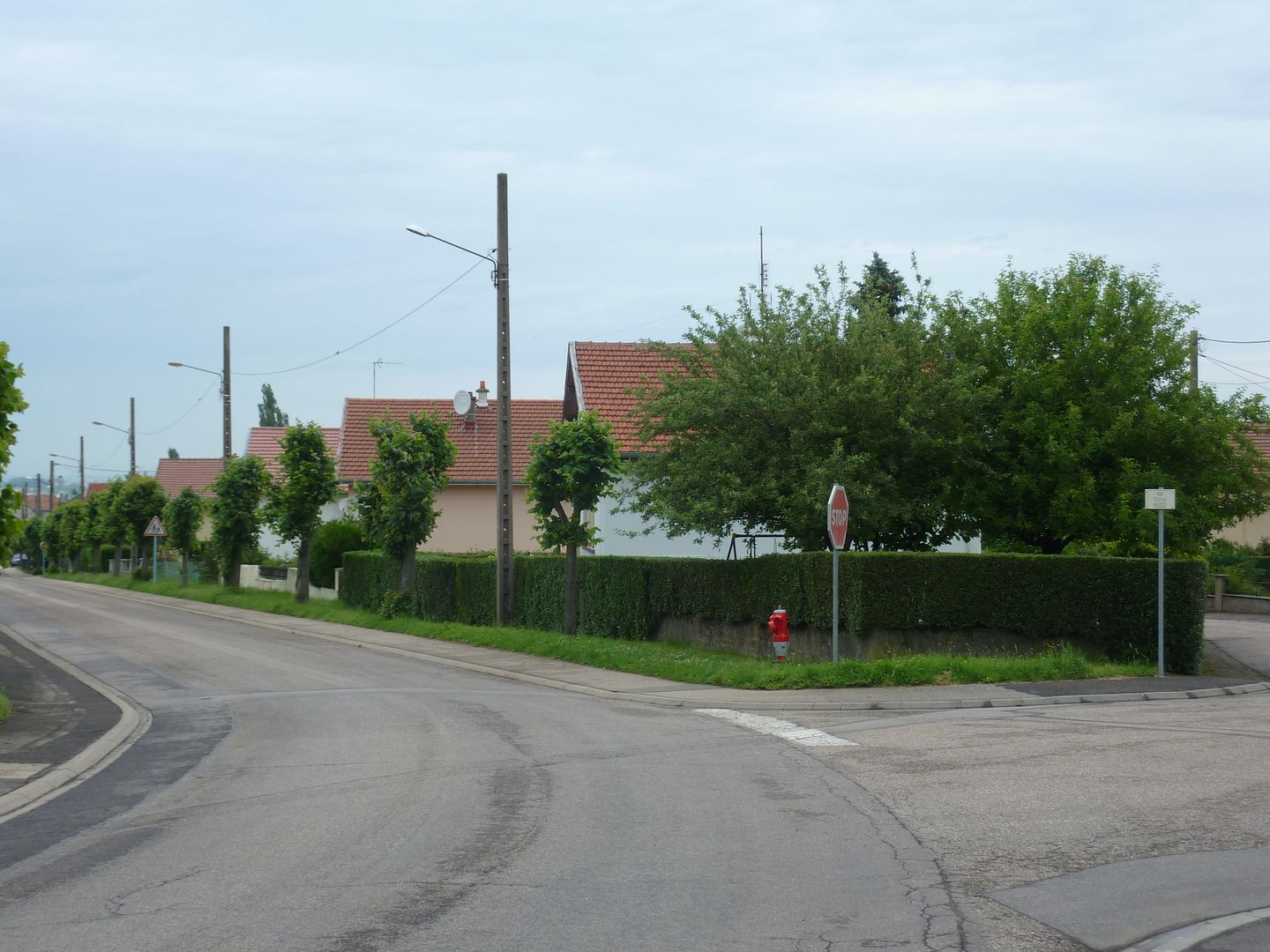 Frankly, these houses are very nice and not at all as basic as one imagines when thinking "miners' houses." I have been in many of them, and they would suit me just fine if I lived in the village. Over the years, the residents purchased the houses from the mine and improved them in many ways. In back of the houses, just about every one has a kitchen garden of variable size.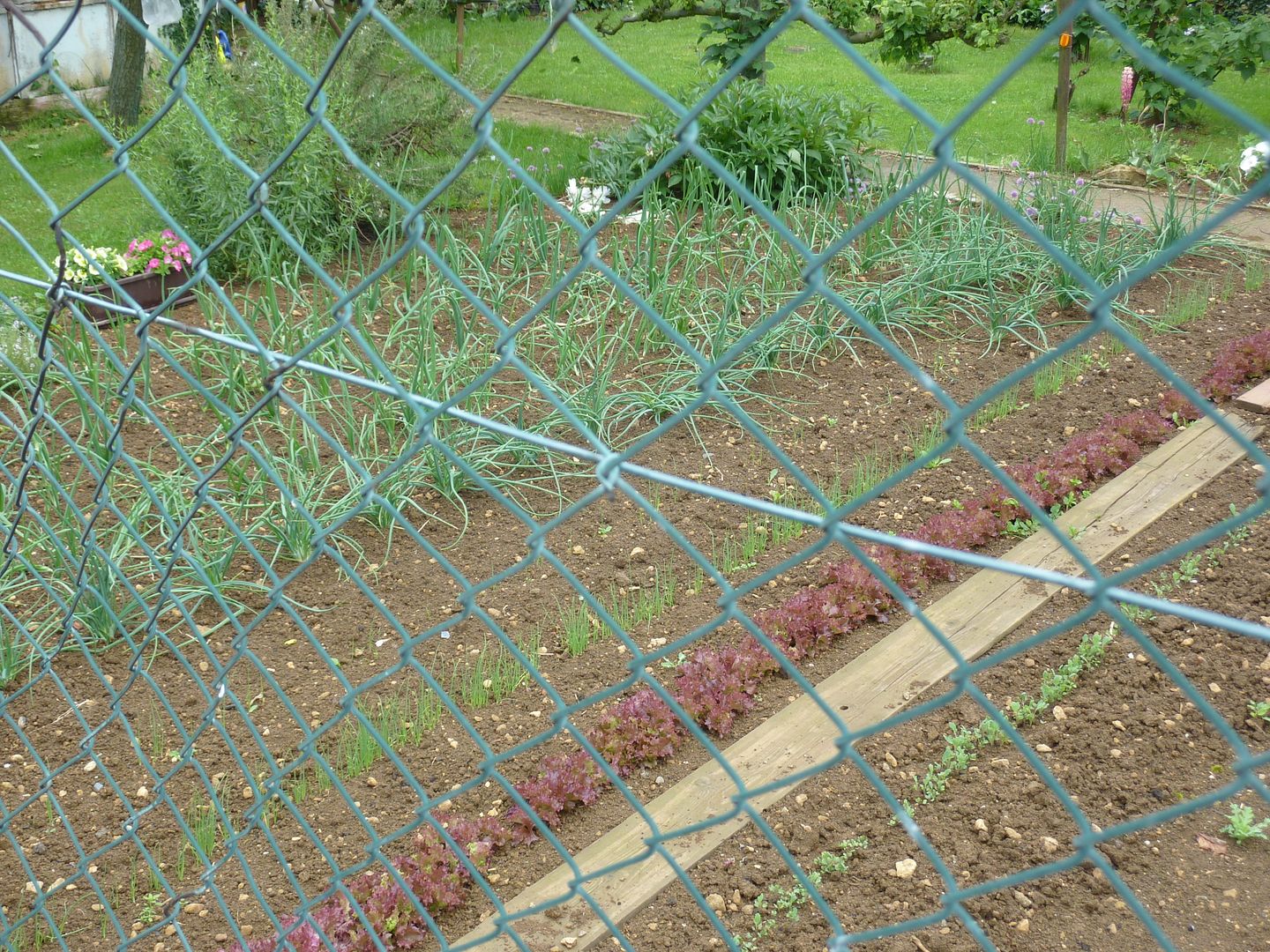 Lots of people also have fruit trees, mostly cherry, pear and mirabelle and quetsch plums. The cherries are beginning to ripen.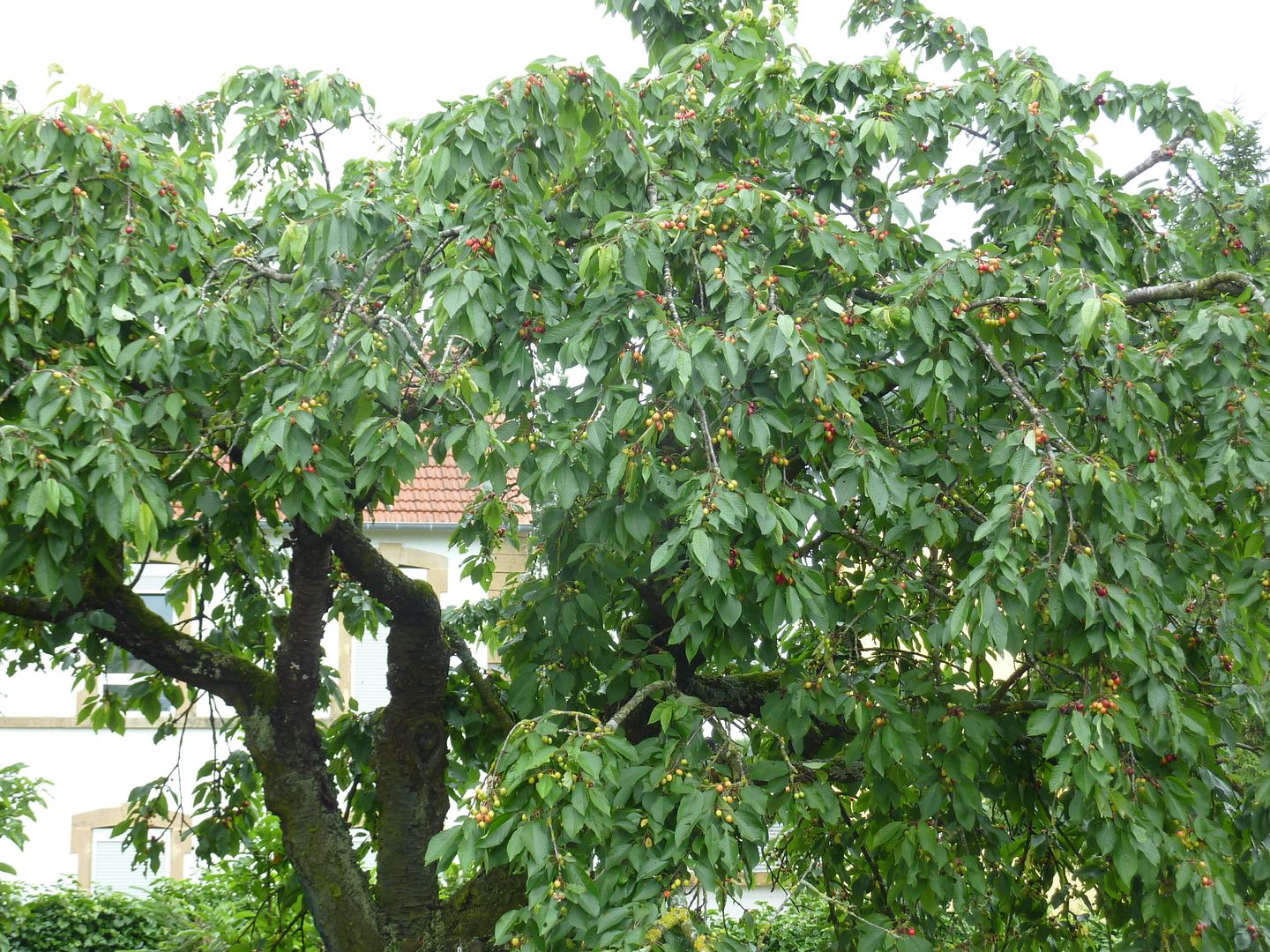 Once my grandfather knew that his medical problems (prostate cancer) were coming to their inevitable conclusion, he did not run for re-election as mayor, and anyway he was 80 years old, so he left his place to his assistant. He kept an honorary position on the municipal council but quickly died. A new street was named after him, and there is now a housing development on it.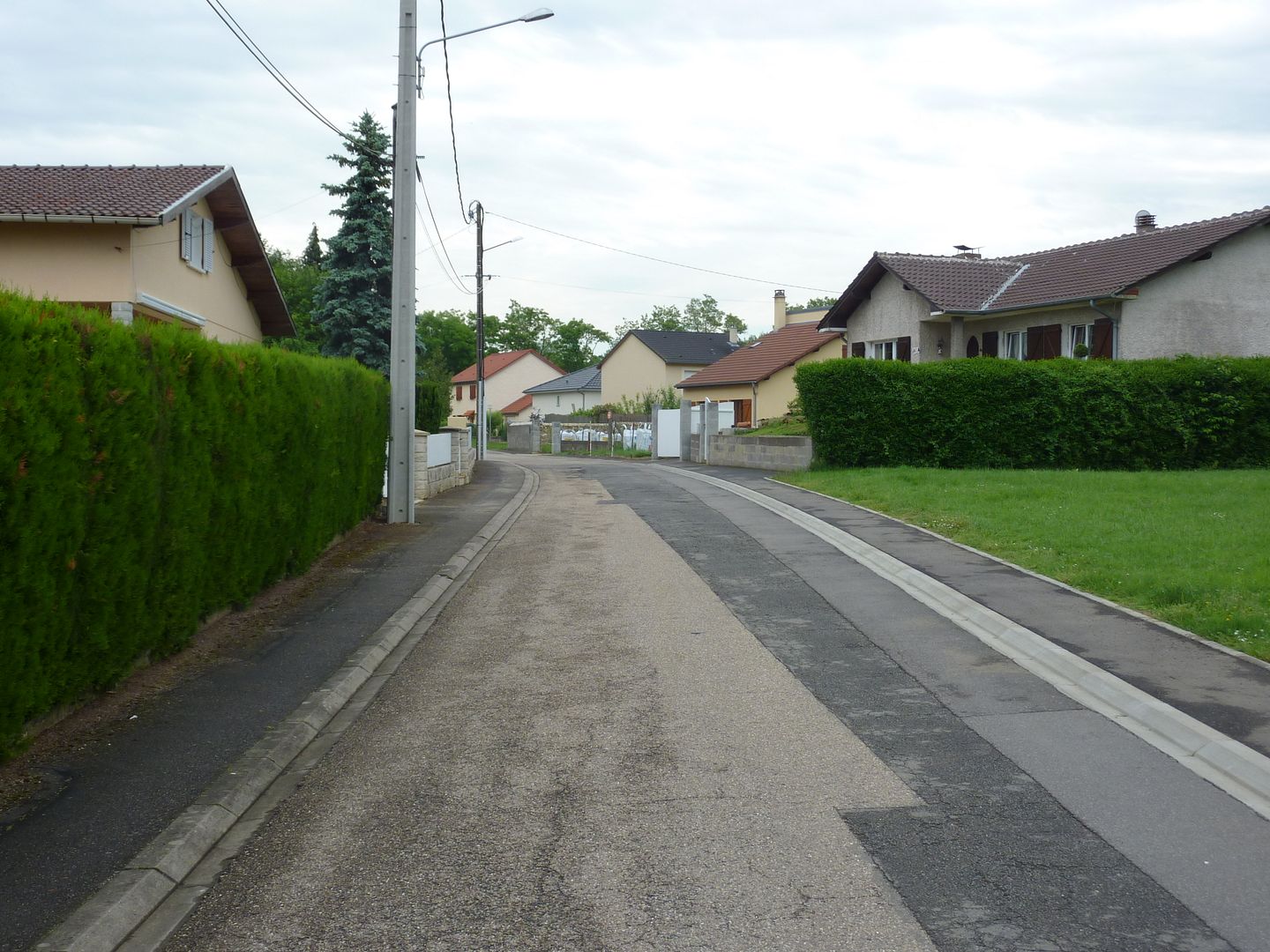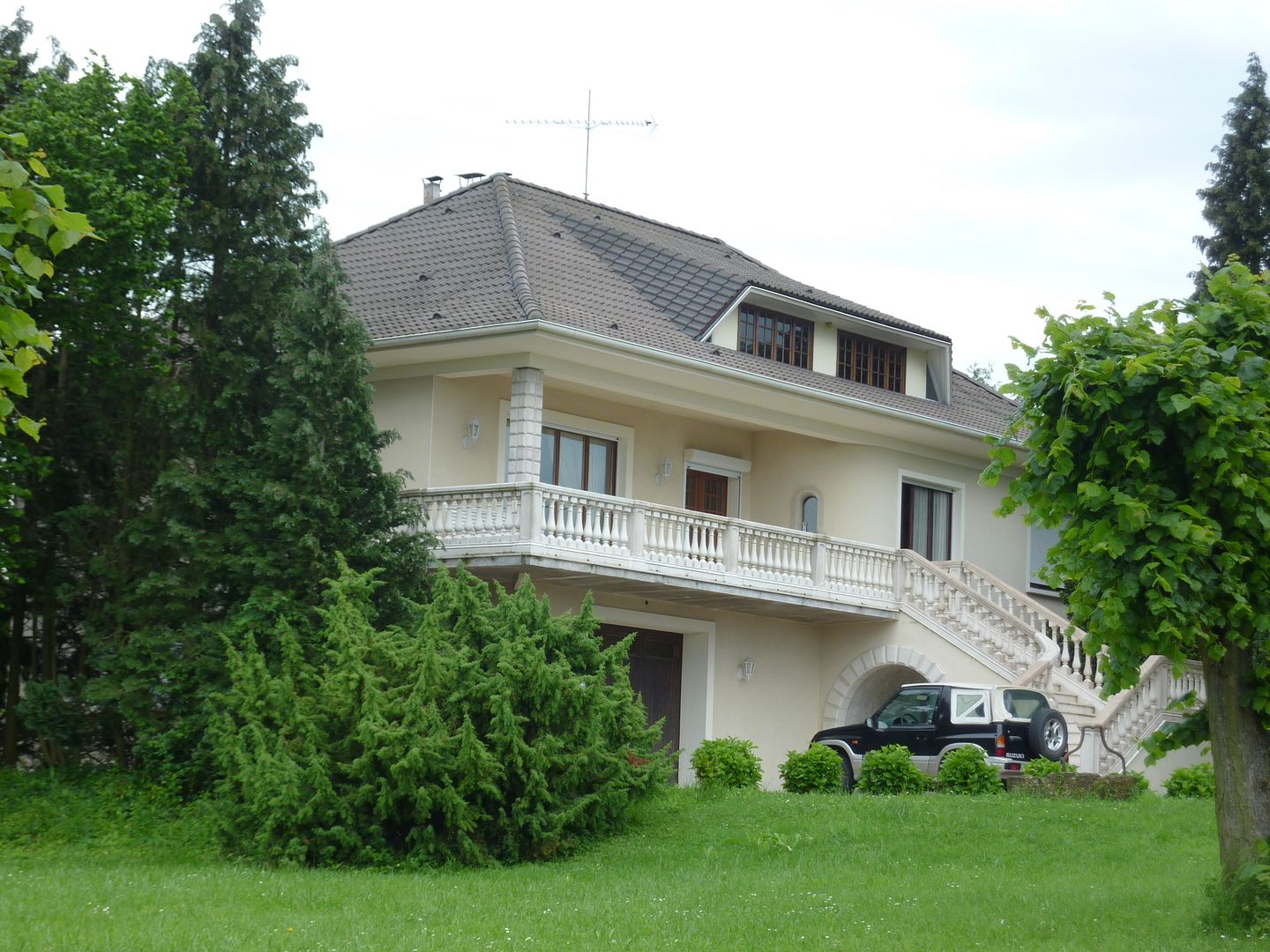 Anyway, on to the station area. The passenger train stopped running on the Conflans-Metz line around 1973 or so. It was replaced by the SNCF bus for many years and lately I saw that the local transportation is now provided by a company called TED. Basically, there were trains and then buses just 3 times a day – morning, noon and evening, based on working hours.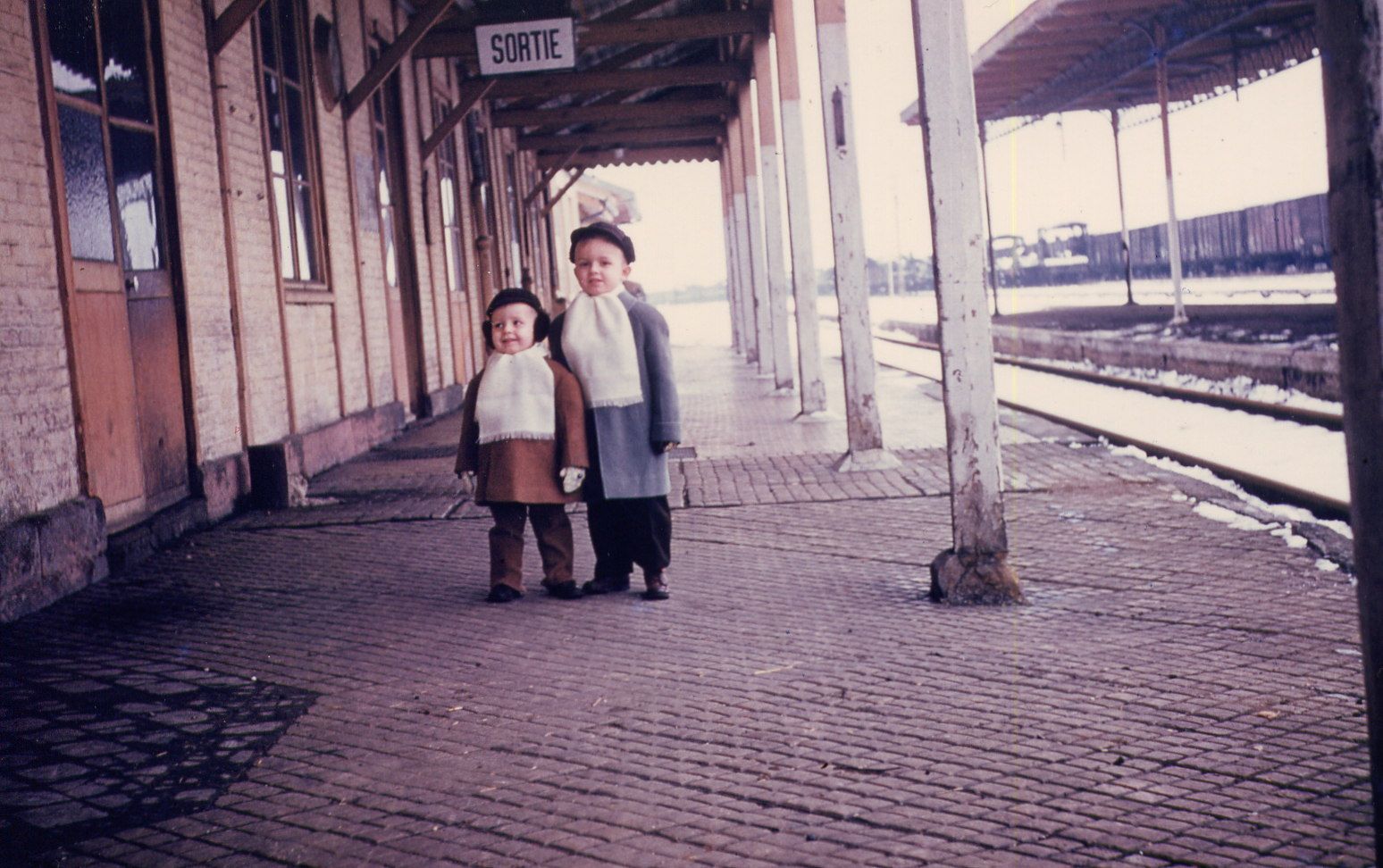 My big brother and I took the train to Metz many times. I think I was 2 ½ years old in this photo. There were actually an enormous amount of tracks at this station, considering the fact that it was a tiny village. There is a reason for this – Batilly was a border town with Gemany until 1918, and a lot of freight was controlled by customs there. As much as my grandmother enjoyed going shopping in Metz, anything in Moselle was still German as far as she was concerned. As a young bride before the war, she still remembered how the thugs from the nearby village of Vernéville (just across the invisible border) would come and make trouble at the Saturday night dance in Batilly. Except back then, the village was called Verneheim.

The station is still there, but only the Renault factory uses the tracks.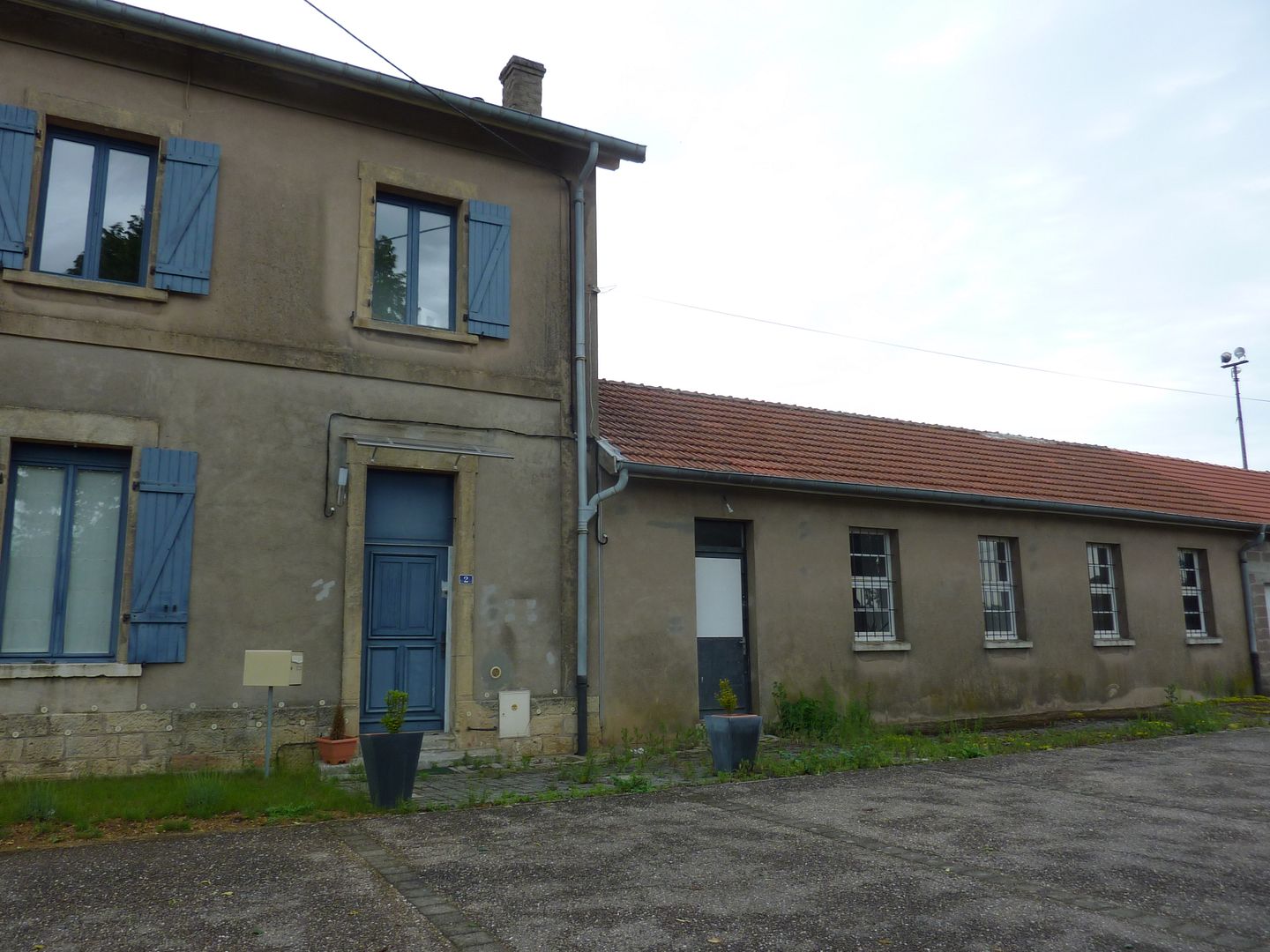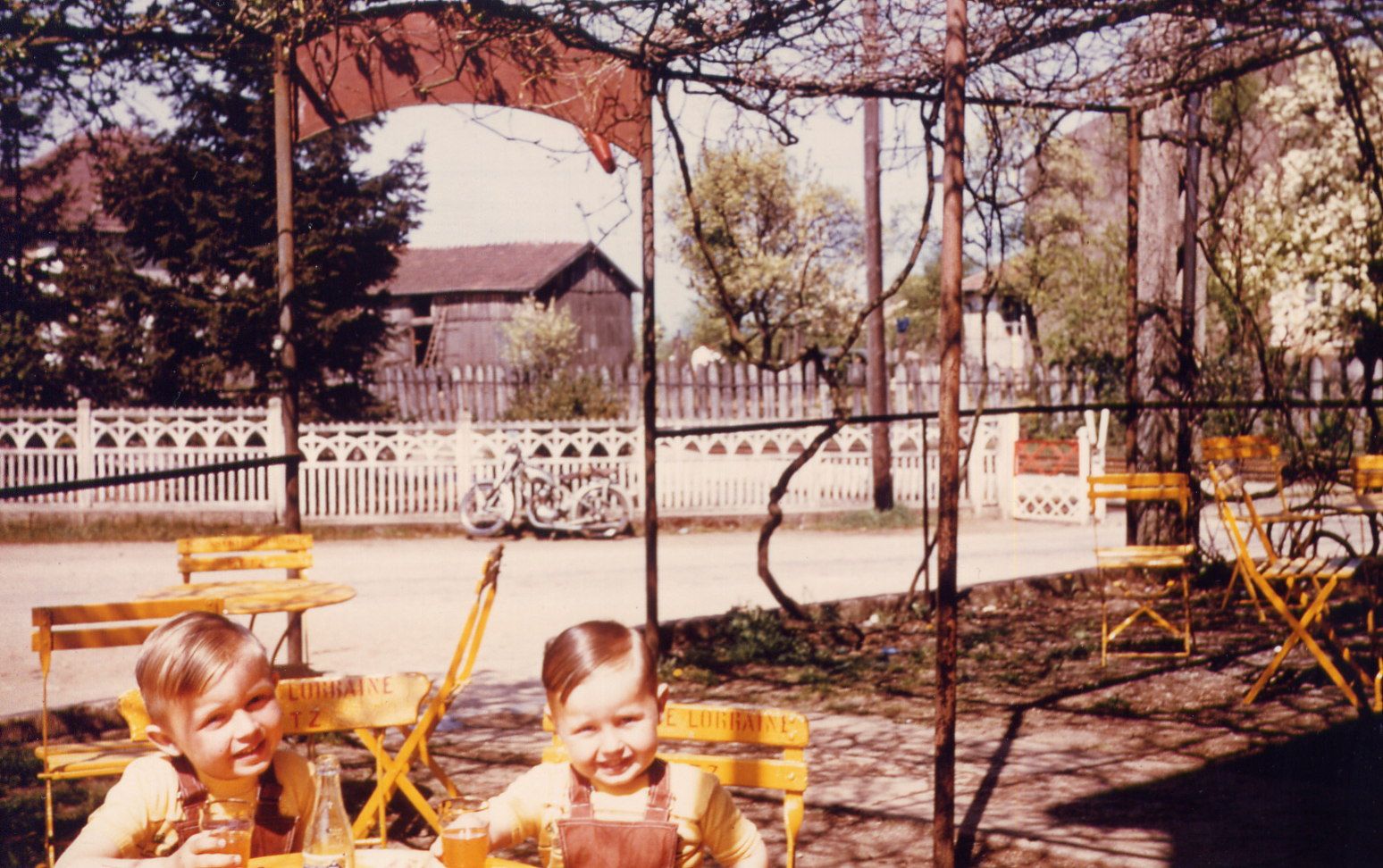 Right next to the train station was my grandfather's second headquarters and the 4th café of the village, the Café de la Gare. If he did not appear on time for meals, that was the place to fetch him. He was lucky when my brother and I were there, or even my mother, because it was no laughing matter if my grandmother had to go and get him herself.

The café closed about 30 years ago, and the building was abandoned for some time. It certainly isn't abandoned anymore.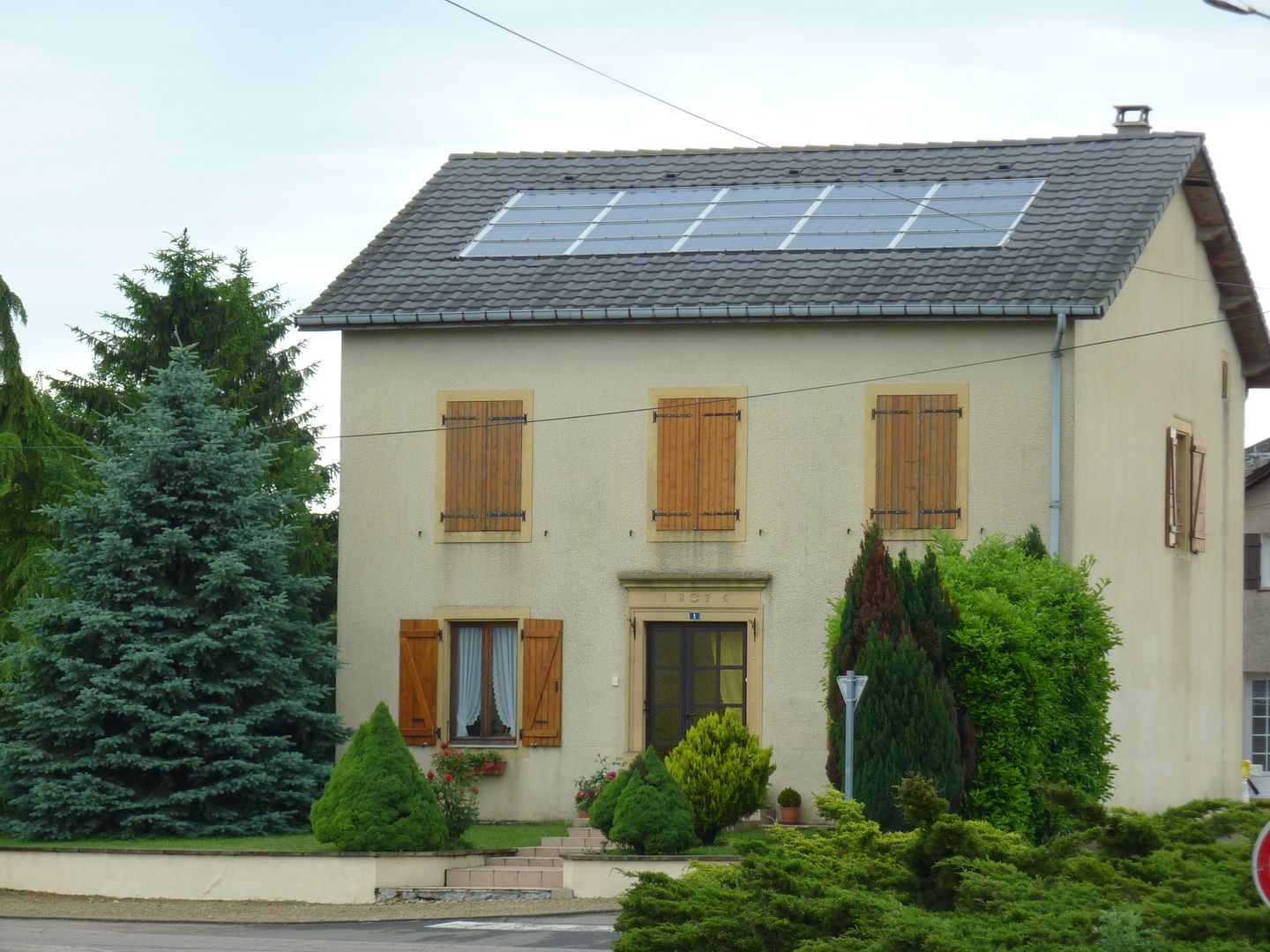 Finally, right on the other side of the train tracks was my grandparents' house, the house in which my mother grew up.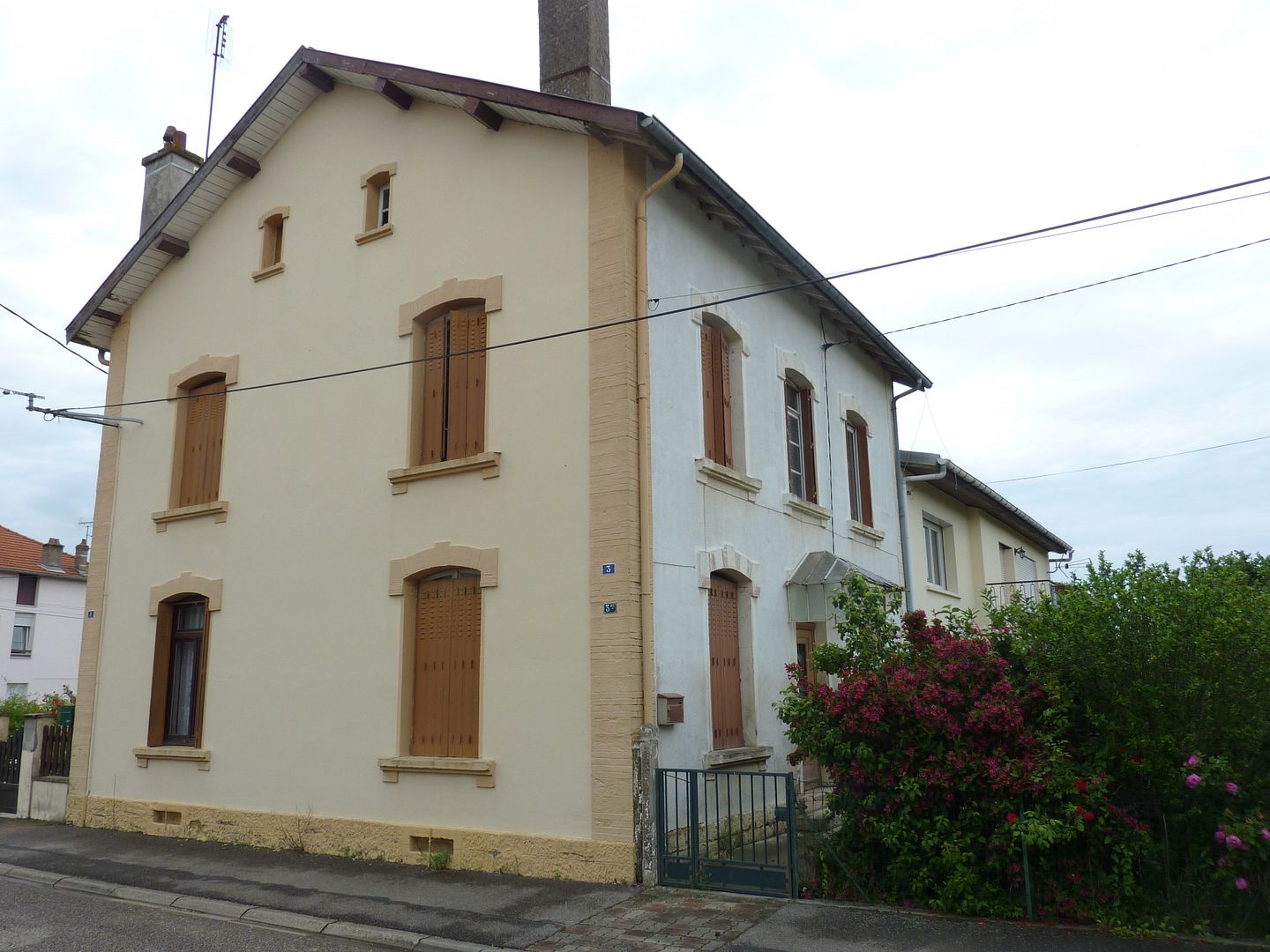 All of the houses on the street were built for railway workers, around 1925. Each of these houses is actually two houses, either back to back or side by side. On the other side of my grandparents' house, you can still find my mother's cousin Mariange, one of the least interesting members of the familly. They were the first houses in the village that did not have outhouses. There was a carved wooden seat upstairs (with a wooden cover to replace when you were not sitting on it), and also the big metallic pitcher full of water to wash the stuff down to the cesspool. It was a very, er, fragrant room, and one of the things I hated the most were the flies that would walk around on your butt while you were doing something important. Around 1968, my grandparents finally had a normal toilet installed.

My parents built the secondary residence attached to the main house when they lived there.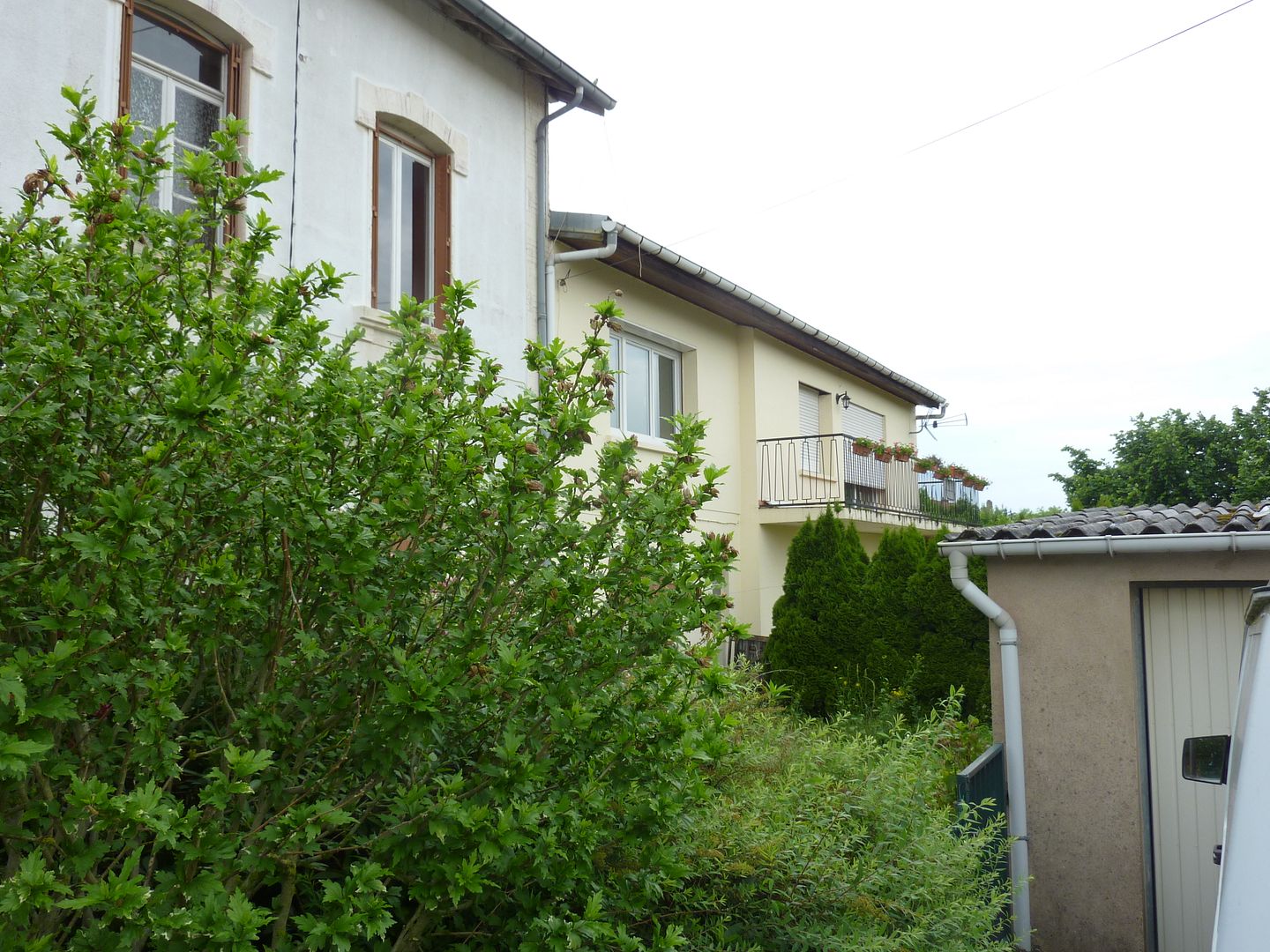 There was a well for every 4 houses for watering the gardens. They are all closed off now.




My grandparents had quite a large kitchen garden, which you can see in the background.



Monsieur le maire and his American grandsons



(one last section coming up)





Posted by bixaorellana on Jun 20, 2010, 1:56pm
This continues to be fascinating.

Kerouac, your grandfather must have been born @1890 & you say the population of the village was about 200 at that time. Was that 200 for his section, or for all the village sections combined?

I'm a little confused about the overall size, pre-Renault, as the size of the church and the town hall, and the fact that there were a couple of cafes, a boarding house, and other indications of enough population to need/sustain those things, the area must have been a good bit larger at various times. Also, was there another church before the one built in 1898? Surely there was one that's around the same age as the village.

Do you know any history of the founding of the village, and is it logical to assume it grew up around the chateau long ago?

The area with the kitchen gardens is absolutely delightful. It must have been all spindly trees and new development when you were little. All the curving streets and slightly rolling terrain make the new areas integrate nicely into the old.

Is your grandparents' house still in the family? I think you need to change your city ways. Fix up the old railway station so you can retire there!

Posted by kerouac2 on Jun 20, 2010, 3:42pm
The population of 200 was for all sections of the village. I don't think the section with the mine (Paradis) existed back then. I think the mine started around 1920 or 1930. The church and the town hall are indeed a bit larger than they usually are in a village of that size. I would attribute that to extra money coming in from the railway/border town activities from 1871 to 1918. And since the village had a train station, that made it a busier place than the 5 or 6 villages surrounding it.

Cafés in the old days could survive with a regular customer base of maybe only 20 people. Most of these were one room affairs and did not take much effort on the part of the proprietors. Until maybe the 1970's, they were hangouts for the elderly and the poor who couldn't always heat their own home properly, so they became a second living room to play cards, dice games or dominos or to watch television.

The name of the church, by the way, is Saint Pierre-Saint Paul, and that was also the name of the previous church, which dated from the 14th century. They just tore it down when the new one was built in 1897.

Posted by kerouac2 on Jun 20, 2010, 3:45pm
My grandmother's house was sold, along with my parents' addition, when they left in 1981. My grandmother's house was for sale earlier this year for 65,000€ but I didn't buy it.
Posted by imec on Jun 20, 2010, 4:39pm
This is incredible k2! You've really set a new standard for post cards!! Truly outstanding in every way.
Posted by kerouac2 on Jun 20, 2010, 6:56pm
Thanks, imec.

Just a few more photos to wrap this up. I wanted to show the little paradise just up the way from my grandparents' house, where my mother spent her childhood exploring, and where I did the same many years later. If this part of the village is ever developed into a real street with normal houses along it, that will probably signal the end of my nostalgia for the village.

It is basically right opposite the street of "railway houses." You cross the main street of the village and on the other side, there is this.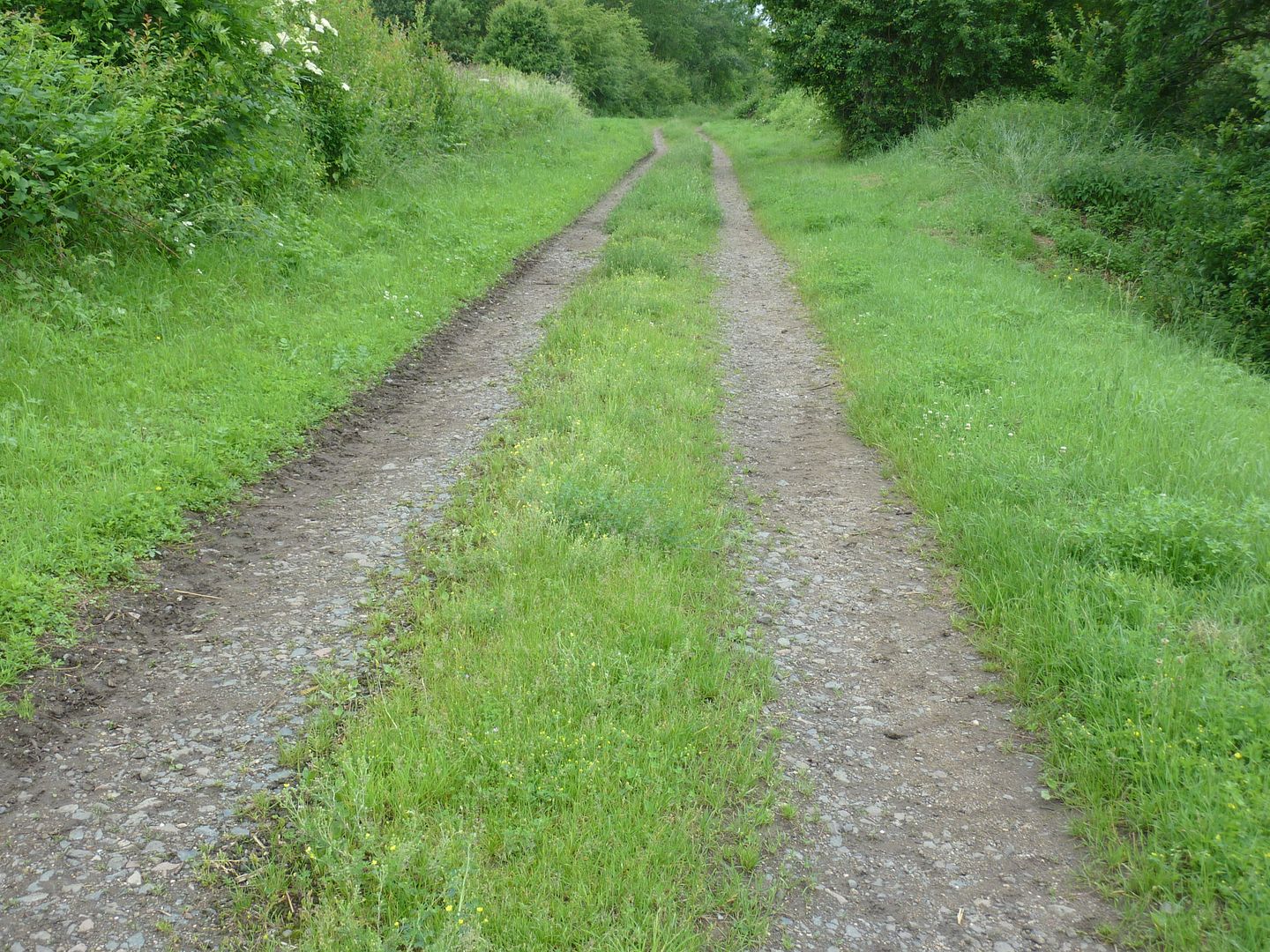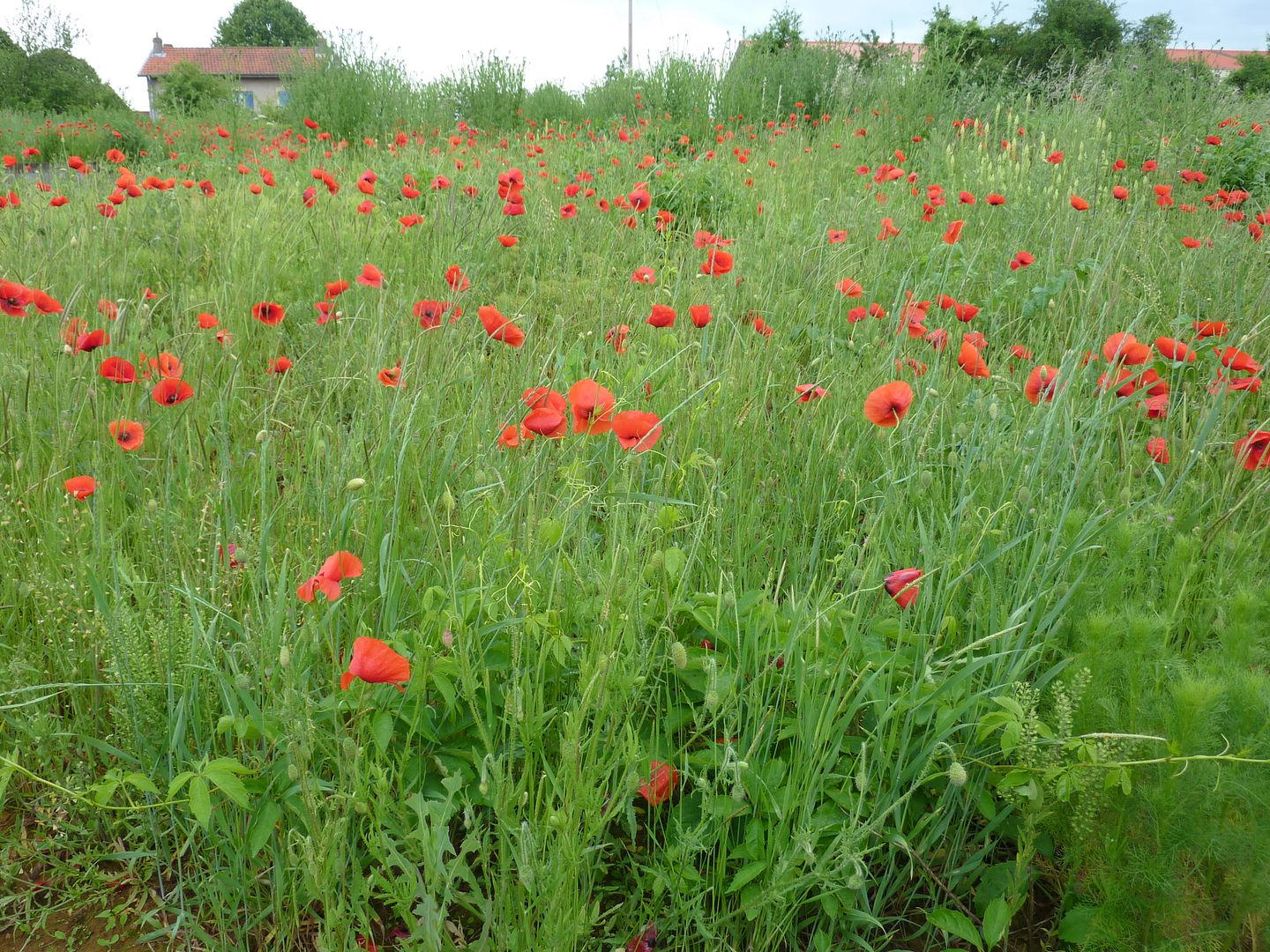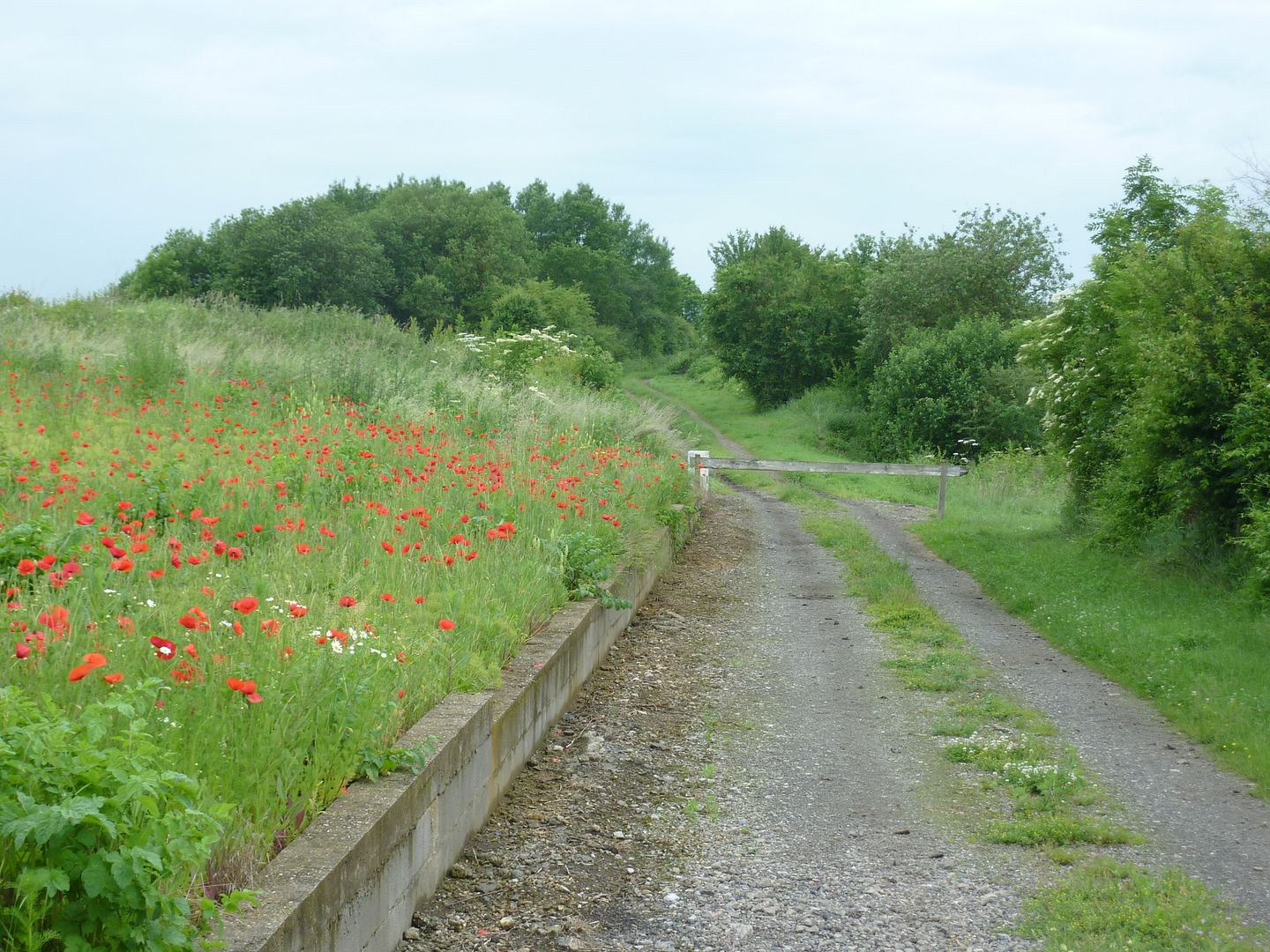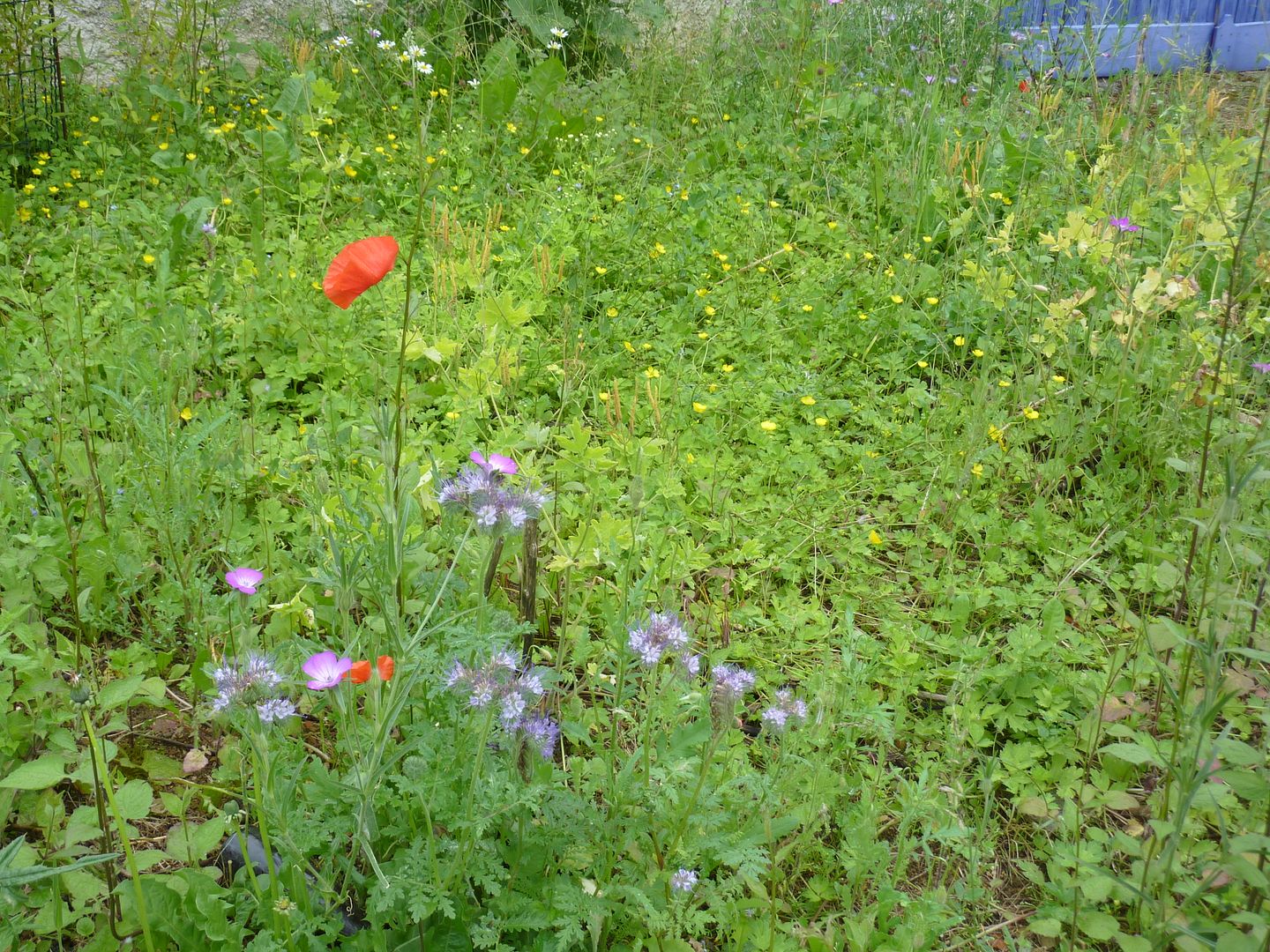 There is nothing really special about it, except that it is just nature in its ordinary splendour. One thing that I would have liked to see again was the old lavoir (wash basin) where my mother splashed around as a child. When I was little, it was already long out of service, and the concrete basin was broken. But there was a little stream with frogs and little fish and all sorts of other ways to get dirty.

My mother had an unforgettable anecdote of her childhood about going to church one Sunday. She was dressed in her little white dress and patent leather shoes and was waiting for her parents in front of the house. But they were delayed for some reason, so she decided to go to the lavoir to catch salamanders.

And that is where her father found her, covered with mud. The story goes that he spanked her bare bottom in the middle of the street in front of everyone (I have no idea who "everyone" was.). That is one of the numerous events for which she never forgave him.

I found the location of the lavoir.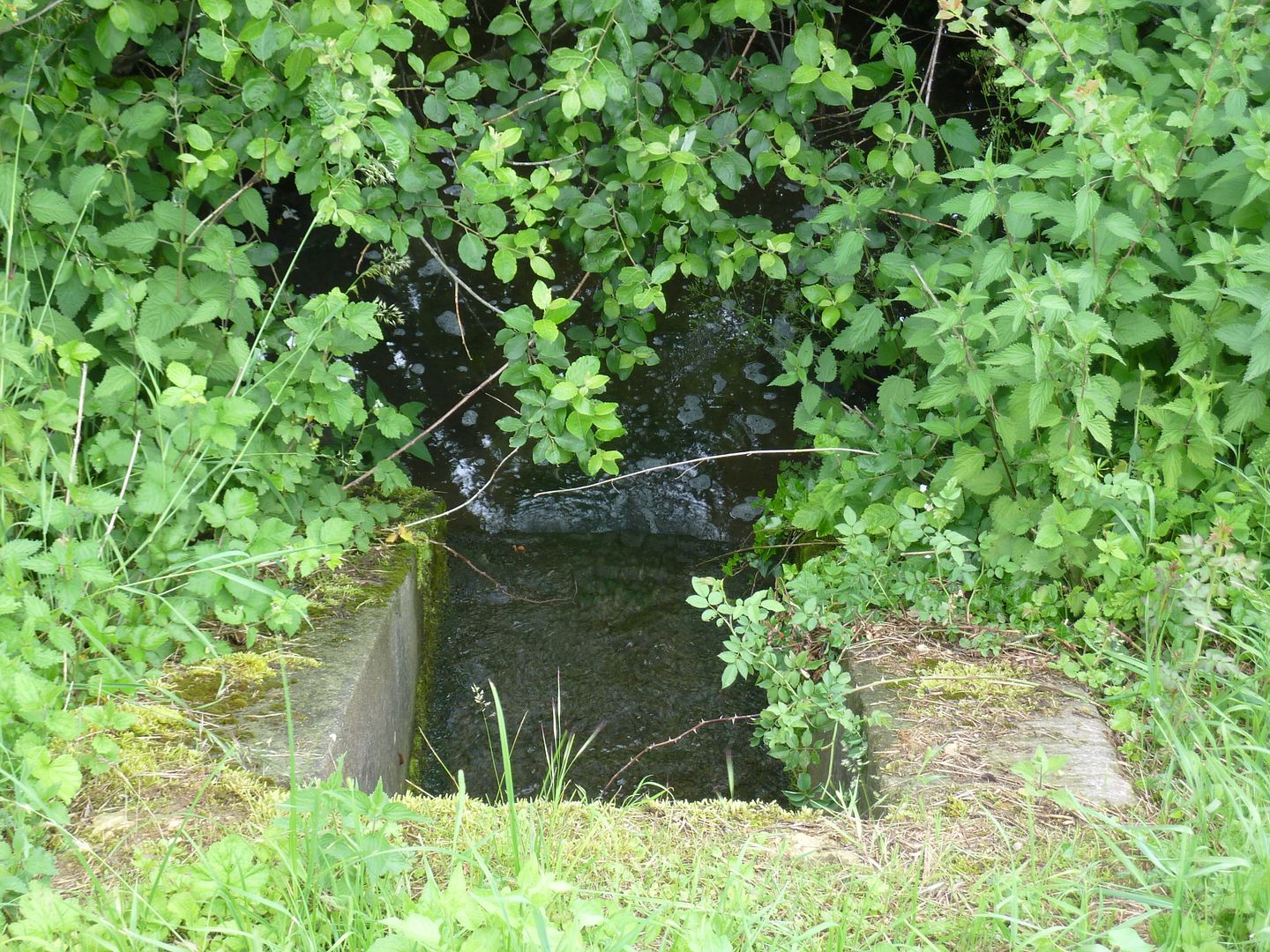 The remains of the basin itself were down off to the side. But was it still accessible? There was no trace of the path that used to be there. I went through the wet high grass (it had rained the night before) and tried to reach the location. There were a lot of thistles (a symbol of the Lorraine region whose motto is "Whoever touches me will be pricked." (Qui s'y frotte s'y pique.).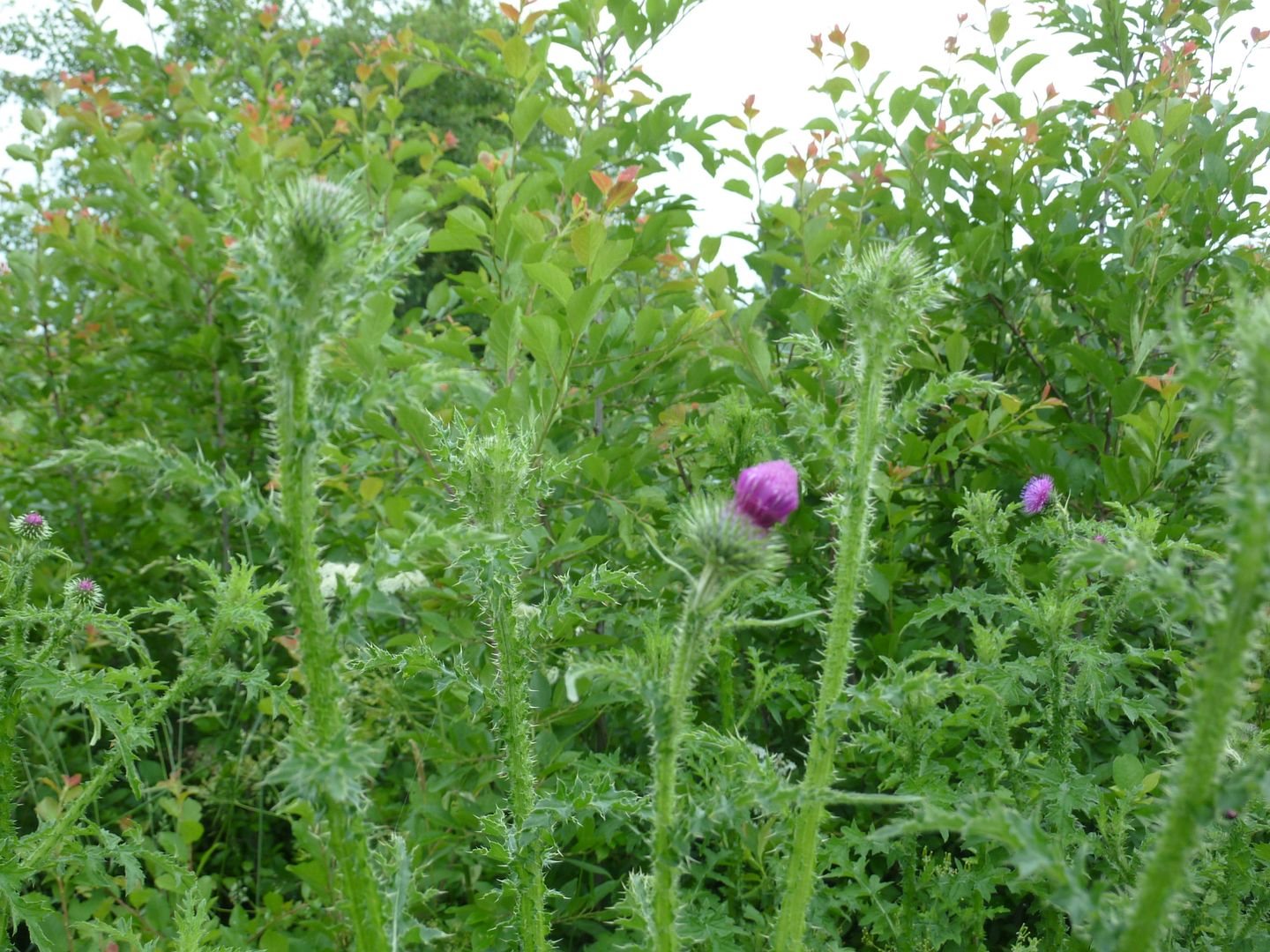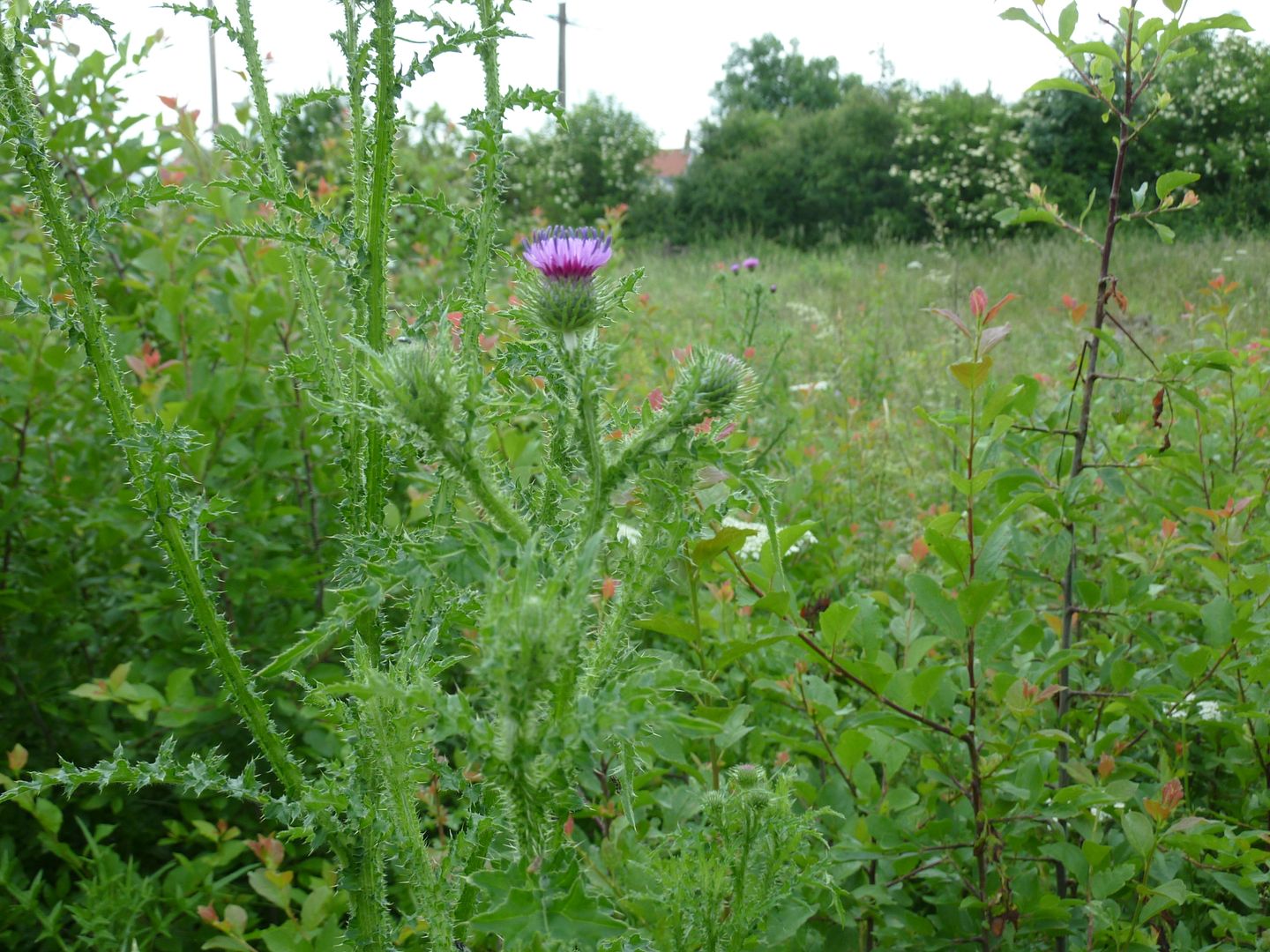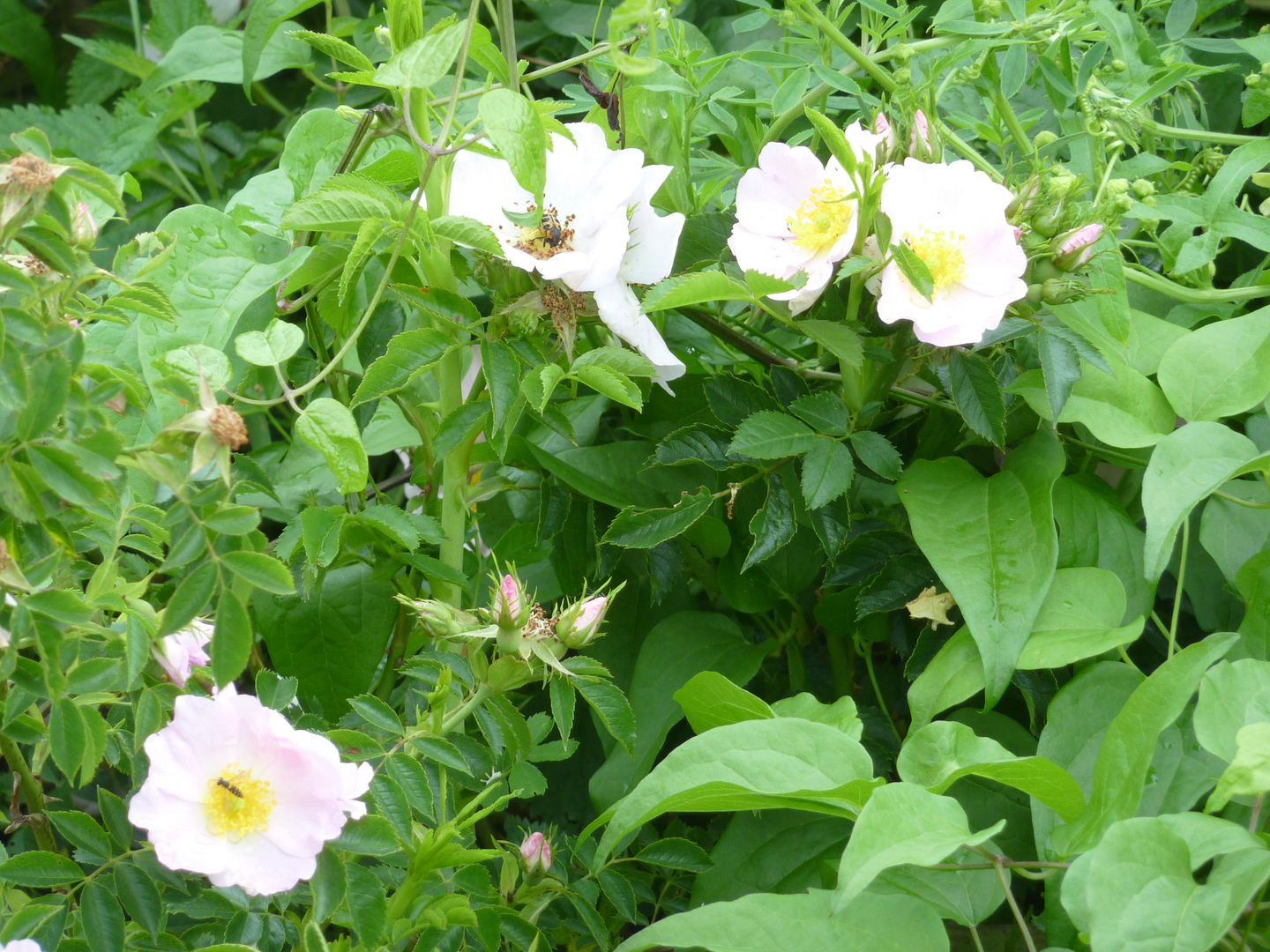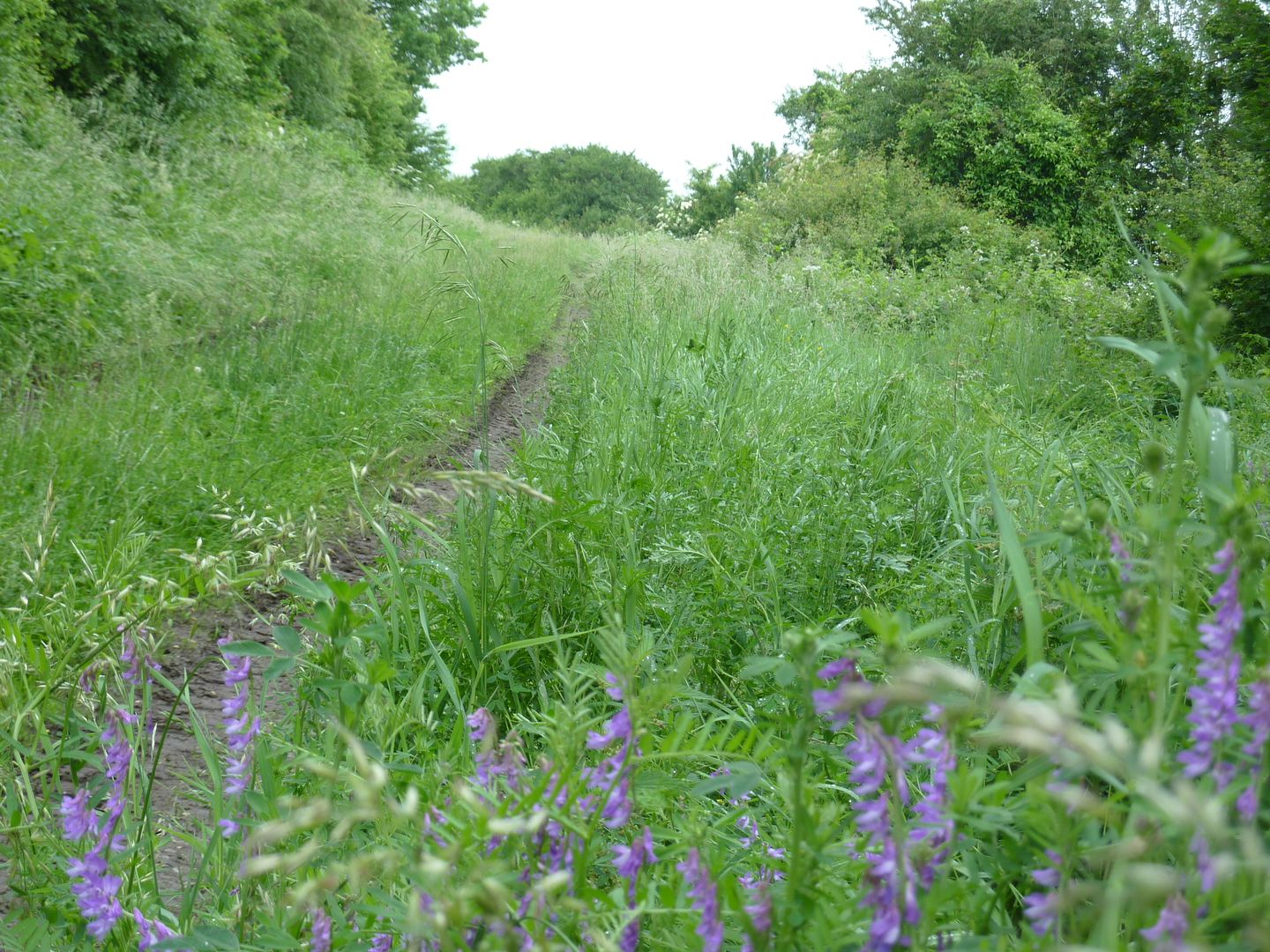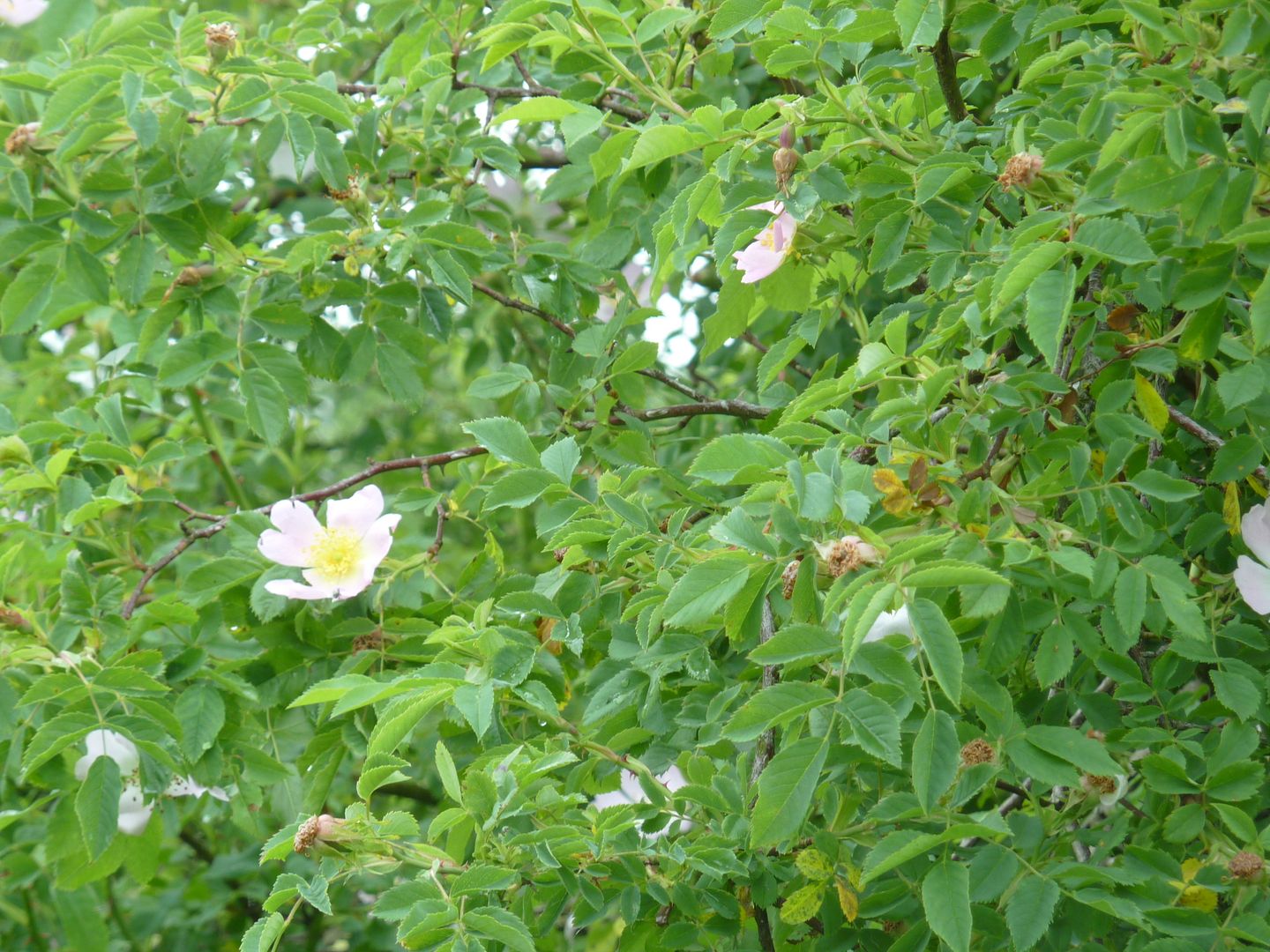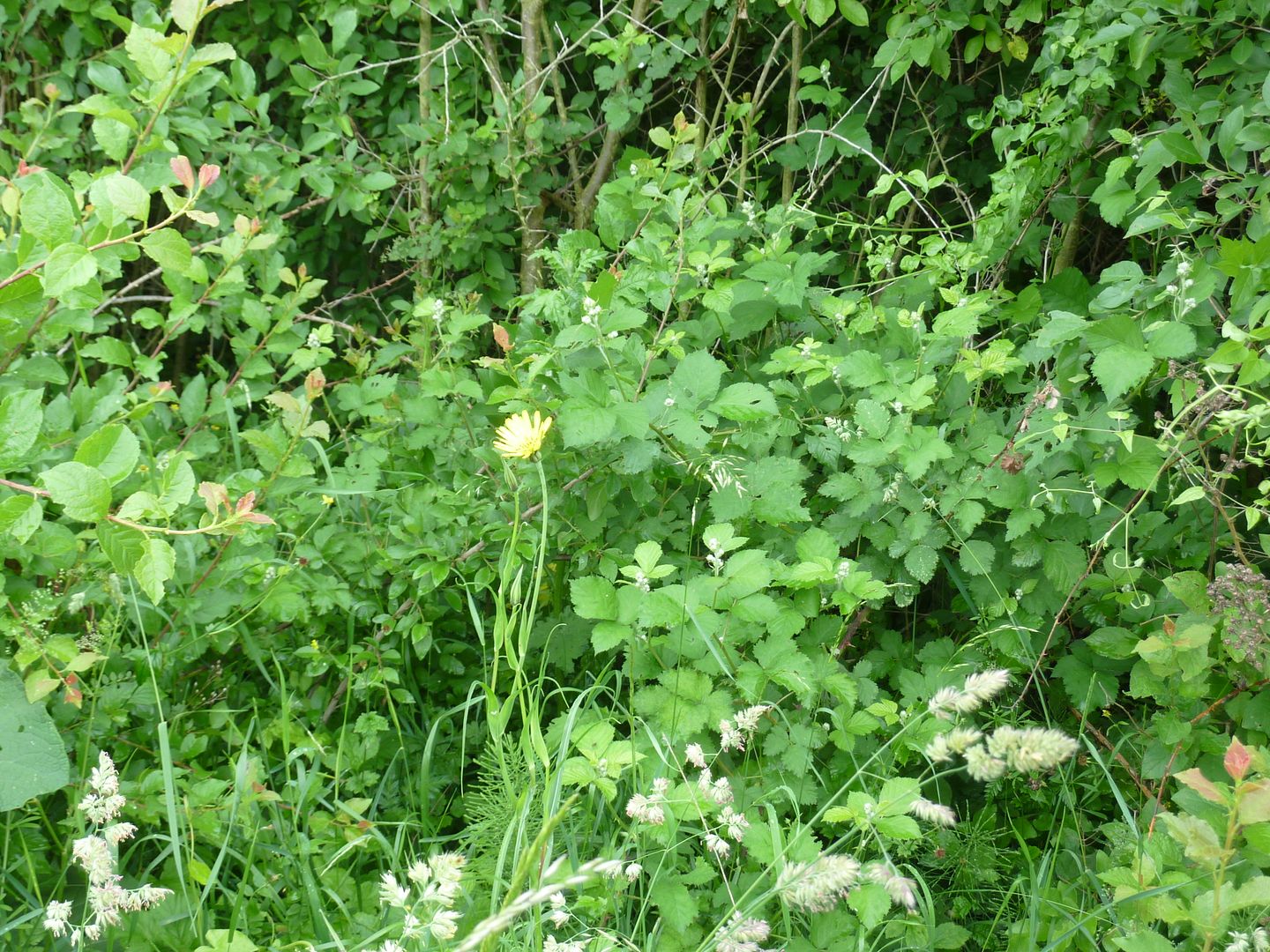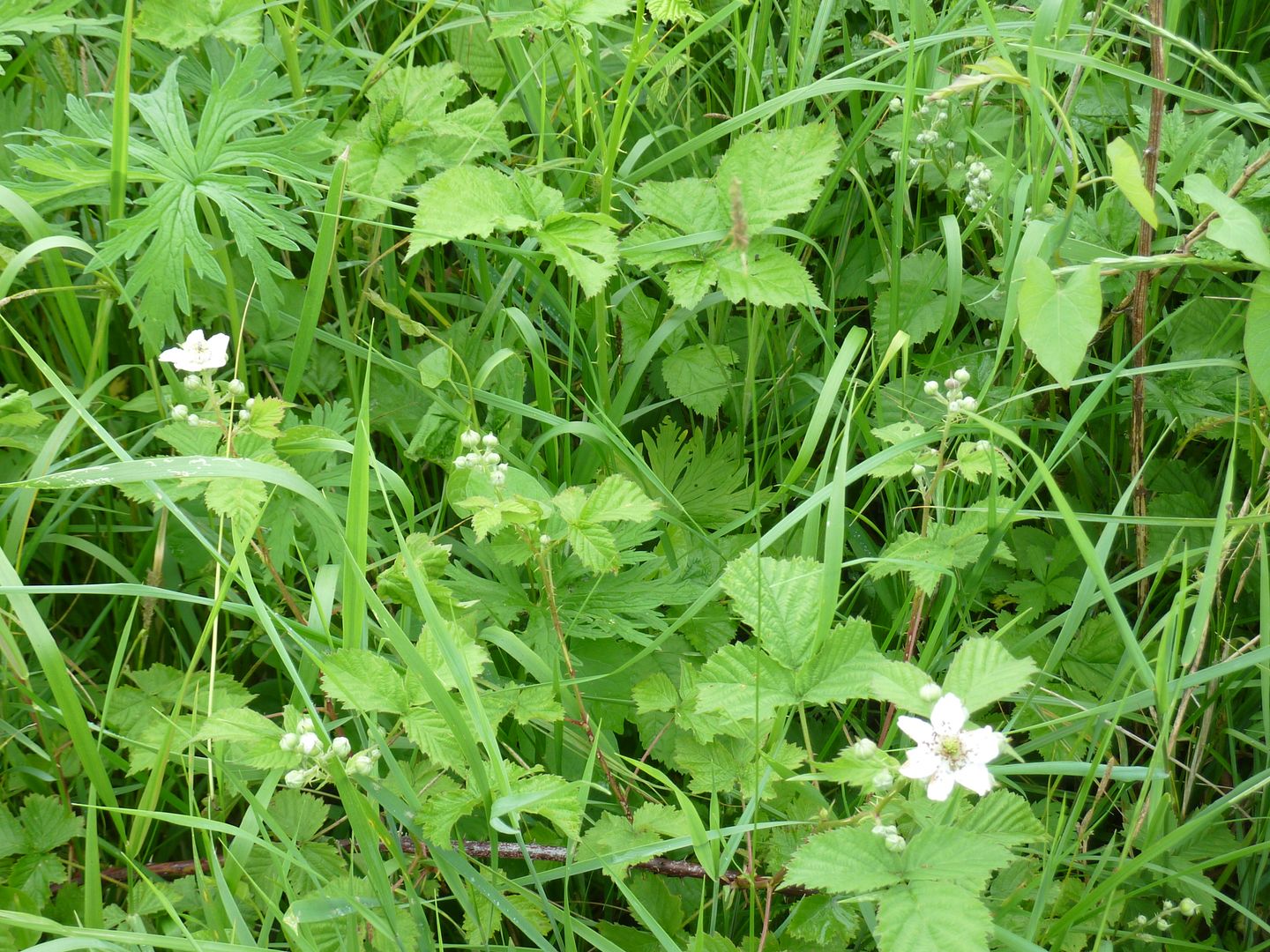 Sorry, nature had completely reclaimed the area, and the basin was completely inaccessible without a machete. I wasn't really disappointed. I was actually kind of happy to know that nature was protecting the treasures of my childhood.

The path continued to beckon me along, but I had so many other things to do before nightfall (such as make a report about Metz and its new museum).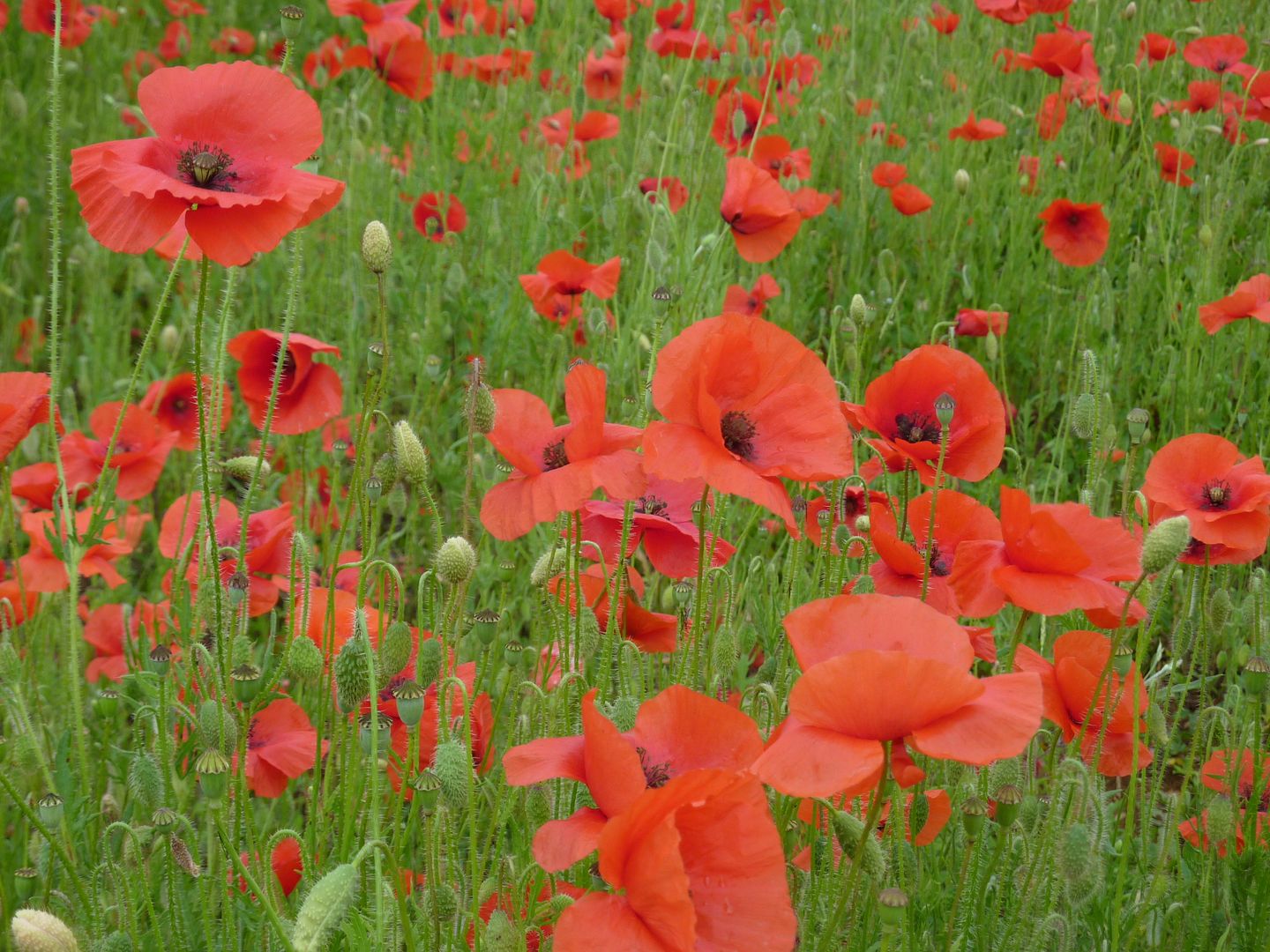 What was so strange, though, was that when I turned back, I had been to a whole new world and yet it was so incredibly close to the old house (on the left at the end of the lane).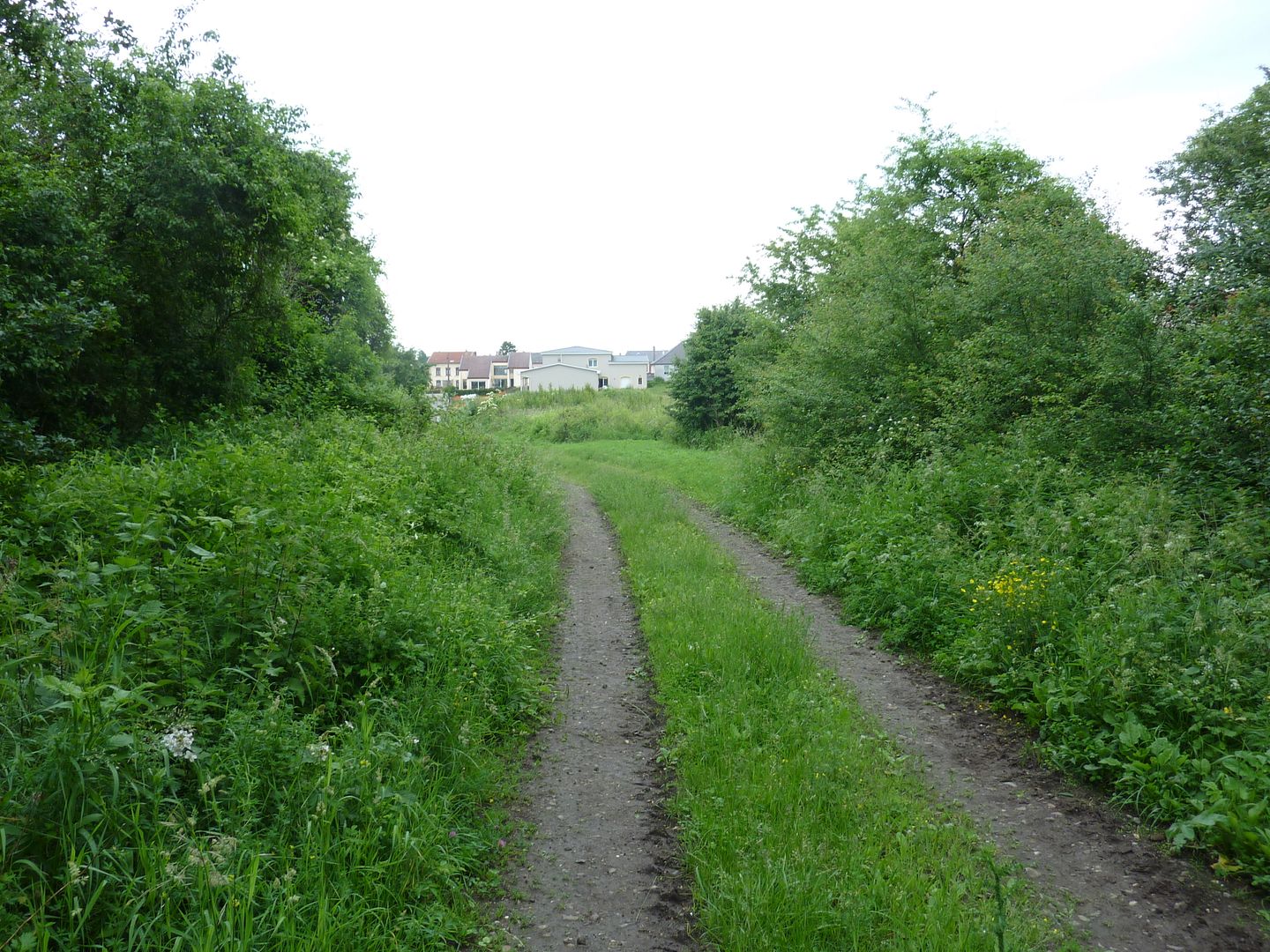 Being there in the past was such a lovely part of my life. I remembered every detail of the violets, the poppies, the daisies, the buttercups and the dandelions that filled the fields – and yes, the thistles and the nettles as well.

It's all still there, but my childhood lives only in my mind.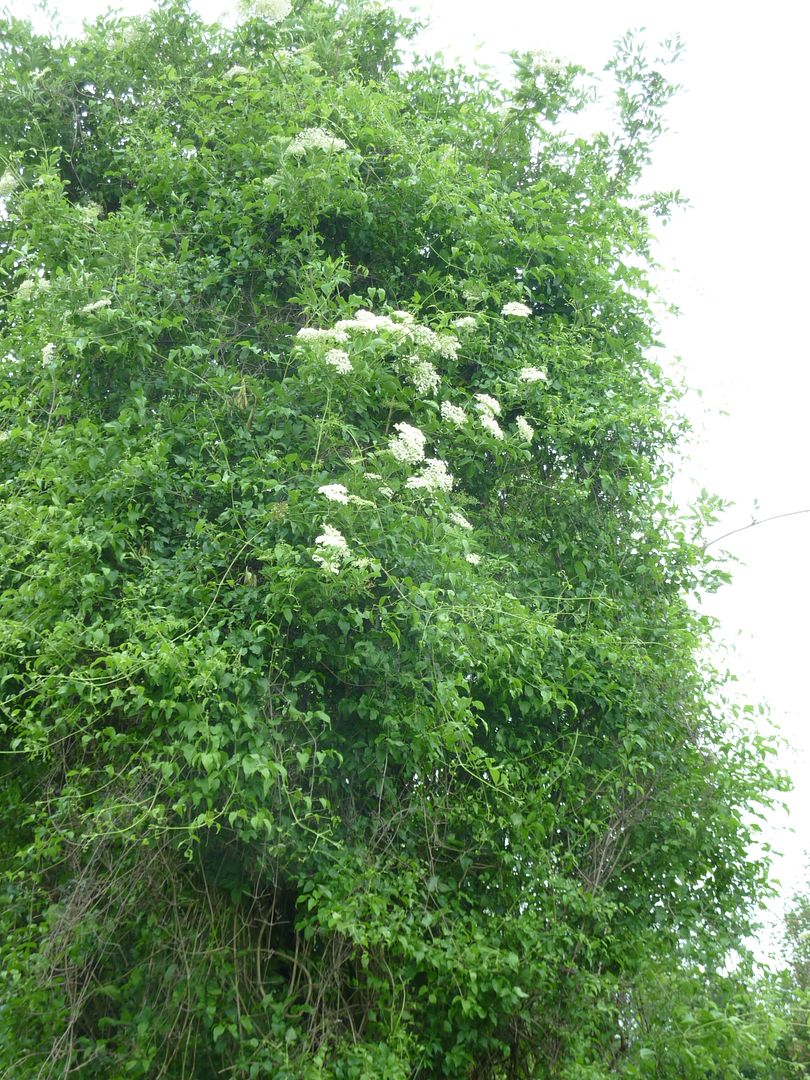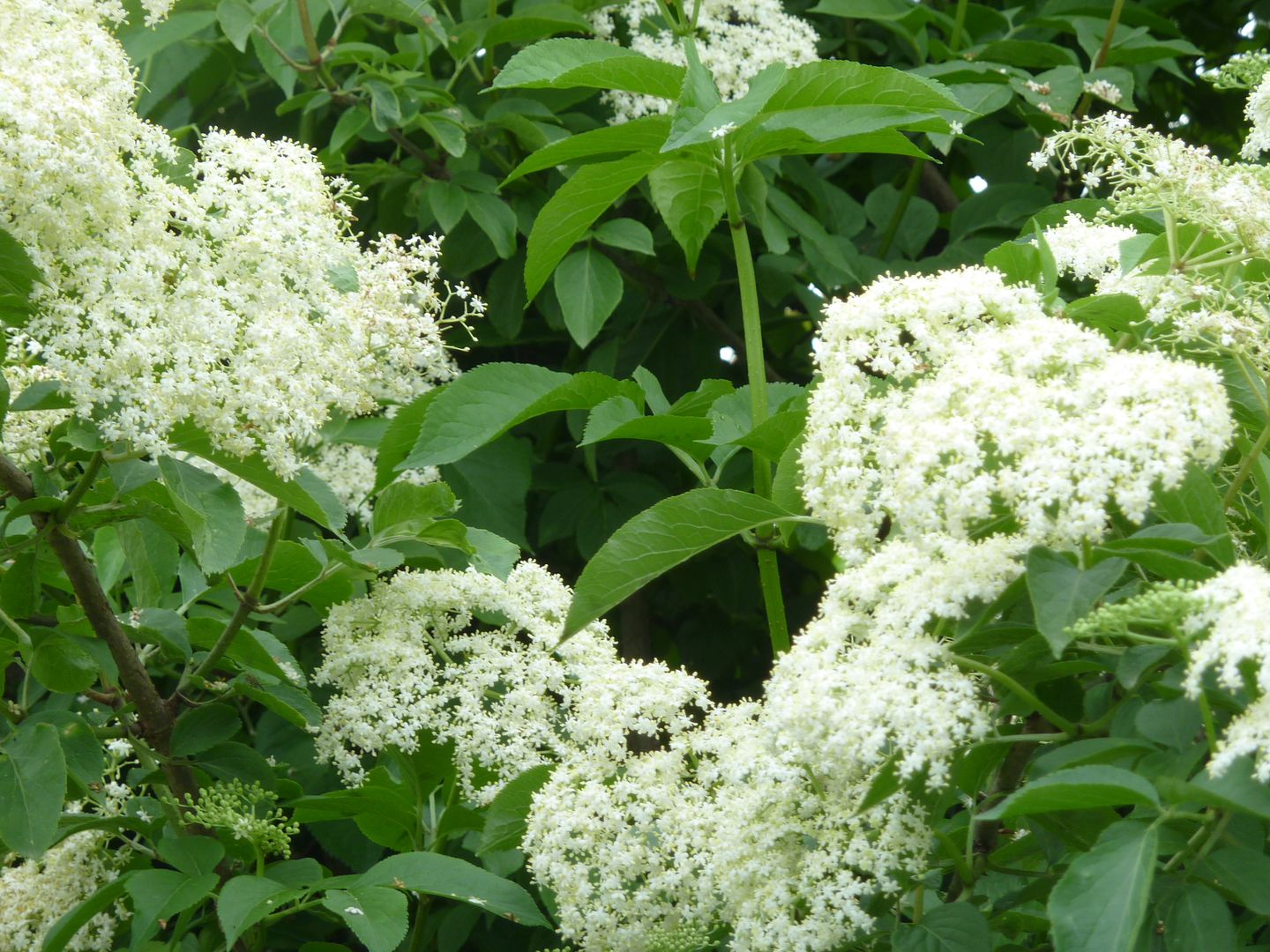 (finished?)









Posted by frenchmystiquetour on Jun 21, 2010, 12:36am
Ah, nettles. My wife was wondering how long the sting lasted when you touched them. I accidentally found out the sting lasts for about 5 to 10 minutes but there is lingering sensation for at least an hour afterward. In France it's thistle and nettles, where I come from it's poison ivy you watch out for on nature walks. Oh yeah, and where I'm from we also have these lovely ticks, which gave me Lyme disease twice.
Posted by bixaorellana on Jun 21, 2010, 1:15am
Kerouac, that 2nd photo in #12 is about as lovely as anything could be. It certainly made me feel your pleasant nostalgia for the place. Really, all of the pictures are marvelous. I absolutely adore the one with the blue flowers in the foreground, taken at that low angle with the little path going where? where? That second thistle photo is 3-D! And the penultimate picture, of the elderberry poking through other greenery, is so much the way it also grows in Mississippi, as I'm sure you noticed.

Absolutely lovely and loving report ~~ thank you so much.
Posted by gusm on Jun 21, 2010, 2:14am
Again, WOW. I spent some time in Spichren and noticed the same style of architecture there. Awesome post K2.
Posted by hwinpp on Jun 21, 2010, 7:02am
Nice walk- through, K2.
Posted by tod2 on Jun 21, 2010, 4:11pm
I was utterly spellbound reading that fascinating history of your ancestral village Kerouac.
The photos are positively delightful! I was bowled over by the magnificent red poppies.
It just goes to show that there are many people who enjoy hearing and seeing the historical history of a person such as yourself, and I thank you for inviting us into your world!
Posted by patricklondon on Jun 22, 2010, 11:18am
Interesting about the thistle and the motto of Lorraine. The kings of Scotland imported a similar idea when they adopted the thistle as a national symbol (only they poshed it into Latin): Nemo me impune lacessit. I wonder if they married someone from Lorraine?
Posted by bixaorellana on Jun 22, 2010, 3:28pm
Oh Patrick ~~ you actually touched upon a bit of history about which I know something!

http://en.wikipedia.org/wiki/Mary_of_Guise
Posted by kerouac2 on Jun 22, 2010, 4:50pm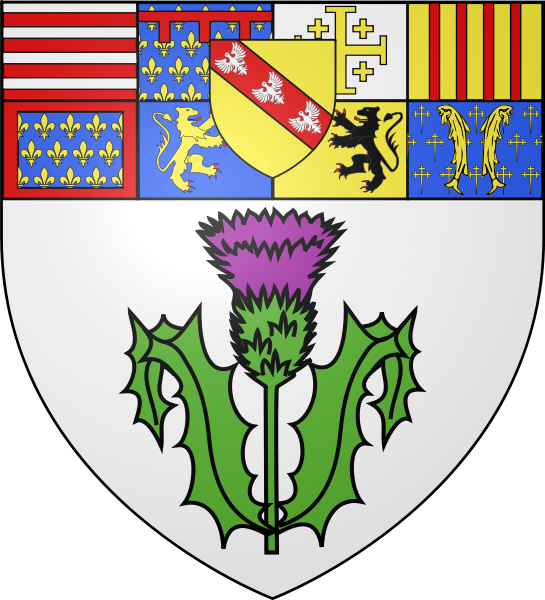 Here is the coat of arms of the city of Nancy with the traditional thistle.
Posted by auntieannie on Jun 22, 2010, 5:12pm
thanks for showing us around "your" village, K2!


Posted by kerouac2 on Jun 24, 2010, 7:21pm
A nice little link: http://www.annuaire-mairie.fr/mairie-batilly-54.html
Posted by mich64 on Sept 11, 2010, 10:01pm
Hi Kerouac, your family history and is very intersting and I can feel your pride for them in your writing.

The pictures are very familiar as they can compare to that of my mother-in-laws hometown of Freyming/Merlebach. We have visited with my husbands family there and the homes are very similar to your photos. There town was a mining town and her father and brother and some nephews worked the mine until it closed. My husbands second cousins are employed in public service, examples, a firefighter, security supervisor and a Gendarme as these towns struggle to find a new idustry.

Hoping to return there soon,
Mich
Posted by jazz on Sept 16, 2010, 3:35am
What a great read! It's a fascinating insight into one family's life over generations in a tiny rural French village, and intriguing because it's your family. Your love and pride show through clearly, although we could never accuse you of being 'effusive and overly sentimental and romantic'.

You are fortunate that so much remains physically of your family history. (all of mine was wiped out years ago, except for the original small family cemetery, dating back to the very early 1800's.)

It's a unique personal journey through history. I loved the end photos of the walks nearby your grandparents' home (#12)….the field of poppies with the simple home in the background. Most of all, the photo of the lavoir. Merci, Kerouac.

And, thanks to Mich and her fresh eye, I hadn't even seen this thread.



Posted by mickthecactus on Jan 20, 2011, 5:27pm
I've only just come across this - superb K2. Thanks from me too.
Posted by kerouac2 on Jan 20, 2011, 5:55pm
So nice of you to say that, Mick. I was so afraid that people would find this thread boring, but I was proven wrong once again.
Posted by kerouac2 on Feb 4, 2011, 8:58pm
A couple of photos from the archives...



the train station in the winter of 1948-1949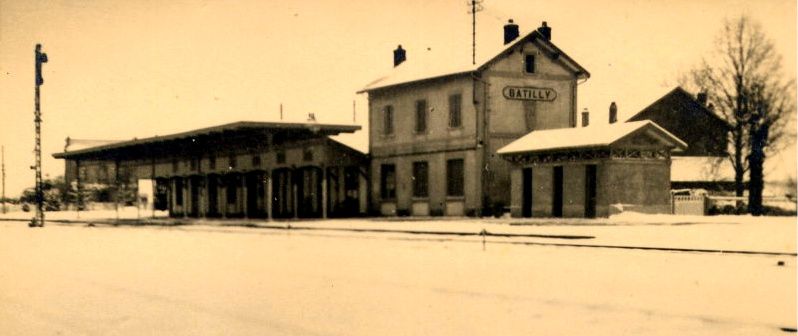 my mother's beloved grandfather, who died in the late 1930's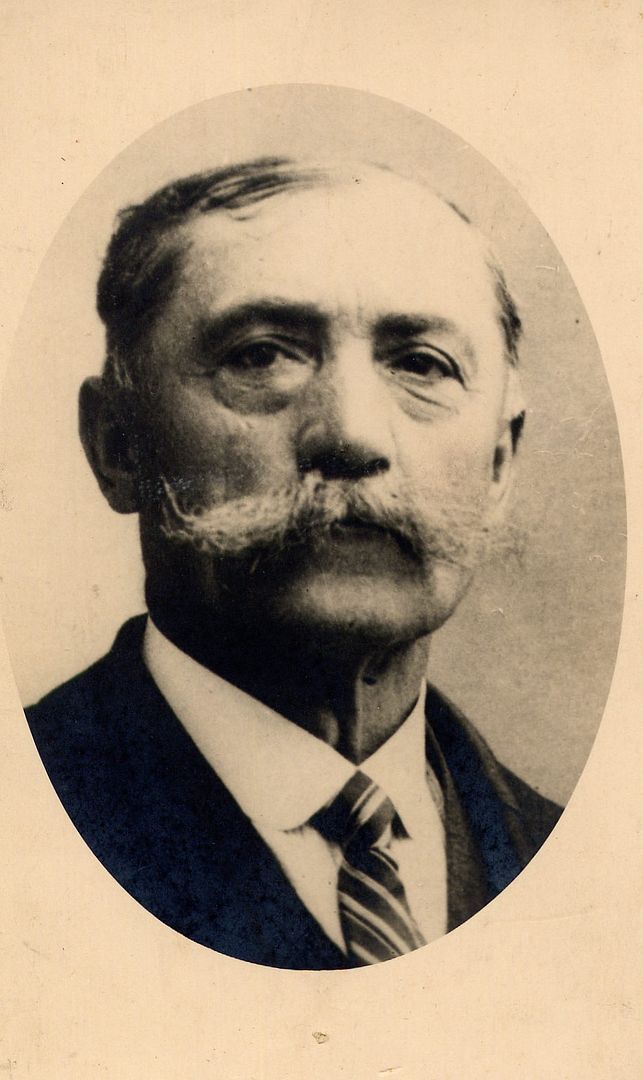 He was born in Batilly.
Posted by gertie on Feb 11, 2011, 1:36am
How lovely, K2, I feel a little as though I've had a lovely walk through your old town and been introduced to all the people of your past. I have the oddest sensation of similarity, although my family comes from a little village in central Ohio. Perhaps little villages the world over were not so very different, after all. The houses were perhaps a tiny bit different, but the fields of wild flowers and the little creek just beyond the last house beckoned me in their turn just as they beckoned my mother and grandparents in their youth. Like your town, there were several tiny cafes, really just converted front rooms in homes, where the old farmers would gather to enjoy the warmth and dominoes or cards with their friends for the price of a cup of coffee. Unfortunately, when the highway came through a few years ago, as these things will in the US, it brought with it McDonalds, Walmart, and Starbucks, and even the old gas station where my grandfather worked his second job and the little local hamburger joint have long closed up and been torn down to make way. I am so happy for you so much of your memories are still visible when you visit your old home.
Posted by kerouac2 on Jul 26, 2011, 2:46pm
I am invited to an 80th birthday celebration in the village -- somebody that my mother went to school with in the village. He is 6 years younger than she, and she always called him 'snotty nosed Marcel' because she was always wiping his nose in school. I have not decided if I will go or not, because I don't like big events. His wife said they are setting up a big tent in her son's pasture and there will be at least 70 people. On the other hand, it is a very interesting family because Marcel's wife is German, even though she tries to hide that fact. We village old-timers call her Gertrude, but in all of her charity functions, she passes herself off as Jeannette.

The people of Lorraine, especially the older generations, still have a complicated relationship with Germany. Even though most people are not old enough to remember the war(s), each family has passed down its own stories of atrocities, pillaging, bombing and how it affected the family members, not all of whom survived of course. Yet Marcel found himself a German bride (I don't know where -- probably during his military service when France still occupied the Saar.) and the German side of the family always came to Batilly every year during the summer for a visit, no matter what the neighbors might have muttered. I'm sure they will be there again, and I'd like to see the mix.

I guess I could take my camera... (It's on August 20th so I still have time to make up my mind.)