Topic Summary
Posted by bixaorellana on Mar 18, 2009, 4:10pm
Asian Vegetable Thesaurus:
http://aseanbio.net/aphnet/thesaurus/index.htm
Posted by hwinpp on Mar 19, 2009, 5:30am
ftp://ftp.fao.org/docrep/fao/004/ac145e/ac145e00.pdf

Check the appendix.

Posted by Don Cuevas on Mar 21, 2009, 11:59am
Chile Thesaurus http://www.chileplants.com/chart.asp
Posted by bixaorellana on Mar 21, 2009, 5:01pm

WOW!
That is the absolute best compendium of chiles I've ever seen!
Posted by kerouac2 on Mar 23, 2009, 1:23pm
Storage of fruits and vegetables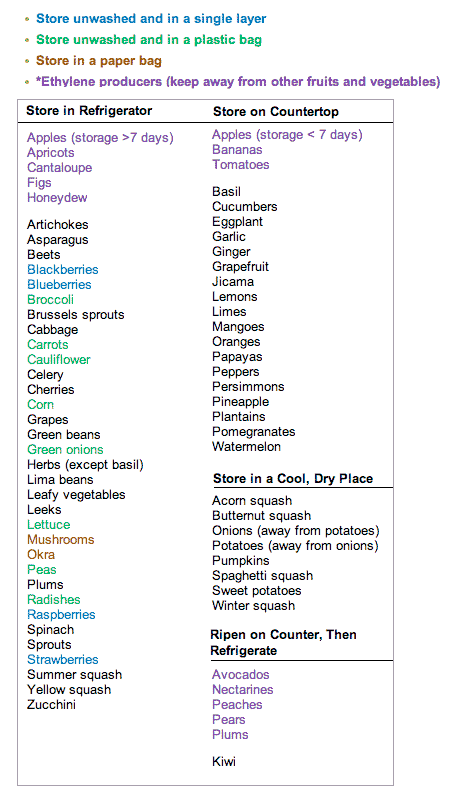 Posted by spindrift on Mar 23, 2009, 4:18pm
That's very useful information for those who possess a large fridge. Mine is unsatisfactorily small.
Posted by bixaorellana on Mar 23, 2009, 4:40pm
Spindrift, you can get away with keeping many of those items out of the fridge for a couple of days.

I know for a fact all the produce vendors who populate the markets here do not refrigerate the produce. As a matter of fact, much of the produce in supermarkets isn't refrigerated either.
Posted by kerouac2 on Mar 23, 2009, 5:42pm
I don't think you have to store all of those items at the same time either. Just two or three at a time will do.
Posted by lagatta on Apr 6, 2009, 8:57pm
I have a tiny fridge but I shop at least every other day. There is no point for me to have too much food at once as I simply can't eat it - I HATE wasting food. I live near our biggest public (farmer's) market, marché Jean-Talon, and it is important to refrain from temptation, even if it is healthful temptation.

The Asian vegetable thesaurus is a great resource.
Posted by jazz on Apr 6, 2009, 10:14pm
That is a great Asian vegetable thesaurus. I have a very spacious fridge, but I shop each day, or every second day. I love fresh fruit and vegetables, hate to waste and live in a neighborhood with many small good markets....some Italian, some Asian...now I will know what some of these mysterious foods are. Most of all, I love to shop for food and spend hours just exploring. This is very satisfying.
Posted by jazz on Apr 6, 2009, 11:44pm
This is very good if you are travelling in France, have a poor grasp of the language and are staring at a menu, (what are these dishes?)...
http://www.patriciawells.com/glossary/atoz/atoz.htm
Posted by mockchoc on Apr 7, 2009, 1:28am
Adding that one to my favouties thanks Jazz.
Posted by bixaorellana on Apr 9, 2009, 2:13pm
Extremely useful tables for conversions

Absolutely check out the side bar in the link above for sensible information on the kitchen and cooking. Site also has recipes.
Posted by lagatta on Apr 23, 2009, 11:20pm
Lovely resources. Jazz, the Patricia Wells glossary is useful even for people fluent in French, as foods are so regional.

bixi, then there is the fact that -40c = -40f. Not useful for cookery, except deep freezing, but I hope you never have to face such a temperature (I have, in more northerly parts of Québec. Also found on the Canadian Prairies and Siberia)...
Posted by bixaorellana on Apr 24, 2009, 2:45pm
Home page of an excellent site posted by hwinpp:

Spice Pages

117 plants used for seasoning!

Thanks for finding this, HW -- it is extremely useful.
Posted by jazz on May 10, 2009, 10:25pm
I didn't know where to post this, so feel free to shift it.

I have two beautiful cast iron Japanese cooking pots, actually a pot with lid and a skillet. However, they have rust on the inner bottoms. How can I most easily clean them and then treat them for use again?
Posted by lagatta on May 10, 2009, 10:36pm
Jazz, look at "seasoning" cast iron. You'll find a lot on the internet, remember there was a topic on the chowhound.com site. Basically you have to remove the rust - perhaps with fine sandpaper or a steel scouring pad - but trying to touch as little as possible of what is already seasoned. Then they have to be oiled and seasoned in a slow oven or on a stovetop, perhaps more than once. This is harder than it sounds. It is the same process as for a Western cast iron or carbon steel pan - the heavy skillets that are more North American or the fine carbon-steel pans found in France or Spain - or a real wok, and no doubt many other traditional cooking vessels.
Posted by jazz on May 10, 2009, 11:04pm
Merci, Lagatta. I found this article which is a more detailed version of your method.
http://cookingmonster.com/2008/04/15/seasoning-a-cast-iron-pan/

The Chow Hound thread could keep you reading for hours! But, it's good.
Posted by bixaorellana on May 10, 2009, 11:55pm
Jazz, I've been cooking with cast iron as long as I've been cooking. My favorite iron skillet is older than I am, having been given to my mother when she got married.

I totally disagree with the article linked above. The old myth about not washing a seasoned iron pan is not only wrong, it's nasty. Any oil or grease will turn sticky and rancid -- it certainly won't season the pan for you.

Clean them both with a fiber scrubby or fine steel wool, using a light touch. Don't worry about taking off any of the seasoned part, as that will get re-seasoned along with the rust-affected parts. Once you've removed the rust, wash as you'd wash any other pot, but dry very well immediately afterward. (I set mine out in the sun. You can also put them to heat on the stove.)

Now you can set about heating, oiling, and wiping the pan very, very well with a paper towel. This will prep it for use.

The best way to season those pots, though, is to simply begin using them. For the pot, you might want to put some oil in the bottom and fry potatoes. This will mean the oil is at the level of the naked iron where the rust was, and will go a long way towards seasoning the pan while it's in use. When you're finished and the pot is cool, pour out the oil, wipe out all excess, then wash it as above, drying very thoroughly afterwards. I suggest storing it upside down.

The skillet is easier, as you have more everyday scope for it. Using it every day to cook eggs will have it seasoned in no time, for instance.

For the lid, wash it well, dry it, then oil it, wiping off every bit of excess with a paper towel. Now put it directly on an element of the stove, on low heat, for a good 15 minutes.

A well-seasoned cast-iron skillet is a thousand times more pleasant to use than any teflon thing, and will be just about as non-stick. Enjoy!
Posted by jazz on May 11, 2009, 12:21pm
Thanks, Bixa! Your explantion is clear and with care, seems very simple. I am relieved to hear your feelings on washing the cast iron pots. My brother once almost had a stroke when when I lowered my skillet into soapy water. People have extremely strong ideas about this. I was concerned, not only for the 'rancid' possibilities, but I once had a problem with mice...droppings aren't appetizing.

'My favorite iron skillet is older than I am.'...you have a skillet that is 27 years old

Posted by pookie on May 11, 2009, 2:04pm
Jazz , I have a cast iron skillet about 12 yrs old .It is used nearly every day and washed in soapy water and dried on low heat.
If it is seasoned properly you won't have any problems.
Posted by casimira on May 11, 2009, 4:48pm
This topic /debate about whether or not to use soapy water I have endlessly pursued(I being on the soapy water cleaning side). The argument against using soapy water has almost always been that if you turn the flame up high enough after use it will kill any and all nasties etc.
Posted by traveler63 on Jun 4, 2009, 8:55pm
Here is a great link if you are into Paris and cooking.
http://www.davidlebovitz.com/

David is a chef in Paris and has a blog and a newsletter. I find his blog to be very interesting. There all kinds of recipes and other things that you all maybe interested in.
Posted by bixaorellana on Jun 5, 2009, 5:46am
Interesting. I know David Lebovitz as the author of the Dean & DeLuca cookbook, so I was surprised to see the blog so heavily devoted to sweet stuff. Once I read the recipe for milk chocolate / black pepper ice cream, though, I fell under his spell.
Posted by bixaorellana on Jun 9, 2009, 3:03am
This is so over-all useful that I'm posting it here in Resources and also in the Recipes thread.

http://asiarecipe.com/methods.html <--- That will open up to a methods page. Use the great sidebar index to maneuver around the site. The main page has a clickable map to visit the cuisine of various countries.

I hope HW checks out the Cambodia & Vietnam part to let us know if the site is indeed authentic.
Posted by hwinpp on Jun 9, 2009, 5:09am
That website looks good. The owner is based in Thailand (and obviously knows his Thai food) so his Lao and Khmer food is somewhat influenced. The names aren't right and I'd question some of his choices for the Lao section. One way Lao describe food is to say what it looks like. Anything with coconut milk in it is instantly classified as Thai food. They hardly have any dishes with coconut milk. In the Cambo section he's given the dishes Thai names but otherwise the recipes look good and authentic.

There's so much to read through, I just had a look there.
Posted by bixaorellana on Jun 23, 2009, 4:37pm
Cooking measurement equivalents Do you think in metric, or are cups and ounces more at home in your brain?

No matter -- here's how we can all use each other's recipes:

This has charts clearly laid out on one page, plus a clickable conversion calculator for pretty much everything. The page is printable.

Please see reply #12 above for another excellent source for conversions.




Posted by bixaorellana on Jun 28, 2009, 6:26pm
How to fold samosas

Be sure to read the text after the pictures. There is a good bit of white space between them, making it easy to miss.
Posted by LouisXIV on Jul 8, 2009, 4:50pm
Use the search function on the top of the following web site and you can find almost any recipe you want.

http://www.foodnetwork.com/
Posted by bixaorellana on Jul 8, 2009, 9:50pm
NICE, Louis! I tried it with "spinach feta pie" and instantly got eight great hits. It's a fun site to poke around in, too.