Topic Summary
Posted by gringalais on Sept 14, 2009, 6:29pm
I figure I would start with my absolute favorite place there. It will probably take a few days to finish.

We spent 4 days in Coroico, in the North Yungas region. The town is only 90 km from La Paz, but it took us almost four hours to get there. The road to Coroico used to be called the death road, but thanks to Evo (Evo cumple) there is a new, paved road with guard rails. It was actually in better shape than many mountain roads in Chile.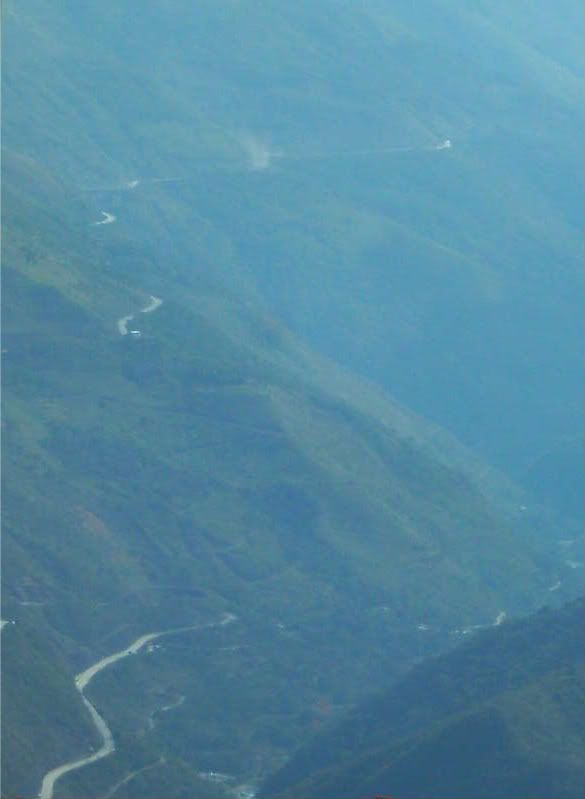 La Paz-Coroico road

The main way of gettint to Coroico is by small, crowded van. The first part of the trip is the same, dry altiplano scenery that we saw on the Bolivian part of the Arica-La Paz bus route. About after an hour of ascending, we pass the crest of the mountain and start the trip downhill. The scenery started to become increasingly lush, with some small waterfalls. We could see the town from far away, but the road is not direct. We ended up travelling way down to the bottom of the river valley and then climbing again to reach the town.

The town itself is quite small, although there is more population outside the town, mainly people doing small-scale agriculture. It has the typical plaza and church as you see in most towns in South America.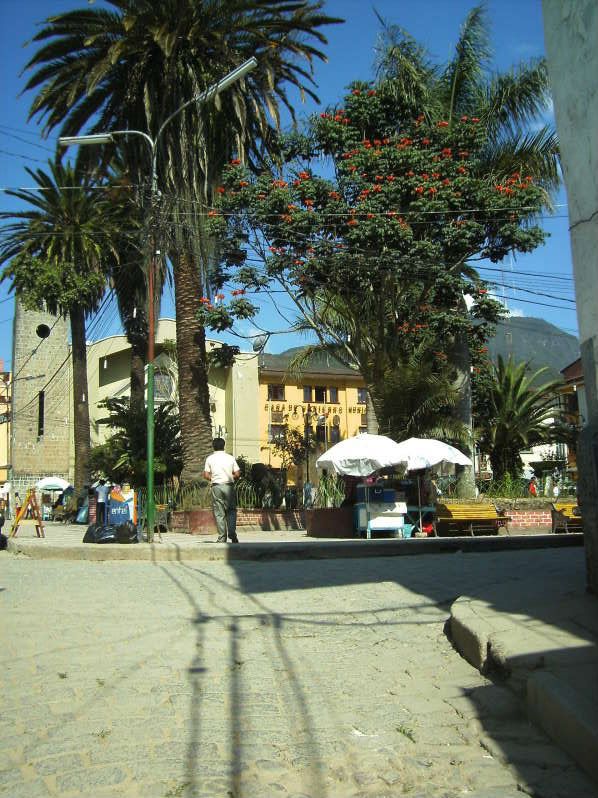 Coroico plaza

There was a large variety of lodging options and since it was during the week, we had our pick Supposedly weekends can be tougher since lots of people from La Paz visit. The cheapest resedenciales, which were not too clean or nice, ran about 40 Bolivianos for a double room (about US$6). A decent place up the hill from the plaza was about US$16 or 110 Bolivianos with private bath. We ended up staying at a place (Hostal Kory) that was somewhat more expensive (US$34 for a double with private bath, pool and cable TV, 240 Bolivianos). One of the best things about the place was the amazing view over the valley, and the room there had a terrace overlooking the valley, so we decided to go for that. The terrace had tables and you could order food and drink from the restaurant downstairs to have there.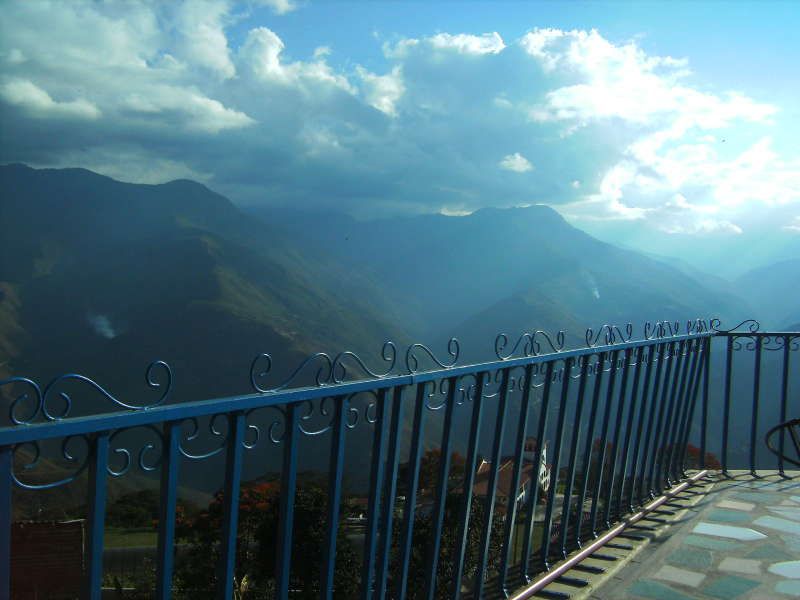 View from the terrace
Posted by bixaorellana on Sept 14, 2009, 6:54pm
What a trip, Gringalais! I almost needed a Dramamine to even look at the first picture.

Don't you love being in cities that are on a high plateau like that? There is a certain feel they have that really appeals to me.

My god ~~ that view!! Yeah, y'all did good going for the expensive option.

This is so interesting and fun to read. I'm really looking forward to more installments. Thanks!
Posted by kerouac2 on Sept 16, 2009, 1:09am
I have been on quite a few "death roads" but have survived so far. That one looks like an excellent one for meeting a truck in the opposite direction. I love being high up in mountain areas, having grown up in flatlands. Can't wait to see the rest!
Posted by gringalais on Sept 16, 2009, 9:20pm
The first day we just wandered a bit around the town and went to see what options there were to see more of the area. There are two little tourism companies on the main plaza, so we set up a hike at one of them. It cost 280 Bolivianos or US$40 for the both of us to do a 18 km hike down to a river and transportation from there to the town. There are really no organized parks from what we could tell, so hiking on our own seemed complicated.

As far as eating, there was a decent variety for a small town. There was a Mexican restaurant (Bamboo) that was decent and a place called BackStube that is owned by a German man that had both typical Bolivian food and some German options, in particularly pastries. There were two pizza/pasta places on the main plaza and our hotel also had a restaurant, which had pretty plain offerings - beef or chicken with french fries and rice, or a salad, stuff llike that. They definitely love their carbs. Dinner tended to cost about US$15-20 for the two of us, including beer and wine.

As far as nightlife, well there really wasn't any. It was fine with us, since we were mainly there to relax. Even the restaurants closed early for Latin America, everything was shut down by about 10 pm and they seem to want to hurry you out the door by that point.
Posted by bixaorellana on Sept 16, 2009, 9:55pm
Gringalais, from what you're telling us, this place is obviously known and developed as a place for visitors. Any idea of how that came about? Is it a hub for commerce in that region? Also, how did you all find out about it?

This is really fascinating. I know less than nothing about Bolivia.
Posted by gringalais on Sept 17, 2009, 2:54pm
Bixa - I don't know much about the history of the place, but it appears to mainly be a getaway spot for people from La Paz. It was pretty quiet when we were there, but it supposedly gets a lot busier on weekends. I get the feeling it must be one of the closest places to the capital where you can experience a landscape and climate that are completely different from the Altiplano. The region where it is located is called Yungas and it is the capital of Nor Yungas province. The main economic activity, apart from tourism, is small-scale agriculture (more about that later).
Posted by kerouac2 on Sept 17, 2009, 3:07pm
All of the main cities of each country seem to have a "getaway" place, usually first used by government officials, followed by the local bourgeoisie -- either in the mountains or by the shore. Paris was too far from the mountains, so it got not one but two resorts on the English Channel -- Deauville and Le Touquet.
Posted by gringalais on Sept 18, 2009, 1:26am
K2 - yeah, here it would probably be Viña del Mar, on the coast 2 hours from Santiago by highway, so an easy place to go to for a weekend.

So, the next day we did the hike to the Río Negro. That was the best day there. We started from the town, and went for quite a while on a dirt road that passed through the surrounding agricultural areas. We were there in the dry season so some of the other hikes were not recommended because the waterfalls are pretty much dry.

The guide was an agronomist by profession, which was very interesting for the hike we did, since a good part of the hike went through small agricultural plots. Many use a mixed agriculture system, with shade trees like citrus above and plants that need shade, such as coffee below. They also have terraced agriculture, where coca is the main crop.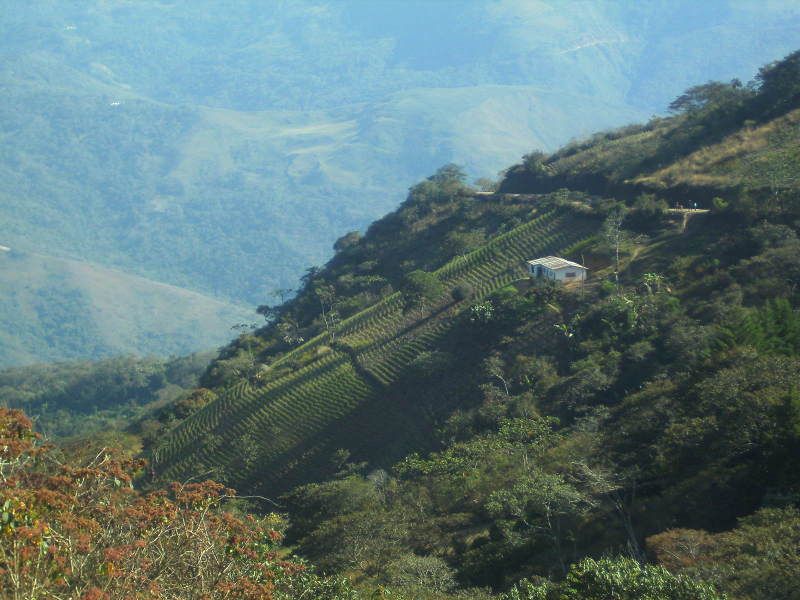 Coca crops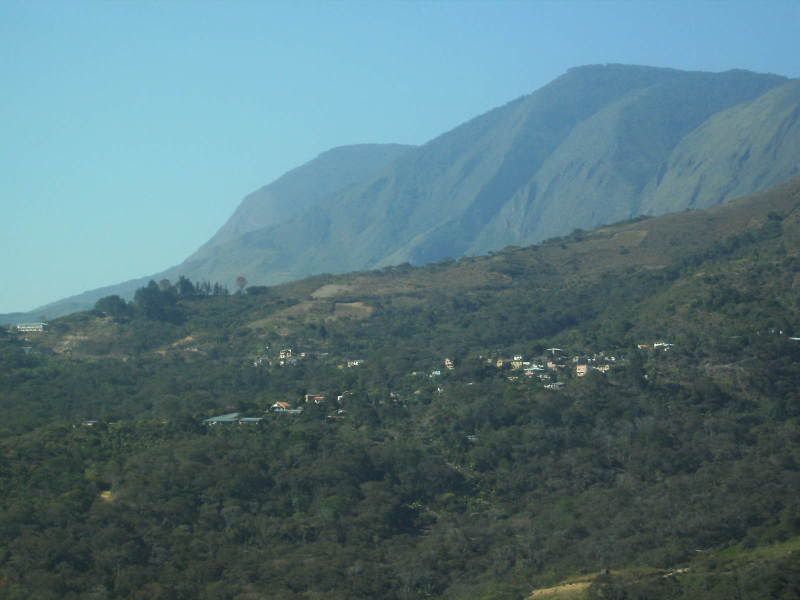 View from the hike
Posted by bixaorellana on Sept 18, 2009, 2:11am
Oh, that was a piece of luck to get an agronomist as your guide. It's so steep! It's amazing that those "corduroy" farm plots don't slide straight down the mountain. Was the hike arduous?

This is really dumb, but are the coca crops to make illegal recreational drugs, or for medical use?
Posted by imec on Sept 18, 2009, 2:21am
It looks very beautiful. I've yet to visit South America - but I will.
Posted by kerouac2 on Sept 18, 2009, 4:41am
Terraced fields always fascinate me, because I think of the extremely hard work that goes into creating one and keeping it stable on such a slope.
Posted by gringalais on Sept 18, 2009, 10:49pm
Bixa, as far as the coca, it has a long history in the indigeous communities. There is actually a museum in La Paz that has a lot of information about this. It is normally drunk as a tea or chewed and helps with altitude sickness and is a mild stimulant. When the Spanish colonizers took control, they gave it to the indigenous mine workers because the stimulant properties meant that they worked harder. There are also various medicinal uses for it.




Posted by bixaorellana on Sept 19, 2009, 1:57am
Thanks, Gringalais. I knew it was naive question, but the plant has become so demonized because of drug trafficking, I did not know whether its traditional uses were still honored.
Posted by fumobici on Sept 19, 2009, 2:34am
Coca leaf tea is probably less "pernicious" than well brewed coffee. Silly thing to get hysterical about.
Posted by bixaorellana on Sept 19, 2009, 2:45am
Speaking of which, I was intrigued by Gringa's reference to the mixed agricultural system. Citrus and coffee are not native crops, and citrus at least needs a good bit of water. How do they irrigate? I shouldn't jump the gun with these questions, as you said you'd get to them in due course. I am curious about co-operatives or other methods for small farmers to succeed, and if the present government played a role in instituting any such methods.
Posted by gringalais on Sept 28, 2009, 6:14pm
I didn't see much as far as irrigation systems. I did ask about rain and they have distinct rainy and dry seasons. It was dry season when we were there. Everything still looked lush, but the rivers were low and some of the waterfalls were not flowing.

This is the start of the toughest part, steep switchbacks leading down to the river. We had to walk back up that part too.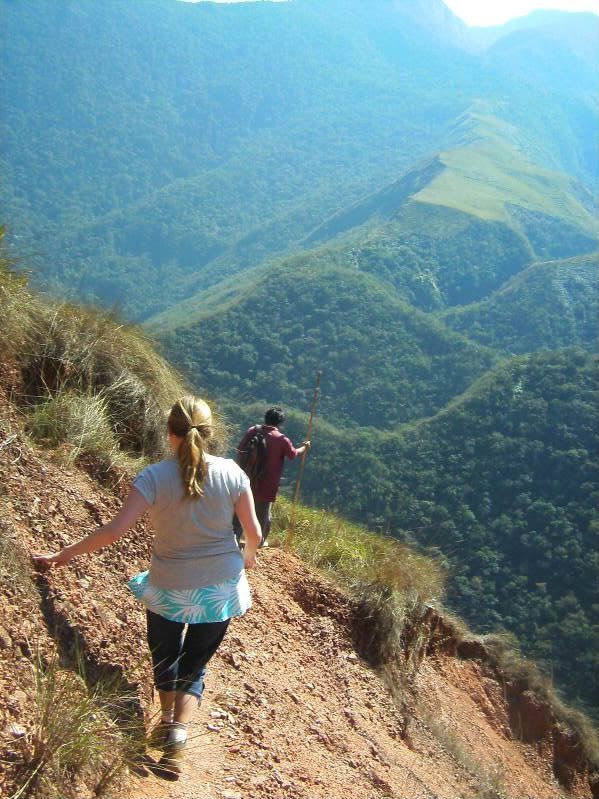 Under all the weeds there is stone terracing from the Pre-Colombian era, where they used to grow coca.
Posted by bixaorellana on Sept 28, 2009, 7:17pm
Ohhhhhhhhhhh ~~ be careful, Gringlais!

Look at you just strolling along as blasé as a mountain goat. That's a marvelous picture, sighting right along the apex of the mountains.
Posted by gringalais on Sept 28, 2009, 9:12pm
That is actually one of my favorite pictures from the whole trip. And, it may look like I was walking without a care in the world, but it was pretty tricky. Both of us slipped and fell a few times. Those pants didn't make the trip back, I ripped a huge hole in the knee.
Posted by imec on Sept 28, 2009, 9:33pm
Fabulous! Any idea what altitude you were at?
Posted by kerouac2 on Sept 29, 2009, 7:12pm
I very much understand why you were touching the side of the mountain on your way down.
Posted by gringalais on Oct 2, 2009, 2:54am
Yeah, kerouac, the key was to touch the mountain and not look down.

Imec - I think it was aroudn 2300 meters above sea level.

On the topic of coca, I had a whole interesting thing about the drug police typed up but it was lost and I don't feel like retyping just now, but I will write about it soon.
Posted by fulgenzio on Oct 2, 2009, 5:36am
Even the photograph gives me vertigo.
Posted by bixaorellana on Oct 12, 2009, 8:00pm
Gringalais ~~ we're eagerly awaiting more details. This had to be such an interesting trip in many different ways.

Hope this isn't a really stupid question, but what are the immediate differences you noticed between Chile and Bolivia?
Posted by gringalais on Oct 13, 2009, 12:39pm
Yeah, I need to get my act in gear and upload more photos onto photobucket.

As far as differences, first of all, there is the accent. They speak much more slowly and clearly than in Chile. Also, you definitely see more of an indigenous rather than European influence in how the people look. It is common to see the Aymara women dressed like the woman in this picture: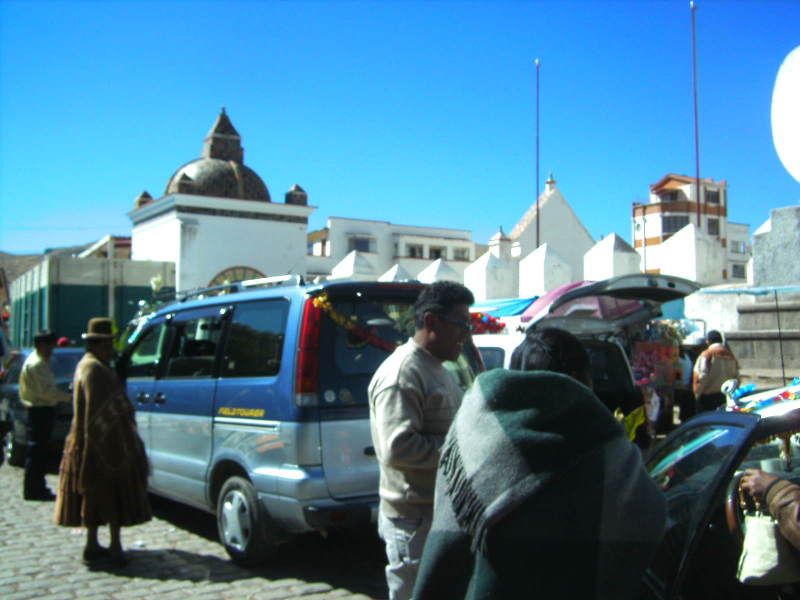 According to a museum that we went to in La Paz (Museo Custombrista) the dress of these women today was actually influenced by the Spanish ruling class, but now is asociated with indigenous women.

Here is the river (Río Negro) that we hiked down to: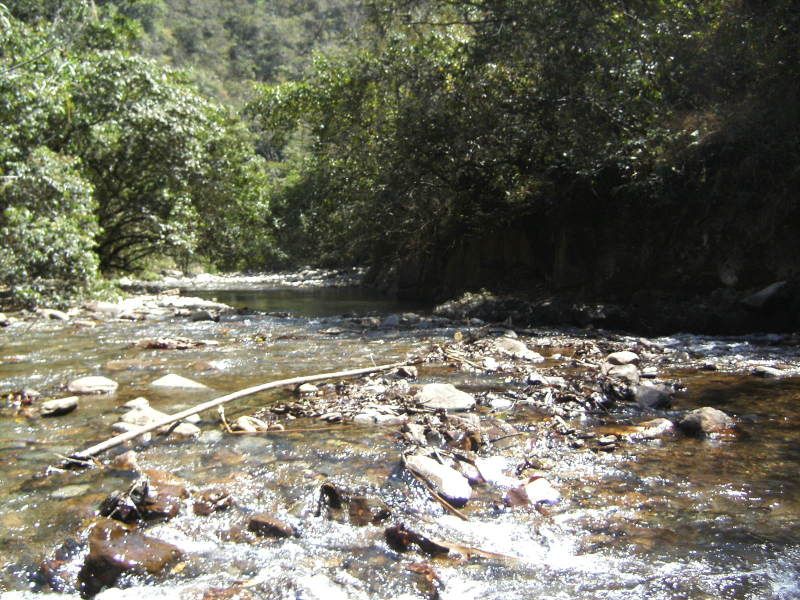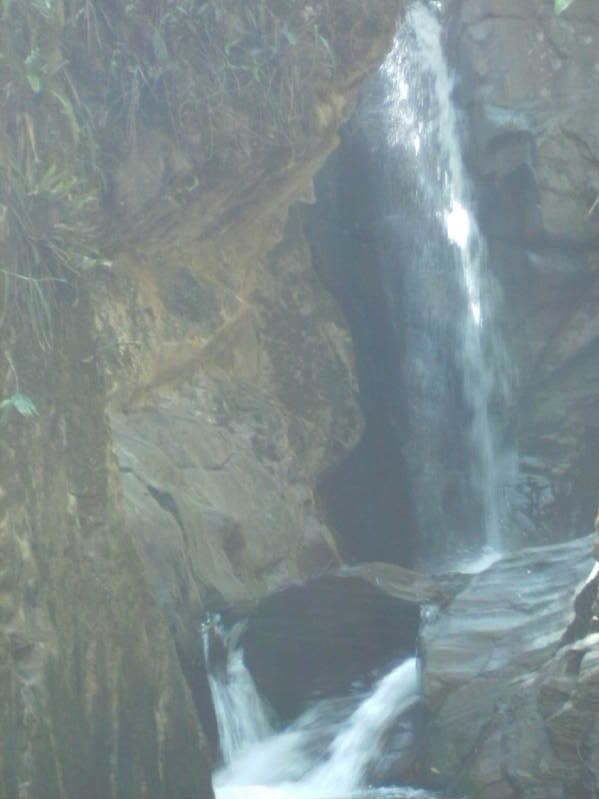 Here is a butterfly that landed on my boot. They call it a papillon butterfly, which is kind of strange since papillon is butterfly in French.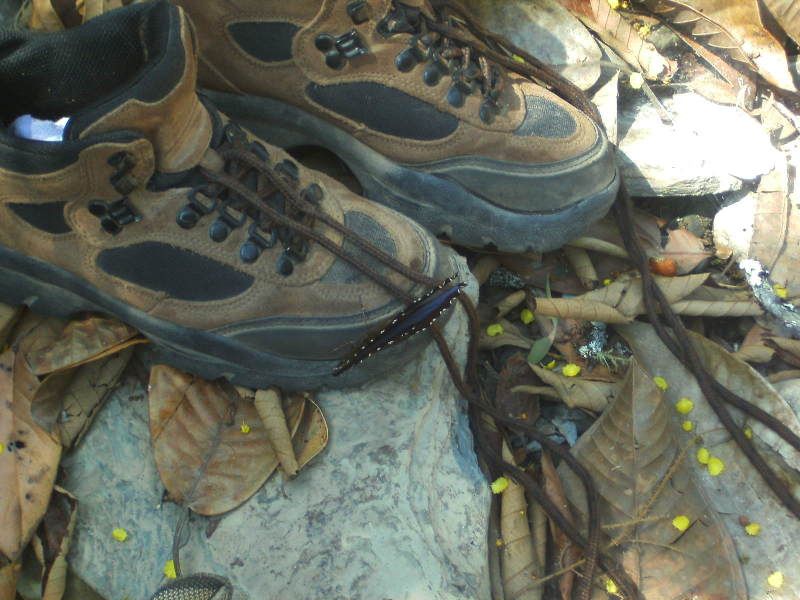 I have to track down another picture of some butterflies that was nice.