Topic Summary
Posted by ilbonito on Mar 22, 2010, 5:44am


Sao Paulo is the grimiest, most intimidating place I have ever been. Its the biggest city in the Third World, and it feels like it. Imagine a sprawling Tokyo-sized monster, with 20 million people hardened by poverty and violence. In 2000, the United Nations Human Development agency named the suburb of M'Boi Mirim the most violent place in the world that was not actually at war. Even in the decaying city centre, it can feel nightmarish. Whole skyscrapers have been abandoned and reclaimed by squatters, with laundry fluttering out of what were once thirty-storey office windows. Homeless children sleep rough on median strips, while huge raw concrete buildings march on and on, covered in spidery grafitti, under humid, often gloomy skies.




And yet it is also an economic giant. Sao Paulo is the engine that drives Brazil, the place where money is made, power sits, trends are created and new ideas are born. You would never know it from vast stretchs of the city, but Sao Paulo is rich. Its economy is bigger than any other country in South America; Sao Paulo is not just richer than Buenos Aires or Santiago, its richer than Argentina or Chile (or Hungary or Egypt). For the middle classes (which are large, and growing) this means Sao Paulo is where the jobs and the opportunities are, in neighborhoods themselves the size of smaller cities, packed with luxurious apartment blocks and malls. The best clubs, shops and restaurants in Brazil are here (not surprising when there are 30,000 millionaires.)




The classic image of Sao Paulo, taken by a Colombian photographer from a helicopter, shows the swirling, towering condo blocks of the rich (with a pool on each floor) right next door to the slum known blackly as Paraisopolis; Paradise City.



Not surprisingly then, Sao Paulo is a city where danger is never far away. Its now legal here to drive through red lights after dark (people do it anyway, for fear of getting jacked) and you can't take a cellphone into a bank. Its the number one market in the world for bulletproof cars, and there are supposedly surgeons whose fulltime job is reattaching the severed ears of kidnap victims. So….why go there?




Because Sao Paulo is also one of the most thrilling, creative and important cities in the world. Having spent much of the twentieth century absorbing immigrants – from Asia, from Europe, from the Middle East, from all over Brazil – the city is now a simmering melting pot of different cultures and new ideas. Its the biggest black city outside Africa, the biggest Japanese city outside Japan, with six million Italians and (its said) more Lebanese than Beirut. Its a totally 20th century city, ( its history actually stretches back 400 years old, but you'd never know that.)

Its a city of suburbs and skyscrapers and shopping malls, connected by freeways. Sao Paulo doesn't care about history. Its not pretty, its not "quaint". It doesn't give a shit about tourists ( and it must surely be the last major city in the world without an English language guidebook. There is no "Lonely Planet Sao Paulo"). Most of foreign visitors are scared off by the crime anyway, or the dearth of discernable "attractions".




But what the city has is sheer energy. Its a city thats always mutating, evolving, developing in unexpected ways.

Its a city of Japanese pop stars and grafitti artists called Lovefoxxx and Titi Freak. It has Thai-Bahian fusion restaurants, department stores with their own heliport on the roof, love hotels for dogs and Amazonian fruit bars with kosher menus. There is a neighborhood called "Armenia" – which is full of Bolivians – while the Armenians live across town in Nova Zelina. The district of Brooklin is home not only to Jewish immigrants but also (formerly) Nazi death-doctor Joseph Mengele. Mick Jagger and Nick Cave both have children in Sao Paulo via leggy Brazilian beauties. And the former "Little Italy" of Bixiga is now swamped by black immigrants from Northeastern Brazil, who speak Portuguese with an Italian lilt.

Its also one of the gayest cities in the world; with gay shopping malls and gay Communist bars and the biggest Pride party anywhere, which last year drew an astonishing three milion people .(Among them were Clockwork Orange-inspired anarchists who celebrated the event by stabbing to death random gay peope). And its the most visibly lesbian city I´ve ever seen. You see pretty rich girls holding hands in cutesy bakeries and ghetto mamas making out on the subway. I went to a gay club and it was about a third women (much higher than in Australia), most of whom spent the night making out with a ferocity and passion I've never seen before.

This is is a city that has elected as its mayor several Brazilian presidents, two wealthy Arab immigrants, a (female) sexologist and a rhinoceros (http://www.time.com/time/magazine/article/0,9171,869297,00.html).





In 1883, an Italian priest named Dom Bosco had a dream; he prophesized the birth of a new civilization, somehere between the 15th and 20th parallels – the interior of Brazil . This new civilization, he said, would change the world.

That is why Brasilia has always attracted New Agers and cultists, who see it as the fulfillment of the Bosco prophecy – the birth of a new world power. But what if they were wrong, I wondered. What if it was not purpose-built Brasilia, but haphazard Sao Paulo that had been promised. Maybe that strange, spidery grafitti scrawed over town really did mean something. Maybe it was a próphecy too, and Sao Paulo – with its slums and factories, thrusting midde classes, poverty, steroid-pumped party boys and bulletproof traffic jams, blood, money, Arab mayor and Japanese rockstars with porn star names – maybe it is Sao Paulo that will see the birth of a new civilization, something thrillingly different, that will change the world?


Posted by ilbonito on Mar 22, 2010, 5:46am
M0re of my Sao Paulo blog at http://ilbonito.wordpress.com/2008/11/page/4/

Posted by ilbonito on Mar 22, 2010, 5:58am
In Sao Paulo I took an (inadvertant) walk on the wild side. I had found a website for the grafitti artists 6emeia. They produced one of the quirky street art pieces Sao Paulo is so famous for; a series of amusingly illustrated drain covers. Looked great. And thoughtfully, the group had even included a googlemap to help you find them!




The funky drains were in a new neighborhood for me, on the pleasant sounding Rua do Bosque (Forest Street) between Barra Funda and Bom Retiro. Bom Retiro I had been to. It seemed totally safe, a neighborhood full of brightly lit fashion outlet stores selling garish clothes to the colorblind, middleclass masses. Barra Funda – home of the bus depot on the other hand – veered into being a derelict industrial wasteland. But I guess I was still in the Melbourne (rather than Sao Paulo/South Central ) frame of mind, where heavily grafittied neighborhoods tend to be up-and-coming hipster hooods, not ghetto wastelands. Besides, there was a googlemap. How bad could it be? I'll just stick towards the Bom Retiro end I thought. If it gets too bad I can always turn back.

The walk, starting at the unfamiliar metro station of Marechal Deodoro, started well enough. It was a busy, slight shabby shopping street of the kind you see all over Brazil. Some blocks even seemed quite upmarket, with gated condo towers, but then they would abruptly end and return to mechanics shops and little grocery stores.

But as I approached the train tracks (this should have been the first warning bell – how many nice neighborhoods are by traintracks?) things took an abrupt turn for the worse. The road turned into a super-long concrete bridge of rushing cars and a narrow pedestrian footpath. The Rua do Bosque was on the other side. Well, I had come this far…so…..

As I climbed up the curving concrete ramp, and got a progressively better view of my immediate neighborhood, I started to worry. It was full of burnt-out, derelict houses and in a nearby street three barefoot men were sifting through a huge pile of plastic and rubbish. Other barefoot men were pushing huge carts up and down the streets; they were scavengers. There were no other pedestrians. This wasn't good.

The railtracks themselves – tiny-looking and rusty, lay in the middle of a vast swathe of wasteland, with wild green tropical foliage and the lean-to huts of homeless people. The view from the top of the bridge was unforgettable – all of this, plus the burnt out and now roof-less shells of trackside buildings, and the huge chimneys of 19th century factories. Behind it all, the skyscraping condos of 15 minutes before, under a looming grey sky. It would have been an incredible picture – but now there were other pedestrians on the bridge, all poor-looking, and I didn't dare to take it. My heart leapt a little every time one of them overtook me, (and didn't produce a knife).

But that was nothing compared to what came next. Because the ground under the bridge was a rubbish tip, full of huge statues; a four metre tall headless lion stood poking out of the undergrowth. It was the most jarring, Fellini-esque moment of my life. Then I realised this must be a dumping ground for old Carnaval props; giants and monsters, huge, cracked, colorful faces sat staring up at me, or lay jumbled in piles. This was a photographer's dream, but high up and exposed on the bridge I only dared to take one quick snap before hurrying on.




When the bridge touched the ground at the other end I breathed a huge sigh of relief; this was Bom Retiro – but not the Bom Retiro I knew. It was a poor, black neighborhood full of junkyards and badly patched roads, and a superhumanly tall white mermaid peering out over the fence from under the bridge. Then, much to my relief and surprise, there was a university (which would have security. Maybe even taxis). A bus went by. So there was a way out.

Reassured a little, I set out cautiously to explore. The Rua do Bosque was a derelict little street – nothing like I had imagined – brightly colored with grafitti, with an odd mixture of little grocery shops and modest restaurants (and mercifully, people again!) and light industry with the occassional, stunningly incongrous slickly-designed yuppie pad. There was a bizarre modern church, oppressively designed in peeling concrete – and then a temple to Xango, the voodoo thunder god. And there were the drains, which after only a few years in the elements now looked like this:





I was shocked and disappointed. This was it? The reward for my nerve-shattering oddyssey? But then I thought, wait a minute. If I hadn't come here, I never would have seen that amazing burial ground of gods and monsters (even if I couldn't photograph it) or Xango's temple, or experienced my Sao Paulo "walk on the wildside".

I took the next bus that came along and ended up in the Bom Retiro I knew – formerly a Jewish redlight district and now a heavily Korean textiles area, an odd mix of old Synagogues, busy retail streets and Korean butchers and groceries. I had heard the were also Greek and Bolivian pockets, but of them I saw no sign.




But at the very end, was one of the things I had most wanted to see in Sao Paulo. The trainstation at Luz – a replica of Melbourne's own Flinders Street Station (but just the side part, with a slightly different cupola on the tower). Sao Paulo seemed to have no end of surprises. The station stood in a heavily gentrified square (it was now a museum) at the edge of the neighborhood known as Cracolandia ("Crack Land"). I now realised I had walked right through it.

Posted by bixaorellana on Mar 22, 2010, 6:15am
Whoa ~~ my eyes feel bald because I read through this whole thread without blinking! Totally, totally fascinating, and definitely something about which I knew nothing. Your story is even full of phrases and concepts that come flying out of some alternate world -- "Xango the voodoo thundergod"; "Jewish redlight district"; a prophesied new civilization. That idea, in conjunction with your pictures and narrative inevitably threw up: "what rough beast, its hour come round at last ..."

Thanks for this, which I know I will read and study again. How long were you there?
Posted by ilbonito on Mar 22, 2010, 7:14am
Bixaorellana -




I've been to Sao Paulo twice, but each time for only less than a week. Its such a brute-ugly city but there is something so invigorating about it; so fierce, so fresh, so...fearless. It made me feel brave and super-confident just walking down the street.

And I love its newness, its hyper-evolution, the fact that it is mutating before your eyes. I think the (great) Brazilian singer Caetano Veloso summed it up best in his song about Sao Paulo, "Sampa" which I posted on my blog.

Some of the lyrics go "....When I first saw your face I did not understand what I saw...your hard concrete corners...I called it bad taste, bad taste ..because Narcissus finds nothing beautiful which is not a mirror, and the mind cannot understand what it is not yet old...nothing from before we were mutants". He then talks about the "money that makes and destroys beautiful things" and "smoke from the factories wiping out the stars".

He really sums up the beauty and the terror, and yes, the savagery of Sao Paulo.


Posted by ilbonito on Mar 22, 2010, 7:33am
Posted by ilbonito on Mar 22, 2010, 12:20pm
A couple of Sampa movie recommendations:

Plastic City is interesting. Its a Japanese/Hong Kong/Brazil coproduction about a gang of Asian counterfeiters on the grimy mean streets of Sao Paulo, (the star Odagiri Jo is a big sex symbol in Asia).



Manda Bala ("send a bullet") is a documentary about crime in Brazil; how the poor steal from the rich, and the rich steal from the poor. It looks as the desperate gunmen fuelling street crime in Sao Paulo and then white collar crime, investigating a corruption scandal where public funds were siphoned off to fund a politician's "frog farm":



Posted by bixaorellana on Mar 22, 2010, 3:44pm

Ilbonito! Thanks for that wonderful face with the unblinking eyes.

The four photos following that really illustrate what you're saying about the savage vitality of the place. The second one even creates a type of graphic music along with the curved surfaces.

Speaking of which -- the lyrics you quote: "...your hard concrete corners..." are the opposite of what struck me in so many of your pictures. There seems to be almost a mania for curves and where those don't exist, someone felt the urge to soften the building with pink & baby blue.

Did Sao Paulo ever have a cultural heyday? (referring to more traditional forms of culture) There are some quite elegant buildings and one of your shots indicates wide boulevards.
Posted by ilbonito on Mar 22, 2010, 8:47pm


Sao Paulo has been an important and wealthy city since at least the early twentierth century when it boomed on coffee and the first Italian and Japanese immigrants began to arrive. It does have a historical heritage, it just doesn't look after it.

The most atmospheric part of the city for me is the "Centro", or "Downtown". Or it was the downtown, anyway. Sao Paulo – embracing change like few other cities – has sprouted four of them. Every decade or so a new one will fall into favor, boom, and then be slowly infiltrated by crime and poverty, to be abandoned. The Centro, although full of stunning art deco towers, has long been out of favor. In the 1970s the money and the big companies moved out, to Avenida Paulista to the Southeast, and now they are moving again, to the exclusive neighborhoods of Morumbi and Itaim. The Centro has been left to languish – and its astonishing to see the extent of its fall.

The whole once-glorious business district belongs at night to the homeless and the ever-present porn shops ( I have never seen so many). During the day it bustles with street markets and downmarket shoppers. And everything is covered in grafitti. If not a no-go zone, the Centro has become a place to go if you must, and hurry out of, certainly not a place to linger. Many well-to-do Paulistanos will tell you they haven't been there for years.





And the thing is; its beautiful. Or it could be. Centro is the only part of Sao Paulo that has consistently great architecture. It has buildings that Melbourne or Sydney would kill for, like its iconic Empire State Building knockoff the Edificio Martinelli, or huge art nouveau apartments, slowly rotting away.

But then there is the city's other great architectural legacy: modernism.




At its best, it can be beautiful and radical, like the 1946 (!) Edificio Louveira below. (Its located in the bluntly-titled -and presumably well-drained - neighborhood of Higieneopolis). But it doesn't always work so well.




This is Oscar Niemeyer's Latin American memorial, a bleeding hand in the middle of a barren concrete plaza, next to a library and an exhibition hall. Unlike the Louveira building, couched in a lush tropical garden, there is nothing to soften the concrete here. No vista of the sea, as at his museum in Niteroi. Just hard, modern lines - in a city that is already hard to the point of being bleak. No contrast, just concrete on concrete.

I also realised that while many of these buildings look great from a distance, up close they can be less impressive. The concrete cracks, and stains, like the hand above; now a dirty grey rather than the original white. Its oppressive to see these hard, super-human monuments cracking and peeling. They are not softened by age.

Another minus-points was for the Memorial's exhibition hall, in a rubbish-strewn reflecting pool, which was hosting a surprisingly fourth-rate art exhibit. The artists had apparently collaborated by email. Maybe next time they should meet in person? (Although the hall was also screening a gay Israeli movie called "Antarctica", which I thought was a very "Sao Paulo" combination.)




Another Niemeyer landmark which hasn't aged well is the Copan Building. The huge serpentine tower sits in the heart of the city. Its an icon. Interestingly, it was built as an experiment in mixed-income living; apartments in the building go for all different price ranges, and there are so many that the tower has its own postcode. But these days, the building is dominated by low-income tenants (including, it is said, many of the city's transsexual hookers).

But then, there is this: Sampa's newest modernist masterpiece and a building that is hard not to love; the Auditorium in Ibipuera Park nicknamed "Linga", the tongue.






[/img]
Posted by kerouac2 on Mar 22, 2010, 9:05pm
Do you know that Oscar Niemeyer is still alive? He is something like 102 now. He designed the communist party headquarters in Paris.

I have a second third cousin in love with Sao Paolo. She is a village bumpkin who fell in love with Formula 1 racing and more specifically Ayrton Senna, for whom she developed a total passion. She went with fan groups to his grave twice and she actually wrote two books about him. In the village, they thought it was awful. "It all sounds like sex and she has a husband and 3 children." She learned Brazilian Portuguese and she learned English after that (due to internet needs) and apparently she speaks English with a Brazilian accent.

And yet she now just works at the press section of the local Cora hypermarket...
Posted by ilbonito on Mar 22, 2010, 11:51pm
Senna was HUGE in Brazil. People adored him... Is he grave in Sao Paulo? It seems quite likely. I think there are a few streets and stuff named after him.

What did you cousin make of SP? I wonder if her impressions were similar to mine, or totally different ...
Posted by imec on Mar 22, 2010, 11:57pm
Fantastic post! Absolutely fascinating!!! I cannot believe how little I know about Sao Paulo.

Thanks ilbonito!
Posted by ilbonito on Mar 23, 2010, 12:44am
For all its crime and horrendous inequality, I think its worth pointing out the Sao Paulo does seem to be heading in the right direction; it is at the heart of Brazil's recent strong economic grrowth with a new middle class being created, and violence down (murders reduced by 40% in ten years by some statistics).

http://www.guardian.co.uk/news/2008/mar/14/rorycarroll.insidebrazil2

I like the last sentence:

"...That doesn't mean the chasm between rich and poor will be bridged any time soon. It is too wide for that. It does mean that this vast concentration of humanity, a Latin version of Gotham famous for extremes, may be on its way to becoming, against all the odds, a kinder, gentler place."


Posted by bjd on Mar 23, 2010, 7:06am
Thanks for all this, Ilbonito. I had seen various pictures of SP, as well as a travel show on Venezuelan TV about it recently, but mostly indeed the impression I had was of a huge city, riddled with crime. What a shame about those modern buildings in Centro -- they are beautiful.

I'm not surprised that Niemeyer's concrete buildings are falling apart. It seems to be the case for many buildings put up in the 1960s and 1970s in various parts of the world. Crappy construction that turns ugly very quickly. I must admit that I'm not a fan of Le Corbusier either though. Maybe pure concrete just shouldn't be used alone as building material.
Posted by kerouac2 on Mar 23, 2010, 7:28am

Mar 22, 2010, 11:51pm, ilbonito wrote:

Senna was HUGE in Brazil. People adored him... Is he grave in Sao Paulo? It seems quite likely. I think there are a few streets and stuff named after him.

What did you cousin make of SP? I wonder if her impressions were similar to mine, or totally different ...



From the glowing report that she made of her trips, I suspect that she never left the relatively safe tourist center, except to go to the cemetery of course. She found the people friendly and wonderful, in any case.
Posted by ilbonito on Mar 23, 2010, 8:22am
Well I concur with her on the locals; Brazilians are generally delightful company. And there are vast swathes of the city where the multimillion strong middle classes - and almost as numerous super-upper-classes live their whole lives, and look disoriented and confused when you tell them you are staying in the Centro.


Jardim America, Jardim Paulista and their surrounding hoods (" the Jardins") feature blocks of luxury apartments in gardens of palm trees and frangipanis (with security, of course), and plenty of cute cafes and nouveau riche shopping. The consumer orgy reaches a screaming climax on Rua Oscar Freire (apparently the eighth most expensive street in the world by retail rent). Here, a handful of shops reach Tokyo-like fabulousness:

(pic was too big so I mremoved it)

This is a shoe shop, where the shoes (which are all colorful and made of moulded plastic) hang suspended from the ceiling in bubble-like pods.


Club Chocolate, a few doors down, features an indoor grove of palm trees and a winding metallic staircase, leading ( I'm told) to a fake beach area with sand and more palm trees and an aviary of macaws. But frankly, I didn't have the nerve to go up, after being stared at by the intimidating shop assistants. (Thoughtlessly, I had done Oscar Freire on a whim, and not dressed for the occassion. I was in my Sao-Paulo-public-transport-don't kill-me dressed down look, not my blinging yes-I-want-to-spend-300-dollars-on-a-pair-of-shorts Jardins look.)

So, instead I went back to the juice bar my friends Junior and Fillipi had taken me to the night before, and drank the almost unbelievably delicious juice of the Amazonian cupuacu fruit, with a crowd of modelesque Desperate Housewives, gaggles of middle-aged Japanese women, goodlooking upper-class gay couples and Jewish teenagers ( the boys all in skullcaps).

Around the corner, Paulista roars with traffic and bustles with yuppies on dates, and businessmen striding around in suits. Almost always refered to as the "Fifth Avenue of South America" it is the home of banks and large corporations, but unfortunately more impressive for its obvious financial might than its aesthetics. The big companies are all housed in a long line of mundane 70s highrises – no Brazilian modernist flair on show here. About ten of the towers are topped with impressive mini-Eiffel radio transmitters (giving those wealthy enough to live in million-dollar Paulista apartments high rates of brain cancer). The highlights of the street for me are; the wonderful, wonderful Libraria Cultura bookshop (below),





And a vast bakery open 24 hours a day ( just off Paulista on Frei Caneca, on the way to the gay mall and the Syrian hospital) where you have to line up for bagels or pastries at 3am.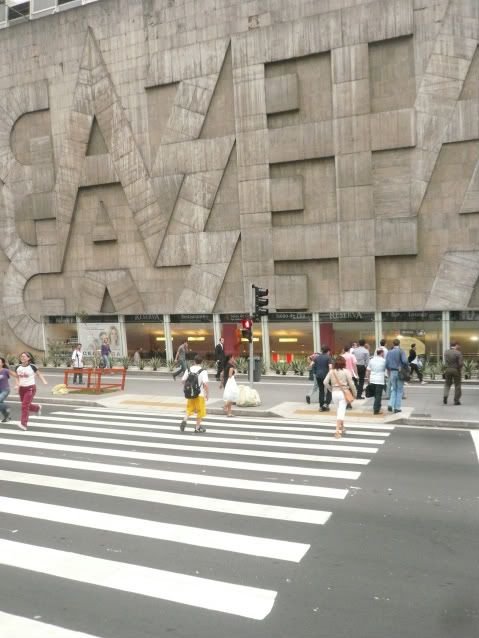 Here is also the MASP, Museum of Modern Art Sao Paulo – the best endowed in Latin America. Its housed (but of course) in a hulking modernist monster suspended from bright red pylons over a reflecting pool full of plastic shopping bags. Last year two thieves walked out with a pair of paintings worth 55 million dollars, one of them a Picasso.

At the end, the street peters out unexpectedly with a bunch of entirely Asian-run mini-Akhibara electronics malls (I'm not sure which Asian though, because they were all speaking Portuguese!)
Posted by ilboni0 on Mar 23, 2010, 10:41pm
Apologies for the huge screen-warping photos in the above post - I removed them. I linked them directly from my blog, rather than through photobucket ...
Posted by kerouac2 on Mar 23, 2010, 10:45pm
A lot of the description sounds like Buenos Aires, which of course is on a much smaller scale.
Posted by bixaorellana on Mar 23, 2010, 10:51pm
Thanks, Ilbonito/ilboni0. I hope you can put them back, because from what I saw they were truly of the more-than-a-thousand-words variety, even your words, which are so evocative.

That does look like a heaven of a bookstore. What do the letters spell out on the building in the next picture? Surely that is not the bakery, is it? Wow, the more you show of this place, the more it seems it should be declared a country, rather than a mere city.

I love your description of the juice bar -- sounds like the bar scene in Star Wars, except with benevolent humans.
Posted by ilbonito on Mar 23, 2010, 11:56pm
A lot of the description sounds like Buenos Aires, which of course is on a much smaller scale.

Not at all! I see the two cities as polar opposites; Buenos Aires graceful and maudlin but lovely, and Sampa totally lacking in sentimentality, big and bruising.

One interesting comparison I have heard is that Sao PAulo is like a late 70s/early 80s New York - the postwar waves of European immigration were over but the latest arrivals from Asia and Latin America had not really hit yet. Hip hop and graftti art were emerging in the flourishing underground scenes, but the city was dirty and rundown and crime rates were at their highest; there was a general feeling that things were spinning out of control. That is a bit like Sao Paulo's permanent default setting.
Posted by lola on Mar 24, 2010, 2:08am
Powerful, ilbonito.
Thanks for this report. I had no idea.
Posted by ilbonito on Mar 24, 2010, 2:52am
One of my favorite Sao Paulo stories was from a Japanese businessman in Tokyo; he had been there on a sales trip, and on a busy street in the skyscraper district ran into another Japanese man, who greeted him with a hearty "konnichiwa".

The businessman - far from home - was happy to meet a compatriot, and stopped to chat.

"Sorry about this" said the Japanese-Brazilian man, "you see...I am Japanese, but I'm also a mugger. GIve me all your money"- pulling out a gun discreetly.

Its such a great example of how this city can turns expectations upside down. I love that the mugger was Sao Paulo-harcore-enough to pull the gun, but Japanese enough to aplogoise for it.
Posted by gusm on Mar 24, 2010, 3:27am
Awesome post. My wife had a room mate from Sao Paulo. We need to contact her and go there! Excellent work ilbonito.
Posted by ilbonito on Mar 24, 2010, 11:01am
Thanks all for the kind words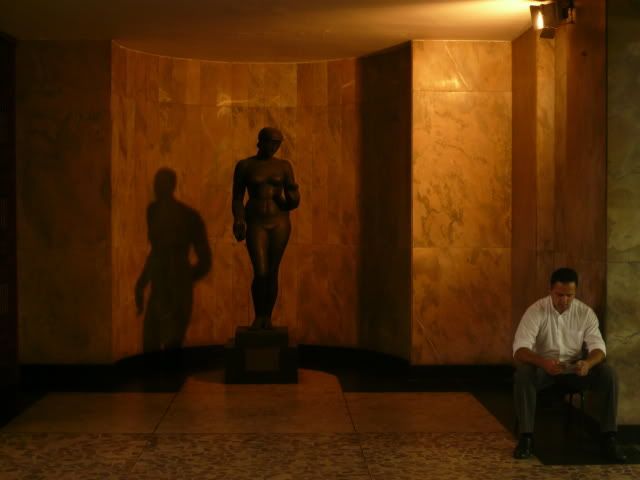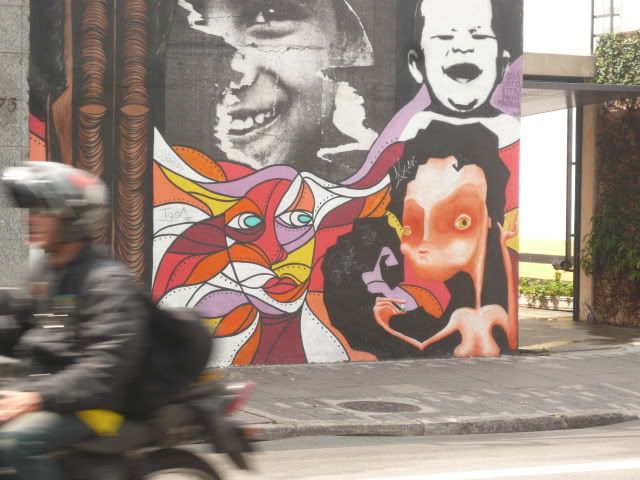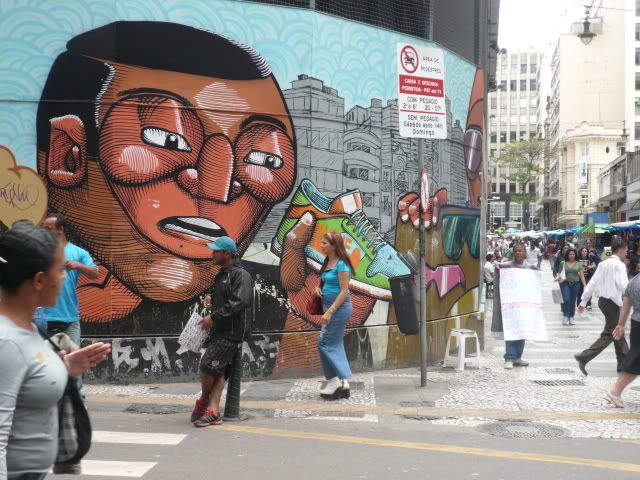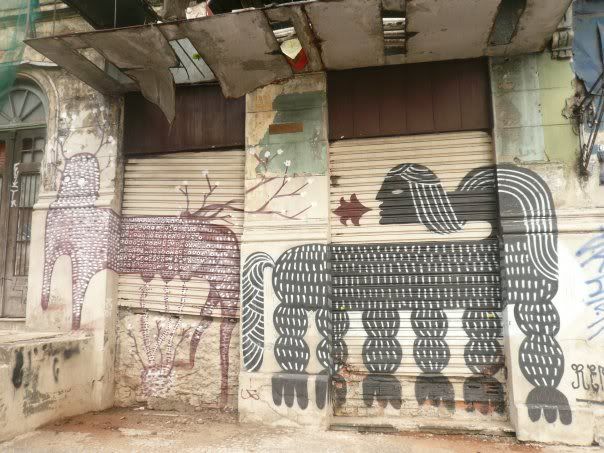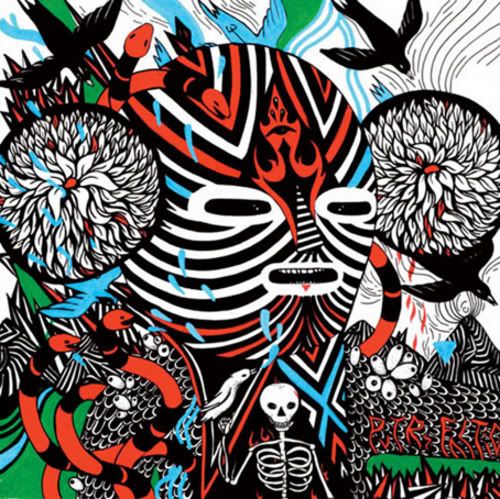 Posted by ilbonito on Mar 24, 2010, 11:05am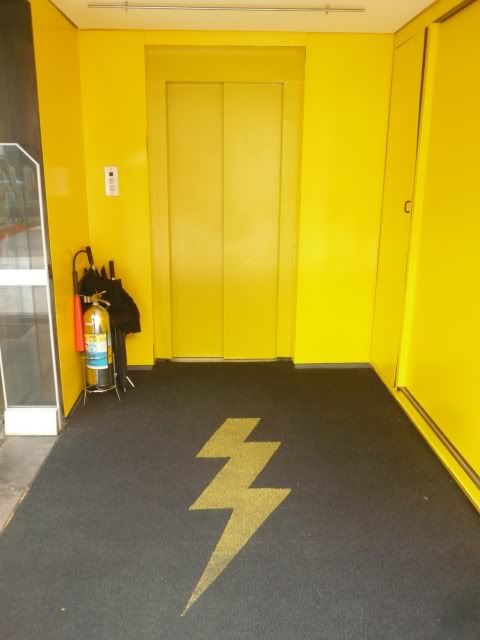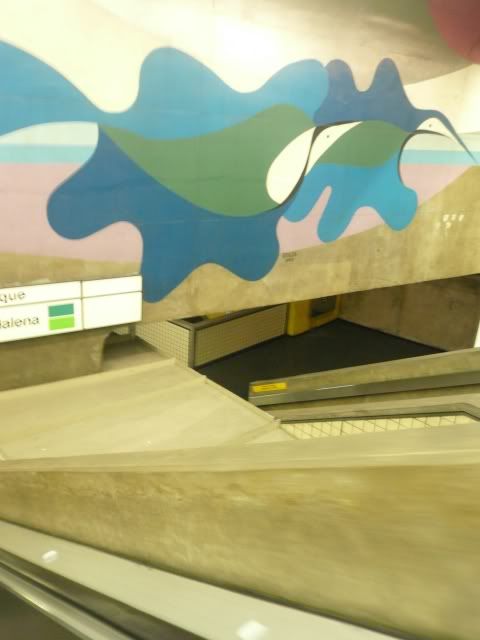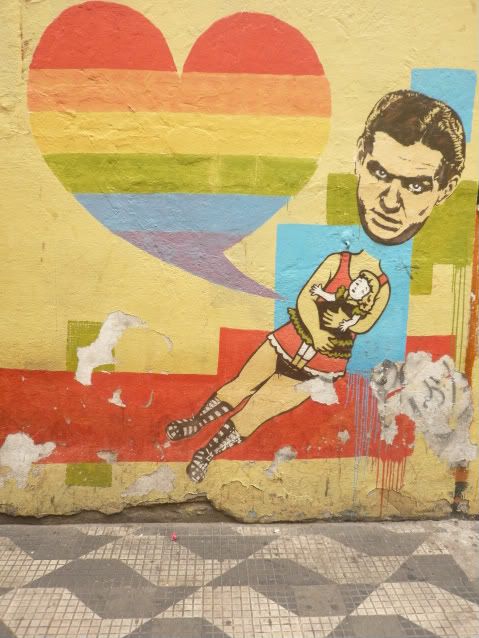 Posted by ilbonito on Mar 24, 2010, 11:09am


Something happens in my heart
Only when I cross Ipiranga and Sao Joao (two streets in the heart of the "centro")
When I arrived here I knew nothing
Of the hard concrete poetry of your corners
Of the discrete inelegance of your girls
Of Rita Lee; your most complete translation
(Rita Lee was a then-teenage singer with punky psychadelic band called "Os Mutantes", the mutants)

Something happens in my heart
Only when I cross Ipiranga and Sao Joao

When I was confronted with you and did not see my face
I called it bad taste what I saw, bad taste, bad taste
For Narcissus finds nothing beautiful that is not a mirror
And the mind cannot understand what is not yet old

Here there was nothing of what was not before,
When we were not yet mutants

You were a difficult start
I drew back from what I did not know
and he who comes from another happy city dream
quickly learns to call it reality because you're the opposite of the opposite of the opposite.

Of the people oppressed in the lines
In the villages, slum quarters
Of the force of money that raises and destroys beautiful things
Of the ugly smoke that goes up erasing the stars
I saw appear your poets, De Campos, spaces, your forests of workshops, Your gods of rain, Pan Americas, of África, Utopia
The tomb of the samba,
More possible new quilombos of Zumbi,
And new natives from Bahia go by in your drizzle, your flurry
And new natives from Bahia can like you just fine.
Posted by ilbonito on Mar 24, 2010, 11:19am
In the end this was one of my starkest images of Sao Paulo; an homeless man in rags, sleeping in an ATM.





I wrote this on my blog, having just left the city:

So I made it. I survived Sao Paulo. I'm writing this from a lush green garden, listening to the sounds of birds and insects, looking out over a pool, at Iguacu. It feels like a million miles from Sao Paulo and after a 15 hour bus trip, it practically is. But it was an unforgettable week in one of the world's most complicated cities. I think that in the end, Sao Paulo will be what made this trip for me. Rio was wonderful, of course. Rio was always wonderful. But it was Sao Paulo that brought the shock of the new, and there can be few cities as savagely new and shocking, anywhere. It was hard, it was exhilirating, it was once or twice, terrifying. It made me realise that the world is bigger and more luxurious, and harder and meaner, than I had imagined. It made me feel butcher and braver than I ever have, and also made me nearly shit myself. At the end of I feel (foolishly perhaps) bulletproof. Nothing in Melbourne is ever gonna scare me again. I'm glad I came. And I have to admit, I'm glad I'm out. Sao Paulo was just too, too much – all the time. Quite an experience.
Posted by komsomol on Mar 24, 2010, 11:33am
very cool report ! thanks for taking the time !
Posted by bjd on Mar 24, 2010, 12:26pm
Thanks again. This is great, but nothing like Buenos Aires, I agree.
Posted by bixaorellana on Mar 24, 2010, 3:40pm
Whew ~~ incredible trip, Ilbonito!

The poem/song you quote at the end really has meaning after viewing the rest of the thread. Ditto the images in the video. It's a lovely song, as well. Do you know what the crowd scene at 2:44 is?

Your final stark image was not as powerful for me (because of where I live) as the repeated abandonment of massive and ambitious buildings and areas you show. It's the mad hatter's tea party on an unimaginably grand scale, and really bewildering.

Your last series of photos is wonderful, especially after reading everything that went before. I am in love with that penultimate picture!

A few more questions, please -- what's the general background of the population, and does it reflect that of the rest of Brazil? Do the "new natives" as mentioned in the song simply blend in, or do they form enclaves and introduce some of their own culture? Finally, would you ever go back?

Again, thank you for this fantastic presentation.