Topic Summary
Posted by bjd on Jul 19, 2010, 1:48pm
Seeing Bixa's pictures of her local Mexican markets reminds me that I have some pictures from a trip to Ecuador last spring (2009).
The most famous is the market for tourists in Otavalo, about 100 km north of Quito. This is the day trip guidebooks tell you to make or tours will take you to. I went there on two separate occasions.

It's called Plaza de Ponchos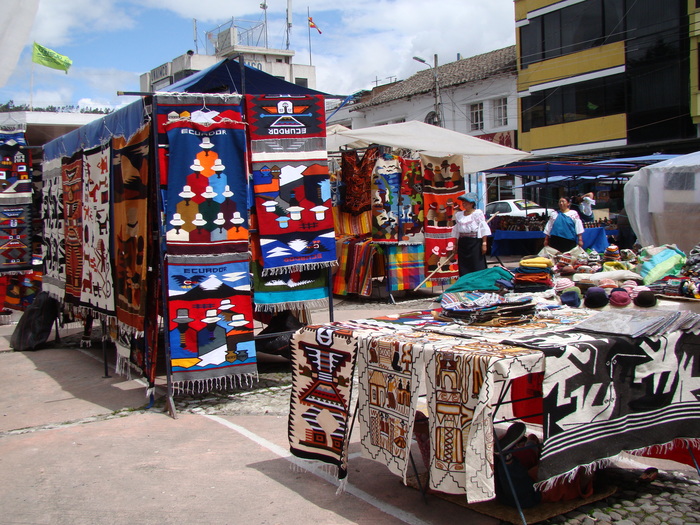 This young woman was very friendly while crocheting some masks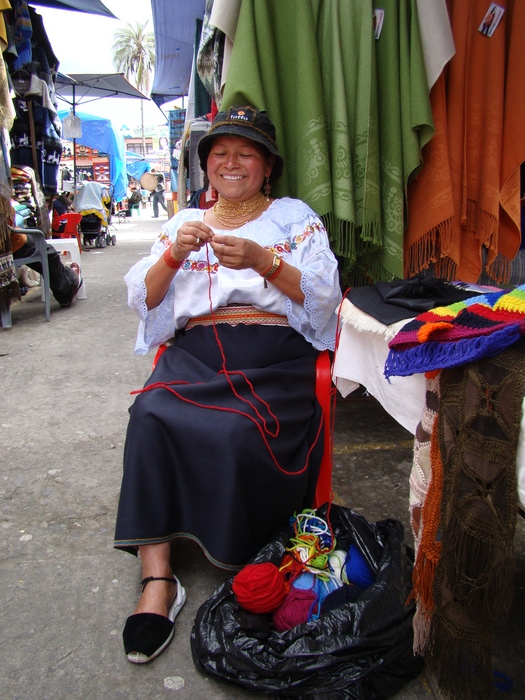 Posted by bjd on Jul 19, 2010, 1:55pm
There were not many customers while we were there, so these guys were playing some sort of game



And then, of course, we wandered away and went to the market where locals go and do their shopping and where there weren't any tourists except us.



As you may know, potatoes are originally from the Andes, and there are many different varieties in Ecuador

Posted by bjd on Jul 19, 2010, 2:00pm
This is an outdoor market in a village called Gualaceo, south of Cuenca in southern Ecuador.



You can see that the Indians are dressed completely differently, in particular the hats, wrongly called Panamas, but which in fact come from around Cuenca

Posted by bjd on Jul 19, 2010, 2:10pm
Another famous market where tourists go, but not in busloads is Saquisili. Very few souvenir things here, but several markets for various things: big animals, small animals, food, miscellaneous. It's only on Thursdays.

Big animals include llamas (they cost about US $600)



Pigs



Both large


and small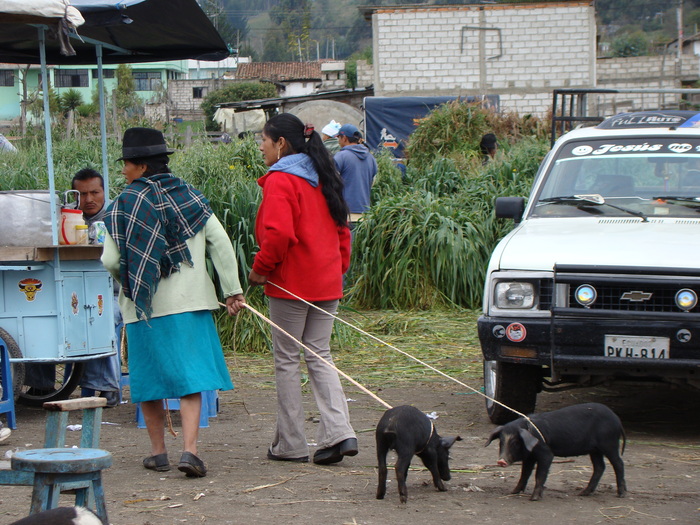 Posted by bjd on Jul 19, 2010, 2:18pm
Fruit for sale too, and you can see not everyone is poor



Selling sugar cane and juice



chickens

Posted by bjd on Jul 19, 2010, 2:22pm
If you see "cuy" on the menu, this is what you get



But not everything is to be eaten

Posted by bjd on Jul 19, 2010, 2:26pm
A few non food items too



and one or two souvenir stalls

Posted by bixaorellana on Jul 19, 2010, 4:19pm
Ohhhhhhhh, Bjd ~~ I'm knocked out! I have devoured this thread and will be back to enjoy and study it some more.

Having looked at my threads on Mexico, I'm sure you experienced that same-but-different reaction I'm feeling now. Take picture #6, for example. It clearly shows the architecture imported by the Spanish, but is obviously a Latin American market, what with the tropical produce and glimpses of native American facial features. So yeah, that one could be from one of several countries and makes the contrast and distinctive elements of the other photos all the more striking.

That one, and all of your pictures are so good. I so much admire your "eye" and sense of composition. Love all of this -- thanks!
Posted by bjd on Jul 20, 2010, 7:23am
Thanks, Bixa. Yeah -- I agree there is a similarity between many Latin American markets. When I see your pictures, I can imagine how they "feel", even if I haven't been to Mexico.
Posted by bazfaz on Jul 20, 2010, 10:11am
We were in Ecuador in 2004. Some of the arrangements I had made fell through so we went to Otovalo for 5 days. The Saturday market is the biggest but in fact there is a good market in the square every day. We went for long walks in the hills around Otovalo which was really lovely.
Posted by bjd on Jul 20, 2010, 11:29am
I never went on the Saturday either. The pictures were taken on a weekday.
Posted by casimira on Jul 21, 2010, 2:59am
Sorry,am just now getting around to looking at this BJD,and am glad I waited, as I was able to really take it all in and enjoy. Fabulous pictures they are,really feel as though have been there!! Have been to Guatemala and several parts of Mexico,some real similarities yes,but,Ecuador does seem more progressive if that's the right word,certainly doesn't seem as poor as Guatemala no.
Have always love the textiles,and of course, the hats...my husband would also be very smitten with. They are so well made too.
Please tell us more about the food,when you ate out,did you have the cuy?And how was the pork prepared? I did realize the export of potatoes was big business,and great pics of all the produce.
Thanks so much for this!
Posted by kerouac2 on Jul 21, 2010, 4:51am
I just came back to look at this thread for the 3rd time, and I keep noticing more and more nice details. One thing that gets me is how things for tourists always seem to be in brighter colors. That's probably true for every country in the world.

After all, the Spanish came to get the gold on their first excursions!
Posted by bjd on Jul 21, 2010, 8:14am
I wouldn't say things for tourists are in particularly bright colours. Of course, the weavings in Otavalo tend to be bright, but I bought a dark green wrap. And if you look at the Indian women, they often wear very bright colours -- it really depends on the area. In Cuenca, in the south, inside a market there were some Peruvians and were absolutely colourful.

These people were in Saquisili. I kept the picture even though it's a bit blurred but you can see that they dress brightly



I did taste the guinea pigs but at someone's house. Frankly, fortunately it was cut into pieces because sometimes it is served with the whole little body. There isn't much to eat. And the people who served it were highly amused when I said that in France guinea pigs were pets, not food. It was served with some lima beans -- and just a big spoon.

The day we went to Saquisili, we went on a hike and were served llama, which is certainly tastier than cuy. But in general, I found fish good, but the best were the fruits and juices and vegetables. The best food was served in people's houses or in fancier restaurants. In Banos we finally cracked and went to a French restaurant -- there the food was very good. Especially since mostly we ate in cheap local restaurants -- rubber chicken, rice and potatoes.


Posted by bazfaz on Jul 21, 2010, 3:15pm
We bought thick sweaters in Otovalo, lovely and warm. When yopu walk out of the town you pass lots of sheds where you can hear the clacking of knitting machines. We also saw huge bales of goods addressed to the Czech republic. I wonder if they turned into Czech handicrafts.

Posted by bixaorellana on Jul 24, 2010, 8:13am
I find the idea of knitted goods there so interesting. I've never been able to understand why knitting never became a handicraft in Mexico, especially in places like Chiapas where it gets cold. (no quilting here, either).

Bjd, both the mask-making woman and the woman in #13 are wearing strands and strands of necklace. Does that signify anything in particular?

When I looked at this thread before, I didn't notice the cultivated fields in the background behind the pig picture in #3. That's so interesting, especially with the big swathe of wooded ground right in the middle.

How did you all come to go to Ecuador?
Posted by bjd on Jul 24, 2010, 12:14pm
Bixa, I don't know what the strands of necklaces mean, but I do know that wearing a bunch together seemed common. Colours are often dependent on region. Many of the Indian women in Otavalo wore the gold-coloured beads. I bought a necklace at a market in Quito with coral beads -- about 4 strands attached together.

As far as fields go -- much of what is arable land in Ecuador is cultivated. Even quite high up in altitude (over 3000 m) you see nearly vertical cultivated fields.

My daughter had a job in Ecuador for a bit more than a year, so I went to visit. And my consuegros-to-be were working there at the time, so I went to stay with them for a few days too.
Posted by hwinpp on Jul 28, 2010, 7:27am
I just came accross this thread, very interesting indeed.

Are those a green type of banana being unloaded or are the export bananas being loaded? Did the guinea pigs taste like wabbit? My sister used to have some but before I could eat them our dog got them...

Posted by bjd on Jul 28, 2010, 7:45am
I think those bananas were being unloaded for sale at the market. It's true that when they are sold in Ecuador, they are usually ripe. If they had been for export, they wouldn't have brought them inland to the sierra, but gone directly to the coast.

No, guinea pigs don't taste like wabbit. It's not that they taste bad, but there is so little to eat on them. They scald off the fur, then cook them. Ours had been cut in 4, so we only got a leg and some skin, which are a bit tough. I have seen pics of street sellers where the guinea pigs look as though they have been crucified and roasted.

Posted by dahuffy on Jul 29, 2010, 12:47am
I have a neighbor that raises llamas for the fur. He also has a couple of camels as well.
Posted by bixaorellana on Jul 29, 2010, 2:08am
Thanks for all the answers, Bjd. To be honest, I never really thought about Ecuador one way or the other until you started posting your pictures on the forum. Then this thread really brought home the deeply interesting exoticism of the place.
Posted by bjd on Jul 29, 2010, 6:56am
To be honest, I probably wouldn't have thought much about Ecuador either if my daughter hadn't gone to work there. However, now I think it's a good holiday destination simply because it's not very big and has an incredible variety of landscapes, people, climates, etc.

Of course, the country is mostly known because of the Galapagos Islands.
Posted by kerouac2 on Jul 29, 2010, 5:41pm

Jul 29, 2010, 12:47am, dahuffy wrote:

I have a neighbor that raises llamas for the fur. He also has a couple of camels as well.



I'm wondering if llamas can be fleeced to make wool or if they must be killed for their pelts.
Posted by bixaorellana on Jul 29, 2010, 10:17pm
Jul 29, 2010, 6:56am, bjd wrote:
I think it's a good holiday destination simply because it's not very big and has an incredible variety of landscapes, people, climates, etc.

You couldn't ask too much more of a country, could you?!

I forgot to ask you before ~~ are there areas where the local people don't speak Spanish except for commerce, as here, or where some of them can't speak it?
Posted by Don Cuevas on Aug 12, 2010, 3:03pm
" I've never been able to understand why knitting never became a handicraft in Mexico, especially in places like Chiapas where it gets cold. (no quilting here, either)."

Knit goods are a fairly big item in the Pátzcuaro mercado.
(Sorry, I got here late.)