Topic Summary
Posted by ilbonito on Aug 22, 2010, 9:54am
If its happening in Sao Conrado, that is quite shocking. Its a "rich ghetto", but directly next to the slum of Rocinha. Brazil is weird though in thats it can be like two parallel societies. When you are in the "First world" parts of it you feel very much as though you are in a developed country. Much of the worst poverty and deprivation is concentrated and hidden away from view in favelas. But its not like I imagine India to be where the poverty is omnipresent. In Brazil it would often be easy to avoid the unpleasantness altogether. its not "in your face". But of course it is still there.

At the moment there is a campaign to relocate thousands of favela-dwellers after many were killed in mudslides after torrential rain. It seems like a reasonably, humanitarian decision, but in the past almost all attempts at "slum clearance" have been sinister at worst or botched at best (like clearing favela-dwellers out of central areas to a "planned" area on the city outskirts which grew into the infamous "City of God", worse than the previous slums but just further out of view). Hopefully, lessons have been learned but trust will have to be earned back.
Posted by ilbonito on Aug 24, 2010, 7:36am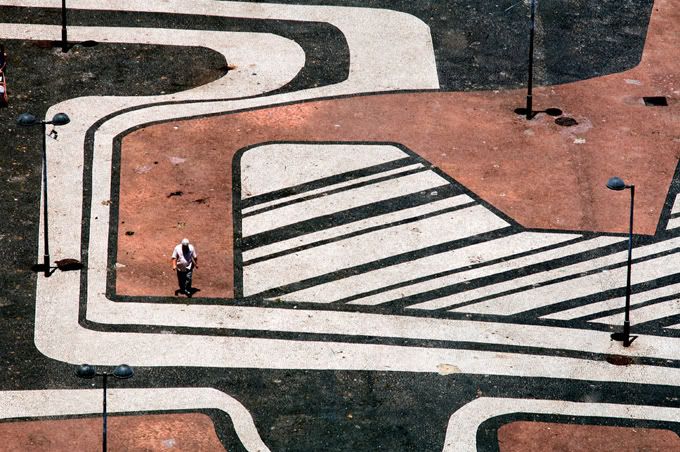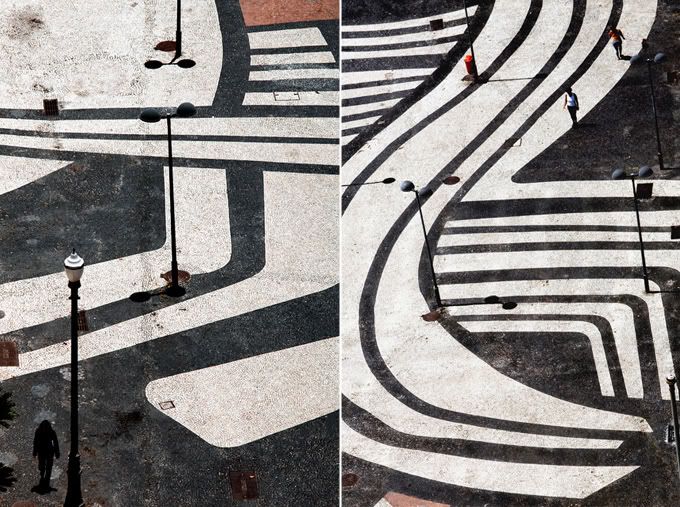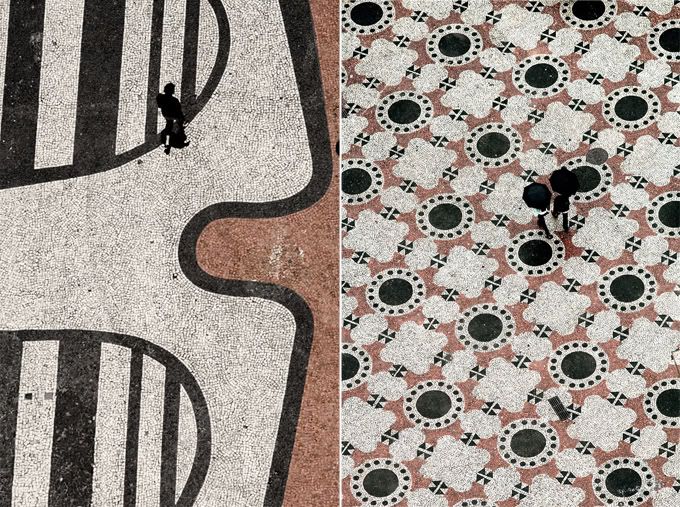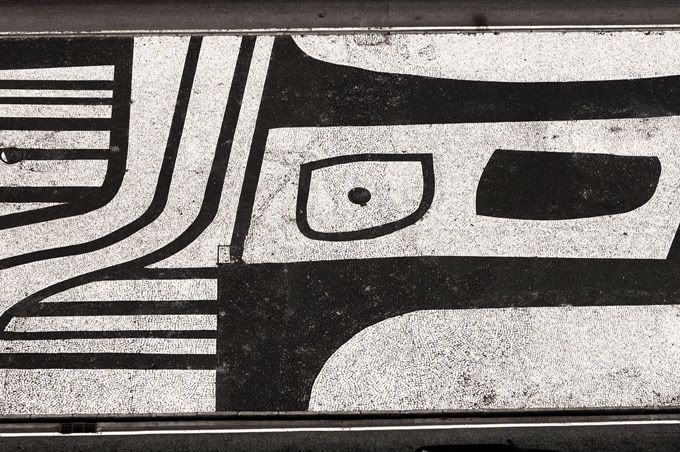 http://i846.photobucket.com/albums/ab24/ilbonitofour/rio/image-4.jpg[/img]
Posted by bixaorellana on Aug 24, 2010, 4:08pm

It's music! It's art! It's fabulous photography! And for goodness sakes, it is a BRILLIANTLY composed post -- a real mood enhancer.
Posted by kerouac2 on Aug 24, 2010, 4:50pm
Can the fabulous use of mosaics be attributed to the influence of Portugal? I am reminded of some of the plazas in Macau. (I was in Portugal so long ago that I can't remember the mosaics on the ground there except for the huge seafront square in Lisbon, just the incredible ceramic tiles on the buildings.)
Posted by lola on Aug 25, 2010, 3:18am
ilbonito, you do know how to compose a post. Wonderful.

I just got home from a Brazilian bar listening to a Chorinho trio, kind of coincidentally.
Posted by ilbonito on Aug 25, 2010, 7:31am
Ooh I love choro music! The photos are amazing aren't they? They are from a photographer called Bruno Veiga who did a whole series on Rio's patterned footpaths, called calçadão. The whole love of tiles and mosaics came from Portugal but Rio really made it its own with its famous black and white wave patterns along the Copacabana boulevard in the 1960s, supposedly representing the graceful sway of the girls on the beach. And, as you can see, that was just the start.
Posted by ilbonito on Aug 25, 2010, 10:16am
Rio's 2016 Olympic bid video featuring the city's traditional "anthem" Cidade Maravilhosa (The Marvellous City). Its cheesy, but it makes its point:


Posted by bjd on Aug 25, 2010, 7:00pm
I just caught up with this thread. Wow. Great pictures, as usual, Ilbonito. I like the urban feel of your pictures. They make me want to go there. It's odd that you live in a sleepy little place in Australia! Is it compensation that you like to visit such big, lively cities?
Posted by ilbonito on Aug 25, 2010, 9:19pm
No I'm naturally more of a big city person. The small town was more of an experiment! But I've decided to end it; next year I'm moving to the most "city" city in the world, Hong Kong

Posted by kerouac2 on Aug 25, 2010, 9:41pm
Ah, we'll get some great photos from there! I've just been digging up some of mine from past trips, but they are excessively classic. You'll find the other stuff.

Posted by ilbonito on Aug 30, 2010, 11:36am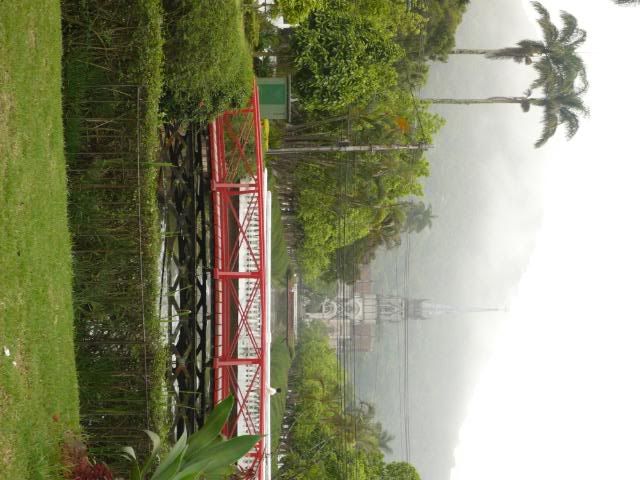 Petropolis is a pretty, cutesy little city up in the mountains, about 2 hours drive from Rio de Janeiro. It makes its living from tourism, by milking its connections with one of history's great dead ends – the Brazilian royal family.

It's odd that a new world country would even have a royal family, but Brazil did. When independence was declared in 1822 it was not as a republic (like other South American countries) but as the "Empire of Brazil" with runaway Portuguese prince Dom Pedro IV becoming Brazilian Emperor Dom Pedro I . (Its rumored that he made the declaration of independence while taking a shit, during a bout of extreme diaorrhea).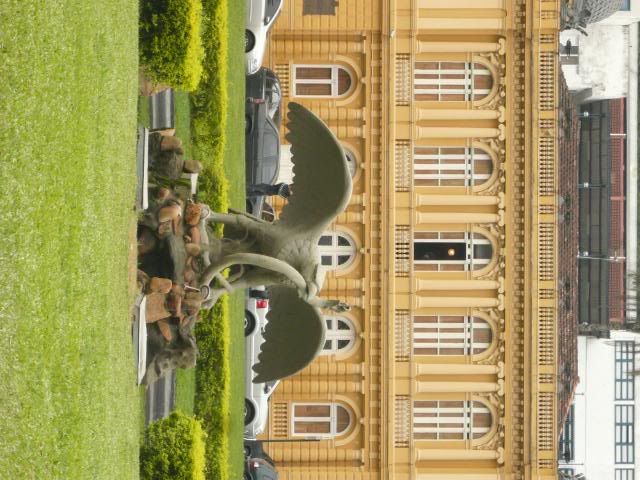 The "Palacio Amarelha" ("Yellow Palace") of Conceilheiro Carlos Mayrink, Baron of Guaraciaba.

The monarchy operated out of the main Royal palace in Rio at Quinta Boa, and the Summer Palace in Petropolis, which was favored for its cooler climate. The city became Brazil's first "planned city" ( many more were to come) with canal-lined roads, flower filled gardens and the pretentious mansions of the aristocracy. Today the city is filled with buildings like the "Palace of the Baron of the Rio Negro"( an extraordinarily remote, black river in the middle of the Amazon) or the home of the Princess of Joinville, (a Southern steelworking town today best known for its beer and extreme humidity).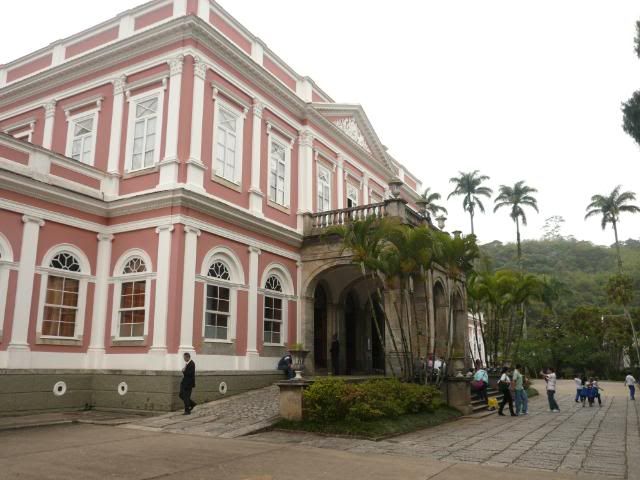 The trip to Petropolis is another of the stunning busrides that Rio excels at, climbing up along zigzag roads through lush, jungly mountains with the road falling away sharply to your left. Towards the end, my bus was literally driving through the clouds, with lush forests and purple and white flowering trees rushing past in a milky white mist. The town itself was likewise shrouded in an eerie, atmospheric mist.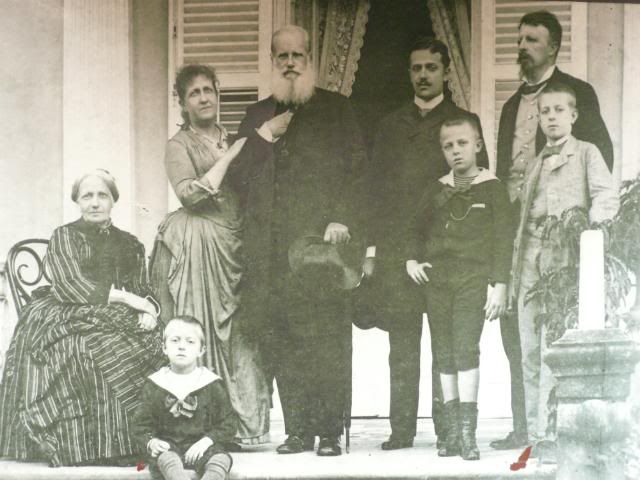 The main "sight" is the Summer Palace itself, painted (as are many of the city's buildings) an "imperial" hot pink. Inside you have to wear slide-on shoes to protect the hardwood floors and you can visit galleries full of the vulgar furniture favored by Europeans (and by extension, Brazilian royals) in the 18th century. The highlight is definitely the imperial crown covered in pearls, housed in its own glass case under a spotlight, revolving.

The monarchy was overthrown in 1889 (three days after holding itself a huge party in a specially built "floating" green palace on Rio's harbor at Ilha Fiscal, which you can still see today). The disastrous war with Paraguay and the wrath of slaveowners in the wake of abolition had taken their toll, (although Brazil had been the last country in the Western hemisphere to outlaw slavery. The so-called "Golden Law" was signed by Dom Pedro II's daughter, the Princess Isabel, acting as regent while he was ill. To this day, she remains the best loved of the Brazilian royals, with every city seemingly having an Avenida or Praca "Princessa Isabel").

The descendants of the royal family are still alive though, and still live in Petropolis. In 1992 the would-be inheritor of the now non-existant crown, Prince Pedro Thiago of Orléans-Braganza was abducted in the city, and ransommed for 5 million US dollars. Though perhaps he was just faking it, because a few years later the trouble-prone prince was arrested for stealing valuable porcelain works from his aunt, the Princess Christiana.

Despite this, in the early 90s some 10% of Brazilians voted in a consitutional plebiscite to restore the monarchy.


Posted by ilbonito on Aug 30, 2010, 11:41am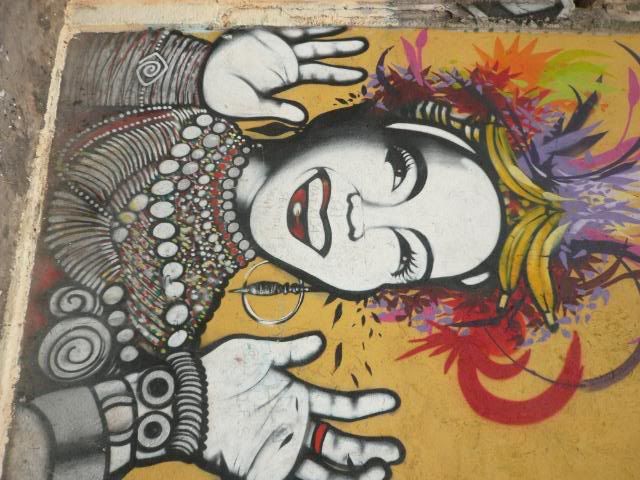 50 years before J Lo, there was Carmen Miranda. "The Brazilian Bombshell" was America´s first Hispanic superstar (well, not counting the closeted Margarita Cansino, aka Rita Hayworth). She rose from an impoverished Portuguese immigrant childhood to become one of the first and biggest stars of samba in Rio, before ascending to Hollywood to rule the world. Quite literally; according to her IRS receipts, Miranda was the highest-paid woman in America in her time. Pretty amazing.

Already a huge star in Brazil, she was recruited to sing in US movies under the "Good Neighbours policy" of the 1940s; cut off from occupied Europe, US studios were looking to strengthen their performance in Latin America, with government backing. The idea was that Miranda would bring her South-of-the-border star power to Hollywood, and provide some kitschy song and dance routines for a US public longing from escapism.

It worked.

However, things weren't all smooth sailing. She was roundly criticised in Brazil for selling out for dirty Yankee dollars, and making herself and Brazil look ridiculous with her (admittedly kitschy and over the top) costumes ( hats made of fruit, towering heels) and dance routines.

Stung by the criticism on her return to Brazil, she recorded the samba classic "They say I´ve come back Americanized" and flew back to Los Angeles (where she lived with her black boyfriend disguised as her gardener, so as not to upset more rigid US racial attitudes). She didn't come back to Brazil again for 14 years.

Miranda died young, but its unclear why. There are two versions. One is that her appendix exploded, leaving to massive internal haemorraging. She had, they say, been simply too vain to have it removed, not wanting to scar her trademark midriff.

The second version is that she suffered a heart attack while filming a dance routine for US TV. It is said she almost collapsed, but pulled together, smiled and waved at the end of her set and then went home to die.

The body was flown back to Brazil and half a million people went to the funeral.

In the decades that passed, Brazilians began to reconsider some of the harsh words that had been said about their bestknown daughter. The "Tropicalista " movement of 1969, a group of radical musicians and artists fusing the idealism of the hippies with the energy of punk, adopted Miranda as an icon. The movement's leader, Caetano Veloso, wrote a song called "The Day Carmen Miranda Died" and scandalously, dressed as her on stage. The Tropicalistas, early adaptors of globalisation, were inspired by the poet Oswald Andrade who had called on Brazilian culture to "cannibalize itself" to stay modern. Tropicalistas believed in mixing samba with rock to create a new, modern Brazilian sound, in celebrating "bad taste" and rejecting both a homogenised, Americanised culture and a narrow nationalist movement in Brazilian music. They were all about synthesis, and Miranda - who had been figuratively stoned to death for coming back too Americanized – was a perfect emblem.

Today, Miranda has been unofficially adopted as a Patron Saint of Rio; every year she pops up in her thousands during the Carnival, and a museum in her honor stands in Flamengo Park (where you can see the infamous towering heels of her jewelled sandals, that the curator passionately denies concealed her Coke stash.)

And belatedly, she is being recognised as first and foremost a great singer of the samba.
Posted by ilbonito on Aug 30, 2010, 11:45am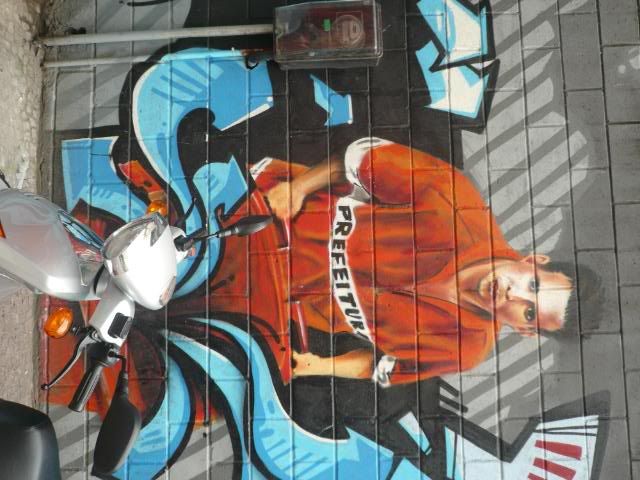 I like this mural at Siqueira Campos train station. It is a tribute to the tens of thousands of orange-suited "Prefeitura" men (and occassionally women) you see everywhere in Rio. Basically, they are sanitation workers. I'm guessing "prefeitura" means "Prefecture" or an employee of the city of Rio, not Rio de Janeiro state.

The Prefeitura people sweep the streets, maintain vast swathes of parkland, lop palm trees and rake the beaches every morning, always in their distinctive orange suits (suspiciously like US prisoner uniforms) . Its thanks to them that central Rio is in, generally, pretty good shape.

I'm guessing their employment is kind of a substtitute-welfare-state policy, employing hundreds of thousands of workers in the public sector who would otherwise be unemployed. I'm not sure what I think. Its obviously a stop-gap measure, but short of creating a full welfare state, at least it means some people have jobs to live from. Plus the city stays in great shape.

On the negative side, the favela dwellers (from whom presumably, many of the "Prefeitura" workers are drawn) don't get any of these most basic services, while upper class neighborhoods are primped and preened to the highest standards. And the middle classes complain about their taxes, which in Brazil are high, equivalent to Western Europe.

Still, its nice to thank the "Prefeitura"s for a hard job, well done.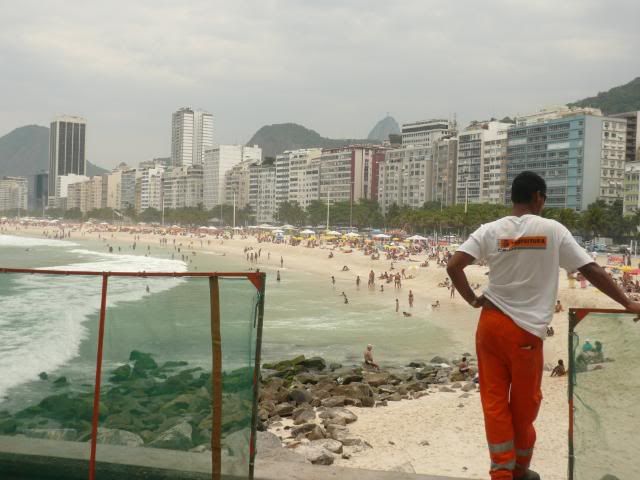 Posted by ilbonito on Aug 30, 2010, 11:46am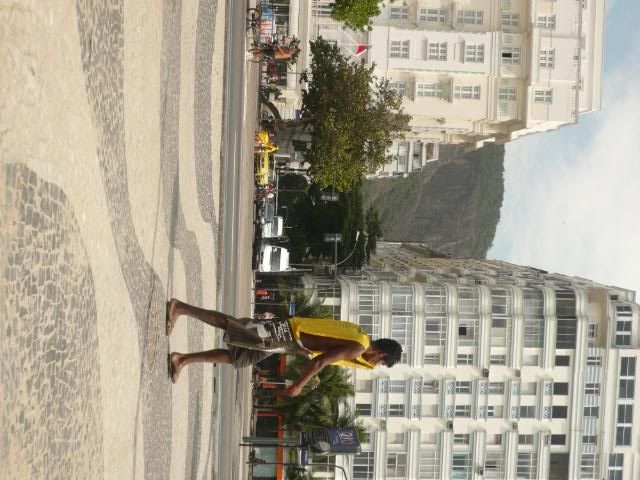 Posted by gertie on Aug 31, 2010, 2:33am
I've seen several shows recently about retirement real estate that tout Rio as a great place for Americans to retire to. The most recent show took a camera along as the retiree went with his real estate agent to several properties. Eventually, an apartment which was pretty much gutted was chosen. After purchase it was renovated into a very nice, very modern home, although it was situated several floors up in an older building. They chose that purchase because of the ease of remaking it into whatever they wished as well as because the old building had little narrow balconies which they said were common on old Rio apartment buildings, but I thought the building looked transplanted straight out of Paris. To the point I could swear I had seen a building constructed exactly the same in Paris. The show gave a lot of information regarding retiring to Rio, apparently a lot of Americans do so because westernized medical care is available there for less and the cost of living is considerably cheaper. Or was when the show was made, which I thought it might have been filmed as much as 2 or 3 years ago as it was a rerun. Did you see any retired expats while there?

That Halloween is Satan thing gave me a giggle as I thought to myself Rio must be Southern Baptist, after all. You see, the Southern Baptist churches in the small town I grew up in were forever passing out little papers on how letting your child dress up for Halloween would lead to them becoming worshipers at Satanic churches in their adulthood, even if you did not let them dress as anything horridly improper such as a ghost or witch...or the absolute most dangerous, a Disney character! Sadly, although I made appearances as ghost, witch, and even the blue fairy from Pinocchio, I have yet to receive my invitation to a Satanic church. Then again, I don't have my hover car yet either, so perhaps it is simply a tad too early as yet for the future prediction to come true?



Seriously, though, is that a case of Catholic propaganda against that whole black magic thing? I found it interesting yet creepy you had pictures of a black magic shop. Should I confess had you not told me, I would have thought given the picture on that prominently-placed product in your photo that it was some sort of deviant sex shop?



The pictures are wonderful, and I like how you captured the flowing feel of some of those patterns on sidewalks, building, and such. In the single picture in the third post, what is that white arched thing? Is it an old water causeway or perhaps some sort or a walkway? That church at Penha is quite something. Is it unsafe to go there at any time or just the festival? Every time I see Ipanema and Copacabana, I think of those old songs.

Speaking of which, I have seen the footage of Carmen Miranda's last performance, just hours before her death. Let me see if I can suss it out.


Here we go! The first part of the show:



her collapse at 3:32, although it seems to me her smile is oddly sideways prior to that.



I always thought Carmen was the smartest of ladies. Thanks to her hats she could surely skip a lot of time in having her hair done.
Posted by ilbonito on Aug 31, 2010, 6:43am
Ewww. creepy. I wonder if that is actually when her heart gave out? How ghoulish (but fascinating!)

I didn't see, or hear of, any retired expats. Frankly, I don't know if it would really be as straightforward or beneficial as the program you saw suggests. For one thing, Brazil is hardly a dirt cheap country. The cost of travelling there is equivalent to Europe . The cost of living, for a first world lifestyle, wouldn't be much cheaper at all than the US, I'd say.

In fact, I hardly saw any American tourists in Brazil, let alone retirees. Most visitors I ran into were Israeli, Argentinian or French, with the Americans conspicuous by their absence.

In regards to"anti-Halloween" sign, I think that is from Protestants rather than Catholics. The so-called "charismatic" churches are making huge inroads into traditionally catholic Brazil. They have millions of members - see the post about Sao Paulo and its lavish new church project.
Posted by ilbonito on Aug 31, 2010, 6:49am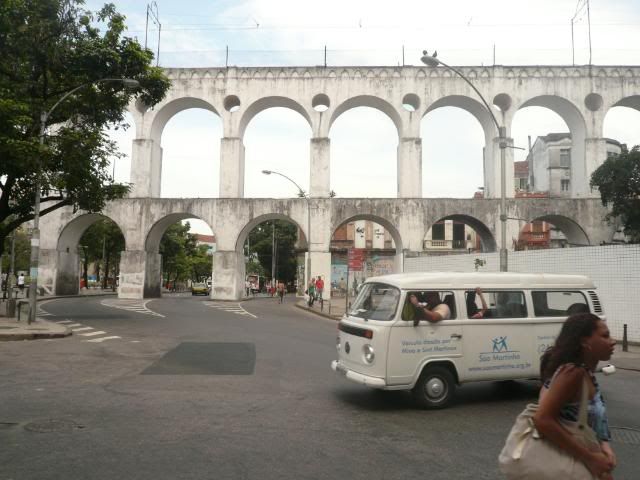 Oh, and this is one of the city's famous landmarks, the former aqueduct in the district of Lapa. Now its dry and a tram runs along it!
Posted by bjd on Aug 31, 2010, 7:43am
I too would be surprised that Brazil would attract American retirees. My son and his wife spent some time there and found it the most expensive S American country.

They said that, in general, there were few Americans travelling in S America -- as Ilbonito says -- many Israelis, French, Germans, etc, but very few N Americans.
Posted by kerouac2 on Aug 31, 2010, 6:06pm
Excellent additional pictures, ilbonito. I think also that it is a nice touch for a mural honor a prefeitura worker. In just about every country, they are generally totally invisible from popular culture, unless a crime show needs to show a body being discovered in a dump.
Posted by gertie on Sept 10, 2010, 3:36am
There seems to be a belief in the US that S America is just too dangerous to visit due to all the drug violence, civil wars, and politically motivated violence. I've often heard them say on the news the government is recommending Americans not visit S. American or Mexico.

Don't know what to say about the expense of living in Brazil, just reporting what the program said. When they reported the pricing of the apartments, they did seem pretty inexpensive, but all needed extensive renovations, which were reportedly quite pricey. The guy that was looking was selling up and moving from California, so perhaps in light of real estate prices there a few years ago, Brazil did work for him?

Thank you again for the pictures, ilbonito!
Posted by bixaorellana on Sept 10, 2010, 6:55am
Apologies, Ilbonito -- I somehow did not see that you'd added to this wonderful thread.

Do you have any idea why the planned-city concept proliferated in Brazil? Surely it has more than any other country, doesn't it?

That's a sad looking bunch of royals! Four of the boys look like the banjo kid in "Deliverance" at different ages. And then there's the dapper one, with the finger wave and curled mustache. Wonder what mom got up to. She's amazingly unkempt.

The tram line on that aqueduct -- so high up! The structure looks really modern. Any idea when & why they stopped using it as a an aqueduct?

This is great stuff. Really, it almost seems to be another planet.
Posted by ilbonito on Sept 12, 2010, 4:17am
I'm not sure when the aqueduct was converted to a tramline (or even why one was needed in such a verdant, tropical climate) but it would have been decades ago...
Posted by myrt on Oct 27, 2010, 8:23am
I really love the photos on this thread. I'm not well travelled and not expecting to ever be but I would love to go to Rio de Janeiro in particular. Are those mosaics anything to do with Burle Marx? I know he did some stuff like that but I'm not certain which particular beach front - they do look like his work. Fabulous... This thread feels like such a celebration - nice way to start the day here in a gloomy, soggy England! Thanks.



I love the idea of people applauding the sun setting - what a beautiful way to appreciate it!