Topic Summary
Posted by casimira on Jun 23, 2009, 1:04pm
Inspired by Kerouac's great story in this section ,Off Loaded in Singapore,tell us your taxi tales. Even a ride in a taxi from your home to the airport can be an adventure worth recounting.
Posted by kerouac2 on Jun 23, 2009, 2:57pm
Okay, I'll try to drag up a taxi story. Actually, there is a second taxi story that goes with it, but we mustn't get ahead of ourselves. This was a training seminar in Egypt – my first trip to Egypt in fact, and these were troubled times, as times in Egypt often are. There had just been several terrorist attacks in the country, and quite a few of the participants had pulled out – New York and Los Angeles were not coming, nor were Houston, London, Amsterdam, Rome or Brussels. I wouldn't find out until the next day that Frankfurt and I were the only representatives of the "first world" who dared to attend.

I was obliged to take Egyptair, because they give my company free tickets, but one thing that everybody hated about that airline, besides the fact that their planes leave a trail of black smoke when they take off ("very bad maintenance" say the technicians from my company) is that the flight from Paris did not arrive in Cairo until 1 a.m.

This is not my favorite arrival time in a strange country when I have no idea where I am going, but what are you gonna do? Well, all I can do is pretend that I know what I am doing. Things were chaotic yet civilized until I got through immigration and customs, and then of course the free-for-all began. "Mister mister mister!" "Taxi taxi taxi!" "Where you go?" "Come with me! Venez!"

Even though Egypt was new to me, I had already made a few trips to strange places by then and had pretty much perfected my façade of "world weary voyager impervious to useless agitation and propositions by scam artists" and I walked through the crowd as though I was deaf. I was out of the building thinking "oh shit, now what do I do?" Eager airport lowlife was still circling me waiting for the kill.

I put on facial expression 2A – "that person who was supposed to pick me up must be here somewhere" – to buy some time while I scanned the parking lot looking for a solution. And then off on the side, I saw a sign marked "official airport limousines". There were two tired blue automobiles and their drivers waiting calmly there, not soliciting business. I decided to make my move, not caring what the price would be simply because they looked reputable and might not drive me out into the desert to cut my throat. There was even an attendant with a receipt pad, and he told me that the fare for going to the Holiday Inn Pyramids would be $10. That wasn't bad at all.

I paid, got in my vehicle, and off we went through the hot night. The windows were rolled down because there was no air conditioning, and I could hear Egyptian music coming from diverse sources, incessant honking, people shouting, dogs barking. 1 a.m. in places like Egypt is like 4 p.m. in my part of the world. We rattled over speed bumps to get out of the airport, passed toll stations and checkpoints and finally we were on the road to Cairo… maybe.

Traffic was intense and multidirectional. We took pretzel-shaped ramps that seemed to send us back in exactly the same direction from which we had come, but the driver seemed to think this was perfectly normal. We did not seem to be making much progress, and I knew that it was 25 km from the airport to the city center. But I wasn't going to the city center – I was going to Giza on the opposite side of town and 15 km farther on. It was well past 2 a.m. now and we rolled along the almost elegant boulevards of Heliopolis, and I even finally saw a sign that showed that we were indeed headed for the city center.

Traffic signals were ignored, and honking was the way to show that we were continuing through an intersection and didn't mind colliding with other vehicles if necessary. A donkey cart was grazed by another car, which sent half of its oranges rolling across the road, making instant orange juice as the cars crushed them. "Ha ha" went my driver as we squished through the mess.

There were so many illuminated minarets adorned with the green fluorescent tubes that they love, ancient stone buildings and shacks with roofs of corrugated tin. We went through the central business district with some impressive huge buildings and hotels and we crossed the Nile. It looked magical in the Cairo night! The night was not getting any younger, but I did see that a sign showed that we were headed for Giza.

The Citadel of Cairo was still illuminated – it looked like the walled city of Carcassonne, and on the other side of the road was the City of the Dead, the giant cemetery with a population of 500,000 people living in the tombs. And there were so many endless rows of apartment buildings, with the people all still up and watching television – I could watch it with them when we would get stuck in an unmoving cloud of fumes. Every room of every apartment was painted the same shade of blue? Is this the only color of paint that is sold in Cairo? I am haunted by that shade of blue to this day. Perhaps it helps them to feel cooler during the day.

The buildings got smaller, and we started passing endless rows of nightclubs festooned with strings of colored lights. When we would stop, I could see on some of the signs that this was indeed "Giza Road" so I began to hope that I might finally arrive some time before dawn.

Then, oh my god, there were the pyramids! We turned onto a different street and there was the Holiday Inn, right there with the pyramids around the corner. It was close to 3 a.m. I got out of the fascinating blue taxi and checked in. Would the driver go back to the airport now? Was his night finished? I had just had one of the most exciting rides of my life for just $10.

The room made me feel like I was in Madison, Wisconsin or something, except that the water that ran out of the taps was dark brown.

The next morning I discovered that the official airport limousines were by far the cheapest form of transportation available since they were subsidized by the government. If I had taken any of the normal taxis, I would have paid 3 times as much.

Not bad.

Posted by spindrift on Jun 23, 2009, 4:41pm
Whilst reading your story I could fantasize that I was there.......a real treat.
Posted by kerouac2 on Jun 23, 2009, 4:50pm
Just one year later, Islamic fanatics rioted and torched all of the nightclubs along Giza Road. They also burned down the Holiday Inn.
Posted by casimira on Jun 24, 2009, 2:05am
Another fabulous tale K,thank you. Wish that last post wasn't there.
One of my tales not near as spectacular but amusing as taxi tales go:

I was traveling around Turkey with a girlfriend. She had been before so was not as interested in seeing some of the sites a second time. This was fine by me as I often prefer to explore on my own. I am an early riser and she is not so ,I would head out and we would meet up later. I frequented a cafe near where we were staying and made friends with one of the early morning waiters.He was really helpful in advising,recommending different sites some off the beaten path and would draw me little maps etc. He told me I must go to Chora to the Monastary(now a museum),built in the 12th century featuring some of the finest Byzantine frescoes and mosaics. He recommended I take a taxi from the Eminounu district in Istanbul. So off I went and got a taxi there at the port. The taxi was small and pretty beat up. When I gave my destination I could tell the driver wasn't real thrilled. We set off and are driving up and around this curving road overlooking the Bosphorous. Spectacular views however ,the road is really close to the edge. I then see that the driver is staring at me in the rear view mirror while also fiddling with the radio dial. He finally hits a radio station and cranks up the music with this big smile on his face. The radio is blaring Cheryl Crow singing "All I Want To Do" and he's singing along in his broken English.Then,he TURNS his HEAD AROUND and says "You like? You Like?" And I'm scooting over in the seat so he doesn't have to turn his head so far around nodding my head saying "I like,I like!" as I'm peering down the cliffs.
It was one of those situations where everything is so absurd and ridiculous,you know you're in peril ,and all I could do was just laugh. I laughed so hard and he is happy and we are singing at the top of our lungs "till the sun comes up on the Santa Monica Boulevard".
The church was breathtakingly beautiful and is a must see,also a beautiful garden and courtyard. I taxied back with a lovely Swedish couple.
Posted by bixaorellana on Jun 24, 2009, 3:16am
Wow, Kerouac ~~ that story had a happy ending. You had to have been getting anxious as that ride wore on & on. I love your tales, and the part of watching tv with the apartment dwellers in this one was such a great touch.

Casimira, yours had a happy ending, too, since you're here to tell about it. That's a hilarious image of you and the driver yodeling away in English, inches from certain death.

The stories above reminded me of a taxi incident I'd forgotten.
I was in Uruapan, Michoacán with my friend J. She is a keen hunter of folk art and in the service of that we decided to visit the town of San Juan Nuevo, which supposedly had a big artisans' market. I sat up front in the cab and got into conversation with the young driver. I guess we bonded because he started unloading on me in great detail about how he'd practically ruined his life with using crystal meth. I listened as compassionately as a person can who has a large WTF? thought balloon over her head. By the time we got to the town, he was crying on and off and showing me pictures of himself before he got all skinny from taking drugs. We got to the town square and J, oblivious to what's going on up front but aware that I'm not getting out of the cab due to my hand being held and my eyes locked with the streaming ones of the cabby, is flinging money for the fare and hustling off to the outdoor market.
Sheesh. It's not like I have a kind face or anything.
Posted by hwinpp on Jun 24, 2009, 7:49am
Ok, here's one from Hanoi, Vietnam.
Last year I had to go to VN quite often including to Hanoi.
The airport is about an hour outside town. The price of a ride into town is posted all over the taxi area, 15USD roughly.
I got a taxi right into the centre of town to a hotel just north of Hoan Kiem Lake and asked the driver for a receipt. He duly filled it out completely, paid about 30USD and didn't think about it until 2 days later when I had dinner with my brother (who lives in Hanoi). He asked me what I'd paid, I told him, and he informed me that I'd paid double the going price.

I still had the invoice so when I returned to the airport to fly back to Phnom Penh I showed it one of the policemen loitering around. He was shocked by the price I had paid and asked me whether I wanted to file a report. I had some time on my hand so I agreed. Then I witnessed a very unbureaucratic settlement. Basically the policeman dictated the report, then he called in a couple of other policemen and together they called the head of the taxi company (there are 2 or 3 that have bought a concession for this very lucrative stretch). Then they started screaming at him until he bowed his head, got out his wallet and paid me back what his driver had charged too much. After he left the office the policemen smiled and told me that after I'd left they'd deal with the taxi driver who'd be fired right after that...



BTW, here's what we were enjoying that evening, I mean my brother and me:


Posted by spindrift on Jun 24, 2009, 8:07am
That's a bit harsh!

Posted by kerouac2 on Jun 24, 2009, 8:18am
When I took a taxi from Hanoi airport, first of all I was amazed by the "freeway" between the airport and the city -- nearly empty and with women in conical hats standing in the middle of it sweeping the pavement with straw brooms.

But I became really alarmed when we were approaching the city (big sign "Hanoi City Center" or some such) and the taxi suddenly turned off the highway onto a dirt track leading into the fields. Would my body ever be found? "Where are you going?" I demanded. We had arrived in a village of muddy roads with animals and carts and definitely no sign of Hanoi.

"No pay bridge," he accepted to tell me. We bumped along in ruts and potholes and weaved through the crowds of people and animals.

Finally we arrived in the Old Quarter of Hanoi, and everything was lovely and my panic was gone.
Posted by spindrift on Jun 24, 2009, 8:30am
A similar thing happened to me on my way from Bentley's hotel, Bombay to the airport. We were enjoying views of the seafront stretching for miles when suddenly our driver plunged into a maze of tiny streets barely wide enough to accomodate our car. I remembered ,with awful clarity , that not long before there had been a report on Lonely Planet drawing attention to a young French cyclist who had disappeared in Bombay. His last known movement was withdrawing cash from the airport ATM. I have seen the slum warrens of Bombay from the air and would know better than to venture into them without a guide.
But suddenly our driver joined the main airport road. He had taken a short cut to avoid traffic jams.
Posted by traveler63 on Jun 25, 2009, 11:39pm
Wow!!!! You all have such good stories about taxi rides, lttle ole me with very few trips to remember, I have only one that comes to mind, but it probably isn't interesting, so I will wait until I have a better one to tell.
Posted by hwinpp on Jun 26, 2009, 3:27am
I don't automatically worry when I get into a taxi. I just make sure that things go the way they should (though in the case I mentioned above it was pure luck I met a cop who was willing to rectify the situation).
On that same trip I experienced another incident.
I had to go out to the suburbs to see a client and of course again got a receipt. When I returned to the Old Quarter the price was again double what I'd paid going out. I showed the driver the old receipt and he just pointed at his meter. So I again pointed at my receipt. This went on a couple of times until he lost it and started shouting at me. At that point I felt like getting out of the taxi and not paying at all. In the end I did of course pay, the amount I paid when I went out.
In Bangkok I once got into a taxi and the driver refused outright to switch the meter on. So I rolled down the window and called a cop. Man, that driver hated me!
Posted by casimira on Jun 26, 2009, 3:34am
hw! This is not American Cheese like behavior, I'm shocked!
Posted by bixaorellana on Jun 26, 2009, 3:58am
No meters here -- you simply ask how much you'll be charged to be taken to your destination.

My friend J. & I arrived in Morelia & got a cab to take us from the bus station to a hotel. We told the driver what kind of accommodations we wanted and he began taking us from place to place. He'd wait while we went in & checked the place out. This covered quite a few places as there was a convention in town & most hotels were full up. Finally we found a hotel and asked this lovely, helpful, patient man what we owed. His answer: "What you want to give me." ~!~
Posted by hwinpp on Jun 26, 2009, 5:27am
hw! This is not American Cheese like behavior, I'm shocked!
This is the dark side of American Cheeze, Cas!

No meters here -- you simply ask how much you'll be charged to be taken to your destination.
We get that here as well. Have never had a problem but once with a tuktuk (motorised tricycle). We agreed on 2USD, on arrival he wanted 10USD, thinking he'd take advantage of my slight inebriation.
In this case I got so mad he got nothing at all.
Usually I pay double what we agree on, especially if I use motodops (motorbike taxi).
Posted by bixaorellana on Jun 26, 2009, 5:56am
Cheese Whiz!!!!
Posted by imec on Jun 26, 2009, 12:10pm
Here's and excerpt from my epic Rome trip report on TA:

The ride back to the hotel produced the only negative experience (but wonderful in it's own bizarre way) of our trip. I should have recognized the signs... the cab driver flirting rather lewdly with a girl on the piazza, the middle front seat folded forward to cover the meter... I thought about asking to see the meter, but decided it would be impolite. When we got to the hotel, the driver screeched to a halt just as he'd passed the front gate. He "apologized" and asked if we wanted him to back up and drive into the driveway. I told him it was just fine. When he showed me the meter, the fare was more than 50% more than the fare the same distance in the morning and the traffic had been lighter. Mrs. IMEC exited the cab and I told the driver it was too much and that I was only paying him a similar amount to what I was charged earlier. He objected and proclaimed that this would be a problem for the company. I told him that was all I was paying and he told me to forget the money and go. I got out and offered him the amount (10 Euro) once more. This time he took the 10 Euro bill, tore it up and gave it back to me (still got it - great souvenir!). Price of a trip to St. Peters with tip, 10 Euro. Return trip, great story, free cab ride and a souvenir money couldn't buy, priceless.
Posted by Don Cuevas on Jun 28, 2009, 8:24pm
I have to gather strength before I can begin to tell my taxi tales.

Later, maybe.
Posted by Askar on Jun 29, 2009, 3:07am
It was in 2001 on my first trip to Kyrgyzstan. My flight had arrived at 01:00 am. By the time I cleared customs and immigration, it was around 02:00 a.m. when I got outside the airport.
Manas airport is quite far, almost 40 km, from the center of Bishkek, so that I wasn't sure of what I should do; stay in the airport until morning before looking for a hotel or go right away with the risk that everything would be closed. I decided to take a chance and after hard bargaining with a taxi driver we both agreed on a price which was.. three times the normal fare.

And off we went. The driver, a Russian from Kyrgyzstan, had taken one of his friends in the taxi. I must say that both of them looked more like thugs than honest tradesmen. I was already imagining them stealing my luggage and throwing my corpse in the ditch along the road - I'm always prepared for the worst, as much when traveling as in my daily life.
Of course nothing happened. The taxi driver dropped his friend in the outskirts of the city, and we headed to the center where I expected to find a hotel.

Back then, in 2001, Bishkek offered very little choice of accommodation - tourism in the region was at its beginning. In my price range, I had no more than 3 or 4 possible places to stay.
It was not my lucky day (or night) apparently as all of them were closed, had no vacancies, or were no longer in business.
Bishkek is known for its high crime rate. I wasn't too keen on wandering in the streets alone in the dead of the night. Fortunately the taxi driver had another idea for me. So we drove another 1 km or 2 and stopped in a quiet street not far from the center. There was no hotel sign to be seen, just like in Kerouac's story (Off-loaded in Singapore), but the driver got out of the car and told me to wait. I saw him knocking at a big courtyard door. Someone opened - a pretty girl - and they spoke a few minutes before the driver came back and told me that there was a room for me.

It wasn't the worn-out mattress, stained bedsheets I had expected - I had read so many horror stories about travel in Central Asia... In fact everything was clean and the price was absolutely correct. The girl asked me if I needed something else. I asked her if there was something to drink. "Coke?" - "It will be a Coke, then". "Nothing else?" - "Huh, no thanks, I think I need to sleep now".

I had a good sleep, albeit a little short. The second night however was less quiet; loud voices, shouts, laughter, kept me awaken until about 03:00 am. There must be a party somewhere I thought, maybe a wedding... Some people seemed to be having fun, anyway.

The chambermaid had a good laugh the next day when I complained about the noise. "Where do you think you are?" - "Huh... in a hotel...'' -More laughs-

As everybody here will have guessed, it was a brothel. I suddenly understood the strange look of the girl the first night when I told her that I just wanted to sleep. I'm still wondering what the taxi diver had told her to get rid of me.

I was leaving Bishkek this day anyway. I was packing my stuff when Roza the chambermaid decided that she was going with me.

And so we went, but the rest is another story..
Posted by bixaorellana on Jun 29, 2009, 3:20am
Ha! Great story, Askar. Did the taxi driver make any attempt to convey to you the nature of your accommodations? That is so funny -- I didn't see it coming until the last minute.

".... the rest is another story.." That does mean you'll tell us, doesn't it?

Posted by imec on Jun 29, 2009, 3:21am
Now THAT's a taxi tail tale! Thanks Askar.
Posted by kerouac2 on Jun 29, 2009, 4:38am
Ha! I have never stayed in a full-fledged whorehouse, but I did find myself staying a few times in "mixed-use" establishments. You never figure it out the first night, but you figure it out sooner or later!

Posted by Askar on Jun 29, 2009, 5:47am
I called it a brothel to simplify. It was a Turkish bath officially, although I think that the main activity was that of a brothel. The "girls" didn't live there however so the place looked absolutely normal at first sight.
When the customers asked for a girl, the staff would give a phone call in town and a taxi would bring her within 15 minutes or so.
Some customers had strange requests sometimes, Roza told me, like this wealthy Uzbek business man who once had asked to have 7 girls - 4 in a room and 3 the other.
Posted by Askar on Jun 29, 2009, 6:19am

Quote:

".... the rest is another story.." That does mean you'll tell us, doesn't it?


We stayed 3 days on the shore of the lake Issyk Kul. You won't know anything else.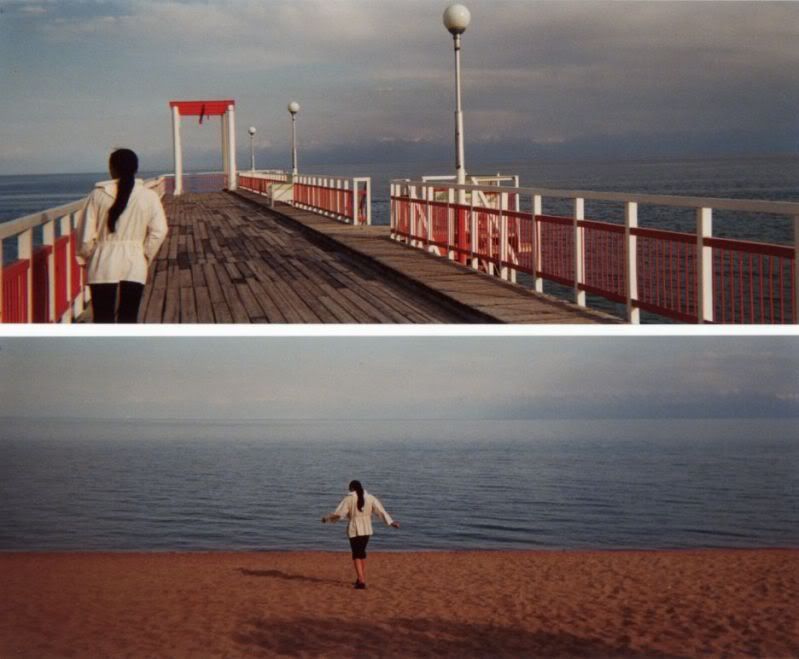 Posted by bixaorellana on Jun 29, 2009, 6:22am
Okay ~~ I won't be snoopy, but I do have questions: is the sand on the beach really that red? Why?
Is that the part of the world where amber can be found on the shores of lakes and rivers?

Posted by Askar on Jun 29, 2009, 7:09am

Quote:

is the sand on the beach really that red? Why?



I took this photo at the sunset, maybe that's why it appears red. As far as I remember the color of the sand was "normal" but since I'm color blind my advice on colors doesn't mean much.


Quote:

Is that the part of the world where amber can be found on the shores of lakes and rivers?



Not that I know.
Posted by bixaorellana on Jun 29, 2009, 7:17am
They are both wonderful photographs -- they need no story behind them.
Posted by hwinpp on Jun 29, 2009, 7:24am
Amber comes from the Baltic Sea shoreline.

Askar, are those clouds in the background or the far shore?
Posted by Askar on Jun 29, 2009, 8:34am

Quote:

are those clouds in the background or the far shore?



It's difficult to tell on this photo but when the sky is clear you can see the mountains on the southern shore as you can see here:

http://www.panoramio.com/photos/original/19764836.jpg

http://maps.google.fr/maps?ll=42.64136,77.104662&z=13&t=h&hl=fr
Posted by tillystar on Jun 29, 2009, 9:41am
I love these taxi tales.

They remind me of the wonderful film "Night on Earth" which is made up of 5 short films of eventful taxi rides in different American and European cities on the same night.

I can picture some of these so well, I can imagine "Night on Earth 2 " - but this time the rides are these ones set in more distant cities.