Topic Summary
Posted by jazz on Mar 27, 2009, 7:27am
Many of us have had memorable experiences on a train, be it in an 'exotic' country or, 20k/m from home. This is one of mine...... Fifteen years ago, I decided to leave Budapest early to go to Prague. Do not underestimate this, it took me the better part of one of my 6 precious days in Budapest to find the station and book first class passage. The trip was to take 11 hours. Loving trains as I do, I fantasized about a fullsome slavic meal in the dining car, enjoying the countryside and writing in my journal.

Soon, reality set in. First class or not, there was no dining car, snack bar, coffee or water and no toilet paper in the washrooms. Oh my god...11 hours. I decided to be stoic, mind over matter, and enjoy the beauty of the countryside. I stared at the dreary landscape. I felt transported to the 1930's...black and white and gray. My first plan was to hop off at a tiny village for provisions. 'there is no there, there.'

Three hours into the journey, I was joined in my compartment by a young woman, about 25, obviously not well- to- do. Her presence brightened my trip. However, she spoke Hungarian and Russian, I spoke English. Darkness was falling and she brought forth riches from her knapsack and shared them with me...What a feast!...a loaf of bread, some cheese, a generous portion of sausage (Kobassa?) and a bottle of water. We ate, drank and laughed...I gathered that she needed to overnight in Prague, but didn't know where.

The train pulled into Prague. Dark, and it was raining heavily, the station was desolate. My modest, yet lovely room had twin beds and I invited her to join me, to break her journey..a thank you for her generous sharing of her meal on the train. She left at dawn the next day.
Posted by bazfaz on Mar 27, 2009, 7:41am
You were leaving from Keleti station in Budapest? That's not so hard to find. It is even on a metro line. Buying a ticket... now that is more of a challenge.
Posted by jazz on Mar 27, 2009, 7:52am

Mar 27, 2009, 7:41am, bazfaz wrote:

You were leaving from Keleti station in Budapest? That's not so hard to find. It is even on a metro line. Buying a ticket... now that is more of a challenge.



I can't remember which station I was leaving from, I only remember how difficult it was to buy a ticket....I most remember the journey and the young woman and how she shared her meal with me.
Posted by spindrift on Mar 27, 2009, 12:40pm
Such a touching memory, Jazz. I can conjure up the scene.
Posted by kerouac2 on Mar 27, 2009, 1:06pm
I took the train from Kuala Lumpur to Singapore once. That was a disappointment, except for the night I spent at the KL Station Hotel, which was part of the train station itself. The curtains were drawn on the train, and a 6 hour Charles Bronson movie festival was shown on two small monitors at the front of the car. I kept peeking out, and I confess that there was not much to see outside anyway. It was mostly deforested scrubby areas.

The train from Jakarta to Yogyakarta was a lot more interesting in Indonesia and afforded magnificent views of flooded rice fields and smoking volcanos, banana and palm orchards...

But the sleeping car from Nairobi to Mombasa was the best of all. It was everything that one could want from an African adventure, from the faded elegance of the restaurant car with completely dented silver serving platters and curry tureens and the waiters wearing totally frayed but carefully starched uniforms. And then there was waking up to the African sunrise and seeing giraffes and zebras going about their business along the railroad tracks, unperturbed.
Posted by spindrift on Mar 27, 2009, 3:45pm
I've always wanted to do the overnight train journey from Nairobi to Mombasa. Instead we drove taking with us everything we needed for a week in simple makuti-thatched cottages.
Posted by bixaorellana on Mar 27, 2009, 4:28pm
Beautiful story, Jazz, and it captures the dreamlike essence of train travel, which always feels like a true journey. Whether it's pleasant or grim, there is something iconic about a train, which seems to knit together travelers from a century ago and those of the jet age.
Posted by spindrift on Mar 27, 2009, 9:46pm
This time last year I enjoyed 12 hours on a train journey from Goa to Mumbai. I had never been on an Indian train before. We went first class and shared a compartment with two people. The train must have been very old, the interior walls were yellowed, the bench seats pulled out to make single beds and there were two bunk beds above us. Unfortunately the window, although large, was also stained yellow making it difficult to view the changing scenes which was a pity as the countryside was beautiful most of the way. When we boarded we were given starched white linen, a blanket, pillow and towel. There was a dinky little washbasin under the window that changed into a table when not in use. At the end of the corridor we found the train kitchen...and we were offered an endless array of snacks and main meals. It was all so cheap too. Above us there was a clackety old whirring fan. As we were travelling by day we didn't use the bunks'; there was plenty of room for two of us on our seat-bench if we lay down head to toes. There were lots of stops at various stations when we could jump off the train and delight in whatever was happening on the platforms...boys running round serving tea or selling chunks of watermelon (some people ate it with salt!) or snacks. How I loved this journey; we arrived at CTS (central train station) in Mumbai when our ordered world quickly changed into chaos....but that's another story!

Posted by kerouac2 on Mar 27, 2009, 9:59pm
As a small boy, I took the train that went from New Orleans to New York once (we got on in Gulfport, Mississippi). Long trip. I don't remember how the car was transformed, but when night arrived, bunks were created in the coach car along the sides, with curtains to isolate them from the central aisle. It was one of the most exciting things that I had ever seen, and I have a vivid memory of the blue night lights along the floor.

Oh, travel was so much more exciting before those damned planes started flying everywhere!
Posted by spindrift on Mar 27, 2009, 10:01pm
This is what you look at to find where you have been allocated a seat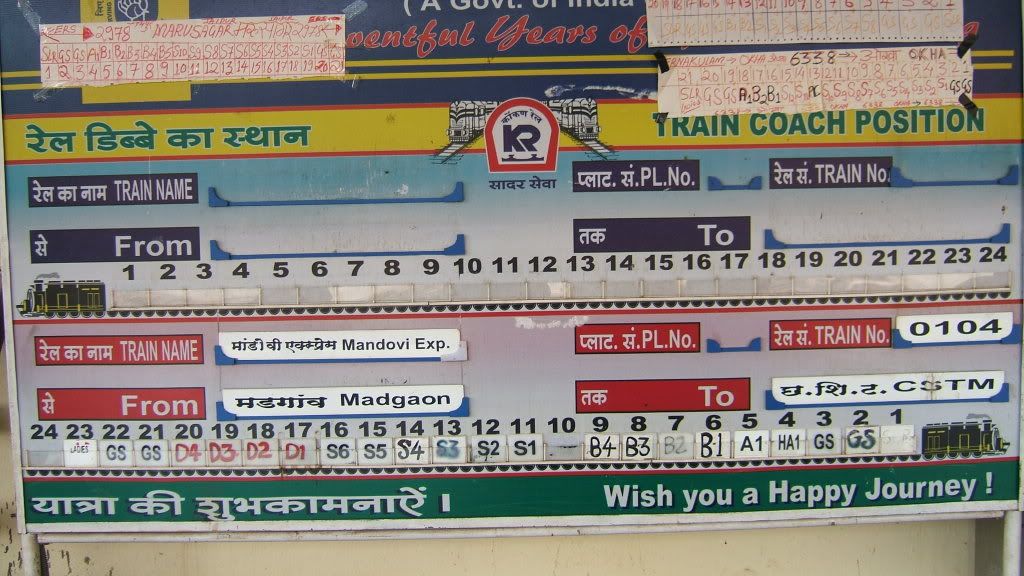 The platform in Goa







one of our halts


Posted by spindrift on Mar 27, 2009, 10:06pm
The train arrives at Madgaon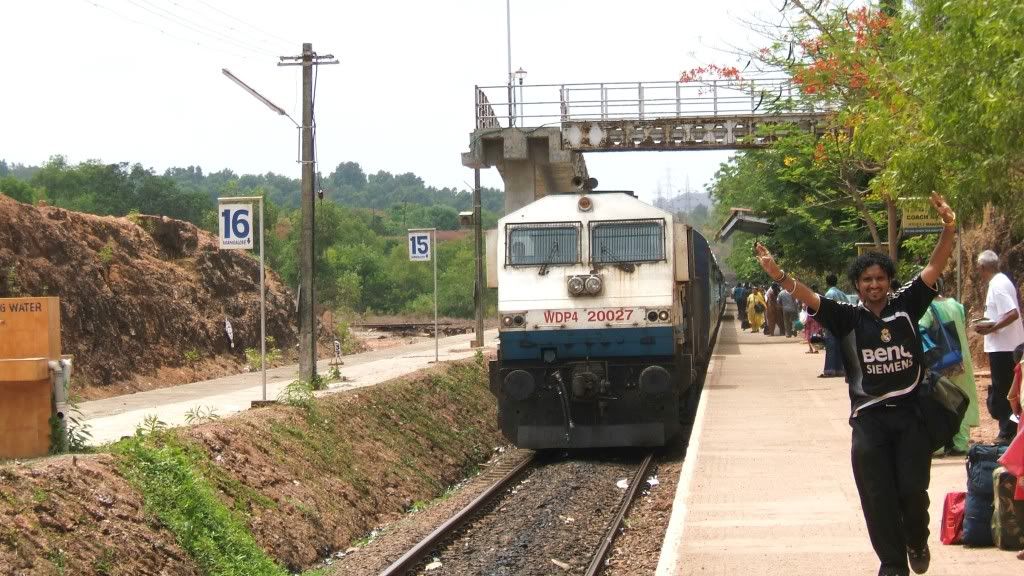 Posted by kerouac2 on Mar 27, 2009, 10:42pm
At least Nairobi train station had attendants to take you to your seat, because the charts and such were just as incomprehensible. I also benefited from assistance in Jakarta.
Posted by bixaorellana on Mar 28, 2009, 4:13am
I would give my eye teeth to take that Nairobi to Mombasa trip Kerouac describes.

Great pics and description, Spindrift -- you always come up with such wonderful illustrations to your stories. I love how you capture that elemental sense of suspension train travel gives.

I took train trips in the US and in Spain as a child, but didn't take another long train journey until @1973, when I was in my mid-twenties. We took the train from Nuevo Laredo Mexico to the city of Veracruz, then from there to Mérida, Yucatán. We didn't have the least idea of what we were doing -- just got on the train & went. On one leg of the trip, the bunks folded out into the general compartment exactly like the ones in "Some Like it Hot". As we were negotiating the purchase of the tickets, we kept asking if the bunks were large enough for two people. Oh yes, yes -- plenty of room. Plenty of room for the very smallest Mexicans, perhaps, but horribly cramped for two good-sized Americans. We literally took turns sleeping all night, as one person would remain on his or her side, sort of holding breath, so the other could have enough room to sleep. What I remember about that part of the trip was that the train would stop, then back up a long ways all night long. At some point in the wee hours, we took on passengers in total darkness. One stepped on my face as he ascended into the bunk above me.

One of the beauties of train travel is the ability to walk around. Not only is it better than sitting, but one meets fellow travelers. I fell into conversation with a conductor who got on a riff about the sea. All these years later I remember parts of it: "Everyone says the sea is blue. The sea is only sometimes blue. The sea is orange. The sea is green. The sea can be purple."
Posted by spindrift on Mar 28, 2009, 7:23am
These days, taking a train from my town to London (1hr 10mins) is a lowering experience. To begin with 80% of the seats are facing backwards and are too close together. It's like sitting in cramped aircraft economy. Invariably mobile phones are ringing and people talk loudly with no concern for privacy. Others use music headphones with tinny noise issuing therefrom. Some come on board with packets of smelly hamburgers and chips. That's going up to London. On the evening trains out of London there are not enough seats so I often end up sitting on the floor or standing in the aisles. It's all very unpleasant. For the pleasure of travelling thus we are charged top prices. First class is out of my reach.
Posted by casimira on Mar 28, 2009, 10:21pm
I've been told that the train from Chicago to New Orleans is top notch. We have several friends who've done it in the past couple of years and rave about it. I have looked into train travel from here to New York but it is quite pricey.
I can currently fly from NOLA to JFK nonstop for $199.00 roundtrip,the train is$ 600.00. I know it's all about the mode but I don't have that kind of $$$.
From Manhattan after spending a few days I take the LIRR out to my mother's(100 miles southeast). After getting past Jamaiica,Queens it's a nice ride and the closer I get to my home town the more excited I get seeing all the little villages I grew up around. On the way out it's very melancholy as I never know whether or not I'll be able to visit my mother again.


Posted by kimby on Mar 29, 2009, 6:39am
I spent a "memorable" night on the train from Istanbul to Ankara, throwing up every half hour from some bad tripe dish I ate in Istanbul the day before. We had only a small wash basin in our cabin, and I was in the upper bunk, so everytime I felt queasy, I had to climb down and rush down the passageway to the toilet at the end of the sleeper car. And hope that it wasn't occupied.
So much for the romance of train travel! It is good reading about others' more enjoyable train trips, though.
Posted by bazfaz on Mar 29, 2009, 7:53am
Twenty years ago we took the train from Goa headed to Bangalore. We were only going as far as Dudsaga Falls (do I have the name right?) which is a couple of hours down the line but still within Goa state. Our compartment was cramped but that didn't matter.
Someone fortunately told us when we arrived at the falls because there was no station, no name displayed and indeed no falls we could see. The train just stopped and we climbed down. When the train moved off we discovered a small man with a basket had also got off. So the train had stopped just for the three of us with no buildings of any kind to be seen. We followed the man a short way. He stopped, unpacked his basket, gathered some scraps of firewood and set up business. He was a travelling restaurant. He made us omelettes and chappatis and coffee which was lovely fr lunch. We found the falls, made faces at the monkeys, went for a walk and at 3 pm positioned ourselves beside the track to catch the train going back to Goa. The man with the basket travelled back with us.
I wonder how often he got customers.
Posted by casimira on Mar 29, 2009, 12:06pm
Wonderful story Baz,thanks.
Posted by spindrift on Mar 29, 2009, 1:52pm
These Indians are so enterprising. He got lucky that day

Posted by kerouac2 on Mar 29, 2009, 3:41pm
The idea of a man taking the train just so that he could handle the eating requirements of a couple of tourists, reminds me of my last trip to Jakarta.

Emmanuelle and I were being shown certain unusual parts of the city by a Serbian photographer who was living there (I have to find his name again -- he published some great Asian photo books). We were visiting a market when an unexpected torrential downpour suddenly occurred. We took shelter under a canvas roof and watched people scurrying around in the rain.

We saw a well-dressed man walking regally with a big umbrella, followed by a small boy in rags, a few meters behind him with no protection of any kind. Our Serbian guide informed us "he is following his umbrella." He explained that the only possession that a lot of the poor children have is an umbrella (often stolen). When it starts raining, they rent it to wealthier people, following them to their dry destination to receive payment.

While waiting for the rain to stop for about half an hour, we saw countless Indonesian children "following their umbrella."
Posted by spindrift on Mar 29, 2009, 7:44pm
That's a touching story and one I didn't know.

Here's another jolly Indian train. This one was in Kerala. It's a steam train?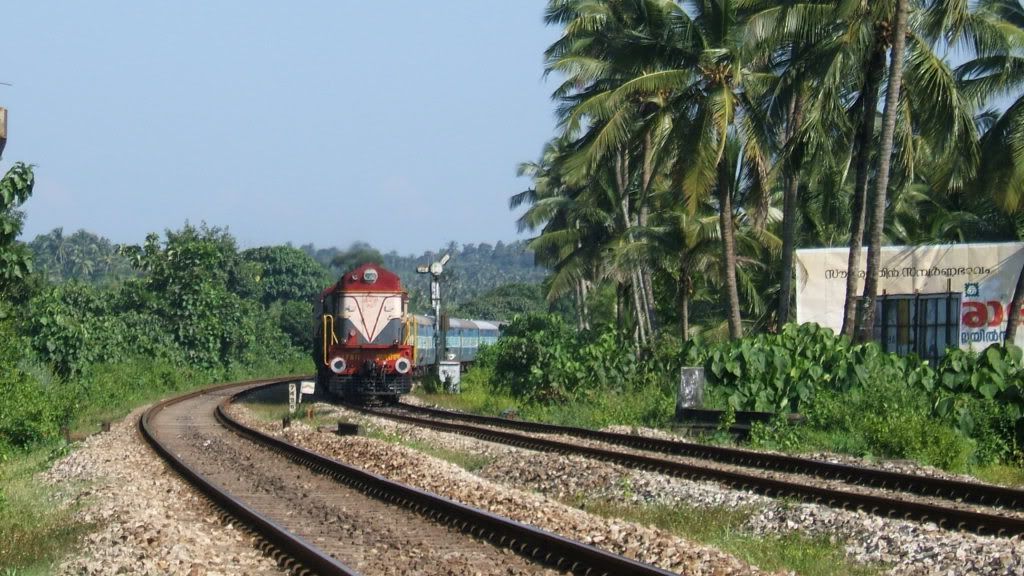 Posted by kerouac2 on Mar 29, 2009, 7:59pm
No, that is a diesel engine.
Posted by bazfaz on Mar 29, 2009, 8:36pm
One thing we did when we took that train in Goa (where the man cooked us omlettes) was to strengthen our determination and walk through the railway tunnel a long long way. There was a curve so we couldn't see if another train was approaching. After several hours (or was it minutes?) we emerged into daylight. This was still wild country with no houses in sight but there was a small chapel, possibly built by the Portuguese. While we were inspecting it a freight train pulled up. The driver got out and came to the chapel. He lit a candle and then drove his train off.
Posted by bixaorellana on Mar 29, 2009, 9:33pm
Oh my goodness ~ the umbrella story seems to belong with Spindrift's series of Zen stories!

The train/chapel story is lovely. It set up a little silent movie inside my head.
Posted by komsomol on Mar 30, 2009, 8:20am
We must all follow our umbrella although others may be carrying it.
Posted by hwinpp on Mar 30, 2009, 8:22am
Kim, I once spent a night on that train too. But going the other way. In the middle of the night the train just stopped somewhere... it continued the next morning. We were fed by the Turkish family sharing the coupe with us.
Posted by jazz on Mar 30, 2009, 10:25am
Once, I took the night train from Munich to Istanbul. I shared my compartment with a Turkish family. The first few daylight hours were very relaxing. Darkness fell, mom and the kids were fast asleep and my kind friend suddenly became amorous. He was so persistent, that I gave up and spent the rest of the night in the train corridor with many, many Turkish males...smoking and drinking cup after cup of good strong turkish coffee. It felt unusual but intriguing. (safer!)
Posted by kimby on Mar 30, 2009, 2:45pm
Has anyone taken the Ghan train between Darwin and Adelaide, via Alice Springs?
We have suddenly decided to go to Australia this fall, and might do this. Though it seems pretty expensive.
Posted by spindrift on Mar 30, 2009, 5:47pm
Jazz - I can just imagine the scene! that's the sort of thing that might happen to me.
Posted by hwinpp on Mar 31, 2009, 8:12am
Jazz, I've taken that train as well. Shared the compartment with some Bulgarian truck drivers that were on their way home. Again, got fed by them.