Topic Summary
Posted by kerouac2 on Dec 5, 2010, 4:15pm
Due to my youthful and immature nature, I have always liked Disneyland. I grew up watching the Disney shows on television and dreamed of visiting Disneyland some day whenever I would see reports about it. I naturally understand the limitations of such a place, just as I understand the limitations of a G rating at the movies, but there should be something for everybody.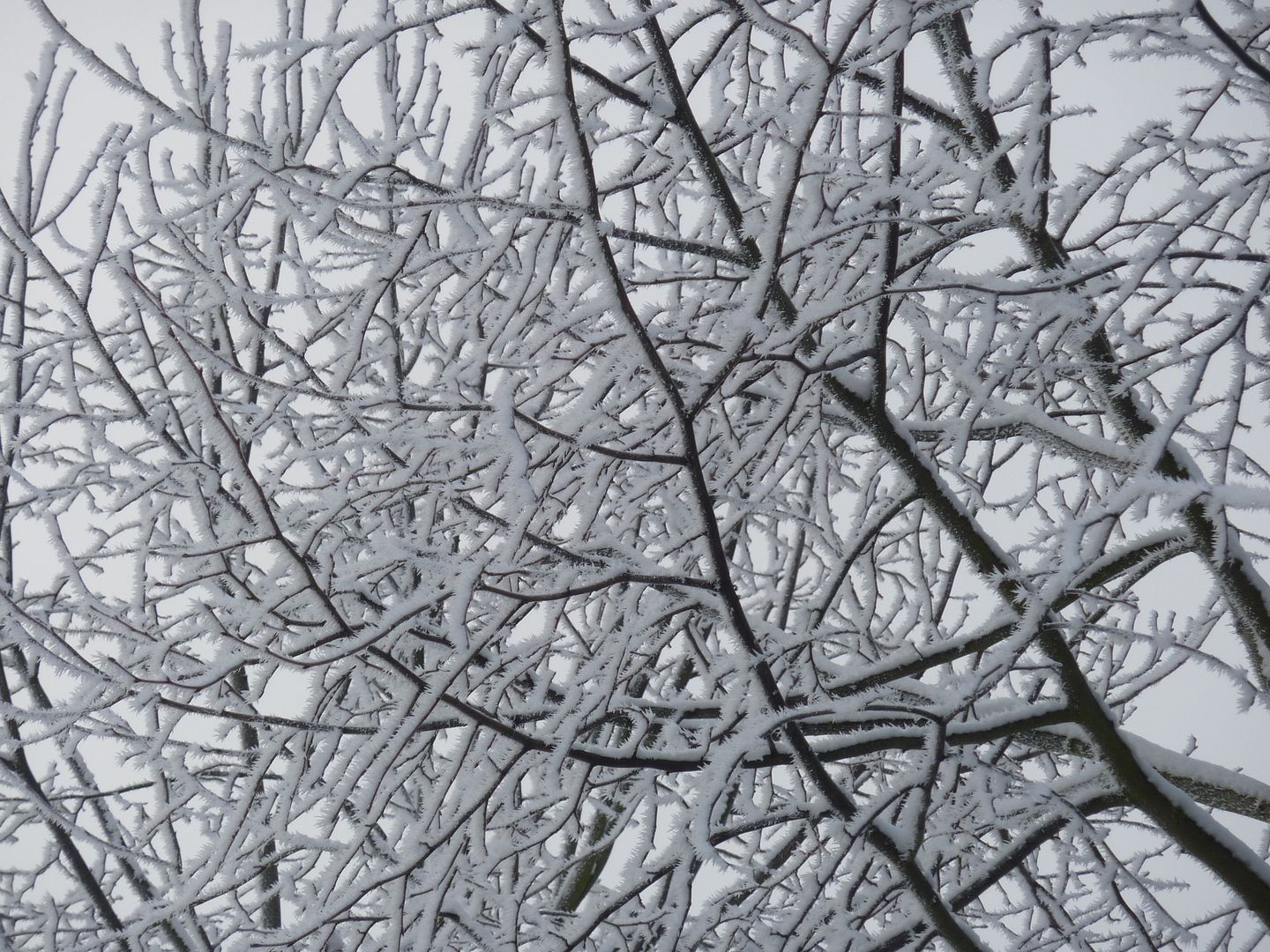 One of the reasons that Paris was chosen for the European location of Disneyland, in spite of its inappropriate climate, is because France has always been the #2 world market for Disney films and Disney products. Another of the reasons that "Uncle Walt" is such an icon here is because he was such a believer in urban planning, in which the French excell. Walt Disney was completely against anarchic development of cities and wanted everything in the perfect location with the perfect target users of shops, restaurants, hotels, etc. Personally, I pretty much feel the same way. If Paris looks the way it does, it is because of extremely strict control over what can be built, how it can be used, the authorized color scheme, and many other details.


Disney & France is a match made in heaven. A new plan has just been approved for the Disney territories over the next ten years with a new theme park and new residential areas, and it will be interesting to see how it is all done with the new emphasis on proper environmental development. Okay, enough bla bla bla -- I went to see what the park entrances and "Disney Village" looked like after not visiting for several years.


It was interesting for the weather, which does not correspond to the original idea of Disney places being in mild climates. But cold weather can add a certain charm to the decor.

One of the first things that visitors need to learn is that the RER station for Disneyland is not called "Disneyland."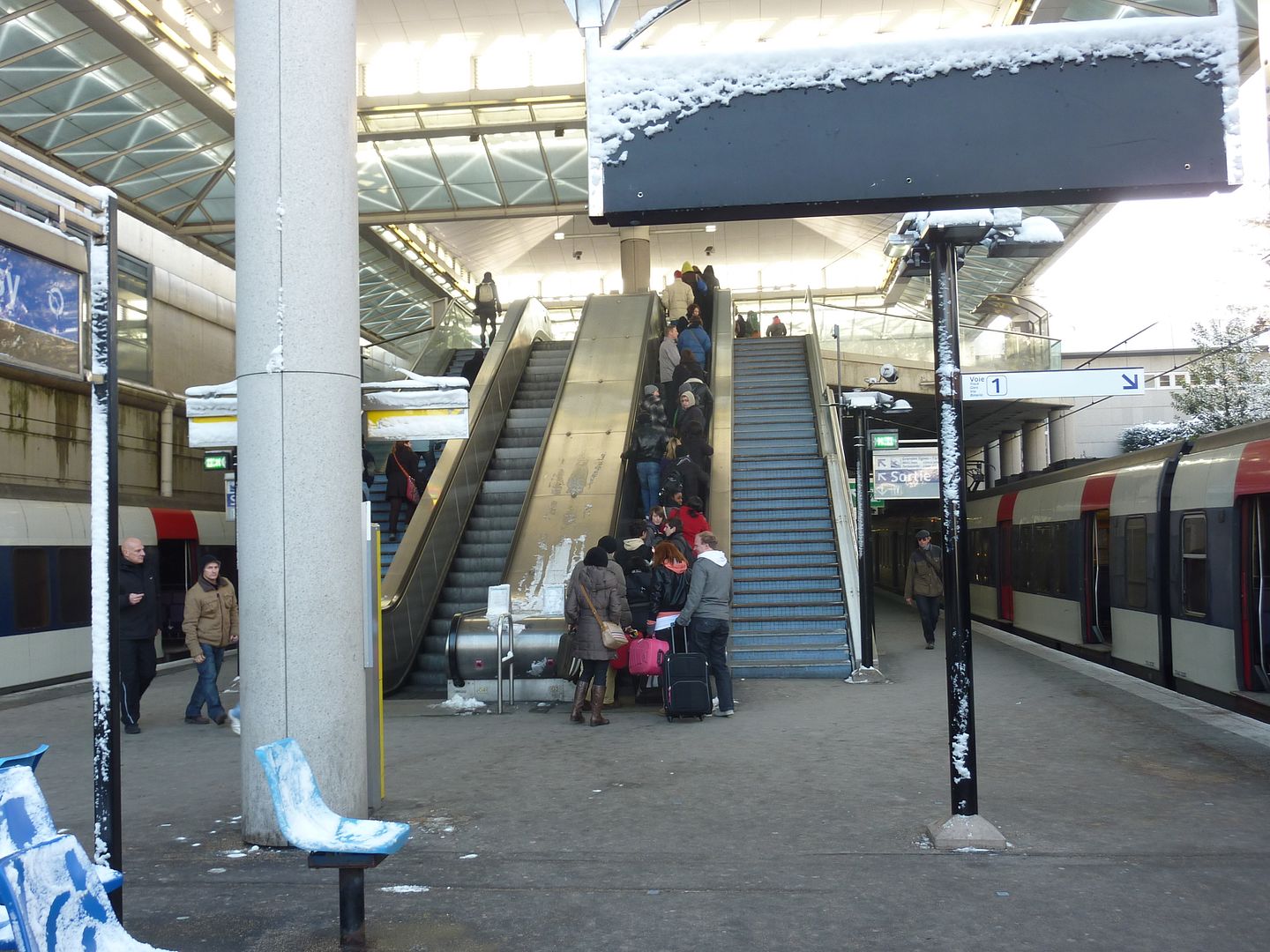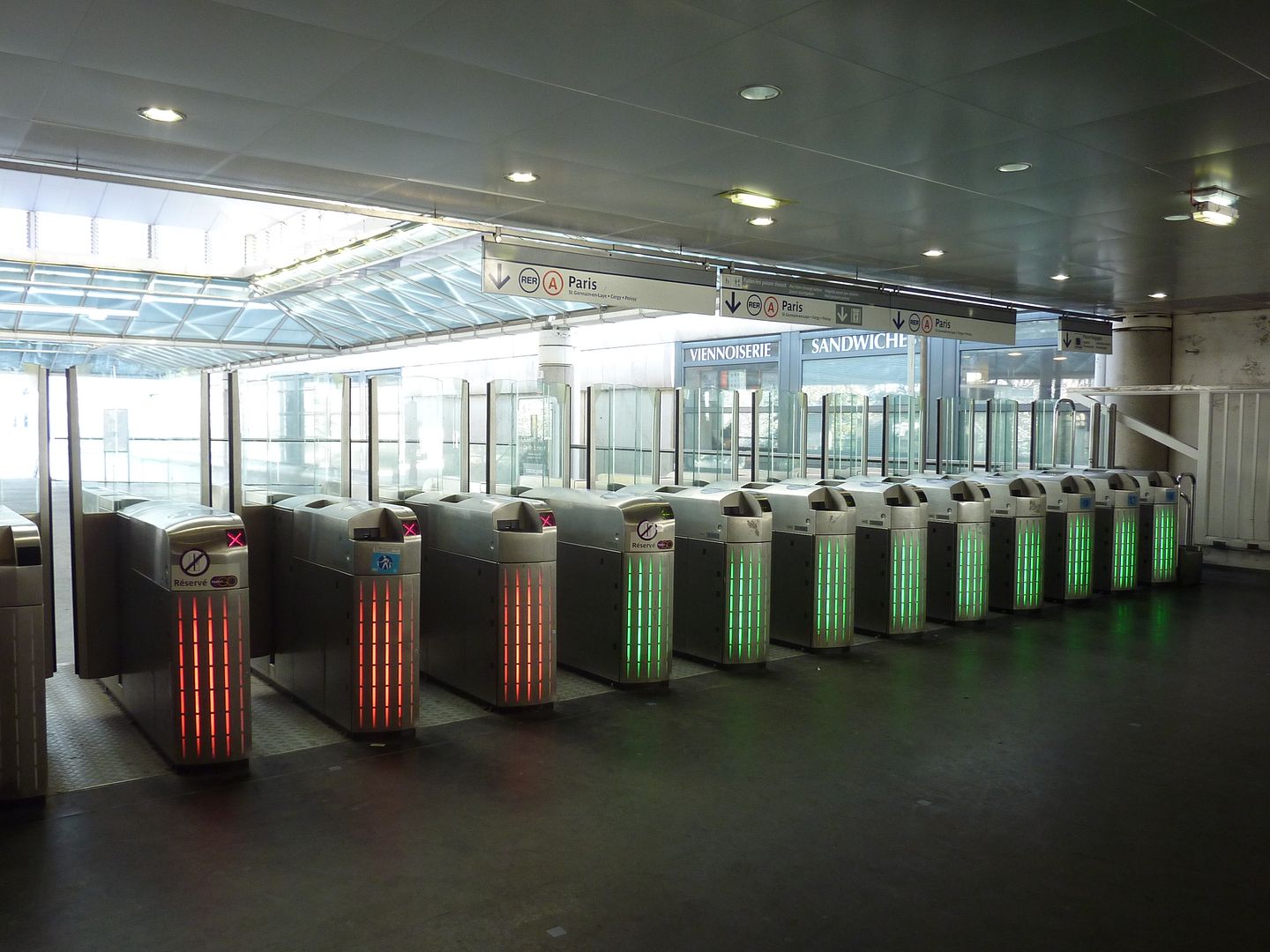 The RER was built to serve the park, so the entrance is right there the moment you leave the RER or TGV. However, at this time of year, the secondary entrances are closed, and everybody is channeled through one central access for the obligatory security check (an extremely mild one, I may add).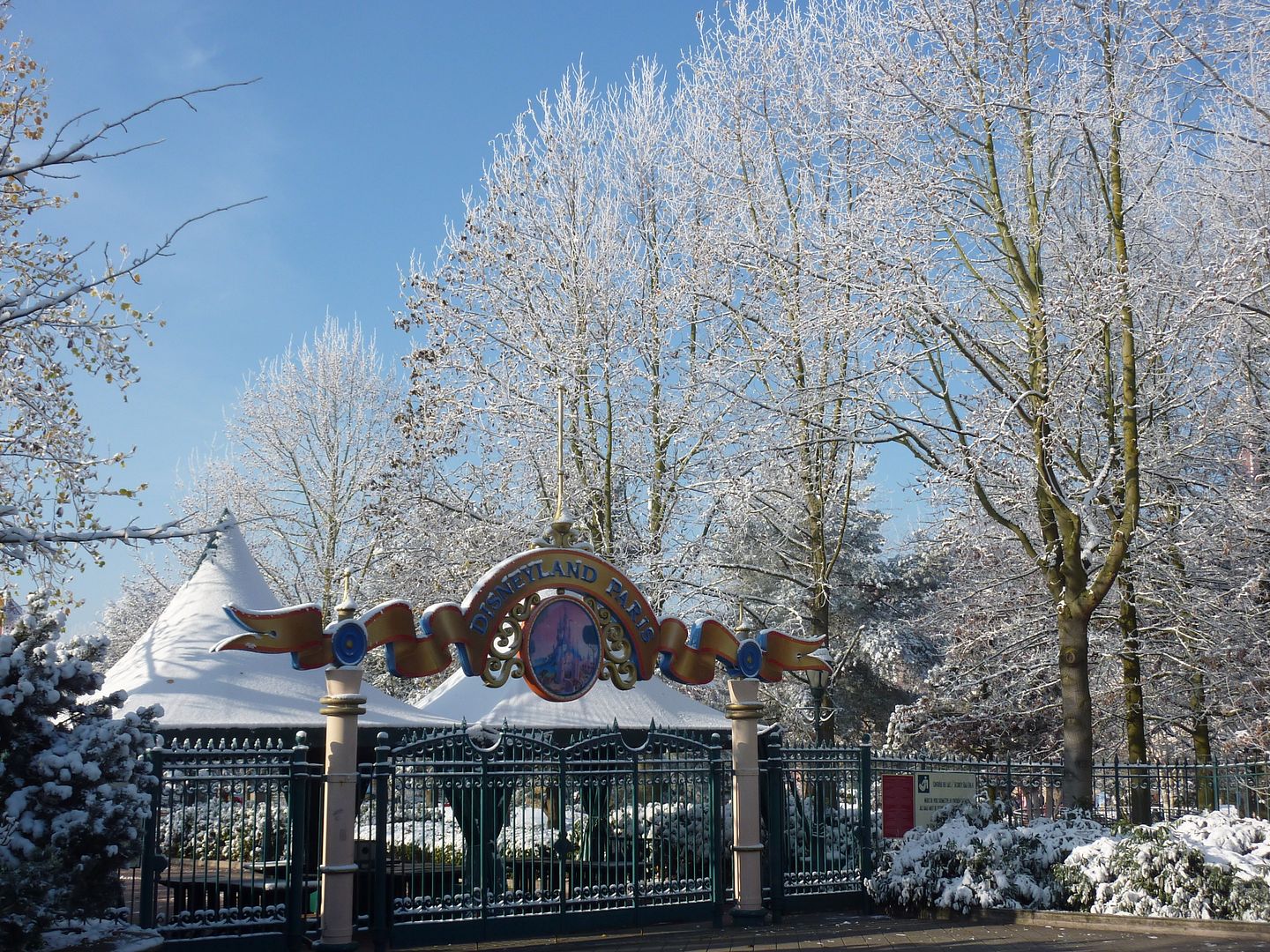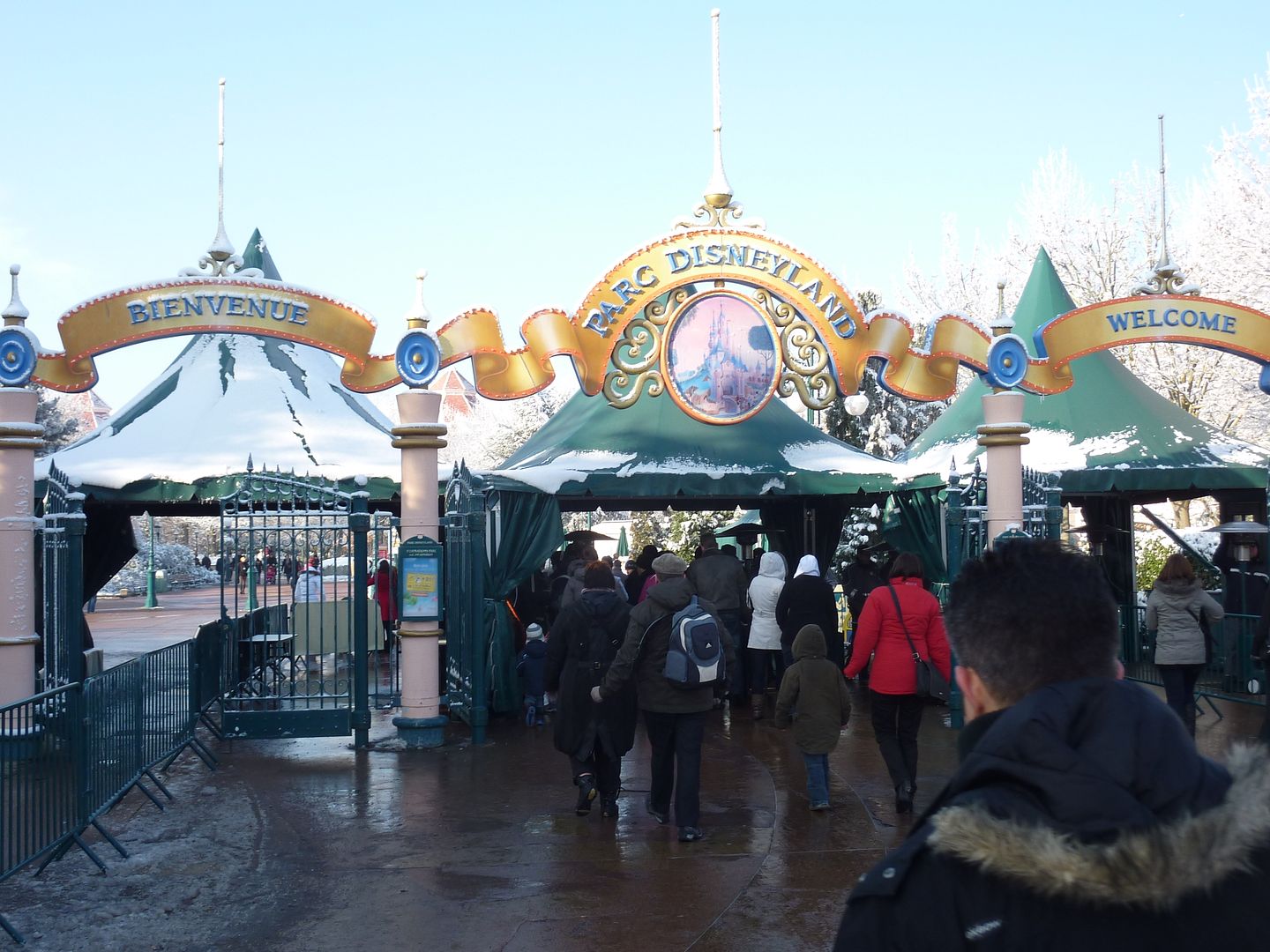 The moment you have passed through security, the excited visitors begin to ooh and aah, because you begin to hear the ubiquitous music (Christmas music at this time of year, of course). We may complain about psychological manipulation, but it is extremely effective. I had no intention of actually visiting Disneyland, but the whole atmosphere started tugging at me against my will.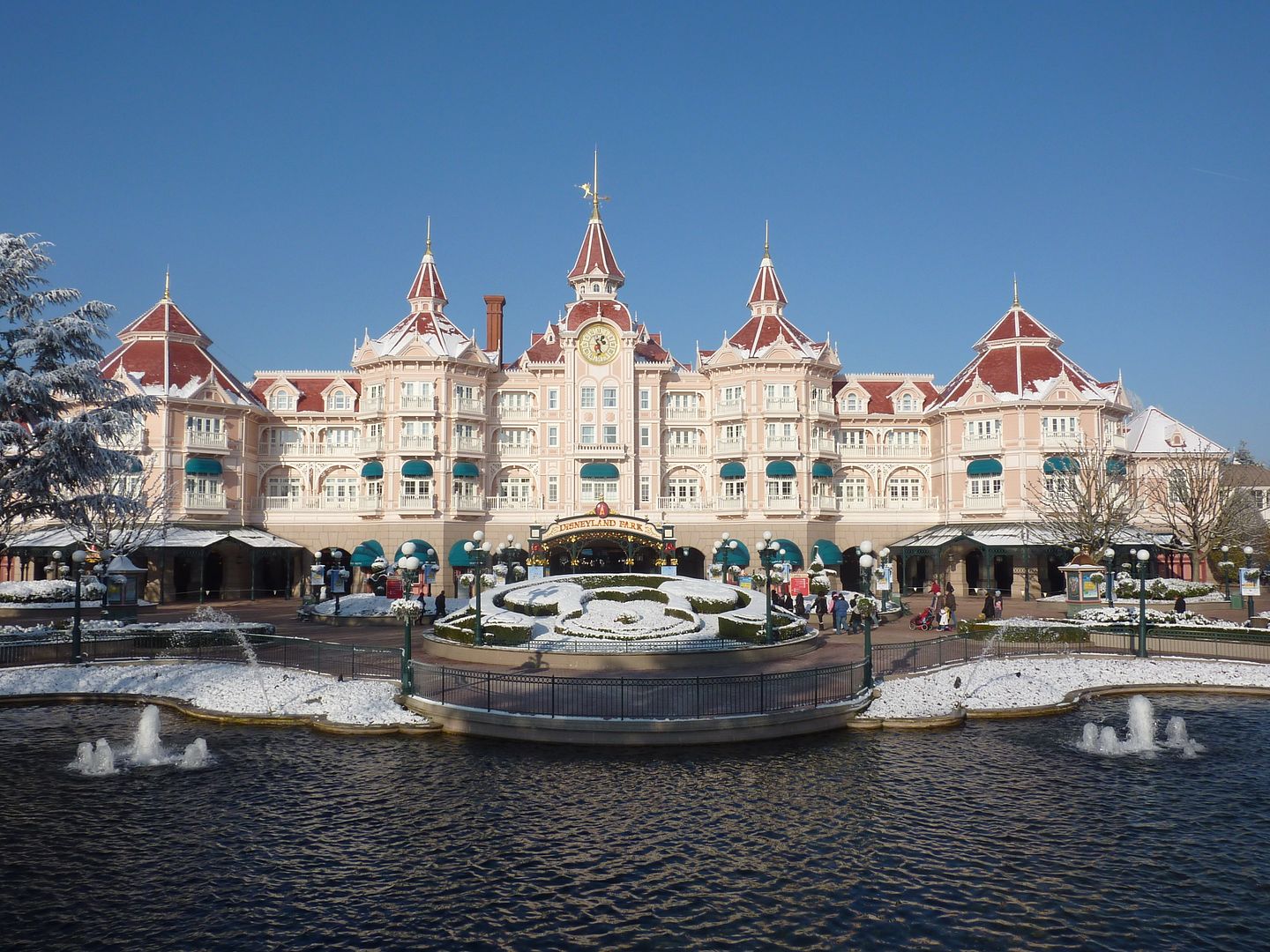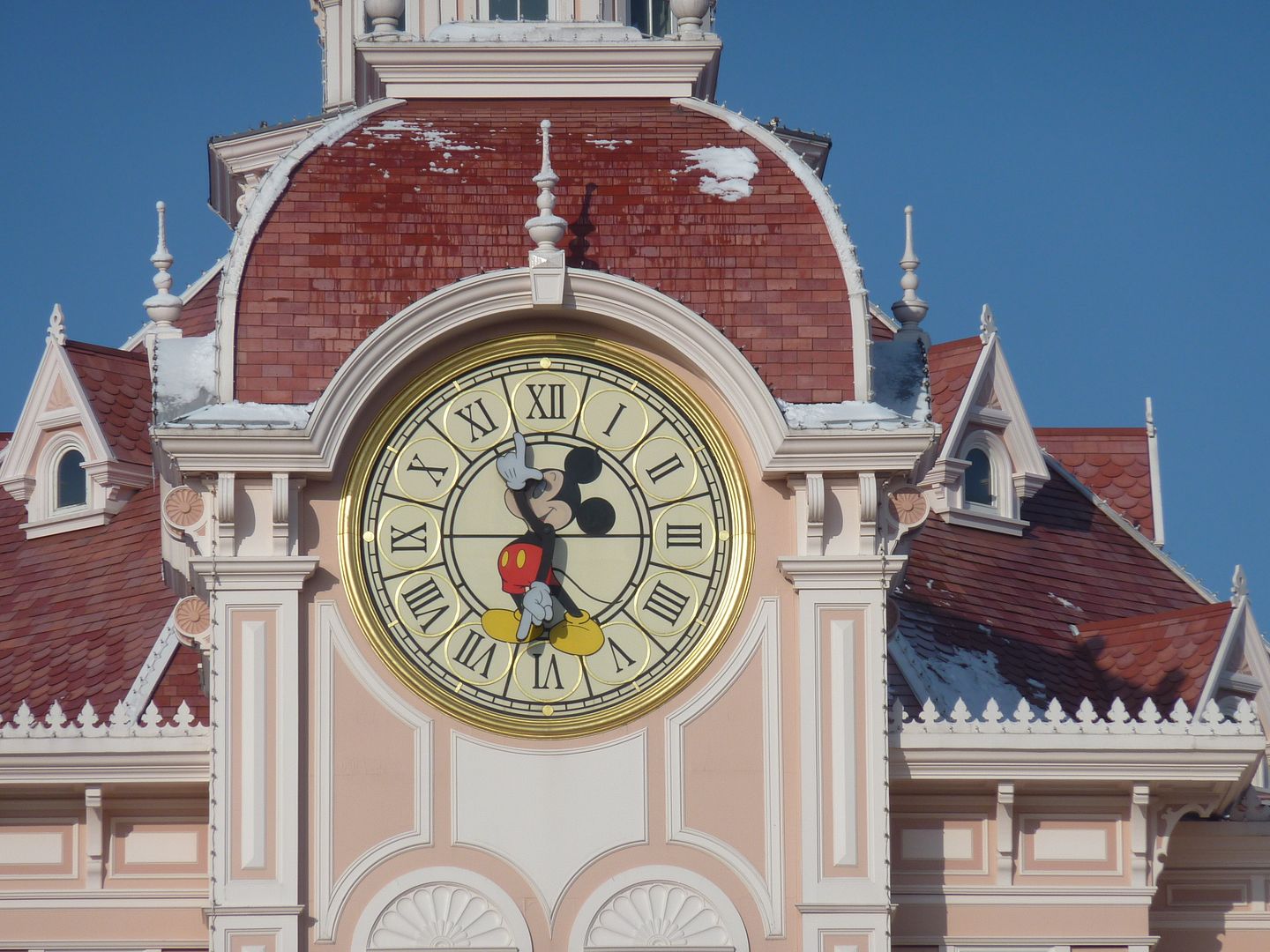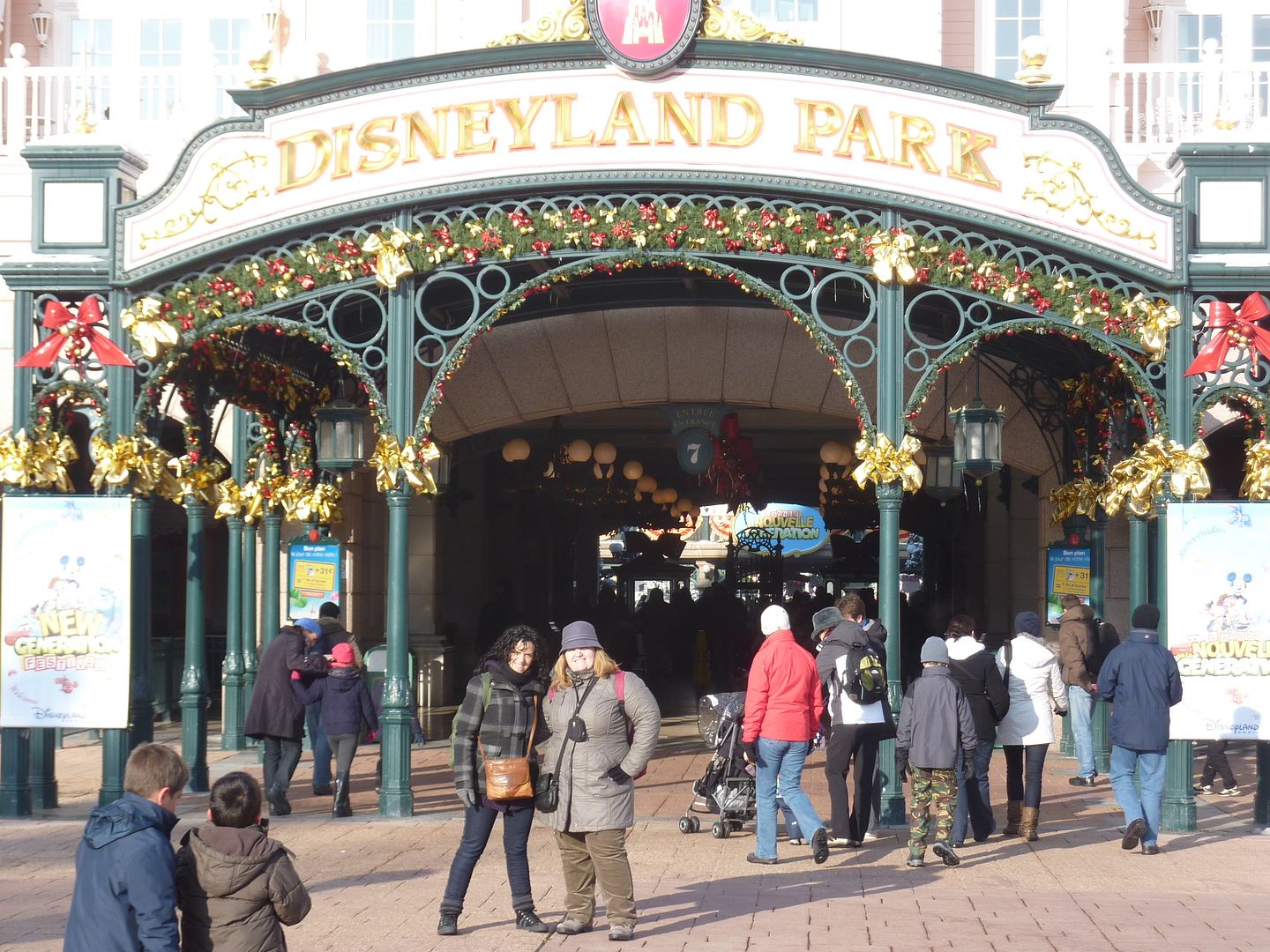 The souvenir tiles always fascinate me -- the concept of getting people to pay for the pavement of a place that is charging them a fortune to visit!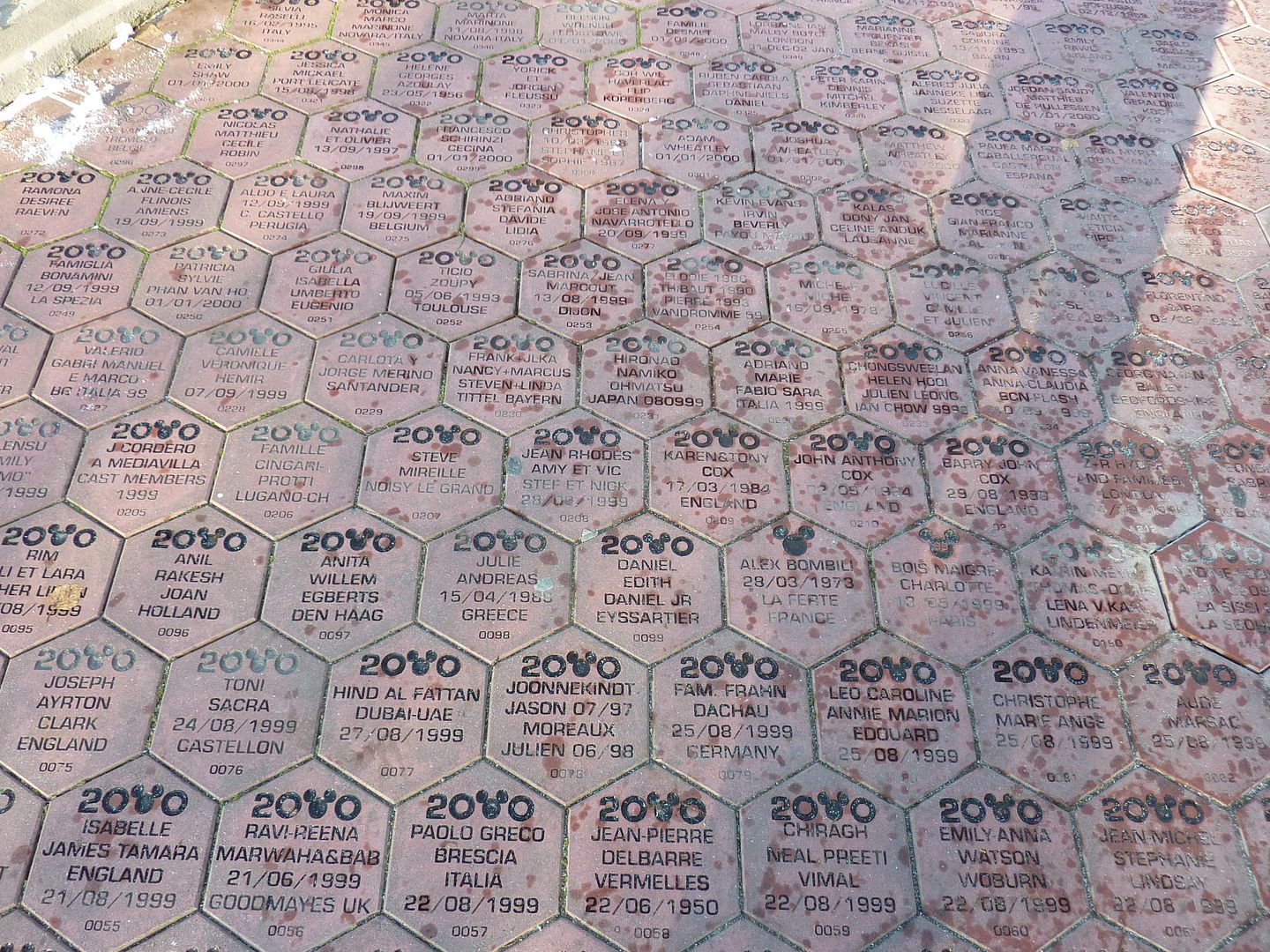 I don't care. I still find it lovely, and I was thinking that the people staying at the Disneyland Hotel were particularly fortunate this week with the snowy view from their window.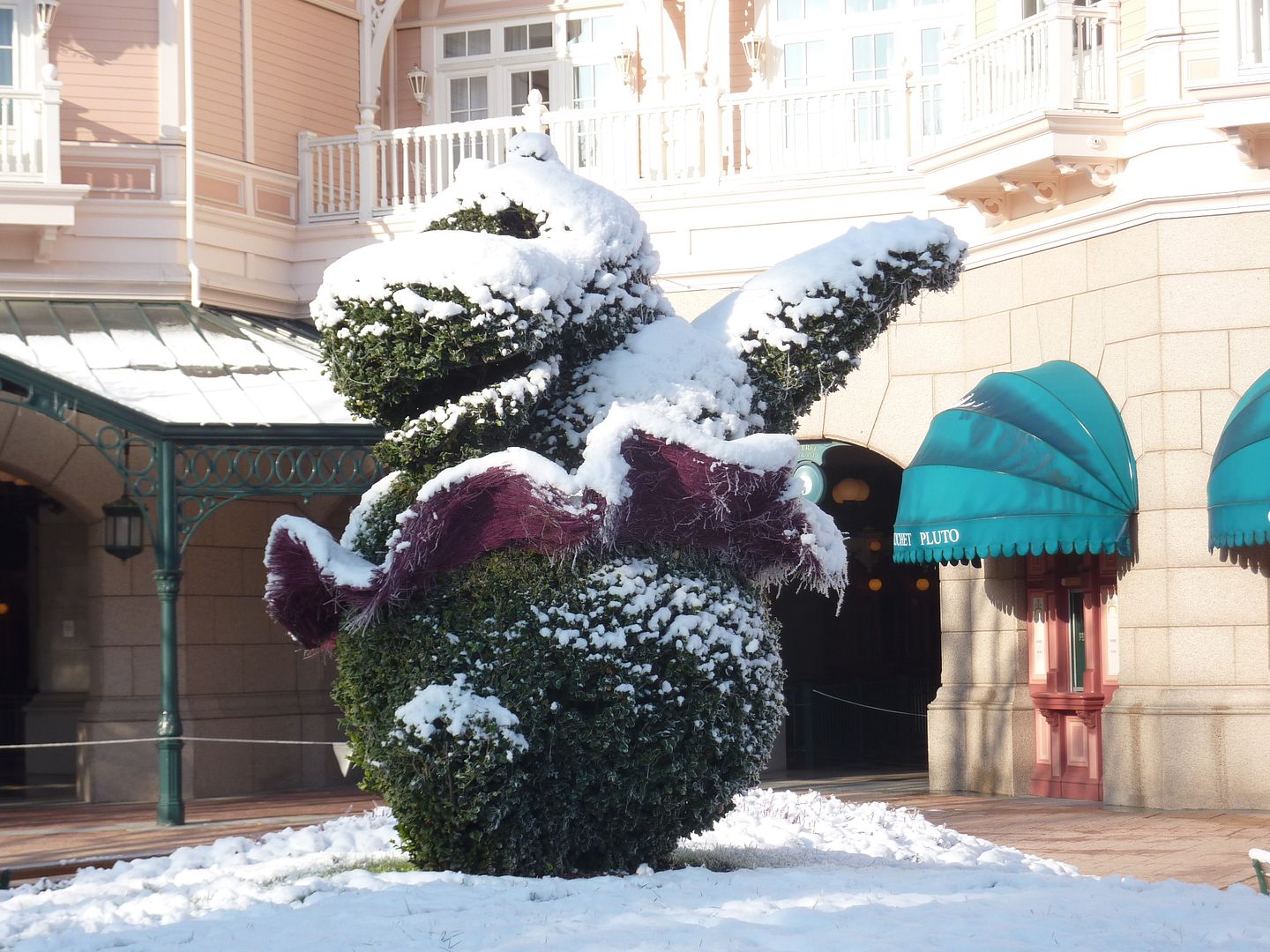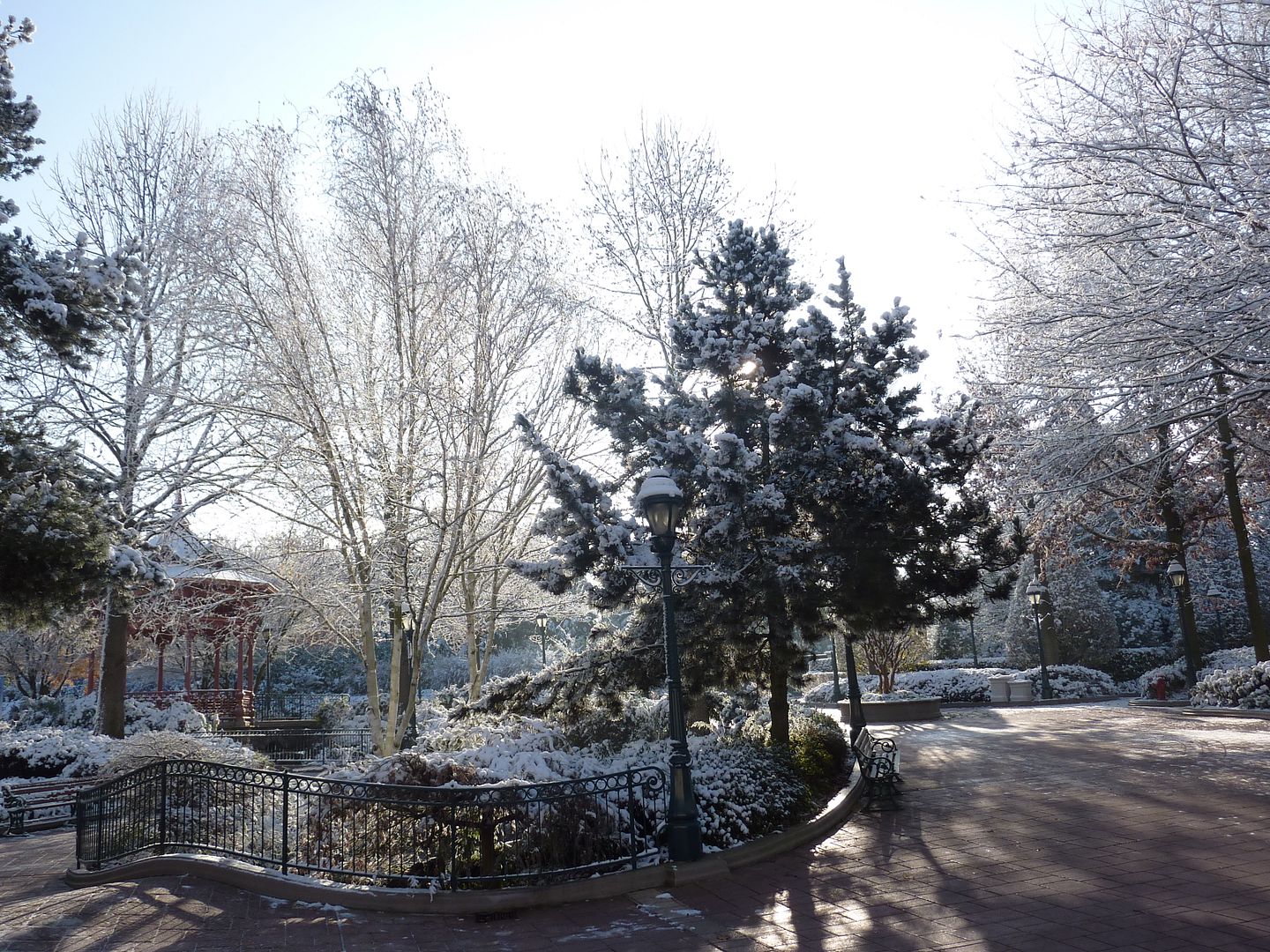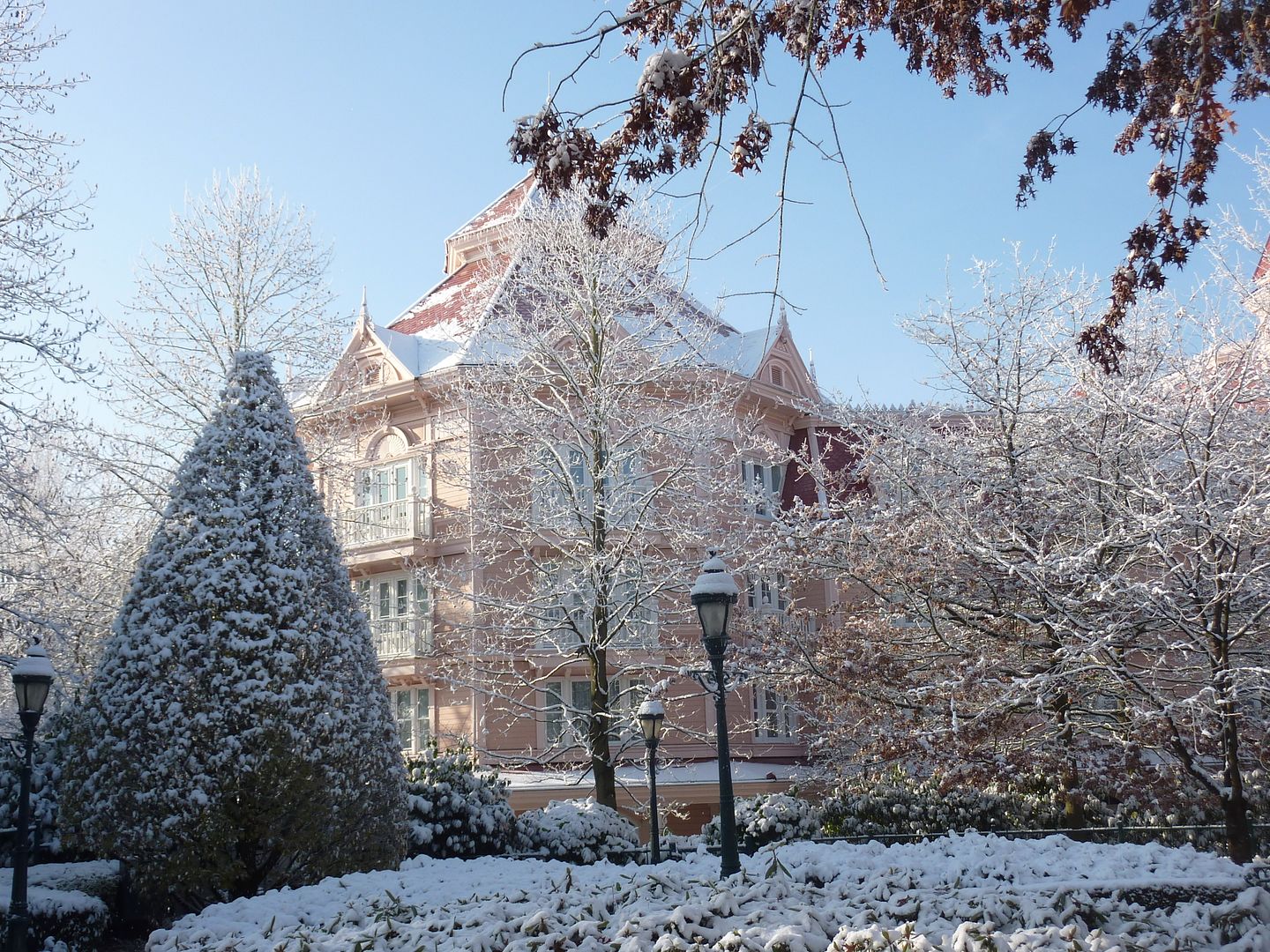 I wandered over to the entrance of the other park, Disney Studios. You can see more through the gates without going in. (I didn't walk all the way to the Disneyland gate, because I am pretty sure that we have all seen "Main Street" hundreds of times.)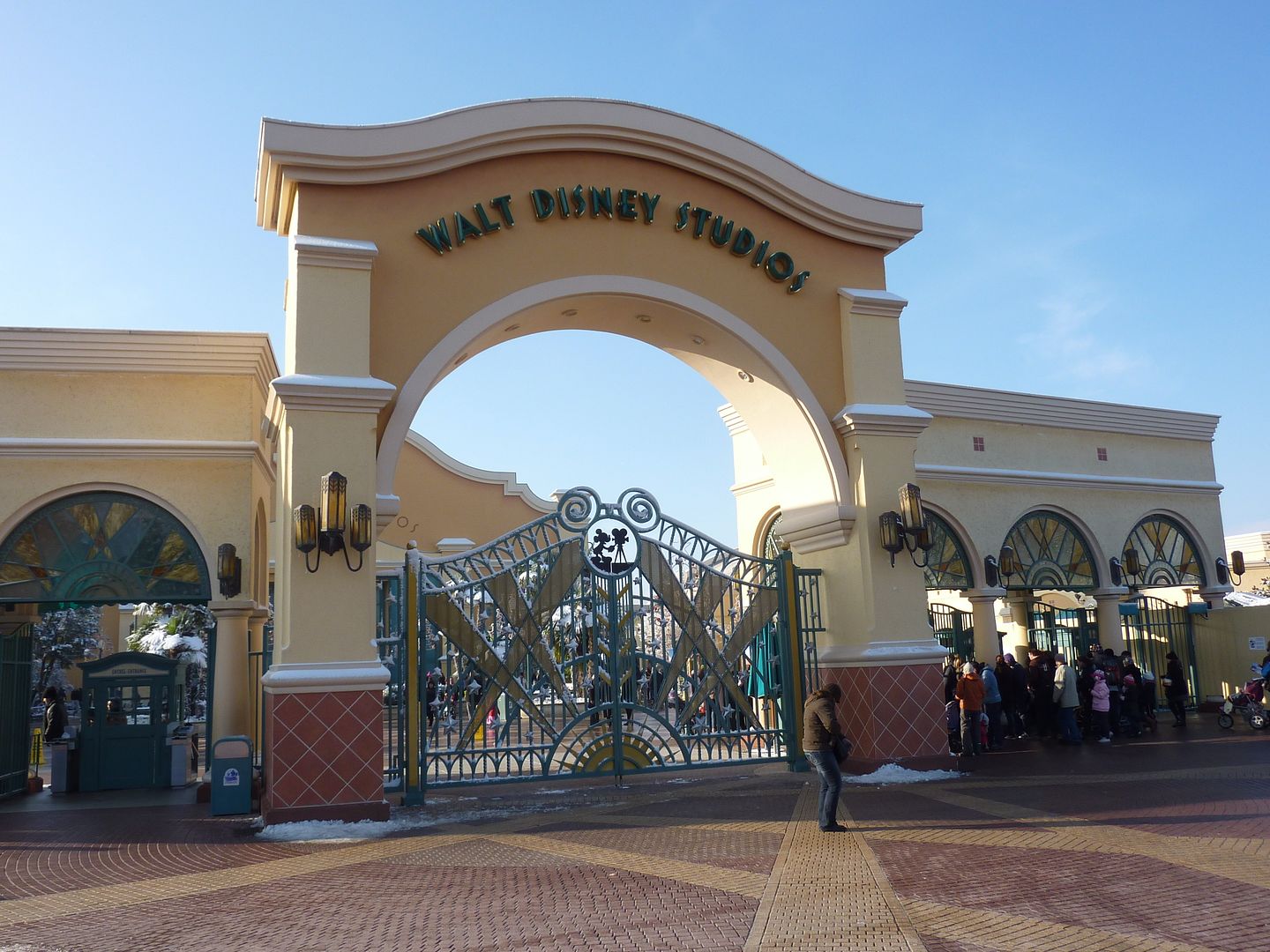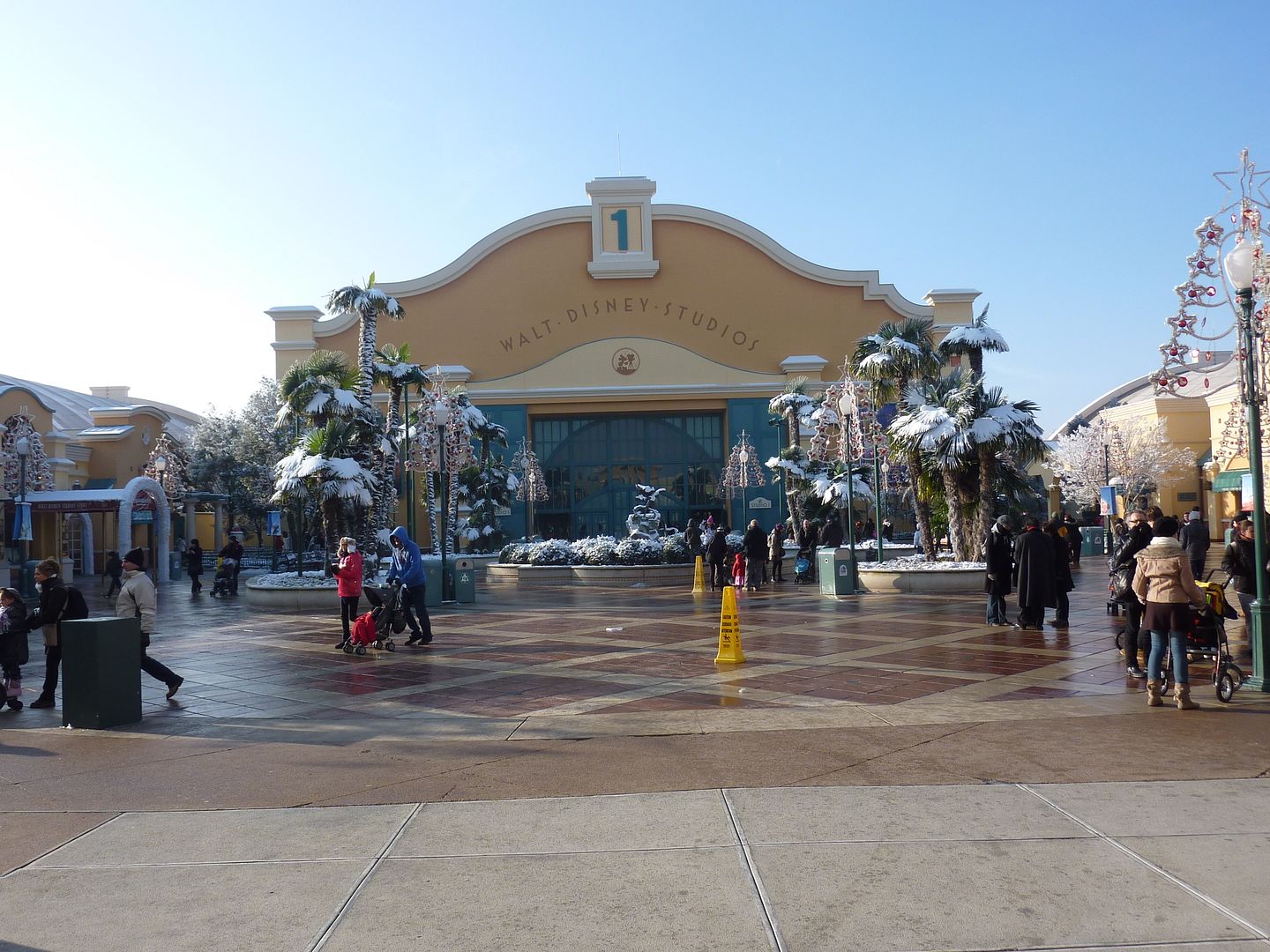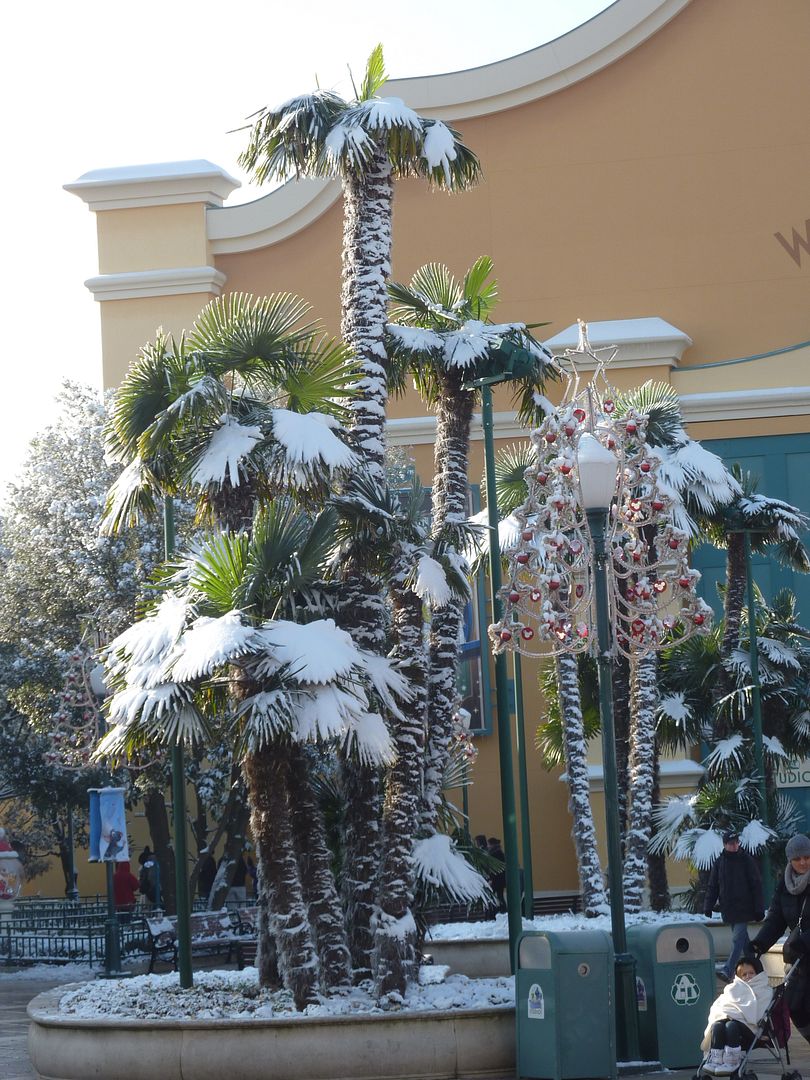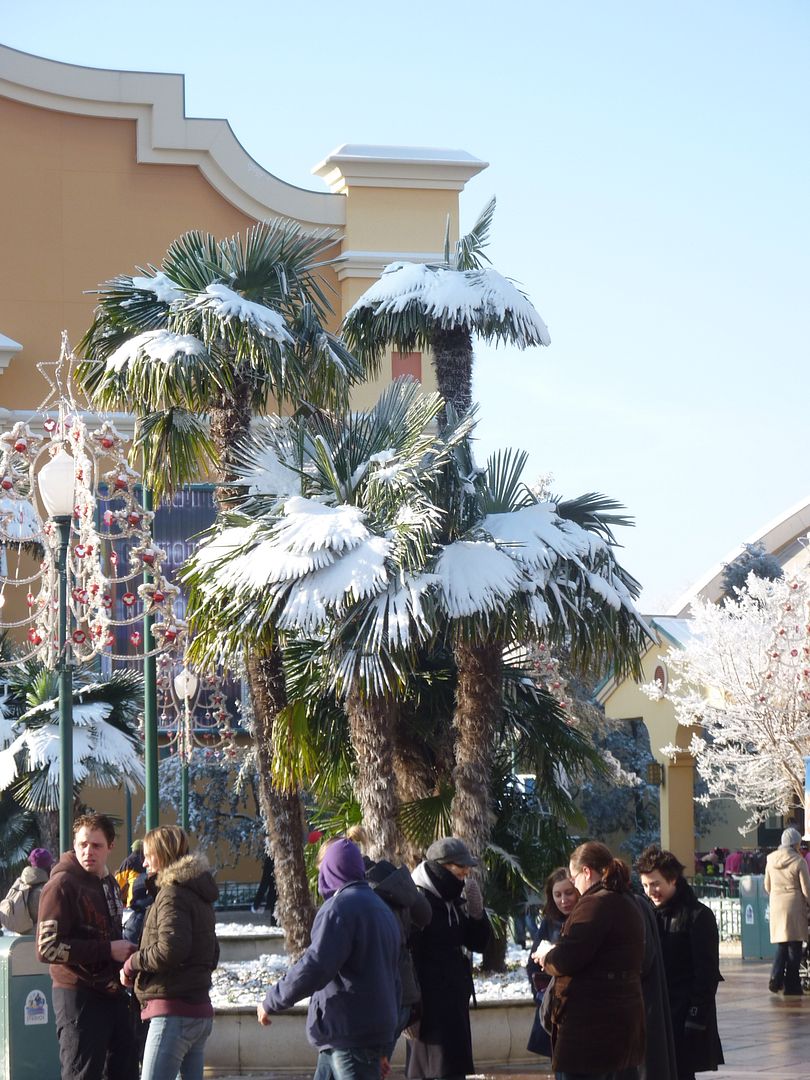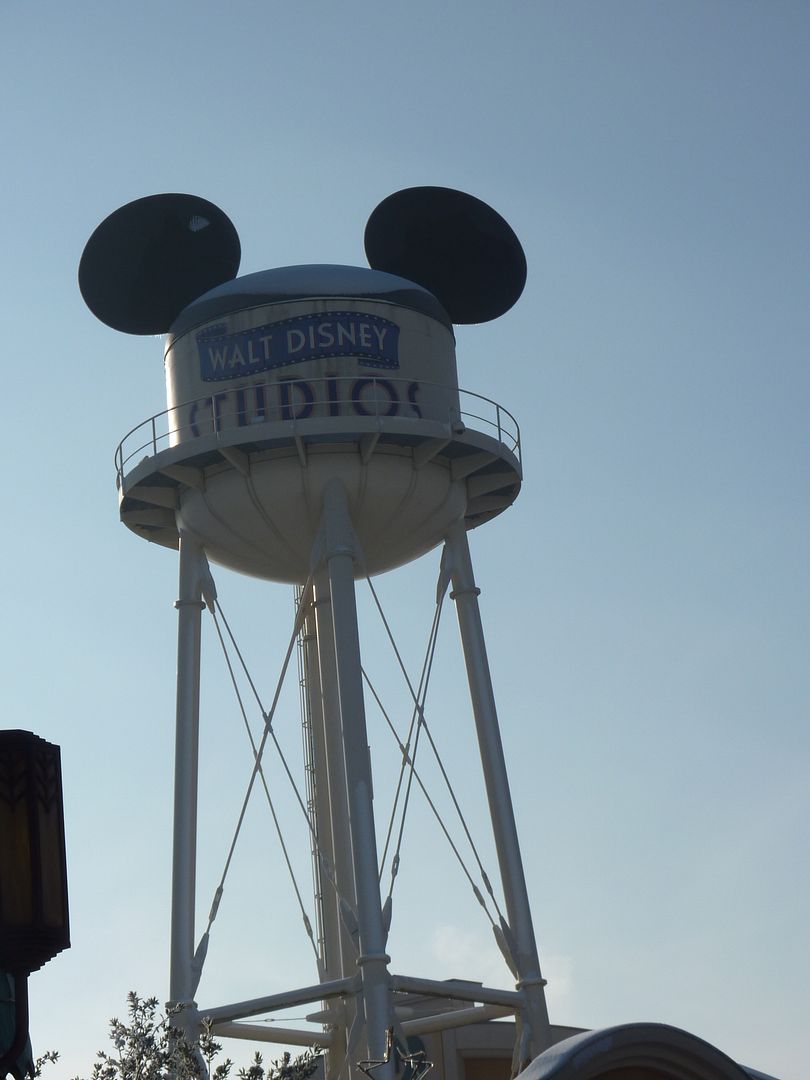 Damn, I haven't been to Disney Studios since the Tower of Terror opened!


People pay for the pavement just like over on the other side. There is still plenty of room for expansion.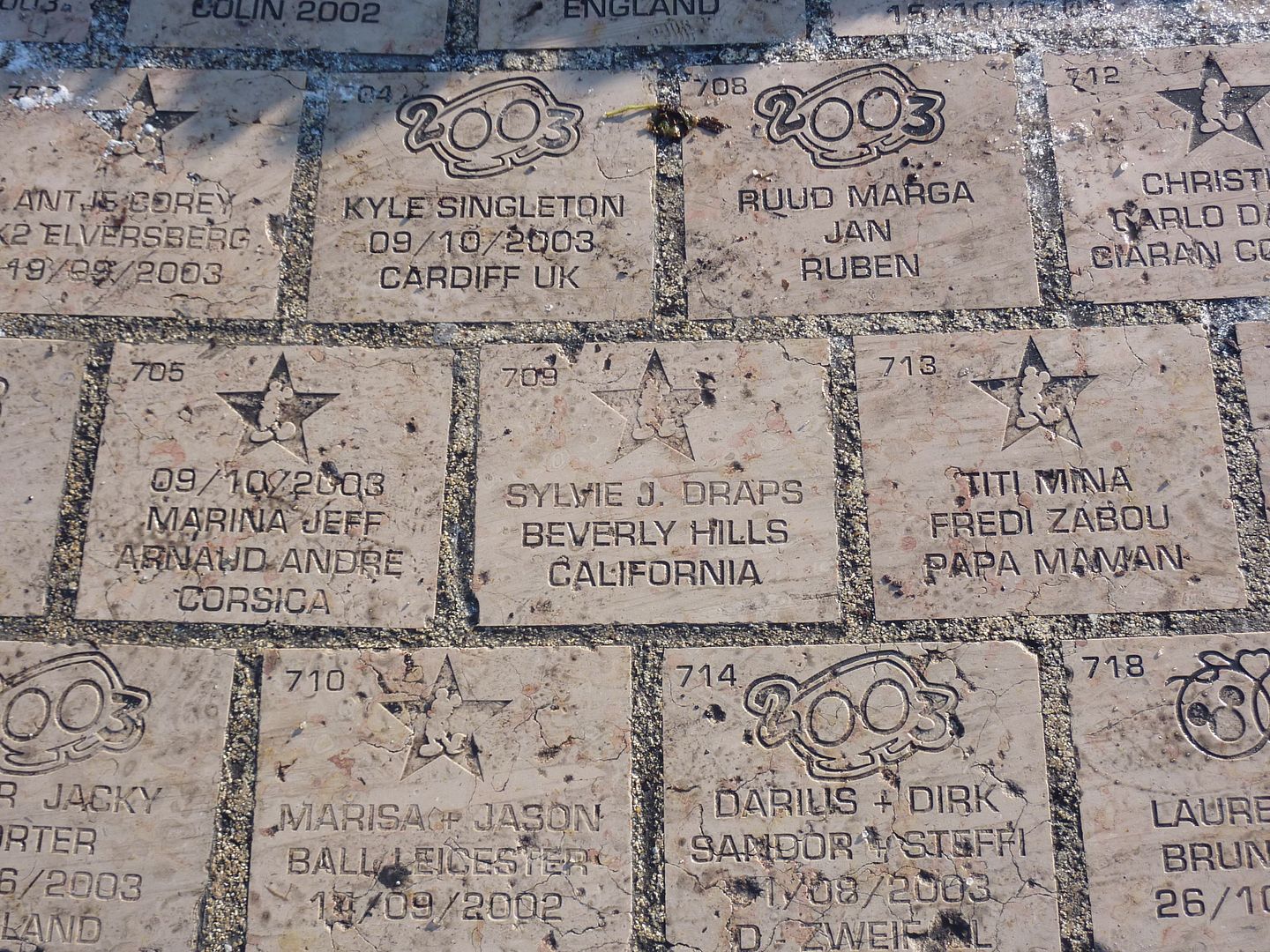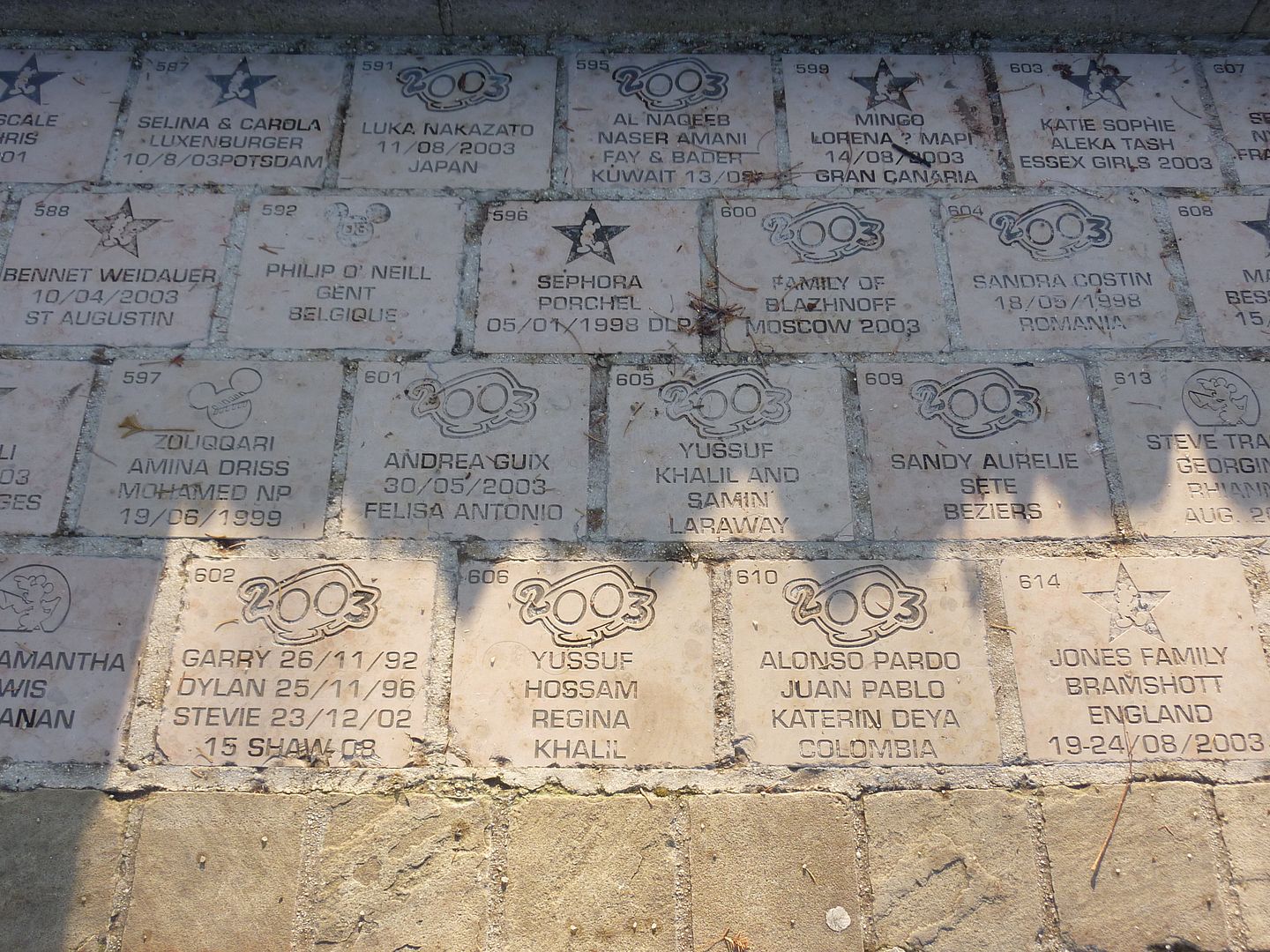 (end of part one)
Posted by kerouac2 on Dec 5, 2010, 4:42pm
My real goal was to check out Disney Village, the big entertainment zone. Since everything east of here is total farm land and villages, you can imagine what an exciting attraction it is to all of the bored youth who can't afford to drive to or take the train to Paris every weekend.

At night, it is all flashy and blinky and brilliant and colorful, but I confess that all I have to show is "empty at noon on a week day" so you'll just have to use your imagination.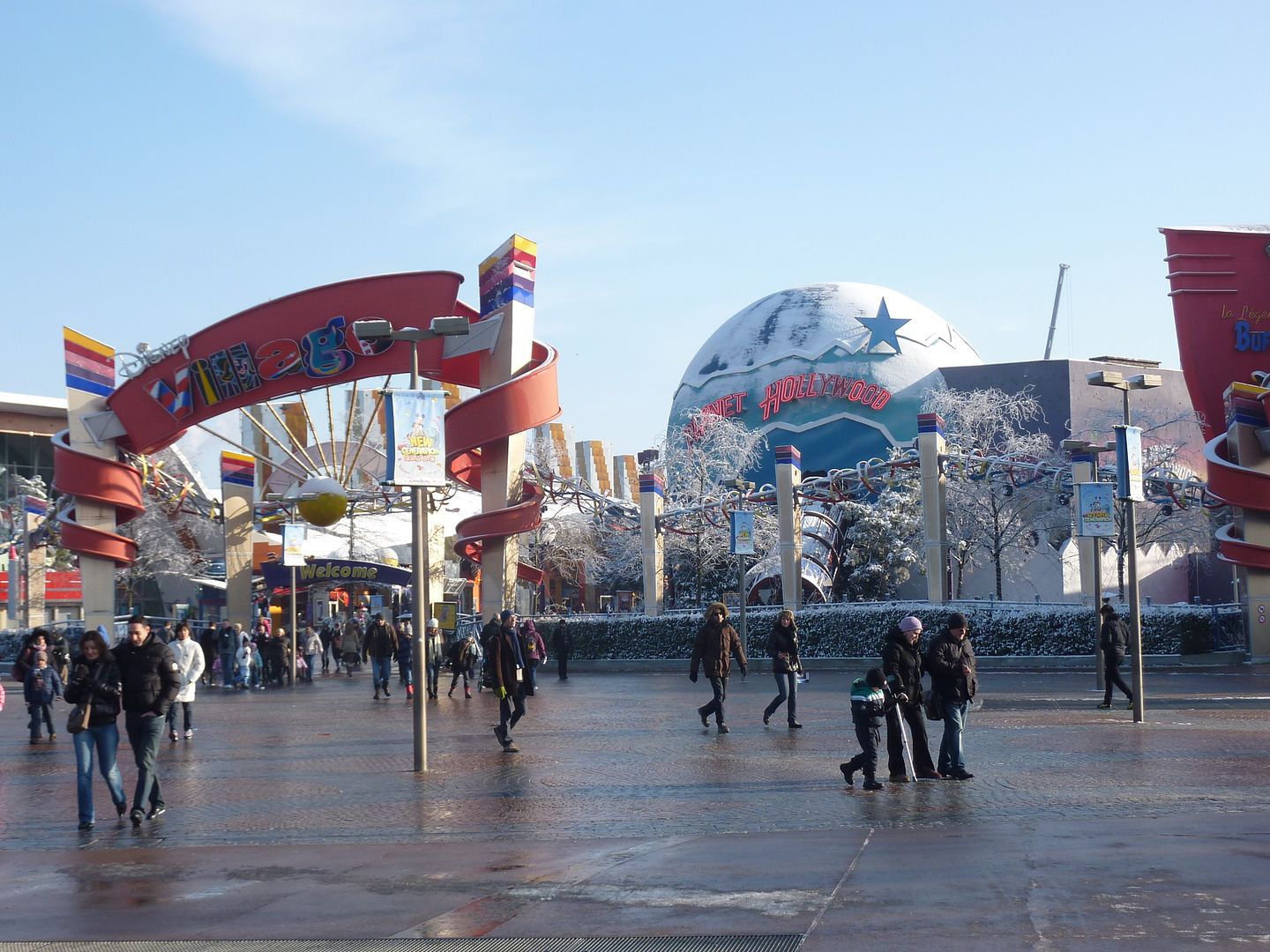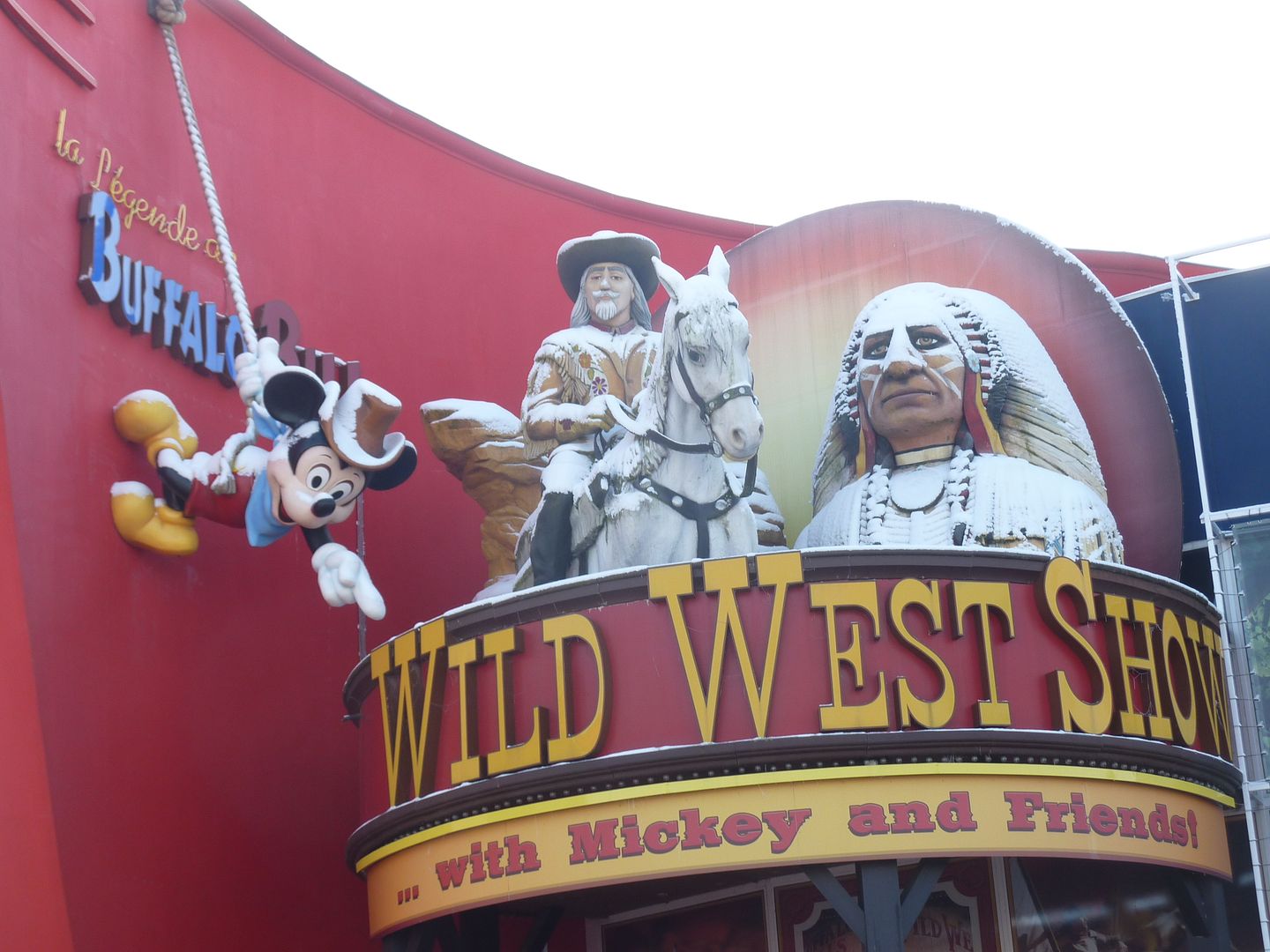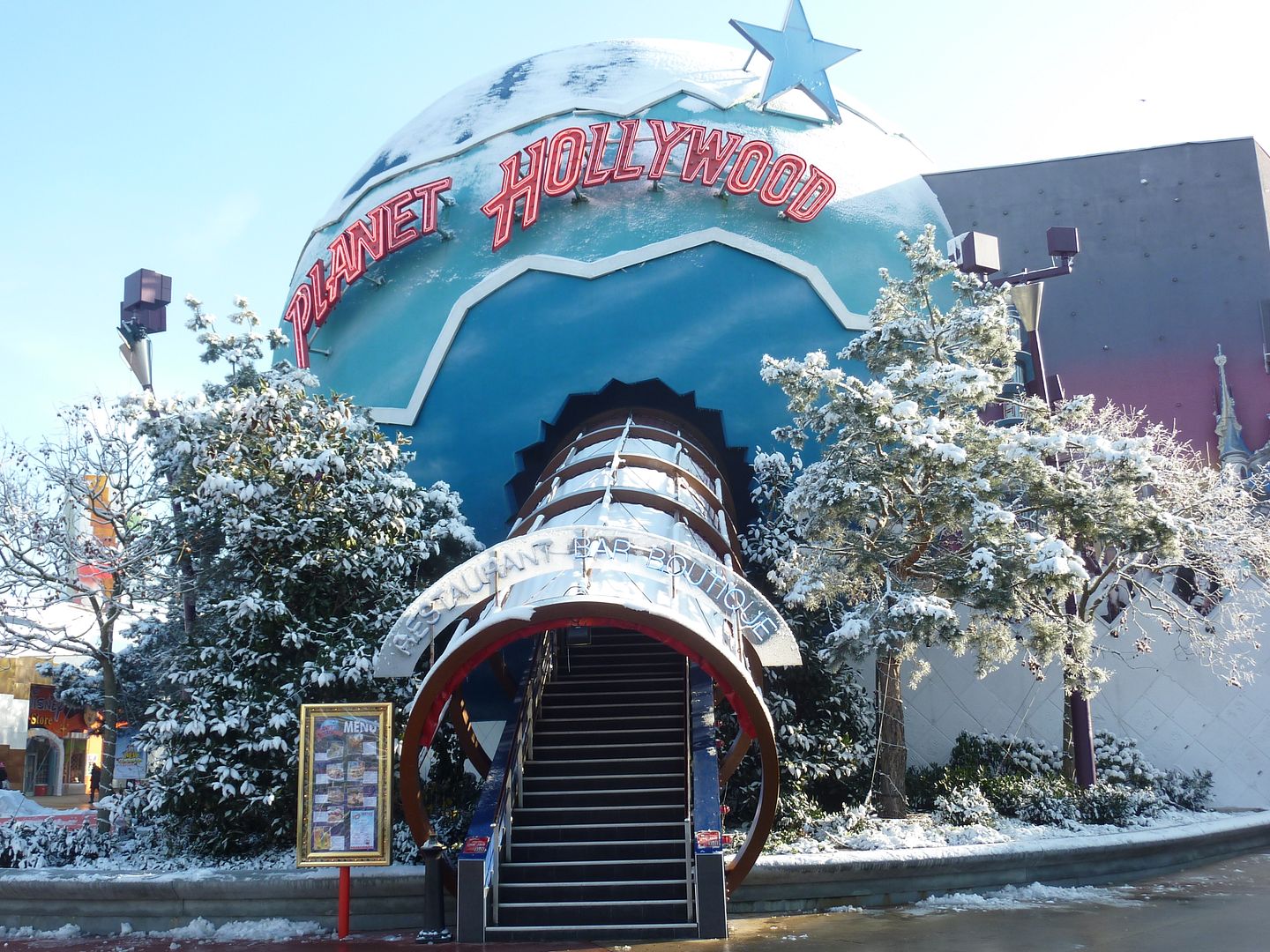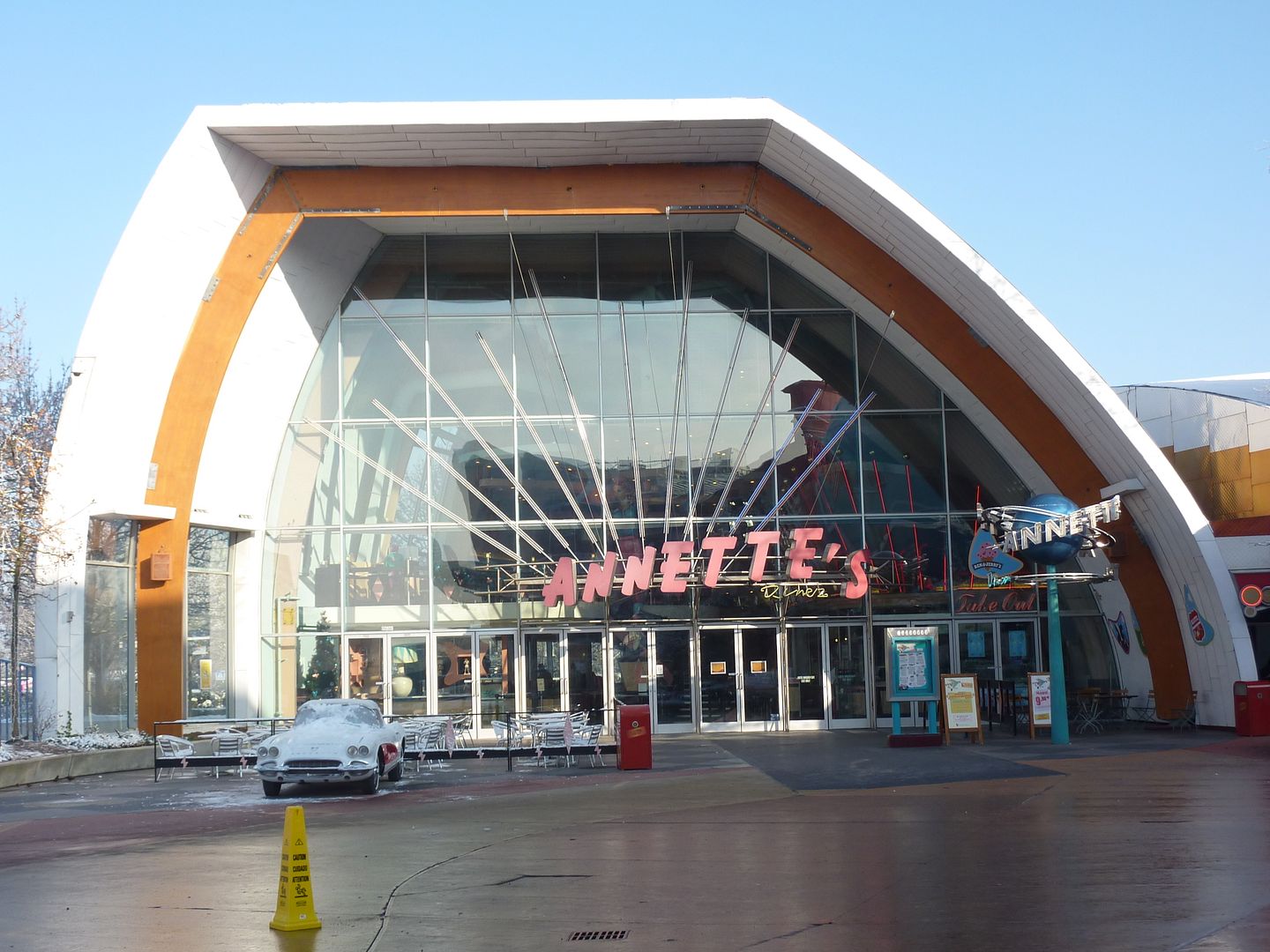 On a warm summer evening, you will never find a free table here to eat your wonderful pastrami sandwich.

Warning: most of these eating establishments are not cheap at all!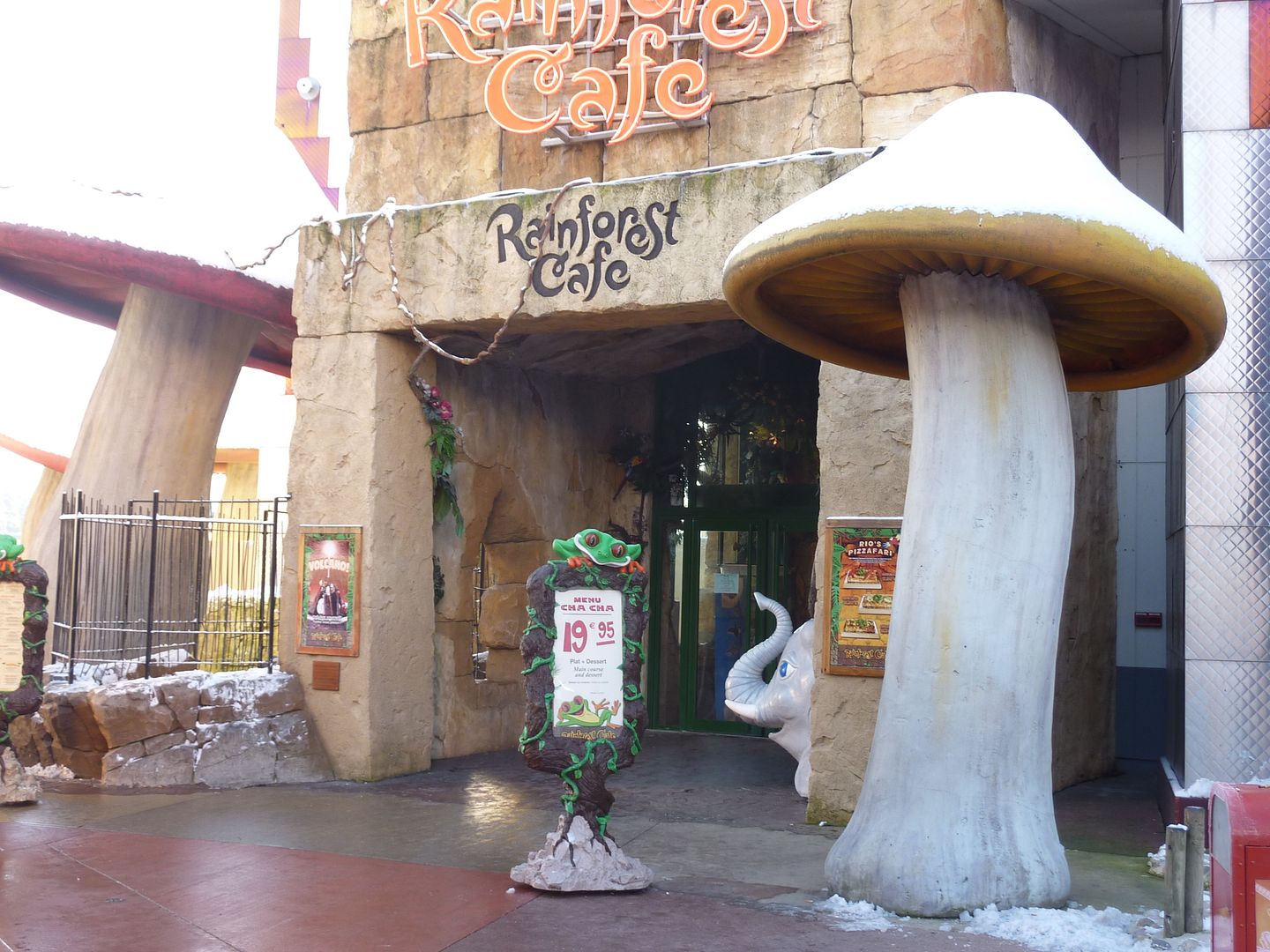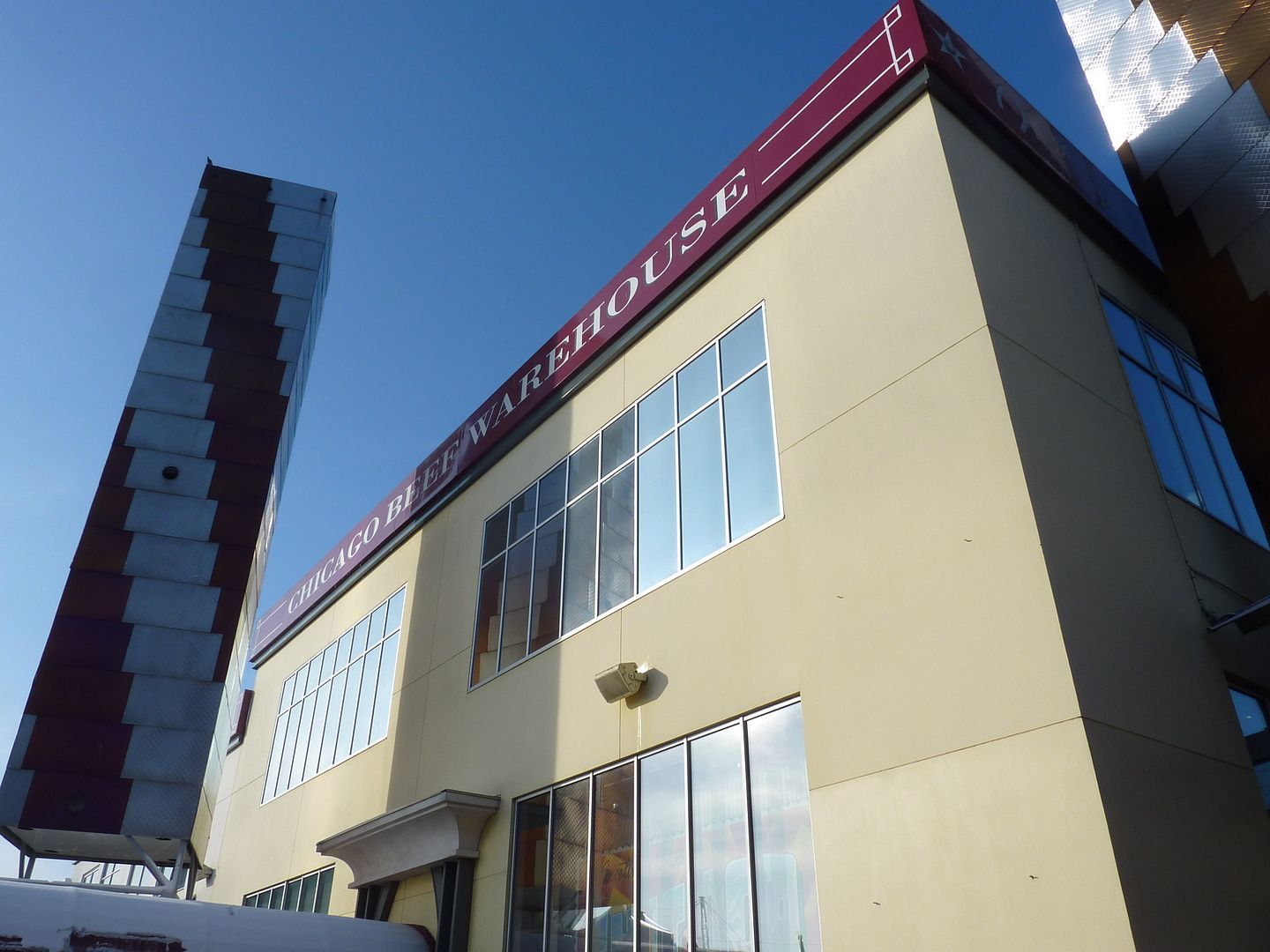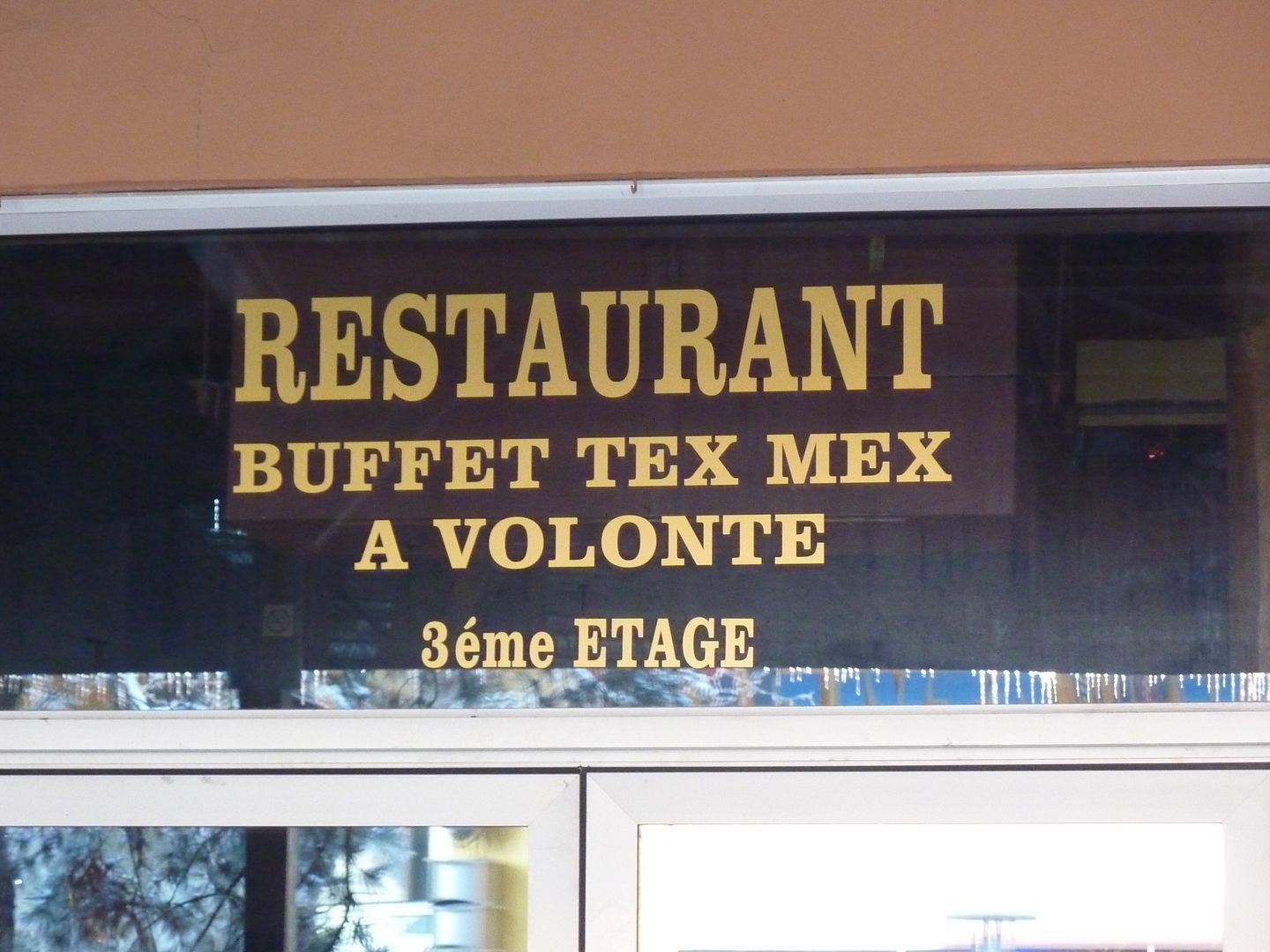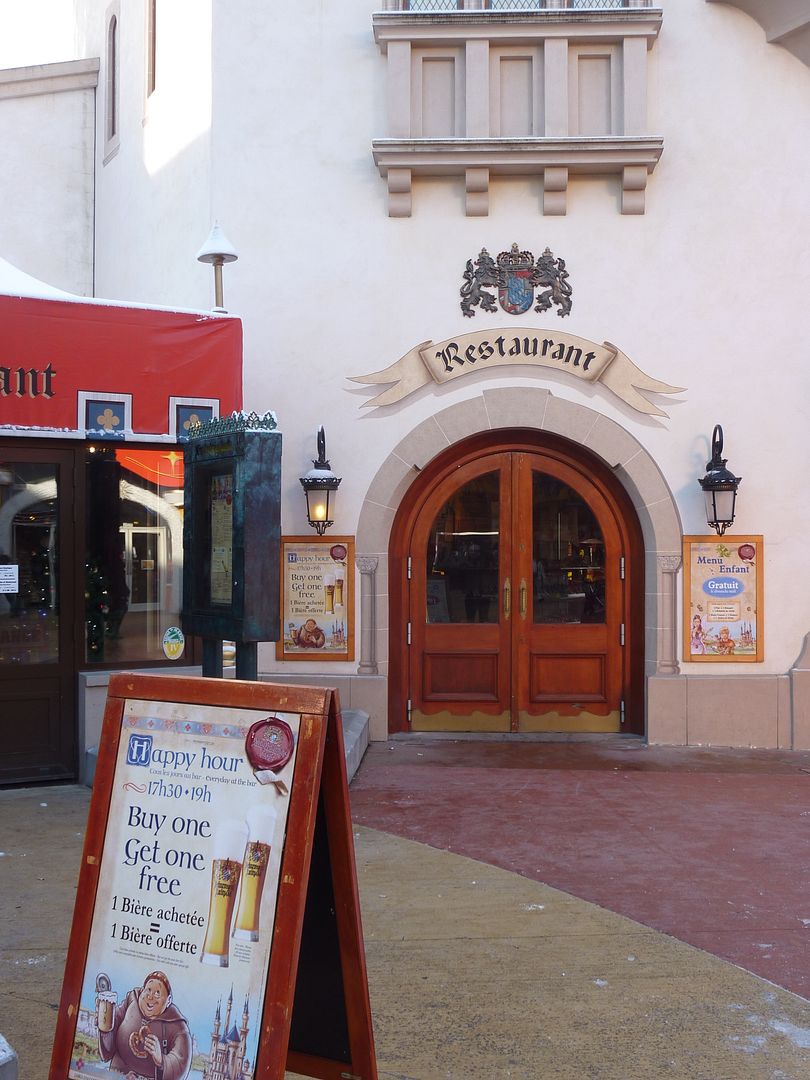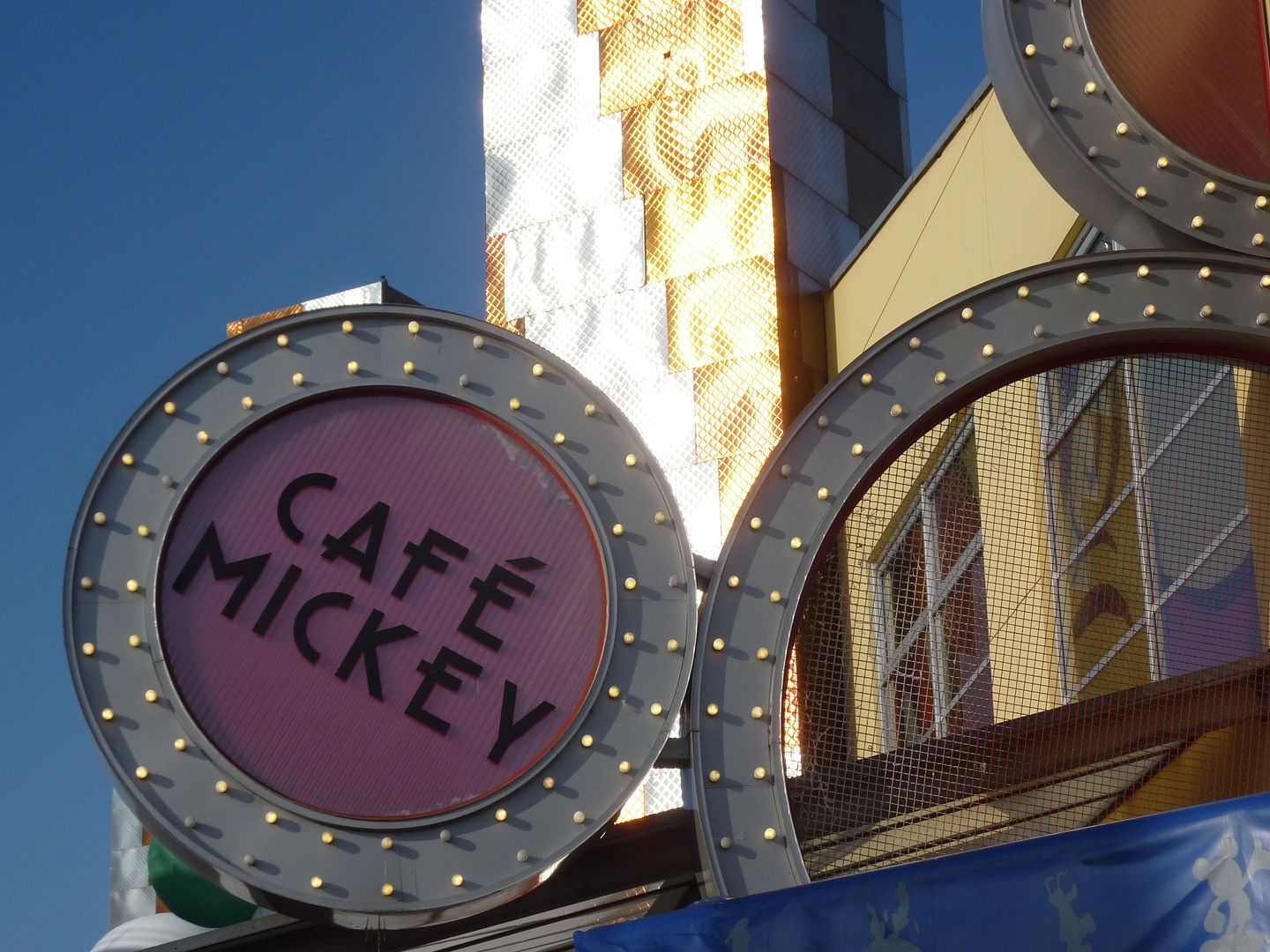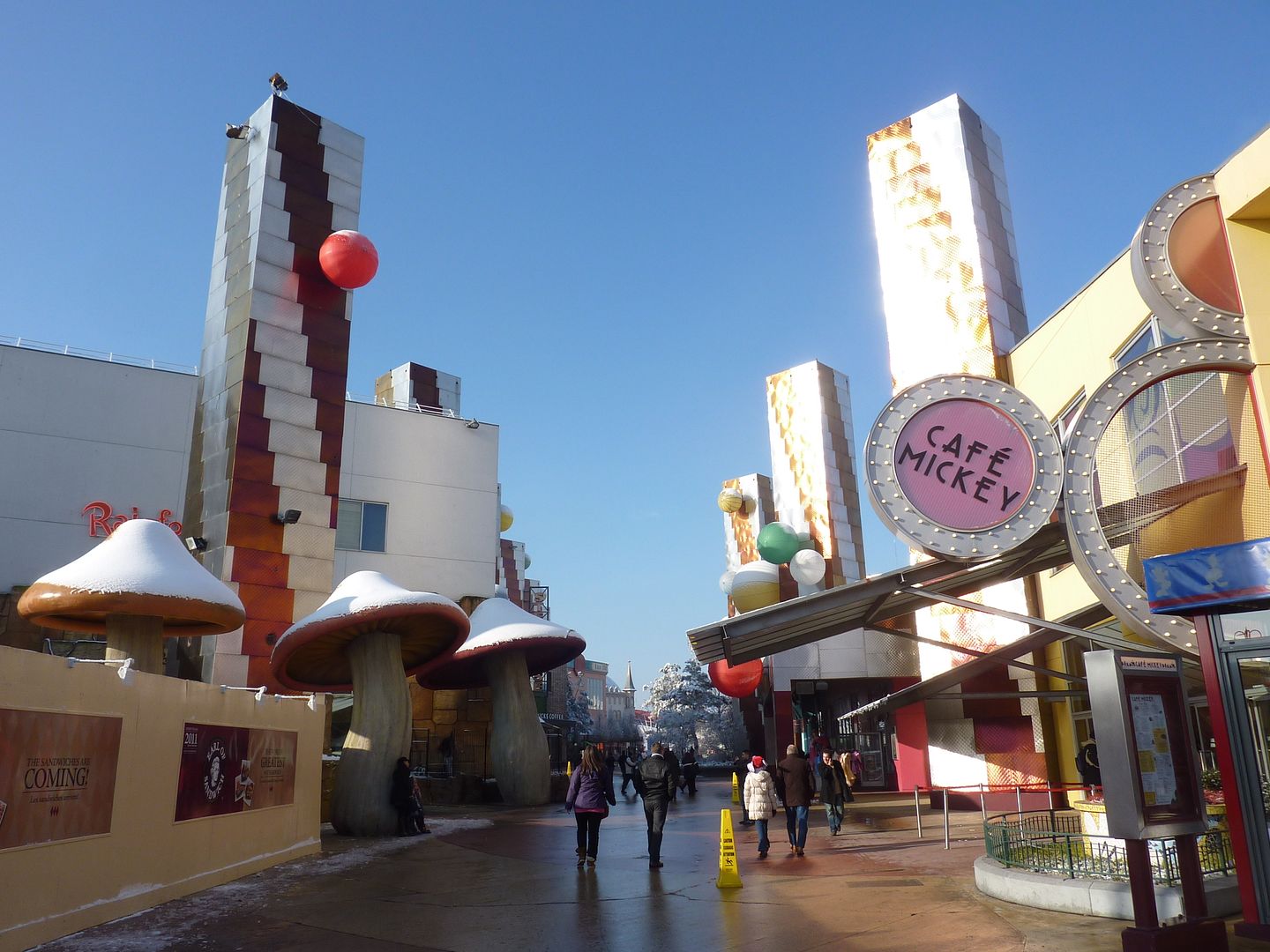 Luckily, there is one place that young people can afford.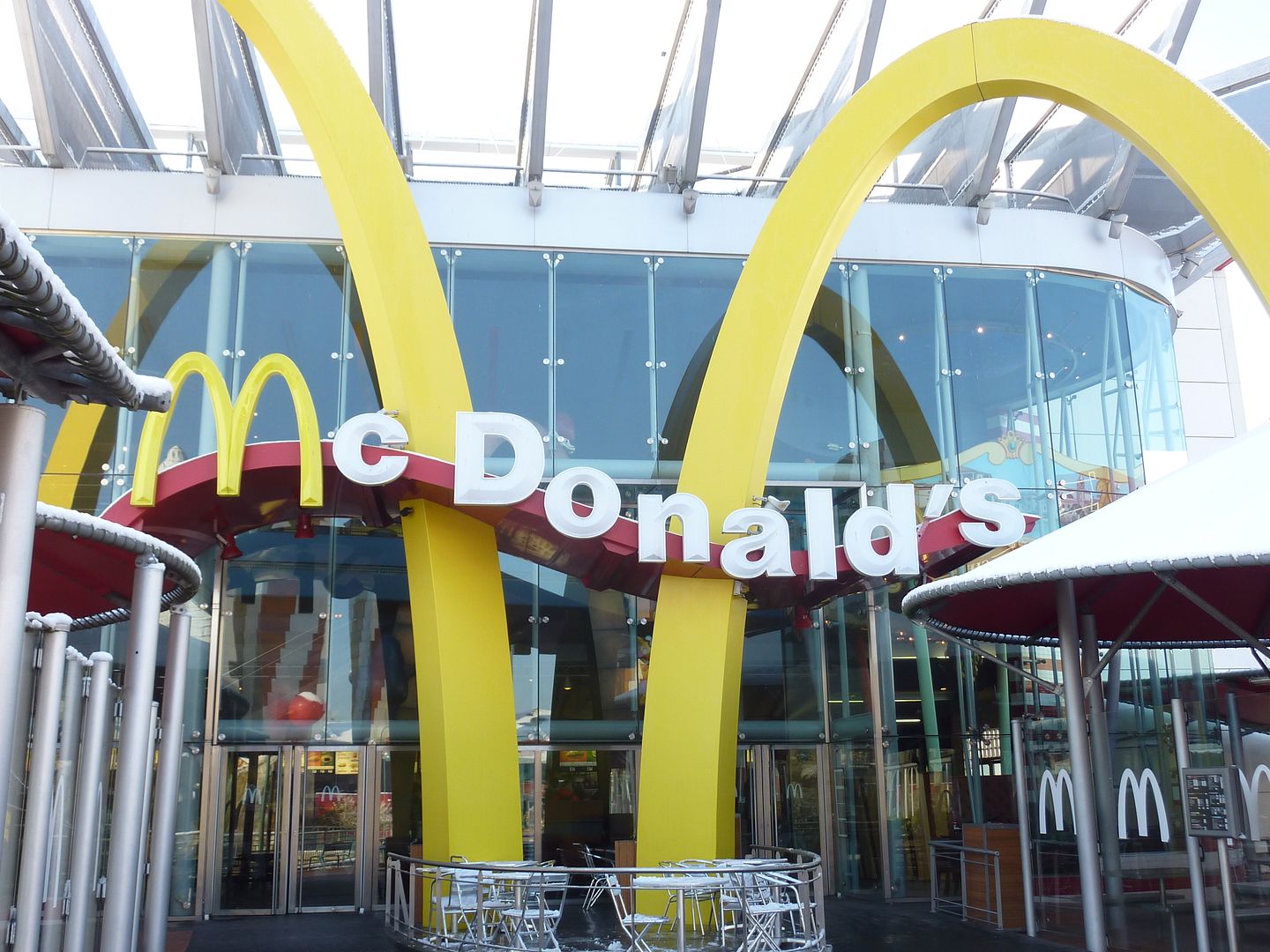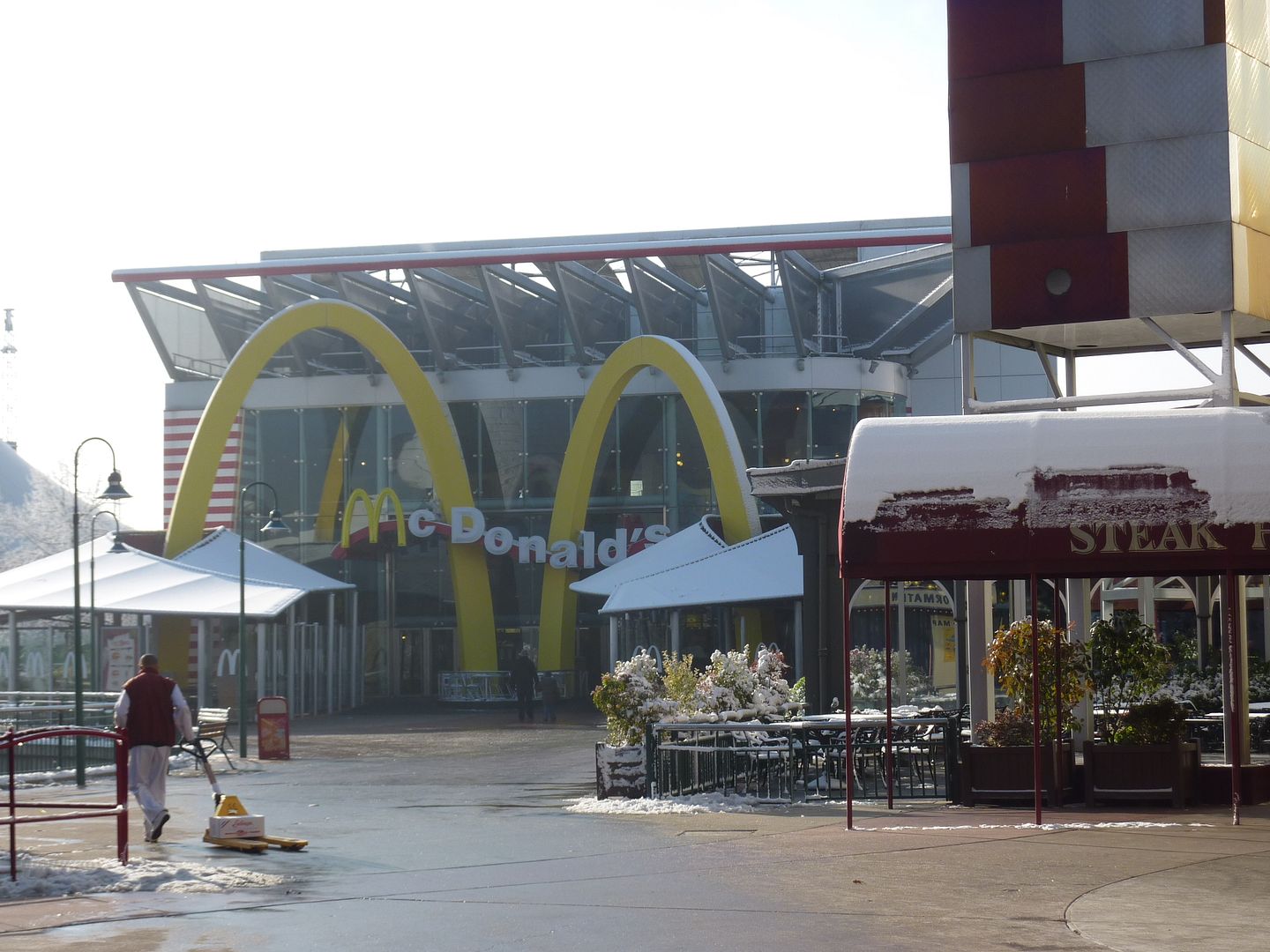 New establisments are on the way.




The snow was lovely, but it did not always correspond to the desired decorative effects.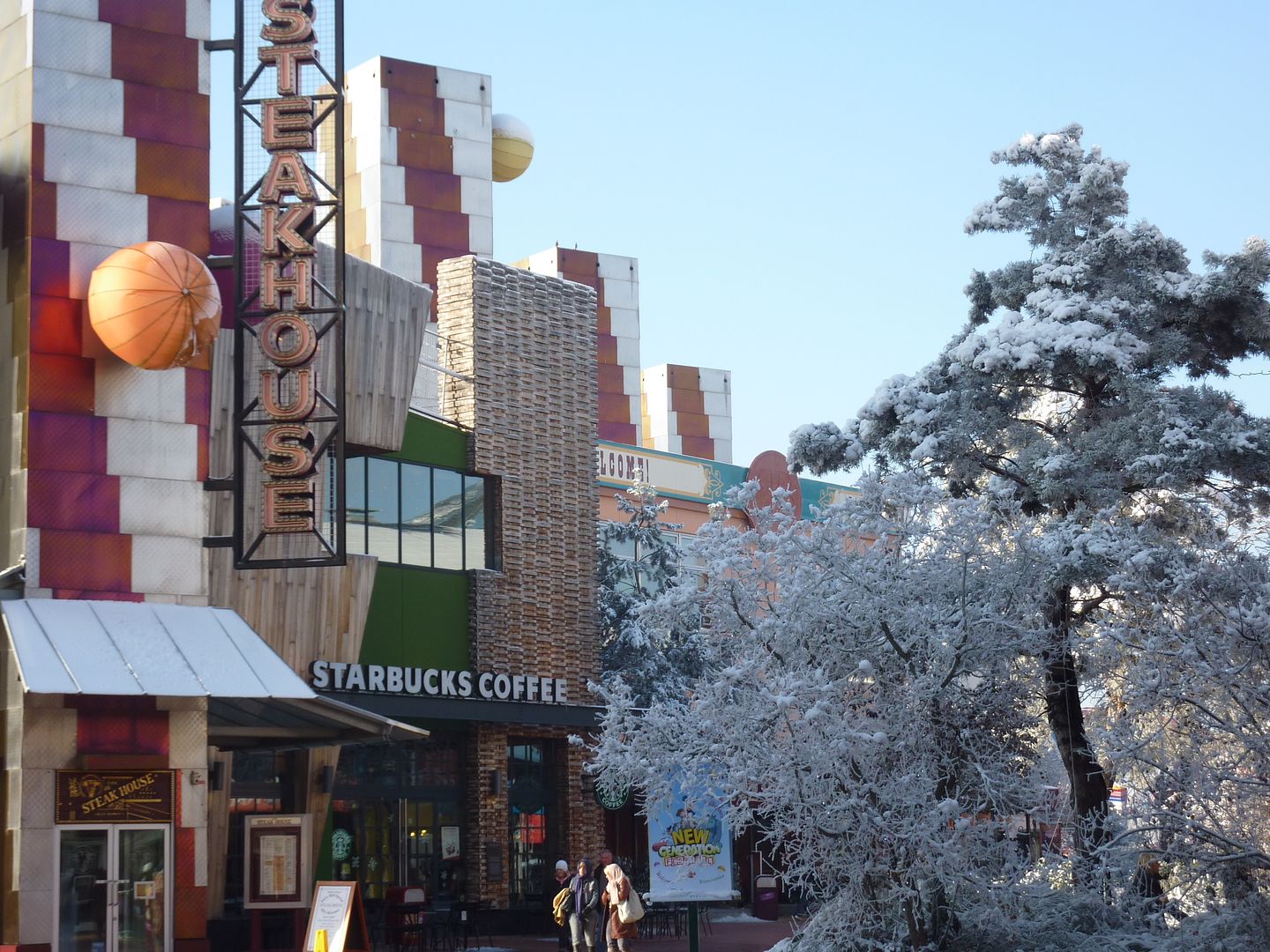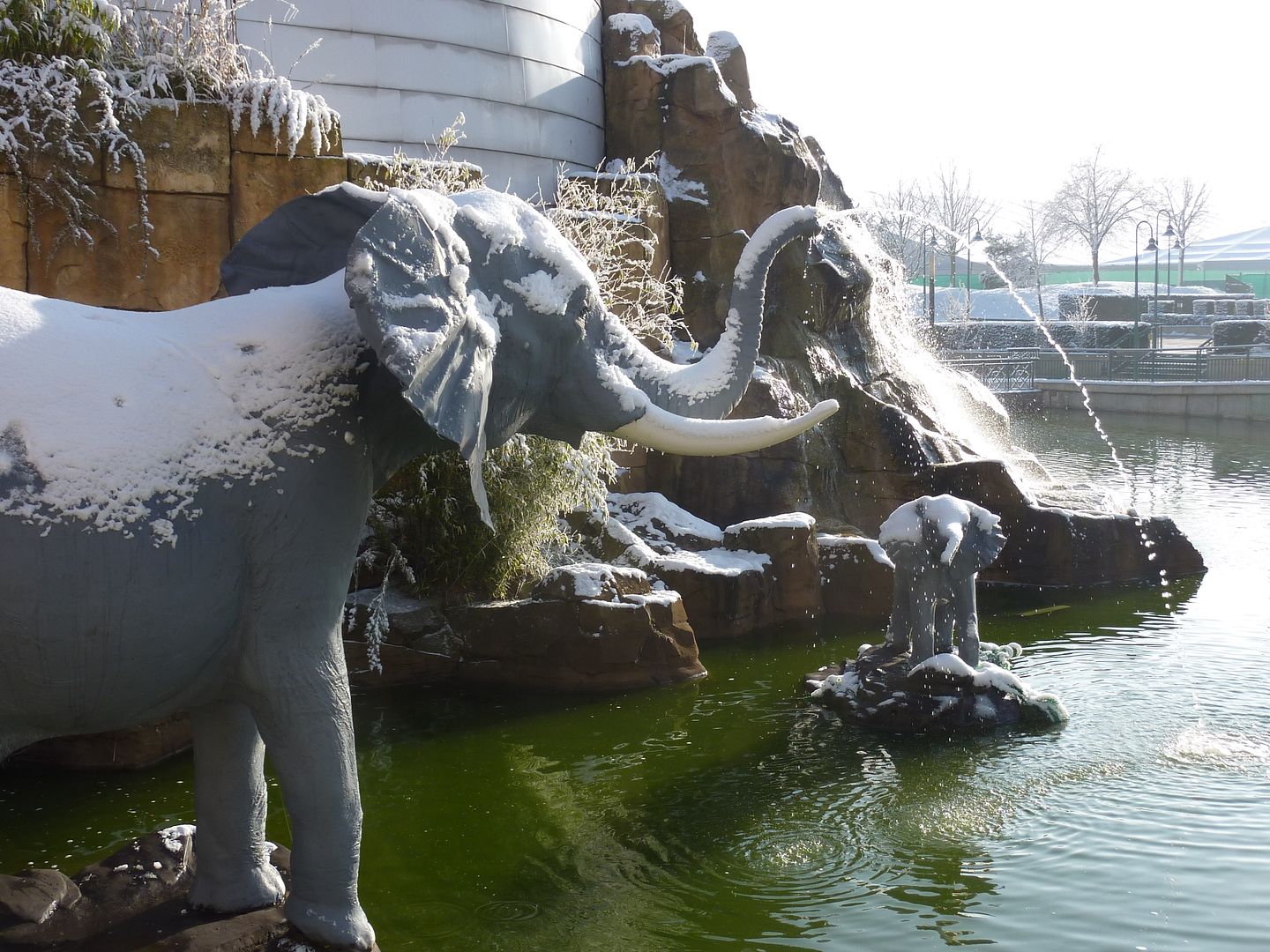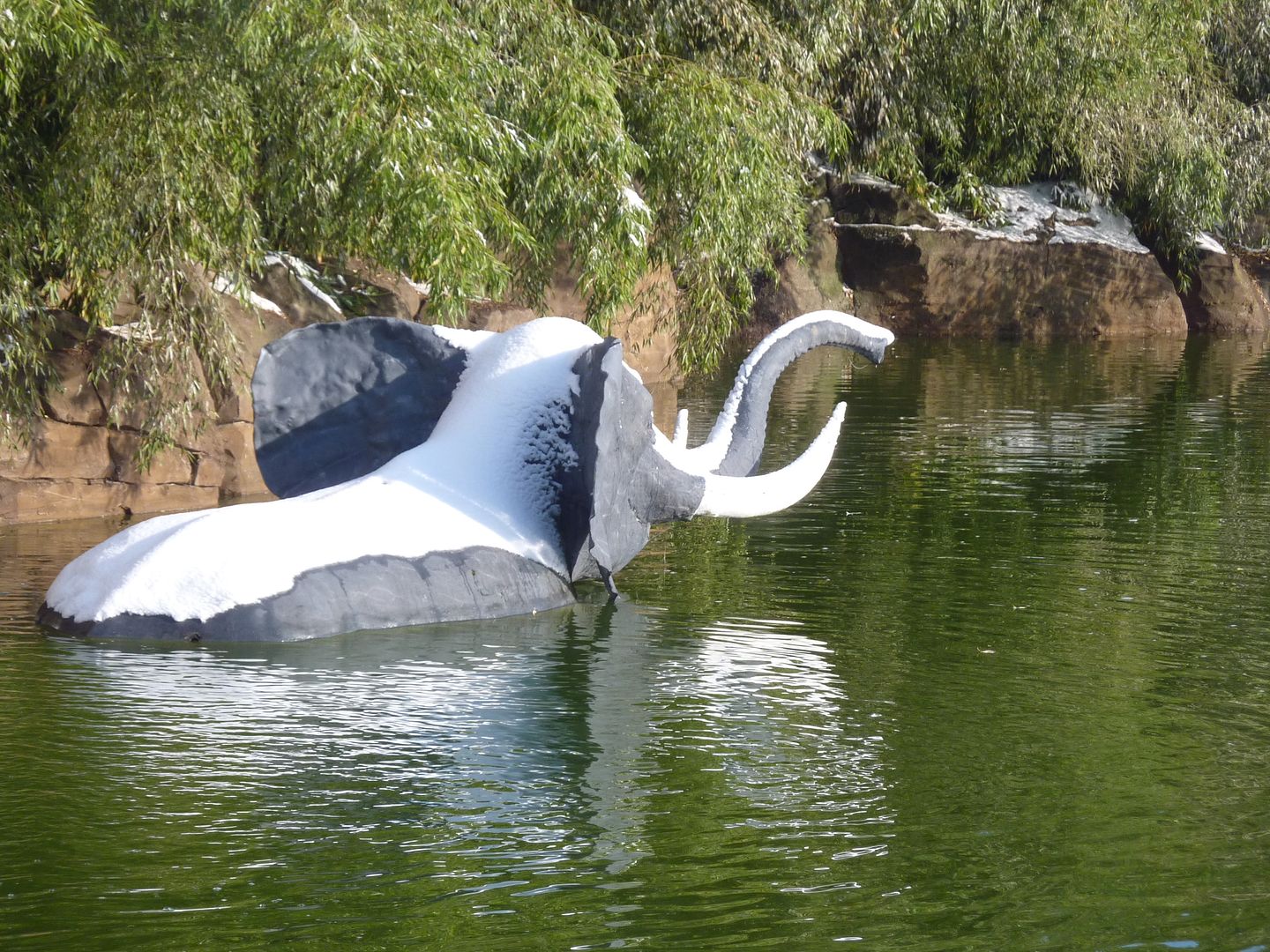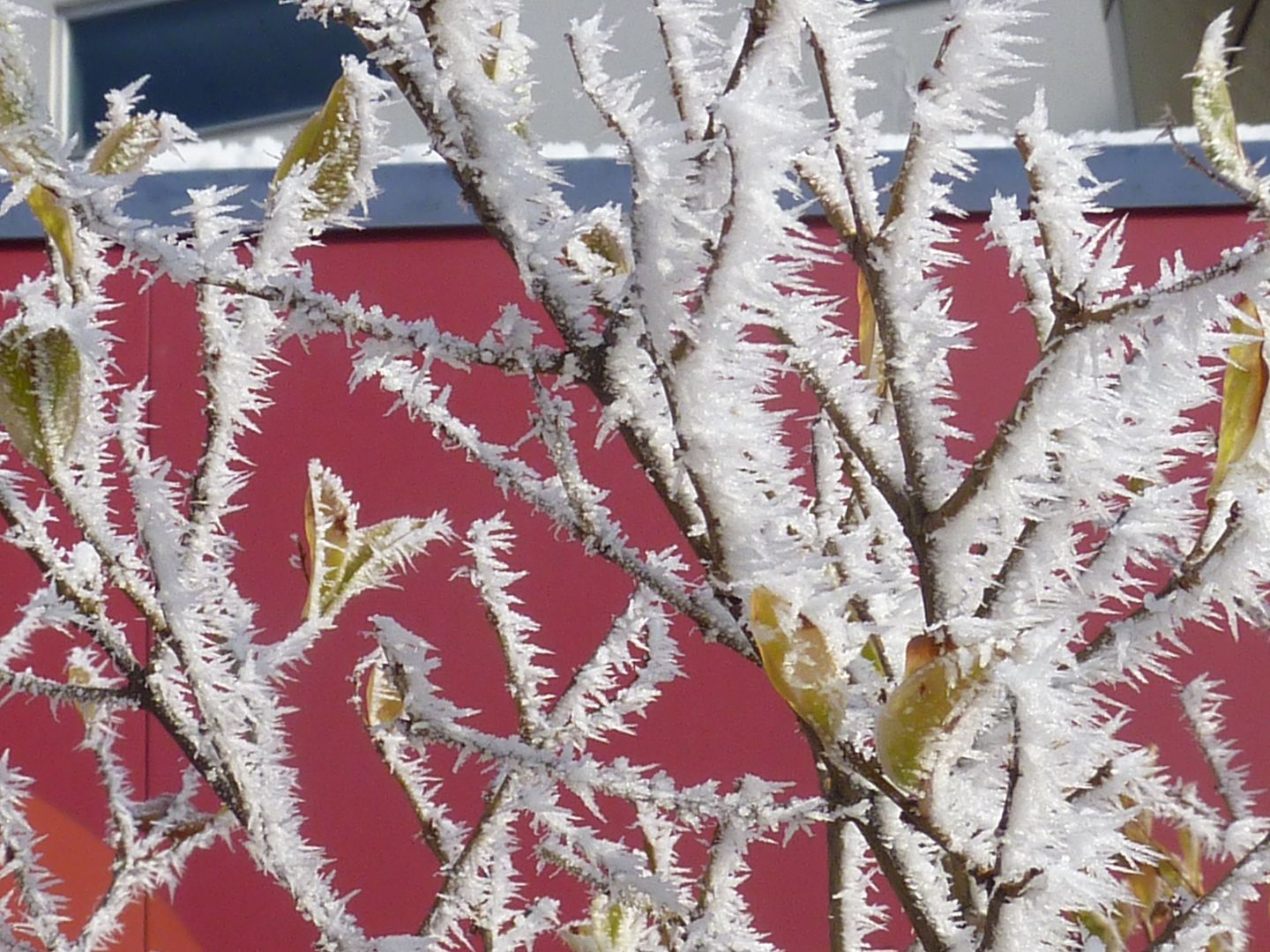 I walked to the lake, which is ringed by some of the other big Disney hotels (all with very high occupancy rates).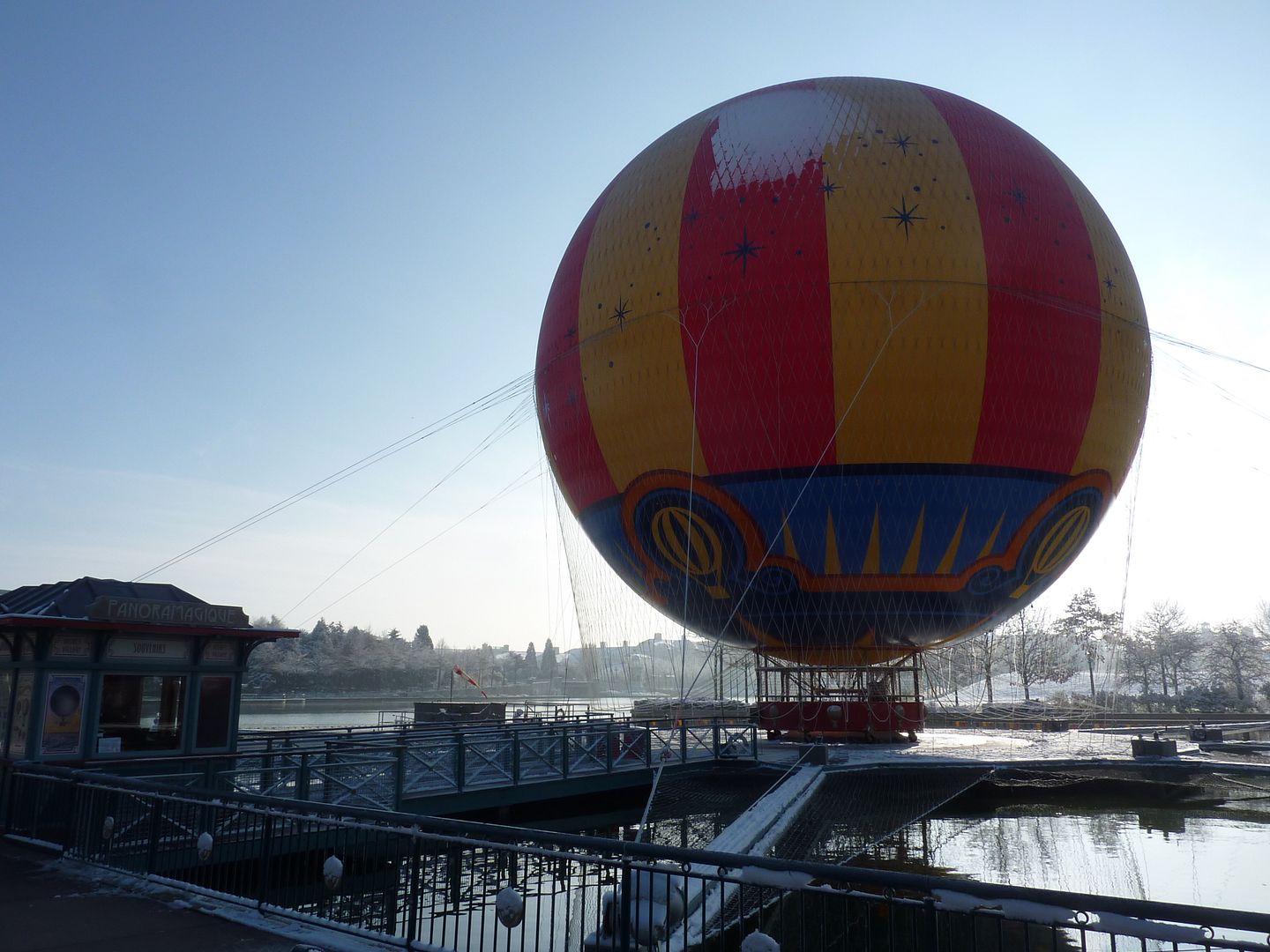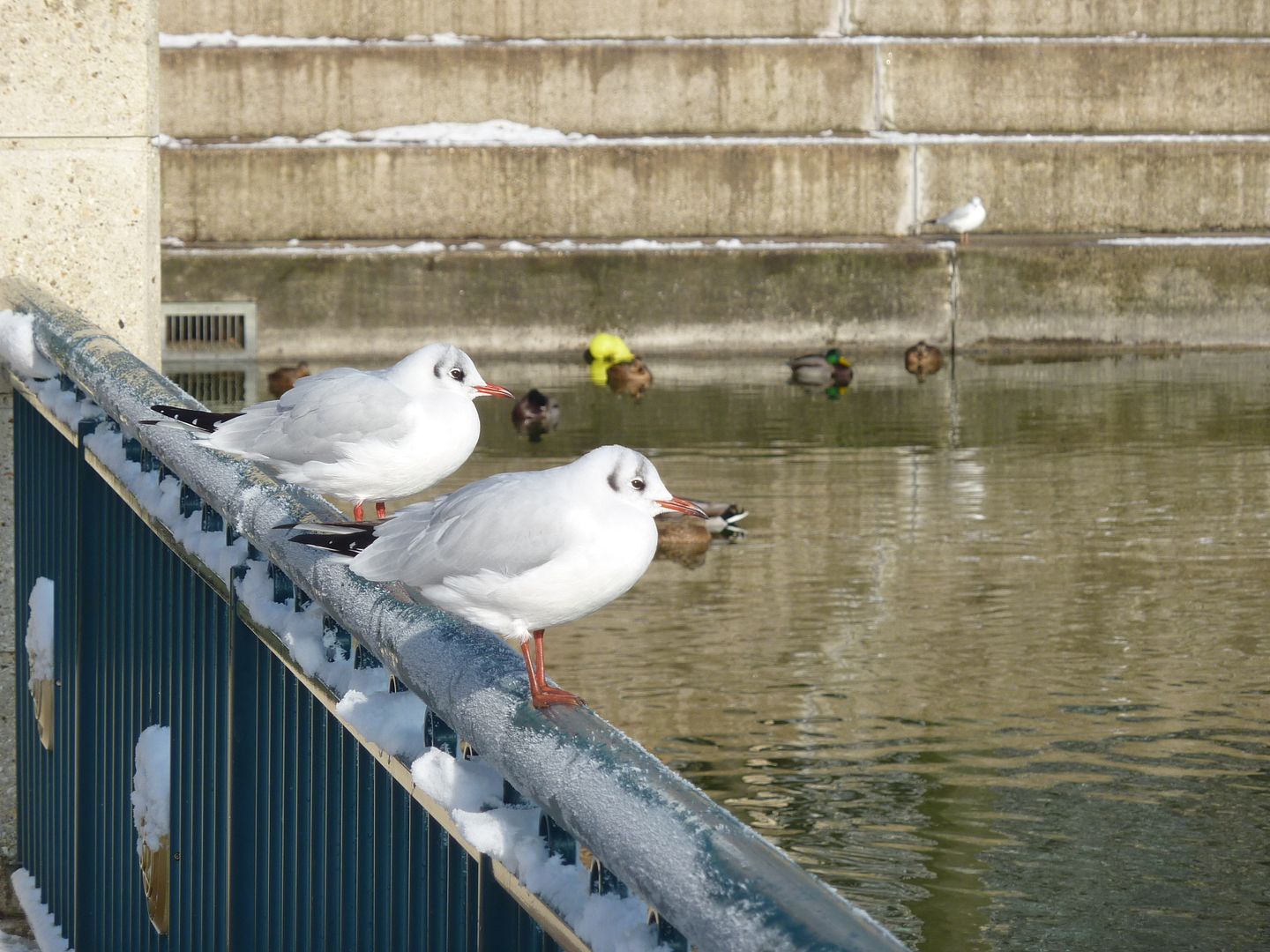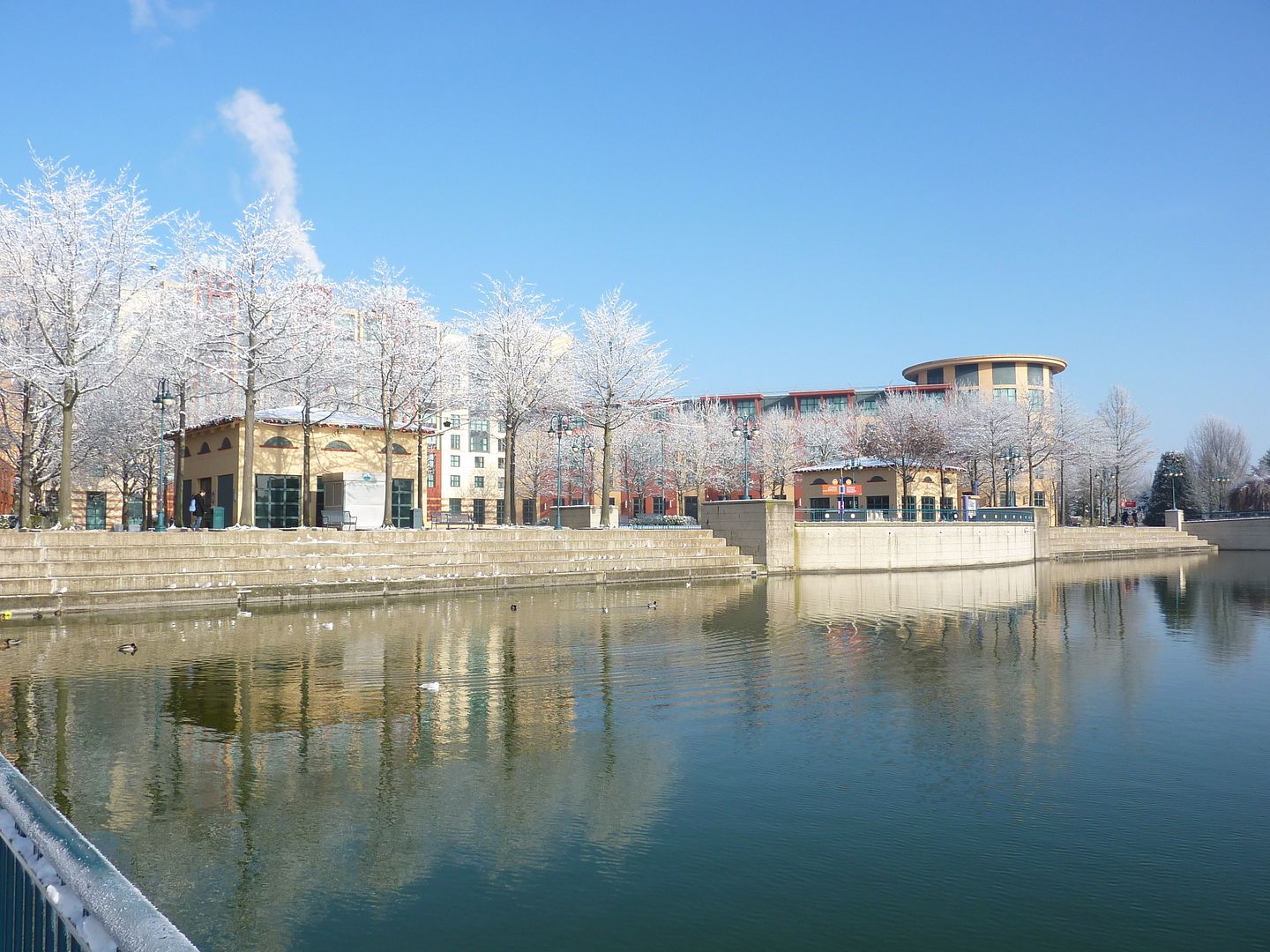 Hotel New York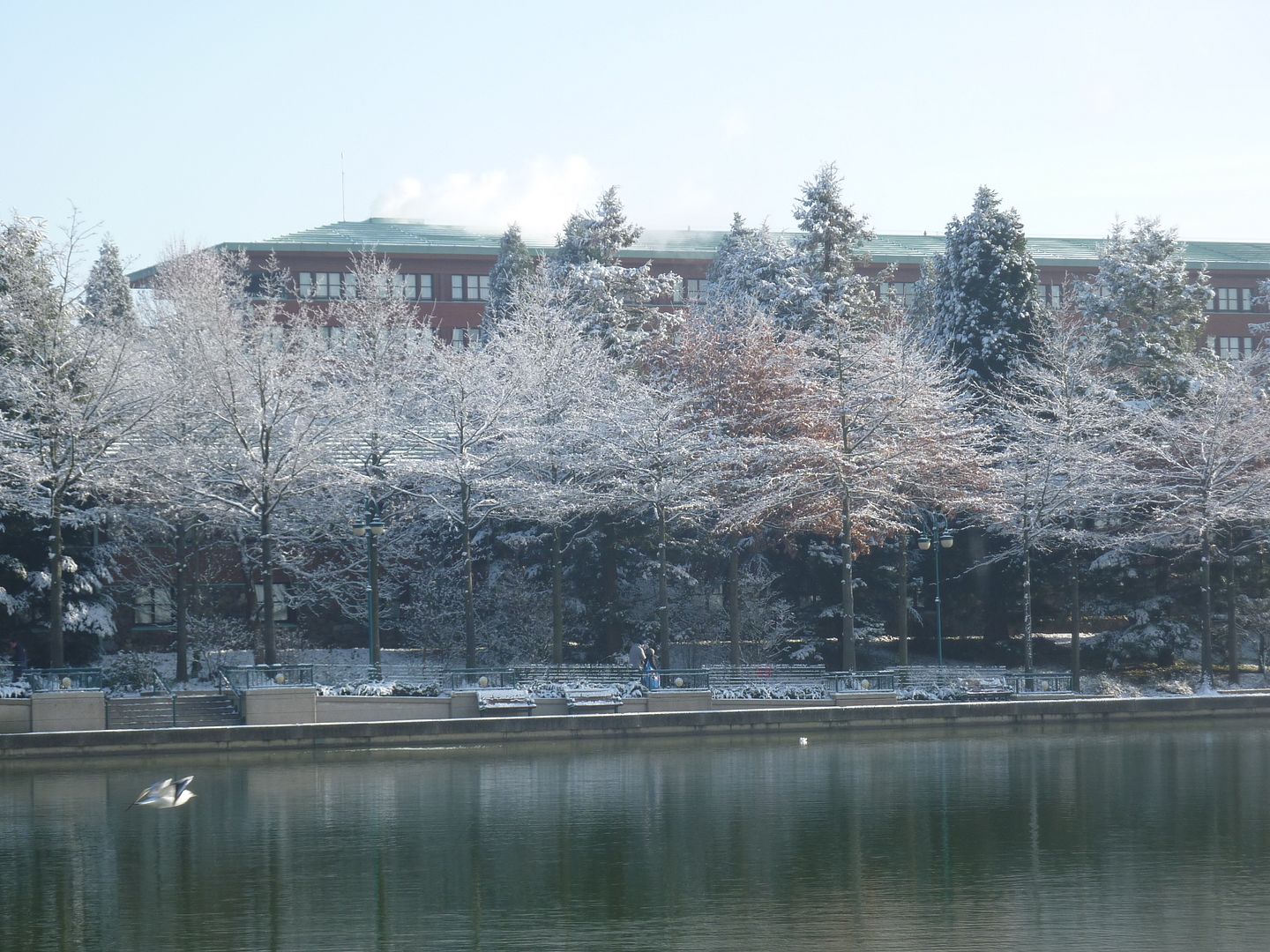 Sequoia Lodge



Newport Bay Hotel



Back in the main street of Disney Village, I confess that I refrained from going into the main store. I probably would have found something to buy if I had gone through the doors.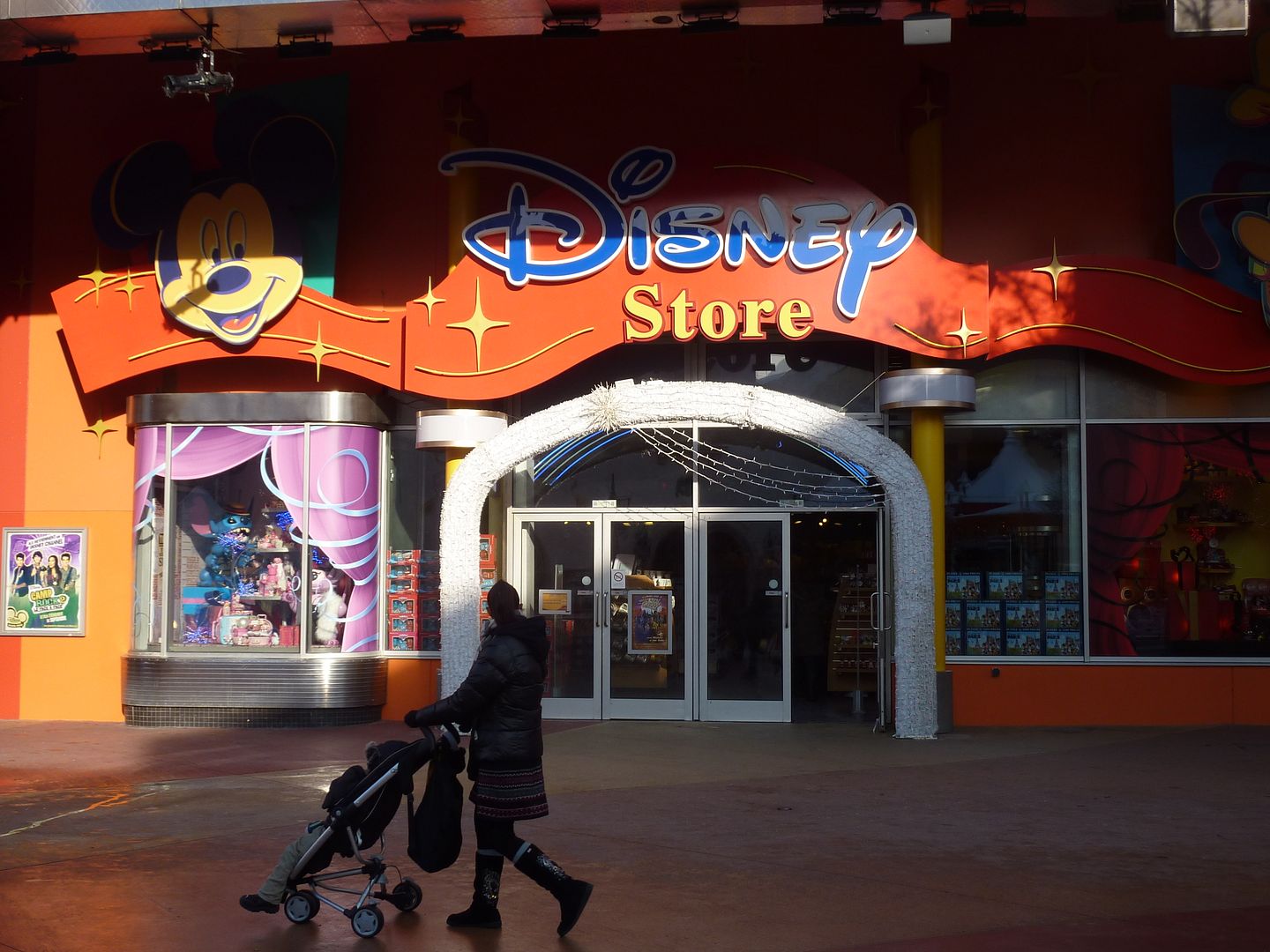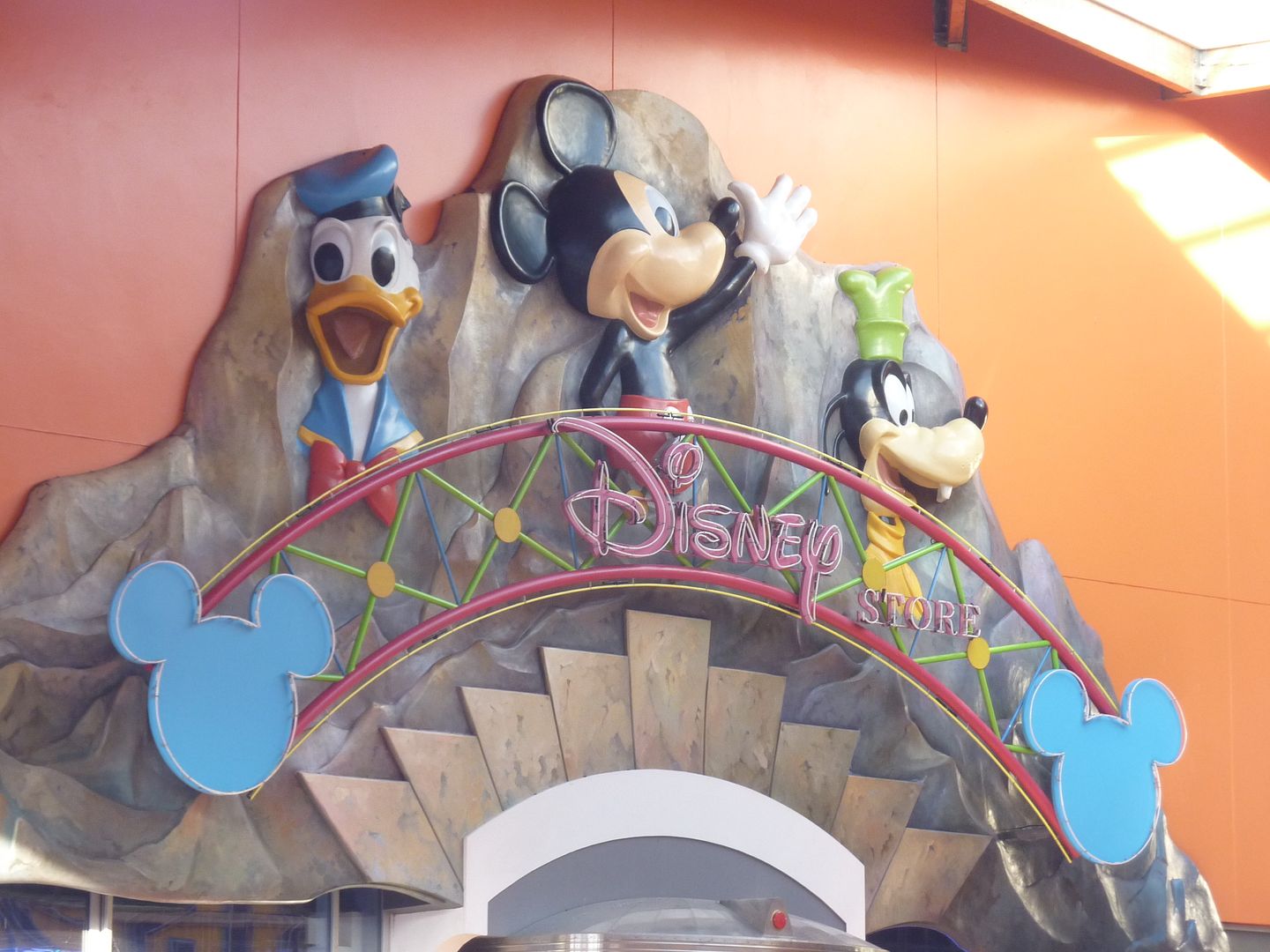 Goodbye, Disney Village!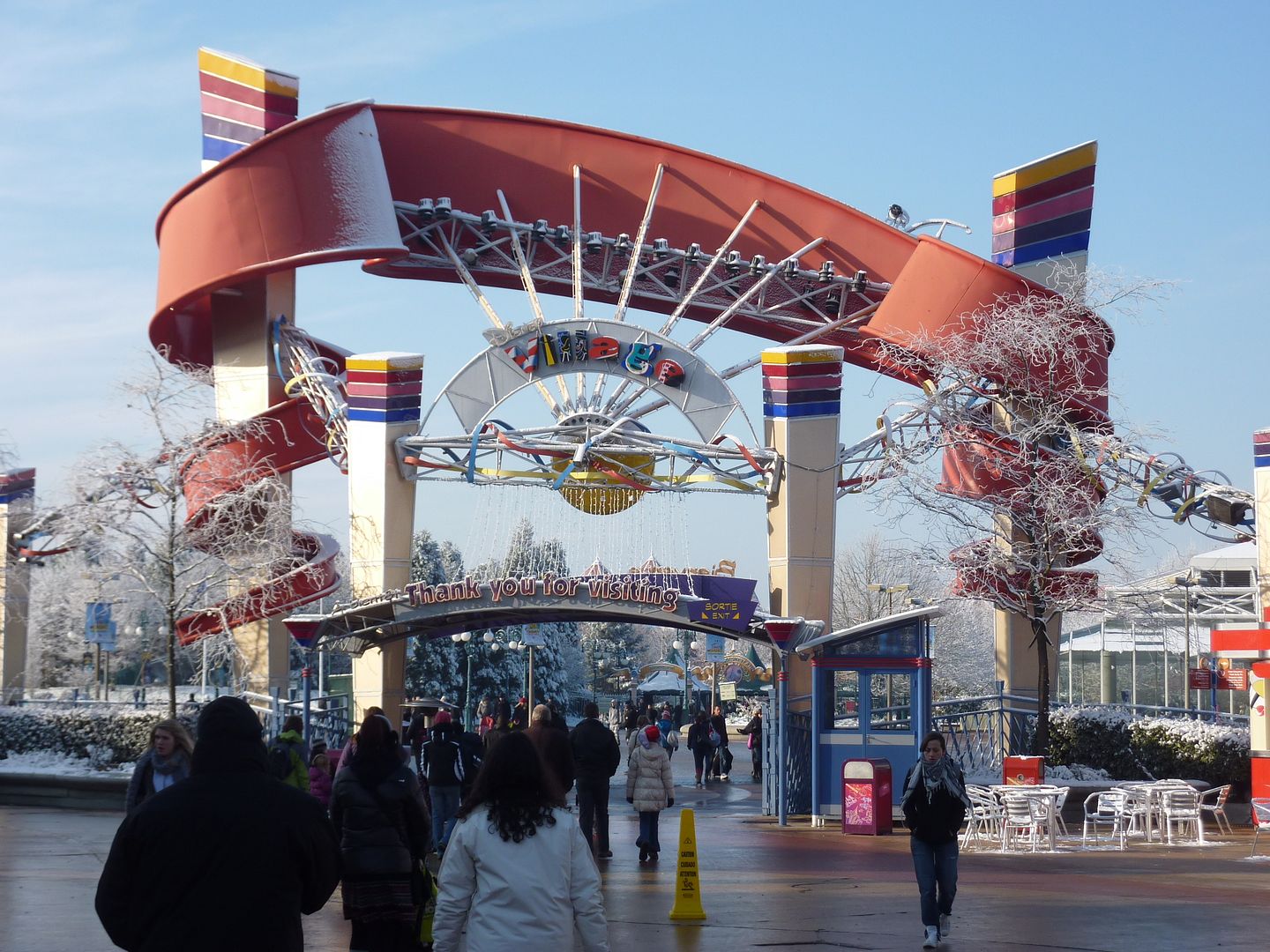 The RATP/SNCF rail station has perhaps the most uncharacteristic administrative architecture in France.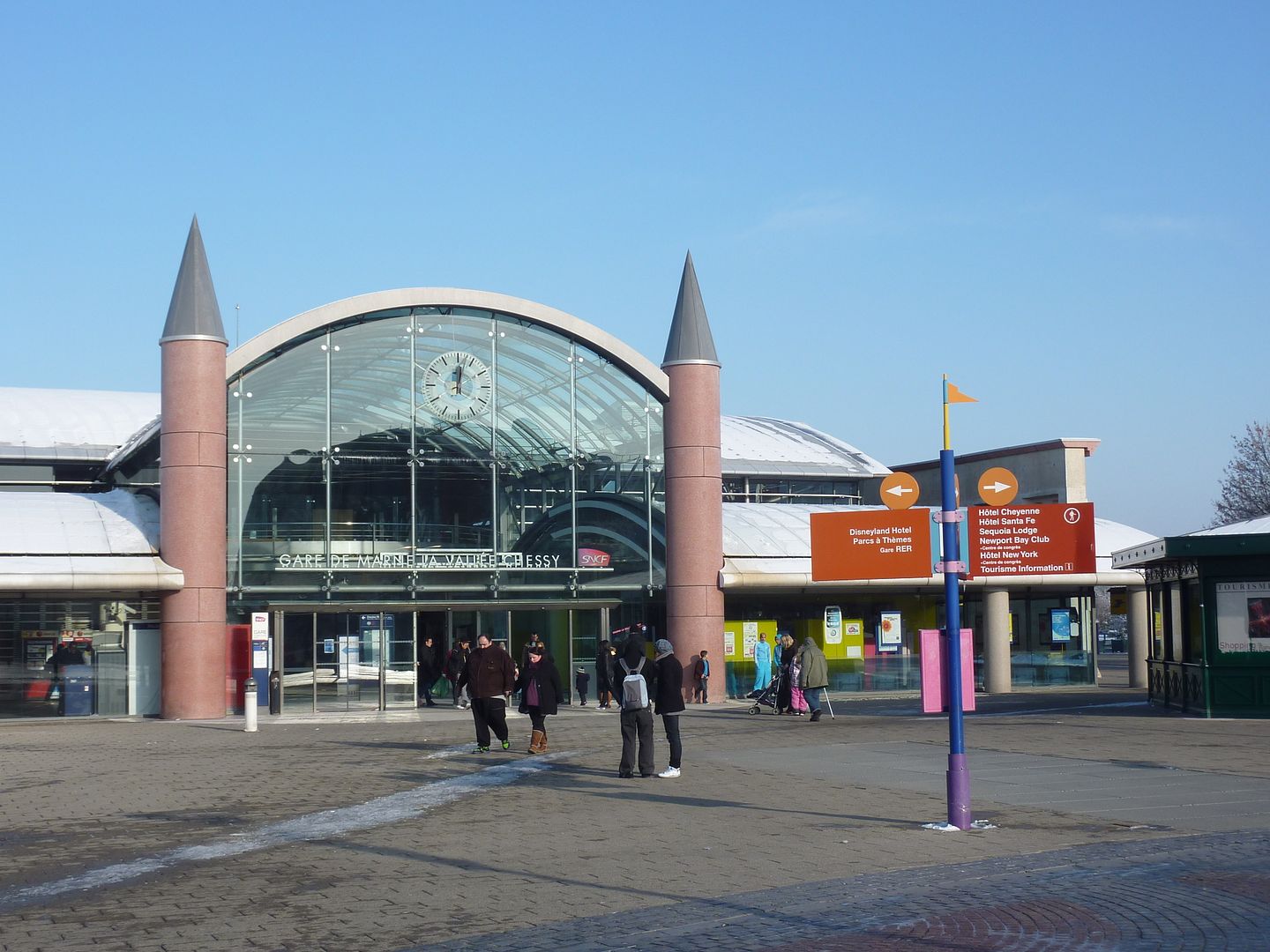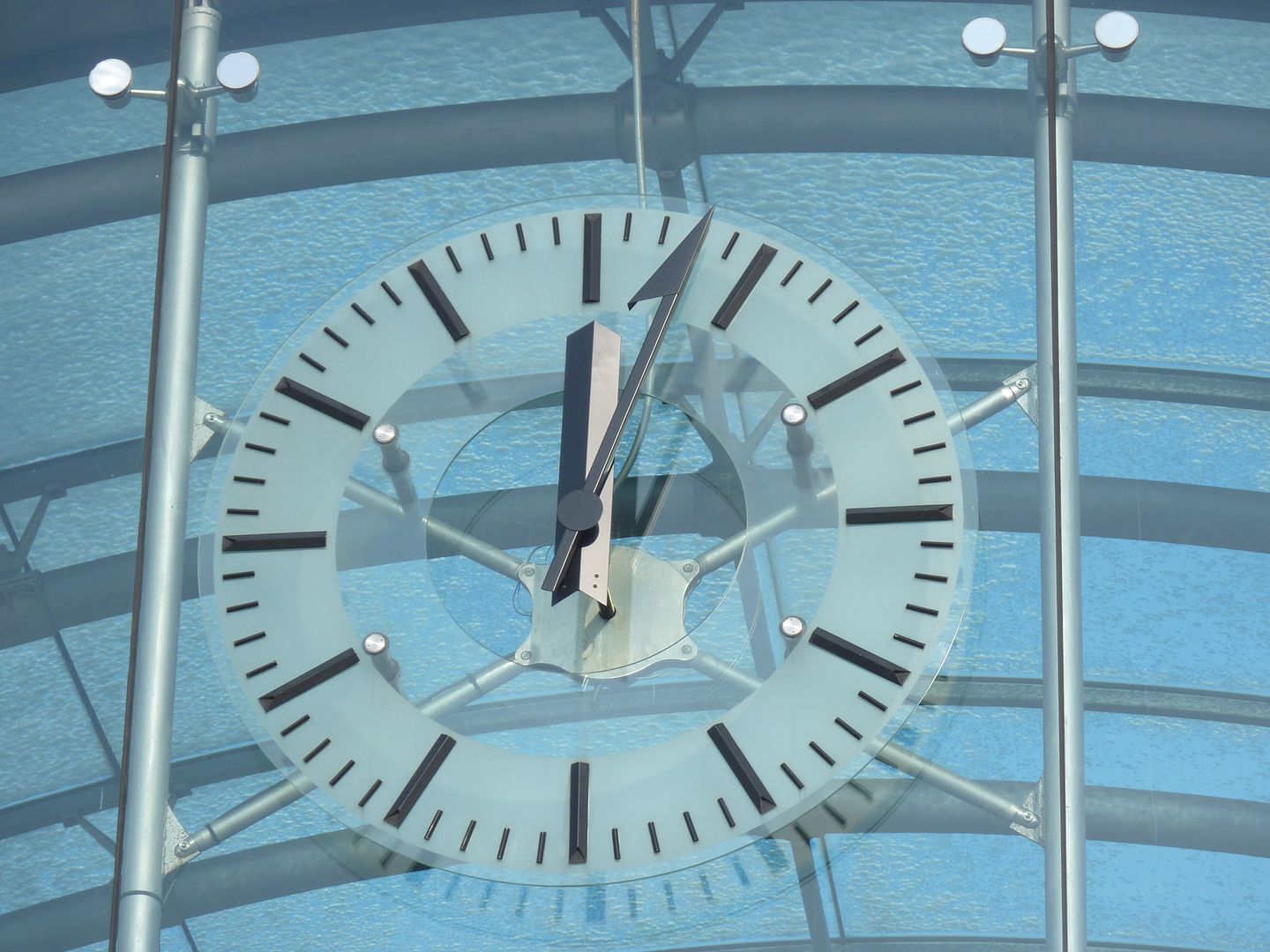 Posted by frenchmystiquetour on Dec 5, 2010, 7:23pm
Love the contrast of the blue sky with the snow covered trees and at this time of year with a little Christmas music it must have had quite the atmosphere. It's funny, even as a kid I wasn't all that interested in going to Disney Land/World with the exception of going on rides. Now that I'm a grown-up I'm not so sure I want to go on one of those wild looking modern roller-coasters or any of the other extreme rides that seem so popular with thrill seekers. Still, any attraction I had to Disney revolved around the rides so I was wondering if you were going to show some pictures of rides. Are they in a different area? I have thought about going out there to wander around but I am not interested in paying any sort of admission to enter. Are you able to get in for free and walk around or do you have to pay to enter? Or do some areas charge a fee while other areas are free?
Posted by kerouac2 on Dec 5, 2010, 9:06pm
I was only in free areas, which is why no rides are visible. I am not in the mood to pay 57€ to get in, or even the 29€ rate that we locals get most of the year.

It is an excellent area for a bike tour of the nearby villages.
Posted by tod2 on Dec 6, 2010, 4:59am
That was wonderful! The snow is really beautiful, especially as I only see snow maybe once a year (this year nothing). I loved the icicles hanging down, the elephants with snow, and the trees were just magic


Can I just check this fact....You went in FREE? and, is that always the case in the areas you walked?
Posted by kerouac2 on Dec 6, 2010, 5:48am
Yes, all of the areas that I visited are open to anyone.
Posted by deyana on Dec 6, 2010, 6:19pm
Is it open all year round? I must admit the lure of the fun fair is not really there for me anymore. I've been to many, many and I think I'm just fun faired out! Having said that it was good to see your photos of the place.

I much prefer any fun fair at the night time, with all the bright sparkley lights...
Posted by imec on Dec 10, 2010, 1:47pm
Fantastic kerouac! (even if you are workin' my side of the street with the frost thing

)
Posted by kerouac2 on Mar 27, 2011, 3:40pm
Disneyland Paris in tilt shift vision.


Posted by zona on May 24, 2011, 11:11pm
The winter weather in these photos adds to the whimsy (I like the snow on the elephants' backs and the icicles on the eaves).

We will be in Paris from July through September and are renting an apartment. I love all things Disney but had decided against Disneyland Paris because it seemed like a lot to pay for something so similar to what's at home. But after reading this statement, we could maybe justify a day trip over there.

Dec 5, 2010, 9:06pm, kerouac2 wrote:

I am not in the mood to pay 57€ to get in, or even the 29€ rate that we locals get most of the year.


29€ Euros seems pretty reasonable. I am wondering if somehow we could qualify for the "local rate" if we have a local address? Is the discounted rate only available during certain times of the year? If anyone has information about how to go about getting the reduced "local" tickets, I'd appreciate it. Many thanks!
Posted by kerouac2 on May 25, 2011, 5:10am
The low rate is obviously not available during the summer months. Sorry!
Posted by zona on May 25, 2011, 5:29am
Merde alors. (Not sure if I got that right -- any posts on how to swear well in French? Je parle un petit peu!) Oh well, it was worth a try, eh? We may suck it up and pay the full price, but probably not. I imagine once we arrive in France there will be tons of other stuff more worth the Euros. If not I'll just content myself with walking the streets of Paris quietly humming "Be Our Guest" to myself.

Posted by kerouac2 on May 25, 2011, 6:36am
Well, for something "same same but different" (as we say in Thailand), you could always consider discovering the other local amusement park -- the Parc Astérix.
Posted by zona on May 25, 2011, 5:35pm
Well that looks like it could be fun! I have some familiarity with the Asterix characters thanks to high school French class. Thank you for the suggestion, it will be added to our growing list of "possible activities". Also it looks to be a bit cheaper than Disney -- bonus!

Funny that you mention Thailand -- we are heading there on our way home from Paris in Sept/Oct. (Younger brother is teaching English in Bangkok). Haven't started researching/planning that leg of the trip, yet. Will have to delve into the Asia forum!


Posted by kerouac2 on May 25, 2011, 5:48pm
You might find some things of interest there, too!
Posted by LouisXIV on Feb 15, 2012, 4:34pm
Kerouac2, just wondering how much they charge people for the "souvenir tiles"?
Posted by kerouac2 on Feb 15, 2012, 6:04pm
I don't know, but apparently the souvenir tiles were discontinued about 5 years ago -- I presume they were running out of space, since this is the sort of silly thing that people will pay for forever.

Coming back to this thread made me think that I must return to Disneyland one of these days -- not to show all of the usual things that everybody knows about but to show what is different.