Post by kerouac2 on Nov 30, 2010 6:47:52 GMT
Cancale is a small fishing port between Mont Saint Michel and Saint Malo. It is famous with the French, Belgians and Germans but probably not all that many other people, except for the Channel Islands residents. On the day I was there, I saw many cars with licence plates from Jersey and Guernsey, which are just off shore.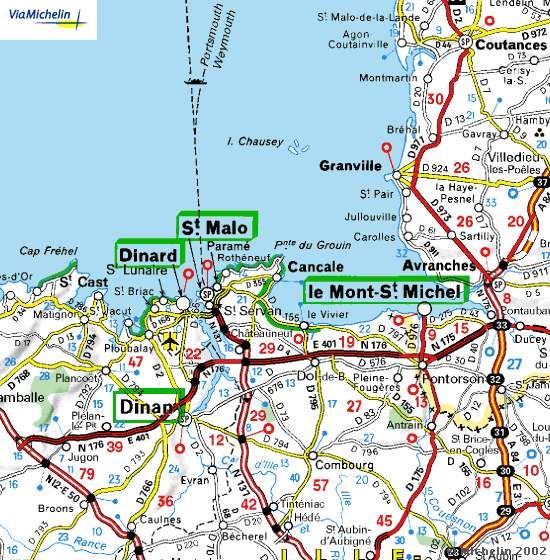 I'm not sure how these towns grew -- from the top down or from the bottom up? Just about all of the coast along here has cliffs, or at least a sharp incline, with more or less space at beach level. Due to the massive tides -- this is after all the bay of Mont St. Michel with some of the hugest tides in the world -- it took quite a bit of work with seawalls and such to protect the houses at the bottom from exceptional weather. But there's no denying that it was much more convenient for the fishermen to live down by the water.
Anyway, the towns cover both the top and the bottom now, but you arrive from above, where you will find things such as the town hall and the principal church. I'm not sure if the town hall used to be a private manor or if it just looks that way.
The church is just the 'standard model,' probably half ruined after the war since so few of these towns escaped bombs, but it looks fine now. I didn't bother to go in.
The square in front of the church has a fountain to honour the oyster wives.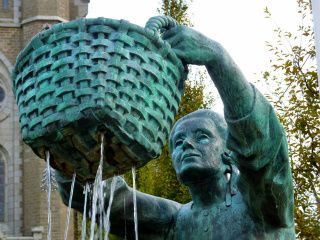 Anyway, I wanted to go down to the port. Cancale is a town that I know better than a few others in the area, because I had a friend whose father had a secondary residence in Cancale. A group of us went there for the weekend a few times and stayed in it. The place was more or less in ruins back then, but since then his father has retired -- sold his boulangerie in the Paris suburbs -- and now lives in the renovated house full time. (I have never been back to the house, but the photos I have seen are lovely.)
The port has its usual collection of seafood restaurants. Some were closed for the season, but I would say that about half of them were open.