Post by kerouac2 on Oct 16, 2011 16:50:44 GMT
I'm not exactly sure how tourists see Montmartre, but for Parisians it evokes 3 different things (or perhaps 3 different areas), about which everyone has differing opinions.
The first "concept" of Montmartre is the Sacré Coeur area and all of the nearby hyper-tourist places: place du Tertre, rue des Abbesses, and of course rue de Steinkerque which leads most people from the Anvers metro station to the funicular. Nobody (not even Parisians) will deny the interest of seeing this aspect of Montmartre, even if it can be a pain during the height of the tourist season. It's impressive (Sacré Coeur and the view) and it's quaint (Montmartre village around Place du Tertre and the ultra-quaint little places all along rue des Abbesses). Everybody takes their country cousins there, but Parisians will try to avoid stopping in a café or restaurant there because of the "tourist" connotation and prices. However, it must be admitted that not every place is a tourist trap. It is sort of a hit-and-miss lottery.
Another idea of Montmartre is what Parisians call "Pigalle." Basically it is the area stretching across the zone of the Blanche-Pigalle-Anvers metro stations on line 2. Both sides of the boulevard are lined with sex shops and sex shows (and also the Moulin Rouge), and the streets branching off are full of hooker bars and streetwalkers, both on the 18th arrondissement side and on the 9th arrondissement side.
People who see only this are generally horrified, and there is a huge problem with the hotels and holiday rental apartments which all use the term "Montmartre" to advertise their location here. On a lot of the travel sites, I see warnings about how sleazy and horrible Montmartre is, which implies that this is all the visitors saw. Parisians do come here, but mostly because a lot of the rock and pop music venues are here. There are a few music bars and cafés as well, but most tourists would never know the difference and go to the wrong place.
And then there is the "real" Montmartre, where people live. This morning I went to the part where the rich live. I'm not rich and don't even know any rich people anymore (I used to), but it doesn't stop me from admiring some of the aspects of their neighbourhood.
So I took the metro to Lamarck-Caulaincourt this morning and just walked around approximately a six-block area (except that Montmartre has no blocks -- just winding streets that bump into other winding streets). This is just four metro stations from where I live but it is a completely different world.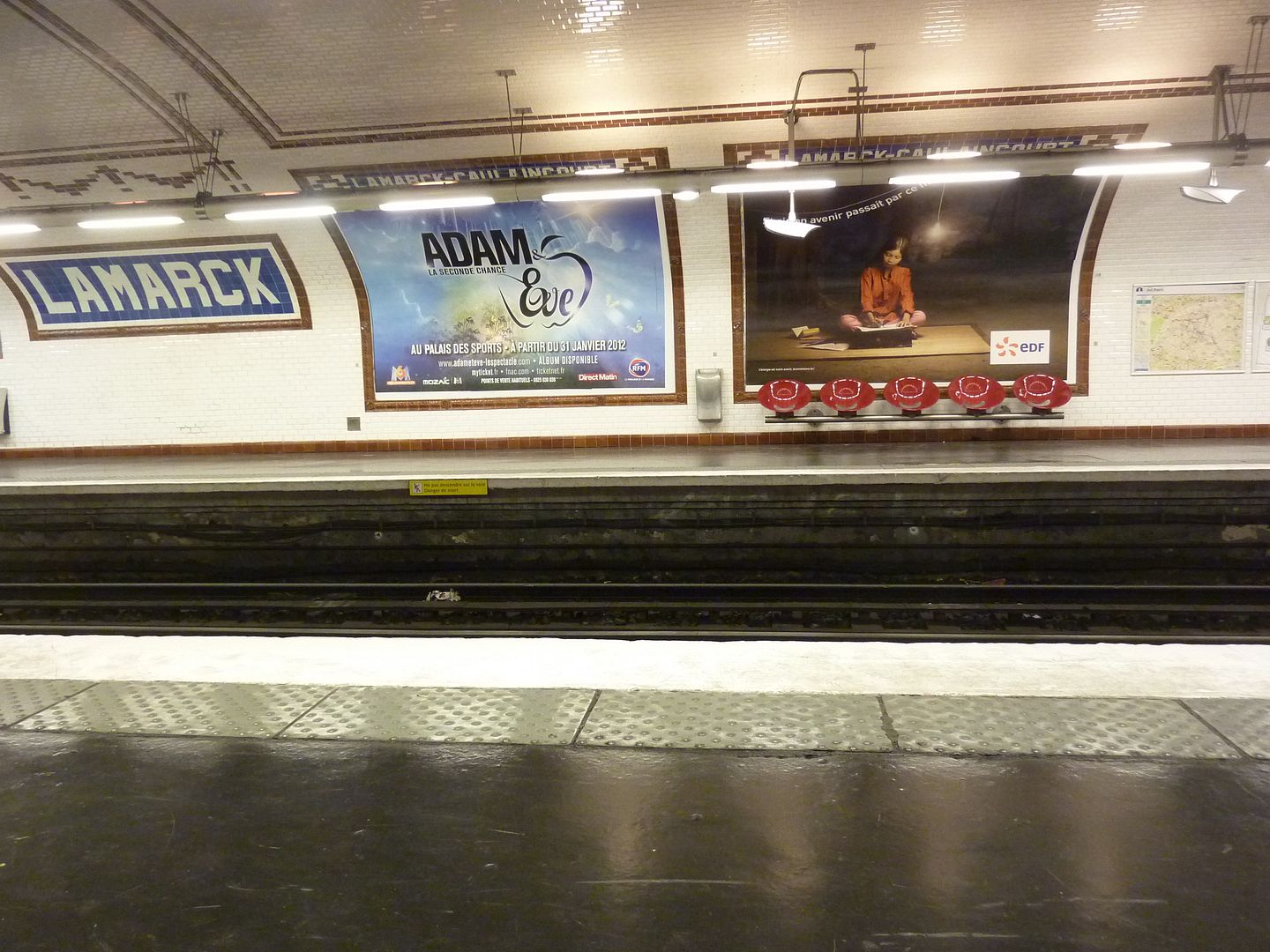 Lamarck-Caulaincourt is one of the deepest stations in Paris because the people building the metro kept the tracks at the same level everywhere and just burrowed their way to the surface from there, so they went up a long way to hit daylight in Montmartre.
Did anybody say that the metro is dirty?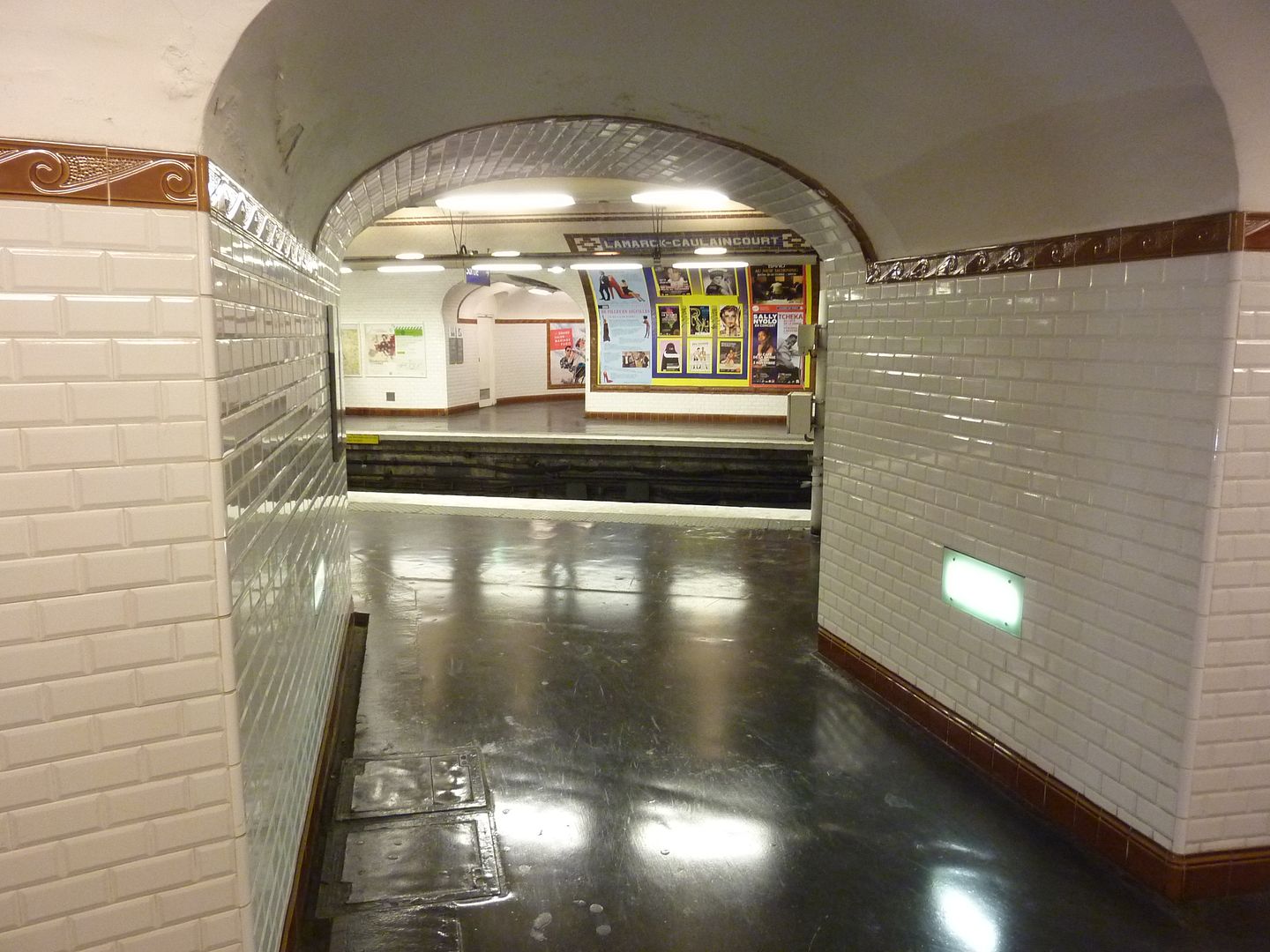 The elevators at both Lamarck-Caulaincourt and Abbesses are big enough for a regiment (well, maybe not quite). Did I say this is Sunday morning, before the crowds begin?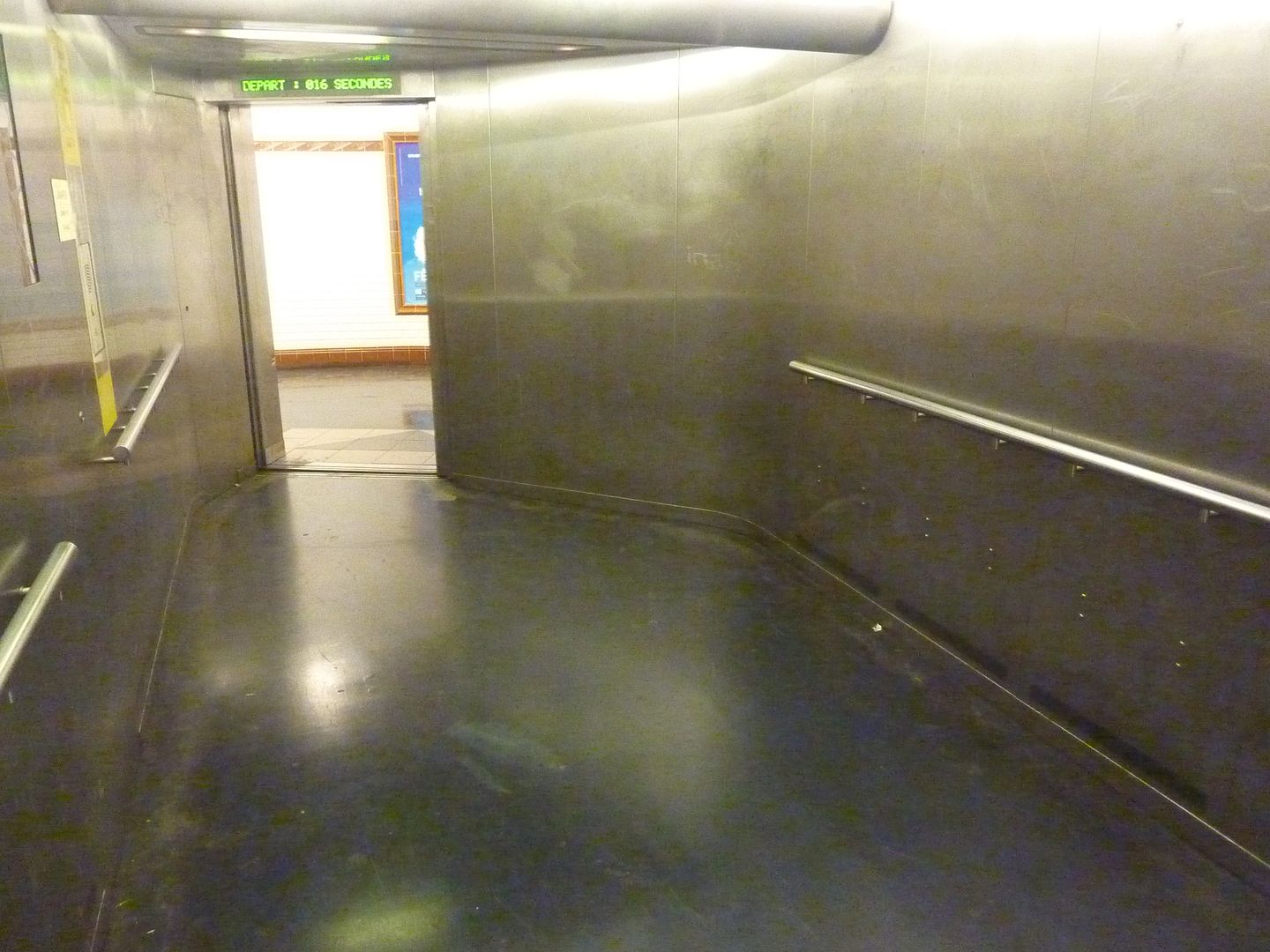 And we're out! Amélie Poulain had an important scene here in her movie.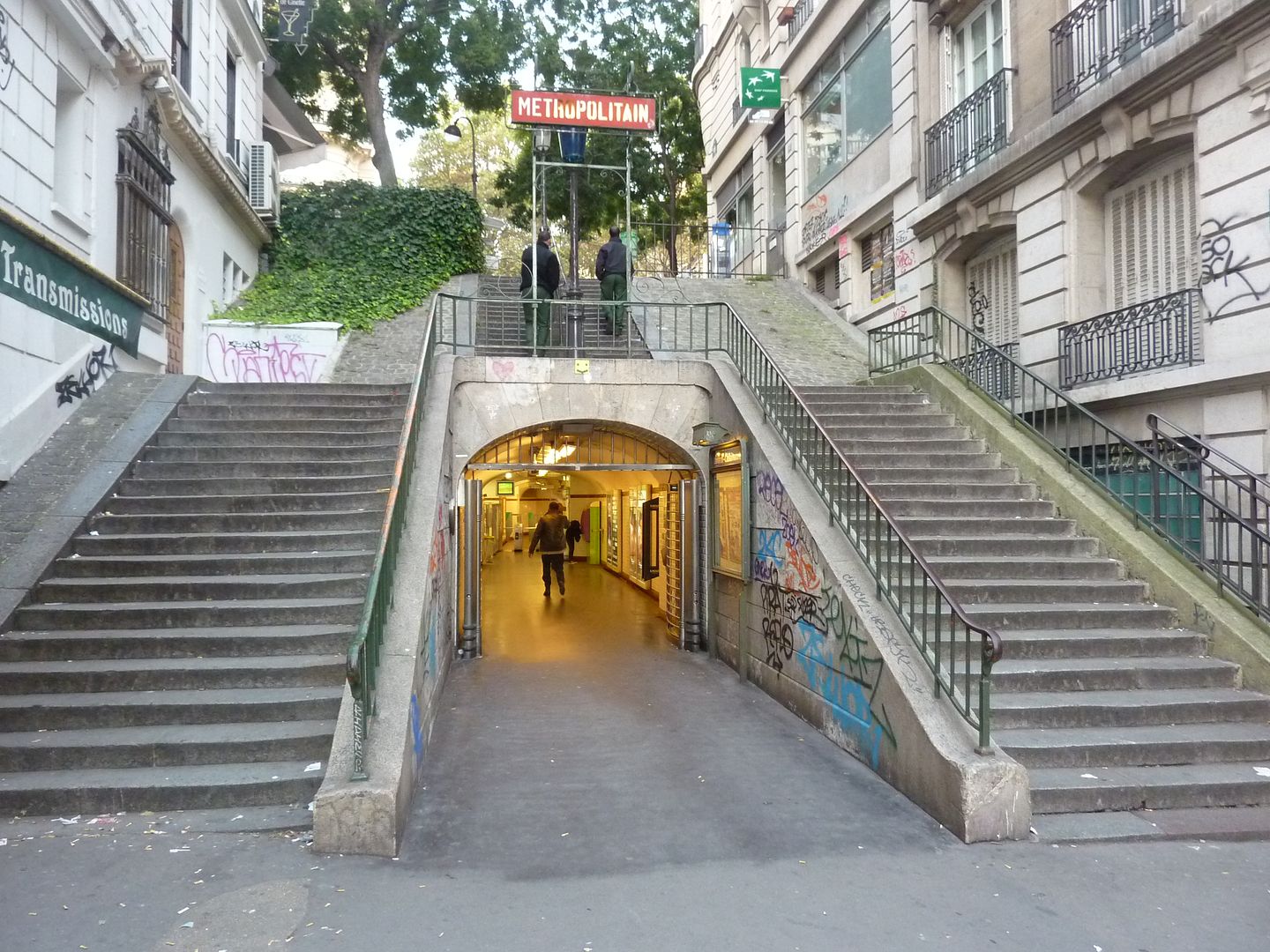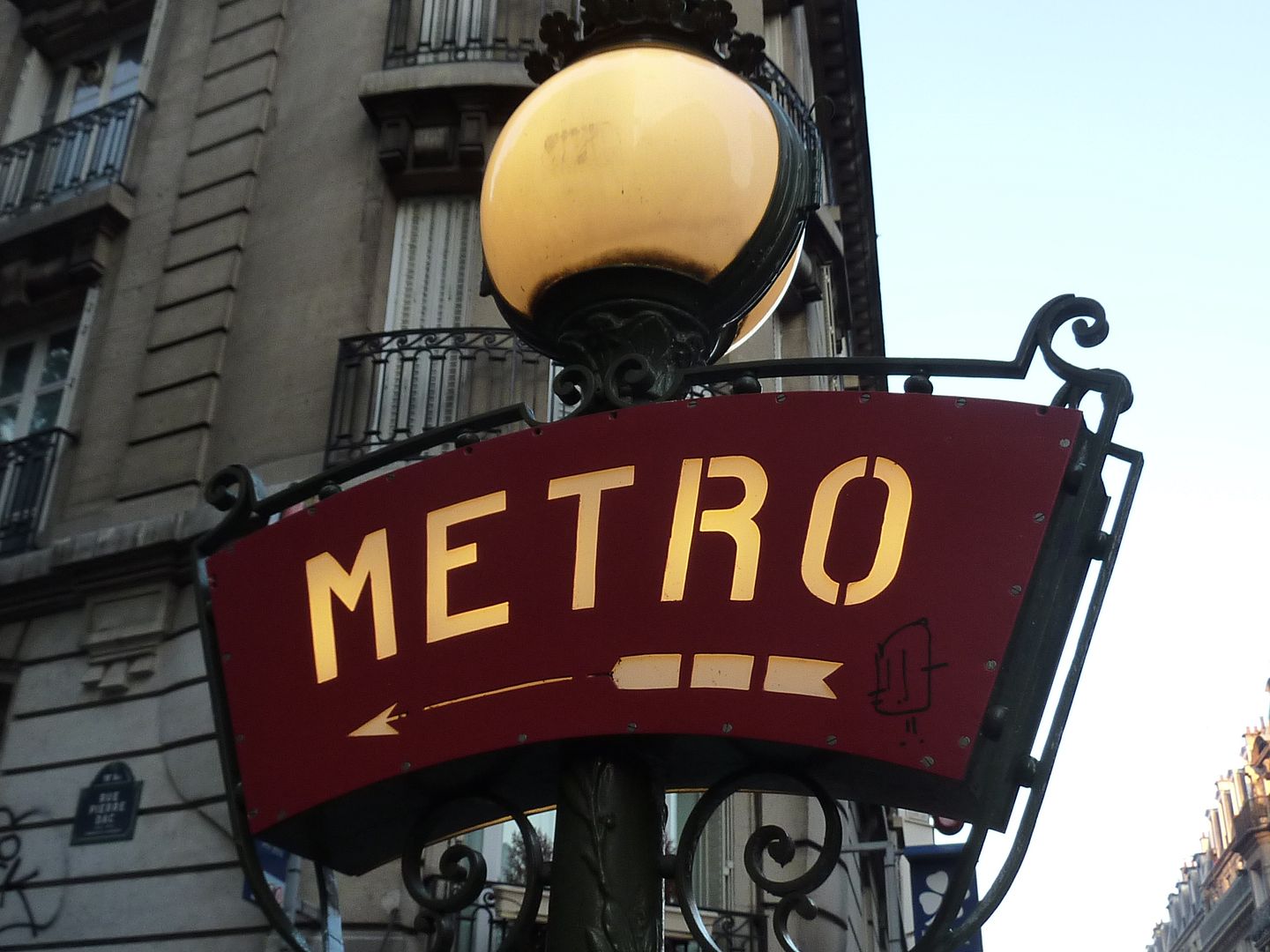 I love rue Caulaincourt, but it is not the object of my visit.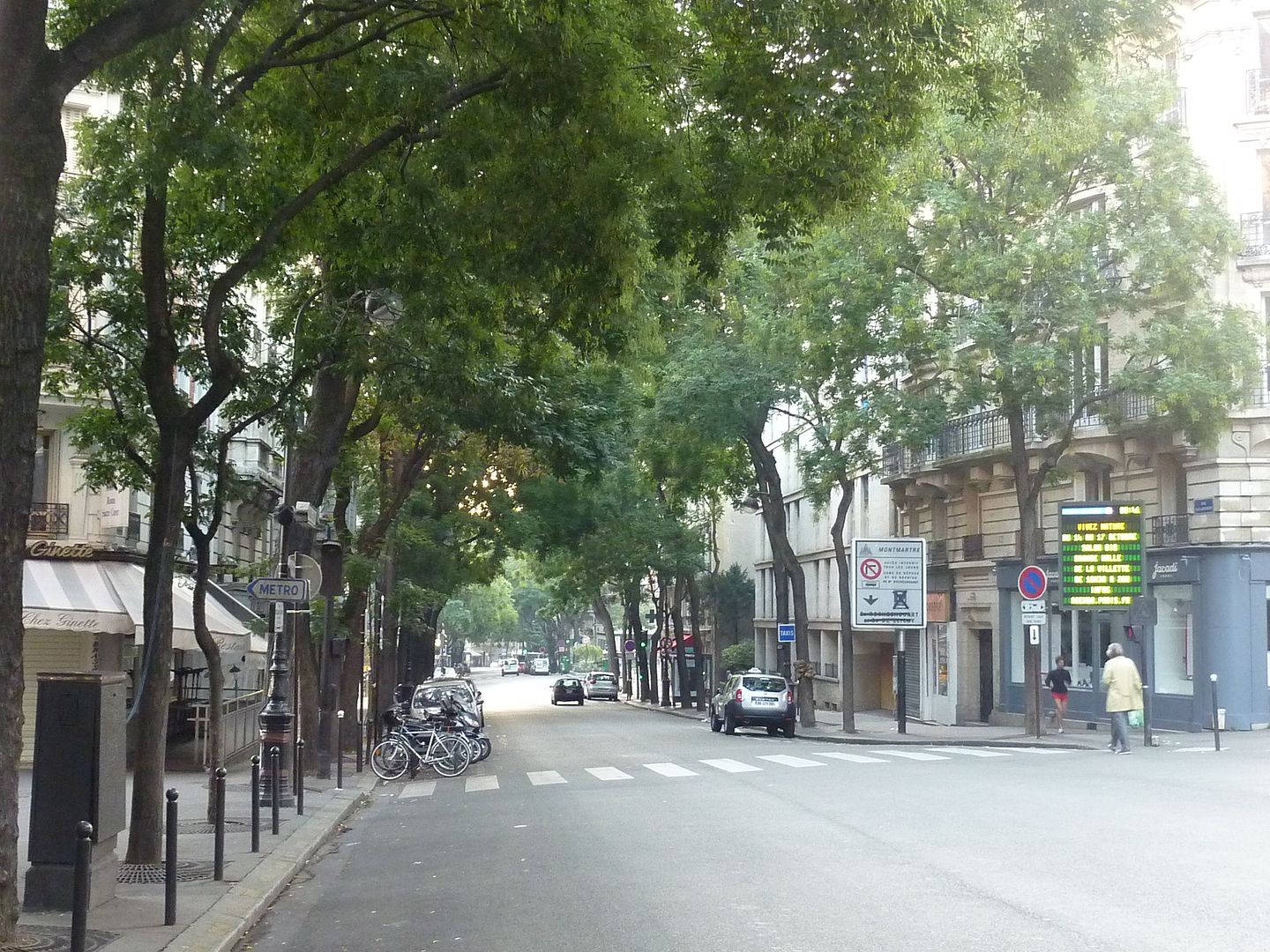 Huge numbers of Parisians now use motorcycles and scooters to get around.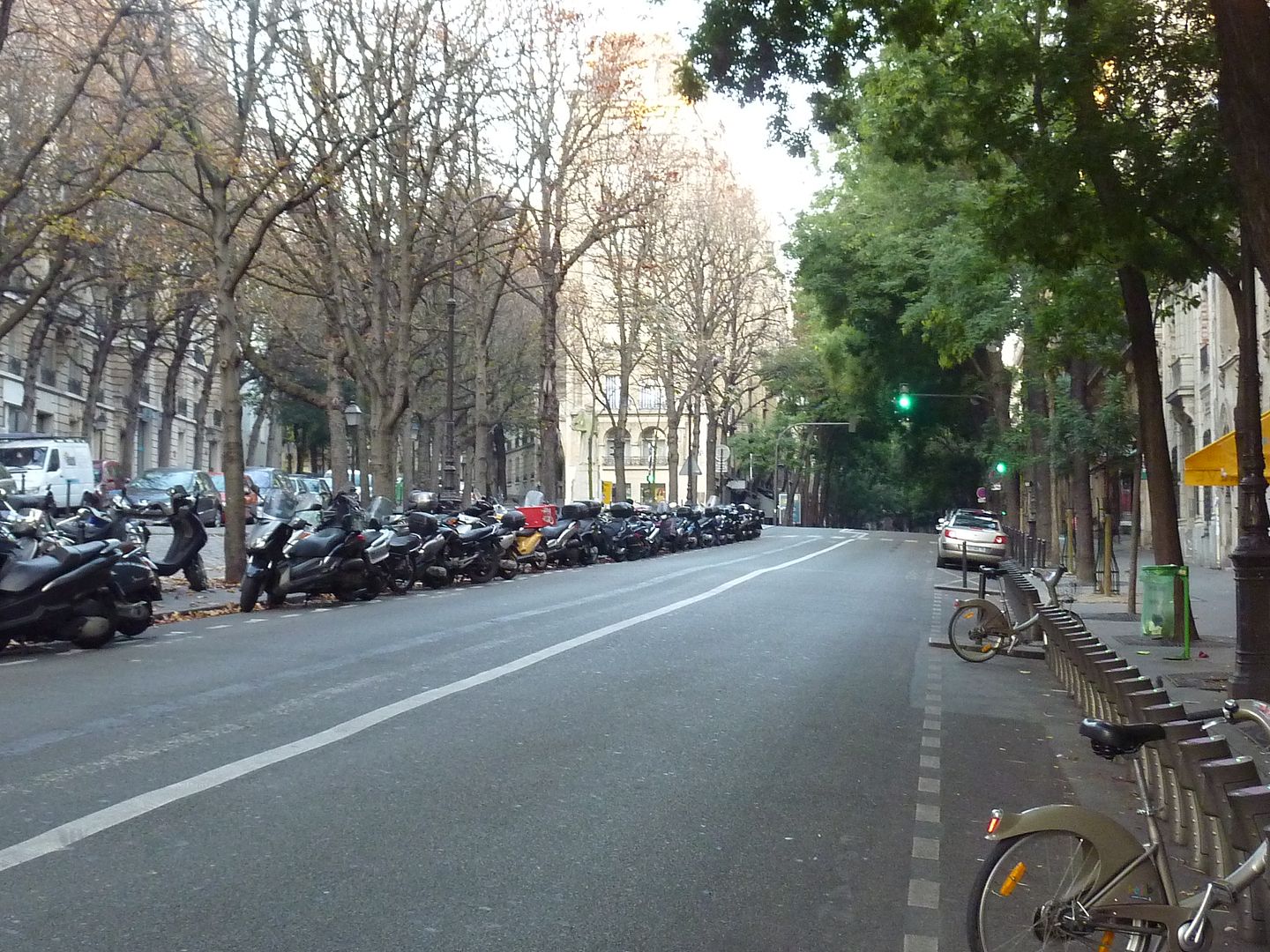 I really like the thin buildings, which ensure all sorts of windows with different views.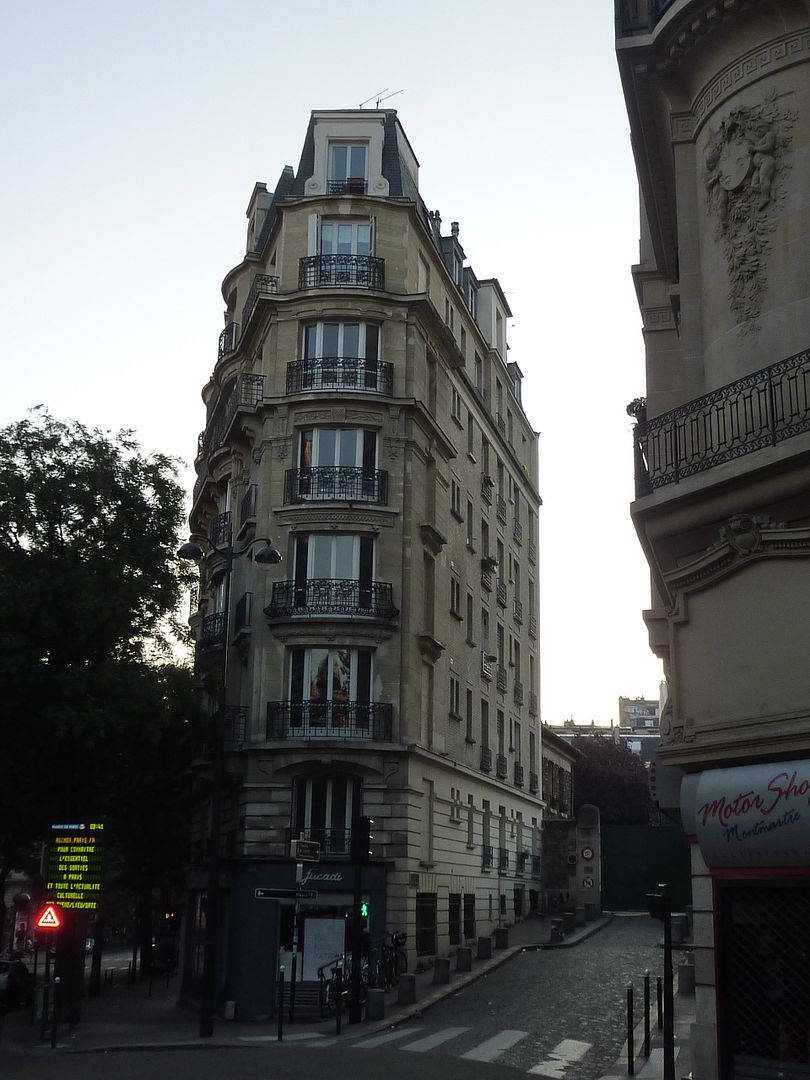 I live in a thin building myself (but not a nice one). I love having windows that show me three completely different scenes since I have windows on all three sides.
You have to climb a few stairs to get to the good places.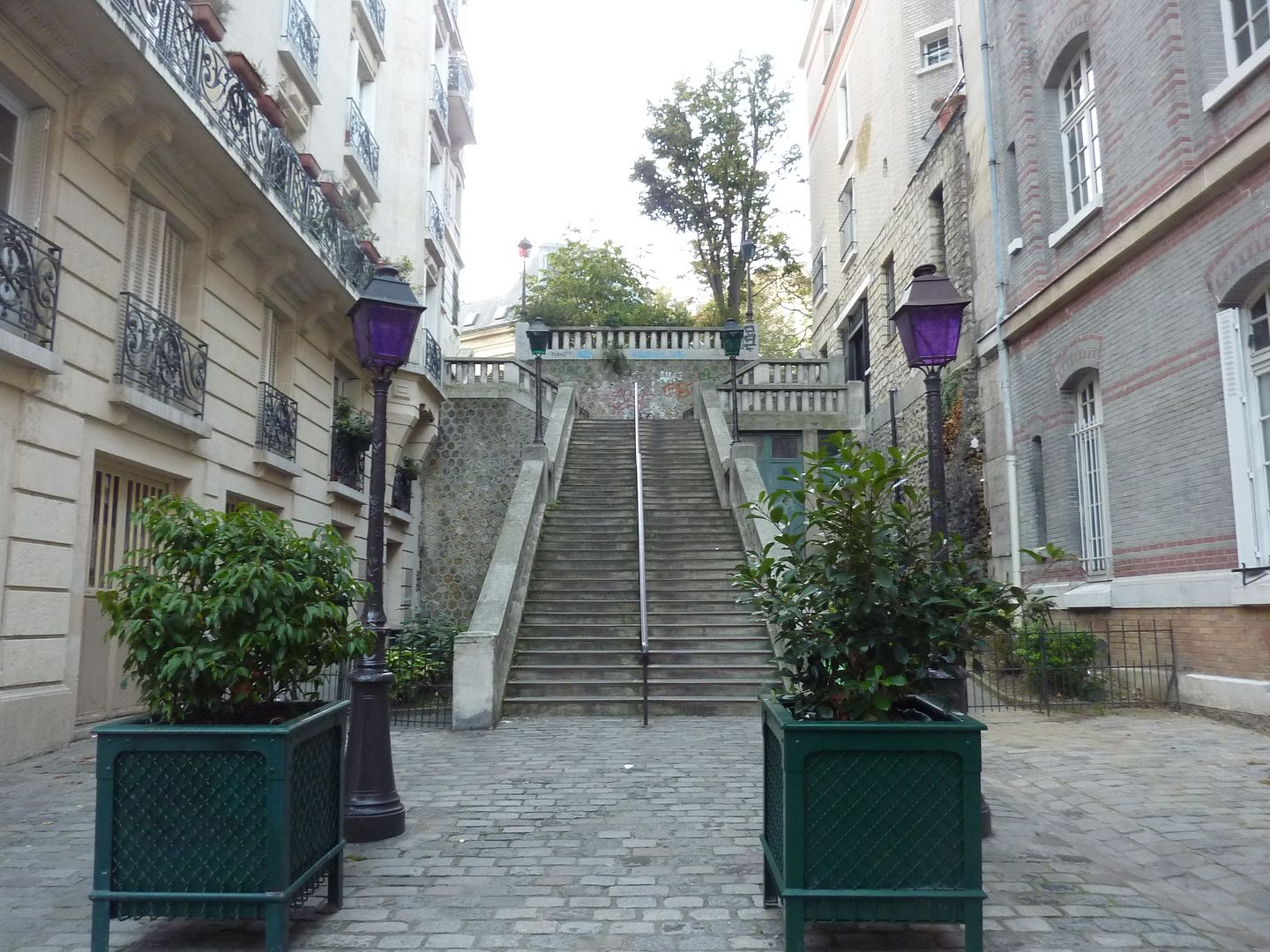 You can also look back to see where you have been.