Post by nycgirl on May 31, 2012 18:39:19 GMT
I spent a warm and sunny Memorial Day weekend visiting a friend in Boston with my husband and mom. The first thing we did was take a cruise out of Gloucester with Cape Ann Whale Watch. The ship was staffed by members Ocean Alliance, a conservation group that has pioneered marine research methods over the years. The founder was the first to discover the fact that whales sing songs. Throughout the trip the staff provided interesting information to the passengers.
Here, a staff member shows us the baleen plate of a humpback whale. It's made out of keratin, the same substance found in our hair and nails. Humpbacks feed by gulping enormous amounts of water and then straining the krill and fish by pushing out the water through their baleen with their tongues. The prey is caught in the baleen hair at the end of the plates.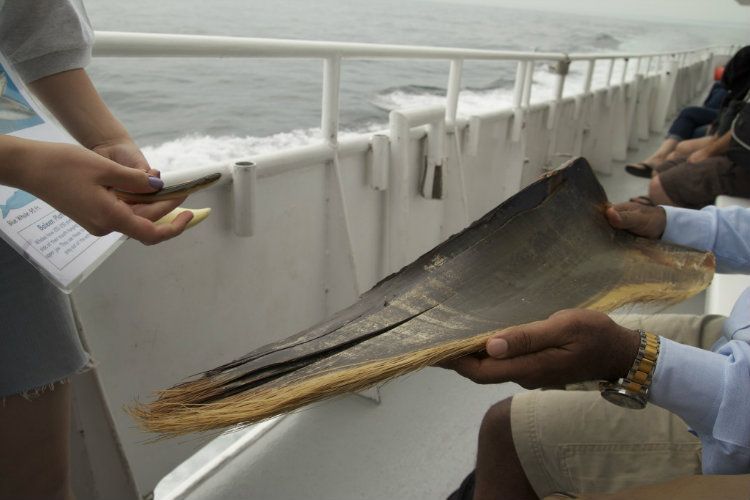 Our destination was an underwater plateau off of Cape Cod. The shallow plateau has an abundance of plant life which attracts fish, who in turn attract whales. It took a long time to get there, but it was worth it. The waters were teeming with these magnificent creatures!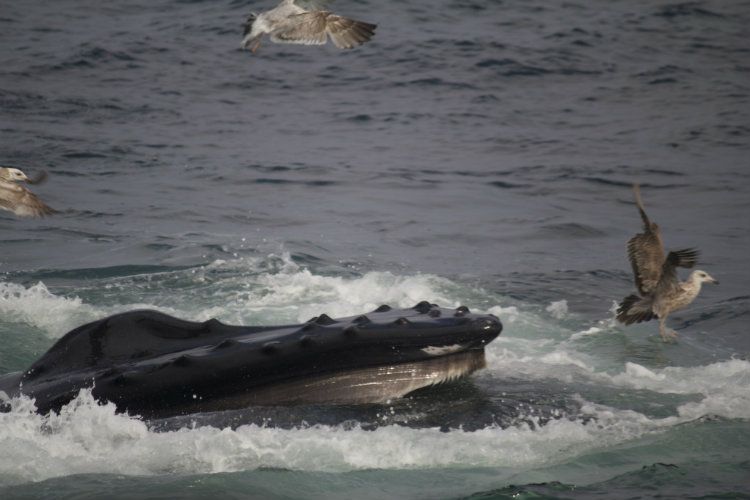 I can see why the company guarantees whale sightings. You'd have to be staring at the sky to miss them.
Humpback whales often hunt by swimming in circles around a school of fish, trapping them in a "net" of bubbles, then gobbling them up. If we spotted a light green, frothy area on the water, we knew that a whale was causing it and his head was about to emerge.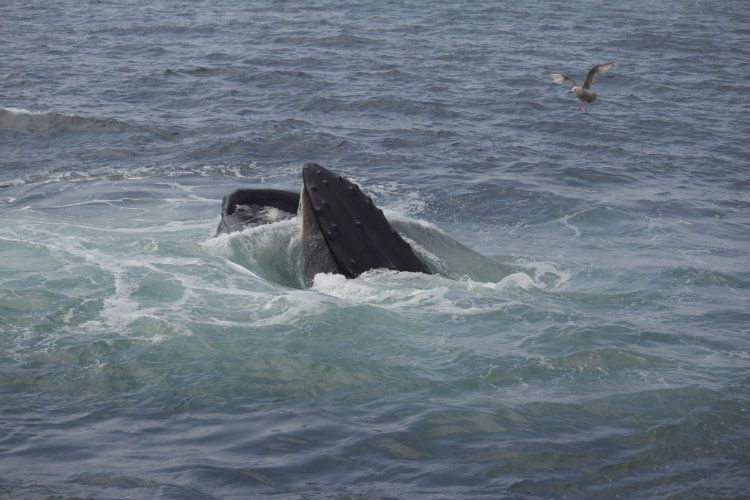 The birds knew it, too, and hung around to snatch the fish while the whales rounded them up. This one was successful.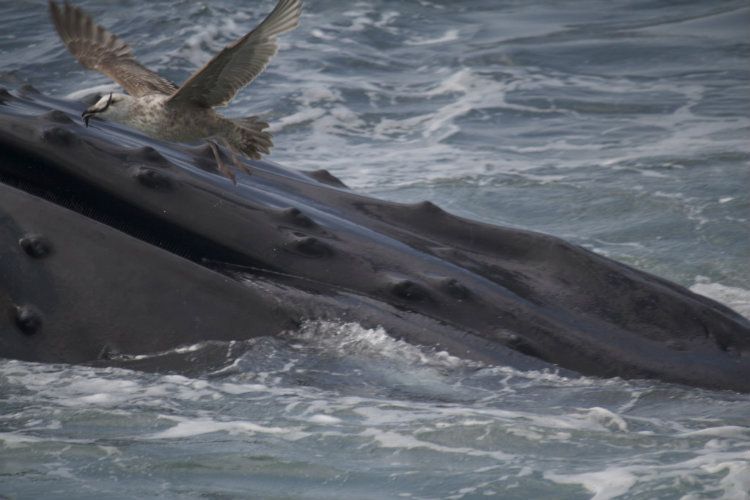 The staff spent a lot of time studying the whales and recognized some of them. They named them based on their unique markings on the underside of their tails. This one was called Etch-n-Sketch because of the sloppy "drawings" on his tail.
Etch-n-Sketch got really close to the boat a few times. Here he swam directly underneath me.
At one point in the trip a whale made a full breach, leaping completely out of the water to the delight of passengers. I turned my head in response to the shouts of the crowd, just in time to see a tremendous splash go up. I missed seeing it by
that much
.
I can't complain too much, though. The whales were very lively going about their daily business so there was a lot to look at. One whale, for some reason, laid on his side and repeatedly slapped the water with his pectoral fin. A few times we saw them blasting water through their blowholes.