Post by kerouac2 on Sept 17, 2012 8:35:49 GMT
The "
Fête de l'Huma
" is a French instutition that extends far beyond its origin as the annual Communist festival in the Paris suburbs. The newspaper l'Humanité was founded by Jean Jaurès as a Socialist newspaper in 1904, but it became a Communist newspaper in 1920 as France emerged from WW1 and was the official organ of the French Communist party from 1920 to 1994.
During those years, the "news" it published was considered a farce by most of the French and even a lot of the Communists. For example, in August 1939 it headlined "The pact of non-agression between the Soviet Union and Germany ensures peace in Europe" -- or in 1956, after the Soviet army crushed the Hungarian uprising "Budapest smiles again."
As you know, the world has moved on over the past 25 years, and it is sometimes hard to believe that such a newspaper can still exist. It had a circulation of 400,000 in 1945 and went as low as 46,000 in 2002. Currently, circulation hovers around 50,000.
The Fête de l'Humanité is held every year to help to finance the newspaper, but it has become many things to many people -- an affordable music festival, a place to buy handicrafts from around the world, a huge food festival and yes, a place for Communists to get together and not feel so lonely. It is held the second weekend of September with a hope for good weather, and this year they were lucky. 650,000 people attended, even though it was in competition with the European Heritage days and the Techno Parade in Paris.
People come from all over France and parts of Europe. It has its own campground and a parking lot for hundreds of buses. The Paris transit authorities run non stop shuttle buses from the metro and RER since the site is out next to the old Le Bourget airport.
Performing at least once at the Fête de l'Humanité has become an absolute must for all of the top stars in France, including singers who are known to be quite right wing politically -- like Johnny Hallyday or Mireille Mathieu, who have both headlined a number of times, but also in years past Jacques Brel, Pink Floyd, The Who, Joan Baez, Johnny Clegg, Jerry Lee Lewis, Chuck Berry, Nina Hagen, Ray Charles, Midnight Oil, Césaria Evora, Manu Chao, Youssou N'Dour, just to name some of the international stars.
In other words, the
Fête de l'Huma
is quite an event. Nevertheless, this was just my third visit there in spite of all the years I have lived in Paris.
Even with the shuttle buses, there is a certain distance to walk to the entrance.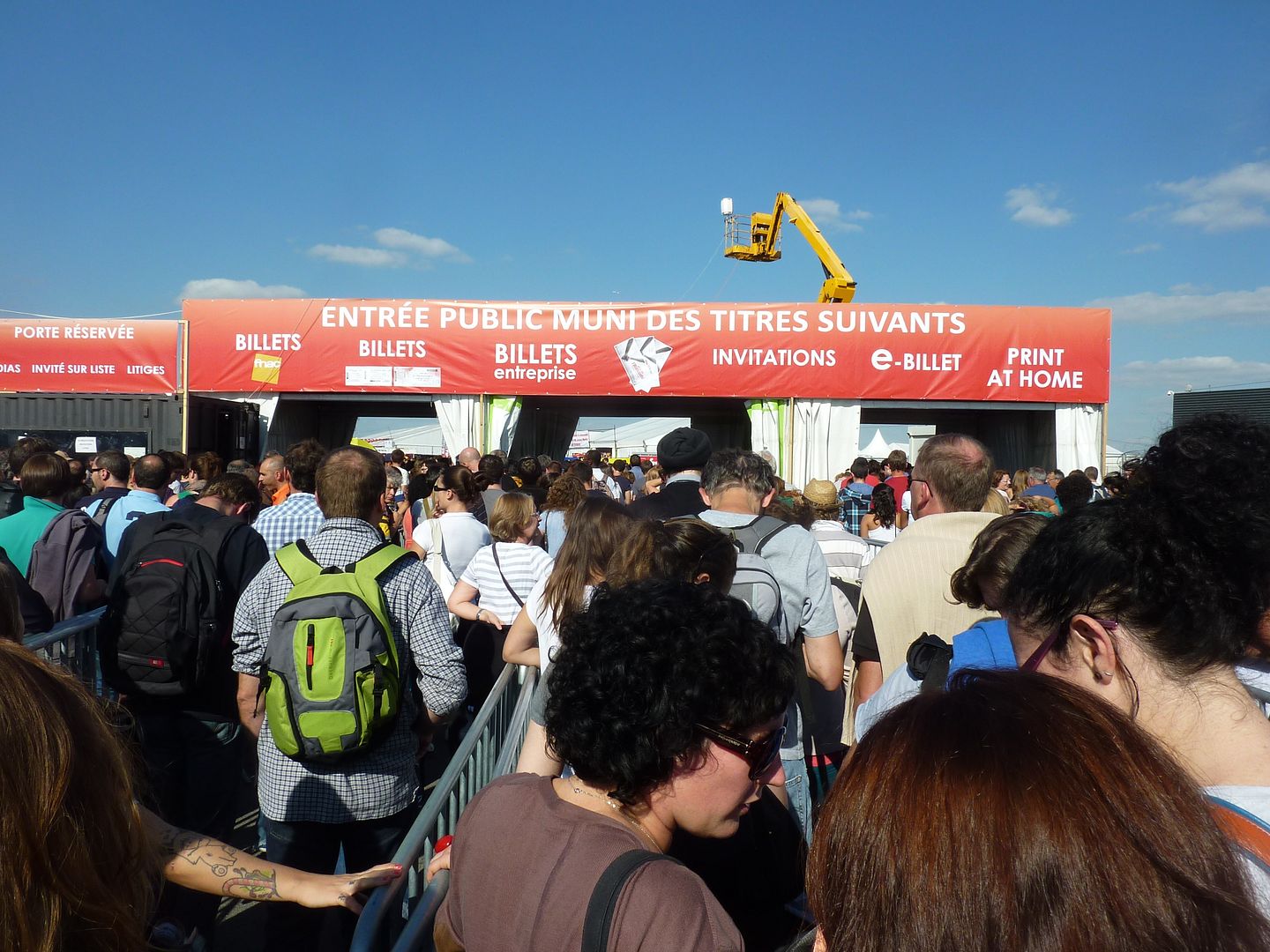 It has become so totally rare not to go through metal detectors, have a bag searched and/or be frisked that it was a real pleasure to be able to just walk in after having the ticket scanned. It quickly became evident that a lot of the young people appreciate this even more, because they were heavily equipped with whisky and vodka bottles to, er, enhance their pleasure during the concerts (but probably not the political debates).
There are directional poles to assist orientation if you don't have a map.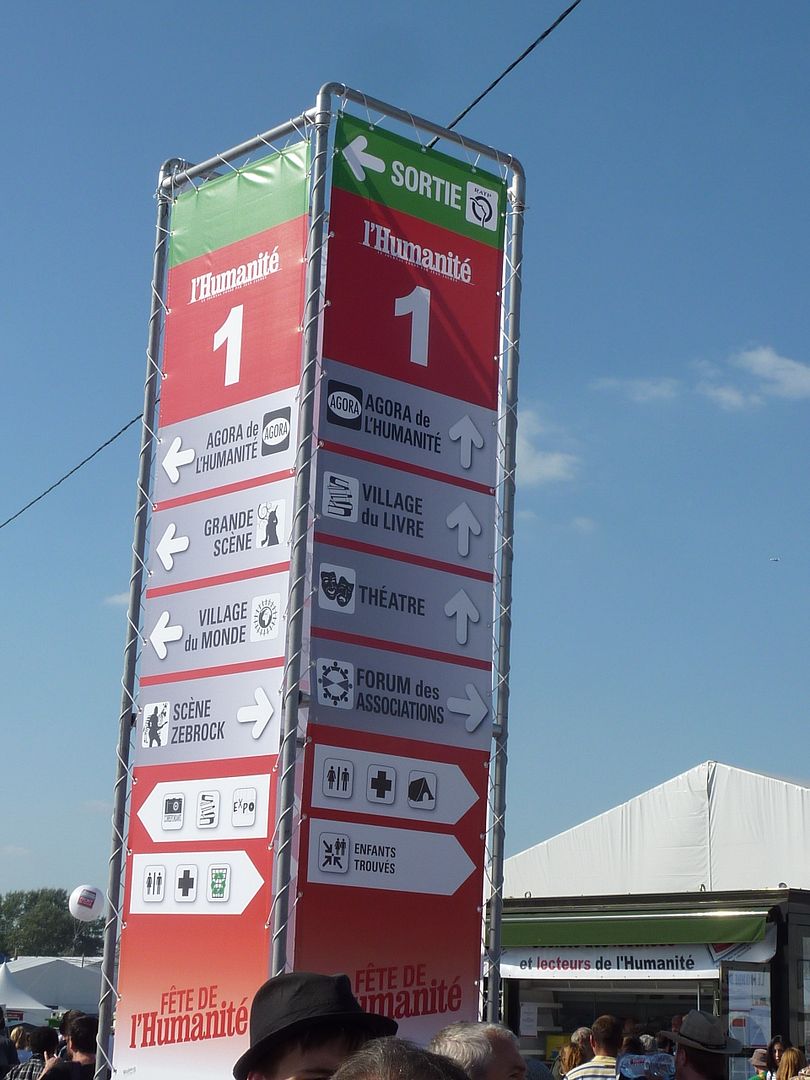 The site is really pretty huge.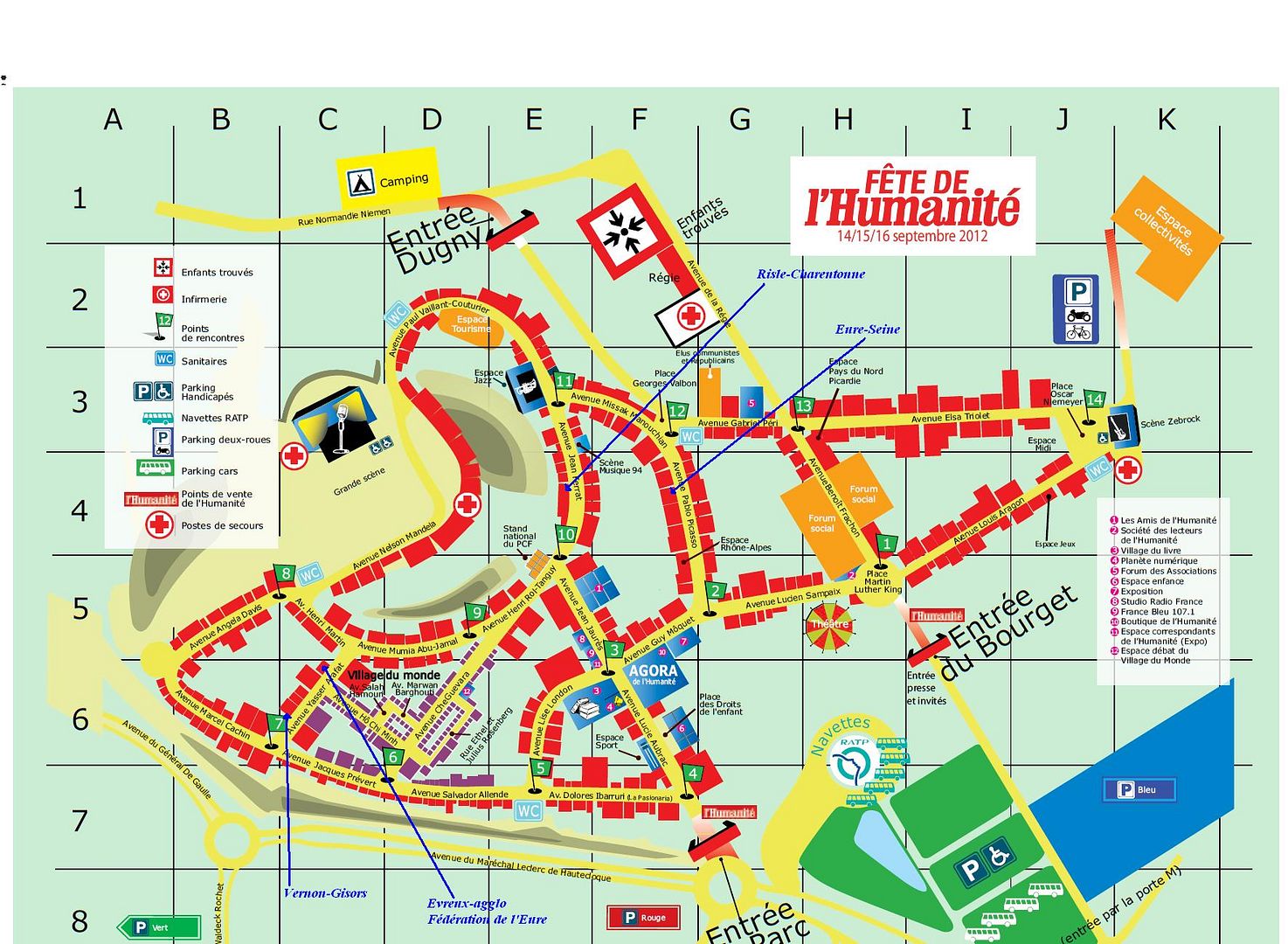 One's first impression is of an amateur but joyous mess, which is what a lot of it is.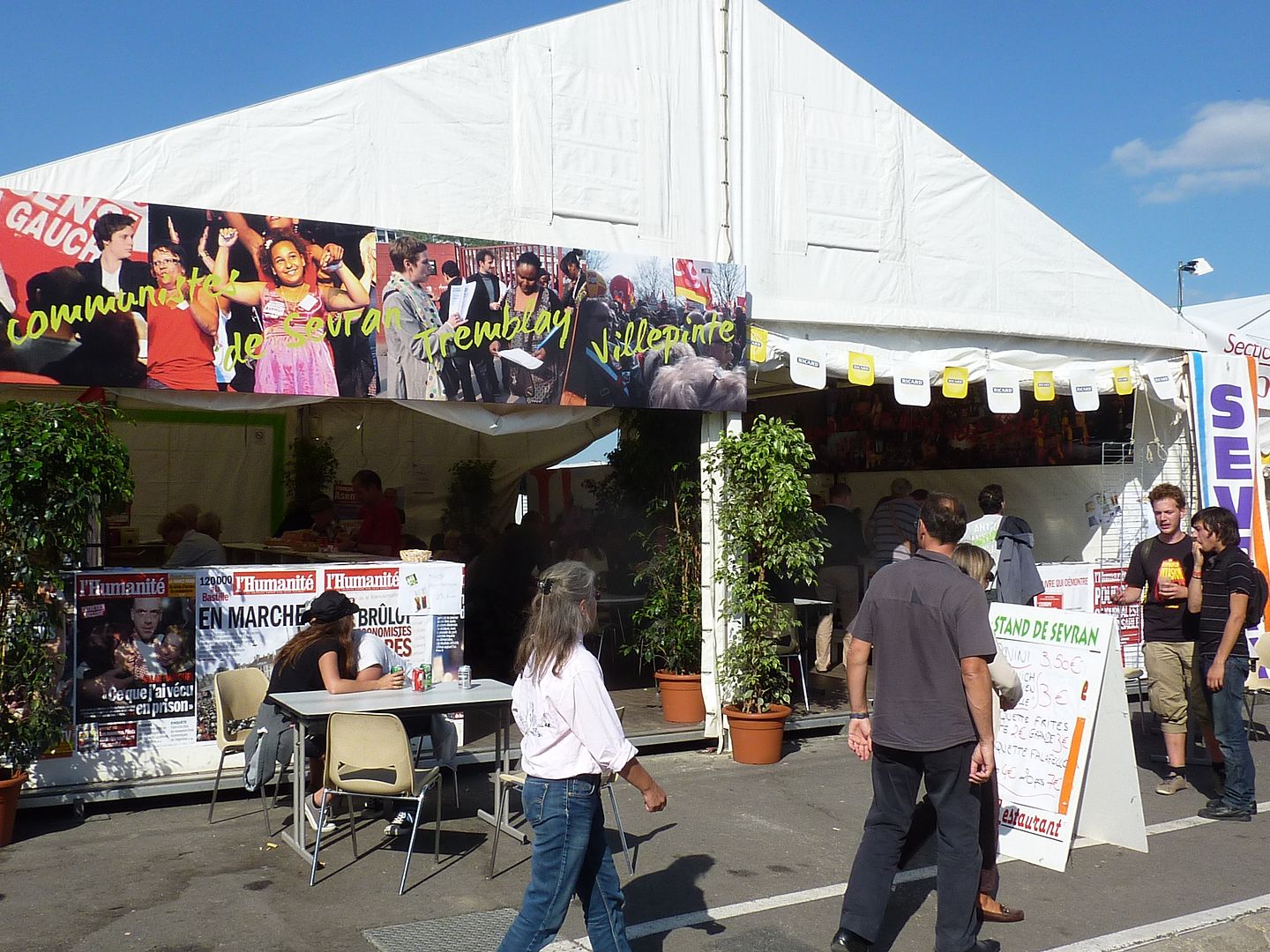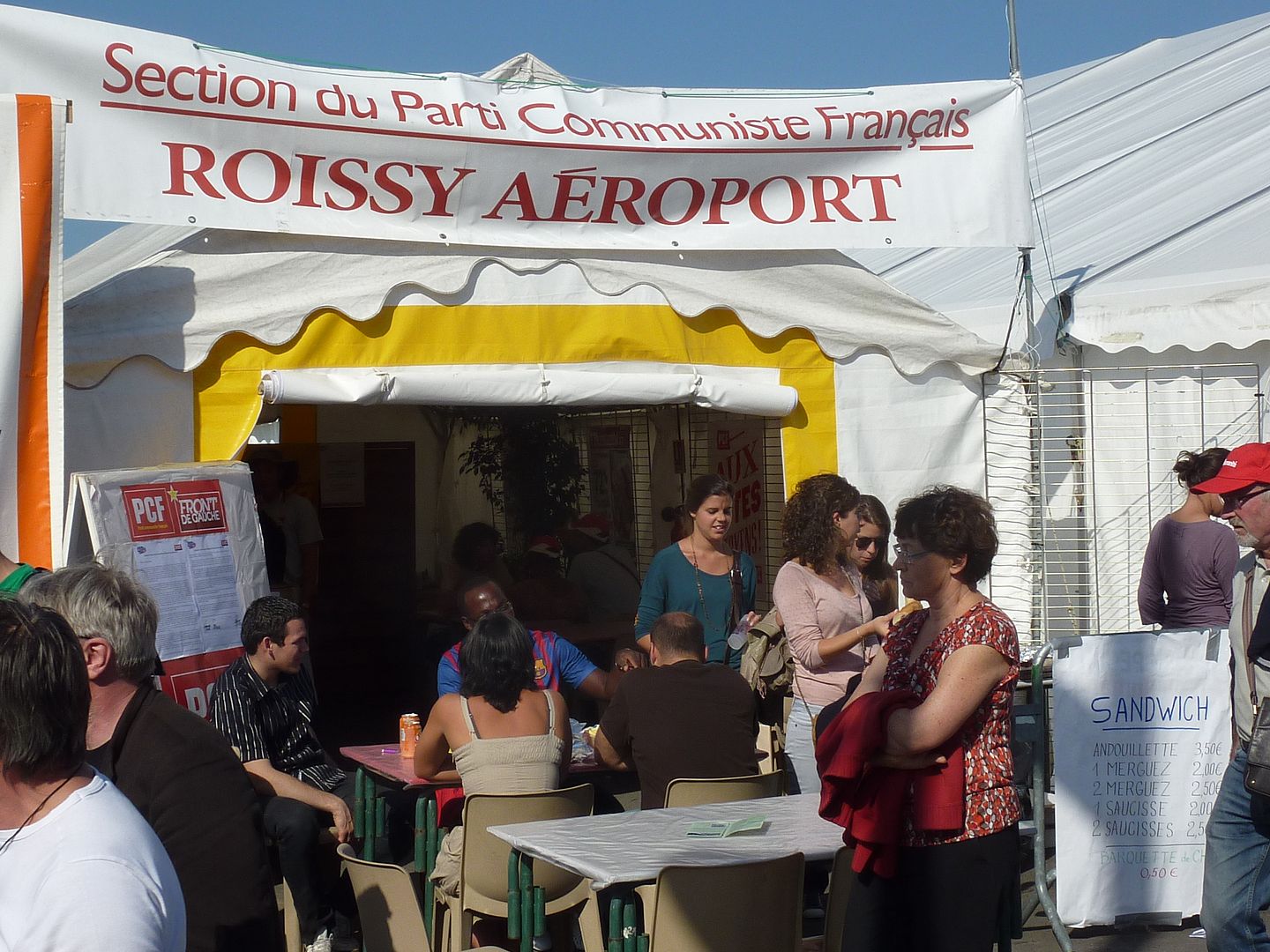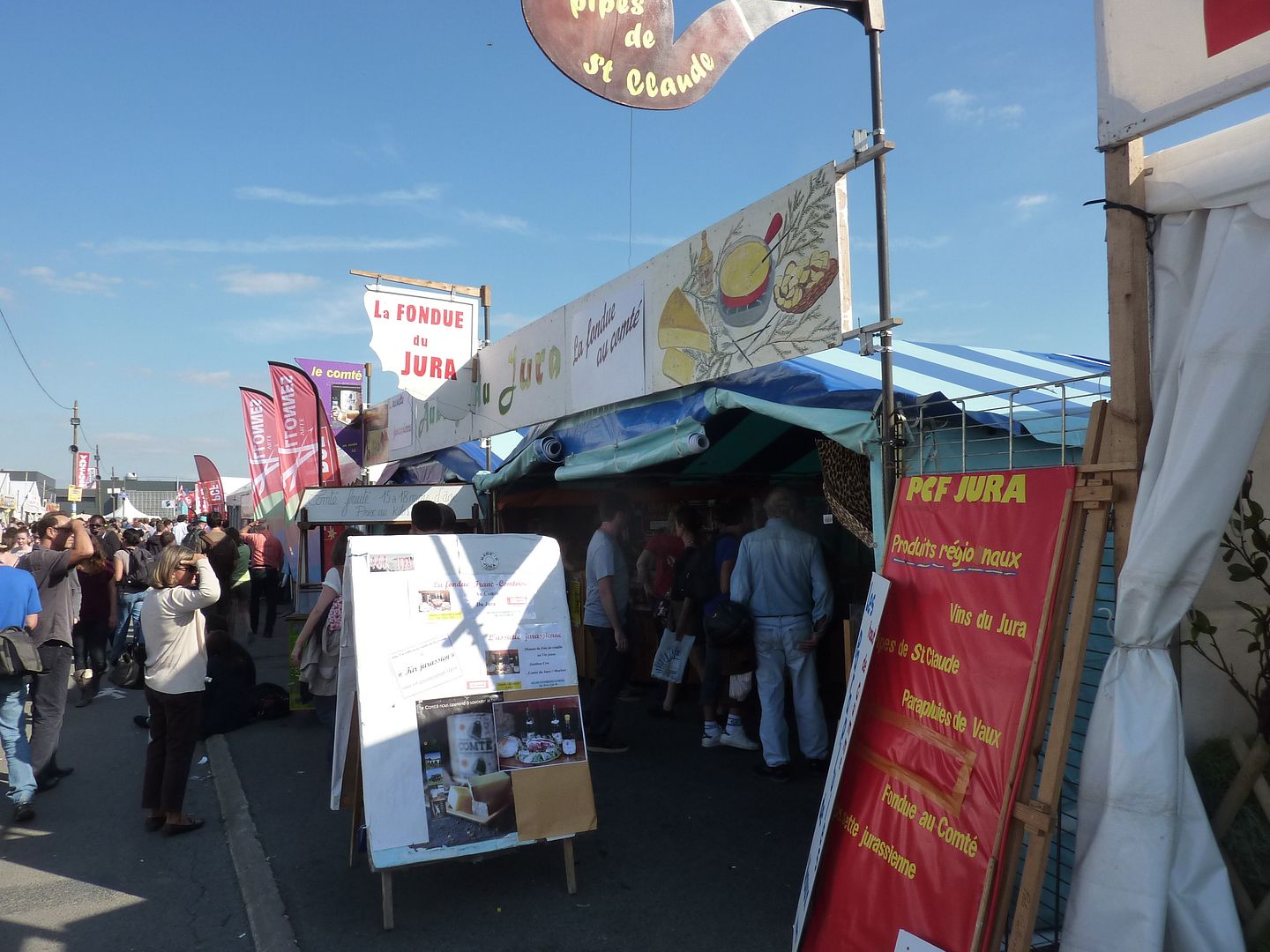 Each
département
, each region, each suburban town has its own stand -- and bar.