Post by onlyMark on Jun 27, 2017 14:36:01 GMT
I have a history with pancakes.
A number of years ago when I was doing my leading overland expeditions thing in Africa and Asia, pancakes were a regular after dinner fill-you-up-until-you-burst dessert.
I got quite good at them and would be making thirty to fifty in one sitting for the group.
Or at least I thought I was quite good.
Here is me showing a group member the finer points of doing so -
Then one day I was "told" I was making them wrong.
Mrs M, bless 'er little cotton socks, decided she could do better herself.
I met her on one of the shorter trips we did, around Egypt and its sandy bits, when she came as a member of a group I was leading. The trip would take three weeks or so and I expected to be making pancakes at least twice over that time. It appears mine were diplomatically "a bit too thick" for her taste, so she took control.
I decided then and there she was a "keeper".
This photo is of her handing off my first one with a somewhat disgusted look on her face as she examines the batter -
She then, very precisely, tells me, "You only need this much! Can't you see?" (of what, I can't remember). Or maybe, "It should only be this thick!" -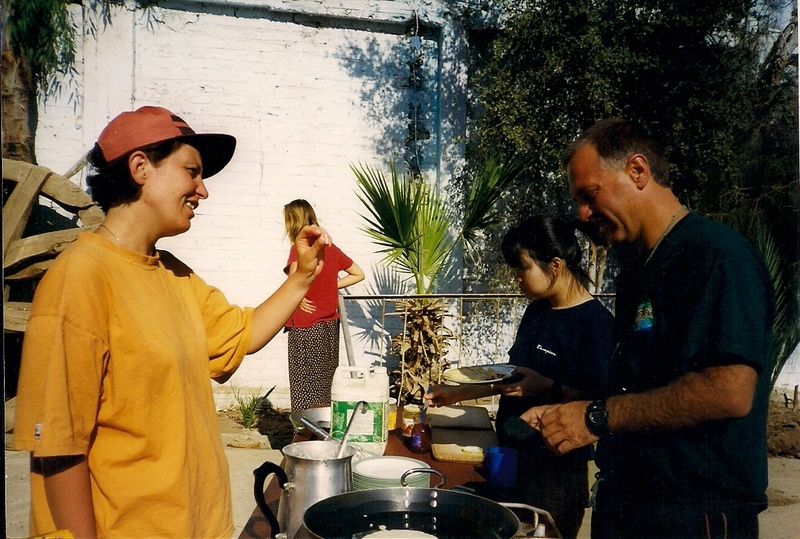 Then, as people began to gather, she made adjustments to the mixture, and proceeded to blow me out of the water as I went down in flames (I like mixing metaphors).
Here you can see me being instructed as to the proper consistency and procedure, as I stand there forlornly on my back foot with my balloon burst and tail between my legs, looking on in awe -
(I still think mine are better though, between you and me.)
I have also recently caught this short video, which prompted this thread and memories, and I wondered, how do you like your pancakes best?
(For the mechanically/vehicle(ly) interested amongst us, in the first picture you can see the side of the truck. From left to right you can see one of the fuel tanks with just visible, the handle of one of the shovels that are resting on the top of the tank and over the chassis. Above that is one of the cooking kit lockers.
The black things with holes next are the steel sand mats. There are normally six in total. Very heavy an unwieldy but good at their job of getting you unstuck from sand/mud.
Between me and the girl in red is the handle of an axe.
Between the two girls you can see the mattock (pick axe type thing). The metal pipe sticking out from the sand mats is where one of the camp lights hangs. Behind the head of the girl with the cap is one of the spare axle springs. The lad sitting down - above his head is one of my tool lockers. To the right of his head in the photo, on the front of the trailer is a locker for the camp stools.
A photo of, yet again, me lording it over the masses, coolly probably winding them up. I think the question was, "Where have the cows come from?"
My answer, no doubt, was, "Over there."
Anyway, it shows you one of the camp lights and the extremely uncomfortable camp stools that were good for half an hour or so at the most, plus the al fresco eating your dinner off your knee position - and what appears to be an unhealthy ratio of females to males. Not that I ever complained. Ever.) -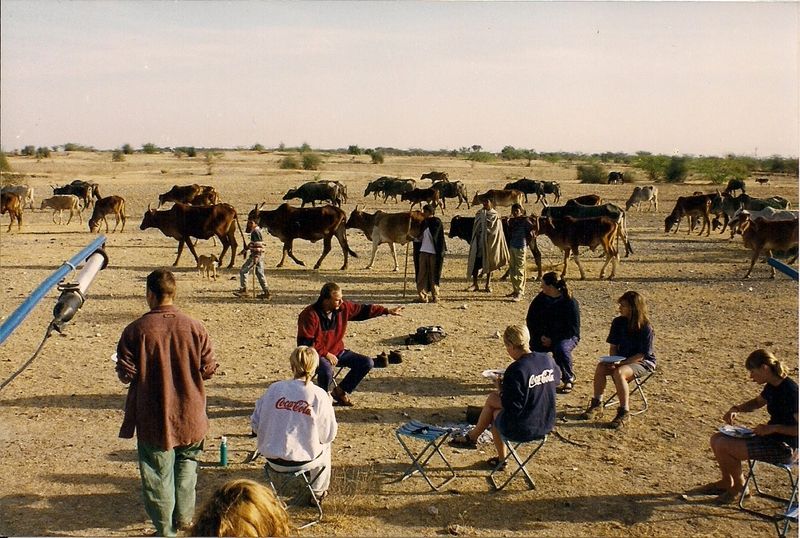 How was that for a digression? Good huh!
To get back to the subject at hand - pancakes - thick, thin, whatever, additions, what is your preference?