Post by Deleted on May 8, 2009 20:18:26 GMT
This is just a short introduction to Laos. I have a lot more photos of Vientiane (whenever I find them!) and even more of Luang Prabang (I'll get to that soon).
For a start, here is the hotel where I stayed on my first trip to Vientiane, and also the first night of my second trip (since it is reassuring to go to a place that you know already). The Ekalath Metropole was for a long time the finest hotel in the city.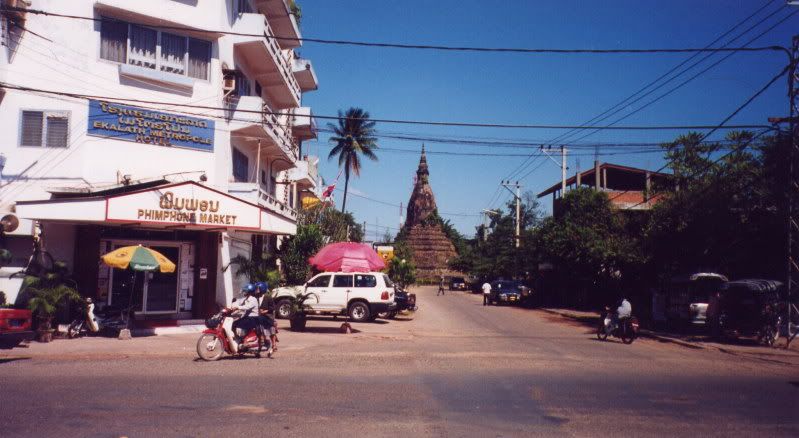 However, I just didn't think it was worth the US$25 that it was charging. The rooms are enormous and are outfitted with a Russian refrigerator, television and air conditioner. It was not always easy to figure out the controls. The room had a complete kitchenette/bar which allowed me to fantasize living there as a foreign correspondant in the 1960's, but since there are no longer any conflicts in Indochina, the place just seemed full of ghosts.
So I moved to a Chinese-run hotel the next day a half block away, which only cost US$10. The rooms were well-equipped and charmless, but I had a higher view and could go up to the roof to take a couple of photos of the neighborhood.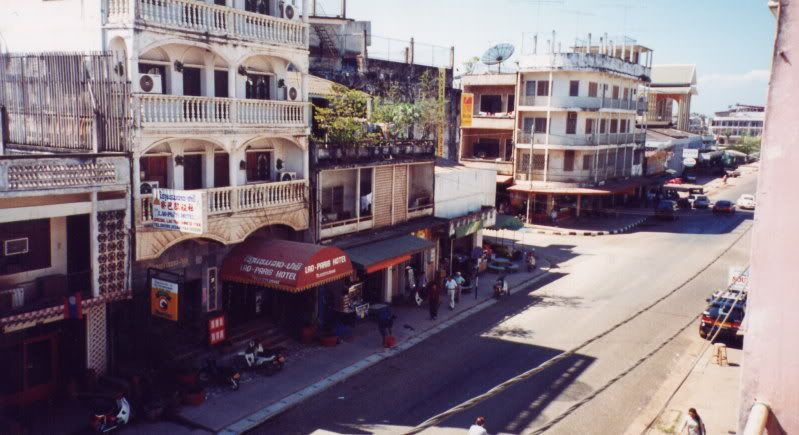 There is a big stupa in the middle of the city. The American embassy is located there. It is the only American embassy in Indochina that remained in activity after the Americans fled their embassies in Vietnam and Cambodia. It must have been really strange to be stationed there.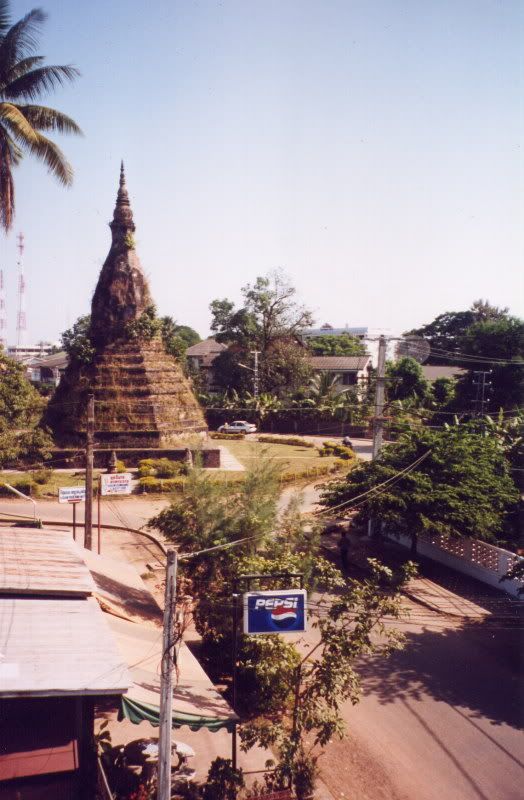 On my first trip to Vientiane, I was astonished to discover that it was the very first national capital that I had ever visited where the streets in the center of town were still dirt. Just a little progress was being made on this trip.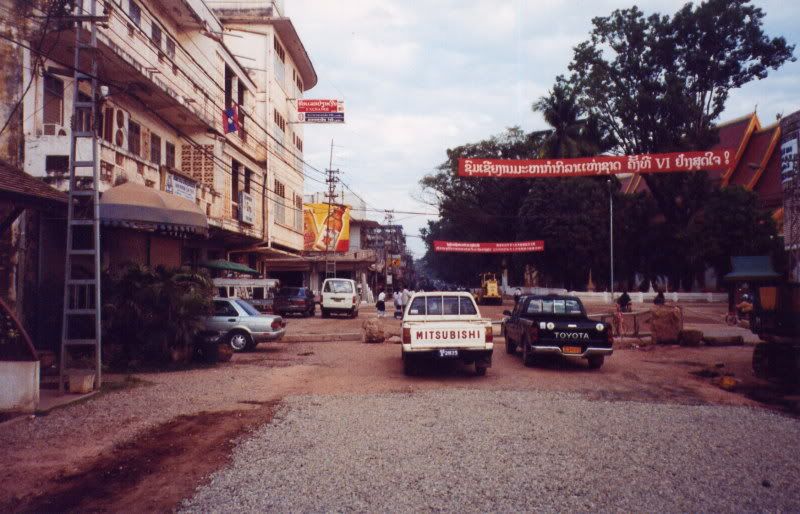 Along the Mekong, there are restaurants and bars which have smilingly served whatever expats were living in the city during various decades... the French, the Americans, the Russians... They are situated in old French colonial villas.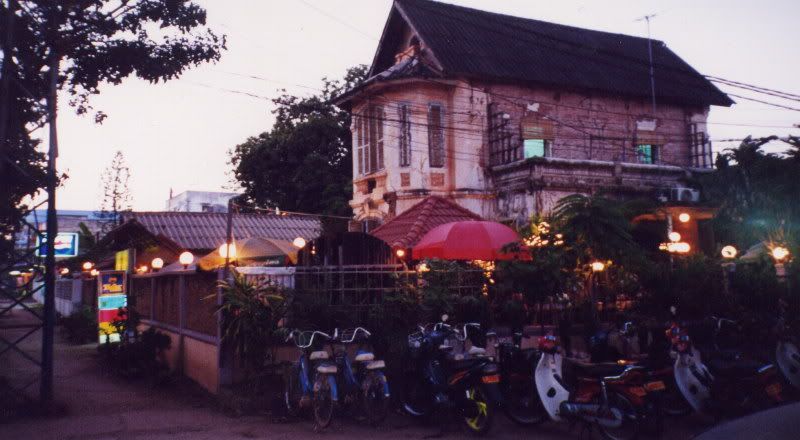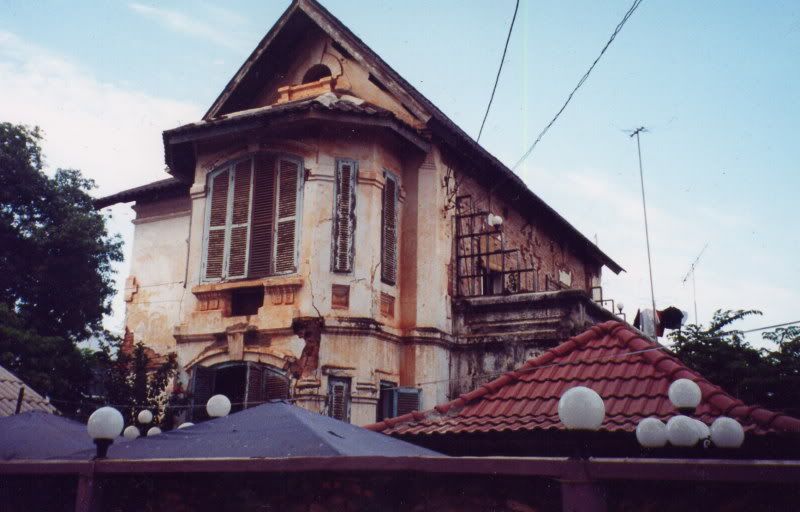 A giant pitcher of rather bad beer cost US$0.50 on the terraces overlooking the river (mostly sand bars when I was there). One would sit in the shade of trees with strange fruits.
In the center of town, there were of course more sophisticated establishments to cater to the expats. I was not in need of this sort of place, but I can imagine craving it if I were living in Vientiane.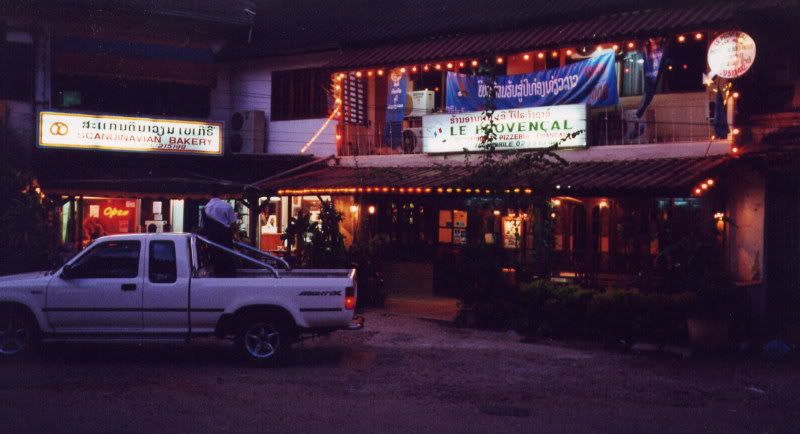 Vientiane decided that it needed an 'Arc de Triomphe' like Paris. This was built around 1962 out of cement, probably because De Gaulle or Kennedy or someone like that was coming to town. If you walk up to it, you can see that it is starting to fall apart already.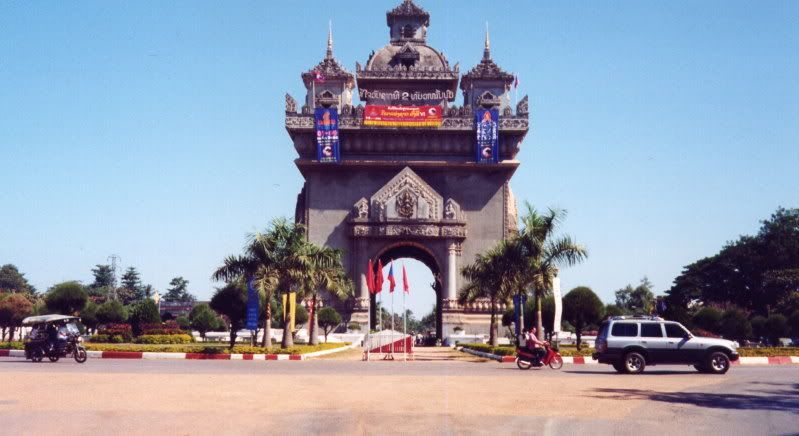 Anyway, I just spent 2 nights in Vientiane on that second trip, because I was on my way to Luang Prabang. This is the bus I took for the horrendous journey.
Naturally, the story of Luang Prabang is coming up soon, and also more about Vientiane, which is a very pleasant place when you stop to dawdle there.