Post by Deleted on May 20, 2009 21:11:22 GMT
At the beginning of this century, I was drawn into the sort of experience that I thought I would never do, being so totally alien to my usual habits. With one of my best friends and a number of other people, I became a partner in a Parisian café and helped to run it.
The friend in question has a quality that I have never had – the ability to take risks and to plunge into the unknown for major life-changing ventures. I am only foolhardy when I travel, and I have paid the price a number of times.
Anyway, this story will probably be rather long, so I will have to post it in several parts, and I hope that I don't bore you too much along the way.
The café in question was not just any café. It was the café that my friend's father had been running for about 25 years. He is a kindly old Algerian man with absolutely no education. He can barely read and write and needs any official documents explained to him.
Needless to say, as the years went by, the café was less and less of a financial success, because old Mohamed is a trusting person in an untrustworthy world. He was cheated by his business partner (a cousin), he was cheated by his suppliers and he was even cheated by a nationally famous serial killer.
The building in which the café was located was abandoned for a number of years and became a squat. One of the squatters was the infamous Guy Georges, "the killer of Eastern Paris." From 1981 to 1997, he raped and murdered numerous women, and for part of the time, he was living directly above the café.
He had hooked up his electrical wires to the café, so for about two years, my friend's father paid for all of his electricity without knowing it. In 1998, after raping and cutting the throat of a final victim, Guy Georges was finally arrested. It was discovered that he was the son of an American soldier, George Cartwright, who had immediately left the country, and the baby had been abandoned by the mother shortly thereafter… It's an interesting story, but seriously off topic. Just keep in mind that he was sentenced to life in prison for the 7 murders that they were able to prove, but that he will be eligible for parole in 2023. Not that he will ever get it.
Back to the café.
My friend had been sort of ignoring his father for a number of years. He was the only family member to have been to university and was clearly embarrassed by the rest of his family, who were all firmly entrenched in the bottom level of the middle class – a brother truck driver and a sister supermarket cashier. Finding out that his mother was a secret alcoholic was sort of the last straw, the day he found all of the empty wine bottles hidden under the sink.
Meanwhile, he was the administrator of the
Lycée Autogéré de Paris
, an experimental government high school destined for intelligent teenagers who do not fit into the traditional educational system. It takes in the children of movie stars, globetrotting journalists, musicians and just random children who had always resisted the system while showing immense potential. It is absolutely submerged with applications but must select its students very carefully after numerous interviews.
It was a fantastic job (terrible pay, of course).
The café was bankrupt. My friend had jumped in to try to sort out the debts, but it was too late. His father had reached retirement age, so it was out of the question that he try to continue. But there was the lingering need to do something to honor all of his father's work. And the place had such potential if it ever got a new start. We had so many talks about this, with one or two other friends.
A plan was drawn up for a new café that would remain a neighborhood café but which would also have art exhibitions, music and slam nights. It was lacking in that area of Paris, and it was time to give it a try.
About 8 investors were recruited. Some people invested money and others invested their souls – they would work there and work their asses off.
Here is how the café looked before the renovation works began.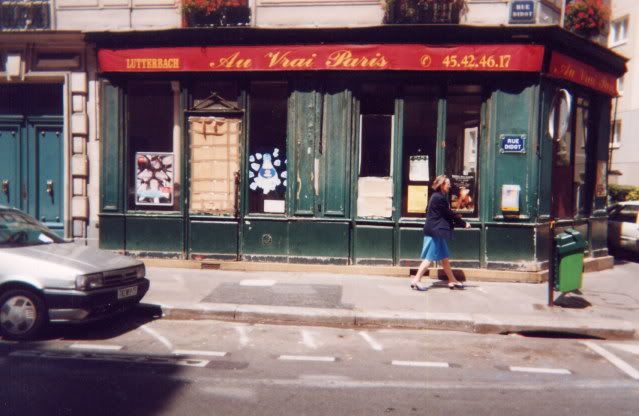 The outside needed plenty of work, and the inside needed even more. Workers were hired, and the renovation finally began.
Some of the investors were there scraping and sanding along with the workers. My office job precluded this sort of participation. Some rotten panels needed to be replaced.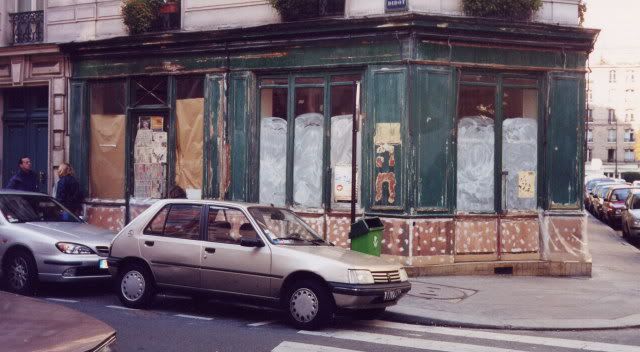 A first coat of primer finally went on the outside walls.
We felt that progress was finally being made when the new final coat of paint was applied.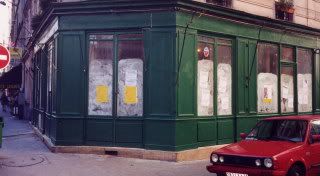 Unfortunately, local taggers had little respect for hard work.
It just meant painting again…
The grand opening approached, slowly but surely.
(end of chapter 1)