Post by Deleted on Aug 4, 2009 17:28:59 GMT
When I left the United States to move to France, I actually began my trip on a Greyhound bus, for the simple reason that I had crammed most of my worldly possessions into two footlockers, and the excess baggage fees if I had been flying would have been horrendous. Thus on a dreary February day, I boarded a bus in Los Angeles whose destination sign on the front said "New York City."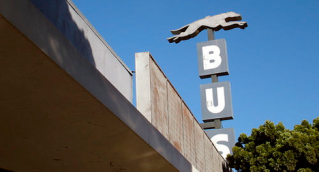 Greyhound was quite famous for its use of streamline modern architecture in its stations, but by then, most of the bus depots were in their final years before demolition, slowly deteriorating with cracked windows and blackened corners where mysterious fires had burned. Homeless people slept on sheets of cardboard along the walls, doors were missing from the lockers, and the restroom was a place where nobody wanted to go if they could avoid it.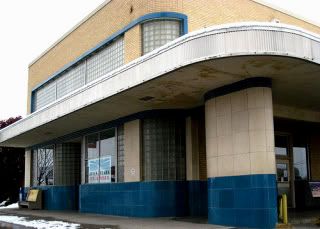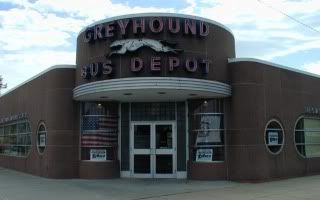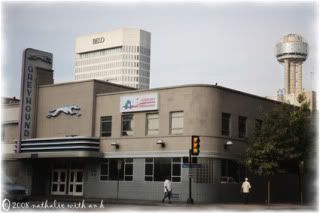 I remembered the trip as lasting three days, and that hasn't changed, because I just looked at the Greyhound schedules on their website and the duration of the journey is listed as "2 days 17 hours." Personal music players and video did not exist back then. You had to spend a lot more time with yourself in the old days. I obviously had some books of which I have absolutely no recollection, but I mostly looked out the window all day and all night.
I have always done that on buses and never get bored with it, even in the middle of the desert. I want to see everything.
Who takes such a bus? It's exactly as you would imagine – mostly losers, from the looks of it, but also just some simple people – maiden aunts who wouldn't dream of setting foot on a plane even if they could afford it, teamsters whose trucks had broken down in the wrong place, serial killers and runaways. I probably looked like a runaway because I didn't look as old as my age (20).
Most people were not going the whole way to New York, but I'd say that most of them were at least going east of the Mississippi River. The bus crossed Arizona and New Mexico. I'm pretty sure we went through Phoenix and Albuquerque and on through Amarillo, Texas. I have a very clear memory of seeing Oklahoma City in the middle of the night and how much it surprised me. I was expecting an ugly run down place with probably tumbleweed in the streets, but it was all shining and gleaming and clean. Even the refineries seemed to sparkle with all of the lights at 2 a.m.
When we finally arrived in Saint Louis and crossed the Mississippi, I felt that the journey was halfway finished. It was actually more than halfway finished, but after so much time on a bus, night and day, day and night, with only 30-minute stops in barren fluorescent cafeterias every three hours or so, the miles just kept getting longer and longer. I forget what the name of those Greyhound cafeterias was, but I dreaded seeing them. The customers looked like a mix from the prison recreation yard and escapees from a nearby mental facility. In any case, they had an air of "belonging" there, and I didn't. Oh, now I remember: Post House Cafeteria. Perhaps "Poor House" would have been more appropriate.
The people on the bus had mostly changed. There were lots of farmer type people who seemed completely normal and not creepy at all. The bus appeared to be an acceptable way to travel in the Midwest when you had to go somewhere 100 miles away. There were maybe only 4 or 5 people who had been on the bus from the beginning. We watched each other warily while nevertheless sharing a sort of survivor camaraderie, especially when dashing to the restrooms at the bus stops to try to freshen up. We were not feeling or smelling very fresh.
On through Indianapolis and Dayton and an unpleasant hour in the middle of the night in Wheeling, West Virginia, which was a stop where everybody had to disembark for refueling when all we wanted to do was sleep. I have held a grudge against Wheeling, West Virginia, all these years and I hope to get my revenge some day. Return and burn the town to the ground or something. But I'm pretty sure that the city has just about fallen apart all by itself since then, being in one of the most miserably de-industrialized corners of the United States. (Bizarrely, it has become a Hare Krishna center – I guess they have nothing better to do.)
The farmers disappeared by the time we arrived in Washington, D.C. and the bus filled with black people lacking wealth, shuttling between the big cities of the Northeastern corridor for reasons of their own. In Philadelphia, we stopped longer than expected, and then they told us to recover all of our personal possessions, because the bus had broken down and we would have to change vehicle.
I felt a bit cheated, because it seemed to me an exploit to take the same bus nonstop from coast to coast, and here they had suddenly switched buses on me, breaking the charm. It was not my bus anymore, just some sort of replacement bus that I had to put up with for the last couple of hours.
We arrived at the Port Authority bus terminal in Manhattan 2 or 3 hours late due to the breakdown, and I took a taxi to my hotel. It was about 11 a.m. The taxi driver was shocked at the weight of my foot lockers, because I came out of the bus station in some sort of magical adrenalin rush, carrying the trunks vertically by the handle on each side, looking like the skinny long haired kid that I was. The taxi driver was more on the order of "large muscular black man" and he grunted with shock when he started to load the first item into the trunk. "How did you do that?" he asked. "I thought they were empty!" He could barely pick them up. I guess we'll never know.
I spent two nights in New York until going to Pier 90, home of the Italian Line (after having used the French Line's Pier 88 for my childhood travels), and I sailed across the stormy Atlantic Ocean to Gibraltar, Naples and my final destination of Cannes. Not quite the same experience as the Greyhound bus, but just as full of lost souls.
The last thing I saw sailing from New York was the World Trade Center.