Post by bixaorellana on May 18, 2009 1:43:27 GMT
These photos were taken on a ramble in the hills behind my house late this morning.
I live in a suburb of the town of Santa Cruz Xoxocotlán, just south and pretty much attached to the city of Oaxaca. My neighborhood stretches up from the main road and backs up on
Monte Alban
. My house is one of the last ones before the municipal power lines run out. However, people own land and homestead on the roadless and waterless hills behind me. They build their houses a bit at a time, as they can afford, and simply hope that one day the modern services will reach them.
The dog and I set out going north from our house towards Monte Alban. It rained buckets last night, and today was very overcast, not making for good photos.
This seems to be a whole compound, with a painted fence and a good bit of ground: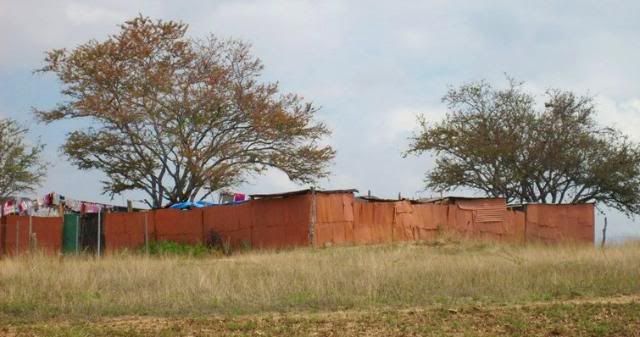 I love this tree and wanted a photo of it before it leafed out. It's still dramatic with leaves. This is a guajal. The pods are eaten as a snack. Supposedly Oaxaca got its name from these trees.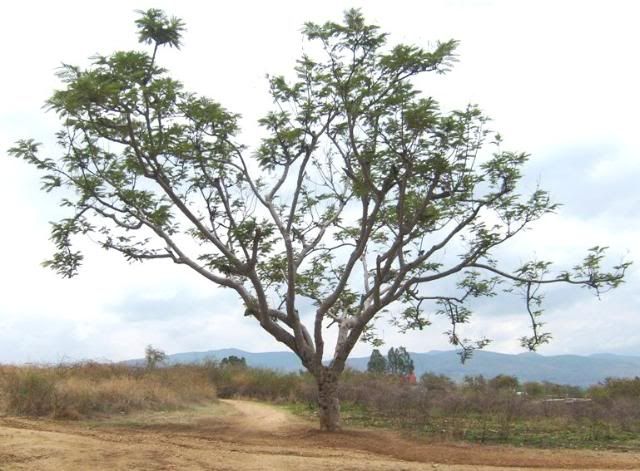 Looking west: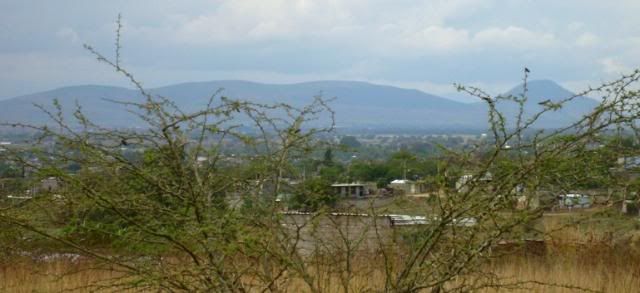 A freshly plowed field: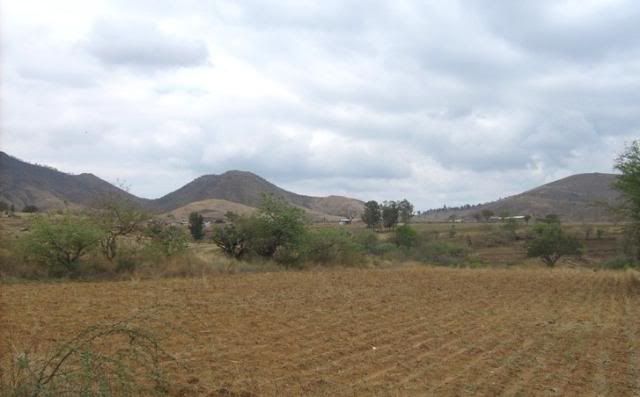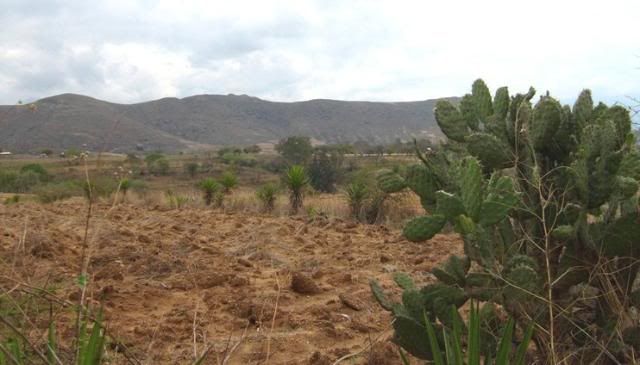 A tidy homestead. The open, roofed structure in the middle covers the washing area -- a waist-high concrete water receptacle on one side and shallow rub-board on the other. The structure on the right would be the bathroom:
This picture quite clearly shows the ridge of Monte Alban and some of the ruins there.
This photo is hardly in a league with the fabulous
Tibetan windows
, but it does show a noble attempt to add cheer and color to the house in progress:
Several of these pictures could be entitled "Hope". Here is an isolated house in the process of being built: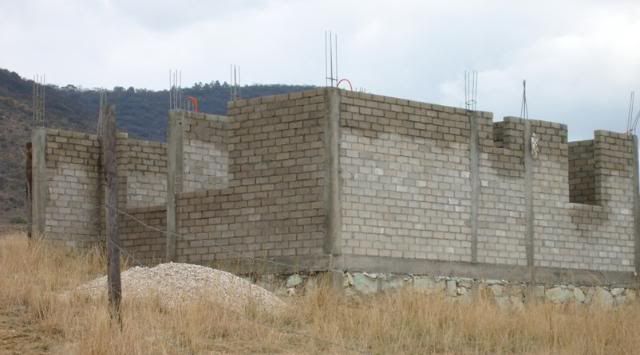 And here are banana trees amazingly snugged up to the flank of Monte Alban. Those appear to be young fruit trees next to them: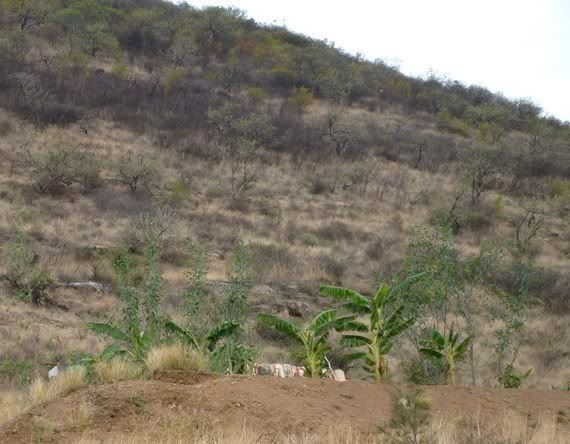 Growing anything under the condition of a half year with no rainfall is not a small endeavor, particularly considering these are the stony foothills of a mountain range.
This is the ground over which we were traveling: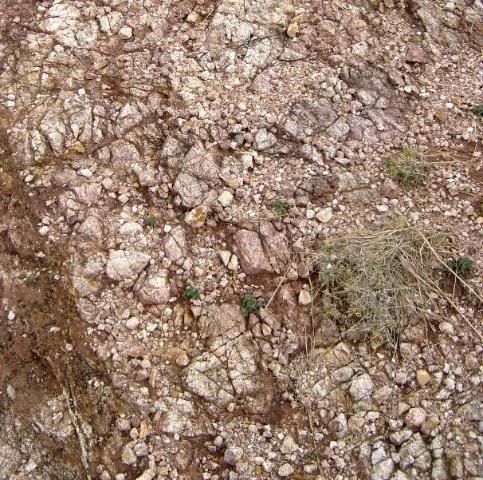 More hope in flower: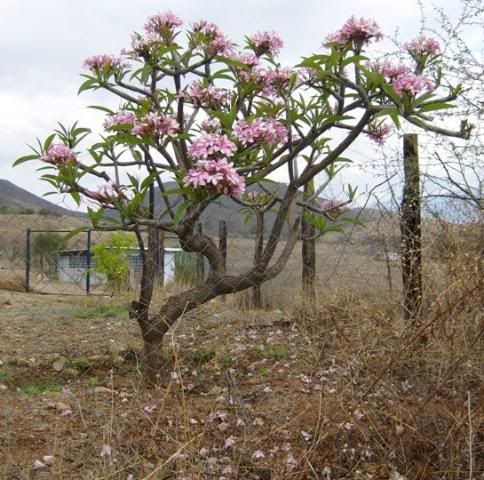 This frangipani was blooming in a fenced area which also had some baby fruit trees in it. This was the house in the yard, whether completely abandoned or only used when the owners visited this plot, I don't know:
That yard was across the track from this house: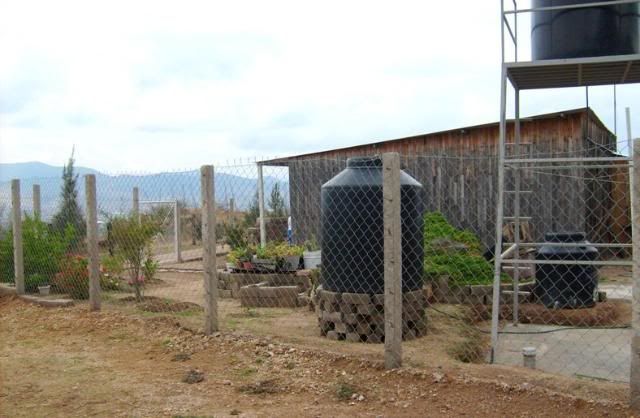 .
I quickly snapped this picture from the side, as I didn't want to offend the lady of the house. From the front, her house has quite a nice garden. You can see all the ways water is guarded in order to have that.
Bleak beauty: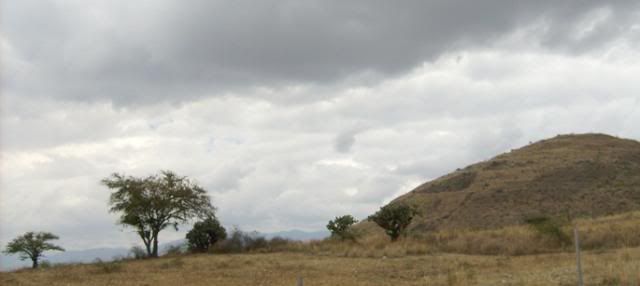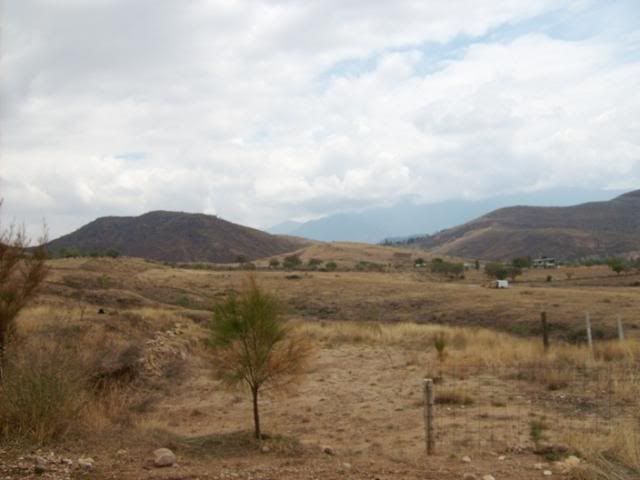 Looking back towards the city: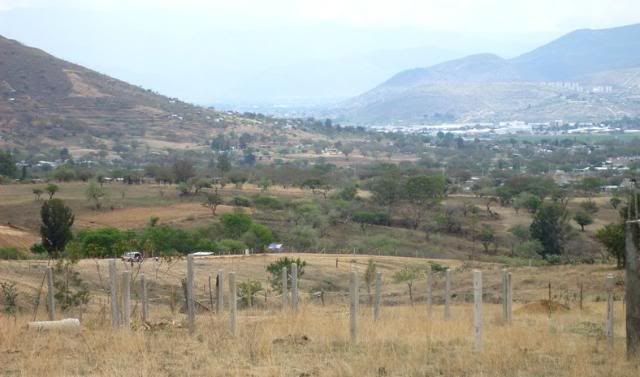 Heading home.
You can see Ginger's fuzzy behind mid-way down the track: