Post by bixaorellana on Apr 29, 2009 20:22:15 GMT
Although reports from the Hospital Civíl in the city of Oaxaca sound reassuring, my personal experience with hosptals here leaves me very leery.
A news report, from April 17, states: "Caught in contradictions, officials of Health Services of the state of Oaxaca ruled out the existence of an outbreak of avian flu in the [public hospital], or of an infectious disease resulting from a virus or bacteria of outside origin which warranted a declaration of general health alarm. Nevertheless, they did not present documented proof of their statements."
link
here
for those who read Spanish)
Knowing that hospital care in Oaxaca relies heavily on the patient's family to supply the basics (feeding, showers, etc.), and knowing how lackadaisical are the sanitary conditions -- more frequently than not, personnel don't use gloves, I truly wonder how well infectious disease can be contained here.
That same article reports that 16 medical personnel members presented with "slight respiratory infections". Yikes.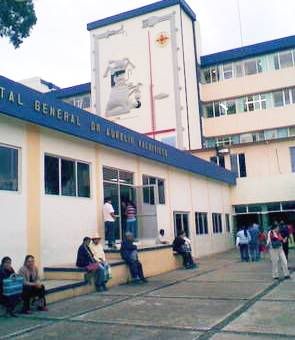 Here's a photo of the Hospital Civíl (Hospital General Dr. Aurelio Vadivieso) showing the teeniest proportion of the huge numbers of people always waiting outside. I used to live quite near it, and always felt so sorry for the country people camped on the grounds. They were either awaiting treatment or were there with family members.
HOSPITAL GENERAL DR. AURELIO VALDIVIESO[/img] The photo (June '08) is from a well-known Mexican online site called EsMas. The original caption says, "[this hospital] is always at more than 100% capacity. The hospital is very bad, but the personnel are very efficient."
Noticias
, the best daily newspaper in Oaxaca, reports that the area around the zócalo (main square) is much quieter than usual, with the main topic of conversation being the flu. This picture shows the area in front of the cathedral, which usually swarms with people:
The article further states that some people are using surgical masks, some covering up with the collars of their clothing, and some doing nothing. That is what I observed on Monday when I went into town. The same article tsk-tsks over a young couple necking passionately on a park bench, pointing out that anyone might be a carrier of the flu.
Meanwhile, in my area just outside the city, people do not seem overly concerned. They're in agreement that it's wise to keep the kids out of school, say they're avoiding street food, etc., but no masks are seen and life seems normal.
What worries me is the casualness of Oaxacan life. Food, even in supermarkets, is not protected from the public. It's tempting, it's everywhere, and right now it might be lethal.
The other thing that bothers me is the quality of the air. Garbage, including plastics, is frequently burned even though there is adequate pick-up. Vehicle emissions are completely uncontrolled. Added to that is the fact that Oaxaca is in a valley and at the end of an extended dry season.
To help locate the names of towns and areas being reported in the news about the flu, here's a simple map of Mexico: