Post by onlymark on Apr 12, 2010 14:28:23 GMT
I was reminded last week by K2 that there are plenty of pyramids I'd not gone to. Mainly though because they are now just rubble. But one important one is at a place called Meidum, about an hour south of Cairo but two hours away from me.
I decided today to have a run down to it as it was a nice day. In fact most days are nice, but it's an excuse anyway.
There are reams of information about the Egyptian pyramids, but rather than get bogged down in it all and repeating tracts of it I'll just mention a couple of things.
About 2630 BC Pharaoh Djoser decided he wanted a pyramid shaped structure to hold his mummified body. But this was only after his first thought, which was a flat roofed and shaped 'Mastaba'. Fortunately the Mastaba was already nearly completed by his Chancellor, High Priest and part time architect/engineer, Imhotep. Traditional Mastabas had the burial chamber below ground level, this was no different.
However, probably after a few beverages, Djoser persuaded Imhotep to add a couple of more levels on to it to make it bigger. As Djoser ruled for 19 years he ended up adding levels until there were six, in the formation of steps, rising to 62 metres high.
This is the Step Pyramid at Sakkara, about a half hour south of the famous ones at Giza.
The first true pyramid.
A decade or so after is death another Pharaoh, Huni, decided he liked this stepped pyramid thing and decided he'd have one as well. But it may be he didn't want it as a burial place, just a monument. It certainly seems he had one finished when he died. This is the one at Meidum. He had it made in, probably, seven steps with a further one added later by the husband of his daughter, Snefru.
The medium pyramid did have a burial chamber though, and built above ground, possibly to get the occupier nearer to the sun god.
Snefru built a number of pyramids in his time and it seems he decided with Meidum to not only build an extra level, but to then case it in limestone making the sides smooth, or at least the three lower levels. It is not known if he decided this before or after the next one he built. But the next one had a fatal flaw.
The Bent Pyramid at Dashur (in between Meidum and Sakkara).
He started to build this one with the edges at an angle of 55 degrees but, either due to his impending death, or, more likely to me, the pyramid showing signs of being unstable, it was finished off with the edges at 43 degrees. This one was totally cased in limestone giving it a smooth external surface.
One theory is that he covered part of the Meidum pyramid but saw that it was collapsing and the limestone was falling off so he altered the angle as soon as he could for the Bent pyramid.
Whilst this one was being built Snefru, more than likely seeing that the true shape of a pyramid ought to be 43 degrees, decided he'd try and get it right this time and built what is now known as the Red Pyramid nearby.
This was also covered in limestone, but as people are, it got stolen and used to build houses for the locals over time. This revealed the stone underneath has a red hue to it giving rise to the pyramids name.
When Snefru died he was probably buried at Meidum, in the Mastaba to the side, but this is not known for sure.
Anyway, his son, Khufu (Cheops in Greek) also liked the idea of a pyramid so when he came to power he decided to go bigger and better and built what is known as the Great Pyramid at Giza (Giza is now just a suburb of Cairo).
This is the classic pyramid, one of the old Seven Wonders of the World, and the one everyone thinks of when they think of Egypt and pyramids. It forms part of a trio in Giza - Khufu, Khafra (in pictures this one still has a bit of its limestone cover on, near the top) and Menkaure.
So, in chronological order, starting at about 2630 BC and ending about 2515 BC (no-one is sure of the dates) the major Egyptian pyramids are – Step, Meidum, Bent, Red, Great, Khafra, Menkaure.
(Jeez, I hope I've got this right, you'll crucify me if I haven't)
So today –
Just after leaving home I come across two buses, usually used for school kids, who have had a 'coming together' –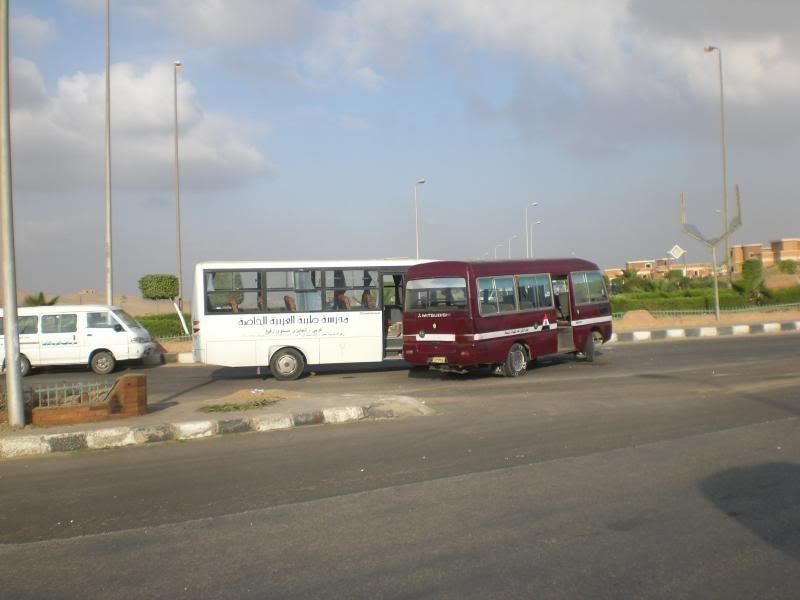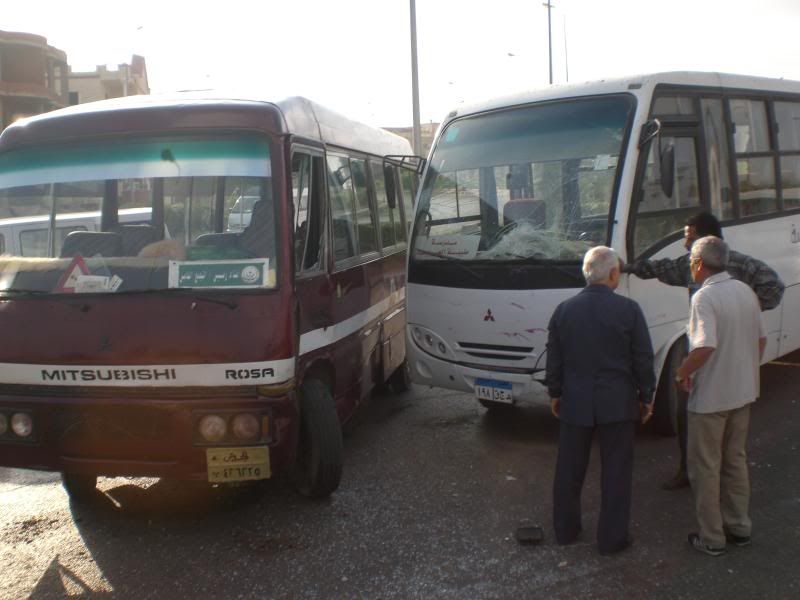 I expect the red one has cut across the front of the other one, without looking, as they do all so often.
Then there was the minibus that had gone off the road –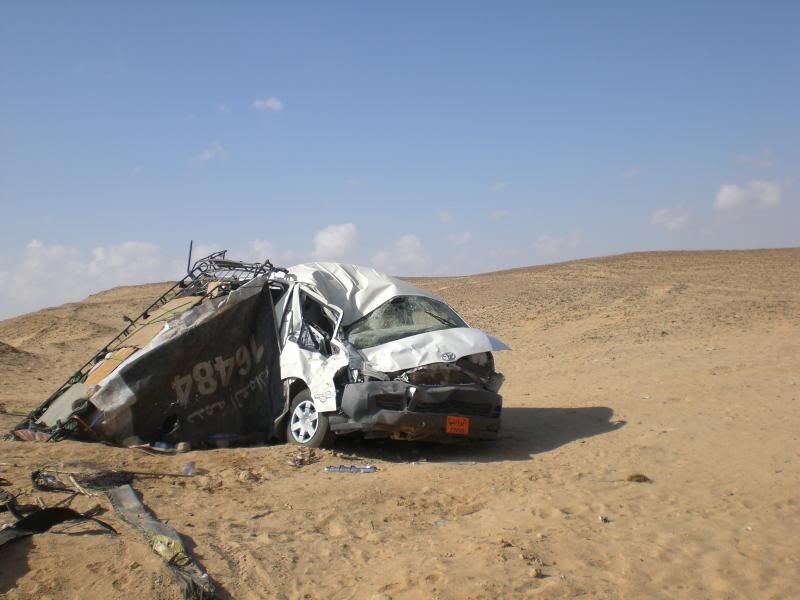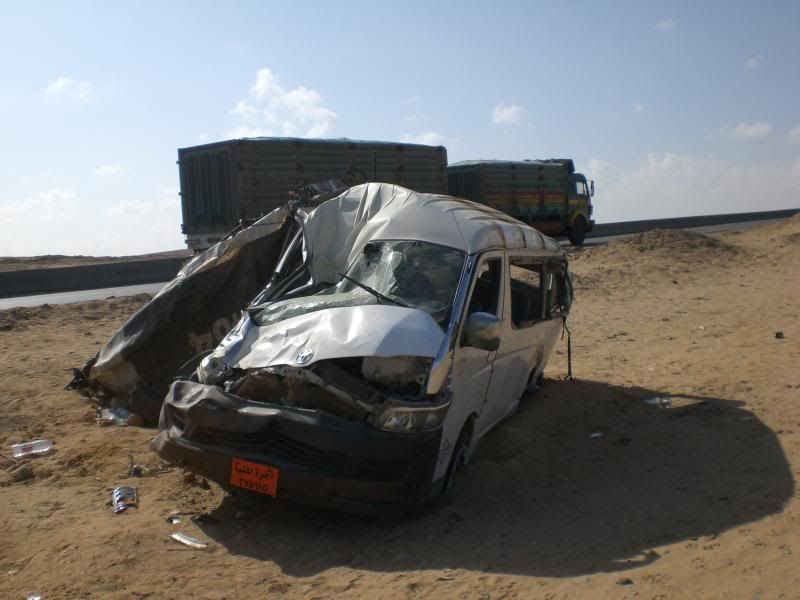 The driver has probably built the little shelter at the side as he's been there all night.
There are two ways to get to Meidum desert road and ..... errrr..... not desert road.
I took the latter there and the former back.
Eventually the pyramid comes in to view, look hard and you'll see it –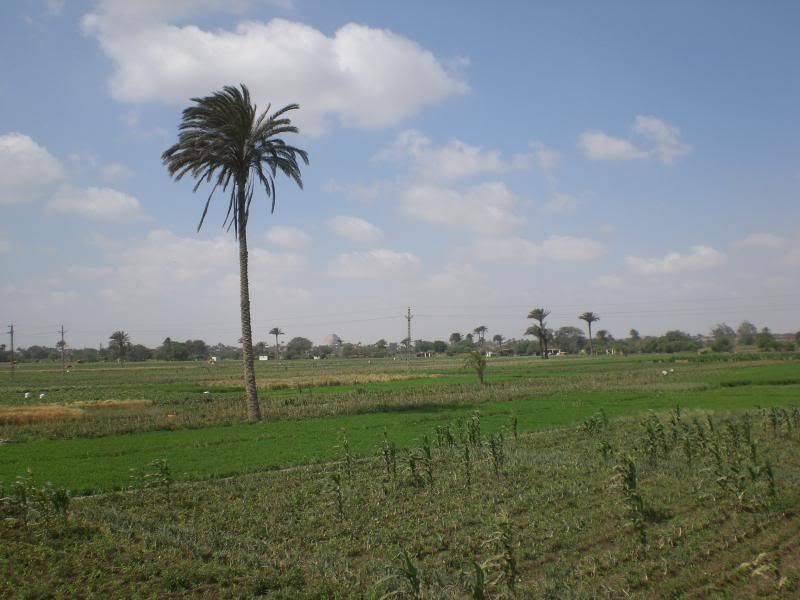 A bit closer –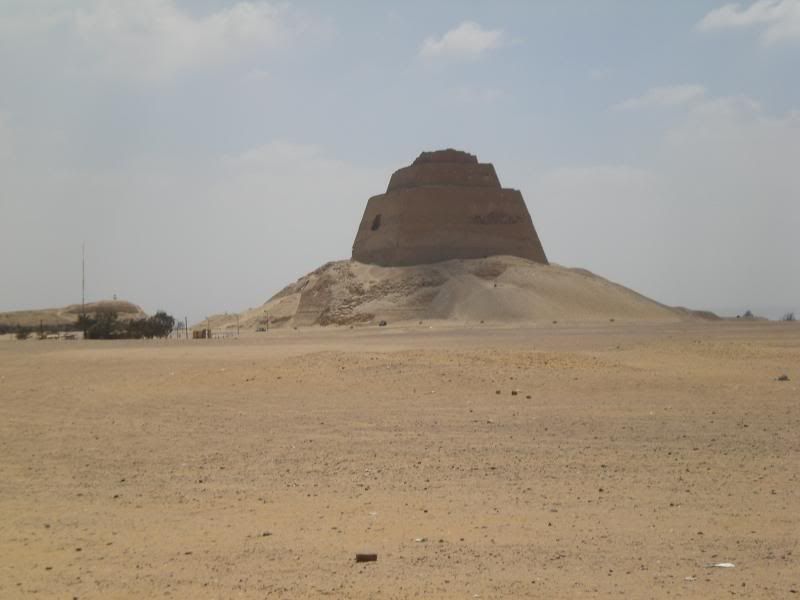 So I arrive, argue with the ticket man as I don't want to pay foreigners price and I show my driving licence and residents visa, but to no avail, I protest, but not too much, just enough for the sake of form. I pay 35 Egyptian pounds (local price 25 pounds) and immediately get accosted by a security guard who states he must stay with me for 'security reasons' – baksheesh more like.
As I'm the only one there and you can see for miles I tell him that I'd rather he stays in the shade, drinks tea and if he sees anyone just to give me a shout and I'll run over to him for protection.
He protests, but not too much, just enough for the sake of form.
And I'm off to take some photos of Meidum –
First I have a quick look at the Mastaba, but don't go in –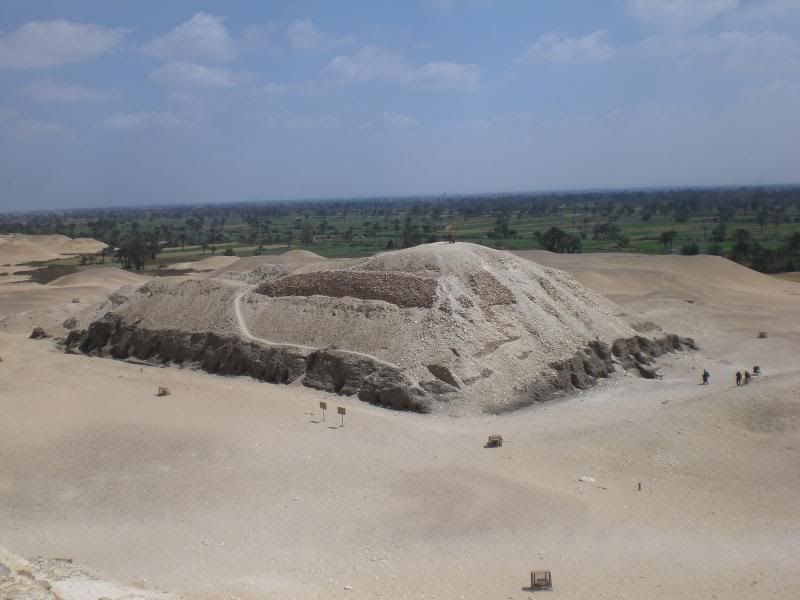 Then a walk round the pyramid itself taking various shot of it, the views, and the 'roadway' to it that was probably used to bring the stones from the Nile about half a km away. There is also a small mortuary temple.
The hole you see is usually either from unknown archaeologists with a very poor technique or very determined grave robbers -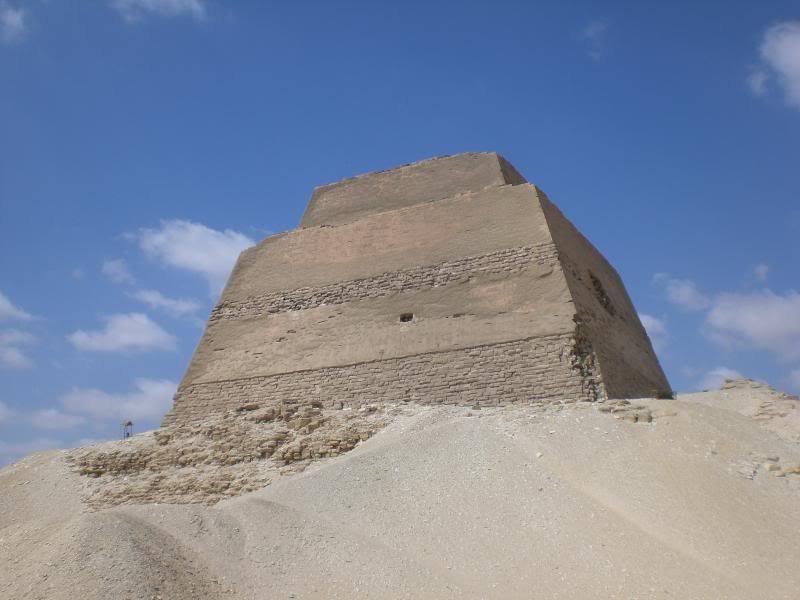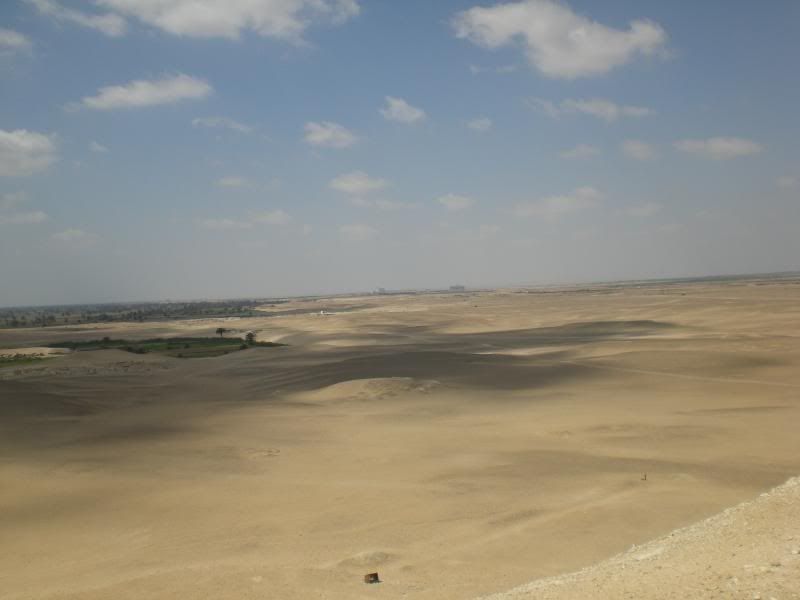 The chimneys in the distance are from brick works -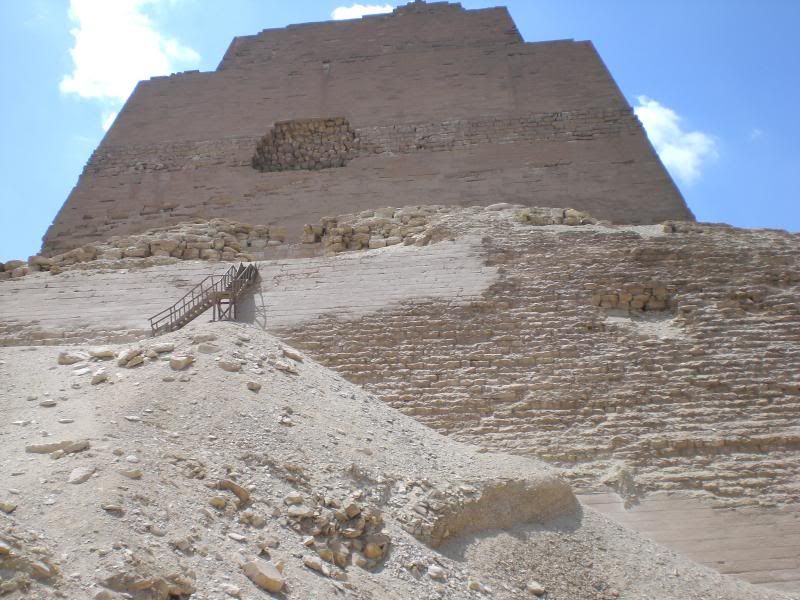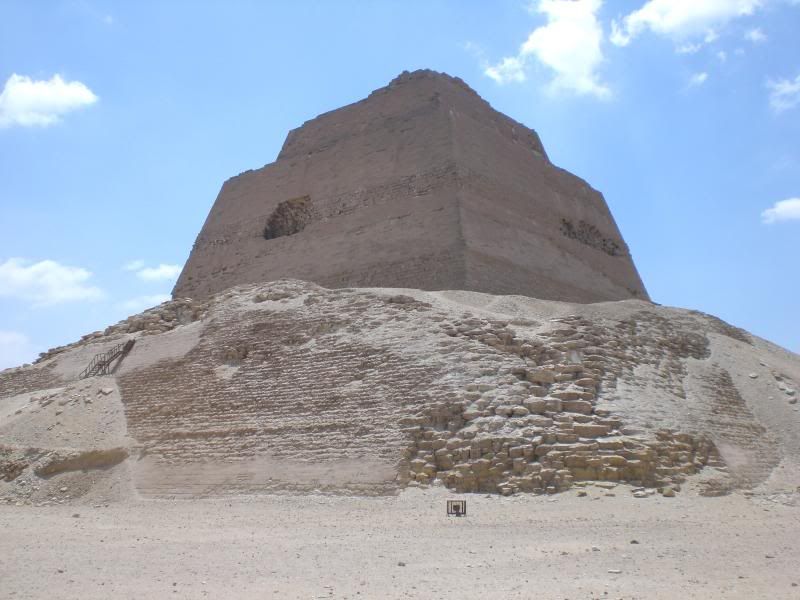 Then I was brave and went inside (with the keeper who I gave 5 LE as baksheesh).
The entrance is quite high up as seen in the photo with the metal steps.
There is the tunnel which is about at stooping height and goes on for .... seems forever ...but was about 40 to 50 metres –
Photos up and back –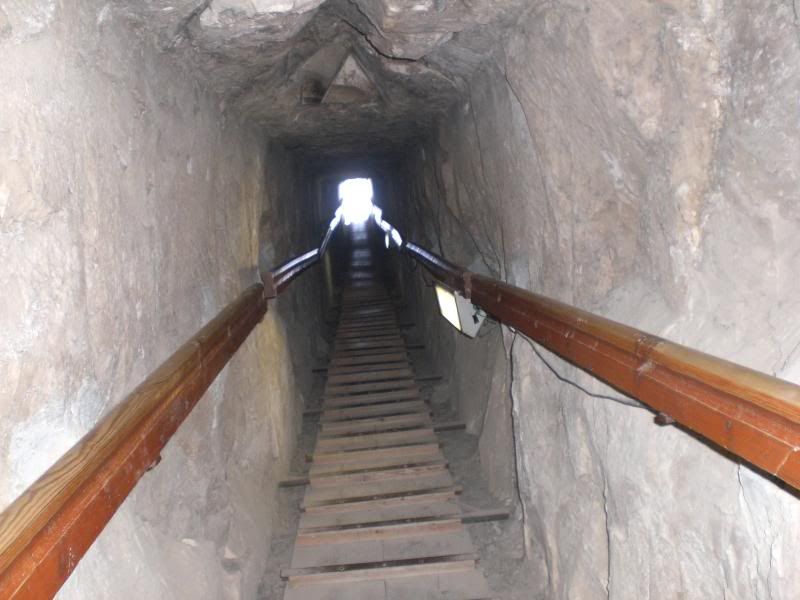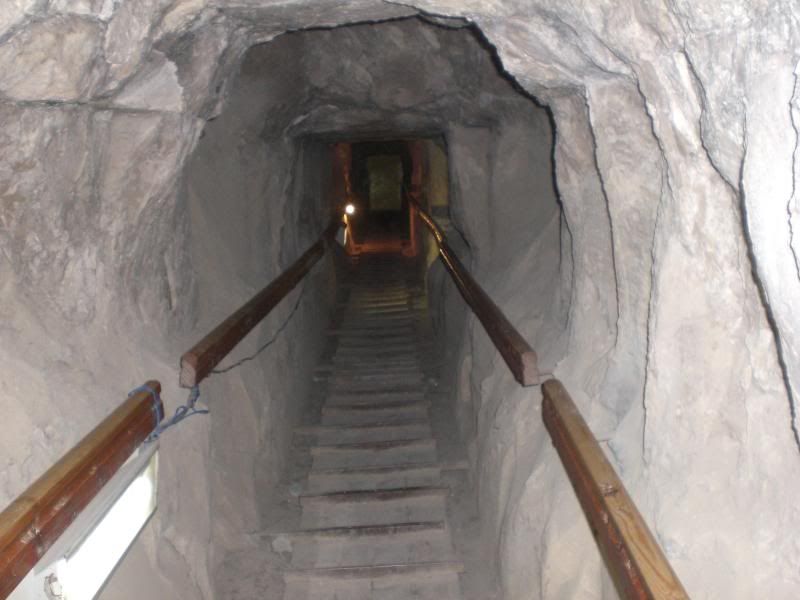 There are then a couple of alcoves, possibly built so that the doorway stones could be moved out of the way to get past –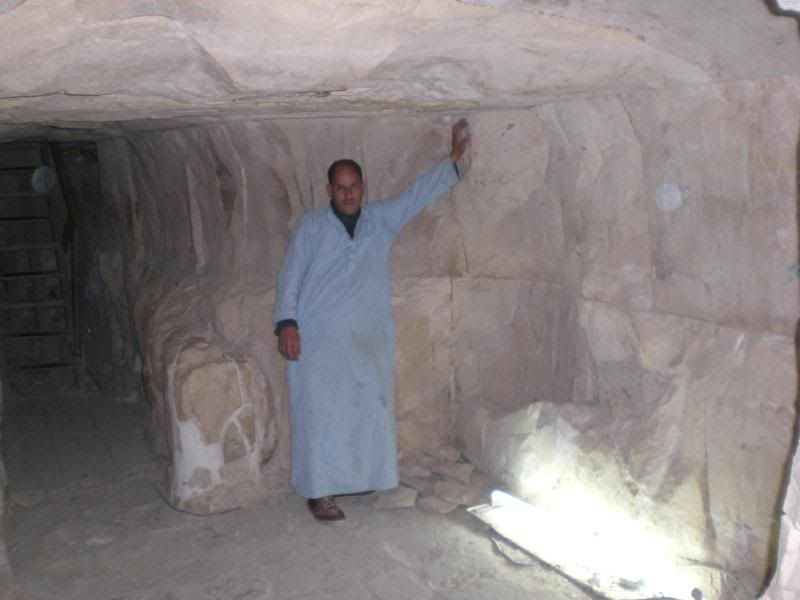 Past the method of tying the roof stones together at this point (probably done a lot later) so they don't fall on you –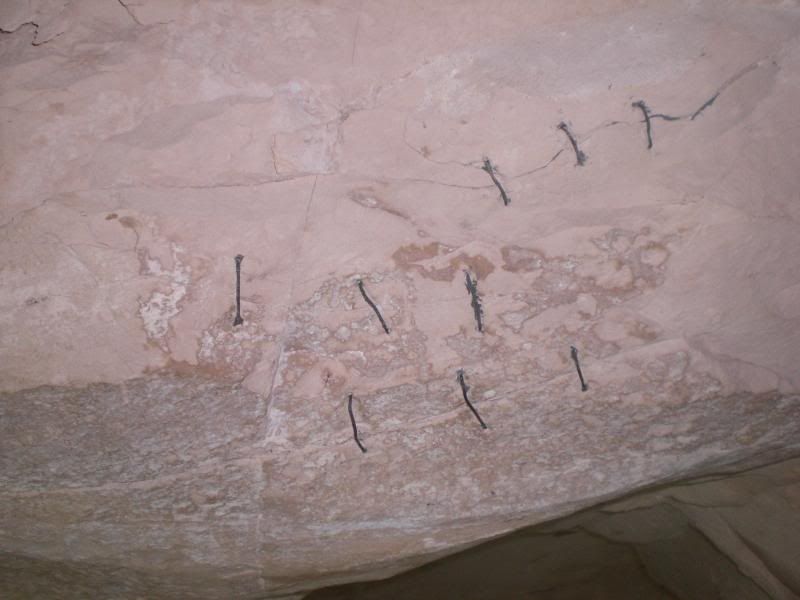 Up three levels in a small stairway –
Then in to the chamber itself (me looking dishevelled, hot and bothered)–
Note the roof of the chamber is formed by a method called a corbelled arch. This is where the slab above is moved in a little and overhangs the one underneath. It's one of the oldest ways to construct a roof -
en.wikipedia.org/wiki/Corbel_arch
Note also the wooden beams that are reputedly original and placed to use to lift a coffin type thing in to the chamber –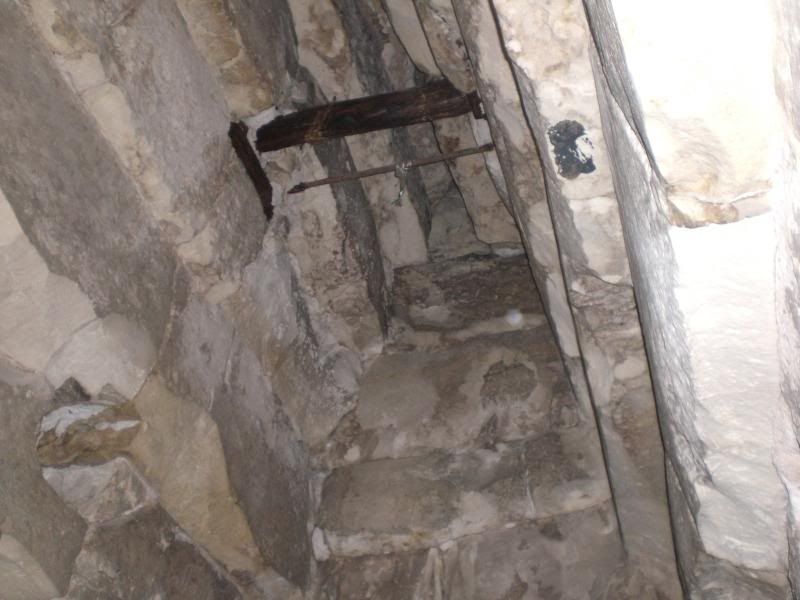 And that was it. I was so knackered after going inside, the air is very, very bad, that I made my way home.
First along the desert road which goes on and on –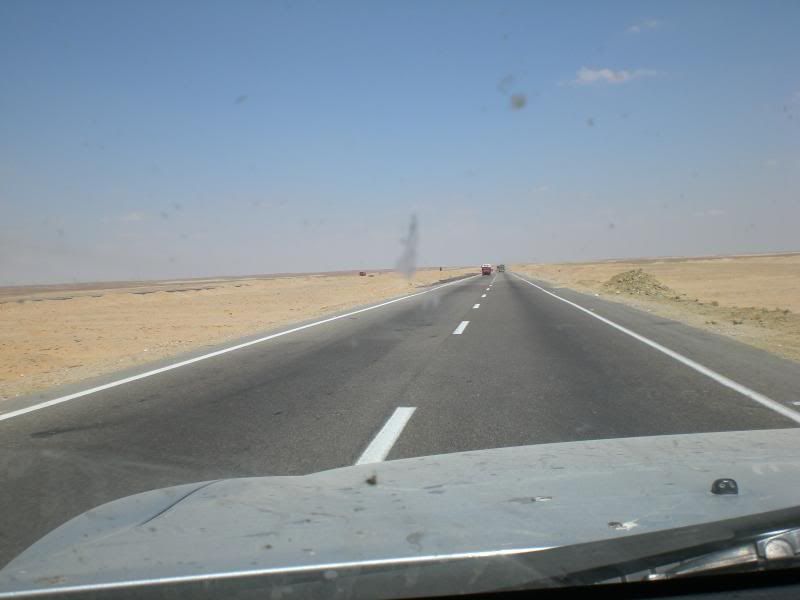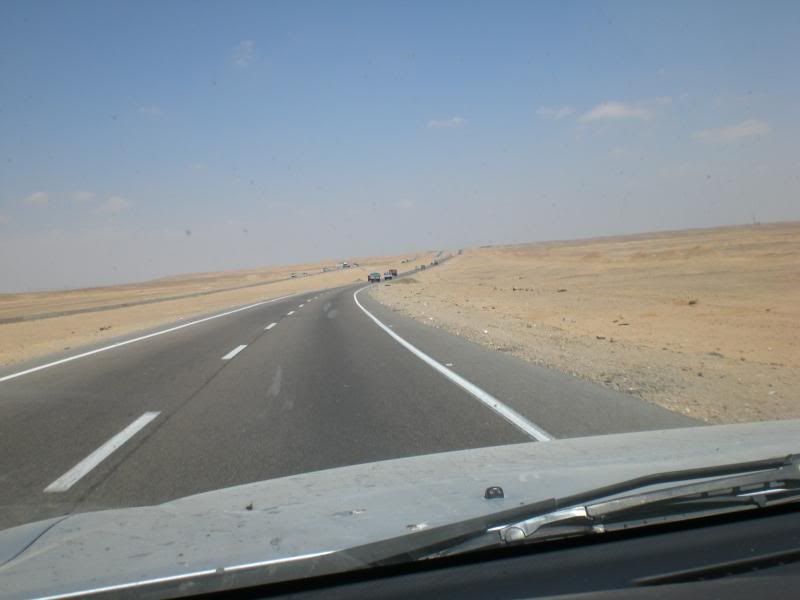 More desert road (yes, they are quite boring) –
Past the van/pickup that was just being returned to the road after diverting off in to the desert and ending on its roof –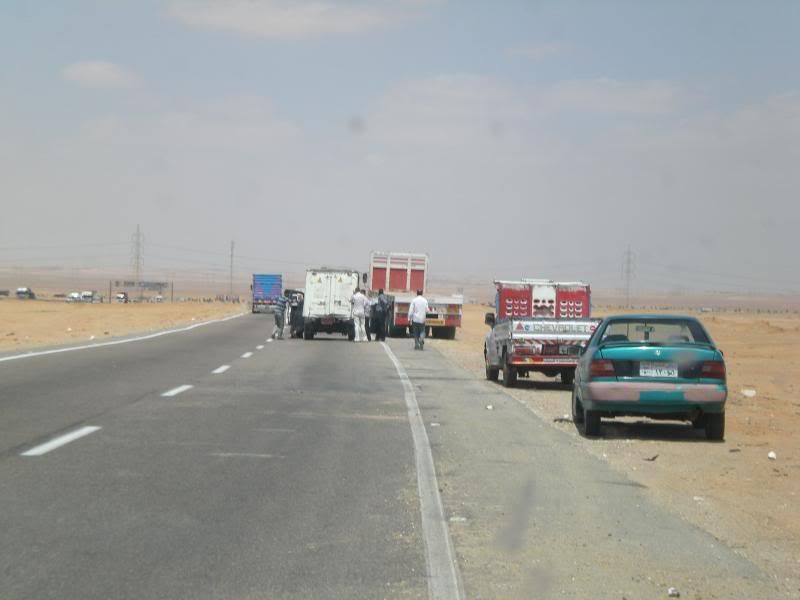 Eventually coming back to Cairo I get a glance at the Giza pyramids –
Avoid the U turning vehicles that always drive straight into your path (very few left turns in Egypt on major roads, you have to usually go past your turning, do a U turn and go back to it) –
Another glance at the pyramids at Giza –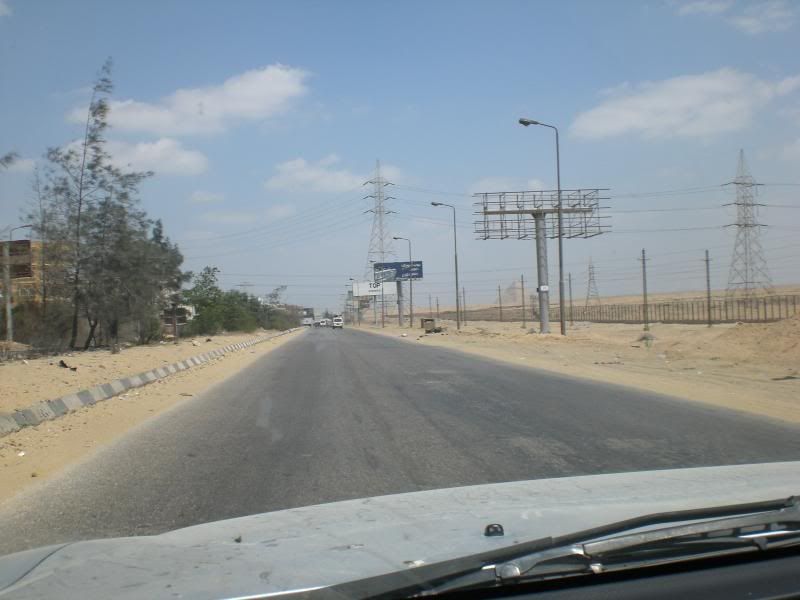 Take a short cut and contend with the donkey carts carrying their produce –
Maybe buy a few carrots –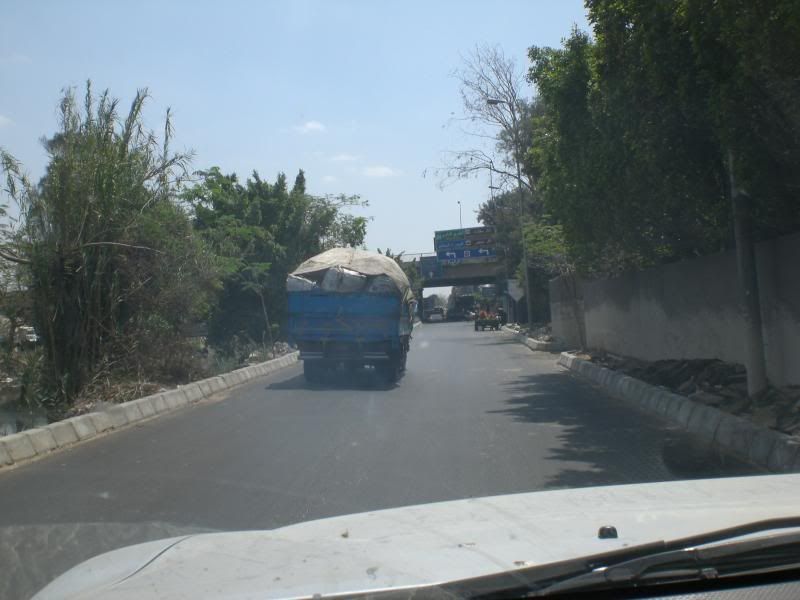 Then I slipped up onto the Ring Road, over the Nile, and home for a late lunch –