Post by bixaorellana on Apr 28, 2010 7:27:24 GMT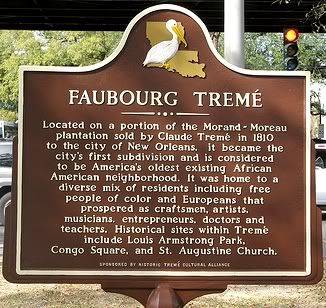 There is a new television series on HBO called
Treme
, named after a neighborhood in New Orleans. The show features lots of the music for which New Orleans is famous, and one of the main characters is chief of one the Mardi Gras Indian tribes or "gangs". In the most recent episode, a deceased member of this group is honored with a traditional song of the Indians. A friend of mine called me, completely enthralled with the music and wanting to know what it meant. After explaining as best I could, and looking up stuff online for her, it occurred to me that the beauty and pageantry of the Indians should be featured here.
None of these are my own pictures. I imagine Casimira will have something to add to this thread, and might have photos if we're lucky.
Click on the pic for more info about the Treme neighborhood -->
Here are some photos of the costumes, but nothing really does justice to the amazing invention and workmanship of these feather, sequin, and otherwise bedecked creations.
The "suits" as they are called, are designed and sewed by the men who will wear them.
It is a West African tradition to signal respect for one's host by dressing like them at ritual celebrations. There is strong evidence that the costumes of modern day Mardi Gras Indians are a cross between Africa ritual costumes and that of the Native American. ...


The Black Indian nation is loosely organized into what was originally called, "gangs", now called and known as "tribes", which labor all year long ... creating magnificent "suits" consisting of intricate hand beading , false gems and stones, and decorative feathers and plumes as well as symbolic accouterments like rifles sticks (staffs), shields and tribal flags. They wear long braided wigs or wear tied bandanas on their heads ...
rest of the above & lots of history
here
.
Even though the Indians' two big days are Mardi Gras and "Super Sunday" -- the Sunday nearest St. Joseph's Day -- because of their status as a major part of New Orleans culture, the Indians can be seen in their finery on the Fairgrounds during the New Orleans Jazz and Heritage festival.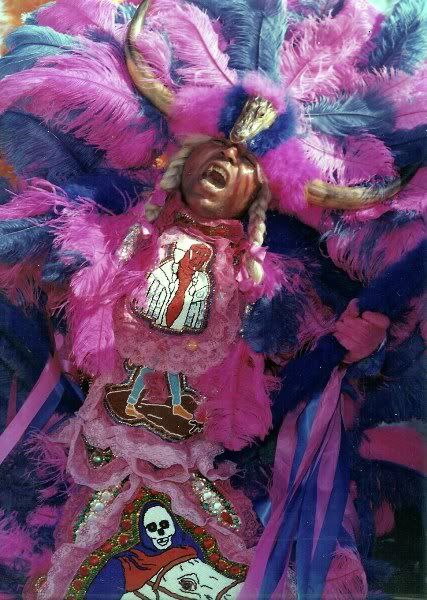 Big Chief Darryl Montana of the Yellow Pocahontas ... will be on hand to demonstrate the intricate beadwork used in creating the abstract designs which are characteristic of the downtown Indian tribes. He carries on the tradition of his father, Big Chief Allison "Tootie" Montana ... His 2009 suit, named "Tribute to Joyce" in honor of his mother, who is highly respected and much-loved in the Mardi Gras Indian community, will be on display for both Festival weekends.
Rita Johnson is Big Queen of the Mohawk Hunters, a tribe based in Algiers. 2009 marks the first year that West Bank Mardi Gras Indian Tribes are being represented at Jazz Fest. Queen Rita has been masking Indian for many years, and while in the Grandstand will be demonstrating the beading skills she has acquired since the age of 15. She will also be discussing the role of the Big Queen, Mardi Gras Indian traditions, and how these traditions have evolved. Queen Rita plans to wear some of her suits while demonstrating, another first for the Grandstand.
quotes on Big Chief Darryl and Queen Rita from this page
From the clothing, I'm guessing this film was made in the 1970s.
It's an excellent mini-history of the Black Indians.
This is an enjoyable video showing how the suits are made and two people who make them.