Post by ilbonito on May 6, 2010 11:26:30 GMT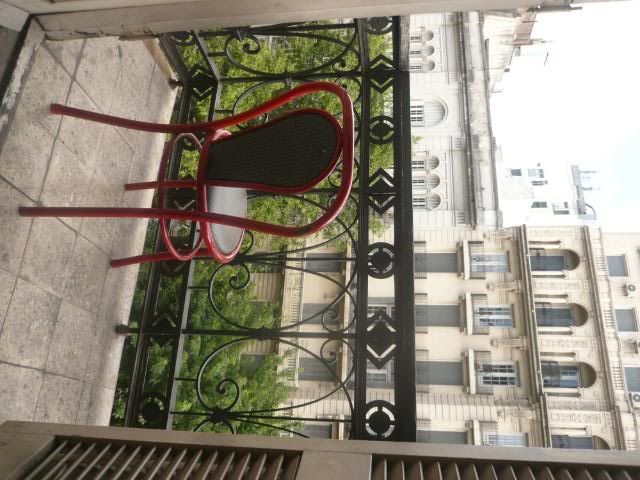 I came to Buenos Aires from Sao Paulo (about which I made a separate thread a while back). It was a massive readjustment. The two cities are polar opposites, night and day. Sao Paulo is hideously ugly, but bristles with energy. Buenos Aires is beautiful, but morbid. Sao Paulo has not so much forgotten its history as willfully obliterated it, while Buenos Aires wallows in nostalgia. It is almost as if the city were forever waltzing through a doomed love affair with its own past.
It reminds me of that movie "The Golden Compass" where everyone wears top hats and the buildings look 1920s/Victorian and Nicole Kidman plays an arch villainess who dresses like Coco Chanel, but they still have modern technology and electric devices, just called by other names.
Buenos Aires is like that. It has vegetarian restaurants and cell phones and gay pride marches and media debates on anorexia and immigration – all the hallmarks of modern, big city life – but they play out against a backdrop that hasn´t changed much since the end of the First World War.
Its as if the city took an odd turn somewhere and ended up in its own, alternative reality; one where the 21st century co-exists with wooden subway trains and buildings still drip in wrought iron and naked Classical statuary. Or the clock just stopped some time around 1920, but life went on willfully without it. The city continued on as it always had, unaware that the world around it had changed.
Like a Borges story, come to think of it.
Buenos Aires is a living, breathing monument to Art Nouveau. Blocks and blocks of it. The whole city looks like this;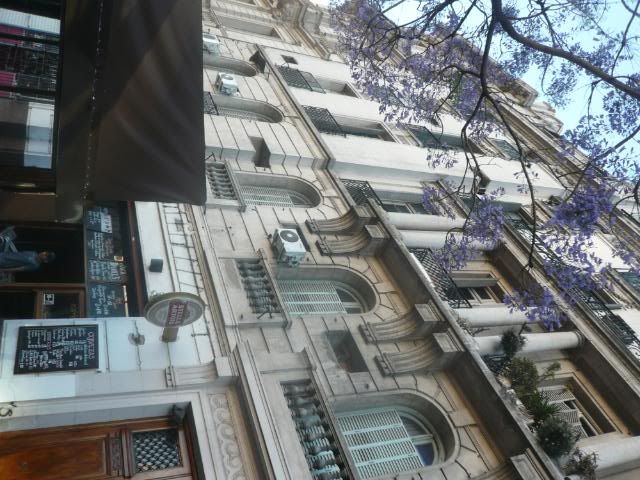 Or this: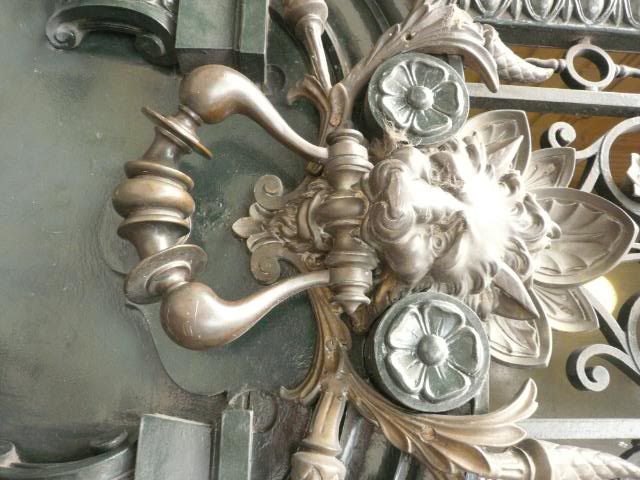 Everywhere. All the time. Its amazing. This was my hostel. Check out the antique cage-lift!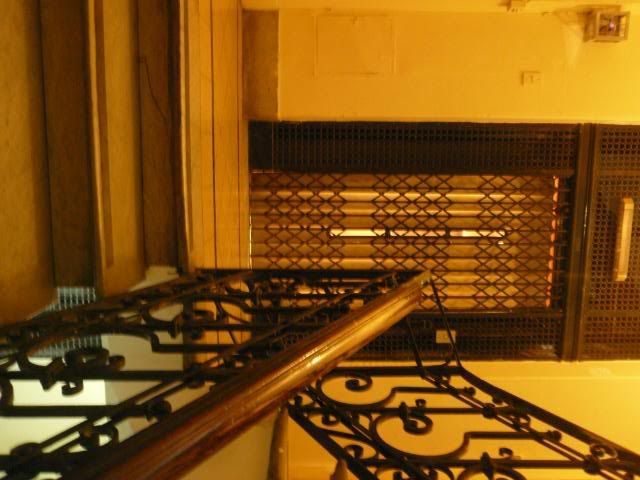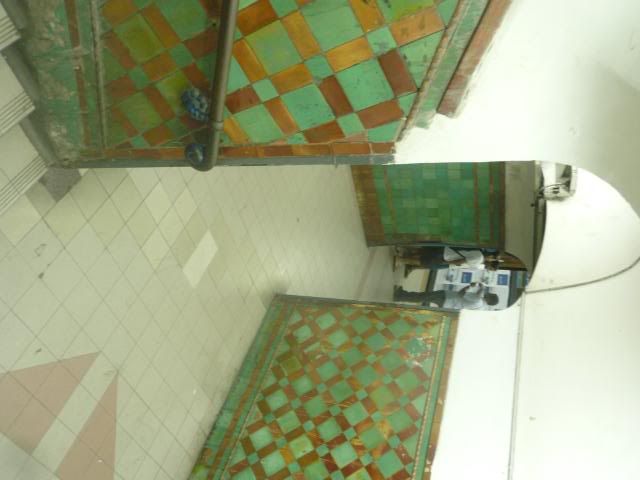 But the tear in the space-time continuum is mostly strongly felt on the city´s subway ( or "subte"). Opened in 1913, it is one of the oldest in the world, and still trundles around in its pre-modern fashion today. You enter through a rabbit warren of tiny, humid passageways, built to human scale but feeling cramped and claustrophobic today. Each station is decorated with its its own unique pattern of intricate tile mosaics, now cracked or fading. There are no ticket machines, you have to go to a window and buy from a person. Late at night when the sellers have gone home, they just open the turnstiles and you go in for free. And each station has its own Virgin Mary shrine in a corner somewhere, where people bless themselves and leave flowers.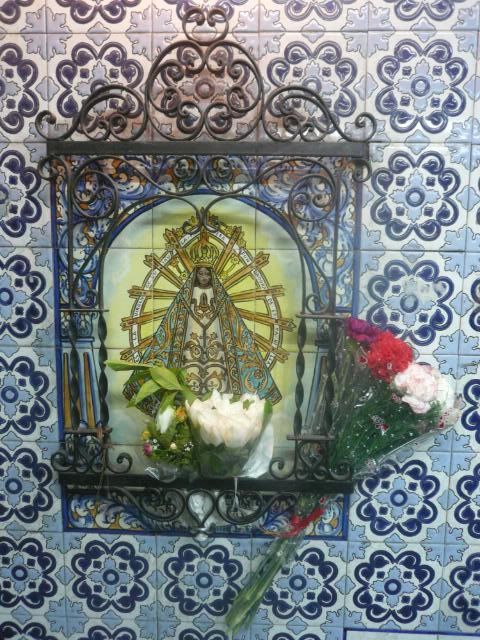 It seems utterly at odds with modern life.
Instead of blaring advertisements or booming messages about the dangers of terrorism, the stations play classical and tango music, and people come by selling roses. At one station they play retro old Roadrunner cartoons on old-fashioned screens, (what decade are we in now? It certainly doesnt feel like any time since at least the 1950s).
The trains on some lines still look like this: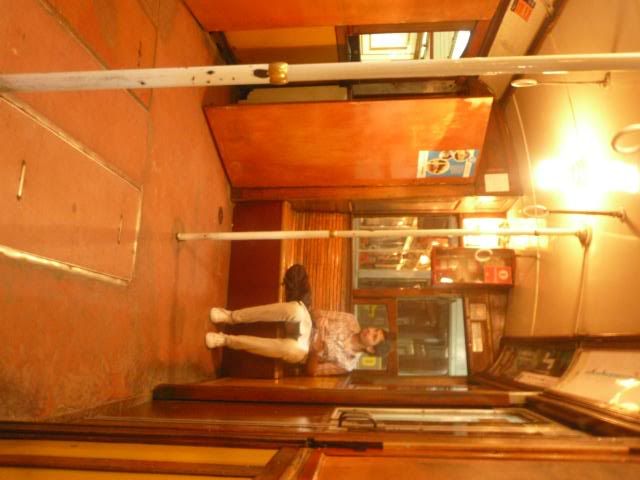 You can open the windows and stick your arm out. And at least one station has escalators made of wood!
The city that everyone compares Buenos Aires to is Paris. Indeed it purposely modeled itself on the French capital. But curiously, the other city it reminds me of was my own, Melbourne. A much bigger, and much more glamorous Melbourne to be sure, but the basic ingredients are the same. The two cities boomed at the same time (late 19th century) and both are full of ornate, grey buildings and lovingly tended parks. Both cities have largely European immigrant populations (BA is the first place in South America where I can disappear seamlessly into the crowd. Until I speak, everyone thinks Im local, which never happened in Brazil).
Maybe thats why I didn´t "get it" at first.
When I stopped by Buenos Aires for a few days ten years ago, I didn´t like it. I had come to South America for the exotic; for multiracial crowds speaking sexy languages (for me, Spanish isn´t), for weird jungle fruits and brightly colored birds, all of which Brazil delivered in abundance and Argentina manifestly did not. Buenos Aires doesnt really do "exotic". But what it does, it does spectacularly well; the pleasure of watching life unfold in a vivacious city drowning in monuments to its past and haunted by an air of mystery.
If the past is another country, then Buenos Aires is a border crossing.
This time, with a better idea of what to expect, the city seduced me completely. It sucked me in with the beauty of its fountains and plazas, with the intense golden daylight that shines every day from morning until 9 at night. It romanced me with its sadness – all those bright hopes that came to nothing, and mistakes gone unmended (its no wonder BA is said to be the most psychoanalysed city in the world, with more shrinks than New York). And it dazzled me its glamor and its trickery. BA is a brilliant illusionist. It still looks rich, still fabulolus. Its beauty hasnt faded, even if the good times have long since gone. Buenos Aires has gone from capital of the world´s fourth richest country (!!!) in 1910 to an economic basketcase, a city where bad times have become a way of life. And yet its not depressing, not at all. It is bewitchingly, perplexingly, alive; still waltzing away as ever, looking over its shoulder at its own reflection, and hoping the music will never stop.