Hanoi
Jun 7, 2010 21:19:52 GMT
Post by Deleted on Jun 7, 2010 21:19:52 GMT
This thread created by
kerouac2
I have lots of pictures of Hanoi, but I'll start off with just a few. To begin with, here is the Ho Chi Minh Mausoleum. It took me 3 trips to finally get inside, because I was always there on the wrong day or at the wrong time. The mausoleum is serious business, because there is a queue of several hundred school children and other pilgrims waiting to get in.
I am sorry to say that tourists do not have to stand in the same line, and we are ushered in very quickly in a different queue. Why should we get this privilege, since it means less to us than to the Vietnamese?
Inside is pretty scary, because there is a stern soldier about every 5 meters along the way. No way to take photos (I'm sure it was forbidden anyway). I think I paused for maybe 3 seconds to admire Uncle Ho, and I immediately felt the hand of a soldier on my shoulder to push me along to the proper speed. And, god, it is really icy inside, like visiting a meat locker.
Neverthless, it is very impressive, and I'm glad that I went. While one may not adhere to the values of Ho Chi Minh, there is no denying that he was the absolute icon of his country in a way that very few other countries could ever imagine.
I feel that I must follow up with another symbol of Hanoi, to those of us who watched the war on television in the 1960's and 1970's. We heard so much about the "Hanoi Hilton" and so here it is at last, just to the right of the Hanoi Opera.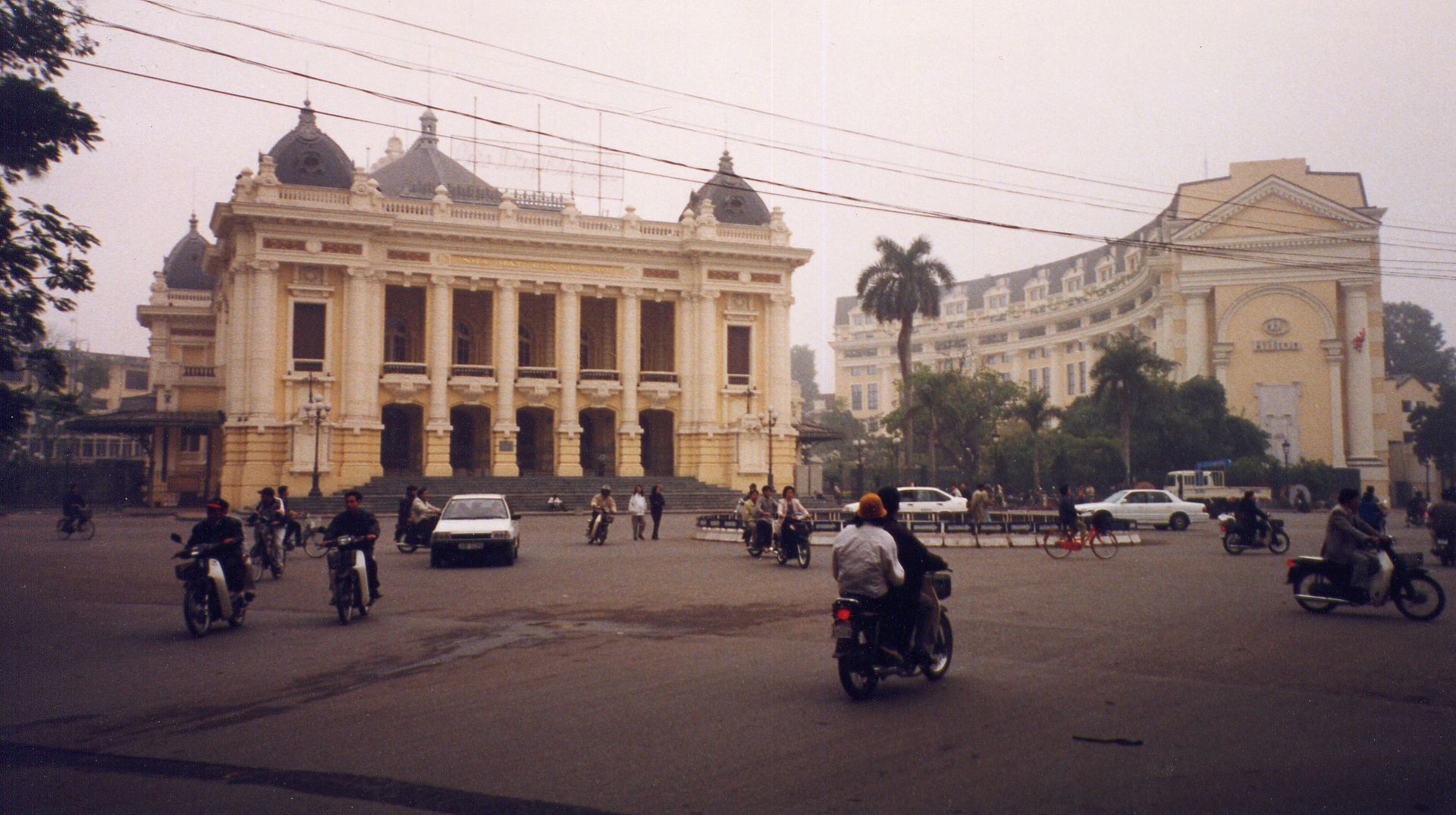 In the center of Hanoi is a lake. While the city does not suffer from the tropical heat of Saigon, it is a relief to walk around the lake on hot days.

The main post office can be seen on the far side of the lake. "Buu Dien" is a sign for which I often searched in Vietnamese cities.
The heart of Hanoi is the "Old Quarter," a network of streets devoted to various crafts and full of cheap hotels for tourists not of the 'Hanoi Hilton' variety.