Post by ilbonito on Oct 3, 2010 8:53:20 GMT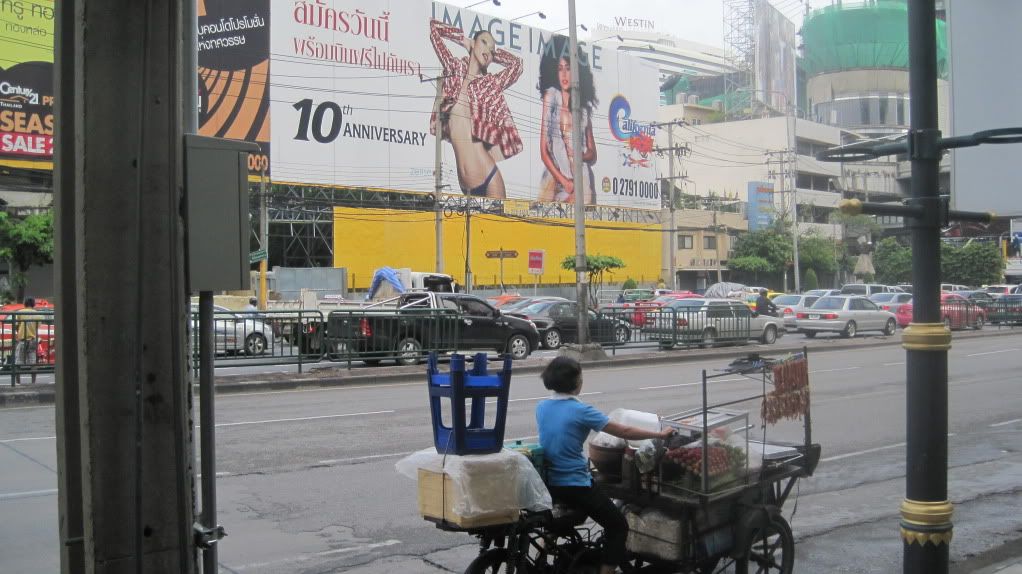 Two weeks ago I left the earliest stirrings of Spring in small town Australia for two weeks in Bangkok. My husband has started a new job there. Over the school holidays I went to visit him, and I'll go back for three months at the end of this year.
I'm already looking forward to it.
On my last trip to Bangkok, I was sleeping on the floor of a squat for two Euros a night and trawling through the laneways of Chinatown and the "old city".This time though, I saw a very different side of the metropolis.
Daisuke had been set up in a serviced apartment with a rooftop pool on the corner of two of the city's busiest business boulevards, Sukhumvit and Asok. Turning right from the lobby of the building, you come to cracked pavements covered by mangy dogs and their excrement, shabby mansions in stands of overgrown trees, a 24 hour international supermarket, a Japanese restaurant in a garden hung with lovely red paper lanterns and an excellent Australian-managed cafe. Turning left, you pass a shrine to the four-headed god Brahma, a clutch of motorcycle taxi boys playing cards in a scant patch of shade, and then this: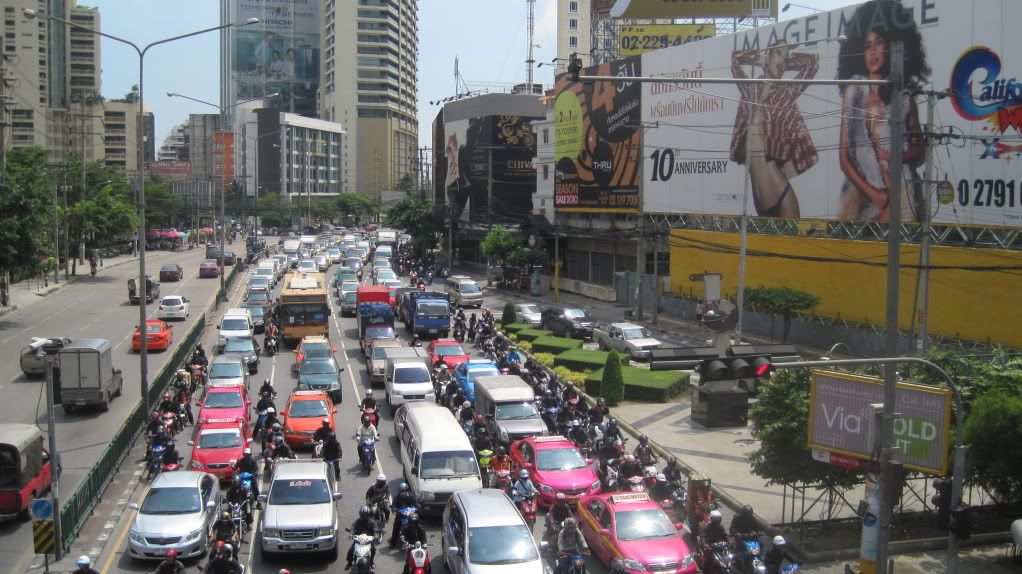 Quite a change from Kyneton.
We spent our time visiting tailors to organize work clothes, and had doctors appointments, and cruised through malls, watched cable TV and went jogging in the neighborhood park. And amid this everyday expat life, the city swirled around us – huge and humid and filled with noise and colour. I didn't explore as much as I had on previous trips, but instead I had the privilege of getting to know my little part of the city – learning which food stall carts could be found on which corner at what time, starting to read the weather before the almost nightly monsoonal rain storms, and remembering where to find a pearl tea or a pharmacy or a department store foodhall. It was exciting to get closer to a city I have always enjoyed so much from afar. On my seventh trip to the city, I began to feel as though I belonged to Bangkok, and I was beginning the transition to being a resident.
And flicking through the papers of the city's English language press, I recognised more of the city I always loved. The Kingdom's page-turning political intrigues were continuing as always; the week I arrived whispers were spreading that a mysterious group of "men in black" was about to launch an assassination attempt on the prime minister, while a police chief had been forced to resign over the two-decades old "Blue Diamond Affair" which had lead to a rift between Thailand and the House of Saud (jewels were stolen from their Thai "pleasure palace"). Meanwhile, ten thousand red shirts marched to rally outside a burnt-out department store, destroyed during the last bout of political violence. The Princess HRH Ubolratana Rajakanya, daughter of the nation's revered god-king, had made a shoot-em up action movie with herself as star and I noticed that boxing matches between trained orangutans had been banned the week before.
Ah, Bangkok. The more things change- the more they stay the same.