Post by spindrift on Mar 29, 2009 13:03:23 GMT
During August 2007 I found I suddenly couldn't endure my garden any more. I had inherited it from the previous house owner and although I planted trees and shrubs it had become overgrown and the layout of the existing beds ensured that there was nowhere to sit in the sun and very little space to move around. I needed a new garden.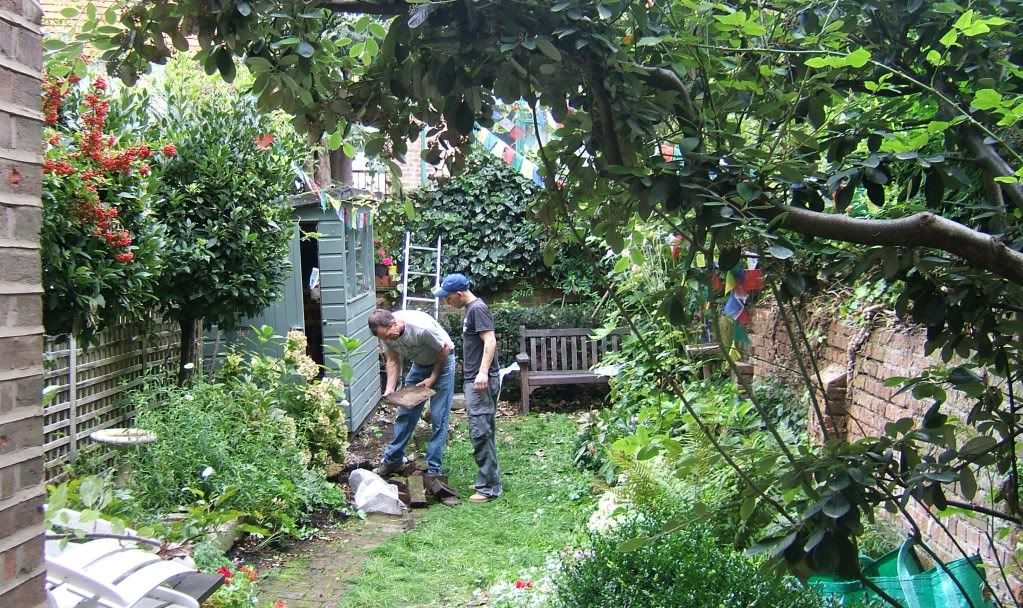 I had many difficulties to overcome. To begin with I live in a tall terraced house and once the sun moves over the roof the garden is in deep shade. The rising sun, however, casts light on one half of the garden but not on the other. I had to plan to have one sunny border and one shady one. My garden has no rear access which meant that 1 ton of cement, 1 ton of sand and perhaps 3/4 tons of paving stones had to be carried through my house. To obviate the need of hiring a skip and carrying out old paving bricks (cracked and useless) and debris I decided to raise the level of half of the garden and bury the rubbish under new paving stones. To make the paving visually more attractive I made two steps up from the lower level and I put the steps sideways. In order to catch the last rays of the sun in the afternoon I put my large bench seat in the bottom left-hand corner of the garden.
I had planned, with the stonemason, to lay electric wiring for subtle lighting effects. In the end this did not happen.
I had previously contacted several garden construction firms to obtain quotes for the job. Since no-one wanted to go to the trouble of carting stuff through my house they quoted ridiculously high prices. No-one was interested. I was quoted prices ranging from £9,000 upwards! My budget was £5,000.
At this time I had scaffolding all over my house and a stonemason repointing the Victorian brickwork. He offered to make my garden for the money I offered. What a relief!
First of all he had to clear the garden of all its existing plants, borders and paths. The demolition job started.