Post by bixaorellana on Jul 27, 2010 19:05:23 GMT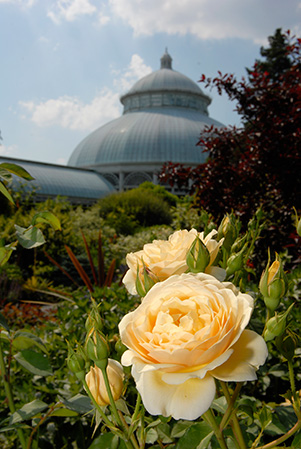 Botanical Gardens Look for New Lures
click on headline to read article
I am very conflicted about the above article.
On the one hand, I think botanical gardens are extremely important parts of any nation's cultural heritage and should be sustained.
On the other hand, I can't help thinking some of these "solutions" are playing to the lowest common denominator and in fact rather dismissing the whole idea of gardening.
Public gardens across the country receive about 70 million visits a year, according to the American Public Gardens Association. But experts say that because of social trends and changing demographics, attendance is at risk if gardens do not change.
Who are these experts? How do they know this?
Forced to rethink and rebrand, gardens are appealing to visitors' interests in nature, sustainability, cooking, health, family and the arts. Some are emphasizing their social role, erecting model green buildings, promoting wellness and staying open at night so people can mingle over cocktails like the Pollinator (green tea liqueur, soda water and Sprite). A few are even inviting in dogs (and their walkers) free or, as in Cleveland, with a canine admission charge ($2).

"We're not just looking for gardeners anymore," says Mary Pat Matheson, the executive director of the Atlanta Botanical Garden. "We're looking for people who go to art museums and zoos."
Okay, but does that mean dumbing down the whole educational purpose of a botanical garden, or even setting it to one side as in turning it into a bar? And dogs? Where are they walking? Who's picking up the poop?
Of course I applaud the programs that not only introduce children to gardening, but do so in a way that integrates gardening into a whole, ecologically respectful lifestyle, as stated here:
In Wyoming, at the Cheyenne Botanic Gardens, the new children's village has adopted sustainability as its theme. It includes a solar-powered discovery laboratory where children can make art from reused materials, a feature that helped it win the highest level of Leadership in Energy and Environmental Design (LEED) certification.

Teenagers in Cleveland are learning how to grown corn and zucchini on urban plots.
But what about this:
When the Coastal Maine Botanical Garden, in Boothbay, opened its $1.7 million, two-acre children's garden this month, it came with a chicken coop, where children can harvest eggs, and a windmill weather station
They spent nearly two million dollars for a teaching tool on the frugal art of growing your own food?! Sounds as though they need a good accountant as much as anything else.
In fairness, I think the article presents some programs as new that were parts of the various gardens' types of presentations all along. But I'm most interested in hearing others' takes on all this.
Incidentally, the photos in this message were taken from websites of gardens mentioned in the article. No matter how you feel about its content, the links are well worth following.