Post by nycgirl on Aug 7, 2011 18:04:13 GMT
After about a year of planning and anticipation, my husband, sister, and I finally took a nice long trip to Paris, with a little side trip to Burgundy. It was their first trip to Paris. I had visited briefly about 6 years ago, so I was the "expert" of our group.
One of the first things I saw when we arrived was an ornate Art Noveau metro sign by Guimard. I was pleased to see it because I learned about Guimard during a modern art class I recently took. On the short walk to the apartment, I yammered on and on about how the organic design looks like vines sprouting fruit and how there's one just like it at MoMA in NYC and how there used to be tons of them but they were replaced. For the duration of the trip, I tested my husband's and sister's factoid tolerance.

We rented a cozy apartment in the 5th. For our first French meal we ate at the small but popular bistro La Regalade St. Honore. Everything was delicious and beautifully presented.
The rice pudding with caramel was unreal and came in generous pot. Mmmm...
After we stuffed ourselves to maximum capacity, we went on a long walk and, of course, had a typically touristy photo shoot. I know you all have seen it a million times in photos, but the Louvre Pyramid looks so pretty at night.
One of the typical stately statues cast an ominous shadow.
The next day we had a walk with a Paris Greeter volunteer. He was a warm and friendly guy, and very knowledgeable about Paris. He is a town planner for the city, so he had studied a lot of history and architecture. It just so happened that he had the day off work today, so I feel lucky that we got him and grateful that he freely gave us his time.
He took us around the 19th arr, a very interesting and un-touristy area of Paris. Here is the Rotunde de la Villette, an 18th century toll house that was part of a wall built to ensure tax collection on goods coming into Paris. As you can imagine, the wall was unpopular with the public. There use to be 62 of these, but they were destroyed. This is one of the few surviving ones.
When I think of Parisian architecture, the first images that pop in my head are the typical Haussmanian buildings, but our greeter showed us some cool modern architecture, like this pie-wedge apartment building.
It was a mild and sunny day, perfect for a stroll along the water. I was really surprised how much ground we covered. Here we can barely see the Rotunde anymore.
We took a break for crepes, galettes, and cider at a cafe on the Basin de la Villette.
Back on our walk, we saw some cool street art, like this vibrant mural by Dacruz.
Funny little bit of graffiti. This caption translates to "No mother, no God, no dry food."
Another Dacruz mural. I like this guy.
Neat little bridge.
On to the Parc de Villete! The park is enormous and inviting, built in the former slaughterhouse district. Lots of kids were romping around the expansive lawns, enjoying the weather. This is La Geode, a movie theater that houses a giantic IMAX screen. It's 118 feet (36 meters) in diameter.
The park has these big, geometric, fire engine-red sculptures everywhere, and a real post-WWII submarine, named the Argonaut, that you can pop into.
As we were crossing a bridge, our greeter pointed out this hilarious "bike lane."
More pretty red sculptures.
Kids were having a ball on this spinning top.
Sis and I acted like kids ourselves when we spotted this huge bicycle wheel rising out of the ground.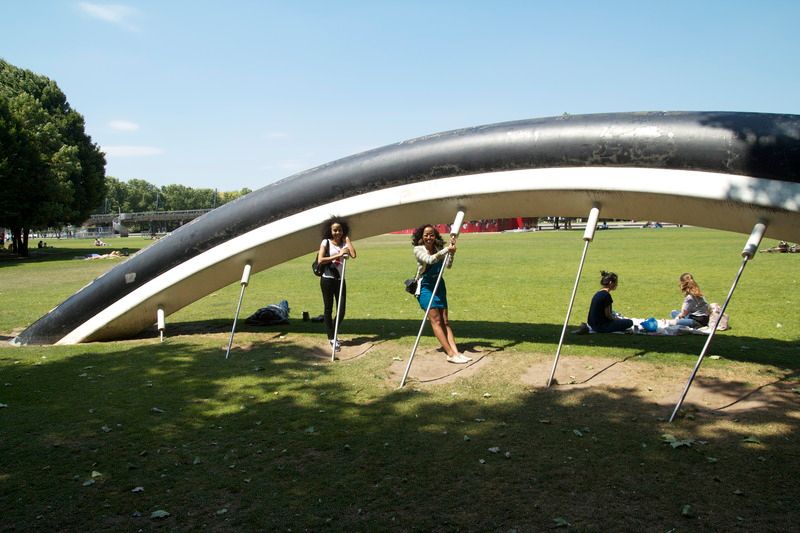 This is the Cite de la Musique, one of Francois Mitterand's Grand Projects. It's a neat-looking building. I like how the doorways are all in different shapes.
Fontaine aux Lions.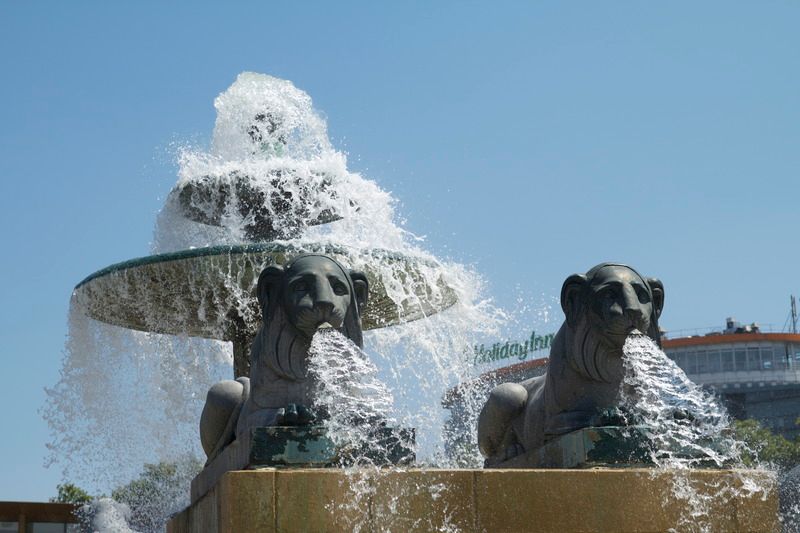 More modern buildings. It was nice to see a side of Paris that isn't depicted in postcards.
We spent an enjoyable three hours with our greeter. He gave a great tour, as well as recommendations on places to eat. He was also a fun guy to talk to. He has a pretty adventurous life; he participates in couch-surfing (I would never have the guts) and had just come back from staying with a family in Georgia (the country, not the US state). It was a great experience hanging out with a local and, like I said before, I felt privileged that he chose to spend an afternoon of his day off with us.
Before parting ways, he showed us how to rent the Velib bikes and took out one himself, and we bicycled together for awhile til the time came to split up. Now that we spent some time off the beaten track, we next headed to that stronghold of thronging tourists... Montmartre.