Post by Deleted on Mar 14, 2011 18:48:27 GMT
As much as I like Belgium, I really do not know enough about it, so I had to use Google to discover "where is the best carnival in Belgium?" There was absolutely no controversy about this -- the websites are all in general agreement.
But where on earth was Binche? After a short consultation, I quickly determined that it was midway between Charleroi and Mons, which are two cities that I can locate on my mental map before resorting to a paper one.
As I was driving there, I had the radio on
Première
, the main radio station of the francophone RTBF government broadcaster, and what were they talking about? The carnival of Binche and all of the traditions surrounding it! Also mentioned was the carnival of La Louvière (which I later discovered was about 10km from Binche) and the similarities and differences with Binche. Basically, Binche is a wealthier bourgeois town that dates from the middle ages, and La Louvière is a more recent industrial town, built along with its factories.
The climax of their carnivals is not on the same day, so they do not compete but rather complement each other, according to the radio, which did not want to create any dissension as the carnival approached.
The principal curiosity of the carnival of Binche are the
Gilles
. The boys of Binche grow up with the goal of becoming a Gilles some day, but it is not an easy task, and it was clearly very expensive, but the radio pointed out that becoming a Gilles is so important that families give up their summer holidays and other luxuries so that they can afford the cost of a Gilles. The costume costs about 3000€, and the hat is also about 3000€, which is stunning when you consider that it is only worn for about one hour a year and not at all in case of rain. The belt with bells is expensive, too, as are the shoes and the all important basket, which can cost 500€. And then there is the mask, another major expense.
But wait, I'm getting ahead of myself. I was still about 10 km from Binche when I saw something happening off to the right of the road, so I came to a screeching halt (a Smart cannot actually screech; at least I don't know how to make one screech) and turned into the main village street. I don't even know the name of the village, but it has a tower that leans almost as much as the one in Pisa.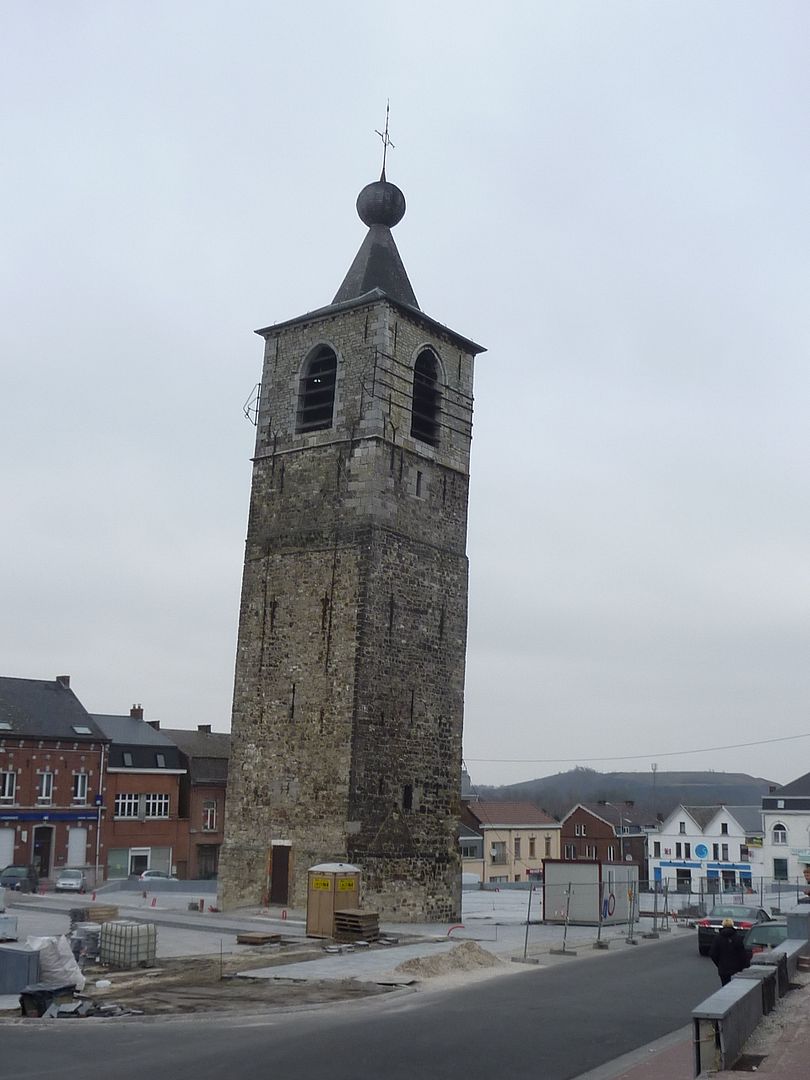 But what I wanted to see was strange Belgians frolicking in their odd rituals.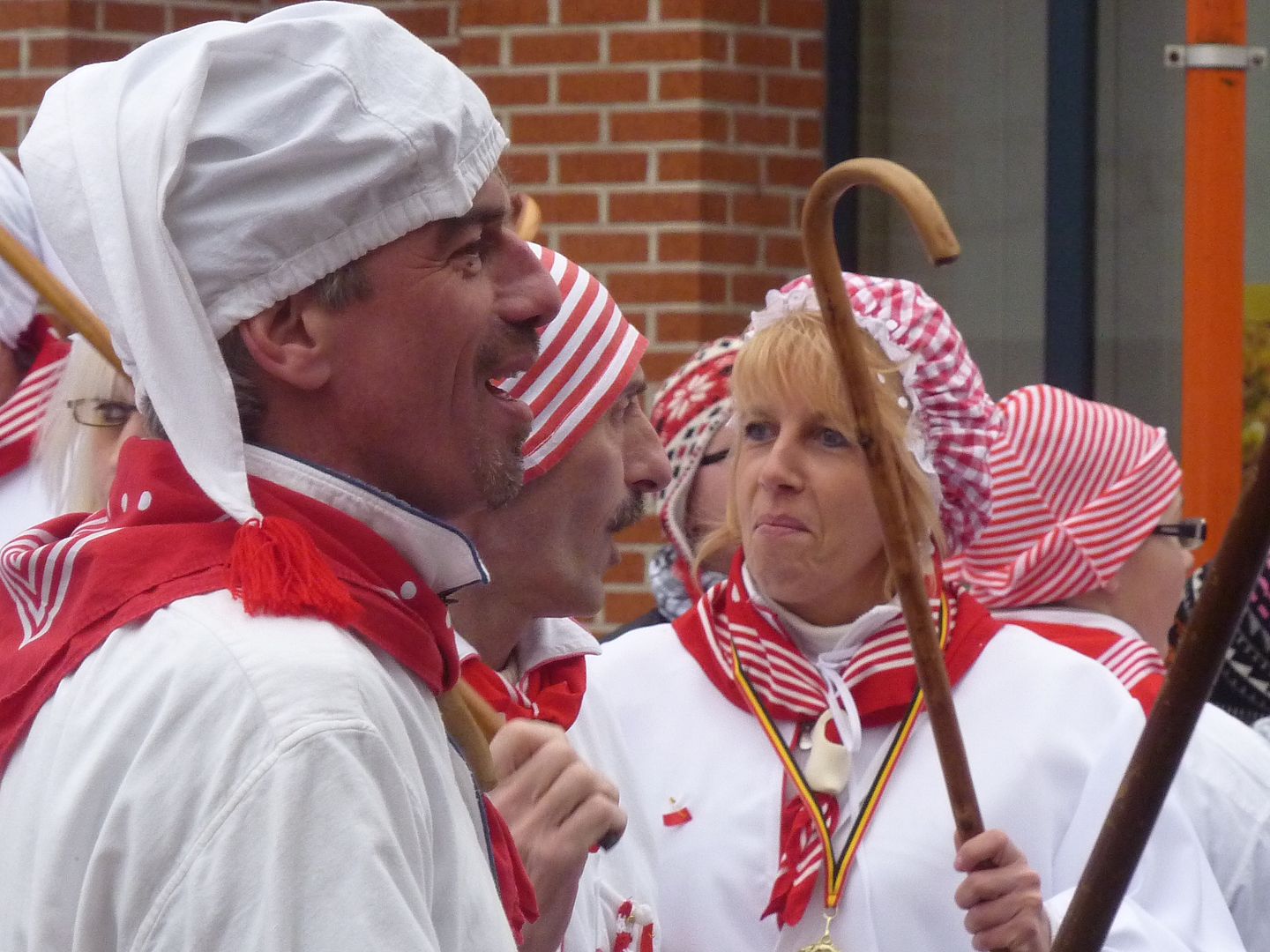 This was a very joyous group, perhaps a bit too joyous, as evidenced when I had to step back quickly when a young woman lurched in my direction and spewed a stream of vomit at my feet. Her friends were in a state of hilarity and photographed the event, which is something that I did
not
do.
I had already noticed in Charleroi that serious carnival revelers must wear wooden shoes, and this village confirmed it.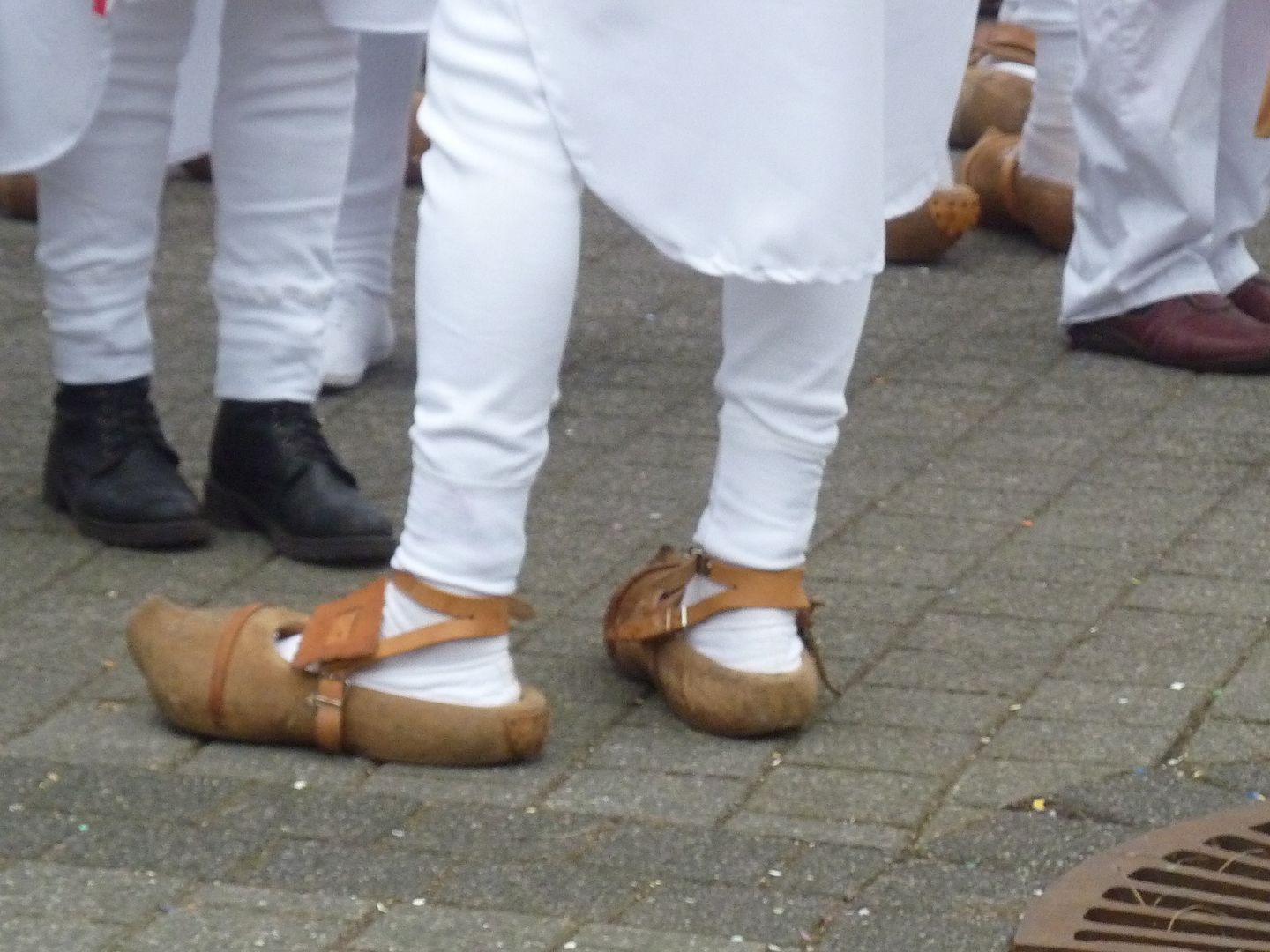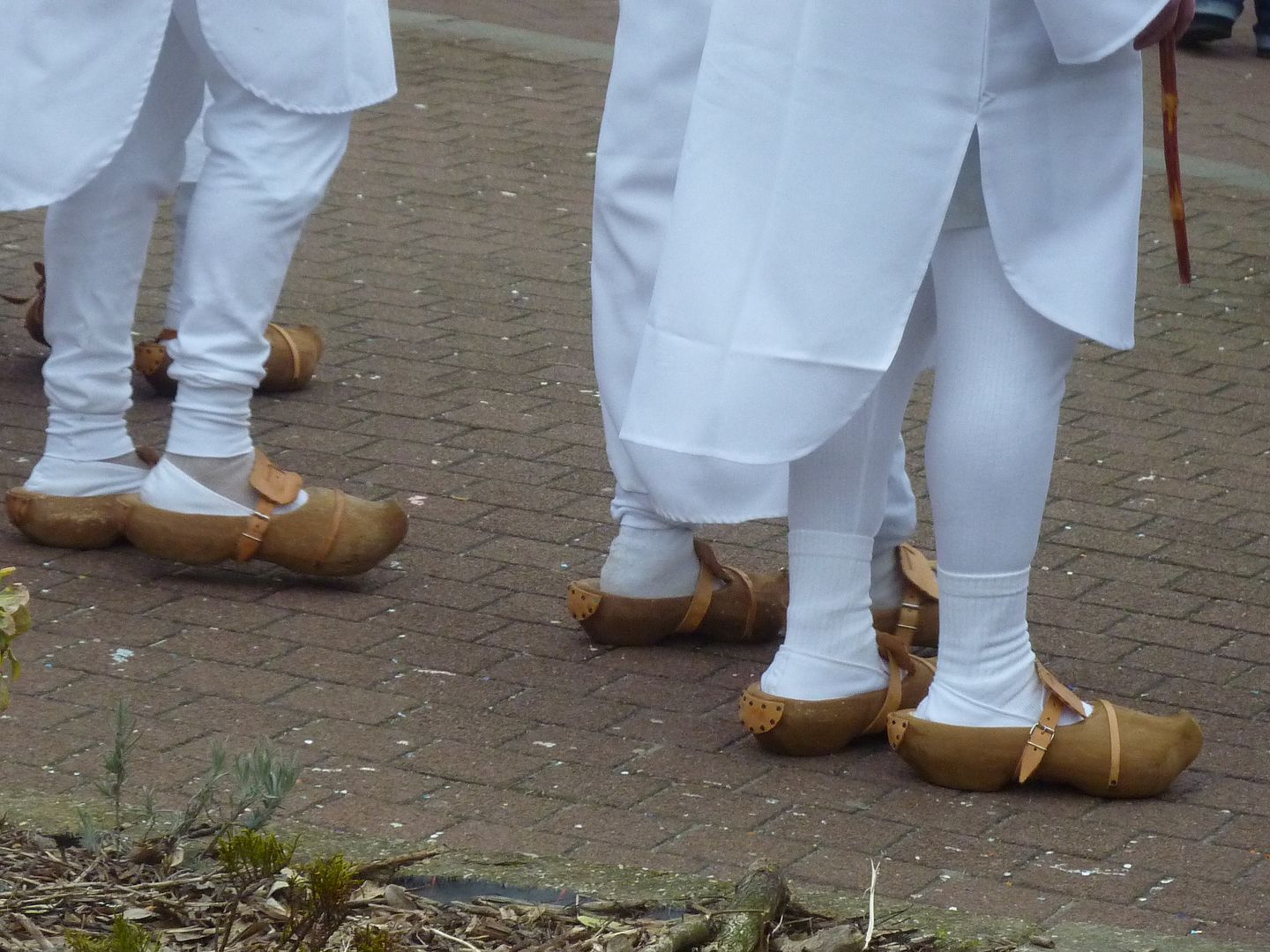 As you can imagine, it was basically just a rowdy procession with music.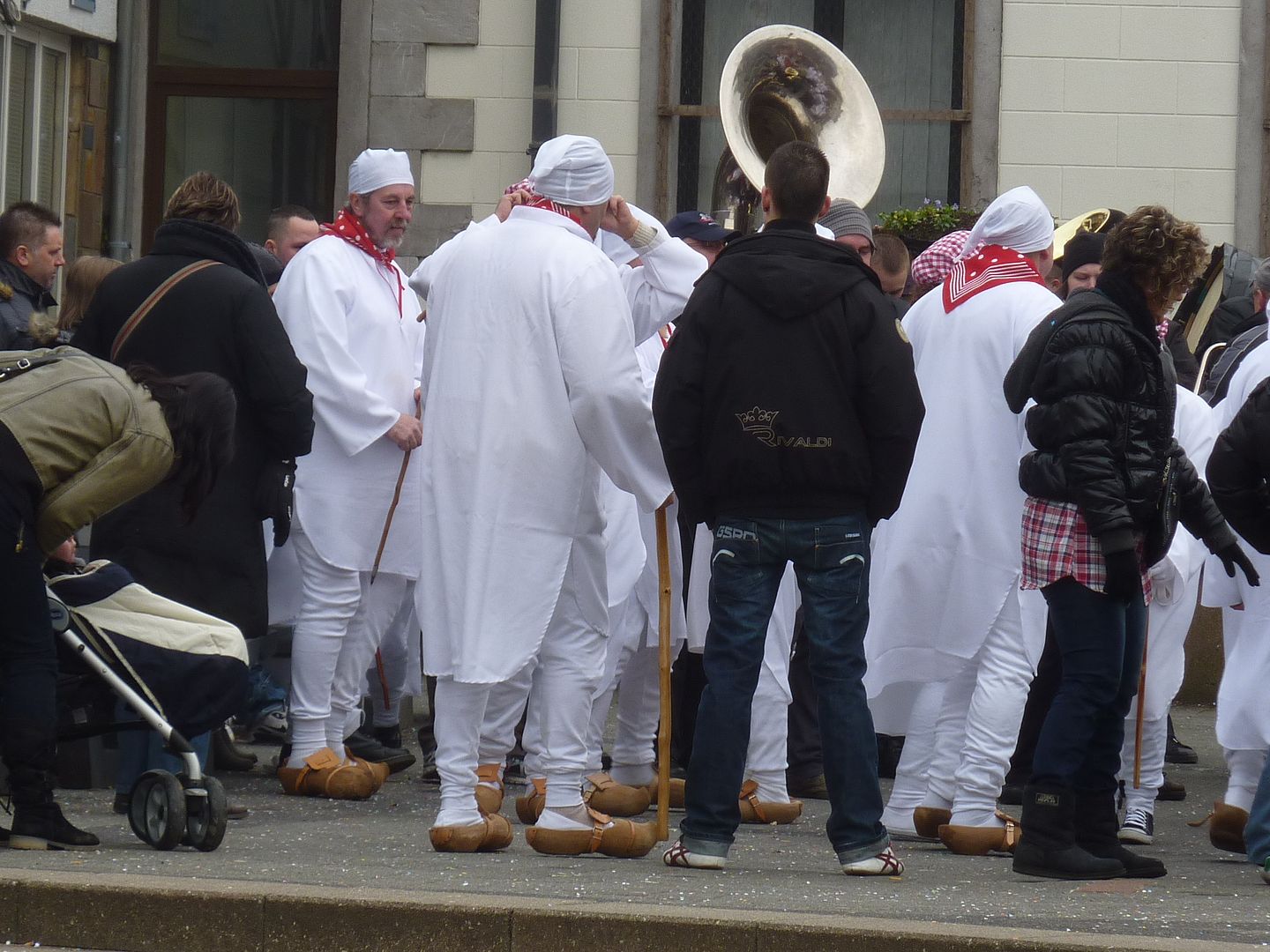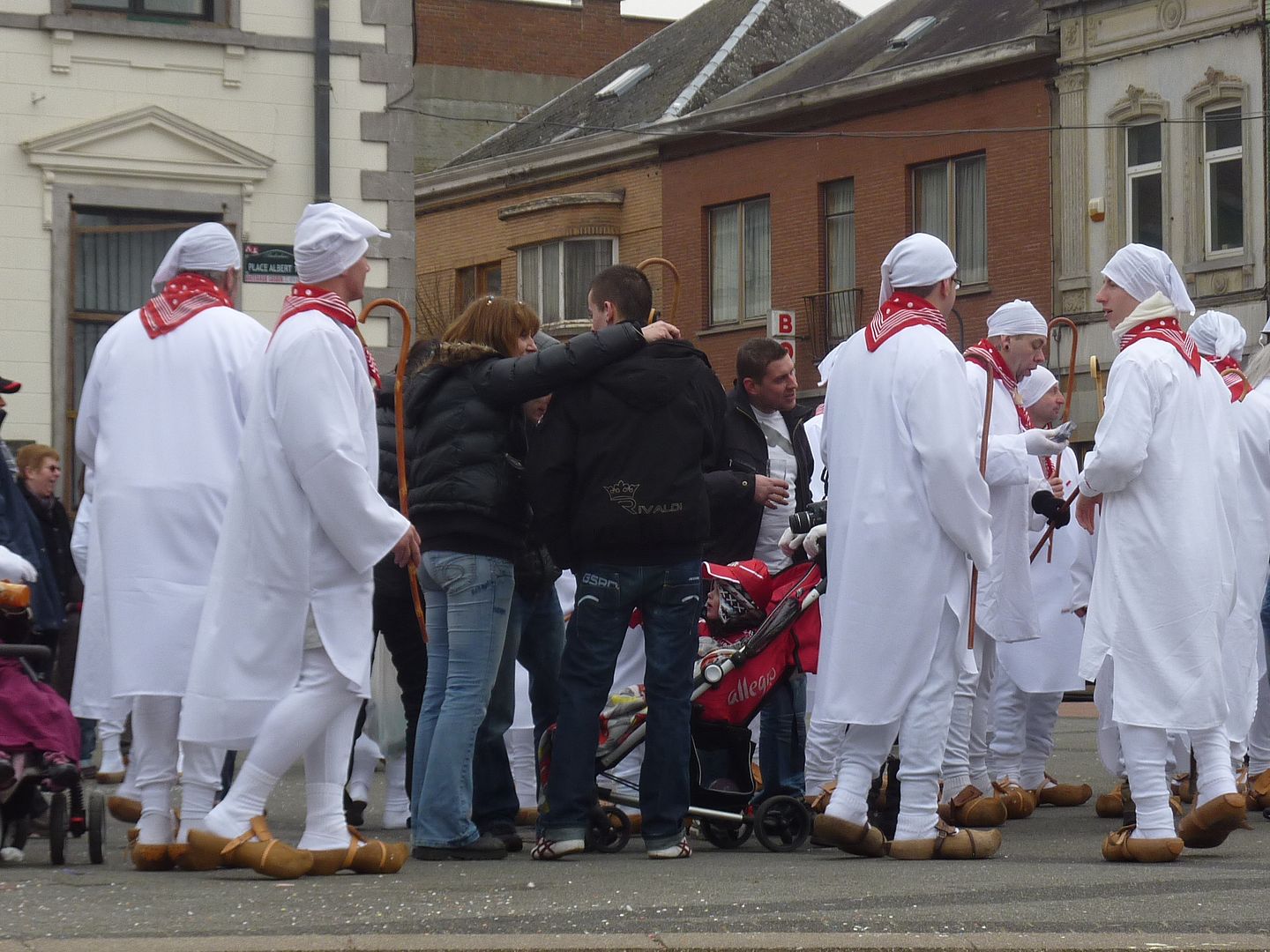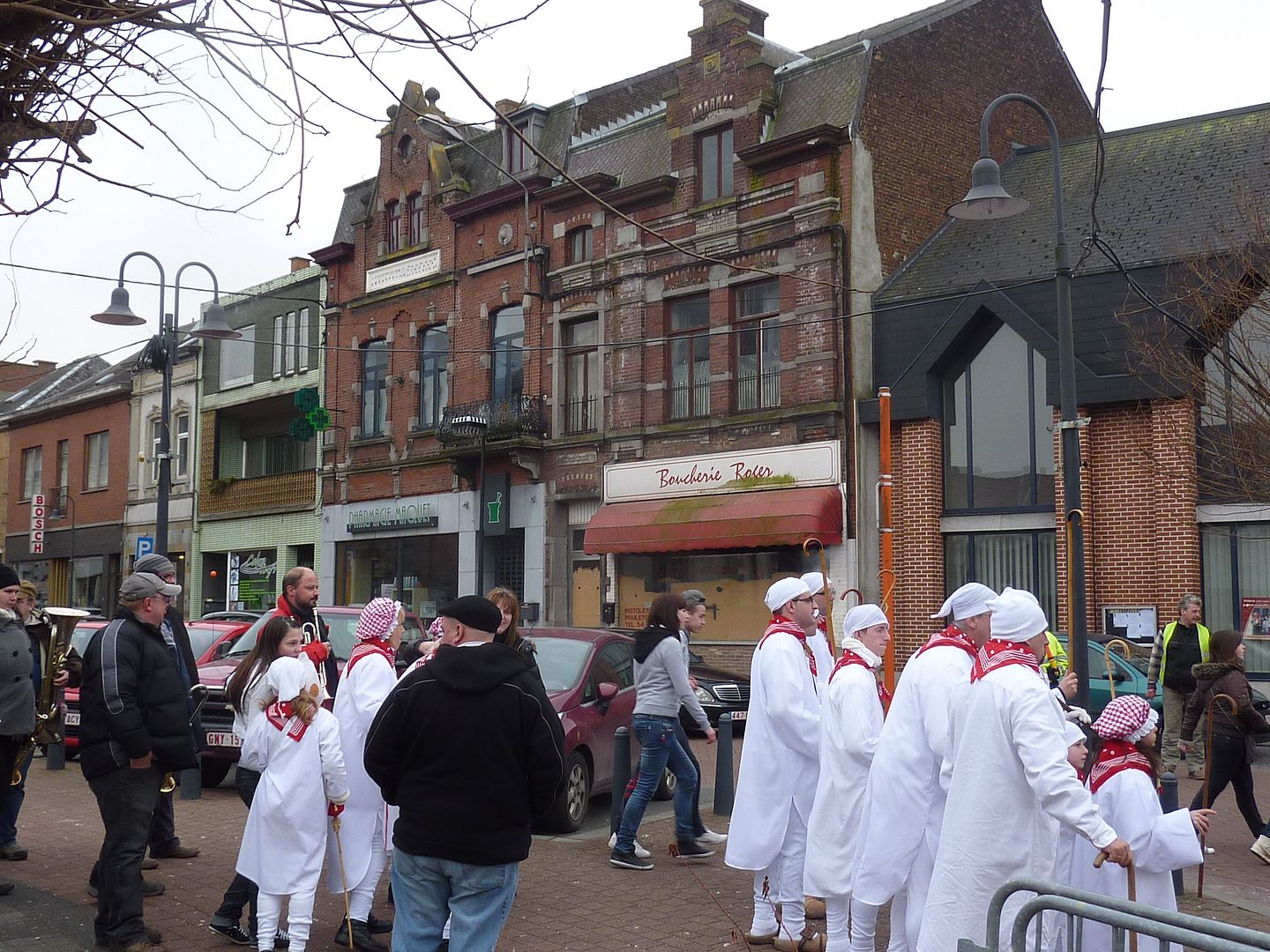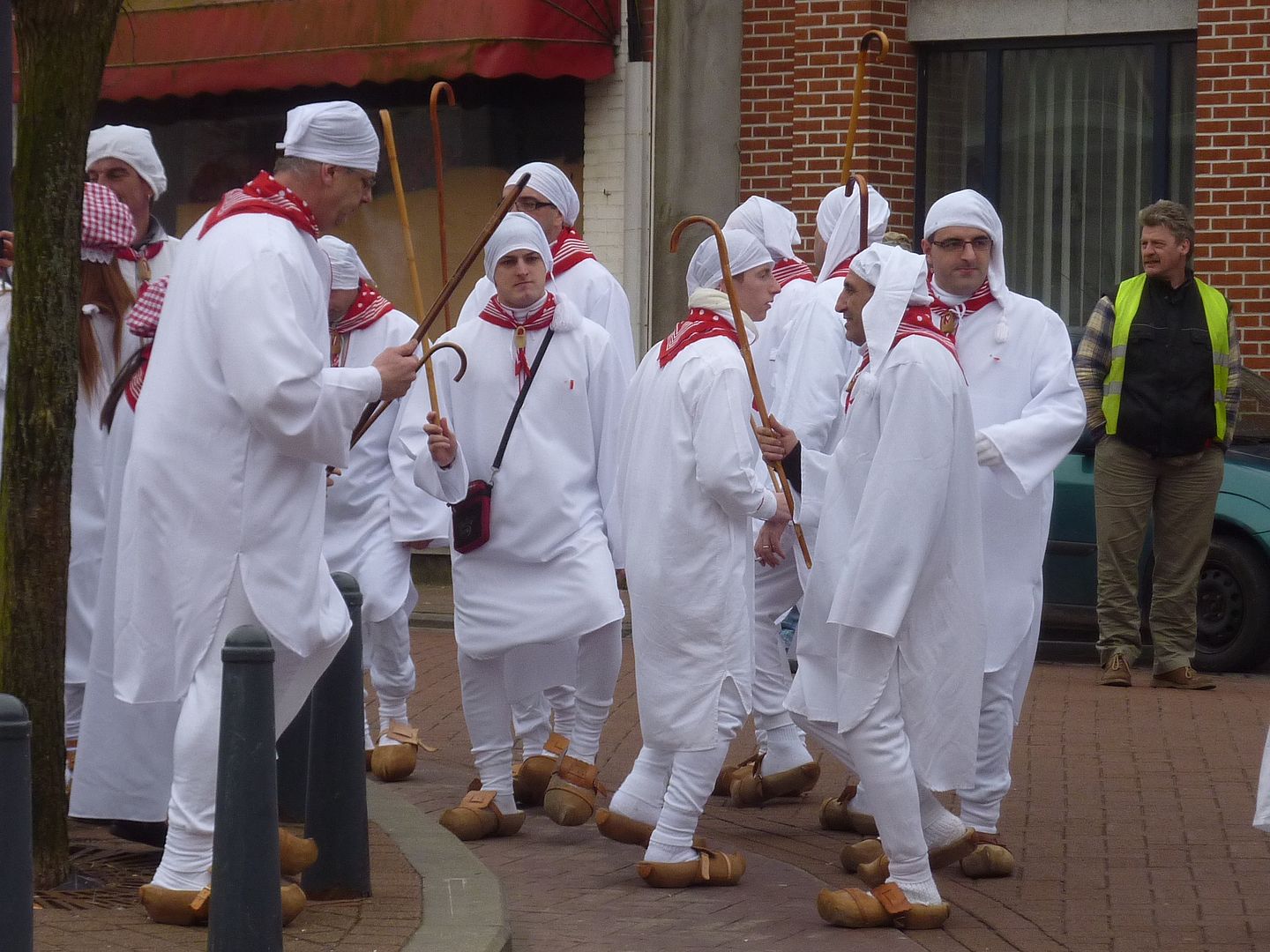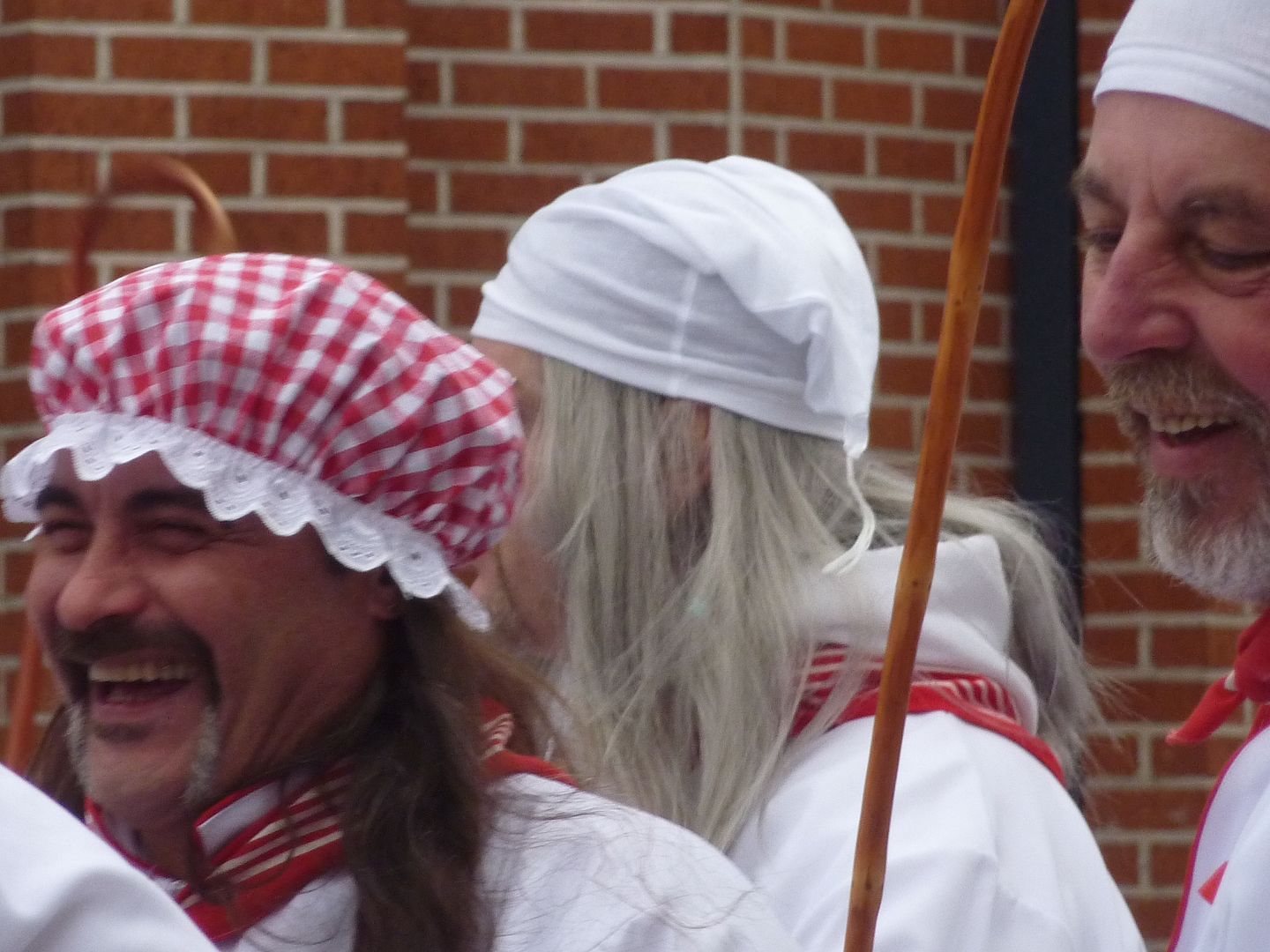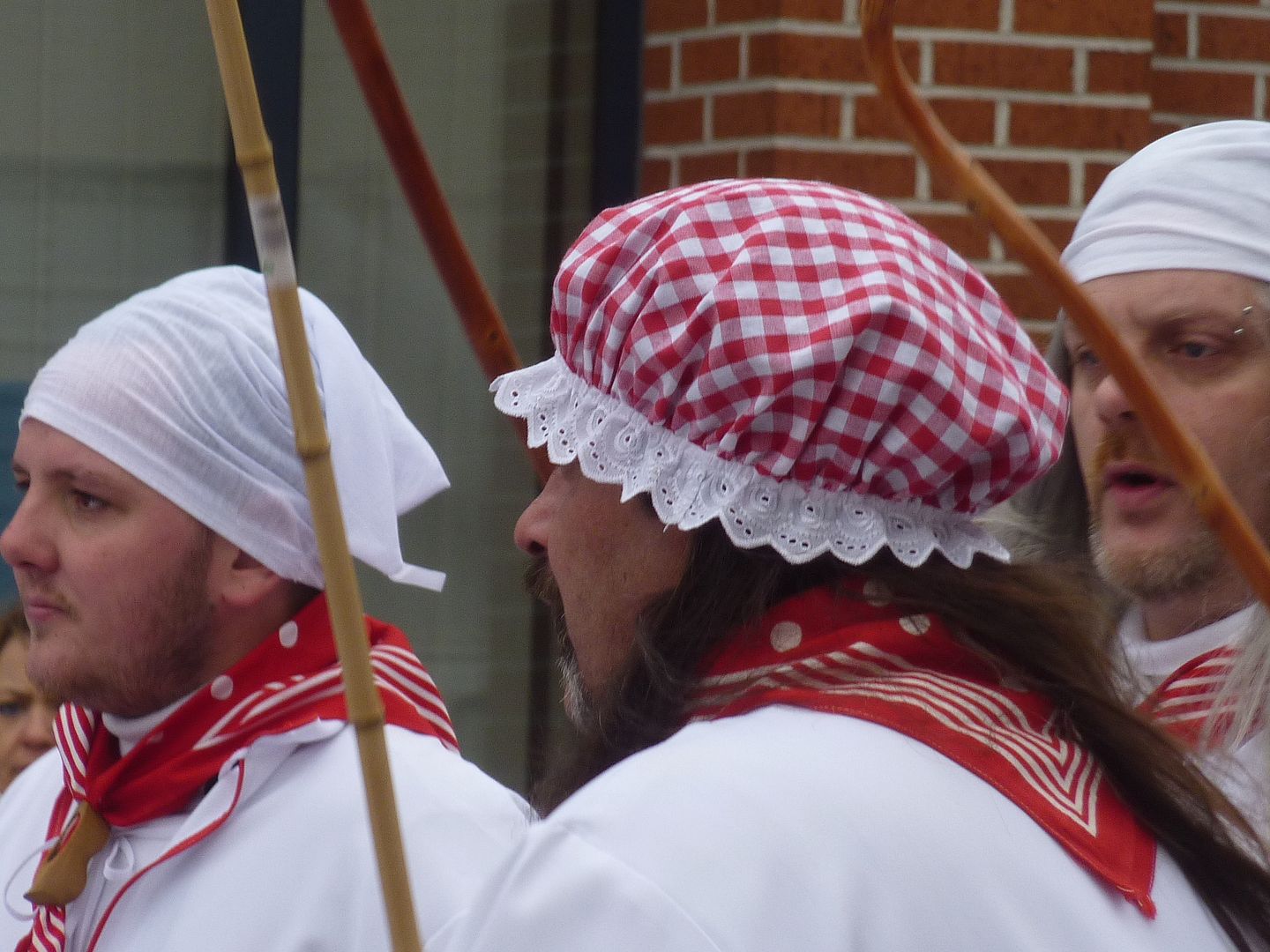 When Belgians abandon their unfinished beer, you know they are busy!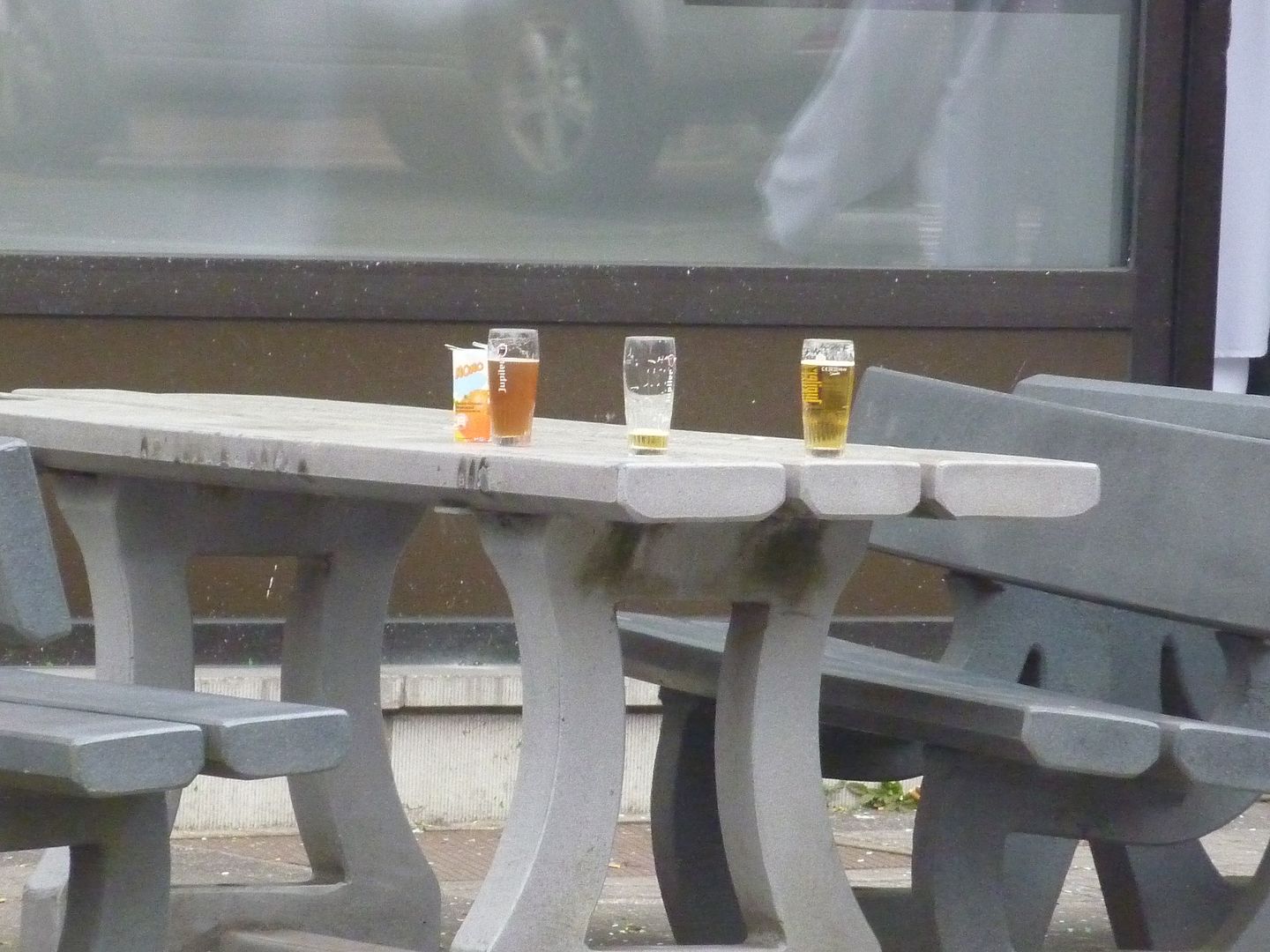 Ratatatatat! On to Binche for the good stuff!