Post by onlymark on Sept 2, 2011 17:50:50 GMT
We thought, as it was a Friday and the roads are usually quiet, we'd have a run about 45 minutes outside of Amman to a town called Madaba.
The town is famous for a couple of things and they were the things we wanted to see. Firstly there is a church with an important mosaic (and the town has many mosaics), secondly they specialise in Bedouin carpets which we were after a few to put on the cold tile floors of the new apartment.
Firstly Madaba itself – only about 60000 inhabitants and is quite a relaxed place with the town centre an easy enough place to walk around. Many tourists recommend staying here rather than in Amman itself and some come straight here from the airport.
The town has a long history and this became apparent when new homes were being built and a number of mosaics turned up. The population were persuaded to report these so that they could be preserved. The town was important during the Roman, Byzantine and Umayyad era, up to about 750 AD.
One of the most important finds was the Madaba Mosaic map. Discovered after long being buried in 1884 when a new Greek Orthodox church was being built on the site of an ancient one it depicts what was then known about the Holy Land in the form of a map.
Originally supposedly 21m by 7m it is now only 16m by 5m and located in the church of St George and was made up of about two million pieces.
Most of the mosaics date from the 5th to 7th century AD.
en.wikipedia.org/wiki/Map_of_Madaba
Anyway, enough of the dry stuff, it's easy enough to find out more.
So, a few pictures. This is what is left of the map –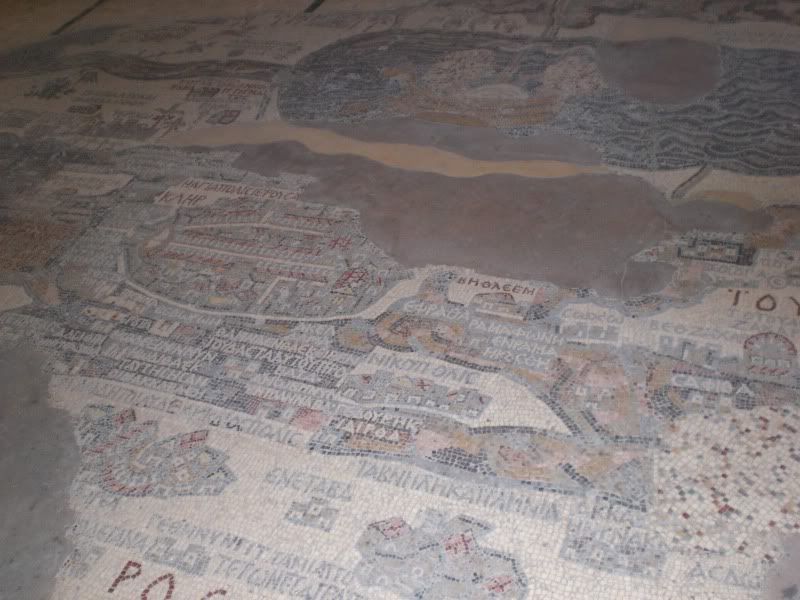 A representation of it, with a key to the places appears to look like this –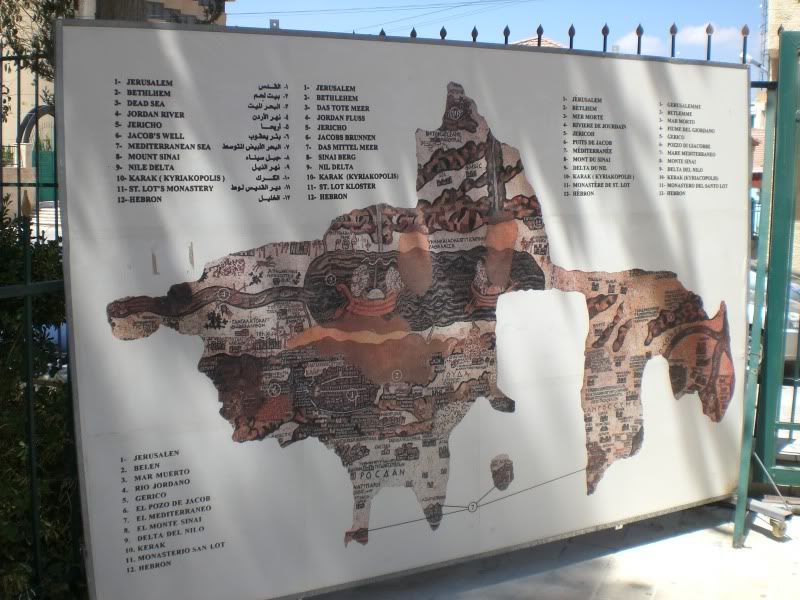 The map is orientated not with north at the top but to the left. A Wikipedia photo exists here –
upload.wikimedia.org/wikipedia/commons/8/8f/Madaba_Map_reproduction.jpg
The church itself has many interesting features, especially many mosaics hung on the walls.
A close up of what the mosaics are made up of –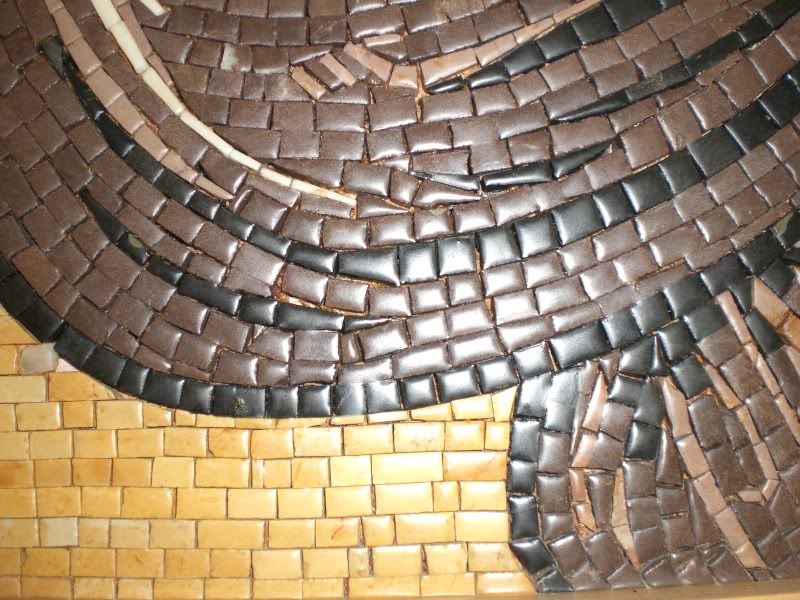 Various wall mosaics and photos from inside –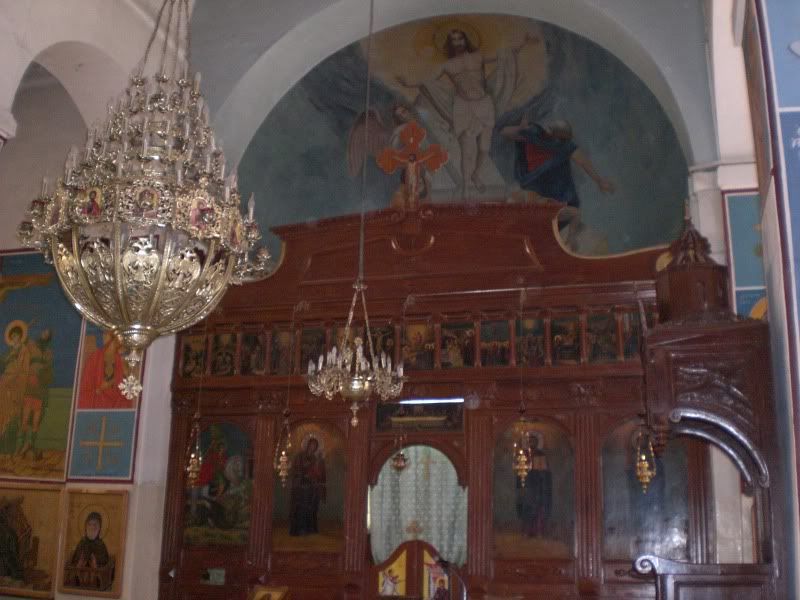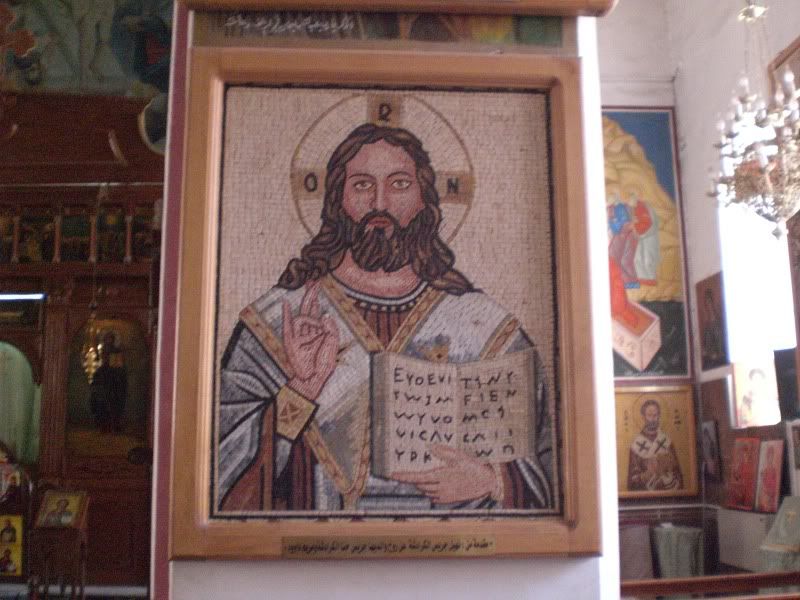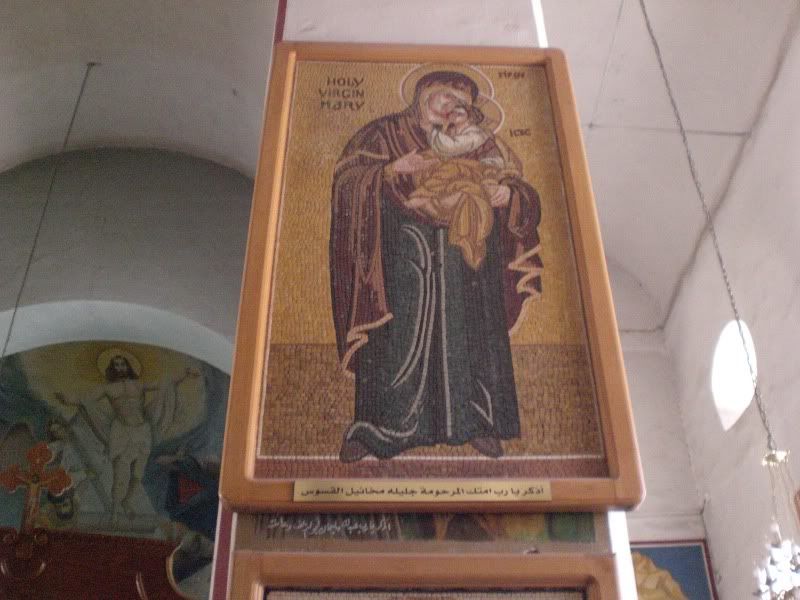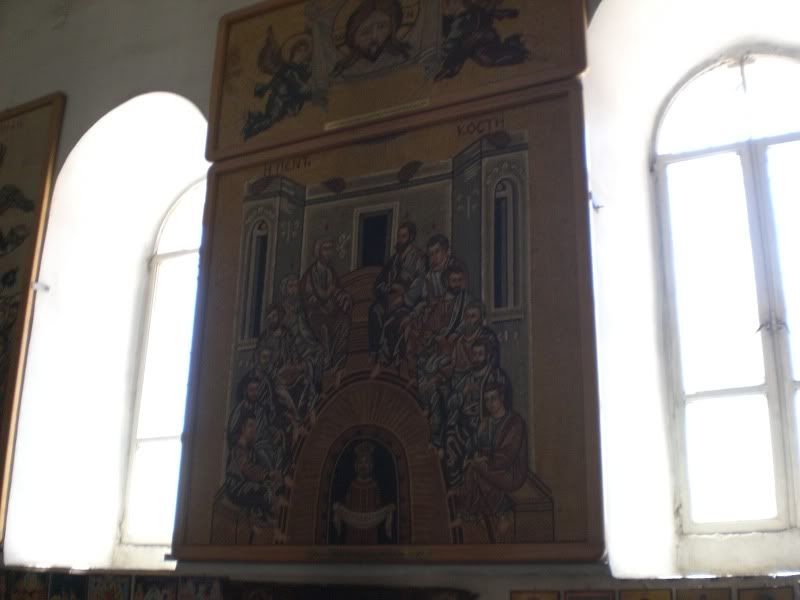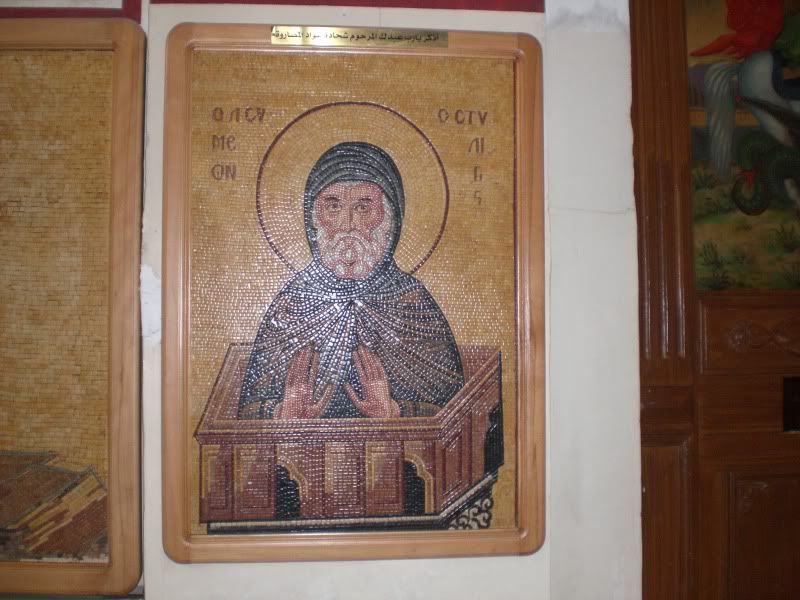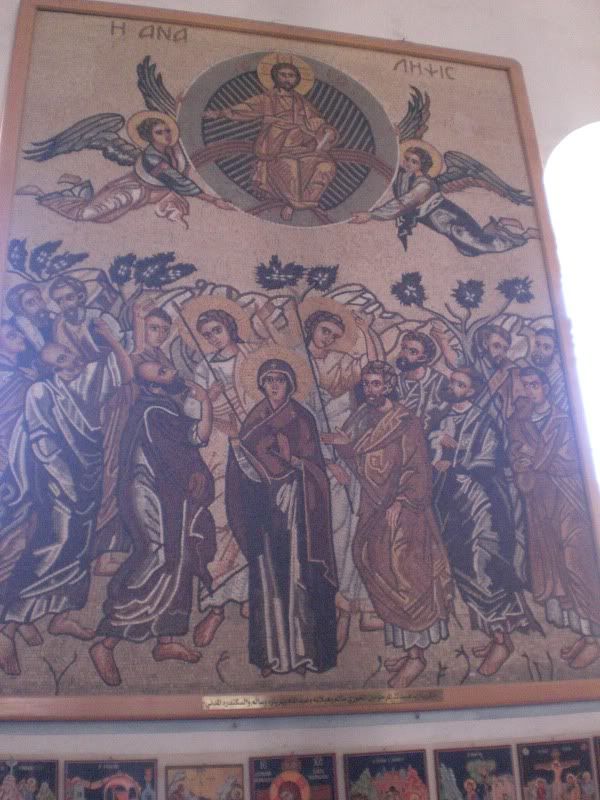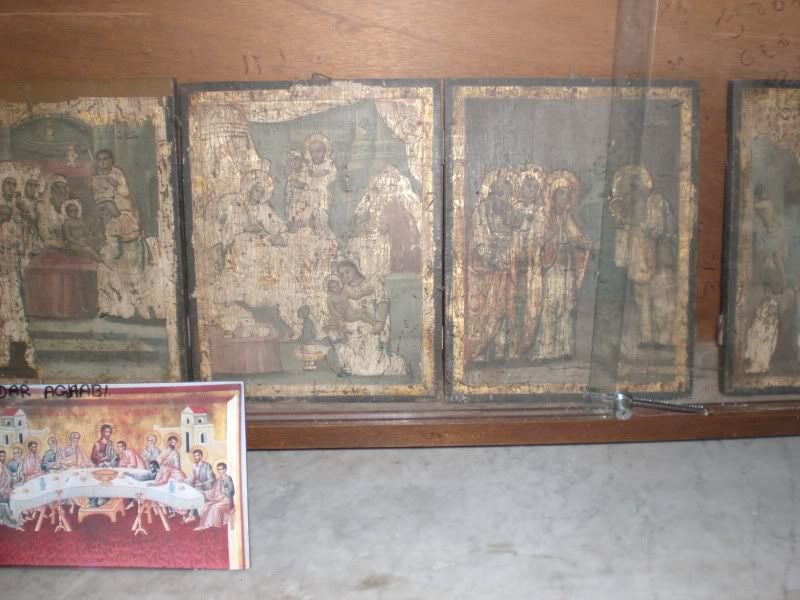 From the church we had a short walk to the area where they sold carpets as well as souvenirs.
A couple of street scenes as we pass by –
We entered a random shop to have a look.
They are called carpets but they are not necessarily what we understand a carpet to be. These are woven and quite rough in comparison. Usually made all from wool and to me are similar to the Turkish kilim style. However, they are tough and hard wearing.
The patterns tend to be the same throughout a tribe and each carpet can be named as coming from them. The colours may/will change but the basic design is the same.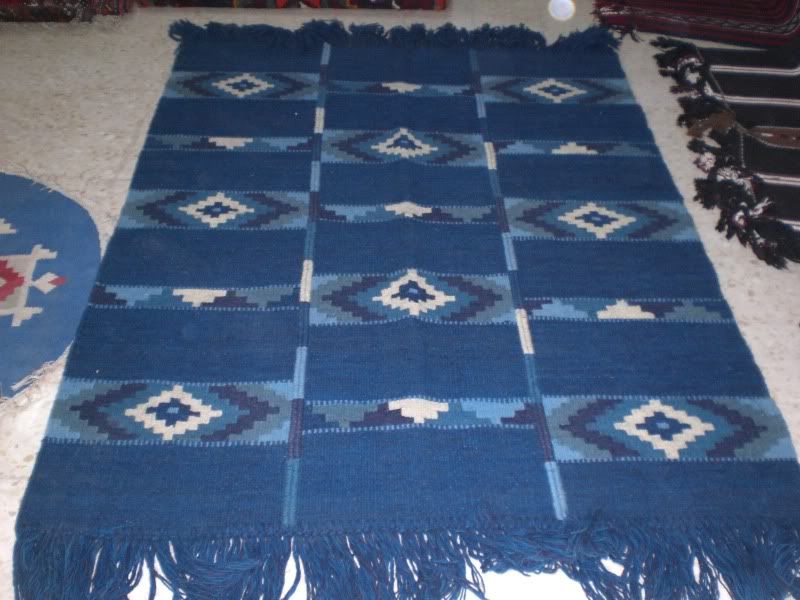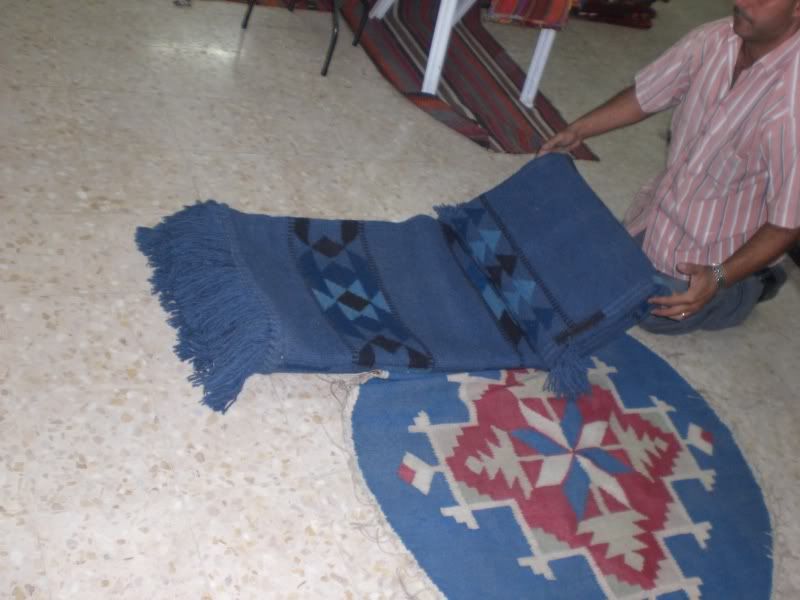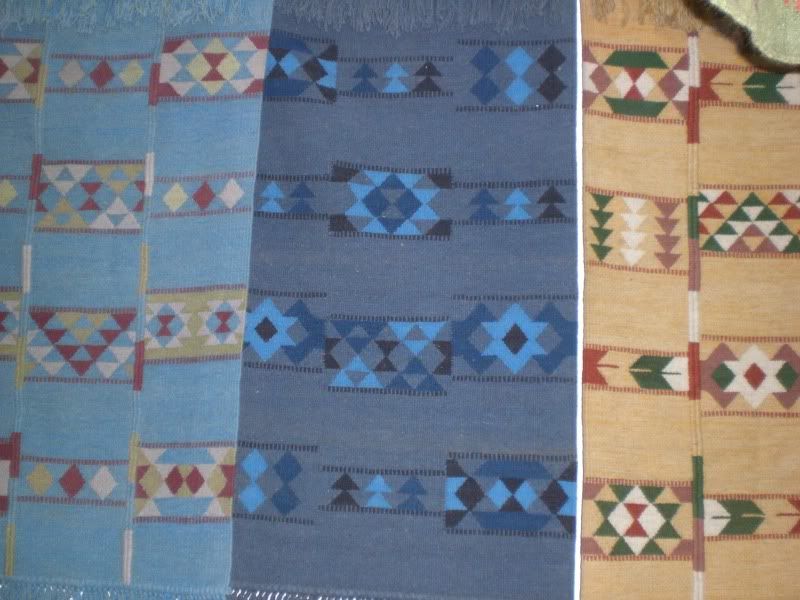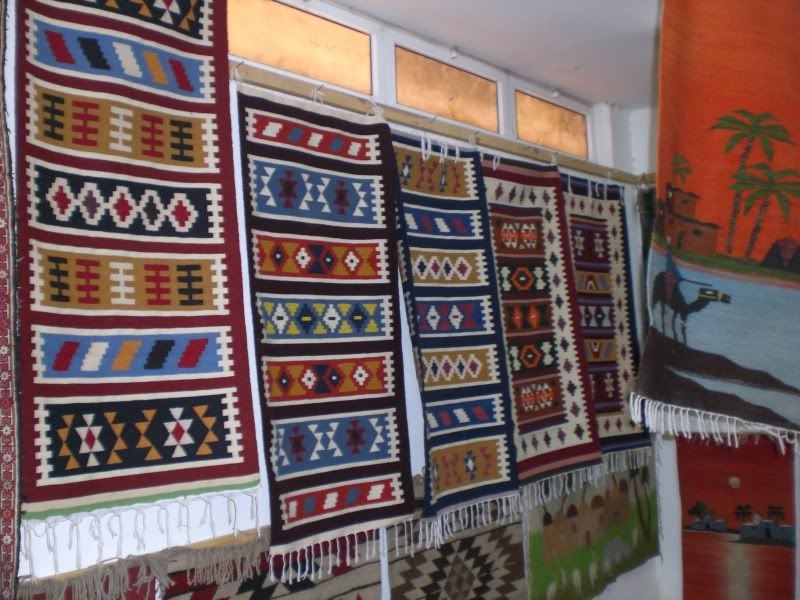 The price told us, as I know you'd ask, is, for a 2.10m x 1.50m = 95 JD (95 Euro)
They are all in various sizes and tend to me made in a strip often of about half a metre wide, and then sown together. Half a metre is the usual size of a hand operated loom easily portable, as Bedouins are known to wander around a bit.
This shop also sold Persian silk carpets (very, very nice), those on display in the photo were priced at 1400JD –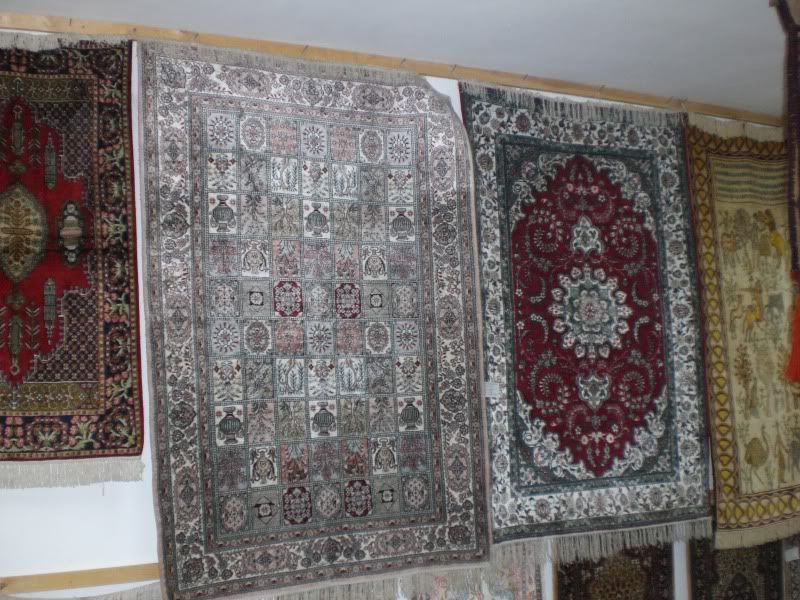 By the way, the green and the blue one being folded up, we bought, plus another one I wasn't quick enough to photograph, all for a 'special price'. No doubt there will be some smartarse out there who will now say we were ripped off and you can get then for half the price. Whoever you are – so what? We liked them and to us it was a fair price.
Also the shops in the area sell, would you believe, mosaics – large and small –
Note the woman spanking the arse of the baby? More on that later –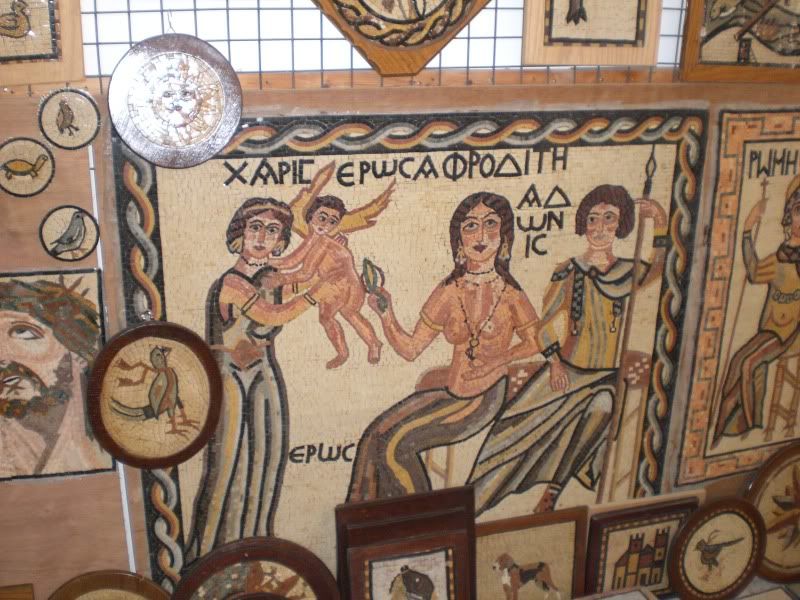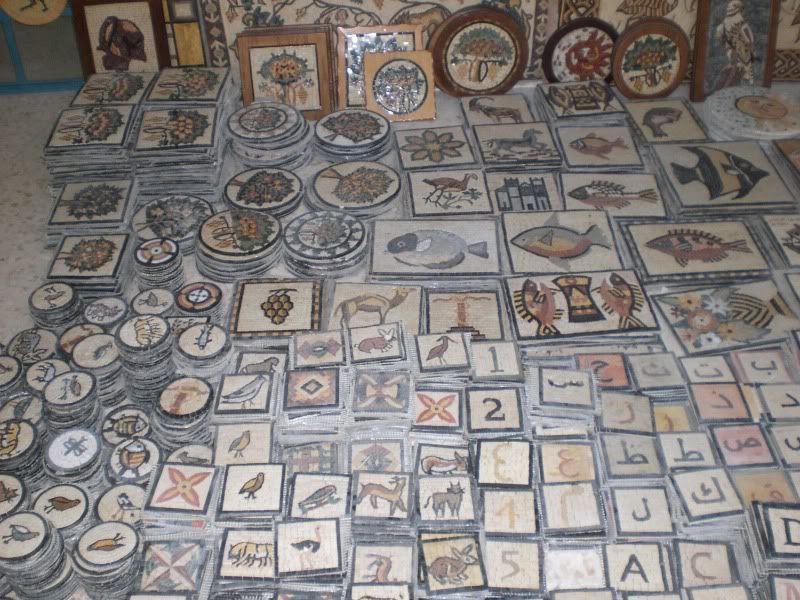 The small ones are priced at 3JD though when you turn one over –
...... and the Arabic number 4 is written. The prices range up to about 15JD for the larger ones (like with the fish on them). The topless baby slapping model was 120JD.
Then a walk over to the Archaeological Museum was in order. Nicely set up, easy walk of no more than a street or two (entrance 2JD per adult, kids under 12 free, but this ticket also allows entry to a couple of other places as well) and for me, of interest. However, when we came out of here we were suffering from mosaic overload.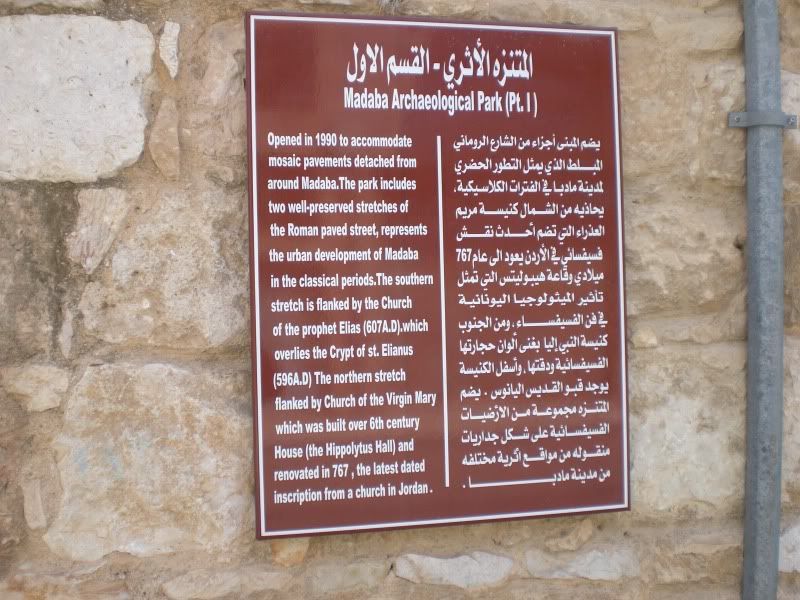 So, the way in –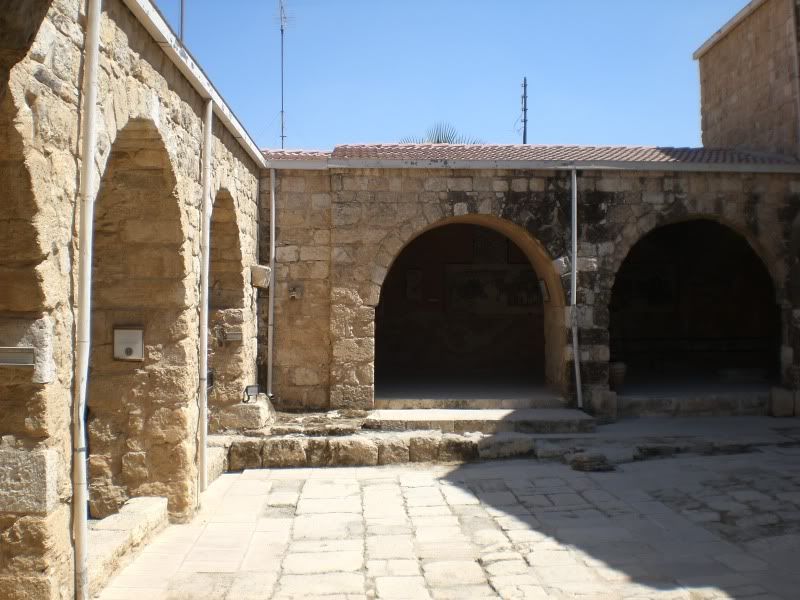 A glimpse of the mosaics to come –
And then in to it proper –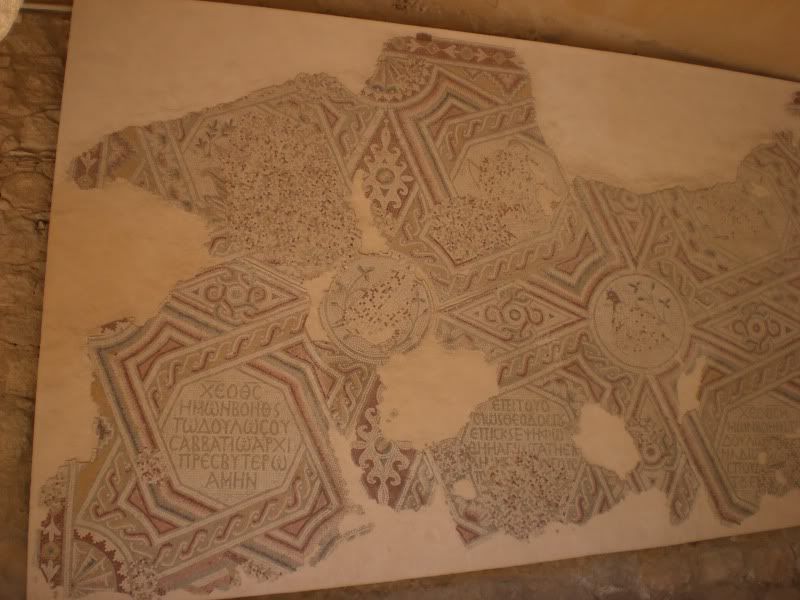 These were brought here for preservation after being unearthed in one of the several churches in the town.
A quick digression – well, well, well, would you believe it. Yet again I show you how columns were built with a centre key to locate and secure several blocks on top of one another –
If you can see this and have a quick read of it (not compulsory). It explains a bit about a very large floor mosaic showing a topless Aphrodite giving the small Eros a good seeing to –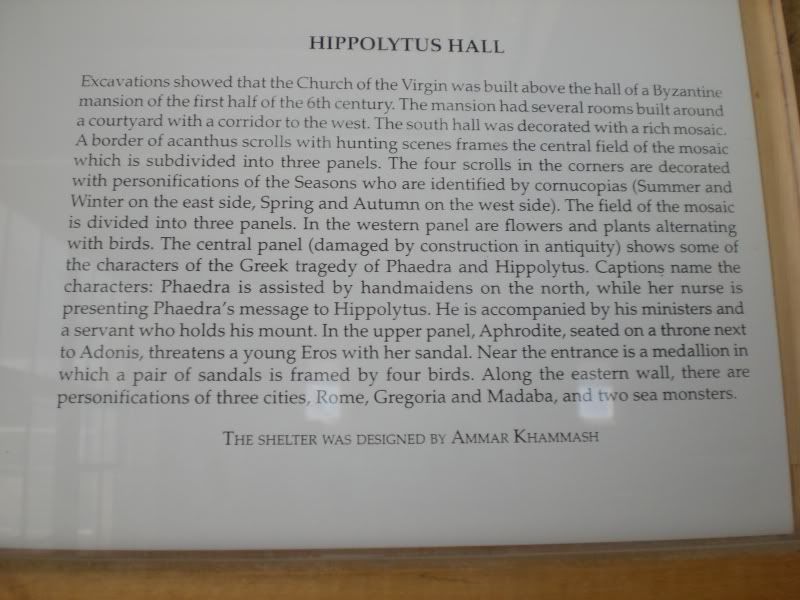 This was what I showed you earlier in the carpet/mosaic shop.
Anyway, more stuff –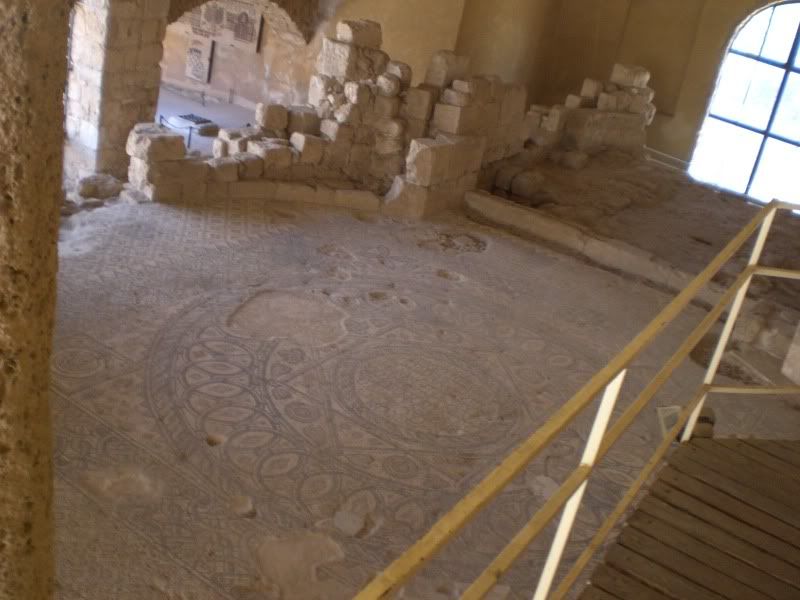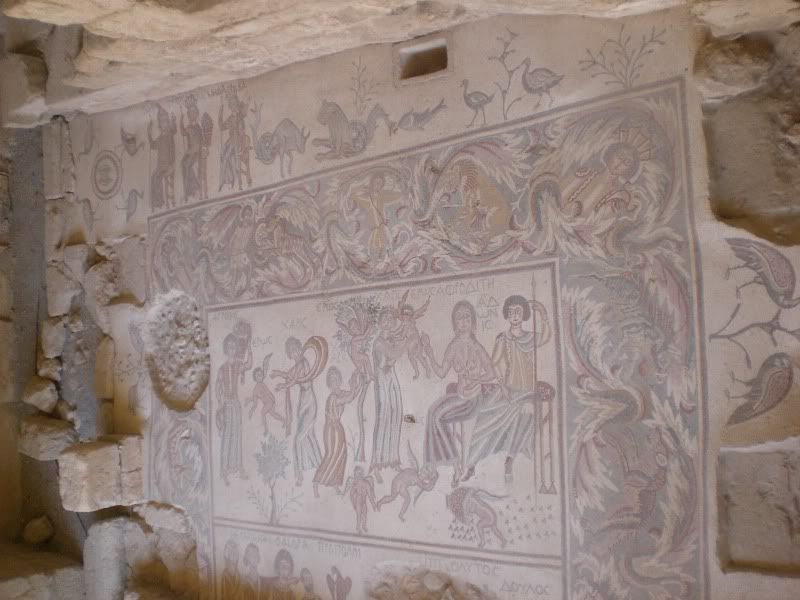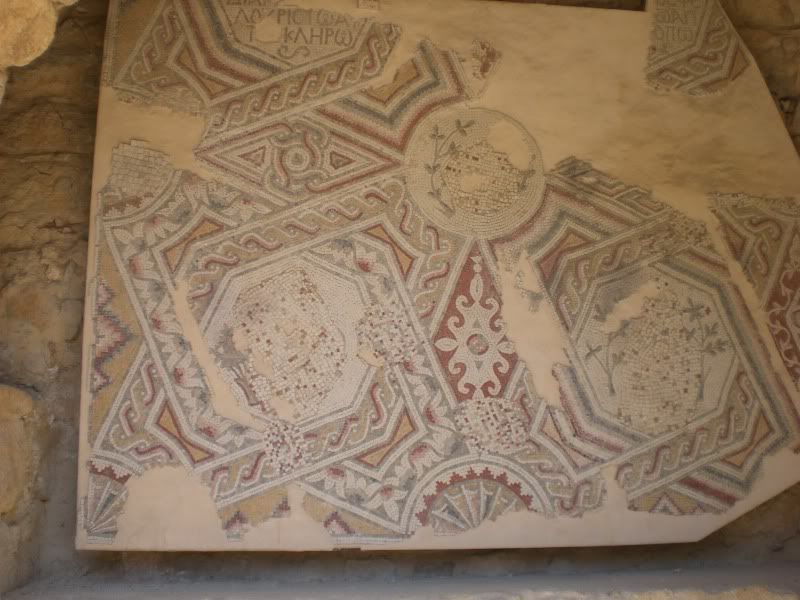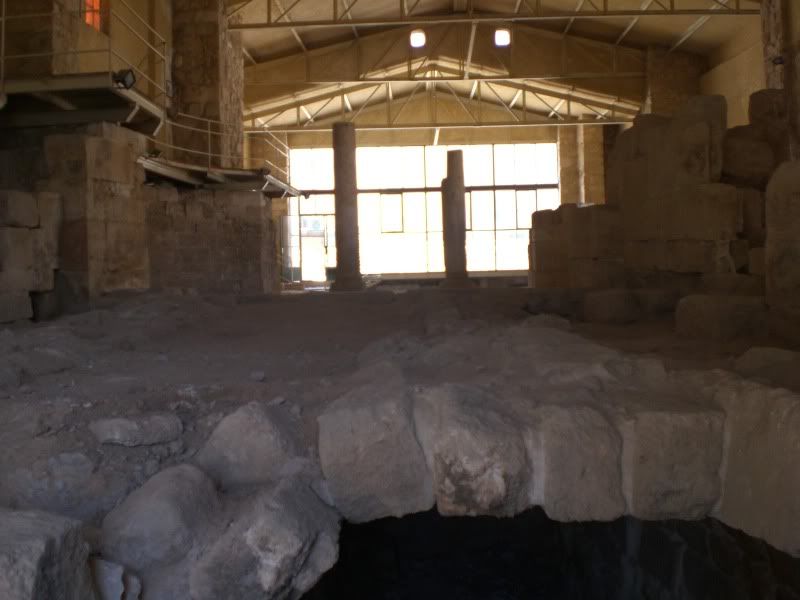 Last but not least, a Roman road –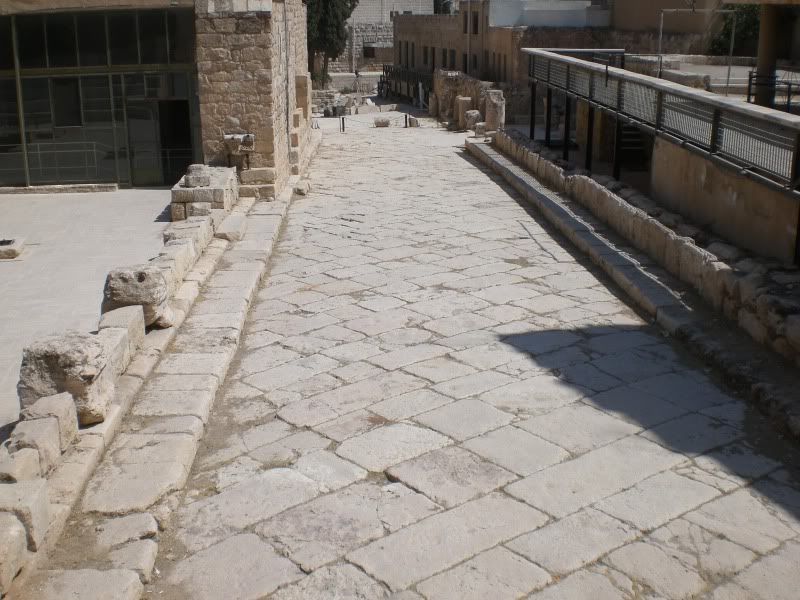 And that ends a quick glimpse at a local town No doubt to be visited again another time.