Jerash
Oct 9, 2011 17:53:43 GMT
Post by onlymark on Oct 9, 2011 17:53:43 GMT
I want you to pay attention. I may well test you on it later.
There is a lot of information in this and it may take some time to digest. However, it could save your life.
Why?
Because you'll know what to expect when the Roman legions come to invade and can defend accordingly. There's nothing worse than going into battle without the faintest idea of what you're up against.
So we'll begin.
Jerash is located to the north of Amman, just less than 50km away. A short easy drive and easy enough to be back in the capital the same day. On the map I've circled a few places for reference, where I went before plus a couple of places that on cursory examination of the map you probably wouldn't realise are reasonably close by –
First a little background.
Jerash in Roman times was one of the Decapolis cities, this means there were ten cities on the eastern fringe of the Roman Empire all linked by a common culture (Greek and Roman) instead of the regional Semitic ((Nabatean, Aramean, and Jewish) culture. Amman, known then as Philadelphia, was also one.
The link was done purposefully to ensure trade and security in an otherwise hostile area. Most of the ten are in Jordan but they also include a couple in what is now Israel and also Damascus, the capital of Syria.
Jerash has been populated since Bronze Age times but didn't achieve much until the Roman era from 63BC. There was approximately 800,000 sq metres within its walls, of which, a technical term could be 'oodles', still lay unexcavated. I know that walking around the site is not to be done on a hot day and depending on the level of interest, could take a couple of days.
If anyone does visit I'd suggest either greatly reading up about it or even possibly getting one of the guides who speak numerous languages near the entrance, it is that vast. Personally I wouldn't normally recommend getting a guide for many of the places, but this is one where it would be worthwhile. I didn't get one this time but I have been around with them. Cost? Now no idea.
The city prospered until the Persians invaded in the early 6th century AD where it began to decline, but also unfortunately was mostly destroyed by an earthquake in 749.
The map shows just over half of the old city, the problem is that the other nearly a half lies under the new city of Jerash to the east (to the top of the map) –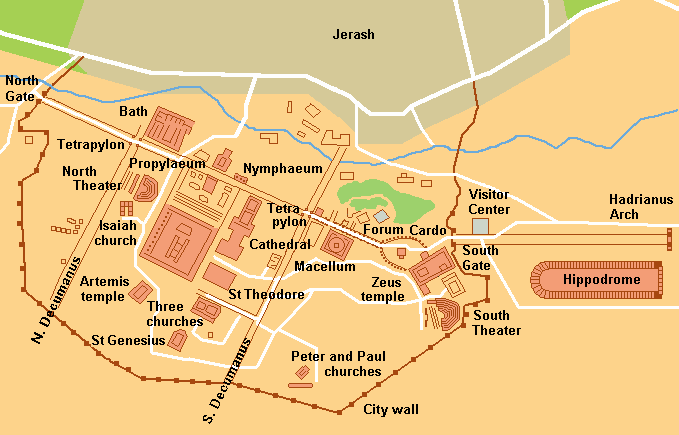 So to start at one end, get most of the way to the top and then return – in 129AD the Emperor Hadrian came to the city and a triumphal arch was built in celebration –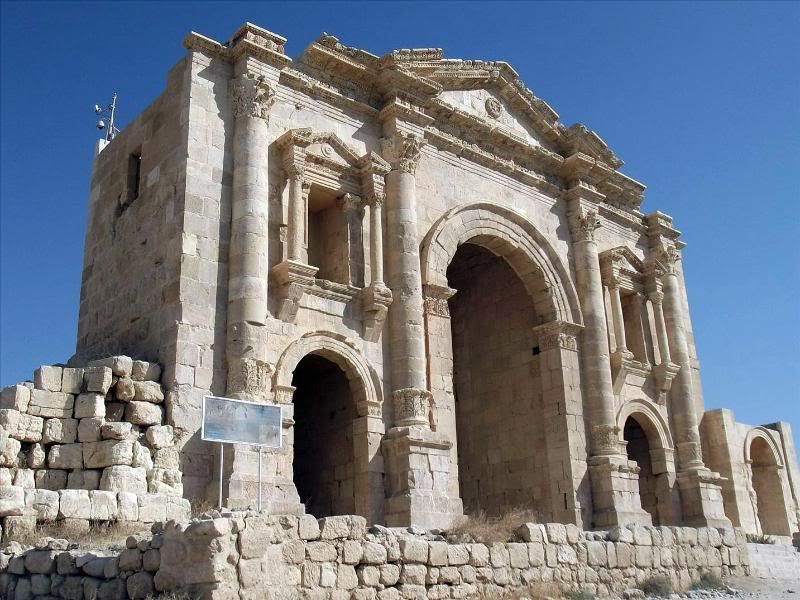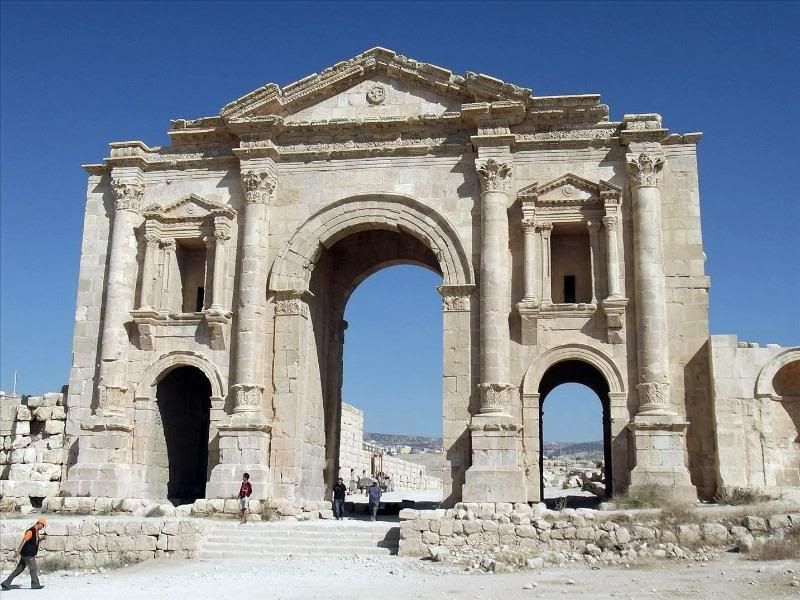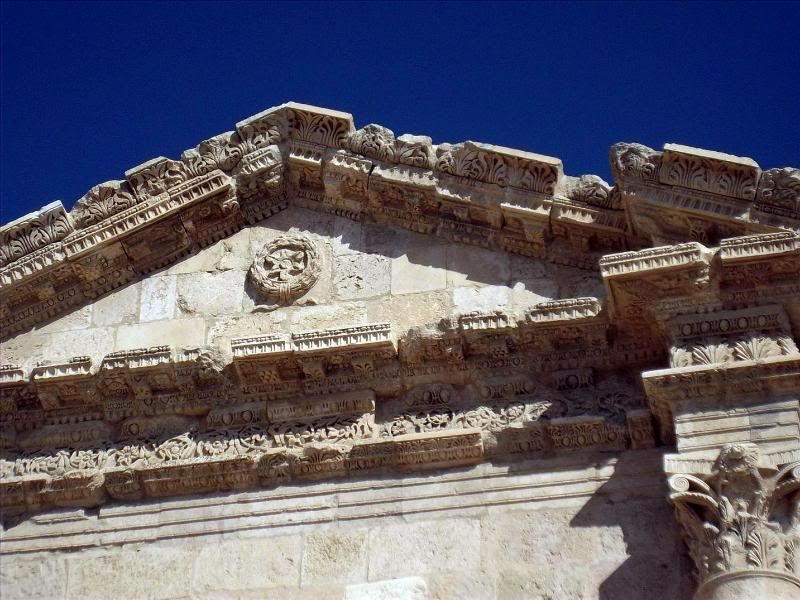 As you walk through the arch (back view) –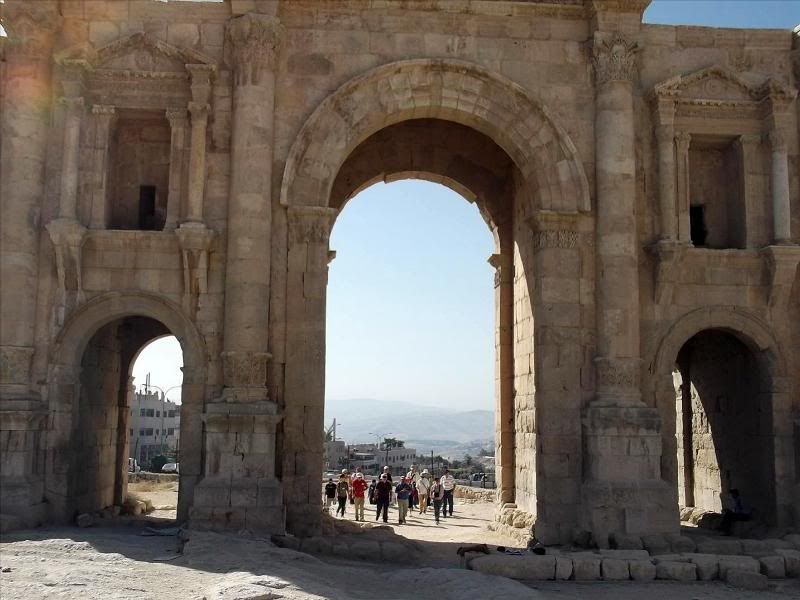 ......you begin to see - another technical term – 'shed loads' of decorative pieces just lying at the side of the path –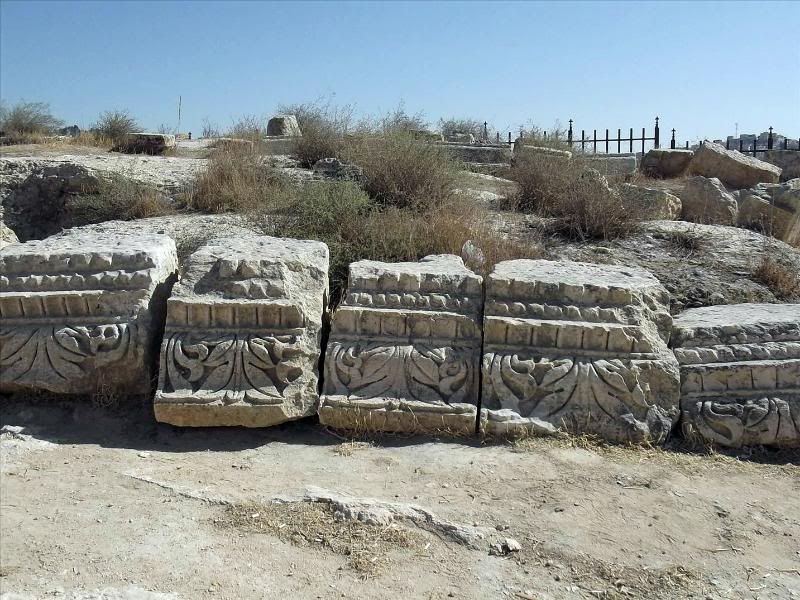 Also there are a number of hidden areas beneath the path that I'd enjoy poking around it –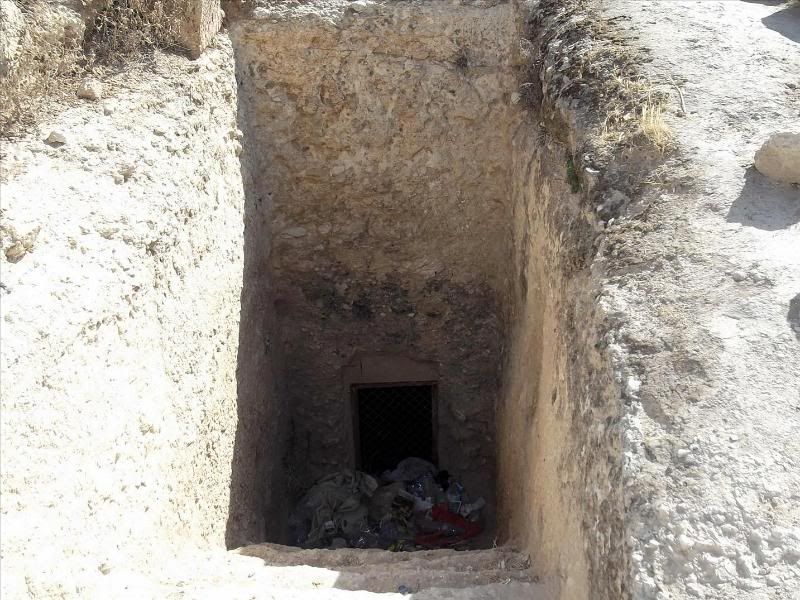 You first come to the Hippodrome (more on this later) –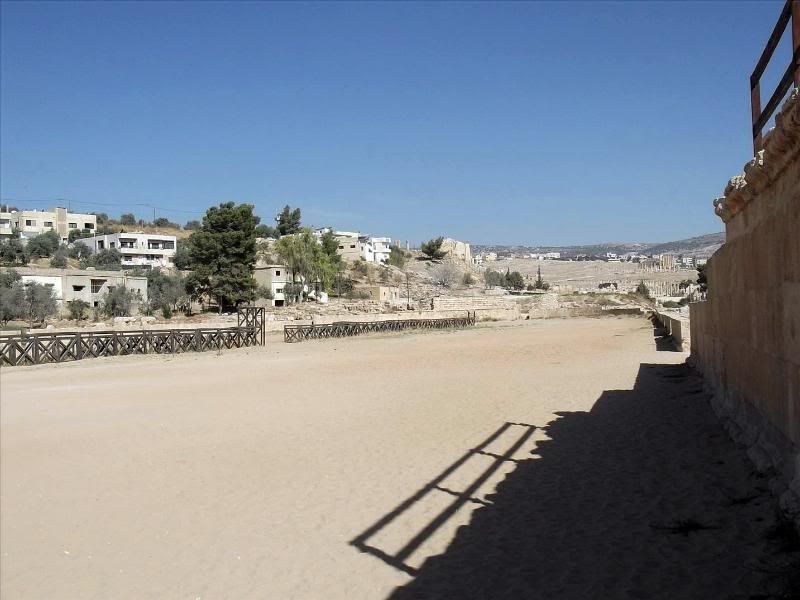 Unusual in that they are normally twelve arches wide, this being only ten (excepting the centre arch) –
At the side were a number of rooms used for probably keeping gladiators in, horses, training, baths and probably some shops ("Get your Gladiator T shirt 'ere! All the favourites! The Rock! The Beast from the East!) etc -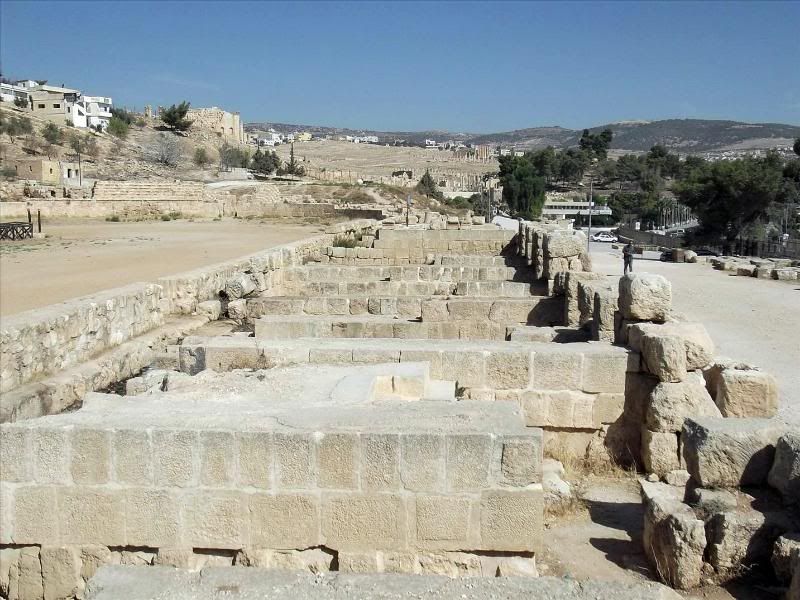 The channel in this room probably means it was either used for bathing or as drainage from the main arena –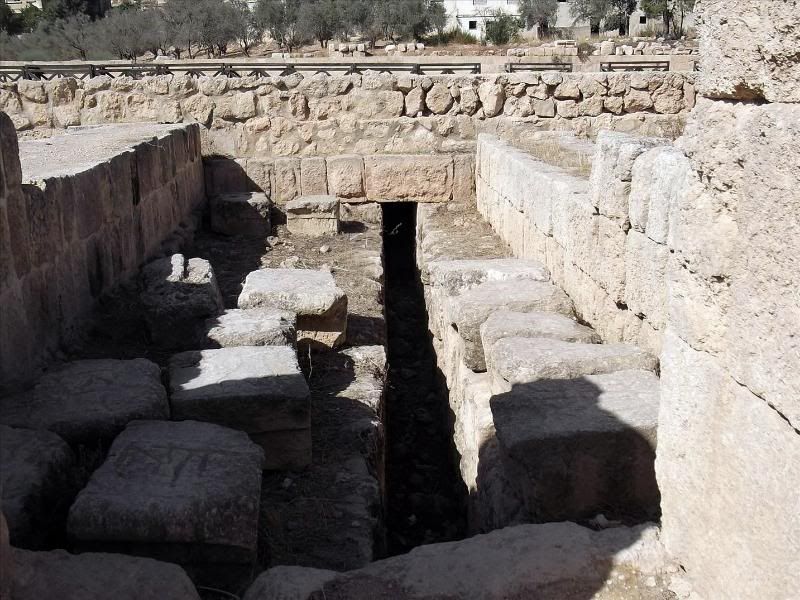 As usual, a highly informative sign. Can you imagine this level of noninformation at European heritage sites? Maybe that's why a Guide may be a good idea –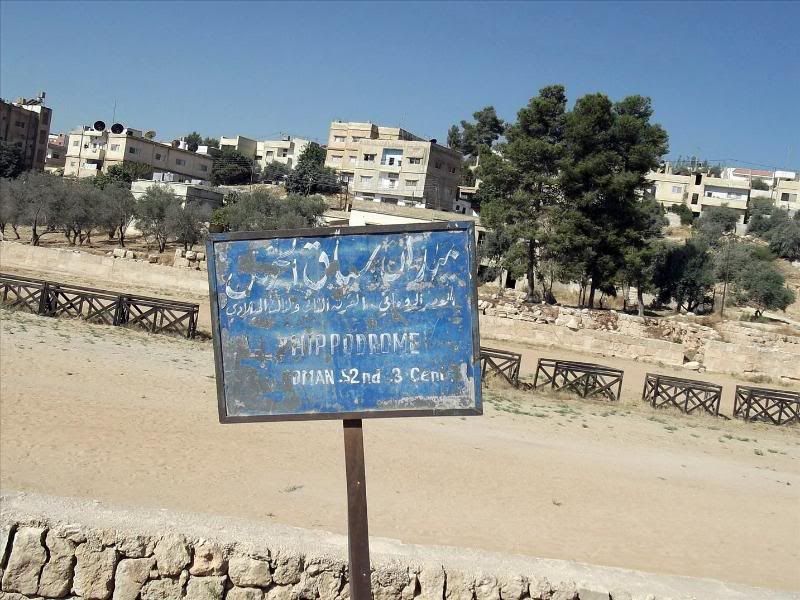 Continuing further we come to what was the South Gate. Hadrians Arch was intended to become the new south gate but for some reason the city never developed far enough south to encompass it –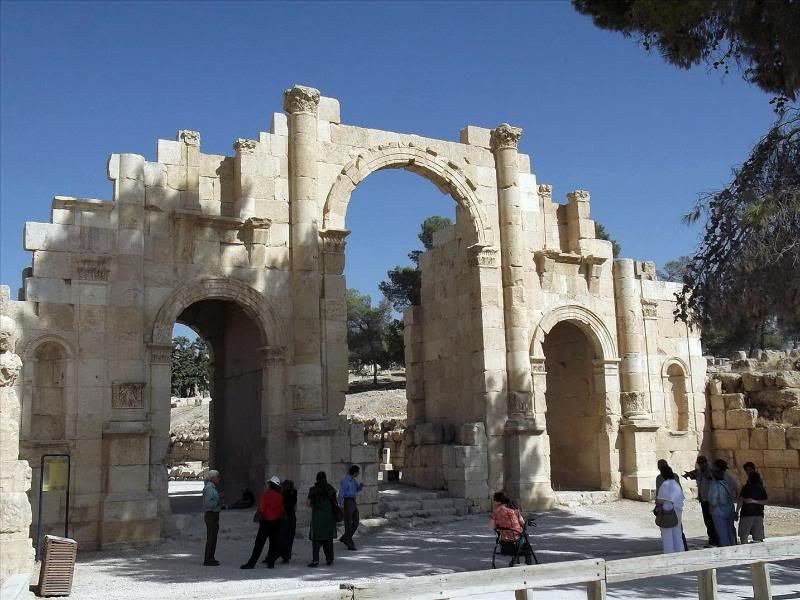 We then move immediately through an area that was a market place –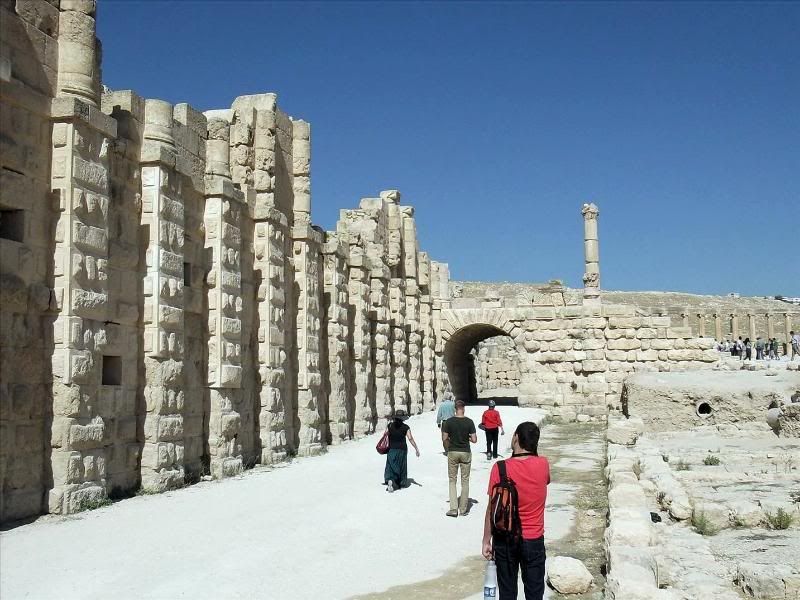 To the Forum Cardo, measuring 90m x 80m, and surrounded by 1st Century columns –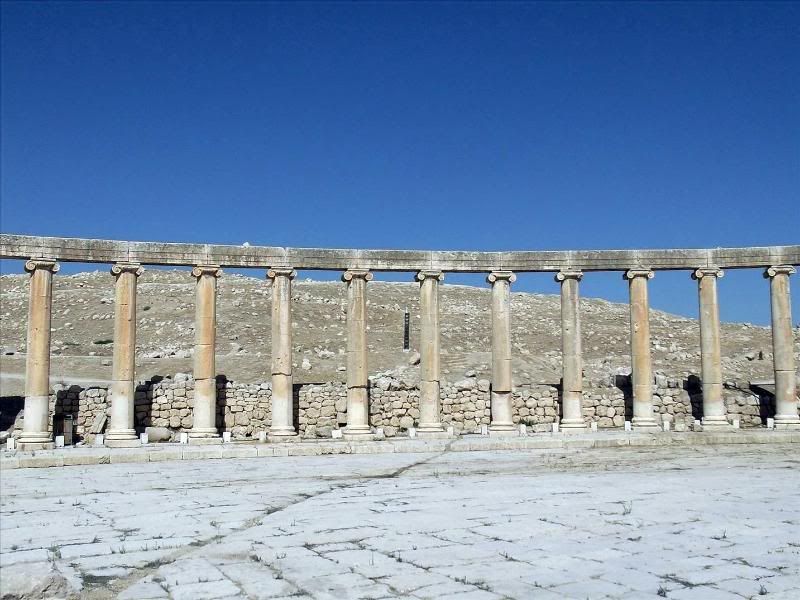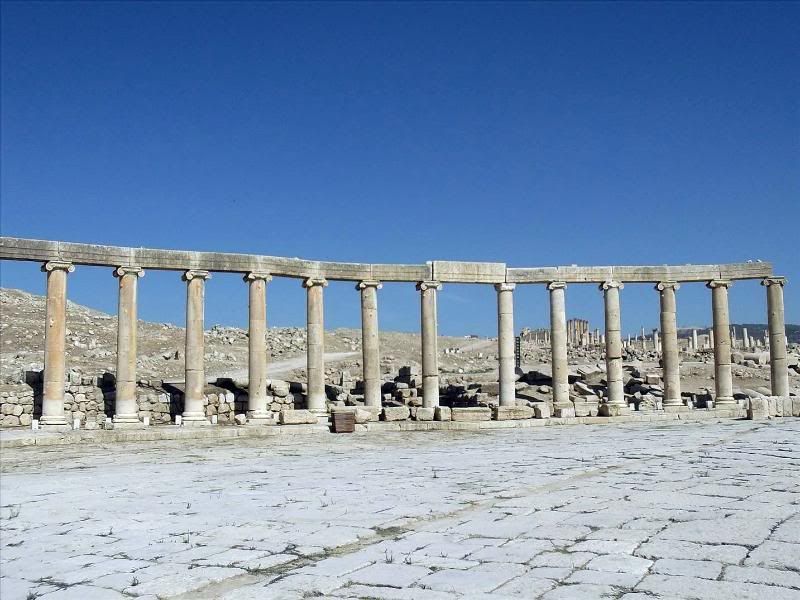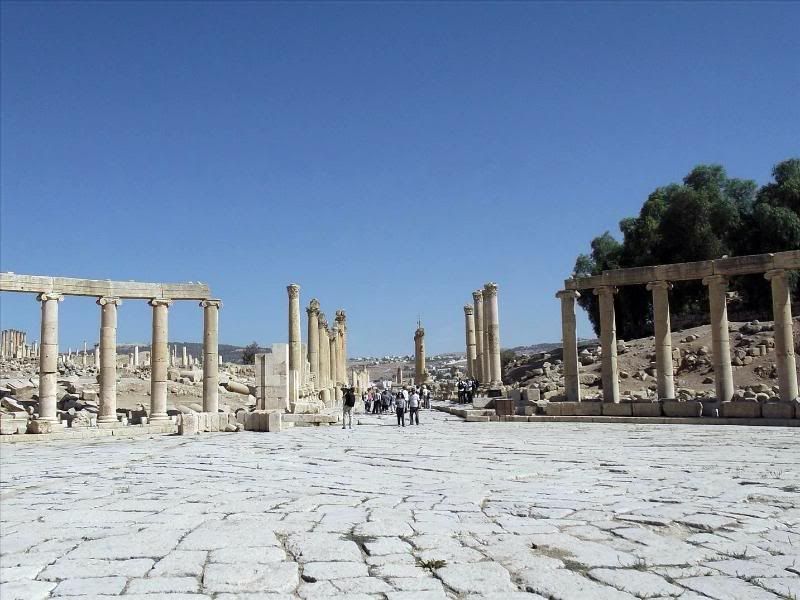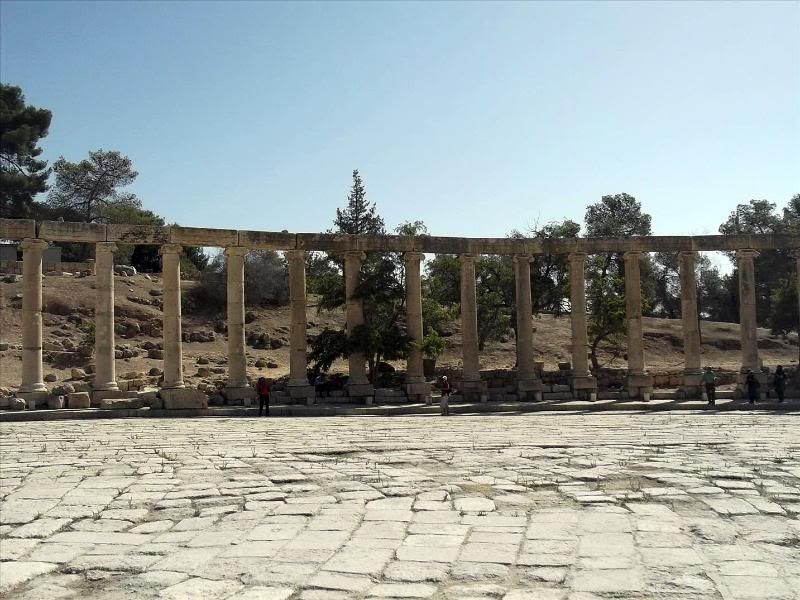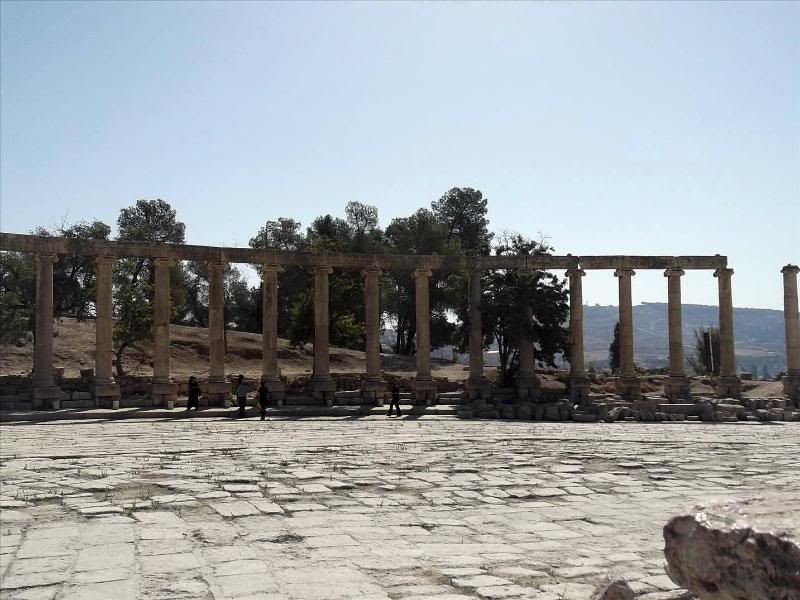 Just before we disappear up the long street ahead of us we'll do a quick left up to that half circular building on the right.
The South Theatre –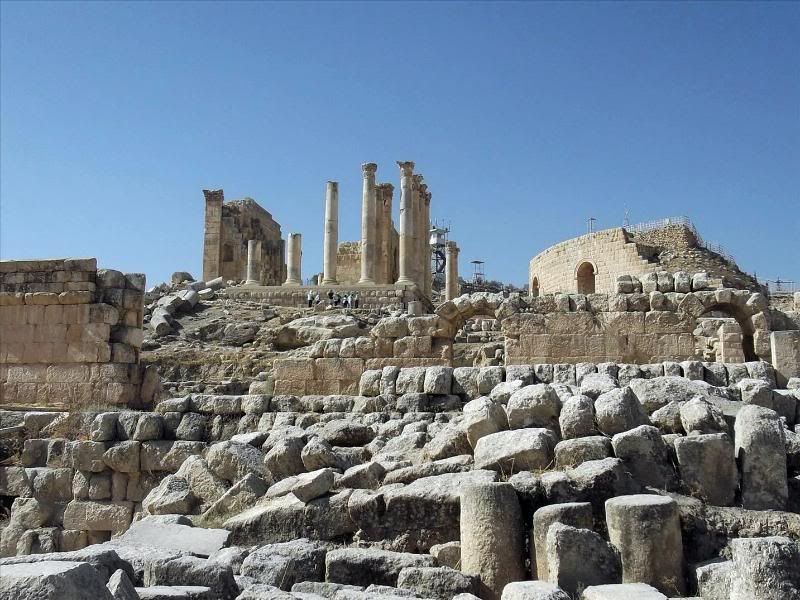 Just in that last photo to the left is the Temple of Zeus. Ho hum, too much to see, maybe next time. Anyway –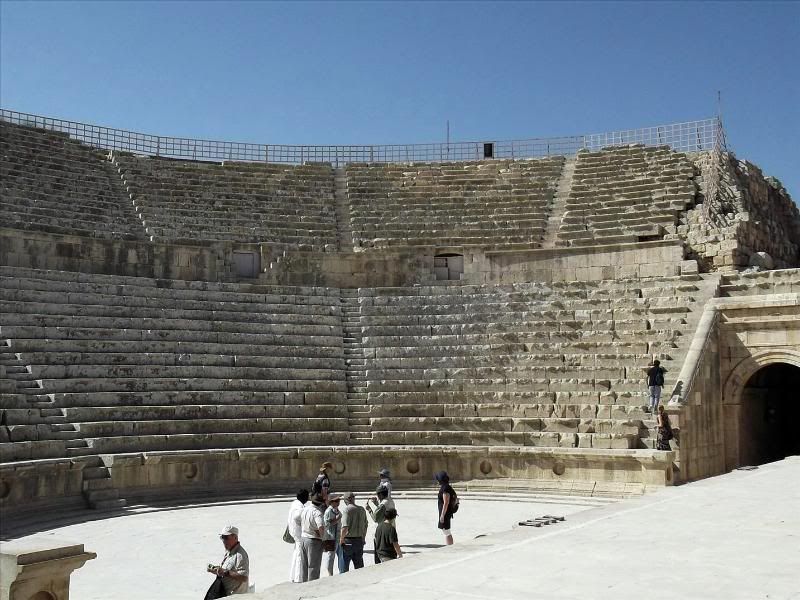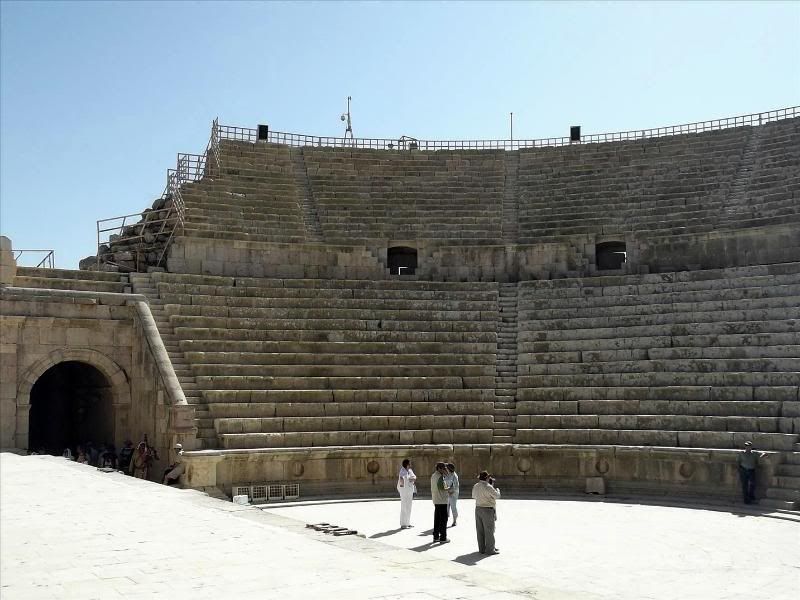 Seating more than 3000 people it's certainly big enough. But what led me into it was the sounds emanating from it. The sounds of bagpipes playing a Scottish dirge. Low and behold –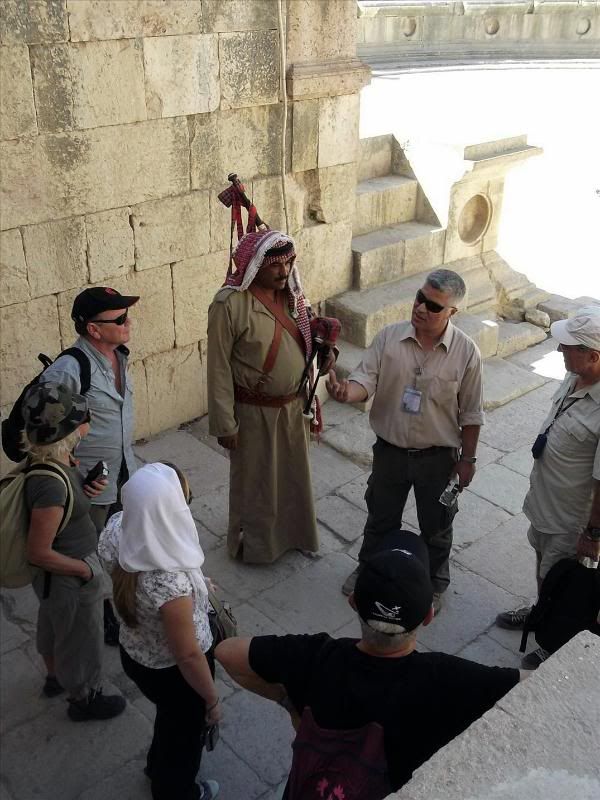 A rather shaky video, not mine, but proof nonetheless –
Why the bagpipes? As far as I know since the alliance of the Arab nations in the Middle East during the first world war Jordan initially was influenced by the UK as regards military matters. Lawrence of Arabia being the main player in that. Since then many Jordanian military have been sent to the UK to train. Many British soldiers have been sent to Jordan to train them as well. It only seems natural that the military culture from the UK has permeated all levels, including the bagpipes. It is ex-Army playing them here.
A look from the top of the theatre reminds me how far I still have to go –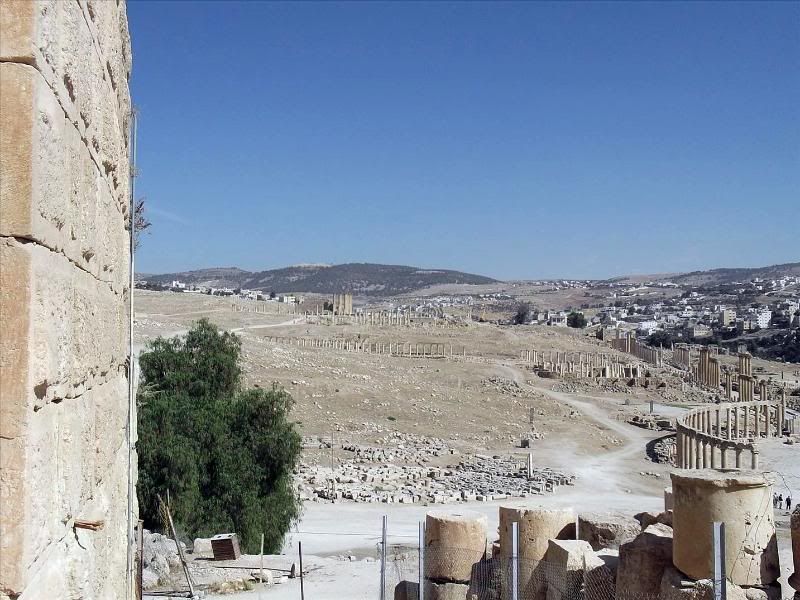 More views –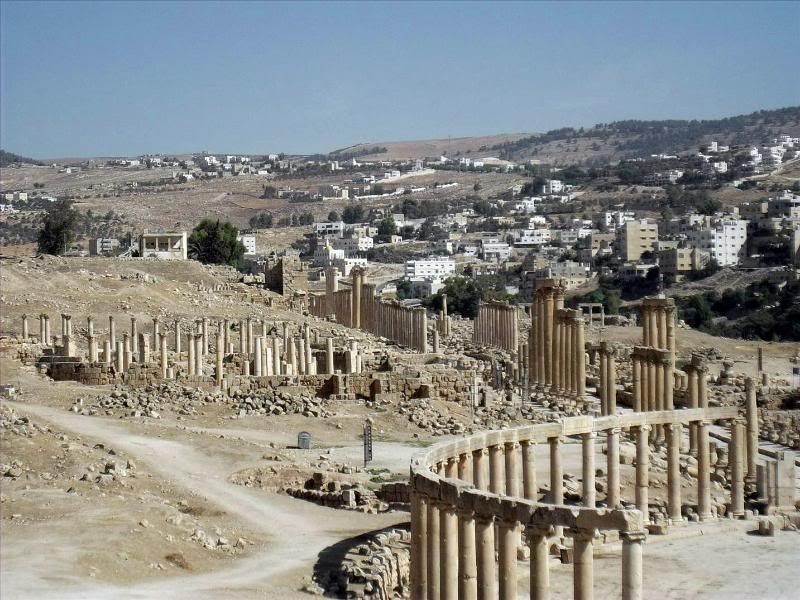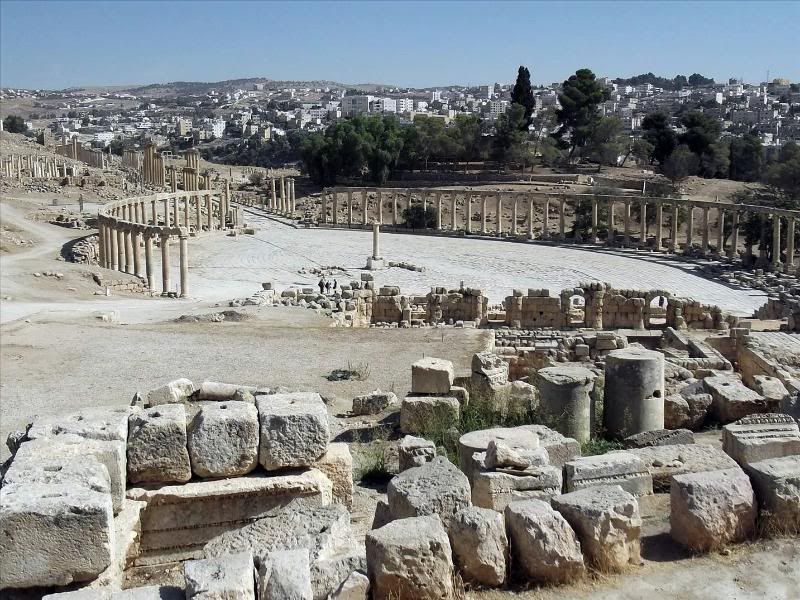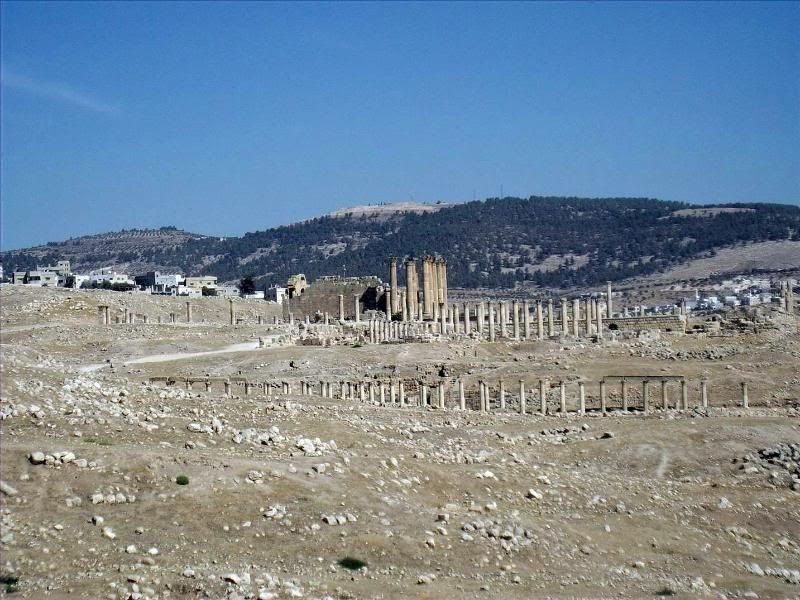 Several decorative parts just left laying around –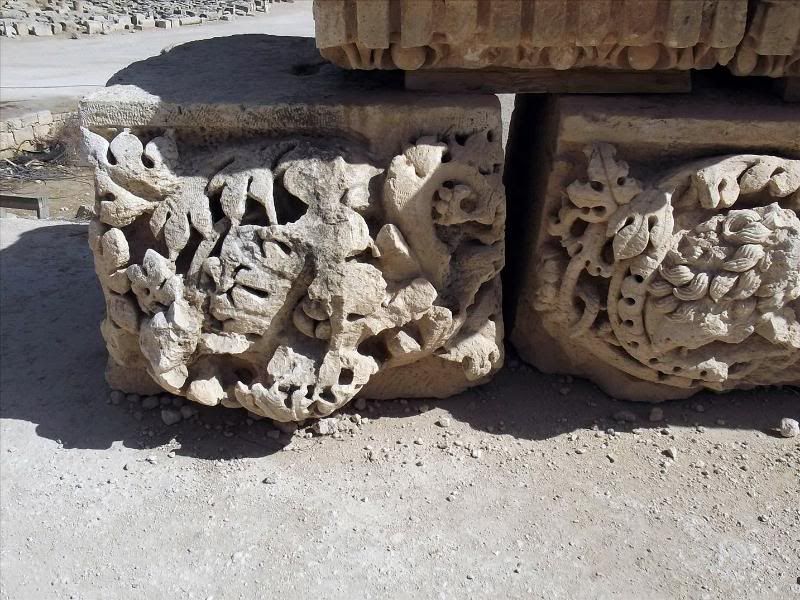 So, we drop back down from the theatre with our ears ringing, cut through the forum and head up the 'road' –
To our left out of sight is the museum, way off to the left are the St Peter and St Paul Churches (jeez, too big, too big, can't see it all) and we head up the Cardo, the colonnaded street. This is 800m long, a little different to the odd thirty or forty metres of Roman road you find still preserved at a lot of European sites.
Evidence of chariot wheels over the time –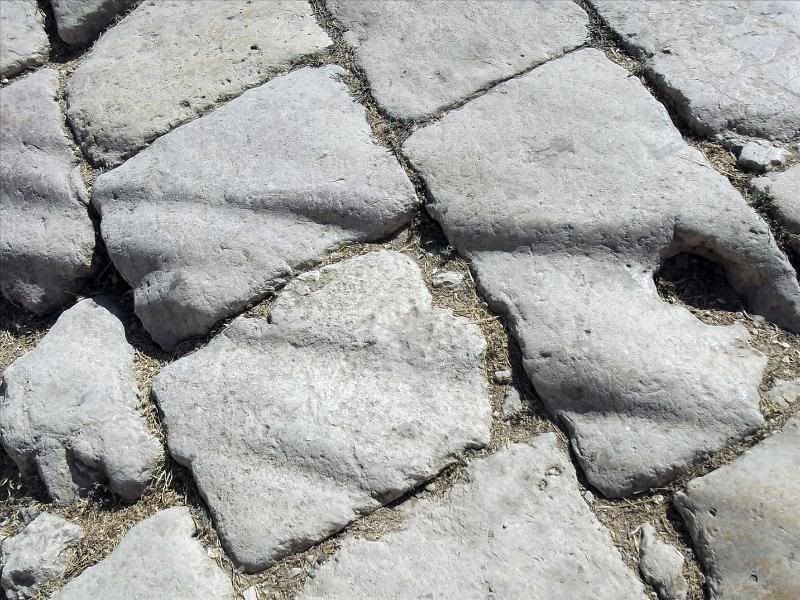 Even some manhole drainage covers –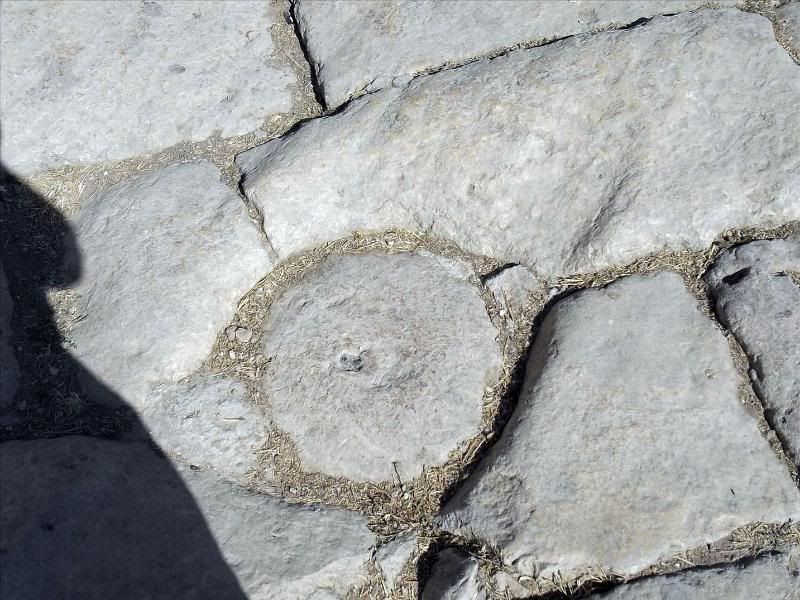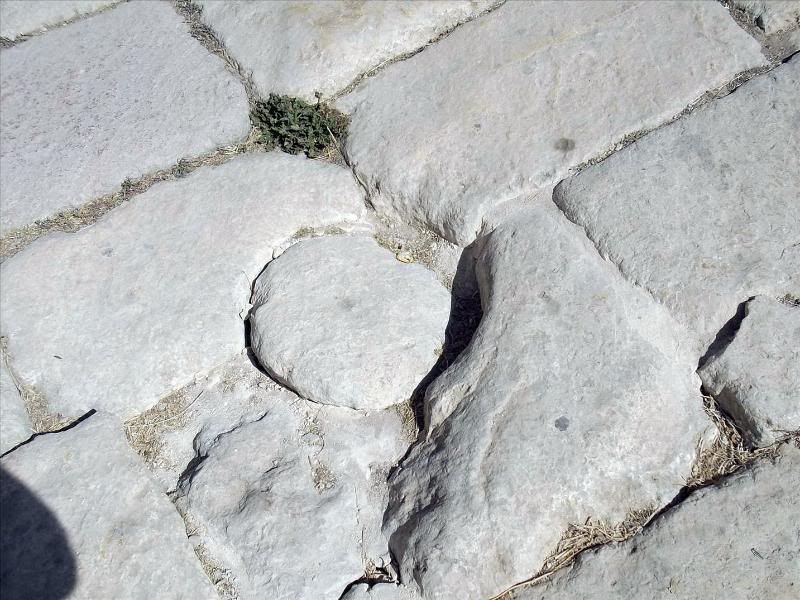 Lined along the street were numerous shops and smaller buildings –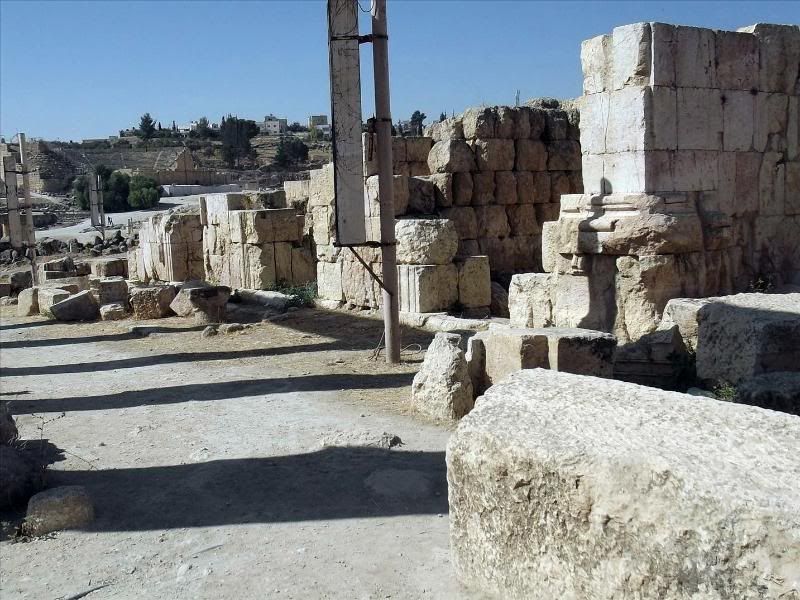 Moving on a little further –
And what do you think these holes are for? –
My guess is that they were used to tie up the horses/donkeys as I've seen similar things in numerous sites.
Talking of similar things –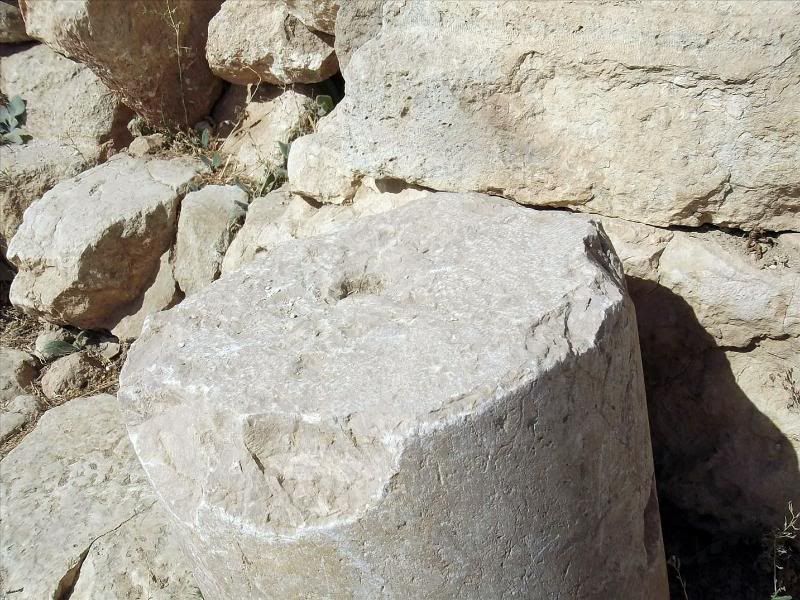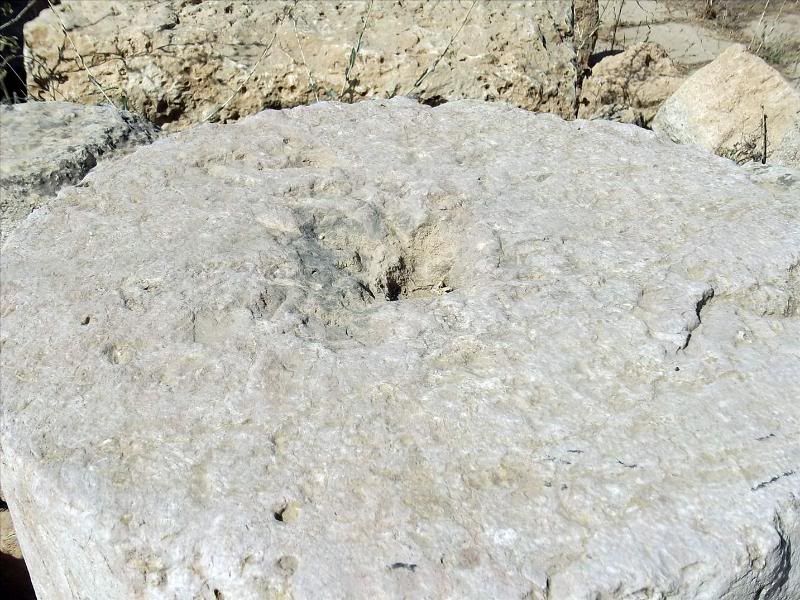 The hole left by the insert to tie together two pieces of stone to make a column. We've seen these before if you remember.
A bit further up we reach the South Tetrapylon, the intersection of the Cardo with the first cross street called the South Decumanus. This is marked by this –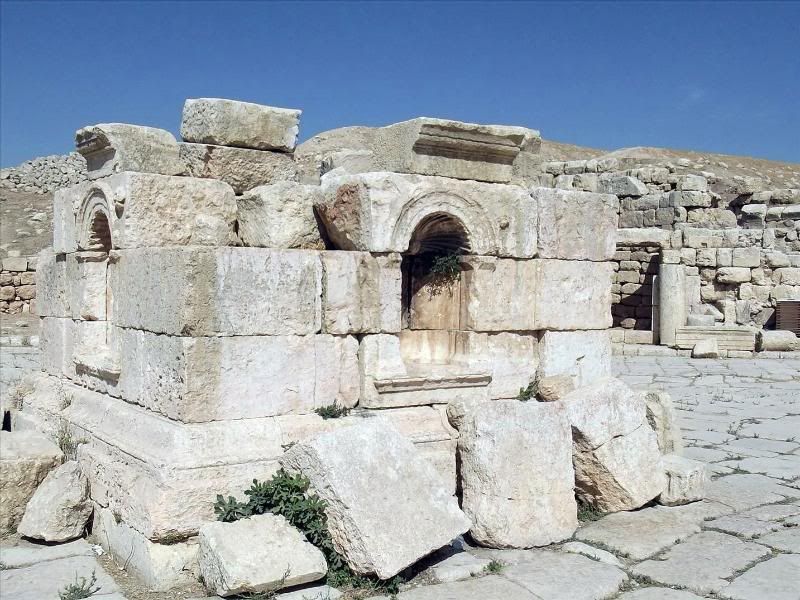 Inserted in the alcoves... –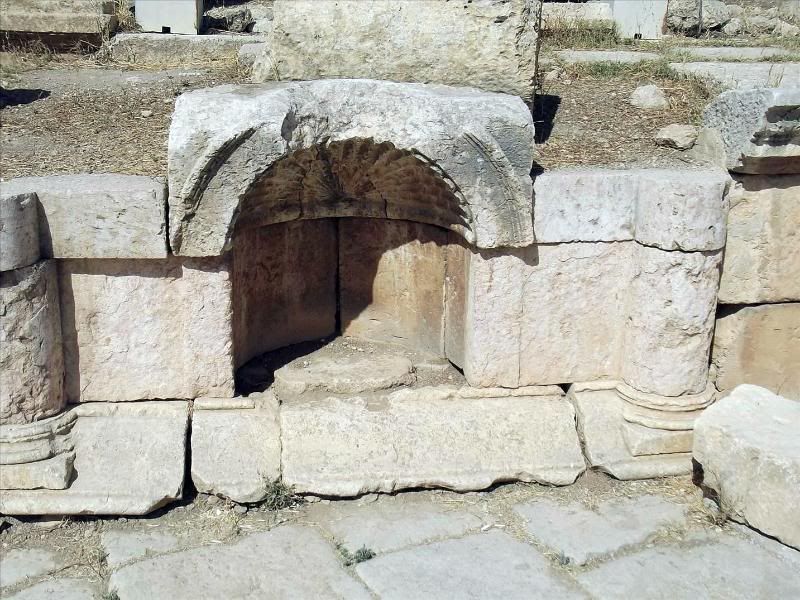 ..... would be oil fired lamps to mark it. Olive oil no doubt.
Look left –
Look right –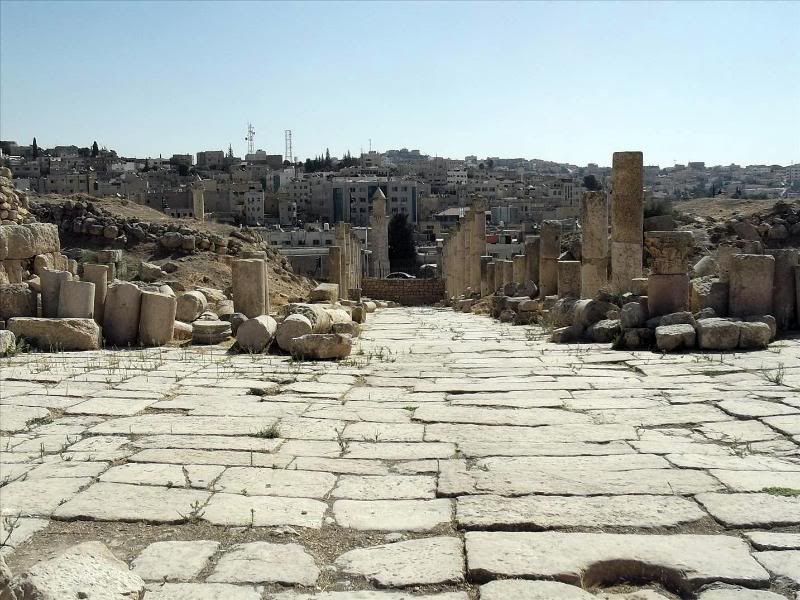 Is it safe to cross? No mad headed boy racers in their racing go faster striped chariots?
No?
Ok, we proceed.
More shops –
Keep going, it's getting hot –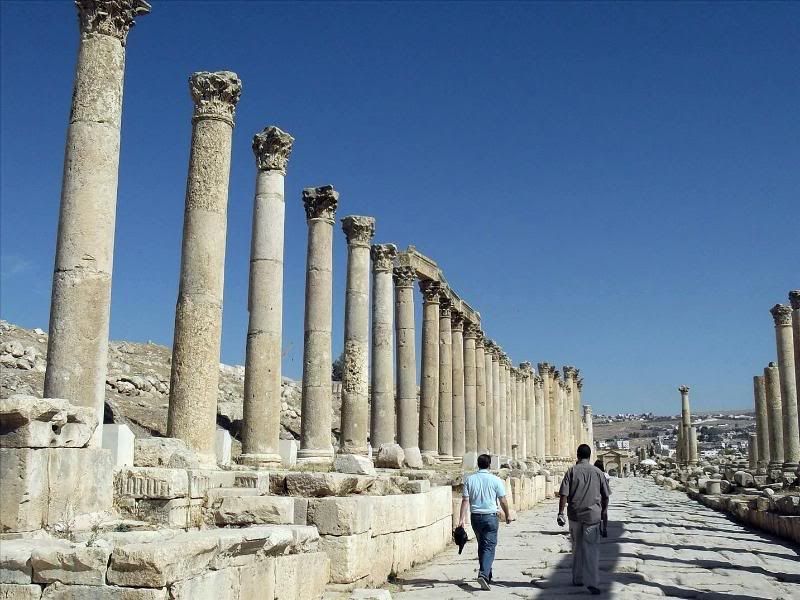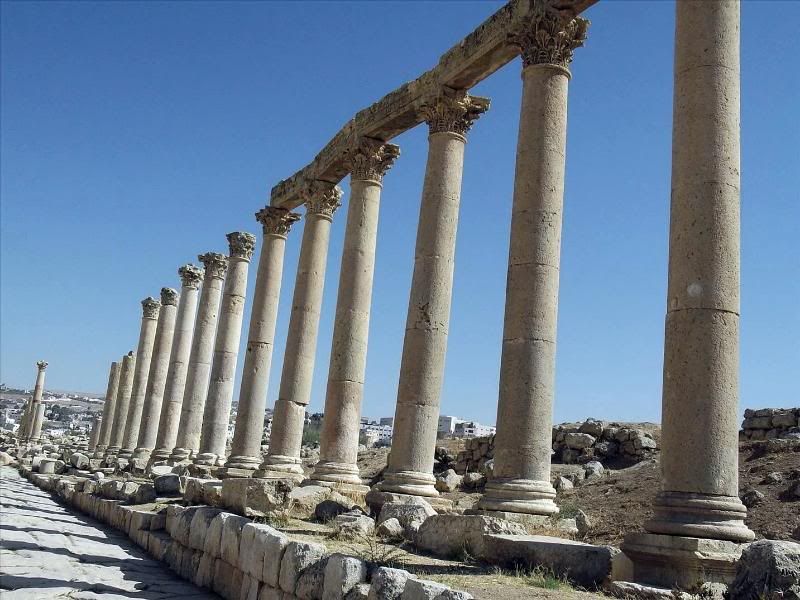 Another niche/alcove for an oil lamp to mark the road –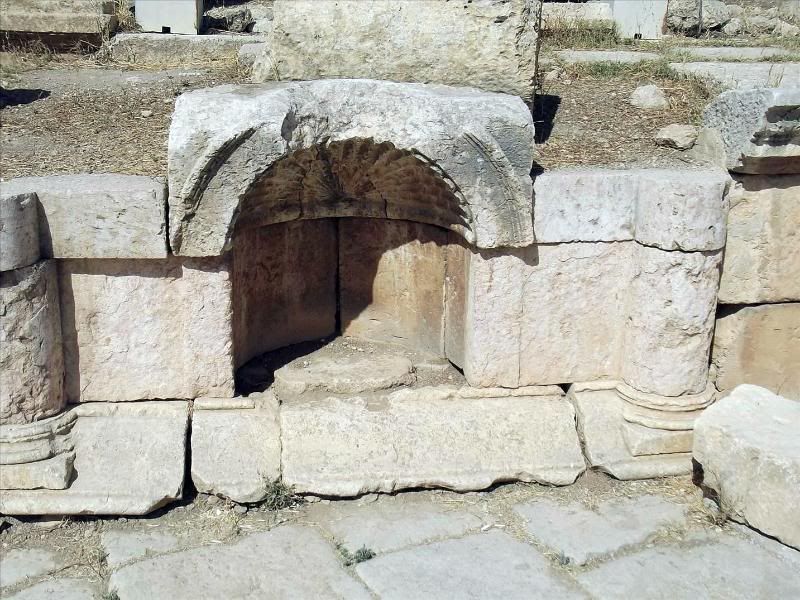 Lead on McDuff –
To the Nymphaeum –
"This ornamental fountain was constructed in 191 AD, and dedicated to the Nymphs. Such fountains were common in Roman cities, and provided a refreshing focal point for the city. This fine example was originally embellished with marble facings on the lower level and painted plaster on the upper level, topped with a half-dome roof Water cascaded through 7 carved lions' heads into small basins on the sidewalk and overflowed from there through drains into the underground sewer system."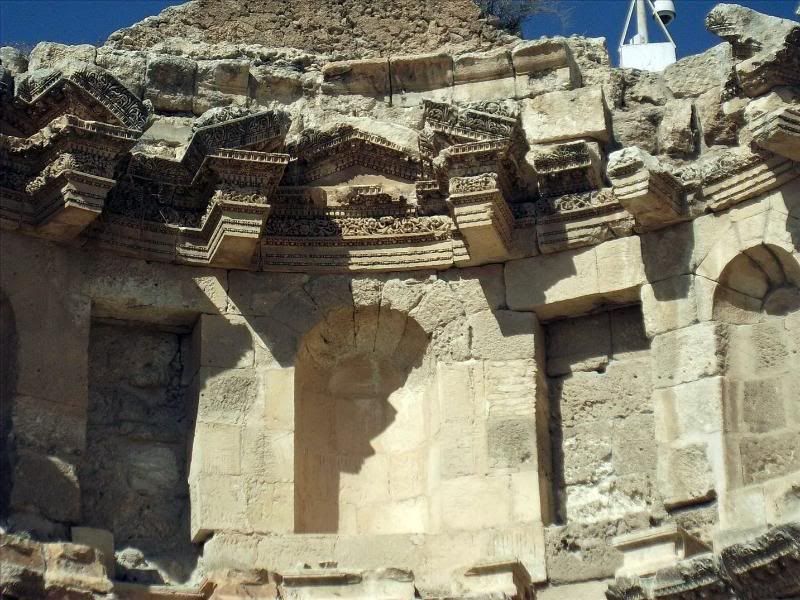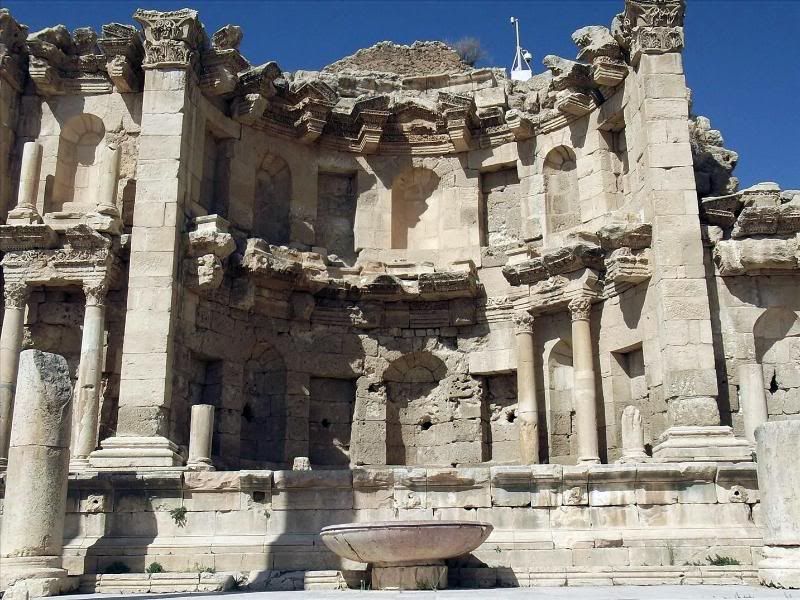 A little further on is the turn off to the left through what would have been two story shops to get to the Temple of Artemis –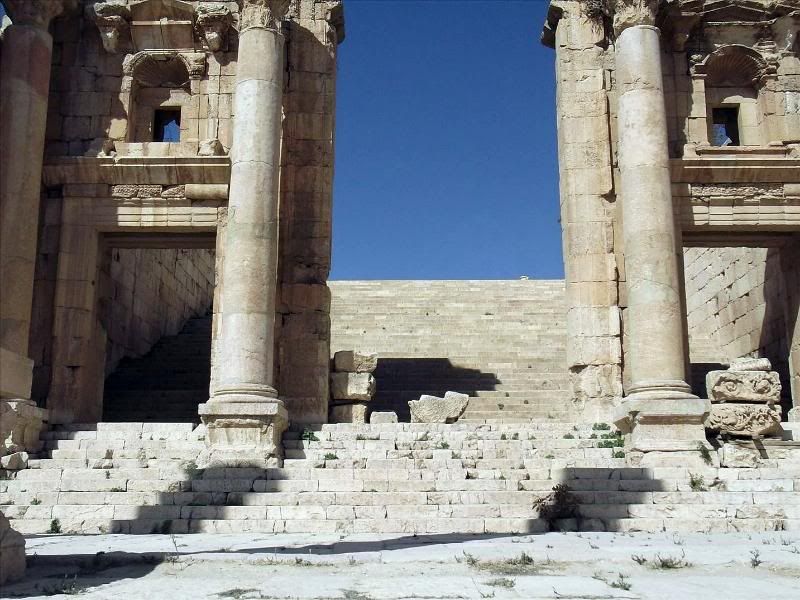 It's still another, what 2 or 300 hundred metres to the end? To the North Gate –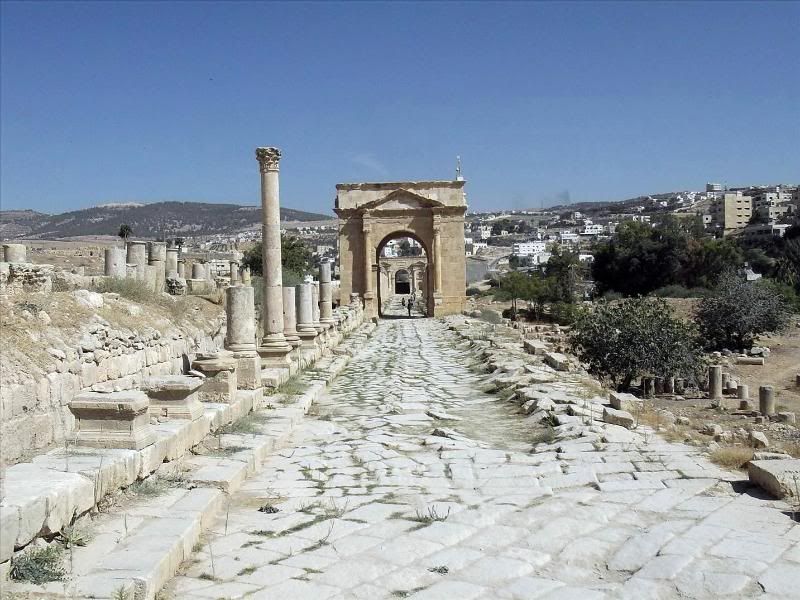 I turn left here and head up hill. A quick look to my right as I ascend, across again to the North Gate –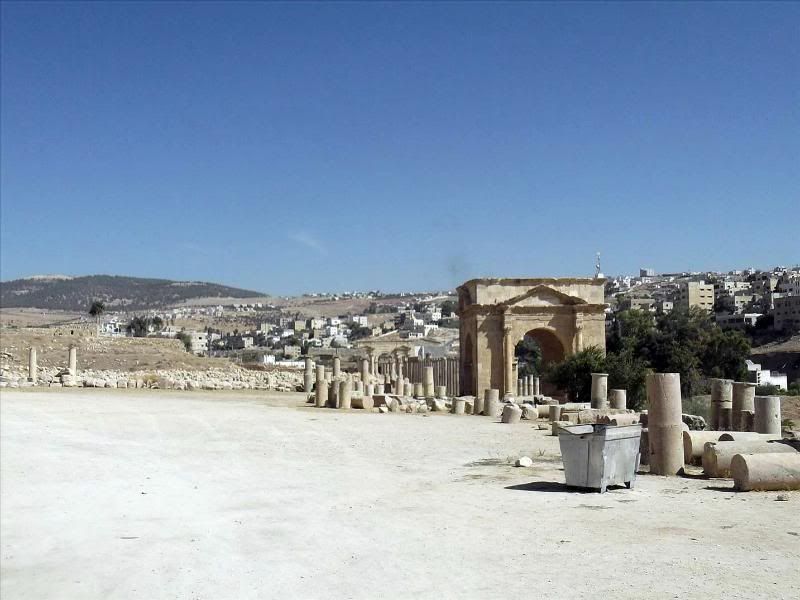 A bit better view –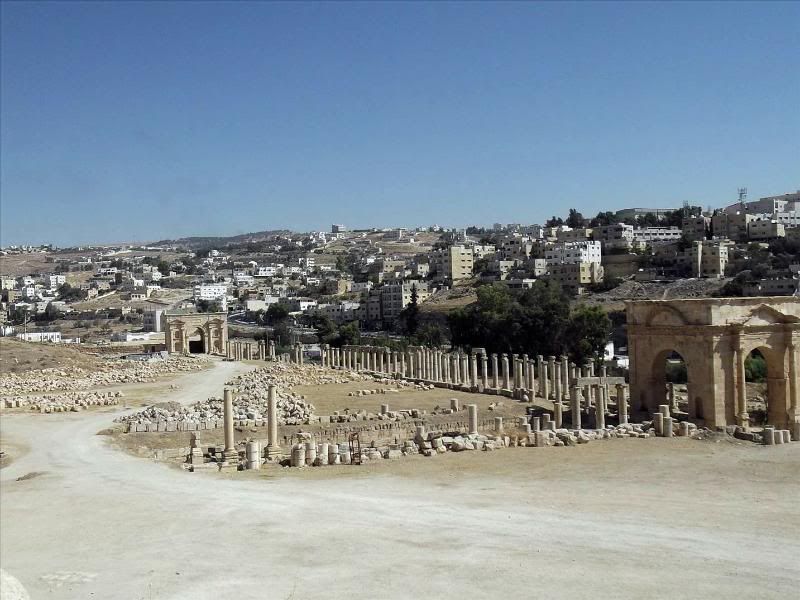 I'm aiming initially to slip into the north theatre to see if it's any different to the south.
Not a lot different as it turns out. About the same size. Built in 165AD but then doubled in size in 235AD –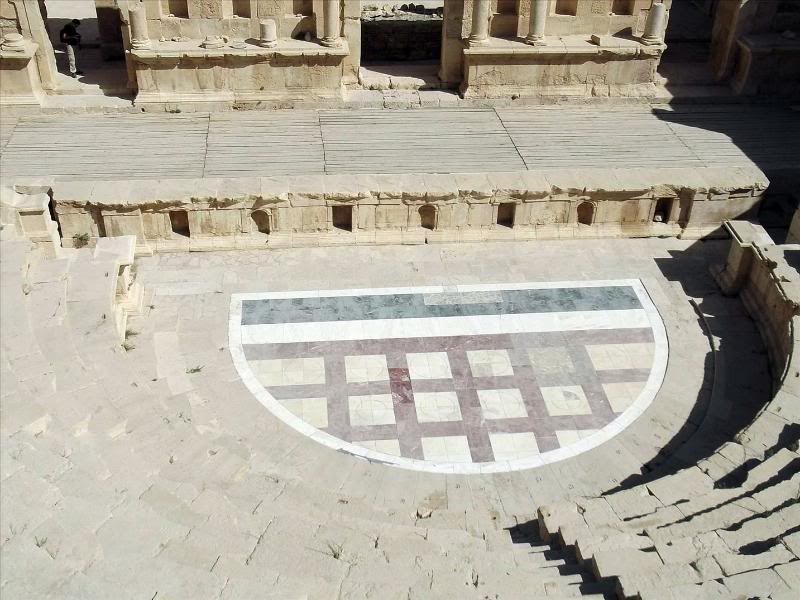 I head up to the Temple of Artemis. Somewhat decayed from its heyday I suspect –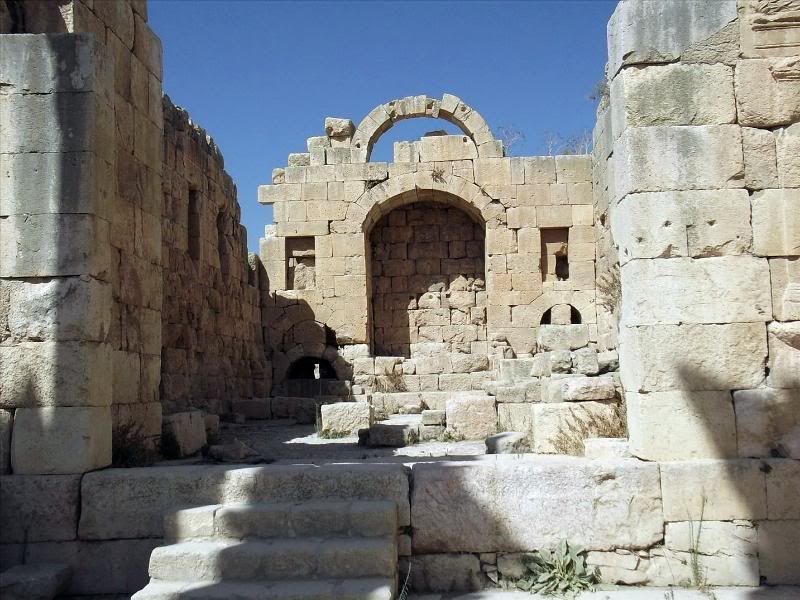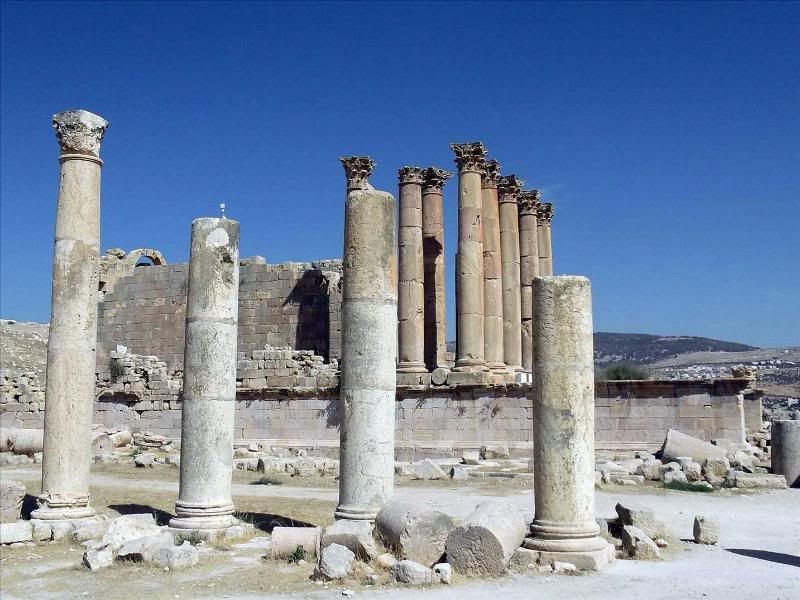 At least I found some information –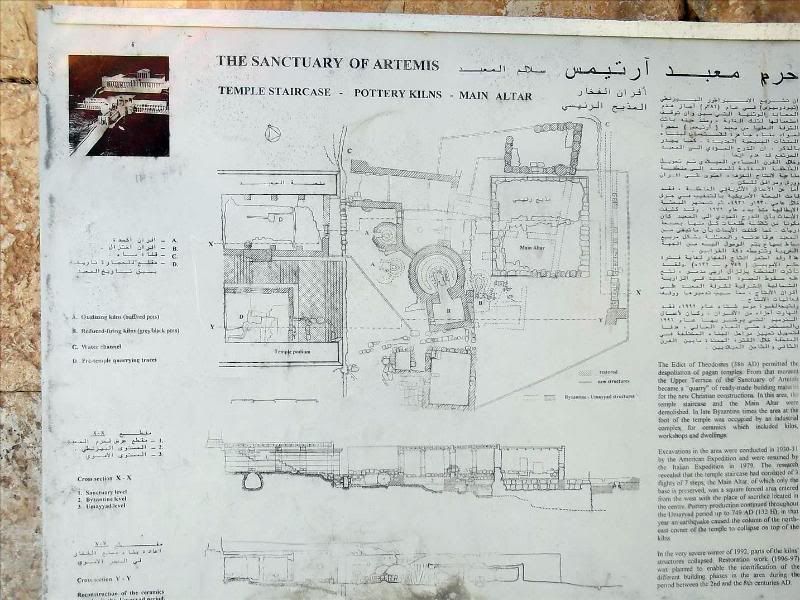 Artemis was the patron Godess of Jerash and this temple was the place of sacrifice to her. A lot of marble would have been used to clad the interior, no doubt being recycled in some local houses. I know I would have done.
Somewhere to water your horse after the little climb. And what's those columns just a little further? And just beyond that to the left?
One of the fifteen Byzantine churches in the complex.
I told you it was big –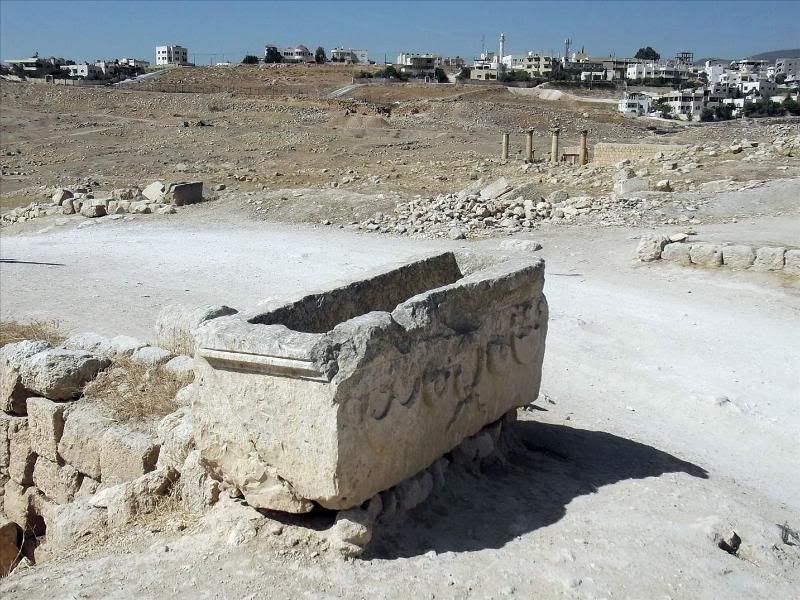 We look back towards the south theatre and in the distance Hadrians Arch –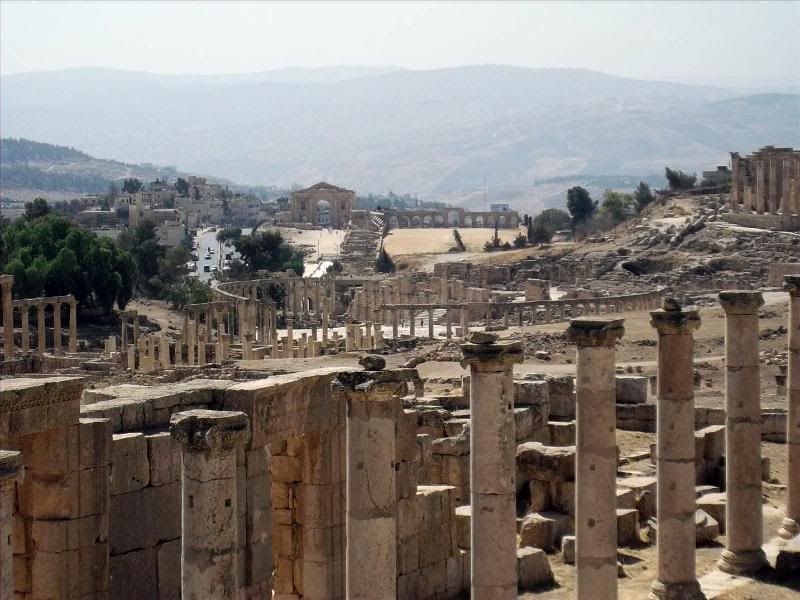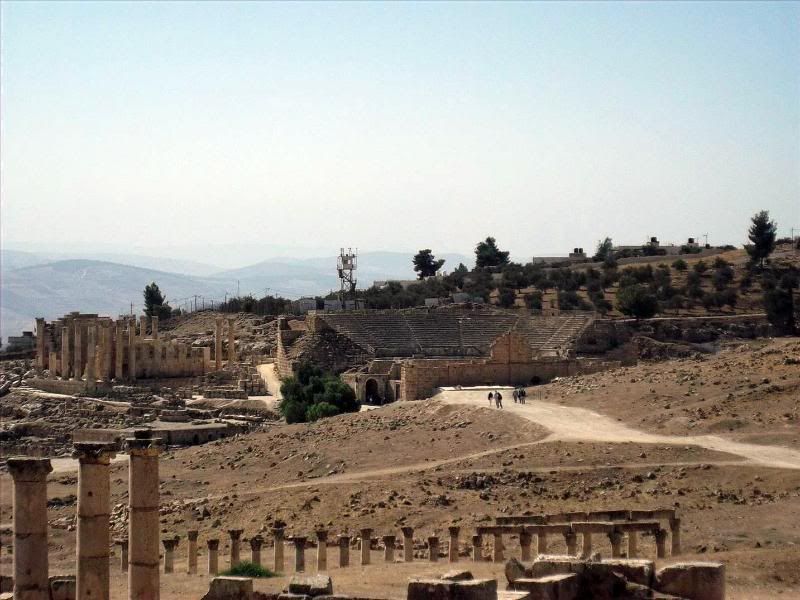 Looking back over my shoulder, have I got time and energy to slip to the church? –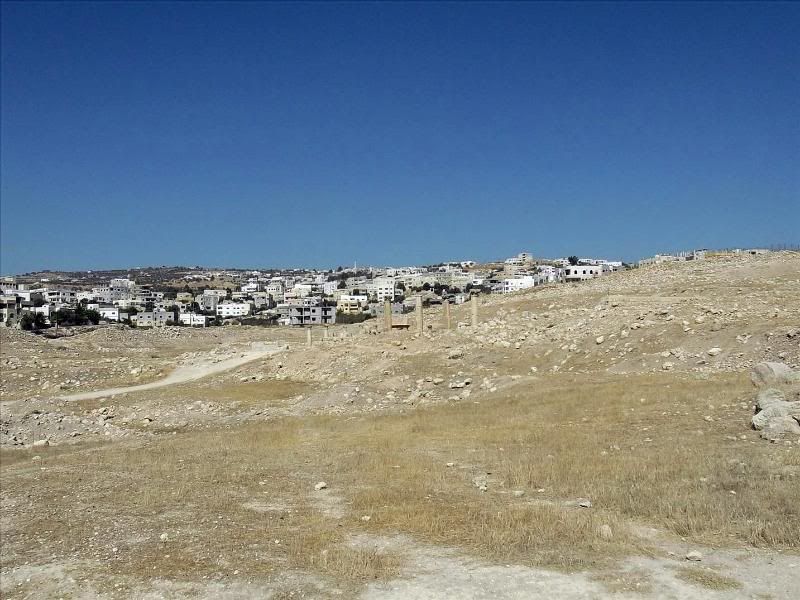 No.
We pass on our route back across the top of the street we saw at the crossroads on the left. So this photo looks back to the main colonnaded street –
Slip close to the forum –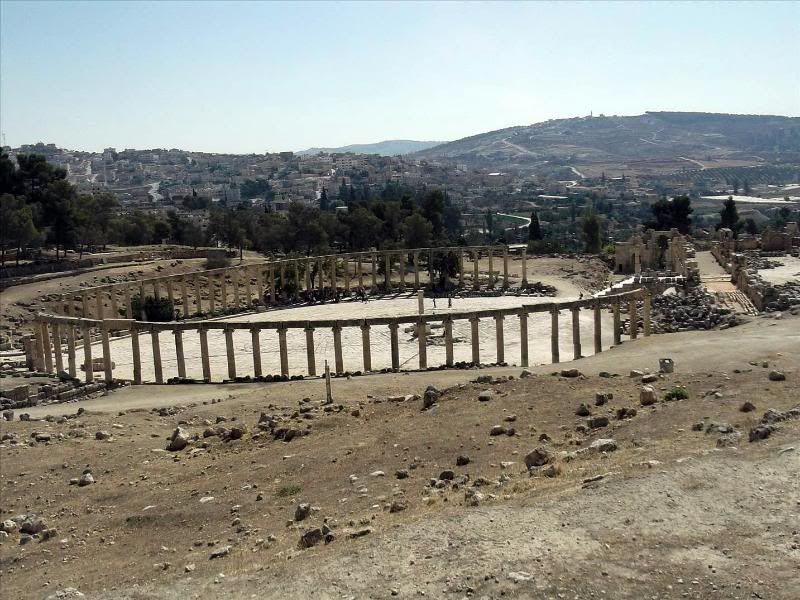 Notice all the bits and bobs left laying around hoping someone will put all the pieces of the puzzle back together again –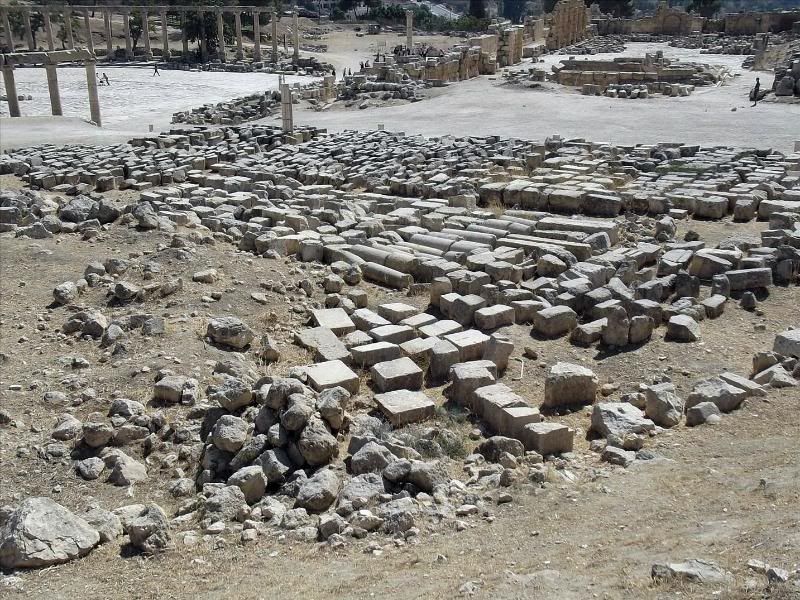 I make my way back into the Hippodrome. Looking one way –
And then the other –
Rest my dusty, weary feet for a moment before the walk back to the car. Have a drink of water and make a mental note that I really shouldn't be still biting my toenails at my age –
Look up for a minute................ and SHIT!
We're being attacked! –
Uh-oh. Here comes the Centurion to see if we're much of a threat –
Followed by the bugler (or whatever thing he's got) –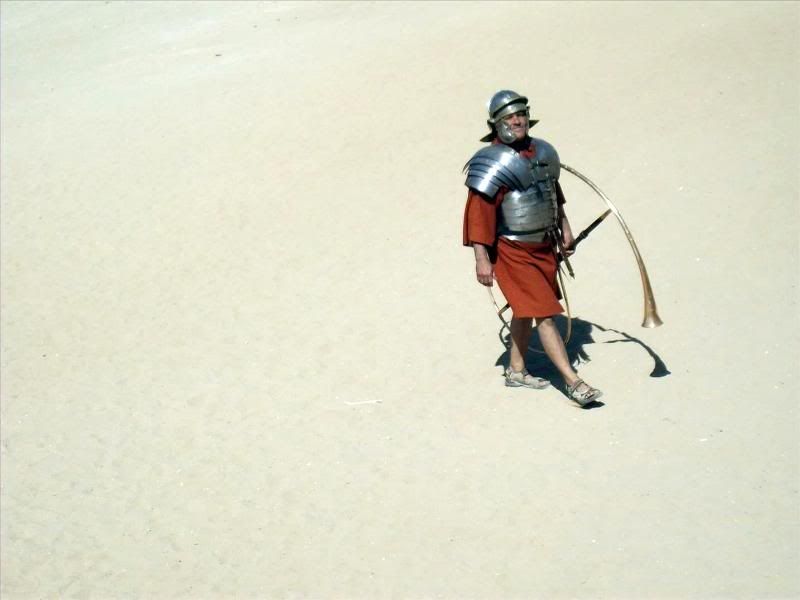 The Legionnaires start to advance. I hold my ground and out stare them pretending to be just a simple tourist. Little do they know I'm like a coiled spring............. waiting to run away –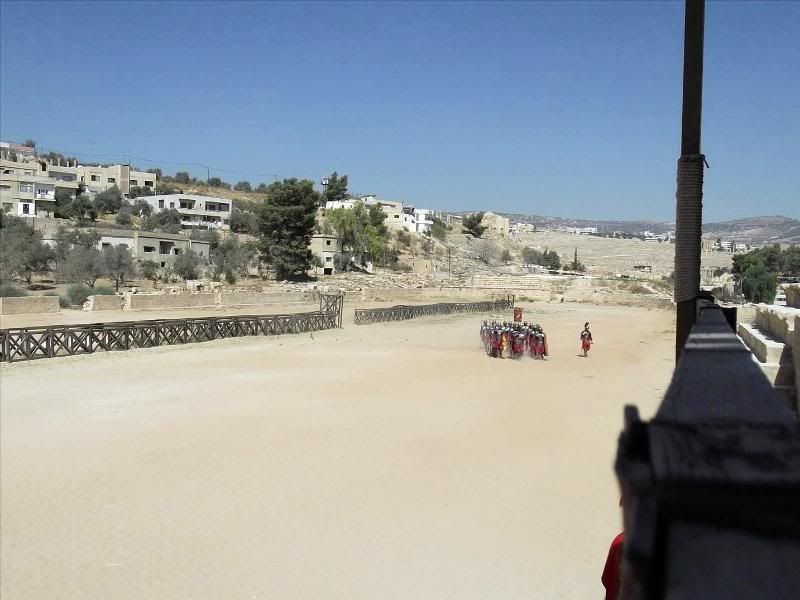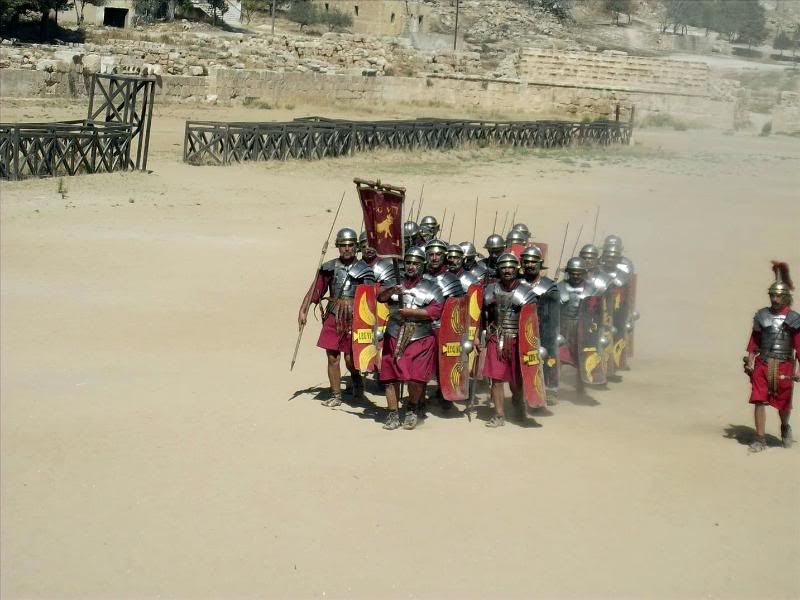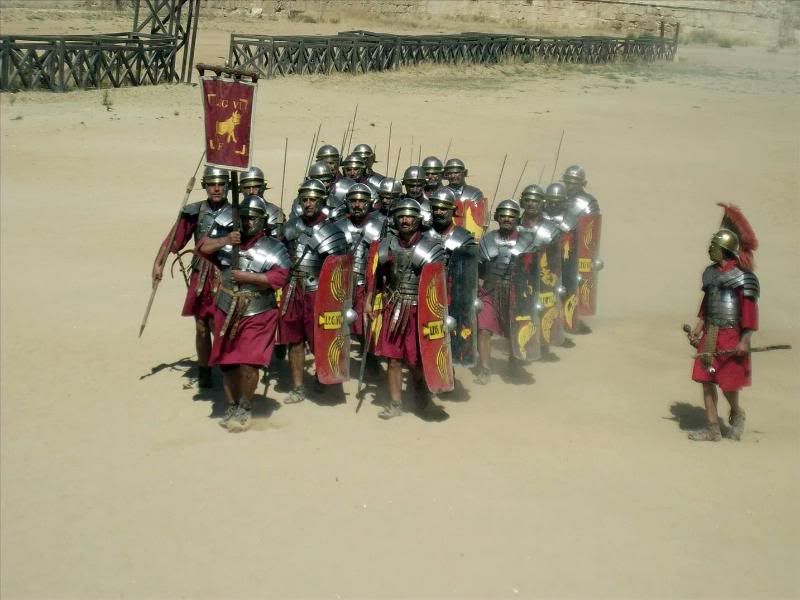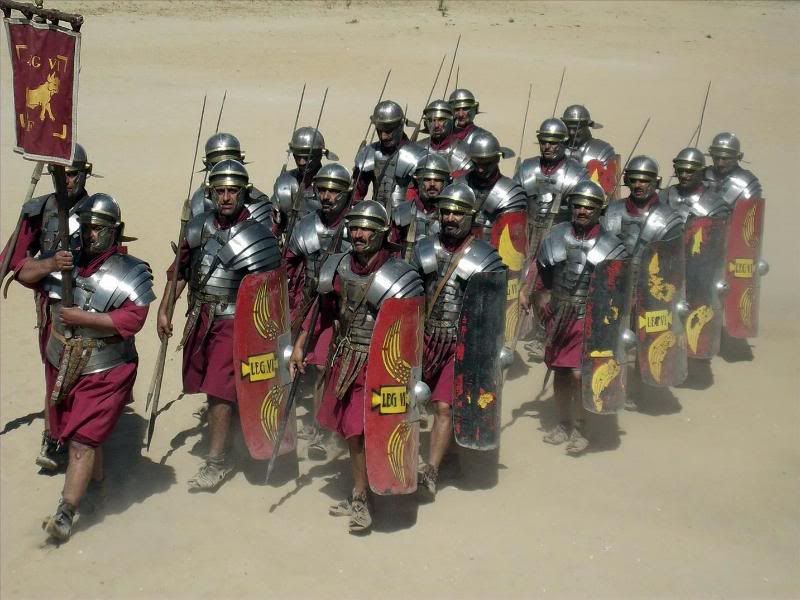 It seems they've not noticed me and continue past. That was a close shave –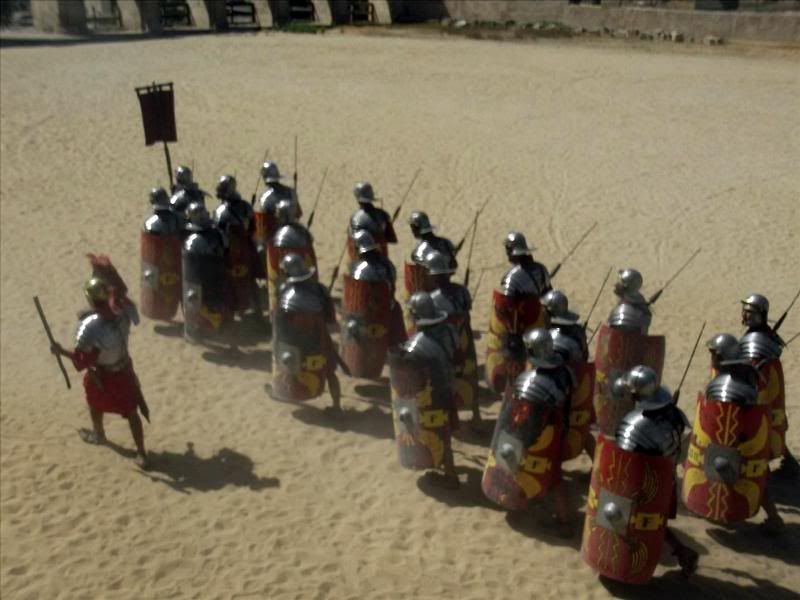 Bugger.
They're coming back –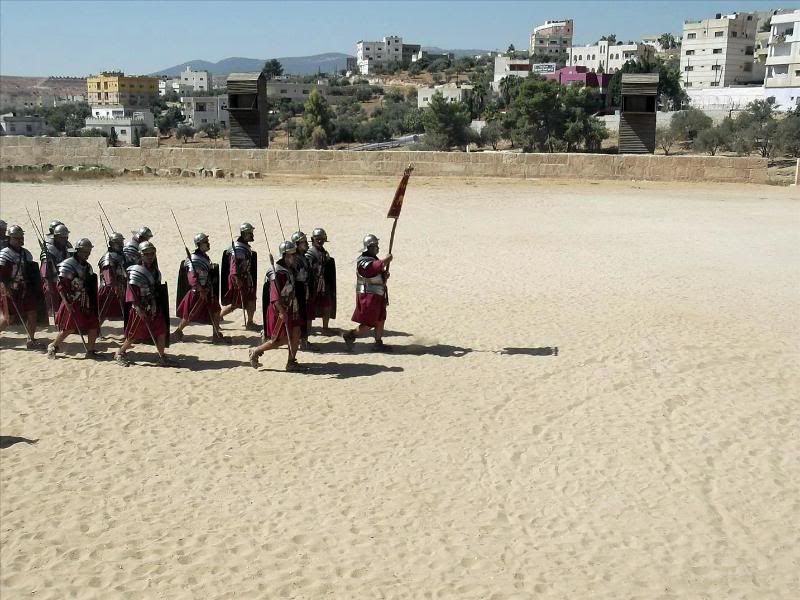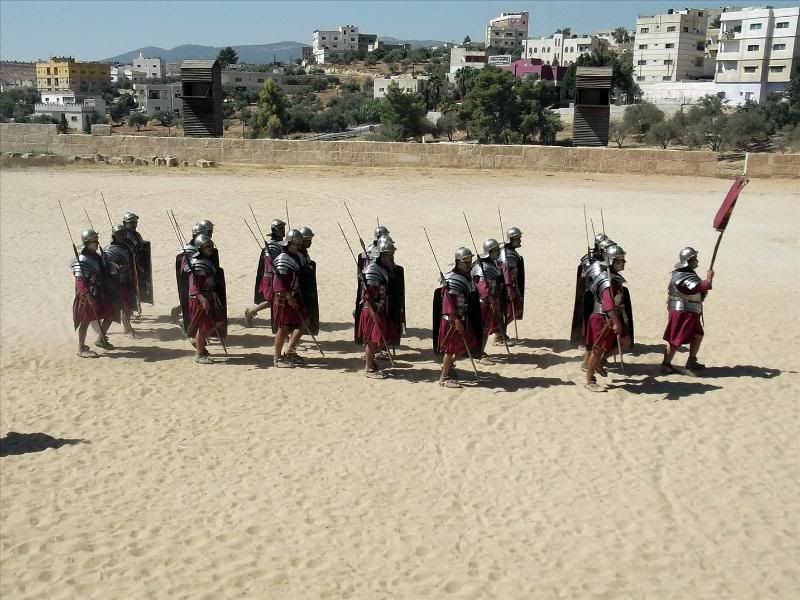 Damn and blast. They've formed up just opposite me.
I hold my ground as they settle themselves, hopefully not for an attack, and I think I've scared them –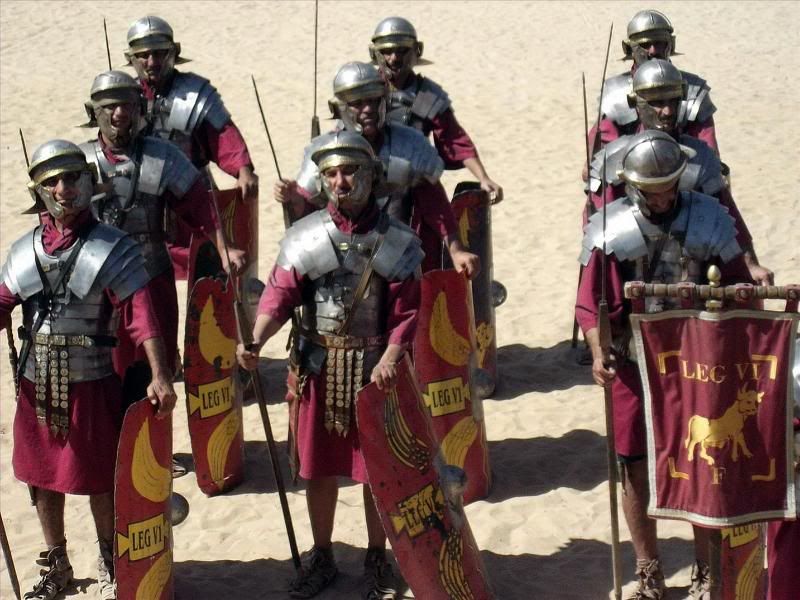 At last, I'm spotted and they decide, quite reasonably, that even by myself, I am a superior force. They know I could kick their arses with one hand tied behind my back – so they salute me –
This one fancies his chances though. You can see it in his face –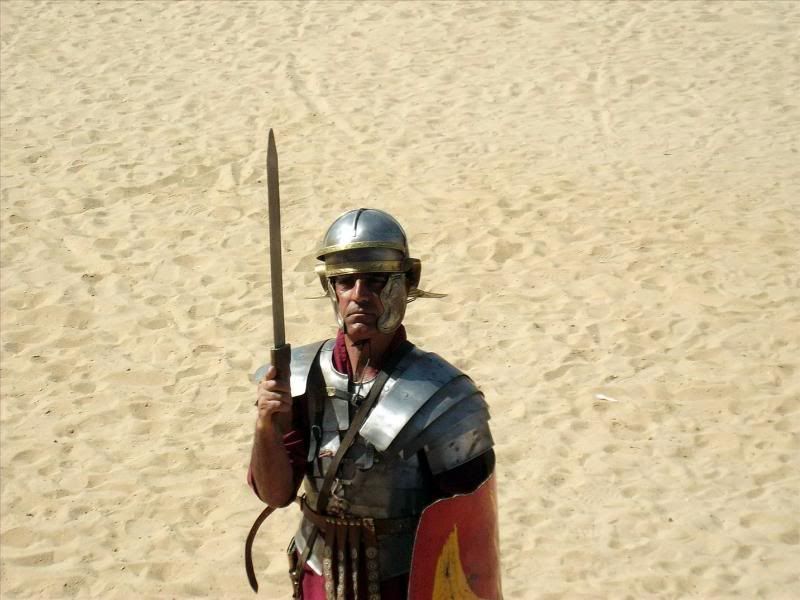 The big guy at the front though only has eyes for his Standard –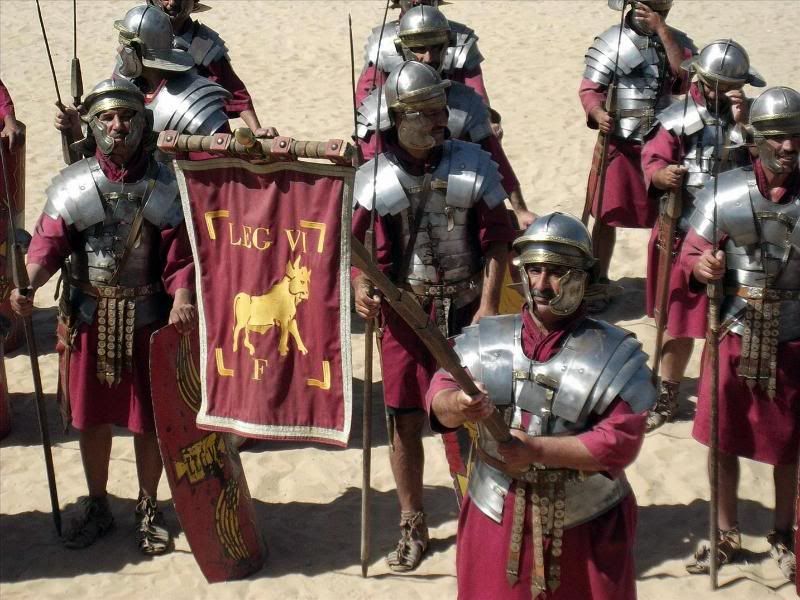 These are the sixth legion of Caesar, their mascot is a bull and I forget what the 'F' stands for. Something in Latin anyway, I seem to think it was 'Ferrata' translated as "Ironclad", their nickname.
Realising they are faced by a superior force – me – they try a few scare tactics of their own. Namely pretending to throw their pilum –
en.wikipedia.org/wiki/Pilum
Somehow thinking I'm going to ride them down with my non-existent horse they form a defensive position to repel cavalry -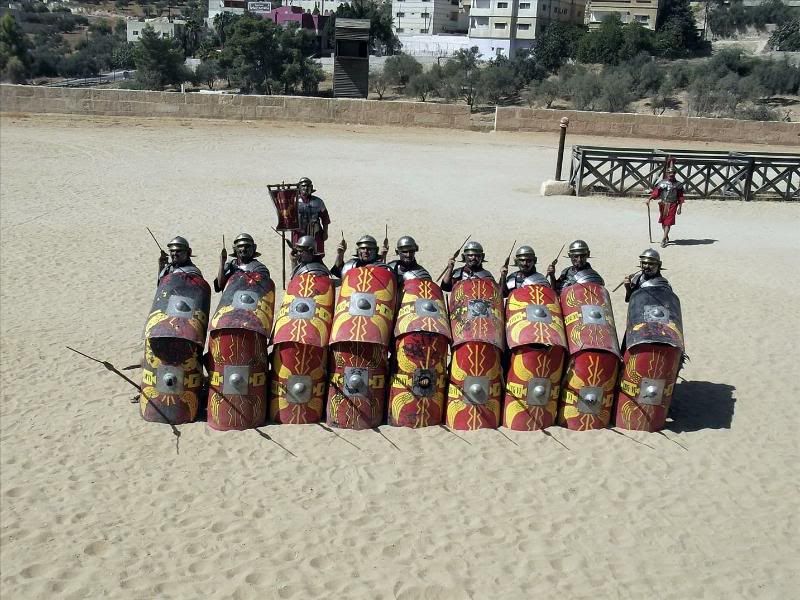 I think I've done it. I've scared them off. By the way, all orders given to the soldiers are in Latin, a bit like the French Foreign Legion who use French, as you would expect. Thus if you didn't know it when you joined, you had to learn it sharpish like –
No, they've had second thoughts and are coming back. I hold my ground –
Obviously discipline isn't what it should be. They've started to turn on each other, maybe giving a demonstration of what a fight would be like between different legions (as did happen) –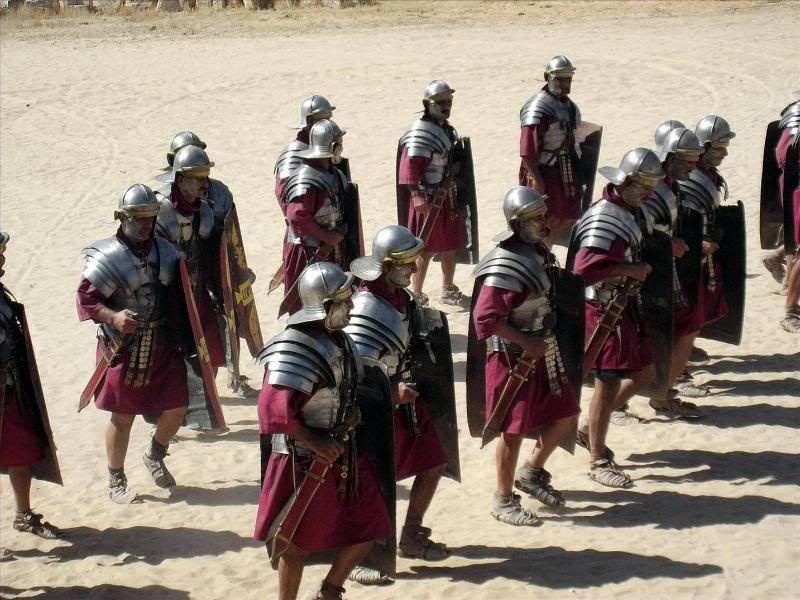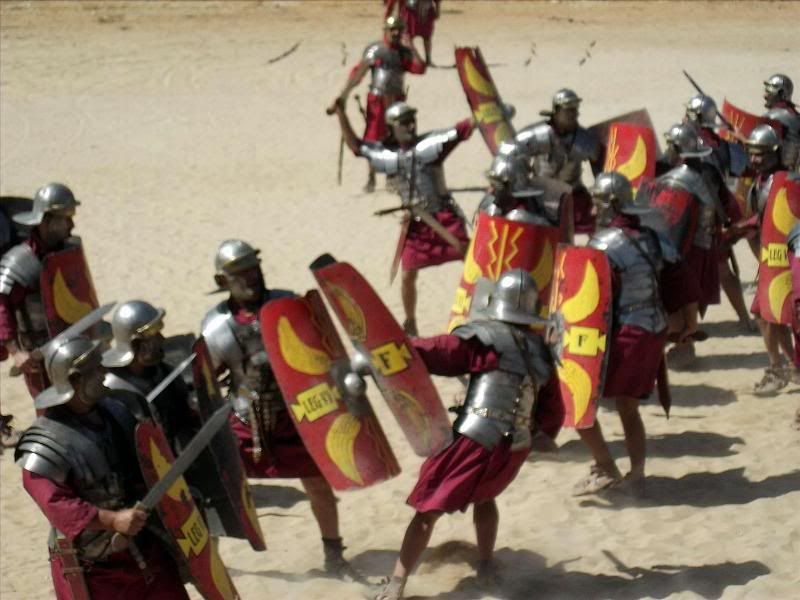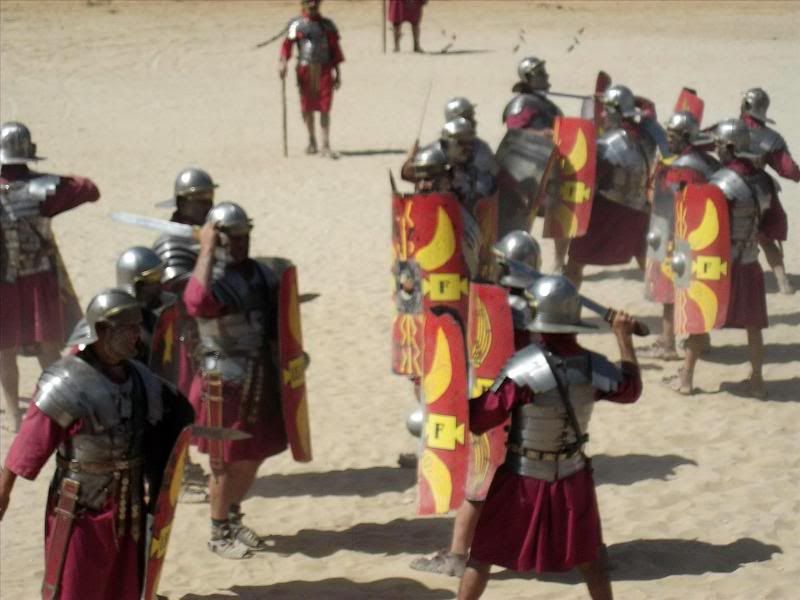 Getting a bit personal –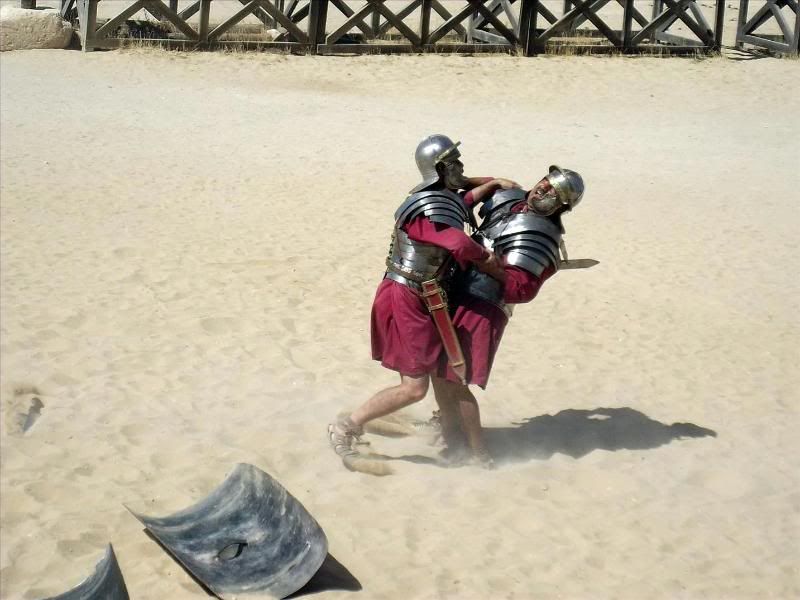 Well, that's the end of his pension –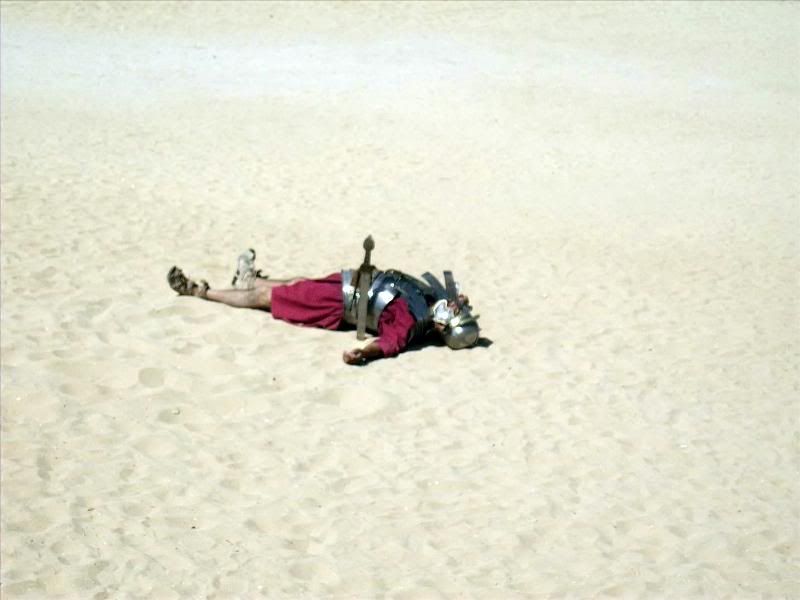 The soldiers tended to join up for 25 years. At the end of their service they were awarded a bag of gold or a plot of land. No doubt those towards the end of their career chickened out a bit when it came to hard battles. They would train for four hours in morning and four in the evening – usually every day (apart from the obvious, i.e. they were fighting).
They seemed to have got the dispute out of their system and are attacking again with a skirmishing line –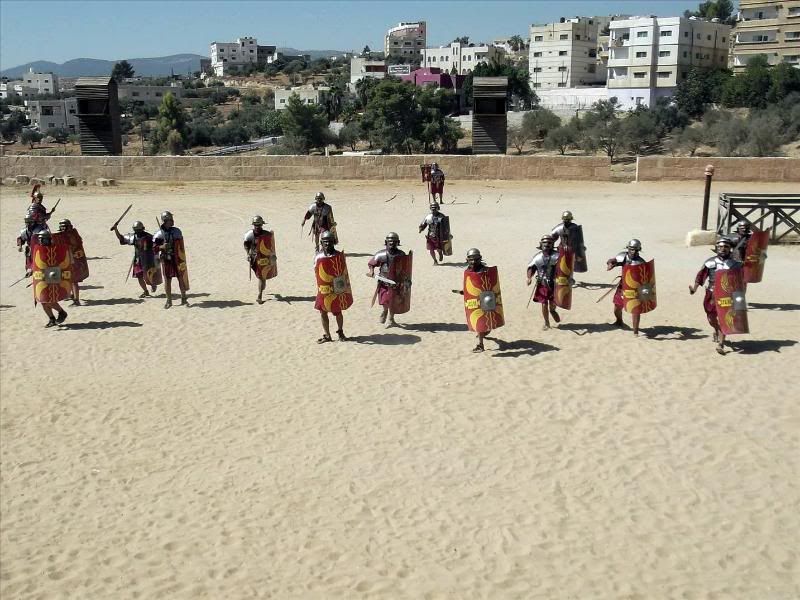 In battle they rarely used this. It was very tiring. They would stand three or more deep, the first line fighting for maybe ten minutes and then falling back, the next line fighting, then falling back, the third line the same and on until the first line again, who'd possibly rested a little and started again. It was like fighting a fresh army every ten minutes.
They decide I'm fairly immovable, but capable of anything. So they form a 'testudo' (tortoise) –
This will protect them from virtually anything.
en.wikipedia.org/wiki/Testudo_formation
But then they slip an engineer through the front to undermine, dig out underneath, the obstruction – namely the platform I'm on but could be a set of walls or anything –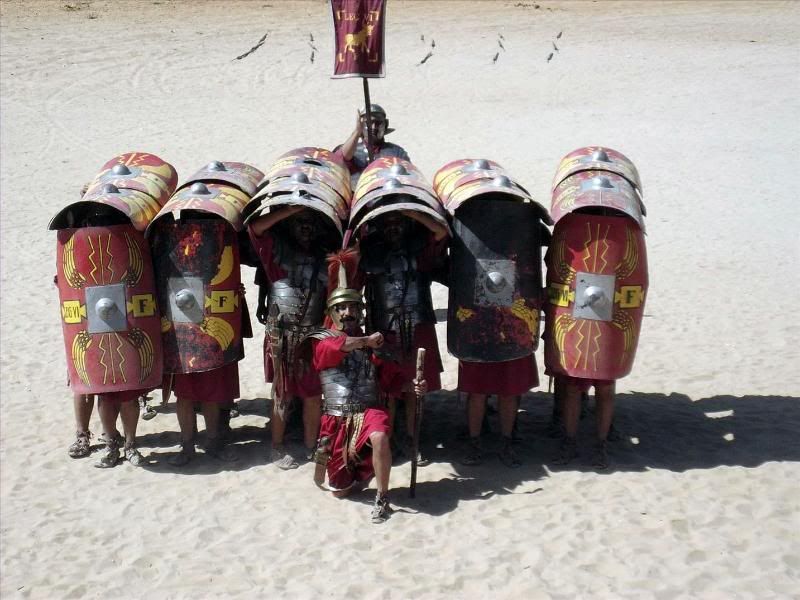 Trying to scare me further they form a running wedge against some of their mates to show they're still up for it –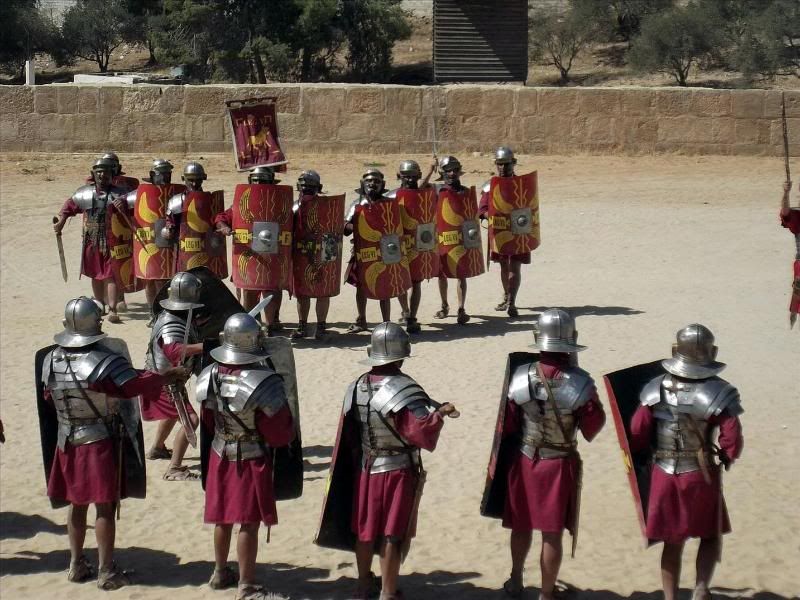 And they break through –
This seems to be their last gasp though. They just understand I cannot be defeated so slip away with their tails between their legs. I didn't photograph it, I was embarrassed for them.
However, I did manage to run and capture one of them. Shitting himself he was, but I persuaded him that if he stood still for a minute I'd let him go.
So, just so you can see one close up. There's no need to be scared, especially as now he is a bit outdated, but at the time he was the scourge of the world.
His armour - lōrīca segmentāta (segmented plates) was tough and flexible.
en.wikipedia.org/wiki/Lorica_segmentata
His shield – scutum – made from wood and skins with a metal rim (used for hitting people with) and a central steel boss to push and aggravate the opponent. Light enough to carry for a length of time but solid enough to repel attack.
en.wikipedia.org/wiki/Scutum_%28shield%29
His galea, his helmet.
en.wikipedia.org/wiki/Galea_%28helmet%29
But most importantly, his Gladius, his sword.
A relatively short instrument but deadly enough. Used in a thrusting manner it'd certainly put me off.
en.wikipedia.org/wiki/Gladius
My daughters, who had accompanied me, decided to also get in on the action. They spotted the one remaining soldier, the one with the bugle thing, ran and detained him. I think he was charmed rather than afraid. However, in keeping with their determination to join the British SAS they asked to remain anonymous –
Next, in honour of our victory, came the Gladiators –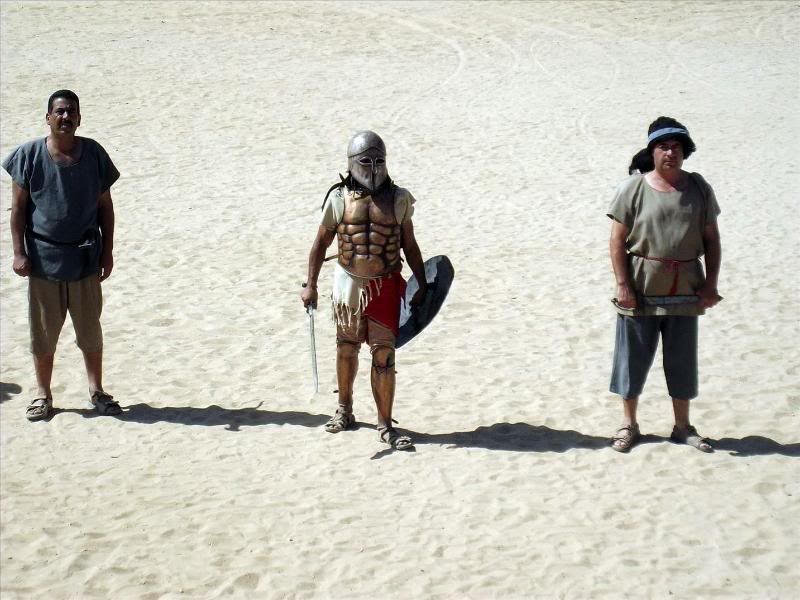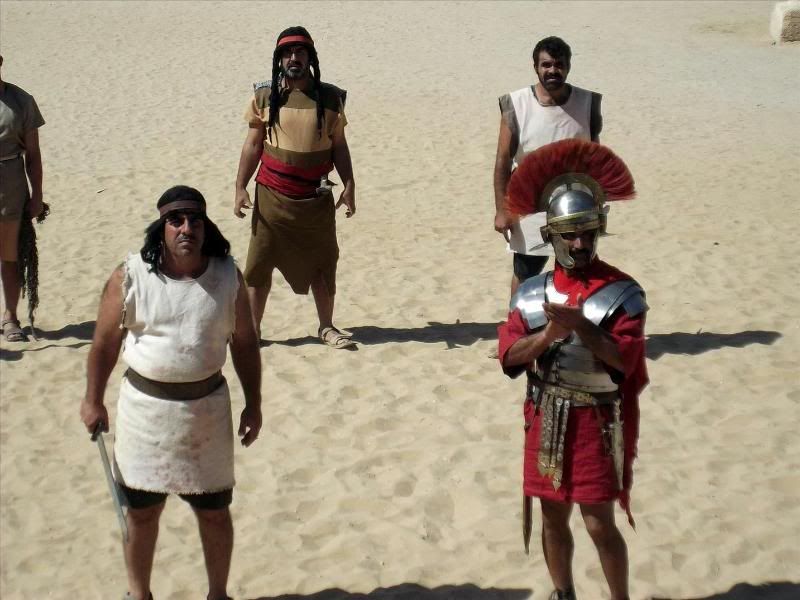 A bit of a motley lot they were but I'll give them marks for enthusiasm if not technique –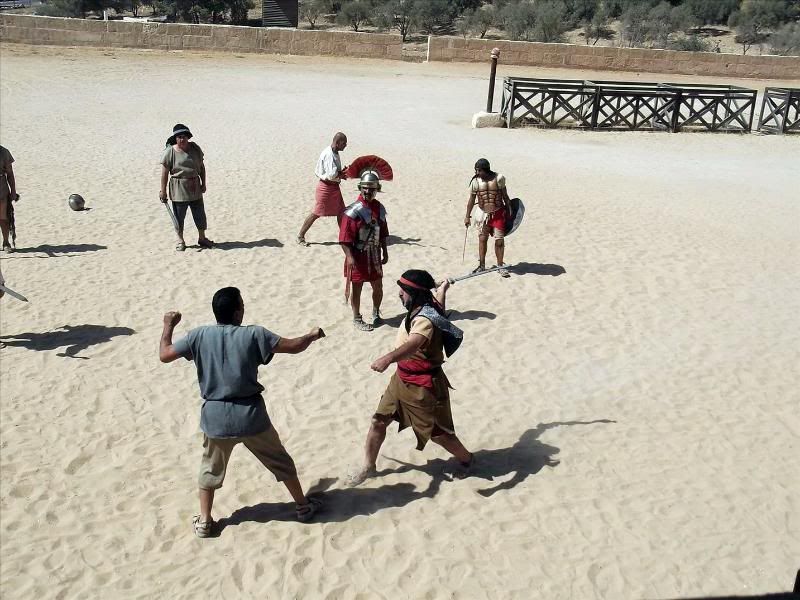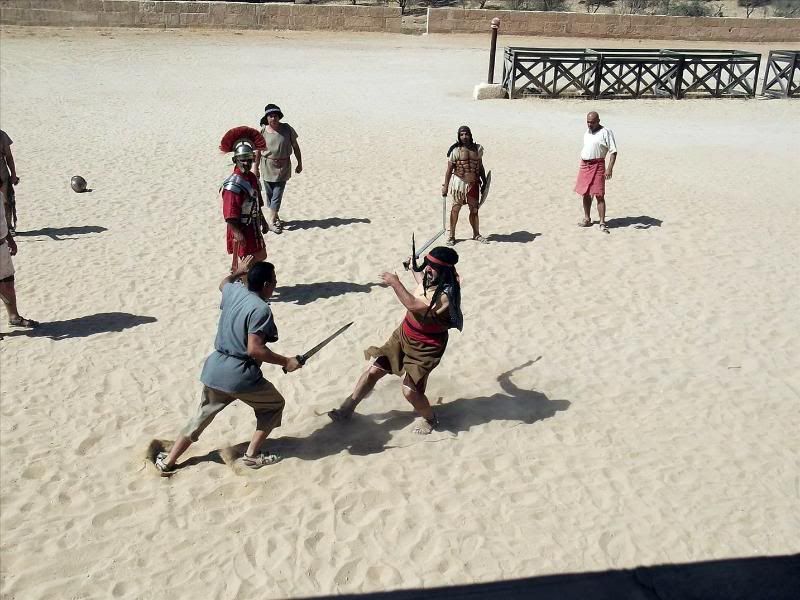 I let the first couple live, giving the 'thumbs up' signal.
There was no 'thumbs down' signal for death. It actually was a thumb horizontal.
Just so you know.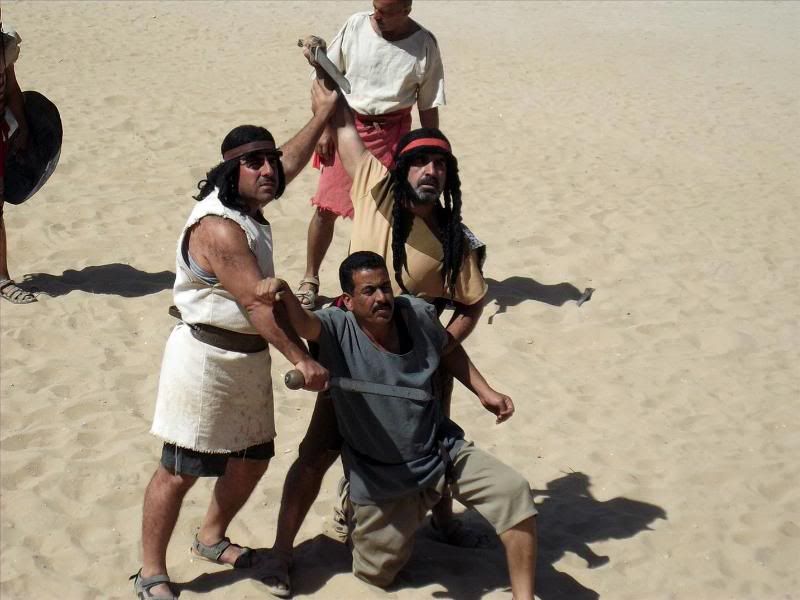 A few more had fights and lived –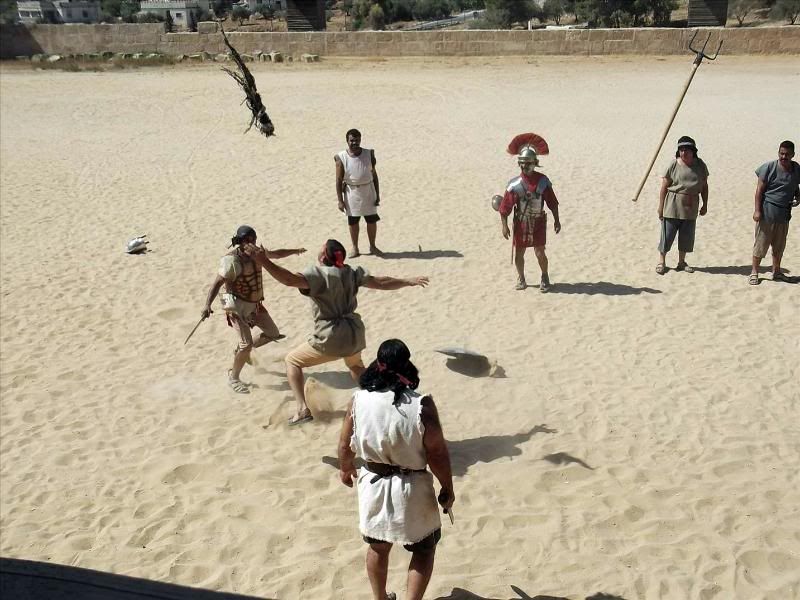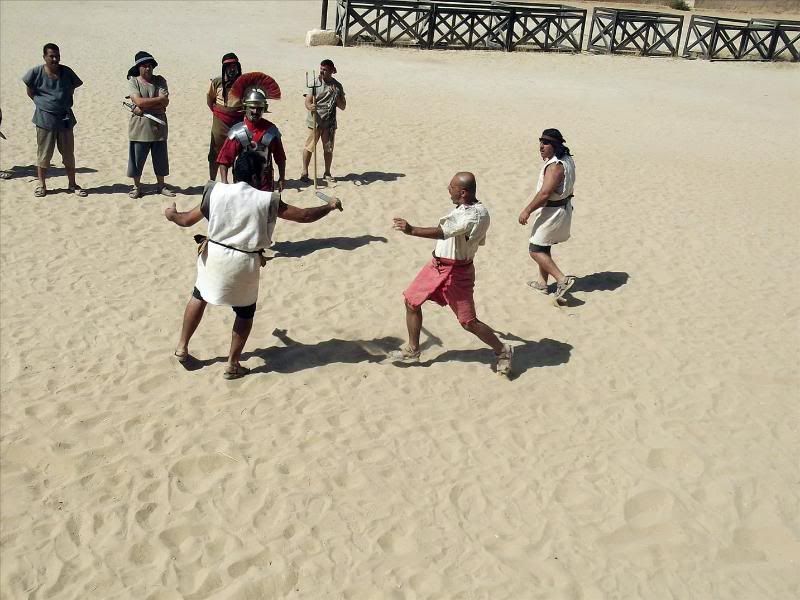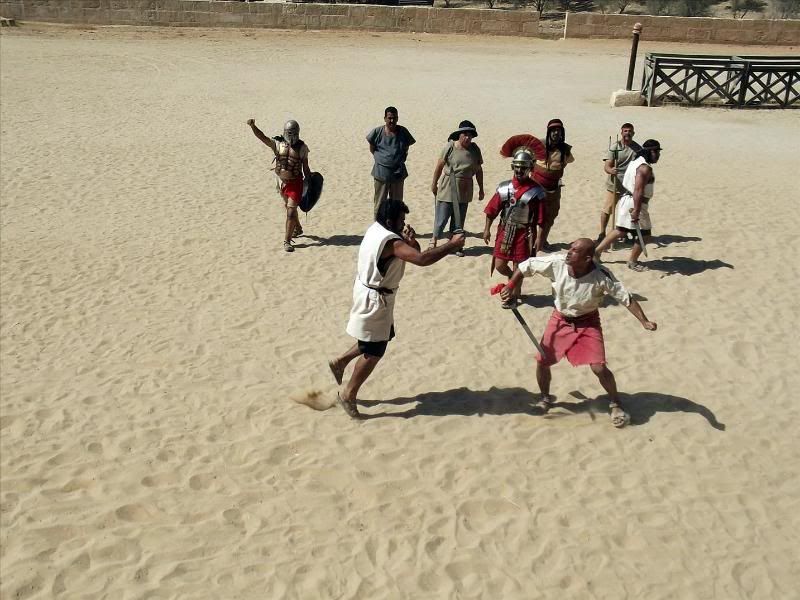 Until the last one. I wanted death –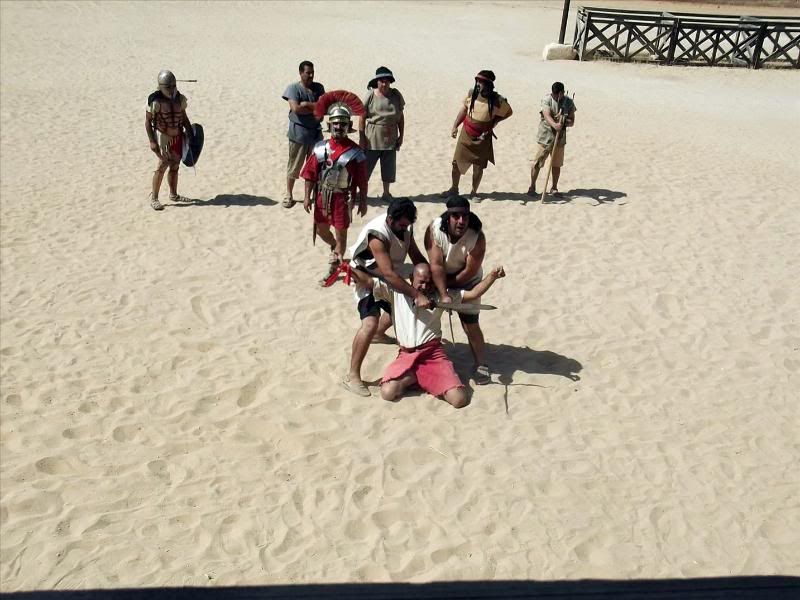 And I got it –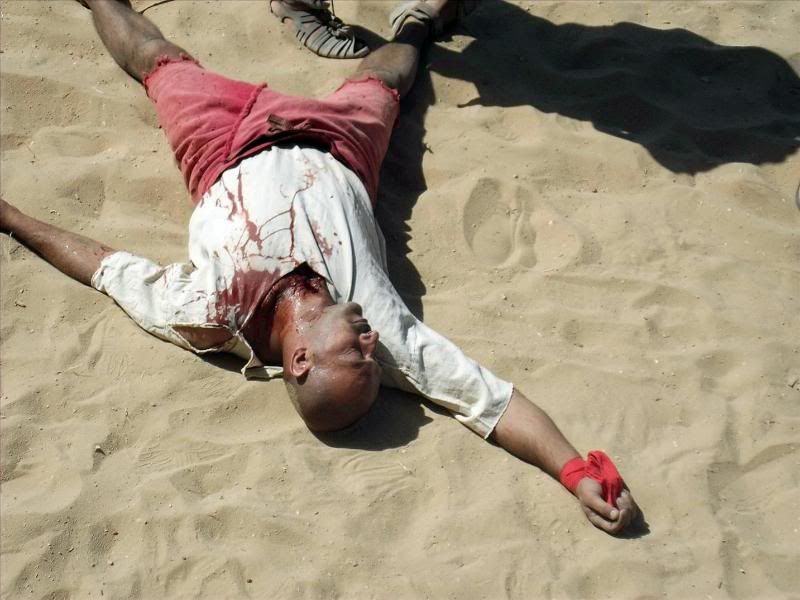 Unfortunately my daughters screamed at the blood (much to the amusement of other onlookers now gathered).
Perhaps no SAS for them then?
After clearing the Hippodrome the slightly amateurish chariots arrived, further to gain my favour.
Difficult to achieve authenticity but fair enough, it was getting a bit hot for them and I accepted their tribute –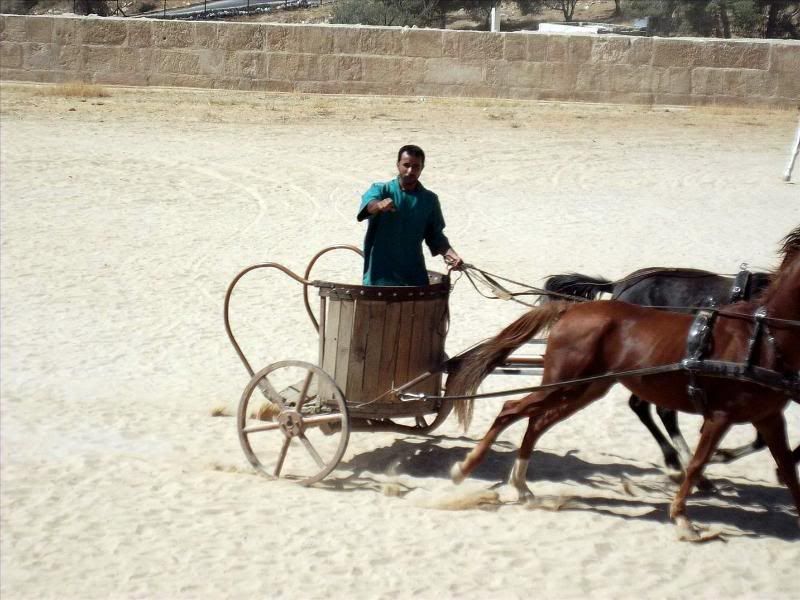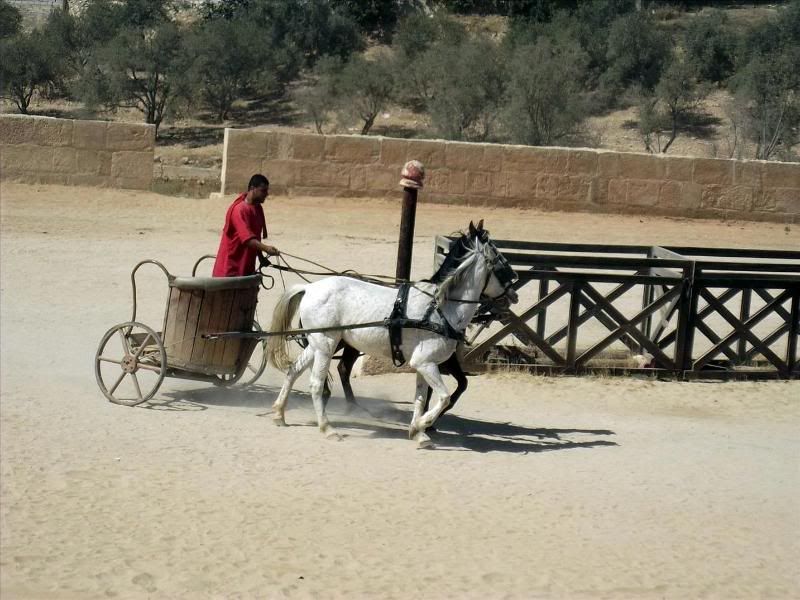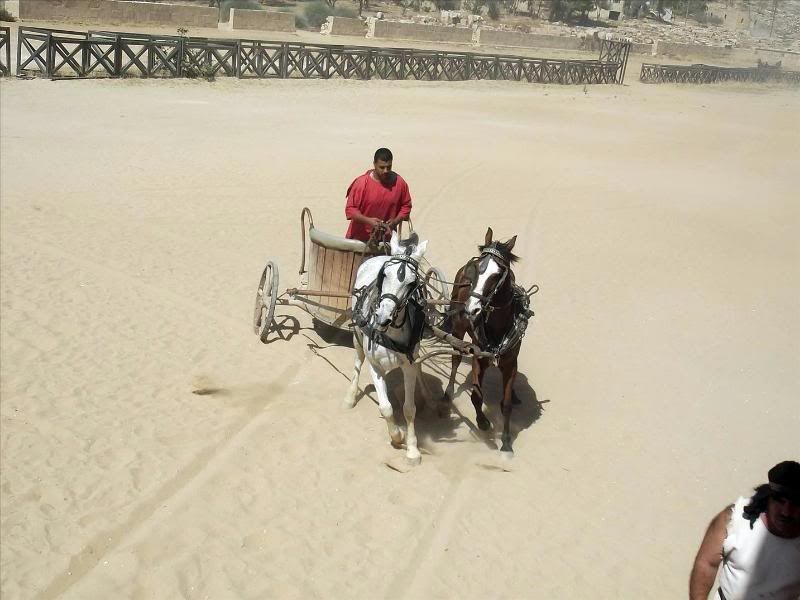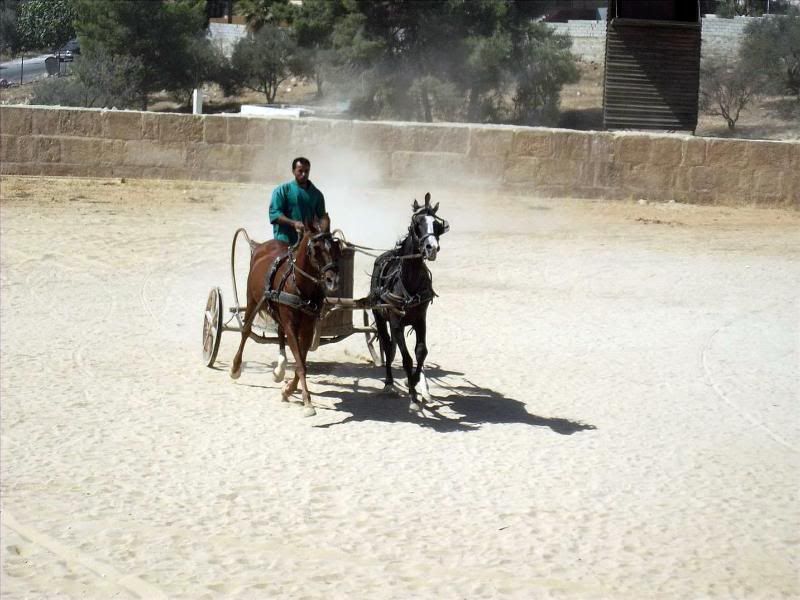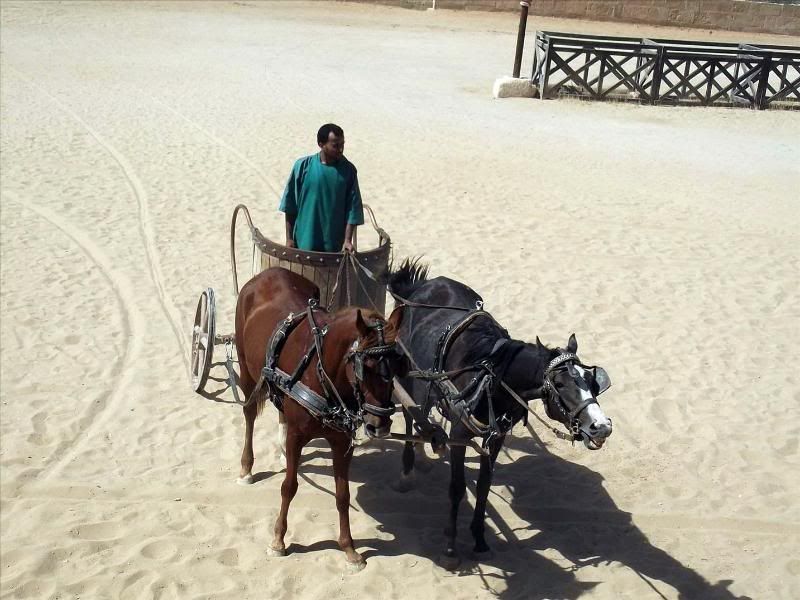 I allowed all participants to return to the field and thanked them for their time, but warned them not to try and attack me again –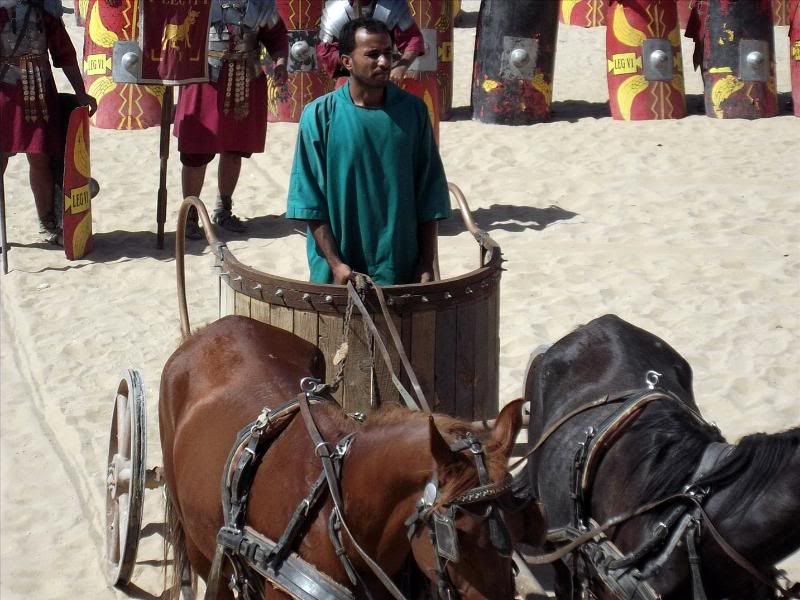 On the way back to the car I spotted that at least there is some renovation taking place –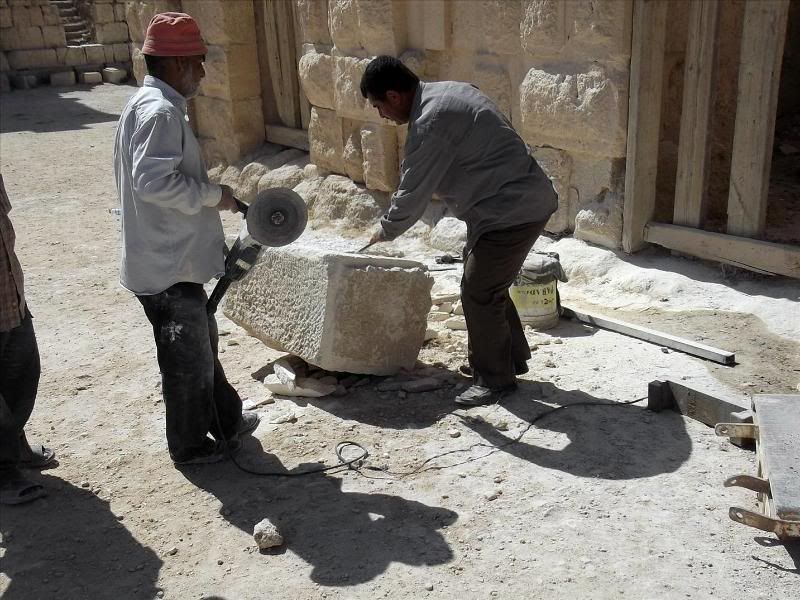 So that was it.
A short drive back to the capital, an ice cream and settle down to type this up.
I wonder where (and when) next.